20 minutes and little effort for a vegan coconut curry soup with big flavor! This soup is filled with veggies and protein, a perfect well rounded meal that will easily make its way into your regular dinner rotation. Plus a bonus salad hack you can't miss!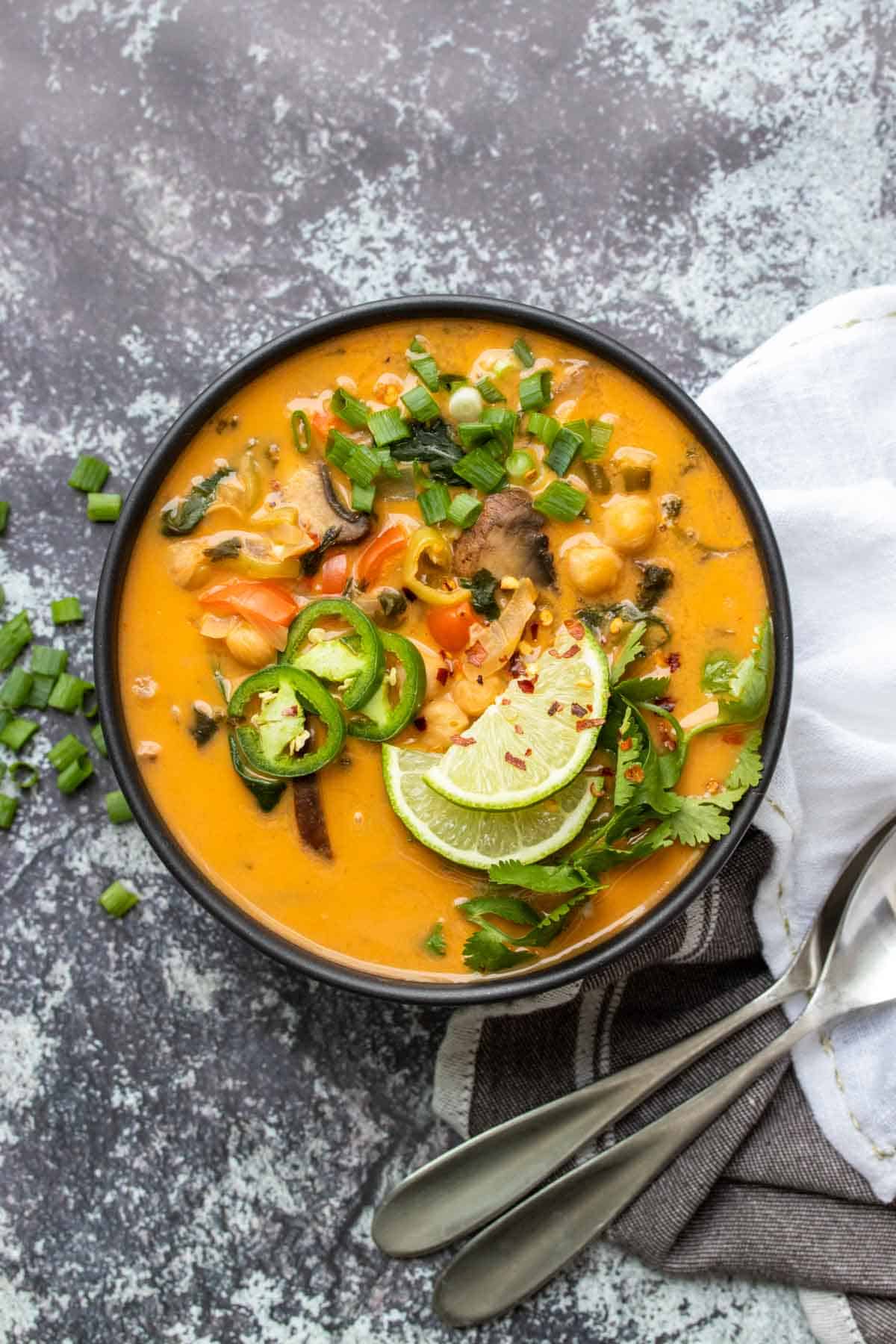 This is a sponsored conversation written by me on behalf of Earthbound Farm Organic. The opinions and text are all mine.
Cooler temperatures call for warm comfort food. And when that warm comfort food is done in 20 minutes and filled with healthy benefits, you'll want to make it over and over again!
Using good quality produce makes a difference
We all have reasons for why we do things, choose what we choose, and everyone's reason is personalized to them. For me, I won't make a choice if the reasons don't speak to me.
When I took a trip up to Earthbound Farm Organic last month, I was surprised at how much the experience resonated with me. I was also surprised that they allowed me to stay considering I was shoving fresh produce in my mouth like candy. It was just too good not to.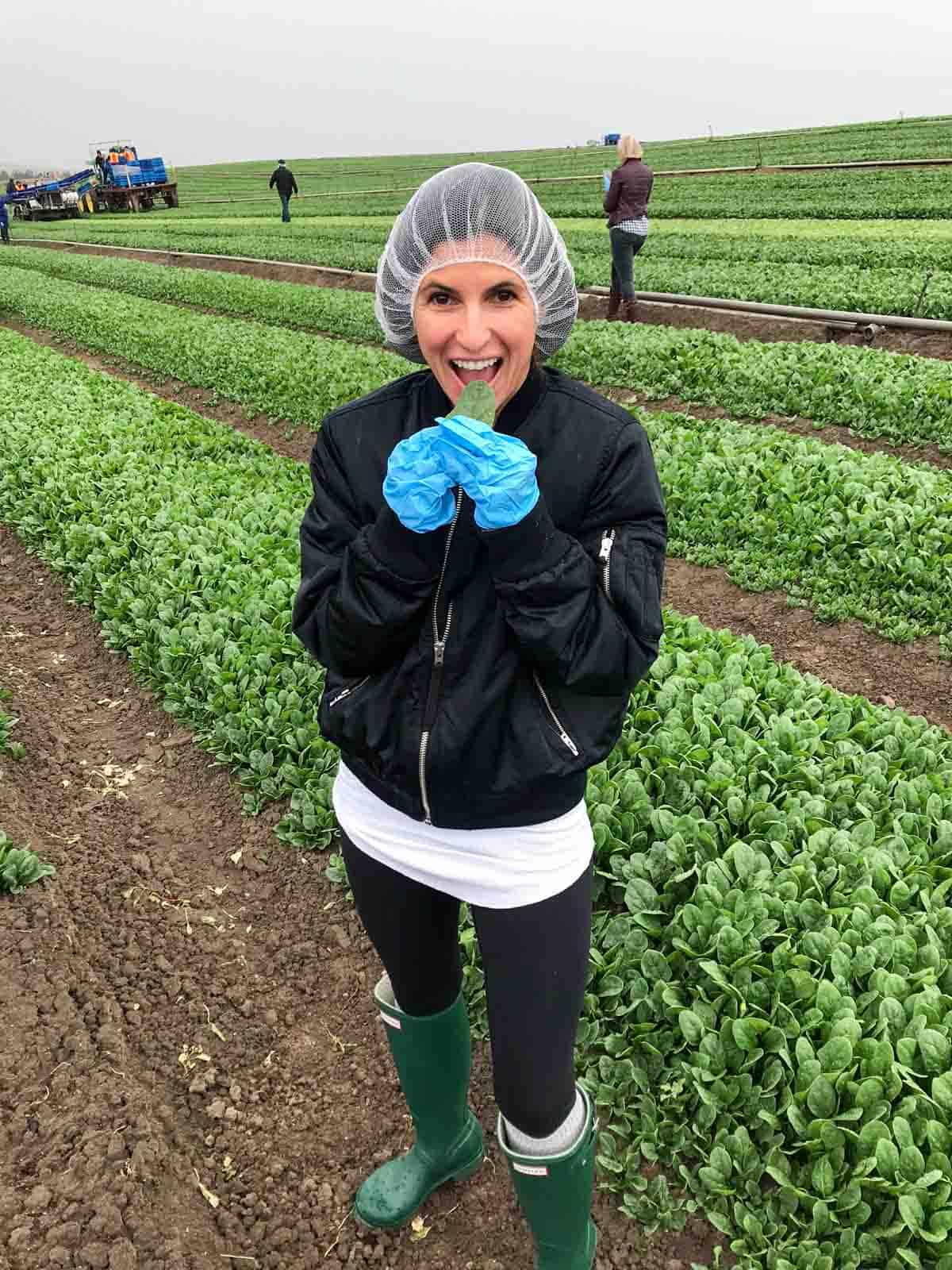 Earthbound farm is an organic produce brand operating mostly out of northern California in the San Benito County and Salinas Valley, with a Farm Stand in the Carmel Valley. They were the very first organic produce brand and are the only leafy greens brand that is a certified B Corp.
Certified B Corporations are certified by the non-profit B Lab to meet the highest standards of verified social and environmental performance, public transparency, and legal accountability, to balance profit and purpose.
During my 2 day experience, I was able to see their actual farms, meet workers, sample products and ask many many questions. Everything I learned blew me away. Like did you know that unlike many brands, Earthbound Farm only produces 100% certified organic produce? So awesome.
If you want to read about all the great information I learned, see my page All About Organic for what it truly means to be organic, organic practices and truly reputable resources on the subject.
The flavor and quality of Earthbound Farm ingredients keeps me coming back for more. And now that I have personally seen how amazing the people behind the brand are, it gives me an even bigger reason for choosing their produce!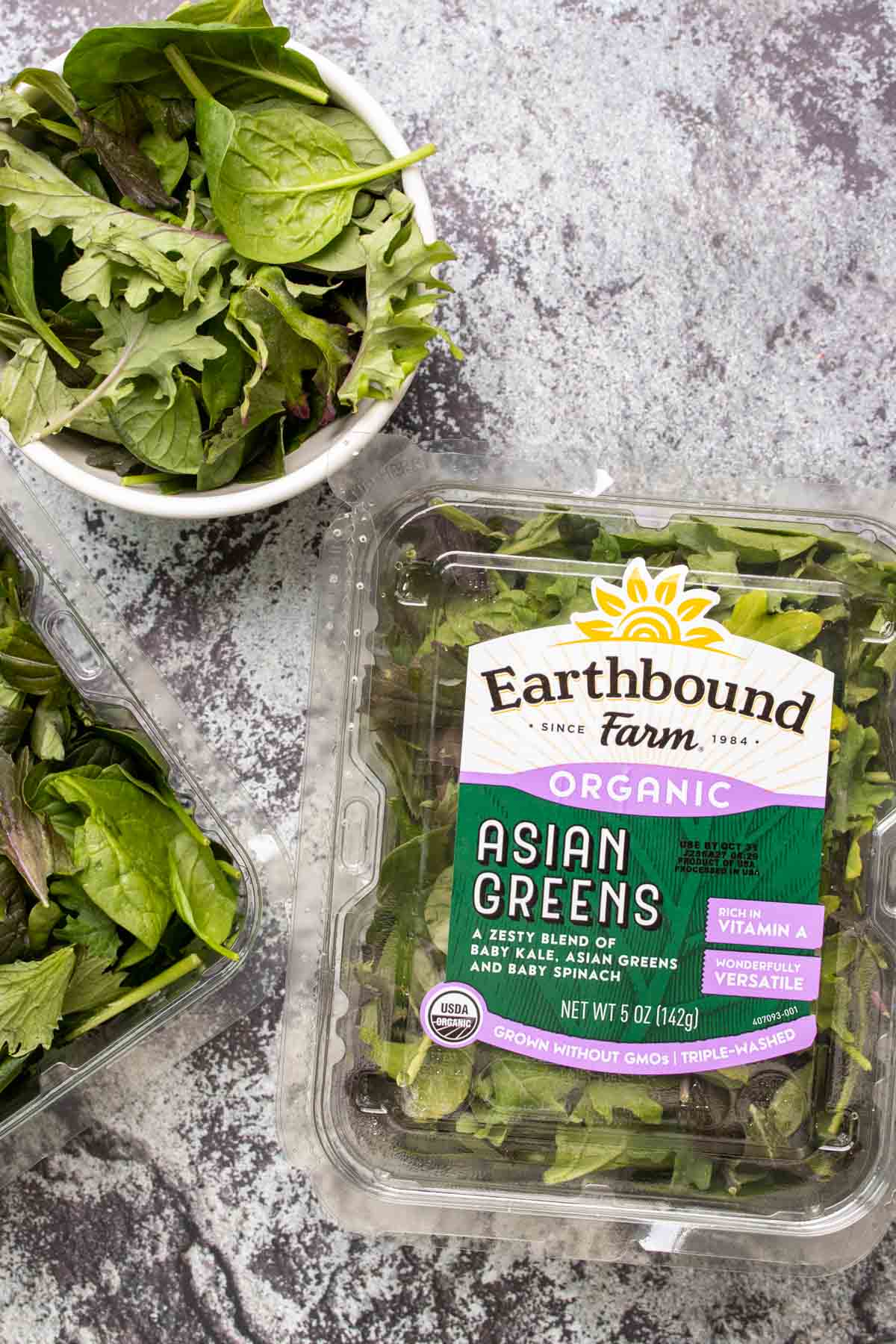 Why organic?
Look, I don't have all the answers. I'm just a mom trying to make good decisions for our family. What I do know is that I saw the integrity of this brand first hand. Every issue they haven't solved yet (compostable packing, I'm looking at you), they are working on.
They want to make organic accessible for all, regardless of region or socioeconomic status. They are the small time farmer in a big brand body. So my "Why Organic?" is because it's better for our bodies and better for the earth. If this choice of mine can help future generations, I'm all in.
Making amazingly delicious coconut curry soup in 20 minutes
So let's put all this produce talk into action! Here is how easy it is to throw that organic produce together for a healthy filling meal:
First, sauté your veggies. 
Then, add in your spices and beans. 
Finally, add in the liquids and greens and devour! 
But wait! There's more!
I have a little hack for you to help get even more greens into your meal. This is one you don't want to miss! In my mission to be as "green" as possible (See what I did there? Green? as in greens and environmental? HA!), I made a side salad with my soup reusing the actual container!
Step 1: put the dressing ingredients directly into the salad mix container, cover and shake. 
Step 2: Serve! 
Amazing right?! All you need to do is buy double the greens and you are set for a full blown incredible well rounded meal you can't beat!
And if you're looking for other meals done in under 30 minutes, check out this list!
Other delicious Asian style recipes you may want to check out: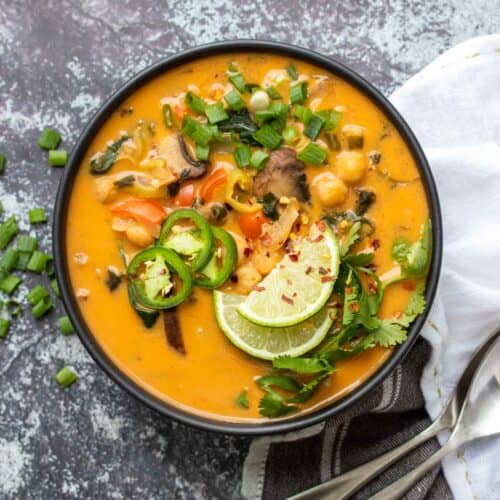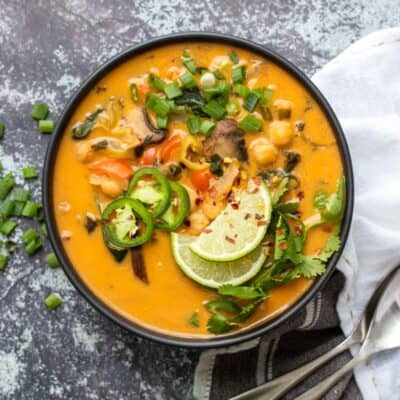 Vegan Coconut Curry Soup and Salad Hack
20 minutes and little effort for a vegan coconut curry soup with big flavor! This soup is filled with veggies and protein, a perfect well rounded meal that will easily make it's way on your regular dinner rotation. Plus a bonus salad hack you can't miss!
Ingredients
3

cups

sliced mixed mushrooms (8 ounces)

(I used crimini and shitake)

1 ¾

cups

sliced mixed peppers (8 ounces)

(I used shishito, red, jalapeno)

1

cup

diced sweet onion (4 ounces)

2

teaspoons

chopped garlic

, about 3 cloves

½

teaspoon

sea salt

, optional (curry paste has salt so if you're low salt don't add)

1 ¼

cups

chickpeas

, rinsed and drained (15 ounce can)

¼

cup

chopped cilantro

, measure packed (about ¾ of an ounce)

2-3

tablespoons

red curry paste

, adjust for your spice preference

2 ¼

cups

light coconut milk

(about 1 1/2 13.6 fluid ounce/403 ml cans)

2 ¼

cup

veggie broth

, low sodium (or use regular and adjust salt)

1

tablespoons

fresh lime juice

4

cups

Asian style greens mix

, 5 ounce container (I used the Earthbound farm brand)
Instructions
Saute the mushrooms, peppers, onion, garlic and salt in a soup pot with a drizzle of oil or broth until soft. About 7-8 minutes.

Add in the chickpeas, cilantro and curry paste. Cook 2-3 minutes until everything is mixed well.

Add in the coconut milk, broth and lime. Bring to a boil. About 5 minutes.

Add in the greens, stir to wilt them.

Serve!
For Salad Hack:
Add the ingredients into the greens container with the greens.
Notes
Make sure to measure the greens and cilantro packed and not loosely placed in the measuring cups.
If you are oil free, you use broth instead of the sesame oil or feel free to sub in your favorite salad dressing to use instead.
The sesame oil is used for flavor and not much is needed.
Recipe by Veggies Don't Bite, visit our site for more great plant-based recipes.
Nutrition
Calories:
263
kcal
Carbohydrates:
31
g
Protein:
8
g
Fat:
10
g
Saturated Fat:
8
g
Polyunsaturated Fat:
0
g
Monounsaturated Fat:
0
g
Trans Fat:
0
g
Cholesterol:
0
mg
Sodium:
600
mg
Potassium:
677
mg
Fiber:
6
g
Sugar:
8
g
Vitamin A:
2485
IU
Vitamin C:
78
mg
Calcium:
63
mg
Iron:
2.9
mg
Nutrition and metric information should be considered an estimate.
Never miss a recipe!
Sign up here and get a FREE quick and easy meal guide!