This peanut butter banana nice cream recipe is made with only 3 ingredients. It's the healthy dessert you've been looking for, fast, simple and absolutely delicious!
This is a healthy ice cream recipe that you'll keep coming back to over and over! It's so easy to make, uses simple ingredients and is perfect for the entire family!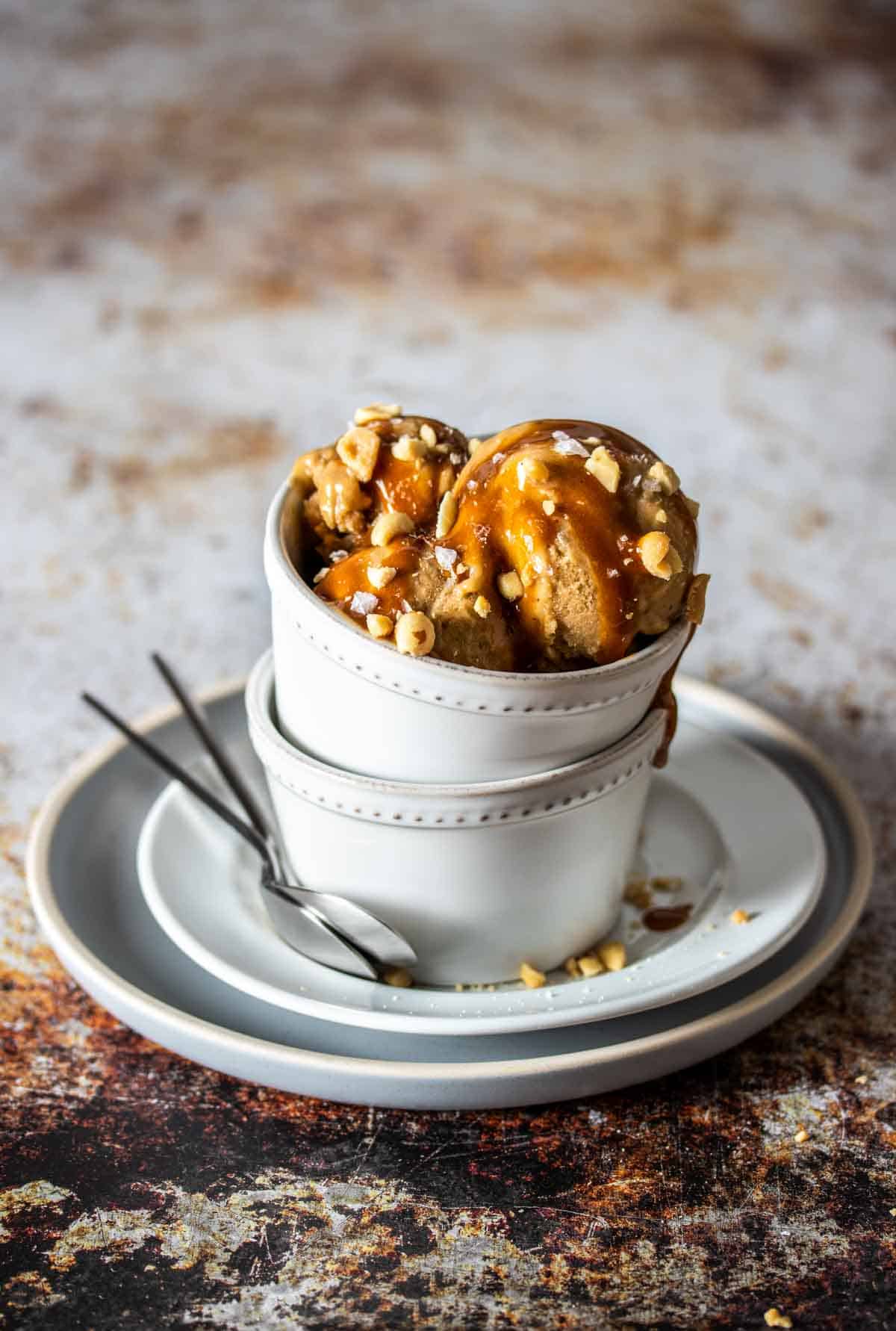 This post was sponsored by PB2 but the content and opinions expressed are fully my own.
I love ice cream, but my belly often doesn't agree so I find myself turning to my vegan chocolate ice cream recipe over and over. I was ready to mix it up so this healthy banana ice cream hit the spot!
Ice cream made from bananas, what?! Believe it or not, banana based ice cream is a thing, and I'm so glad it is! With simple ingredients and easy steps, nice cream recipes are a healthier way to satisfy your sweet tooth than sugar filled ice cream.
Ingredients
All you need to make this easy banana nice cream recipe is:
Frozen sliced bananas
Dairy-free milk
If you'd like to make the optional caramel sauce (which is similar to the one I used in this Stuffed Dates Recipe) here's what you need: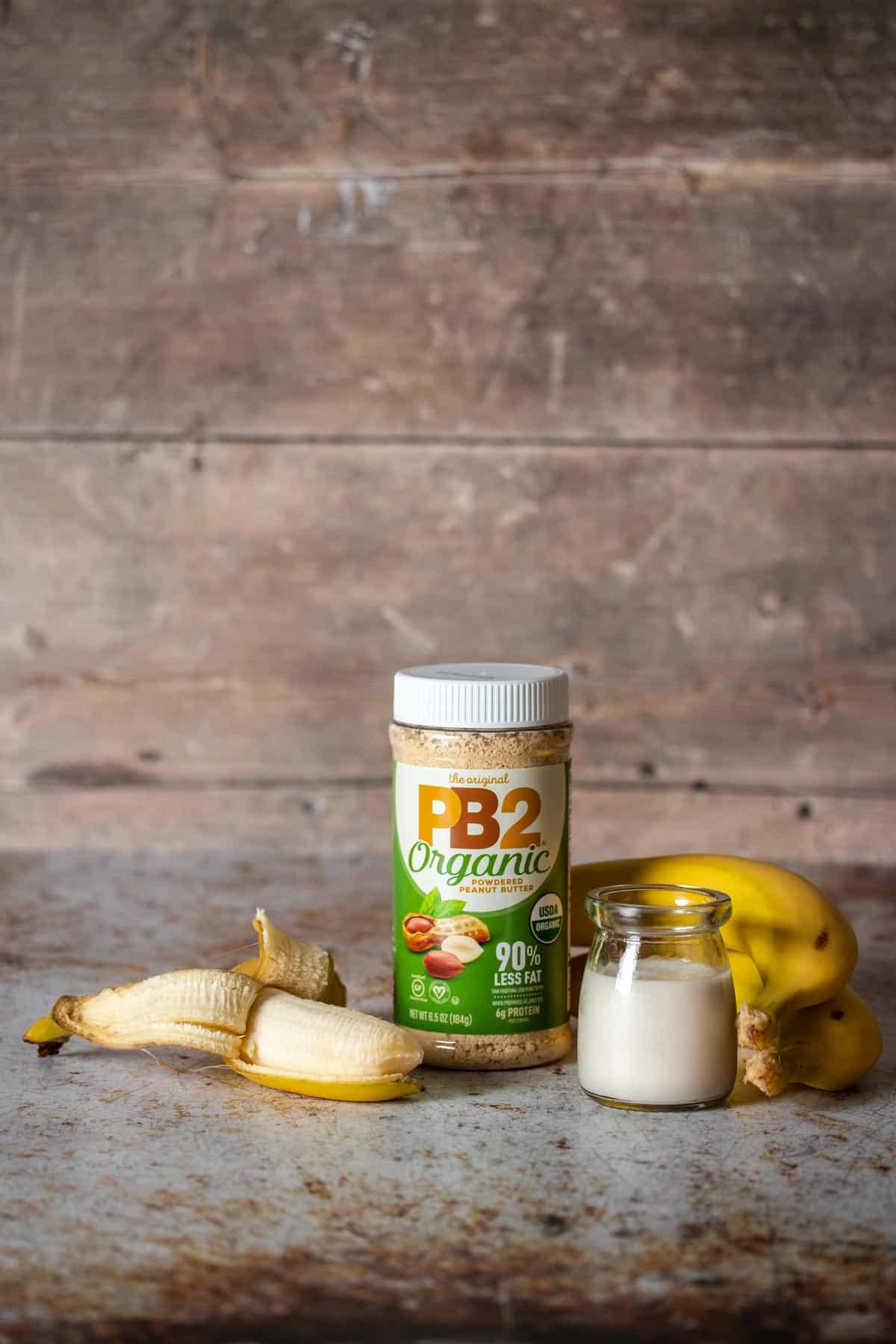 If you haven't used PB2 Peanut Butter Powder yet, you're in for a treat! This miracle powder makes it easy to make basically anything peanut butter flavored.
Peanuts are pressed to remove the majority of the oil to create peanut butter powder, which reduces the calories and fat content. It contains 90% less fat and 70% fewer calories than classic peanut butter, without sacrificing any plant-based protein!
Using this fine powder in recipes is much easier than sticky peanut butter, allowing you to make endless creations! You can mix it with water for a peanut butter spread, or add it to your smoothies, make tasty snacks, desserts, and baked goods.
If the magical peanut butter flavor isn't amazing enough, PB2 peanut Butter Powder is gluten-free, vegan, kosher, and free of preservatives!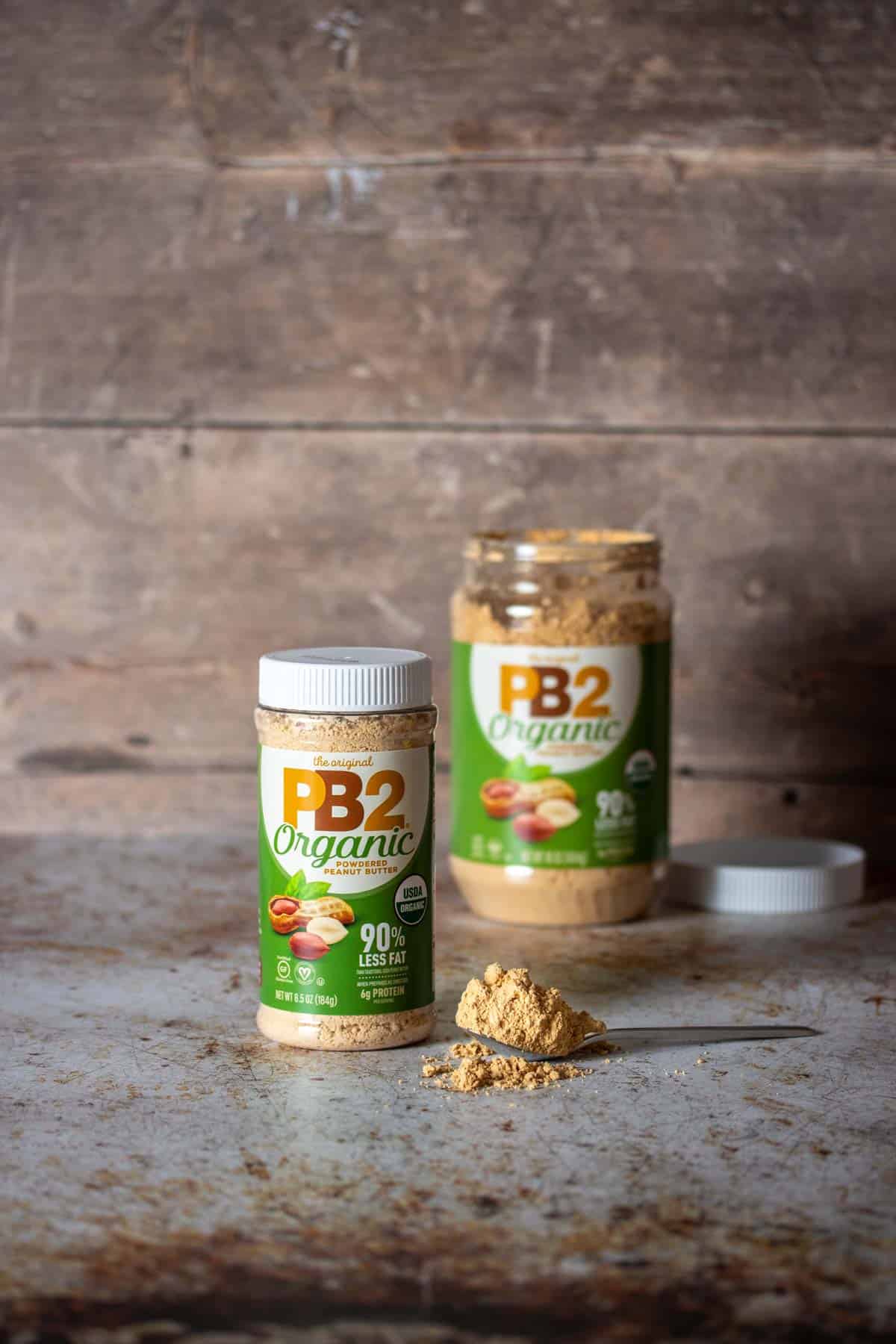 How to Make Ice Cream with Bananas
This vegan nice cream recipe is seriously so simple, here's all you need to do:
Pulse frozen bananas in a blender.
Blend in the peanut butter powder and milk on low.
Freeze more if you want it firmer or enjoy as is and serve.
Pour on caramel!
Enjoy!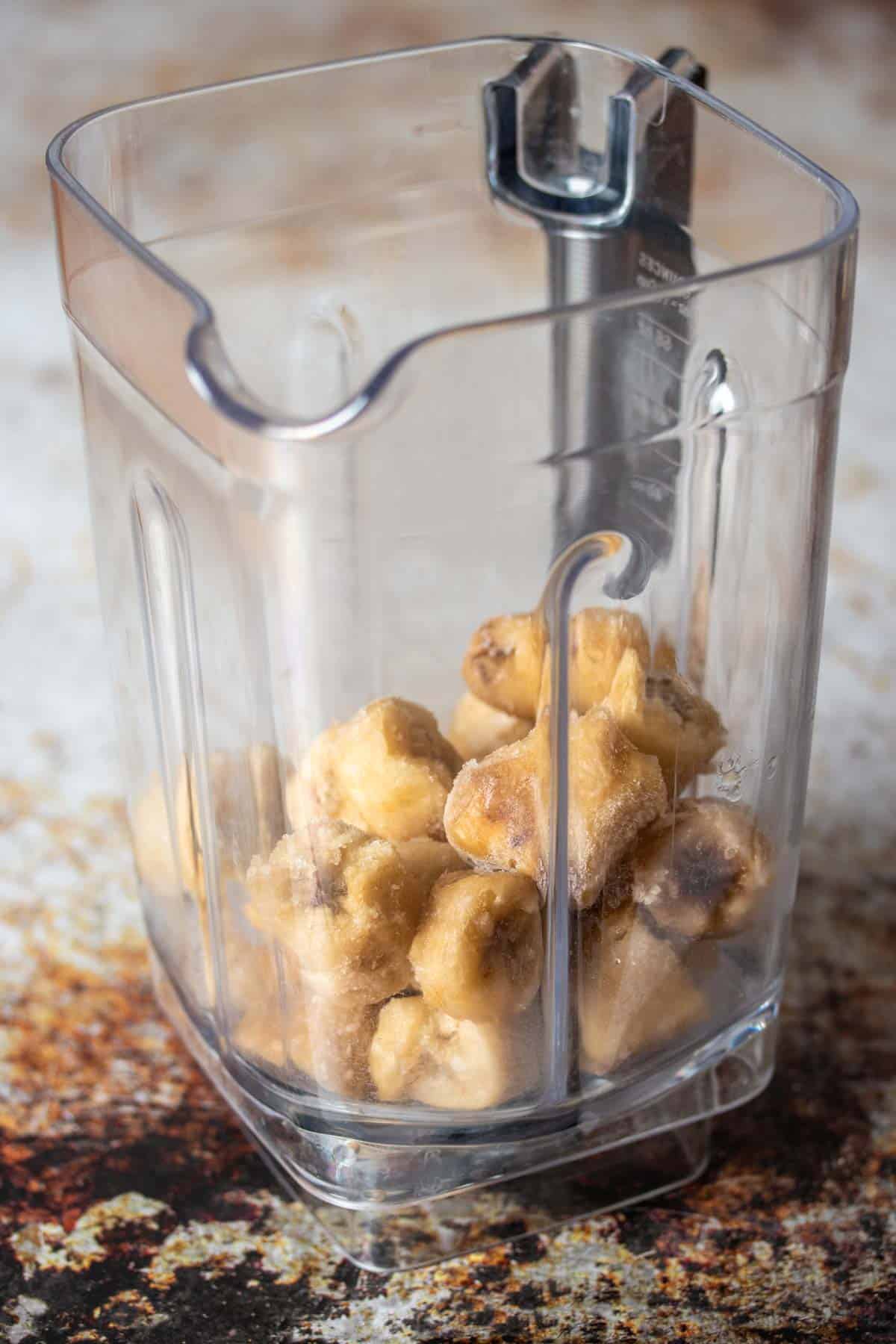 Mix in Ideas
Dress up this peanut butter banana nice cream with add ins for extra texture and flavor. You can either mix them into the nice cream, or use them as toppings.
Chopped nuts like pecans, peanuts, almonds, or walnuts.
Carob chips or dairy free chocolate chips
Fresh banana Slices
Fresh strawberries, blackberries, raspberries, or blueberries
Crushed Oreo cookies
Cherries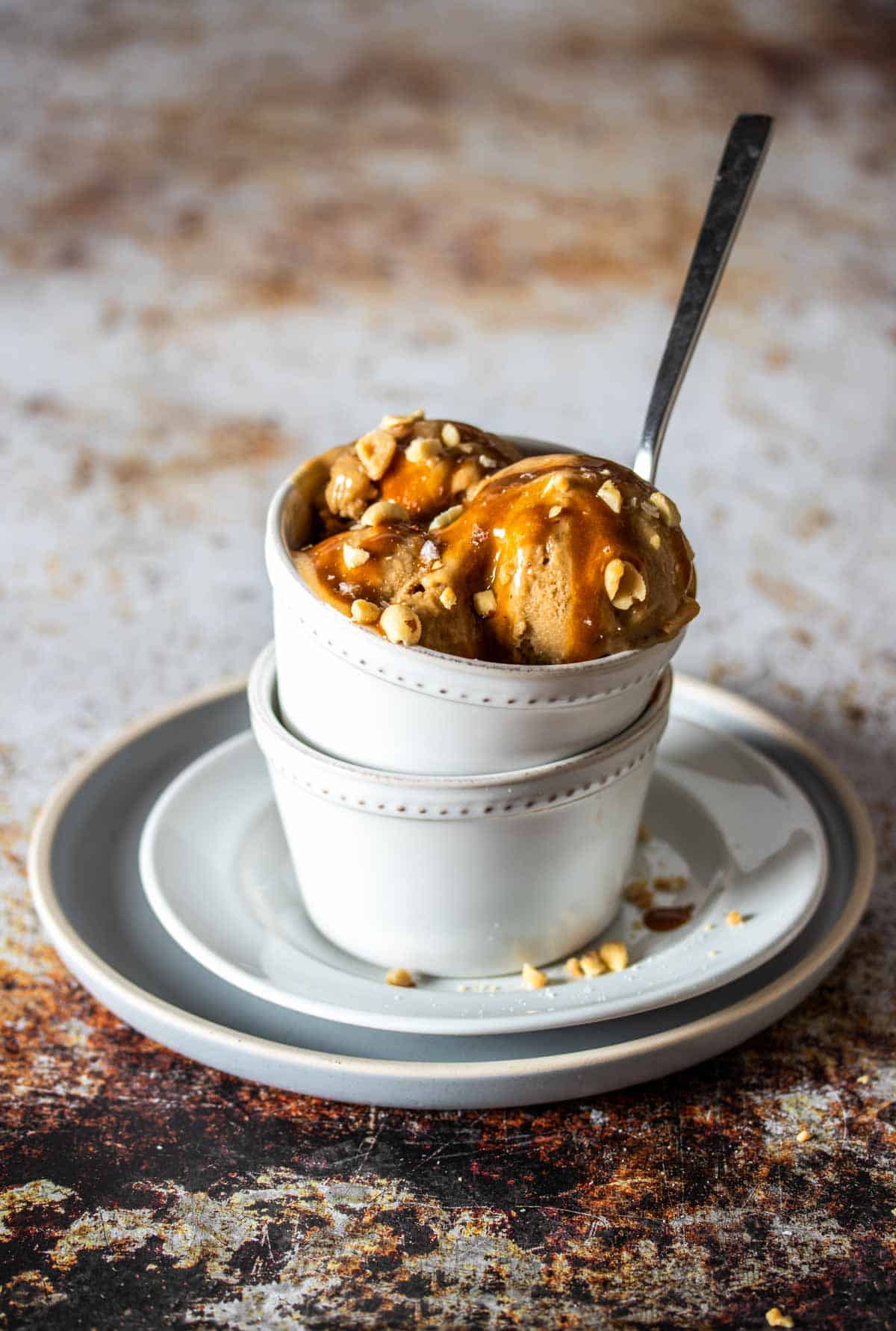 More Nice Cream Flavors
Once you know how to make nice cream you can get creative with more flavors! Try out these nice cream ideas next time:
Chocolate Peanut Butter Nice Cream - Mix in some cacao powder or Homemade Vegan Chocolate Syrup to this recipe.
Banana Berry Nice Cream - Blend in frozen berries to this recipe to make it extra fruity.
Chocolate Nice Cream - Skip the peanut butter and mix in chocolate syrup or cacao powder.
Coffee Nice Cream - Instant coffee mixed in gives a great flavor that will perk you up.
Pistachio Nice Cream - Use pistachios and avocado for a creamy green dessert.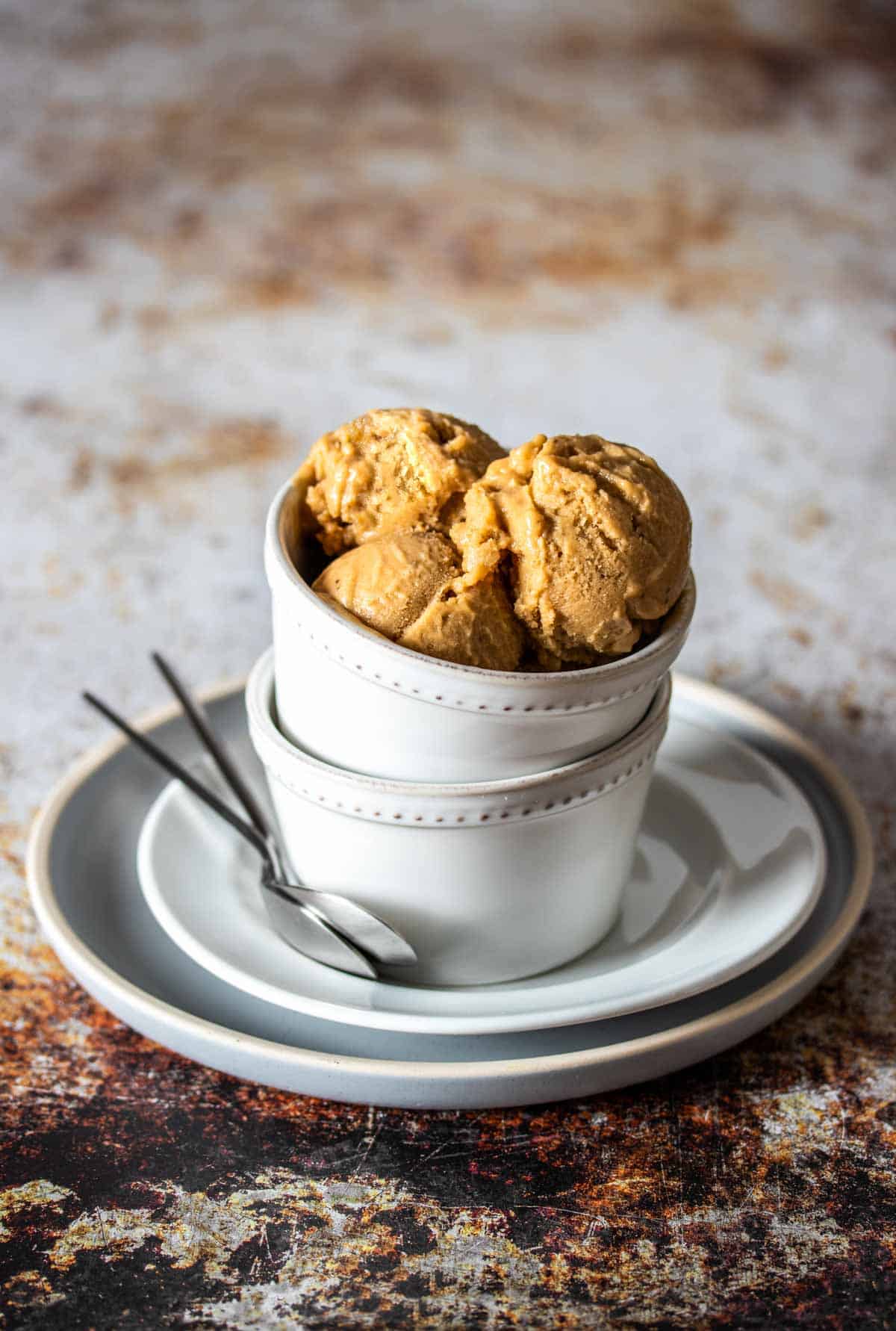 Preparation Tips
The browner the bananas are the sweeter they will be.
Canned coconut milk will give you the creamiest consistency, but any dairy free milk will work.
Start off by pulsing the frozen bananas, if you try blending right away they will get stuck.
Avoid blending on high because the heat will melt the mixture.
Storage Tips
Keep your nice cream in the freezer if you are not going to eat it all right away.
Store it in a tightly sealed airtight container.
Ensure you avoid any freezer burn by placing a piece of parchment paper or plastic wrap directly on the top of the nice cream before sealing the lid.
This nice cream recipe should stay good in the freezer for up to 3 months.
More Vegan Dessert Recipes
Now that you know how to make banana nice cream, it's time to try more healthier desserts! Check out these easy plant based recipes: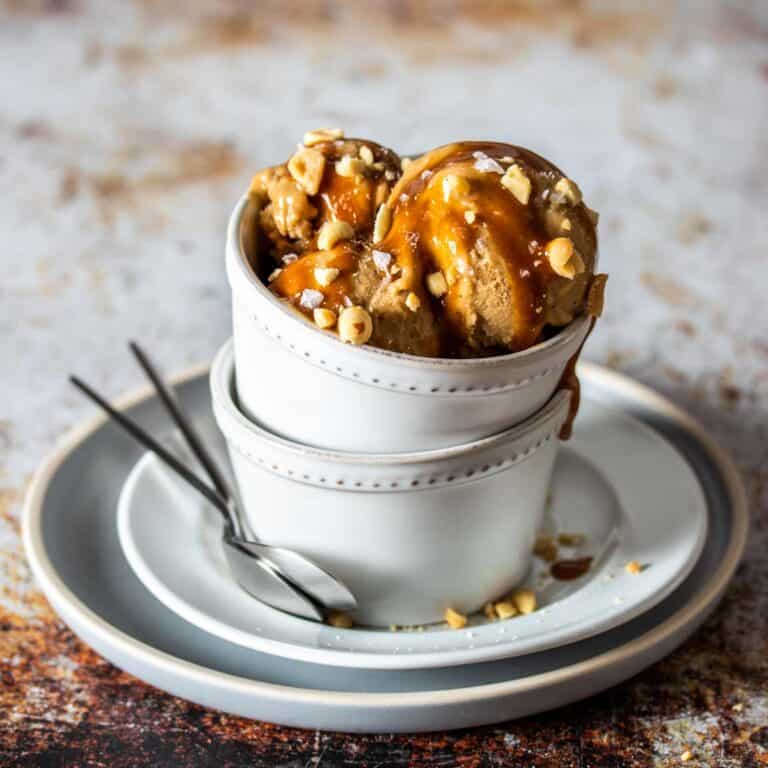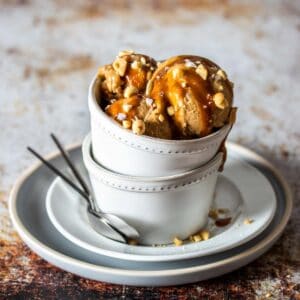 3 Ingredient Peanut Butter Banana Nice Cream Recipe
This peanut butter banana nice cream recipe is made with only 3 ingredients. It's the healthy dessert you've been looking for, fast, simple and absolutely delicious!
Ingredients
4 cups frozen sliced bananas , the browner they are when you freeze them the sweeter the end result
½ cup PB2 powdered peanut butter , see note
4 tablespoons dairy-free milk  , use canned coconut milk for the most creamy version
Optional Peanut Butter Caramel Topping:
Instructions
Put frozen bananas into a blender (you can also use a food processor). Pulse to chop into small pieces, you almost want it shredded. Make sure you pulse and not blend so that it doesn't get stuck.

Add milk and powdered peanut butter. Blend or pulse on low while stopping to move the mixture around. If you have a vitamix, the tamper will work well for this. Do not blend on high or the heat will melt the mixture.

Once it is the consistency of ice cream, pour into a bowl and serve topped with the toppings you want! If it's too soft, then freeze for about 2 hours to firm it up.
Notes
The powdered peanut butter helps give this recipe a delicious yet lower fat and calorie option. If you do not have it, you can use peanut butter.
You can use a blender or a food processor for this recipe. You want it nice and thick so you will need to stop and mix it with a temper or spoon to get it going because you do not want too much liquid or it will be too soft.
The nutrition facts include the base recipe only, and no optional toppings.
Recipe by Veggies Don't Bite, visit our site for more great plant-based recipes.
Nutrition
Calories: 181kcalCarbohydrates: 39gProtein: 7gFat: 2gSaturated Fat: 0.2gPolyunsaturated Fat: 0.2gMonounsaturated Fat: 0.1gCholesterol: 0.01mgSodium: 115mgPotassium: 537mgFiber: 6gSugar: 19gVitamin A: 146IUVitamin C: 13mgCalcium: 35mgIron: 0.4mg
Nutrition and metric information should be considered an estimate.
Never miss a recipe!
Sign up here and get a FREE quick and easy meal guide!