This vegan 7 layer dip is the perfect example of a nutritious that's bursting with flavor! It's a crowd pleaser for all types of eaters.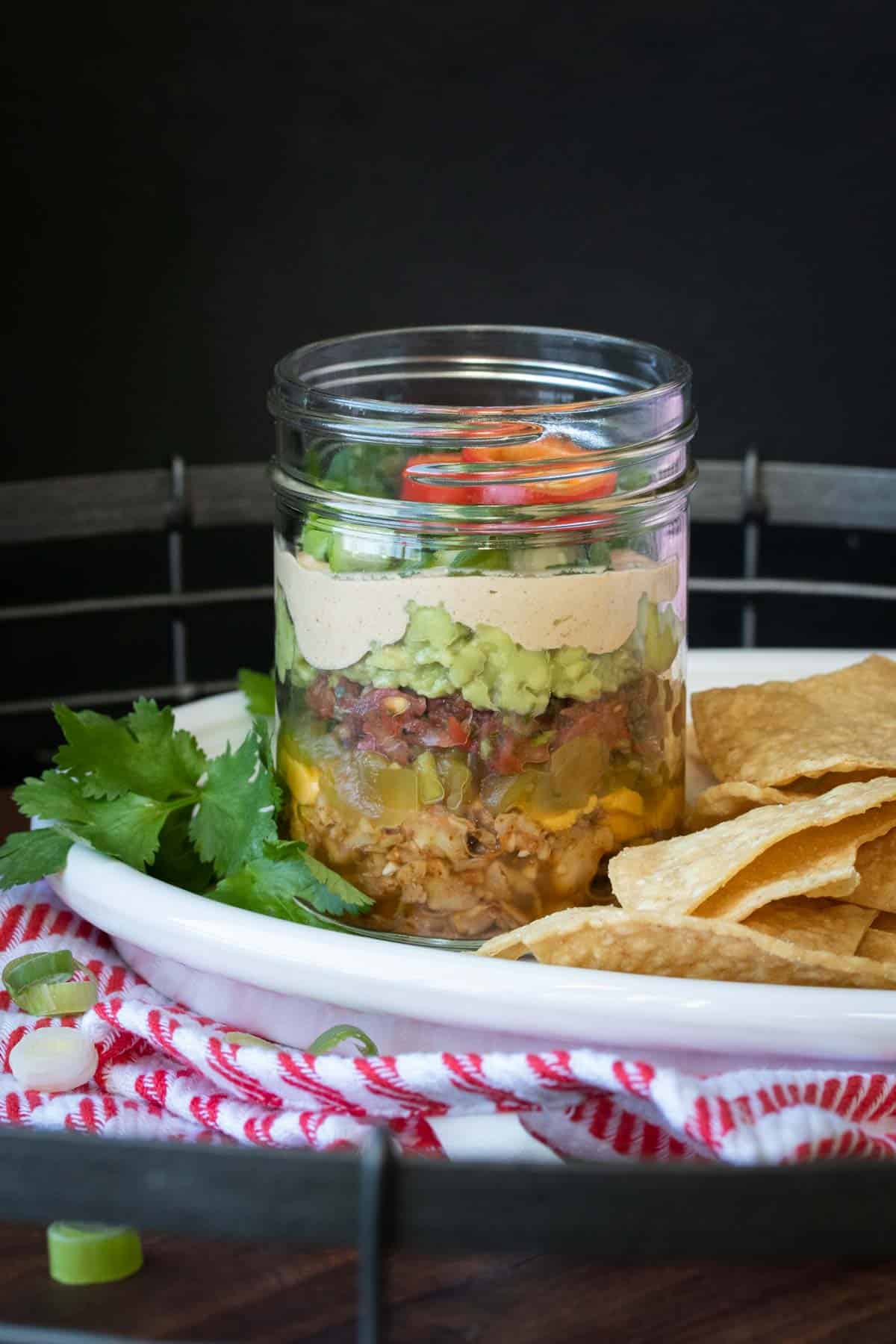 This post was originally published on September 9, 2015.
This conversation is sponsored by Silk. The opinions and text are all mine.
I guarantee that this vegan dip will go fast! With the creamy vegan cheese sauce and amazing refried beans, you really can't stop eating!
Super Bowl Sunday is almost upon us. I love football and I love Super Bowl parties! This Vegan 7 Layer Dip is one of my go to recipes for the big day. I'm talking layers upon layers of goodness, with none of the heavy or bloated feelings that can come with heavy appetizers. I promise that you will not miss the dairy or meat, in fact, the only thing you'll miss as you're devouring this is the game!
How to Make Vegan 7 Layer Dip
The key to this dip is all the amazing layers. The creamy taco sauce and cheese sauce contribute that extra pinch of satisfaction. You don't miss the traditional dairy at all! And, since this recipe uses all wholesome plant based ingredients you don't feel all blah after eating it!
Ingredients
The Unsweetened Cashew Milk by Silk really adds extra creaminess to the taco sauce. I often use water to add liquid to my sauces, but sometimes when I need an extra creamy punch, I love using a plant-based milk. Like here.
Diced chiles
Cilantro
Green onions
Hot pepper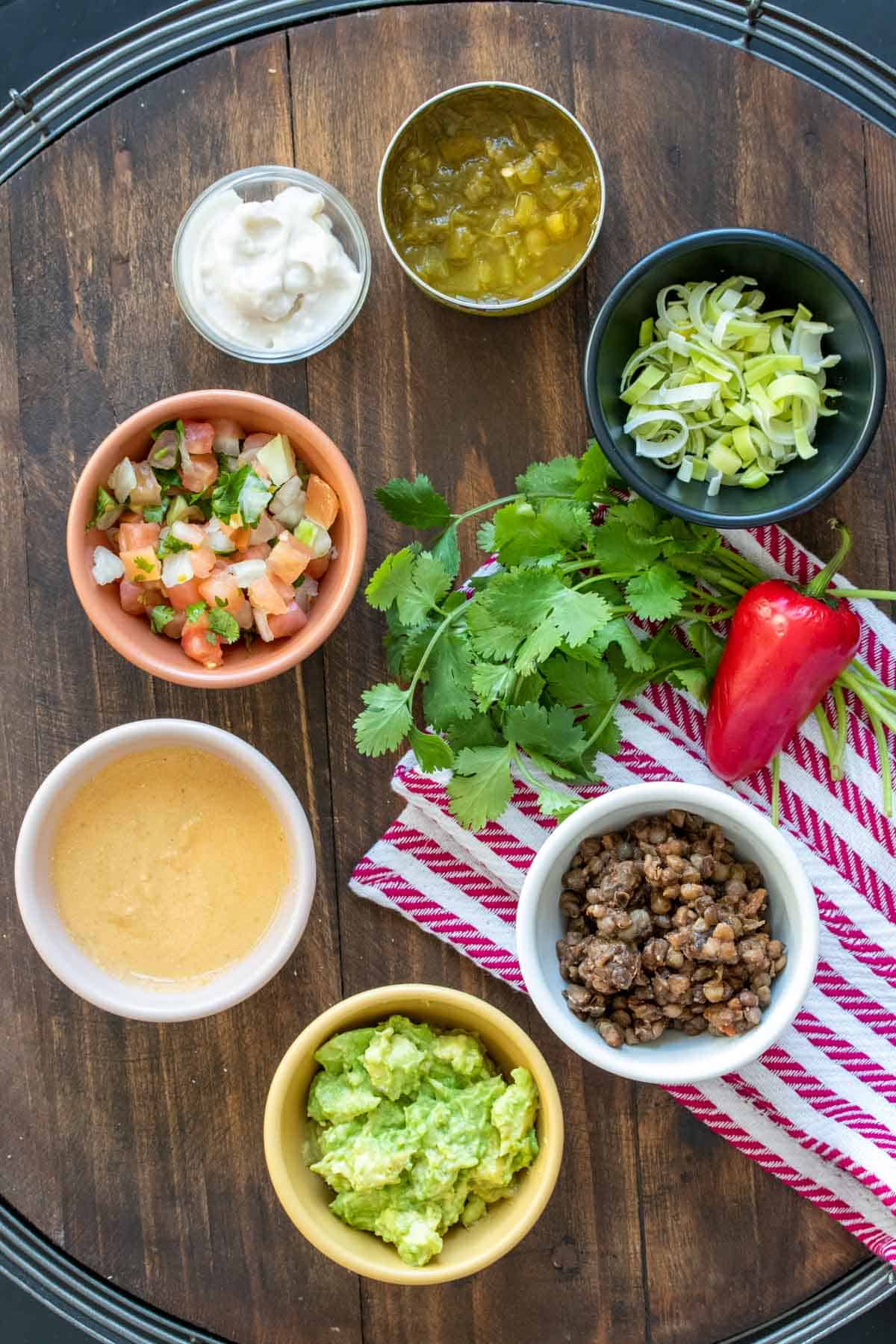 Step by Step Instructions
Spread each layer of the dip as evenly as possible in the dish in this order:
Vegan taco meat
Cheese sauce
Chilis
Salsa
Guacamole
Taco sauce
Cilantro, green onions and optional hot pepper
What to Serve with 7 Layer Dip
There's no rules that say you can't gobble this up with a spoon, but I highly suggest yummy dippers. Here are some of the best foods to serve this dip with:
Celery
Carrots
Broccoli
Peppers
Crackers
Baguette slices
Or throw this dip into some tortillas and enjoy as a taco or burrito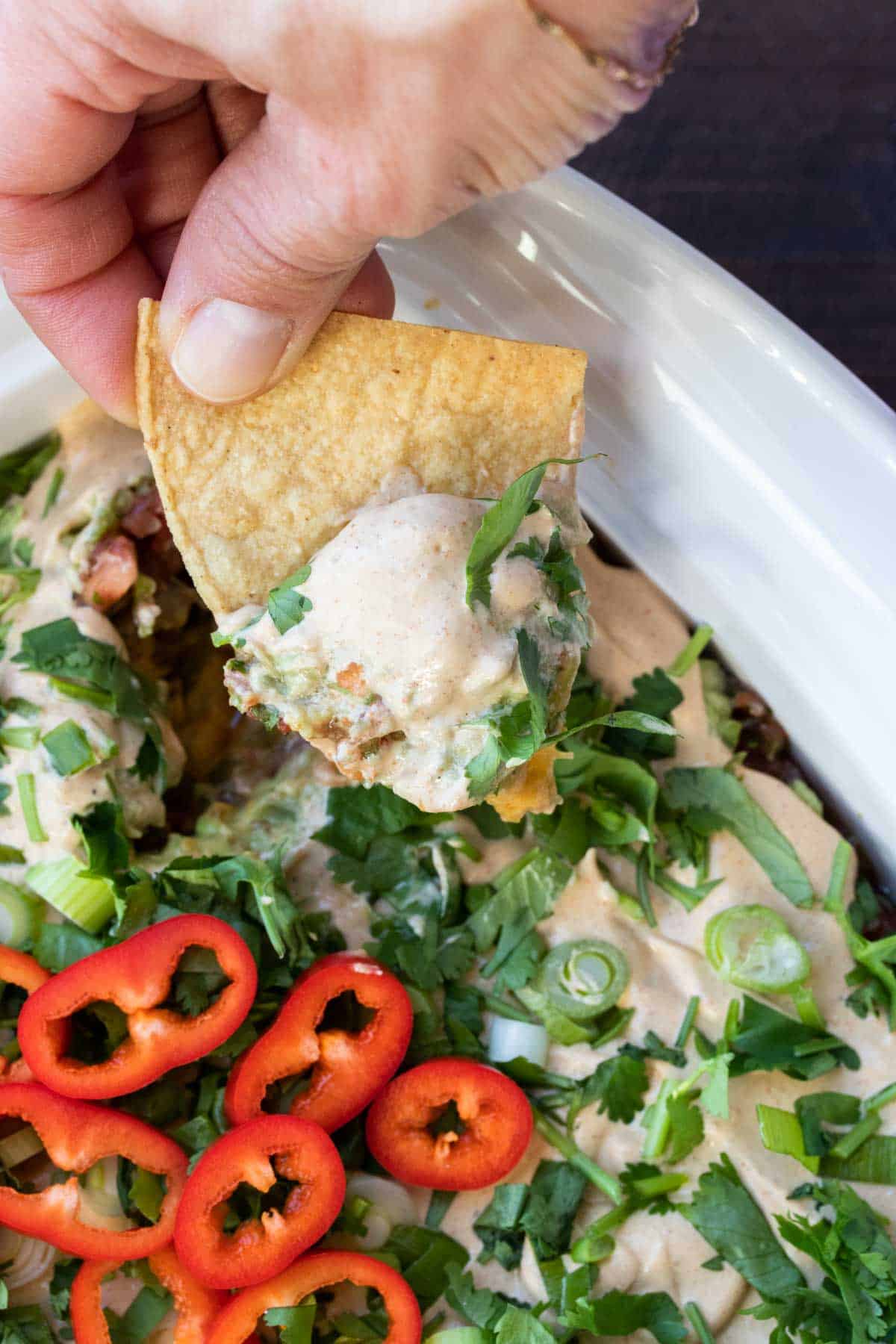 Prep Ahead Tips
This dip is simple but can be time-consuming. There are many aspects to this recipe so you need to come into it with a plan. If you follow my tips, not only can you make this fast to assemble the day you need it, but it will also give you some extra dinner ideas as you go!
You can transport this in any glass or ceramic dish. It doesn't have to be heated, so no worry about having to keep this warm. Another idea is to make this vegan dip in individual glass jars. It is a super cute way to present it and then everyone can have their own jar, which also minimizes double dipping. Haha!
I like to start a few days before and slowly make a few layers a day. Here is my usual strategy:
2-3 days before: vegan taco meat, cheese sauce, creamy taco sauce
Day before: salsa, chop cilantro and green onions
Day of: guacamole
Each day that you make a layer, you can use some of the extra that each recipe makes (or make extra if you want more than what will be left) to create another meal. Here are some examples:
When you make the meat, cheese and taco sauce you can make bowls for dinner by adding some lettuce or rice. Follow these Low Fat Vegan Mexican Taco Bowl as an idea.
When you make the salsa and chop cilantro and onions, you can make some enchiladas to use those items as well. Like these Easy Vegan Chickpea and Spinach Enchiladas
When you make the guacamole, you can spice it up and make it a meal with quesadillas. Try this ultimate guacamole recipe to spice up the plain one.
Storage Tips
If prepping ahead, store each layer separately in airtight containers in the refrigerator for up to 3 days.
Once assembled it's best if enjoyed within 24 hours. Otherwise the guacamole may start to turn brown.
Make sure to mix in lime juice to your guacamole to avoid it turning brown.
You can also reduce the browning by placing a layer of plastic wrap directly against the top of the dip to try to prevent as much contact with the air as possible.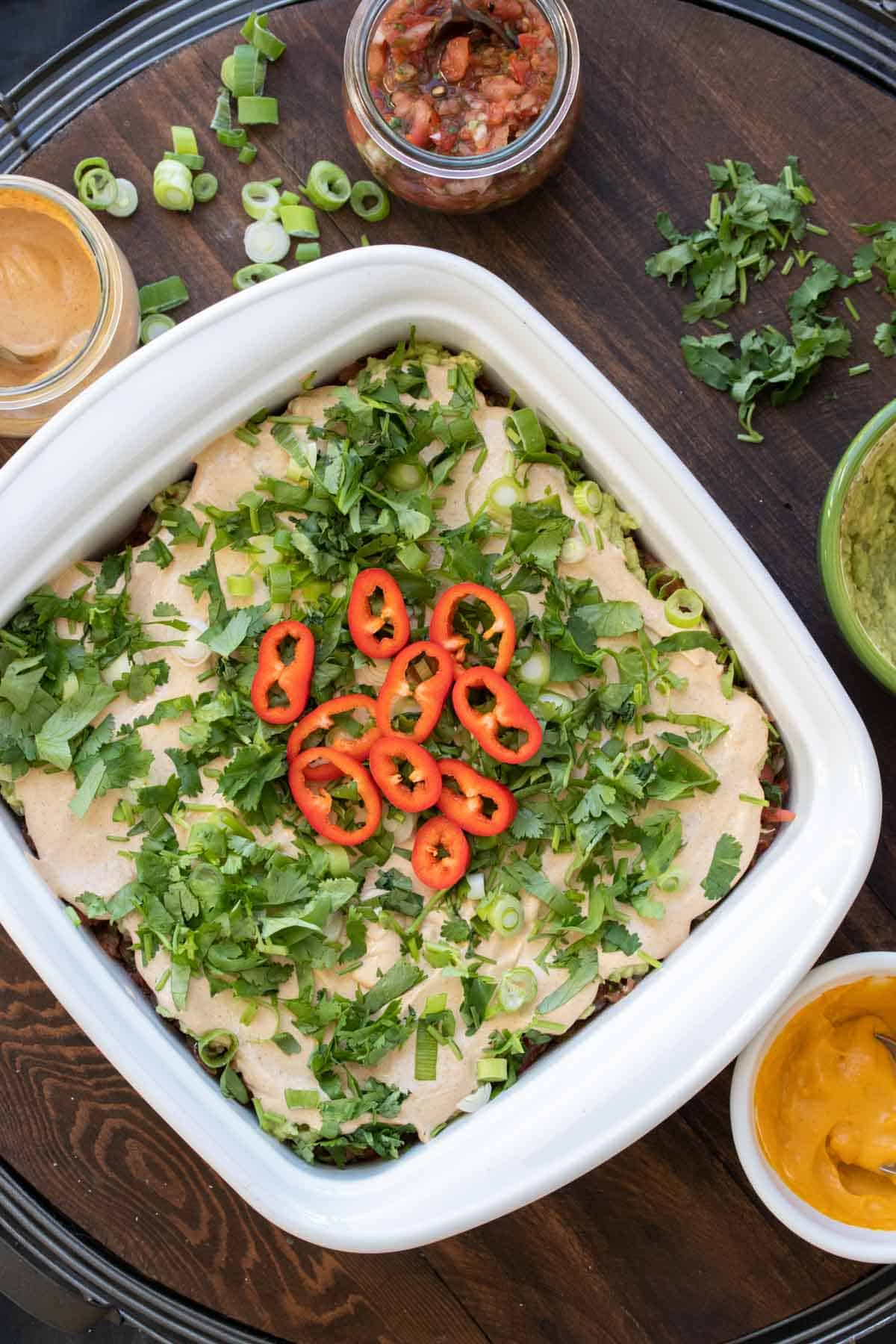 Common Questions
Can you make 7 layer dip ahead of time?
You sure can! This will keep for a couple of days in the refrigerator, but it would be best to make it only a day or two max ahead of time.
What do you serve 7 layer dip with?
7 Layer dip goes the best with tortilla chips in my opinion! But you could also serve with other things too like crackers, celery, carrots or peppers.
More Vegan Party Dips
Sometimes when it comes to dips, more is more. Here are some other plant based reader favorites!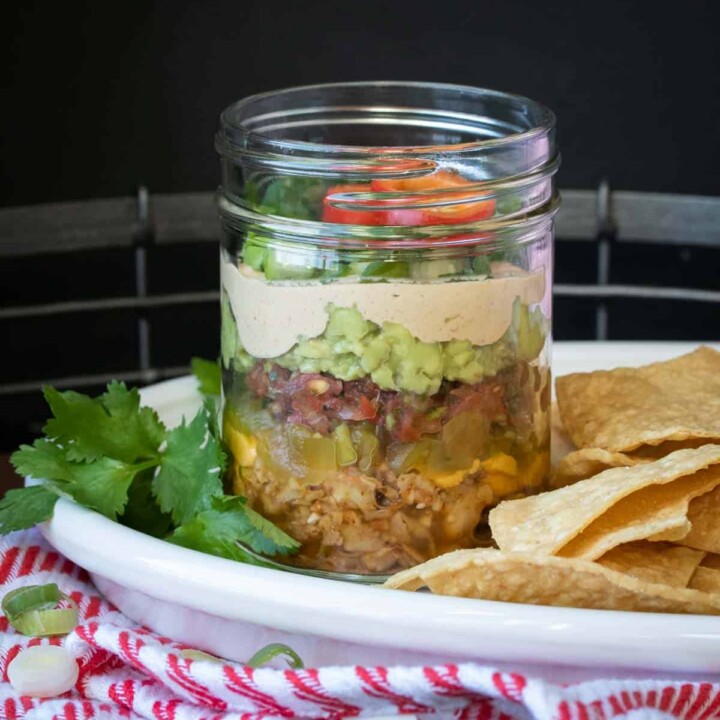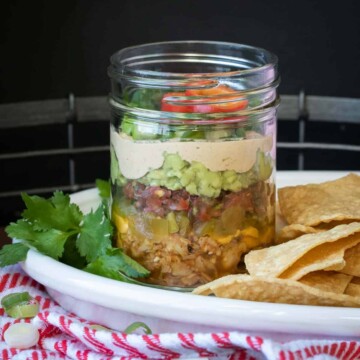 Vegan 7 Layer Dip
This vegan 7 layer dip is the perfect example of a nutritious that's bursting with flavor! It's a crowd pleaser for all types of eaters.
Instructions
Use a square baking dish and layer as follows:
Spread taco meat at the bottom.

Spread cheese sauce on top of meat.

Spread the diced chiles.

Spread the salsa.

Spread the guacamole.

Spread the creamy taco sauce or sour cream.

Sprinkle with chopped cilantro and green onions. Add hot pepper garnish if desired.

Serve with tortilla chips, veggies or anything else you want!
Notes
Make sure to pay attention to how much the recipe for each layer yields and adjust accordingly if you need more or don't want to end up with extra. I made the whole thing of each and kept extras for other meals or froze them if they were freezer friendly.
You can sub my refried beans for the taco meat.
Nutrition facts are an estimate as it depends on which exact recipes you use for each layer.
Tips to prep ahead:
Make each layer ahead of time and keep in fridge until ready to put together.
Recipe by Veggies Don't Bite, visit our site for more great plant-based recipes.
Nutrition
Calories: 491kcalCarbohydrates: 54gProtein: 12gFat: 26gSaturated Fat: 1gPolyunsaturated Fat: 1gMonounsaturated Fat: 1gTrans Fat: 1gCholesterol: 1mgSodium: 927mgPotassium: 920mgFiber: 17gSugar: 17gVitamin A: 854IUVitamin C: 44mgCalcium: 58mgIron: 10mg
Nutrition and metric information should be considered an estimate.
Never miss a recipe!
Sign up here and get a FREE quick and easy meal guide!