When it comes to vending machines, vegan options are hard to come by. And one that is filled with all vegan treats is unheard of. Until now!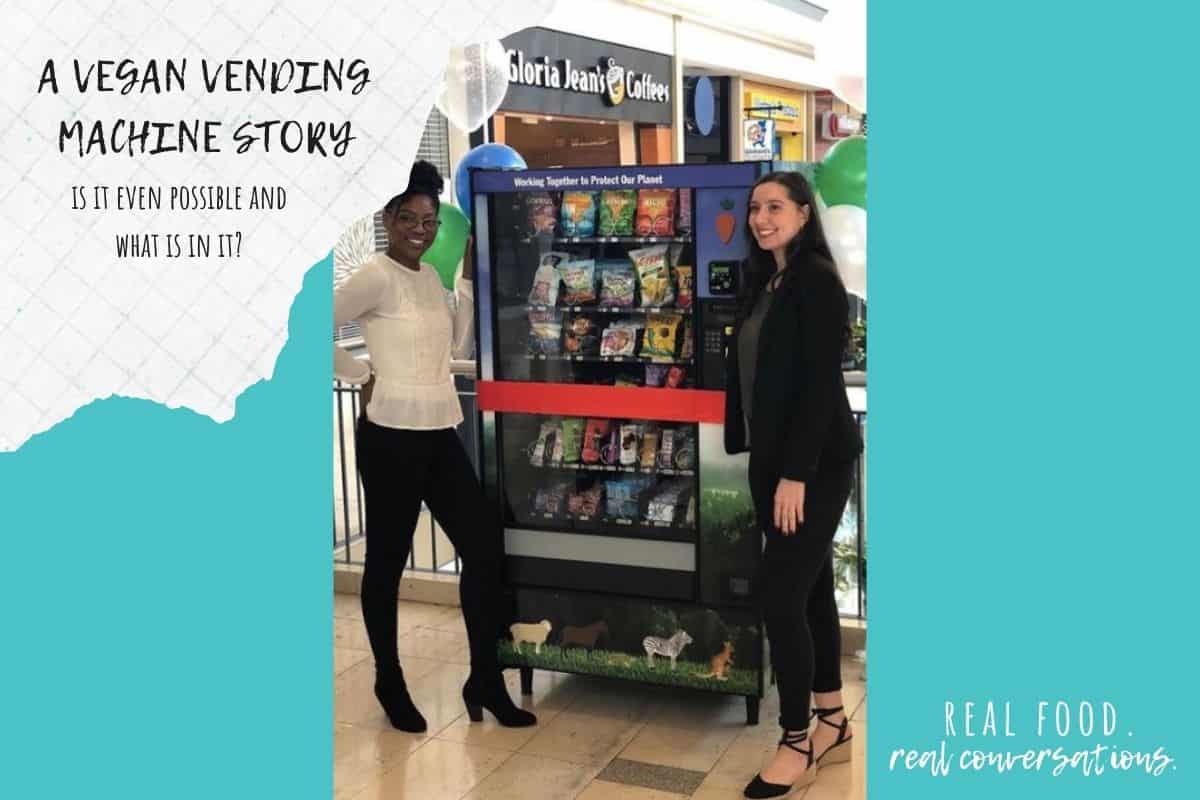 These two women are taking the world by storm with their new product, a fully vegan vending machine! Listen to find out why they are doing it and the barriers they are breaking.
Podcast: Play in new window | Download | Embed

Subscribe now! Apple Podcasts | Google Podcasts | iHeartRadio | Stitcher | TuneIn | Deezer | RSS | More
Introducing CEO's Gabriella Rubin and Aurellia Cammock the Founders of VEGMI LLC. Gabriella is 24 from Staten Island, NY and Aurellia is 25 from Brooklyn, NY.
VEGMI is a vegan vending machine business that is designed to offer snacking options for everyone. They also launched a global vegan market place in April 2021. Their mission is to save animals, stand up for human rights and help bring income to people all over the world.
Vegan Vending Machine Options
The goal of VEGMI is to replace every vending machine out there. To make grab and go snacks accessible for all, regardless of diet, allergy and perference.
Right now there, are not always options in vending machines for a variety of needs. And if there are, trying to figure it out while looking through the glass at something you may or may not be able to read is downright impossible.
VEGMI has the snacks clearly labeled so that you can grab and go without stress.
The snacks encompass foods that are vegan, gluten free, kosher, soy free, non gmo, organic and more!
Reasons to Have a Vegan Vending Machine
The mission for VEGMI is focused on accessible food for all but it's also about giving opportunity to everyone.
They want to make everyone feel included, so when you're needing that easy quick option there is something for you, no matter what diet you must or choose to follow.
What we consume directly corresponds to how we feel, so we need some healthier options out there for those that want them. And currently, most vending machines do not provide that.
Also, we need access to these types of options in all societies, money or not. We can't continue to sit back and watch our lower socioeconomic neighborhoods not have the same accessibility.
VEGMI also wants to create an opportunity for everyone. The VEGMI vending machines are individually owned, so anyone that wants to start their own business has the opportunity.
Gabby and Auri (we're besties now so I feel like I can call them by their nicknames), want to help people creating an income. Be their own boss and have that residual money coming in.
Things Inside a Vegan Vending Machine
There are so many options for what can be inside a vegan vending machine!
The idea is to allow each person to own their own machines, and then they can make up what they want inside themselves. If they want it all healthy options, then great. If they want it all vegan or all kosher or all organic, then they have the choice.
Some of the types of snacks you can find in a VEGMI machine are:
Oreos
Potato chips
Pretzels
Protein bars
Trail mix
Pumpkin seeds
Nuts
Veggie chips
And so many more!
Where to Find Vegan Vending Machines
The idea is to replace all vending machines with VEGMI machines. So truly, anywhere you see a vending machine is a great place to find VEGMI.
A few places that you can find them are:
Schools
Shopping Malls
Offices
Auto body shops
Gyms
Apartment complexes
Hospitals
Nursing homes
Challenges in Creating a Vegan Vending Machine
The biggest issue is first to get people familiar with the snacks. One strategy is to have something they know, like Oreos, in the machine. Oreos are vegan, but many people don't know that.
So if we break the stigma that vegan snacks are everywhere, even things you are used to eating, it will make people feel more comfortable. Vegan and healthy snacks are tasty, it's not all just nuts and fruit.
Once someone is interested, they are able to explore the other options, and may be open to trying new things. Even healthier things that they may have not selected before.
The VEGMI team does extensive research before they decide what to put in the machines. They also work together with the entrepreneurs who own them if they find snack they want.
Bit by bit we can start making these machines the new normal. If you or someone you know wants to own a VEGMI machine, make sure to get in touch with them!