Get your kids in the kitchen with these broccoli cauliflower tots. They are super simple, easy to put together and have few ingredients!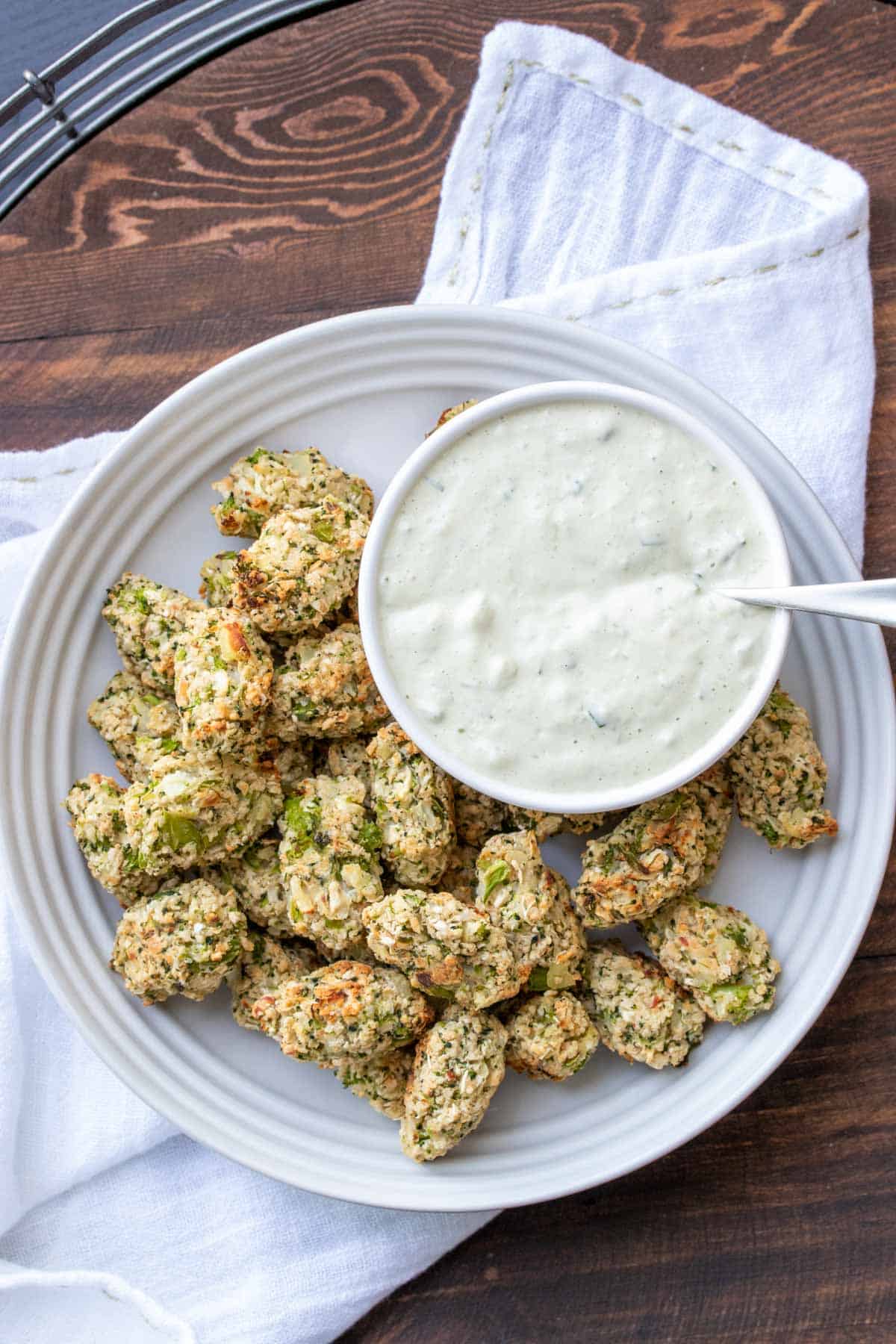 This is a sponsored conversation written by me on behalf of Earthbound Farm Organic. The opinions and text are all mine.
We all struggle with kids and veggies, at least one of our angels has what I call a "moody palate." If you don't have this issue, then consider yourself lucky. But for the rest of us, we need to make sure our veggie game is strong.
Veggie Tots: Getting Veggies Into Kids
I figure my best strategy when it comes to the littlest monster, is give them the veggie in the form they like best. For him, it's tots.
Since kids are so simple, you need to make sure you don't over spice things, veggies in particular. Exposing them to the natural flavors that most veggies bring is a good thing, especially those that are mild in flavor.
When it comes to veggie choice you also need to make sure the flavor is on point, which is why Earthbound Farm Organic is my fave brand. Back when I visited the actual Earthbound farm in northern California, I was able to taste their produce straight from the ground. And it was incredible.
Quality really does make a difference. The last thing I need is for my kids to reject their veggies without knowing the true flavor they can have. And I love that Earthbound has such a wide selection.
Huge bonus, is that they have all of their awesome veggies in frozen form too! We use both fresh and frozen veggies, depending on what we are making. For these broccoli cauliflower veggie tots, I used the fresh form but the great thing is that the frozen form works too!
What are tater tots made of?
Traditionally, tater tots are potato based. But it's really easy to add in other veggies without altering the flavor or texture too much.
Our favorite go-to veggies for veggie tots:
Potatoes- a great filler, whole food carb and helps them stick together
Broccoli- full of nutrients and mild when mixed with other veggies
Cauliflower- easily takes on the flavor of other things and mild when served with simple flavors
Are broccoli tots good for you?
The love affair I have with broccoli tots runs deep. I'm not always a fan of "kid food" due to how unhealthy it can be, but this kid food turned veggie vessel has me all sorts of heart emojis.
Here is why I love them:
You can sneak in veggies for ALL types of veggie haters (think cauliflower for the ultimate sneak and all things green for the easy eaters)
They are super easy to put together
Your kids can help
They don't have any fancy ingredients
It's a no waste recipe, using the entire veggie is easy to do
Food Waste Solutions
I love when I figure out ways to get the most bang out of my buck when it comes to veggies. Ultimately this means no wasting.
These broccoli cauliflower tots are ideal, because the heads go into the tots and the stems become delish little rounds and sticks that you can dip into anything from ketchup (or is it catsup?) to creamy chive dip!
Subbing different veggies
Another great way to reduce food waste is to use up what you have. Veggie tots are perfect for this because it's super easy to customize them.
The main thing to keep in mind is that you need to stick to the same veggie/potato/breadcrumb ratio. You also want to make sure your veggies aren't too watery.
Here are some of our favorite subs:
spinach- I pulse this to make it easy to mix in
sweet potato- a great addition or sub for regular potato
zucchini- make sure to salt it first to allow some of the water to come out
carrots- grate them before use
The options really can go on and on. If you happen to get a mixture that feels a little too wet, then you can always add some breadcrumbs to suck up the moisture
Can I eat the whole broccoli?
Broccoli is one of our favorite veggies and a huge reason why is that I am able to use the entire thing and waste nothing!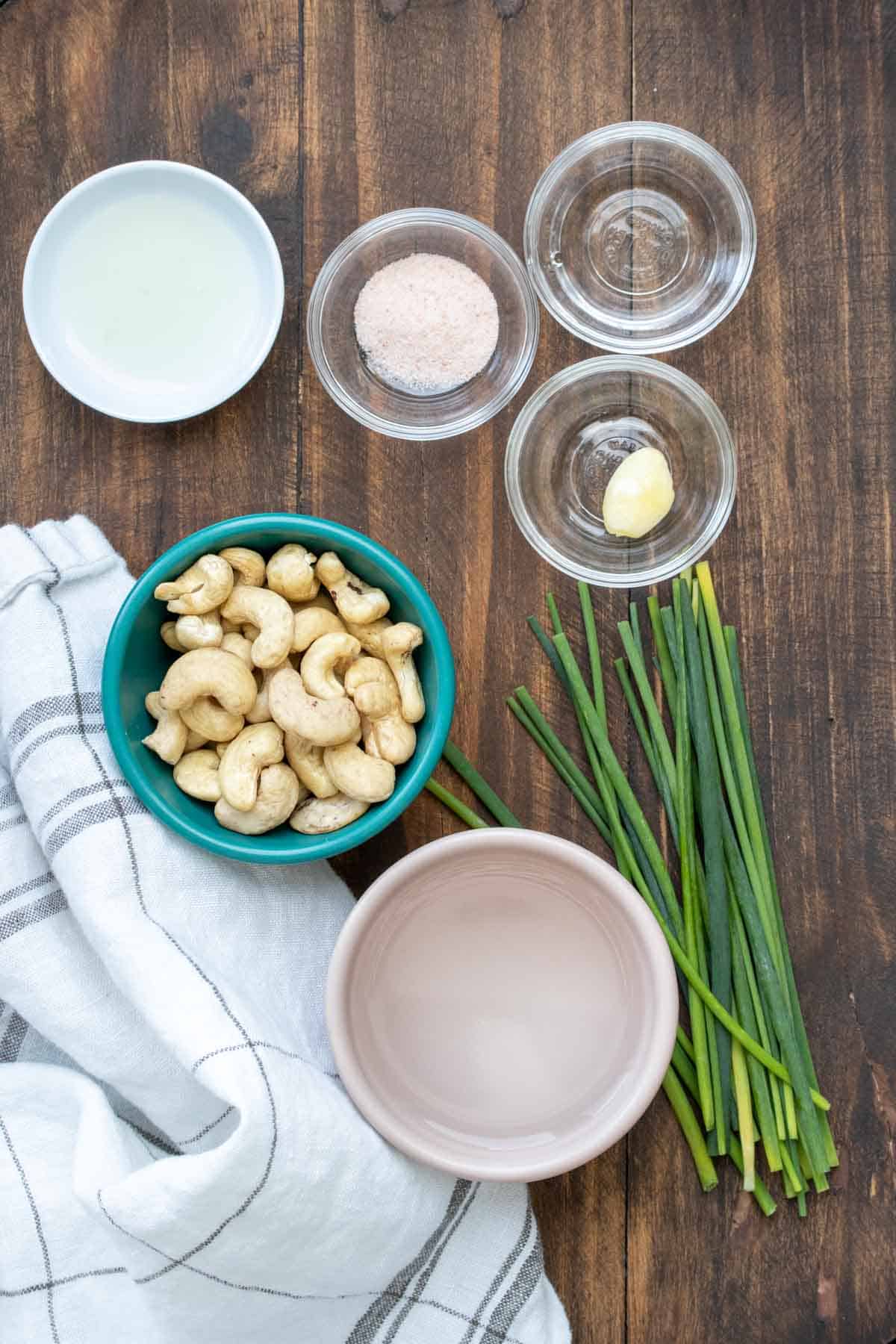 Here is how we use our broccoli:
Cut the stems off
Use the head in whatever way we need
Slice the stem into sticks and rounds (because of course we don't agree, insert eyeroll)
Roast them with salt, pepper and a touch of olive oil (or broth for oil free)
Making Broccoli Cauliflower Tots
My kids help me make these all the time. They are simple, without a lot of ingredients or steps. Involving kids in the process helps them feel empowered with food and they are more likely to eat it!
Also, teaching them how to cook in an earth friendly way teaches them creativity in the kitchen and helps them understand how their choices affect our environment.
Here is how simple it is to make these broccoli cauliflower tots:
Boil/blanch the veggies.
Pulse ingredients in a food processor.
Form into tots.
Bake.
You can make the dip while they are baking. Or the night before if you're super on top of it. Texture is on point!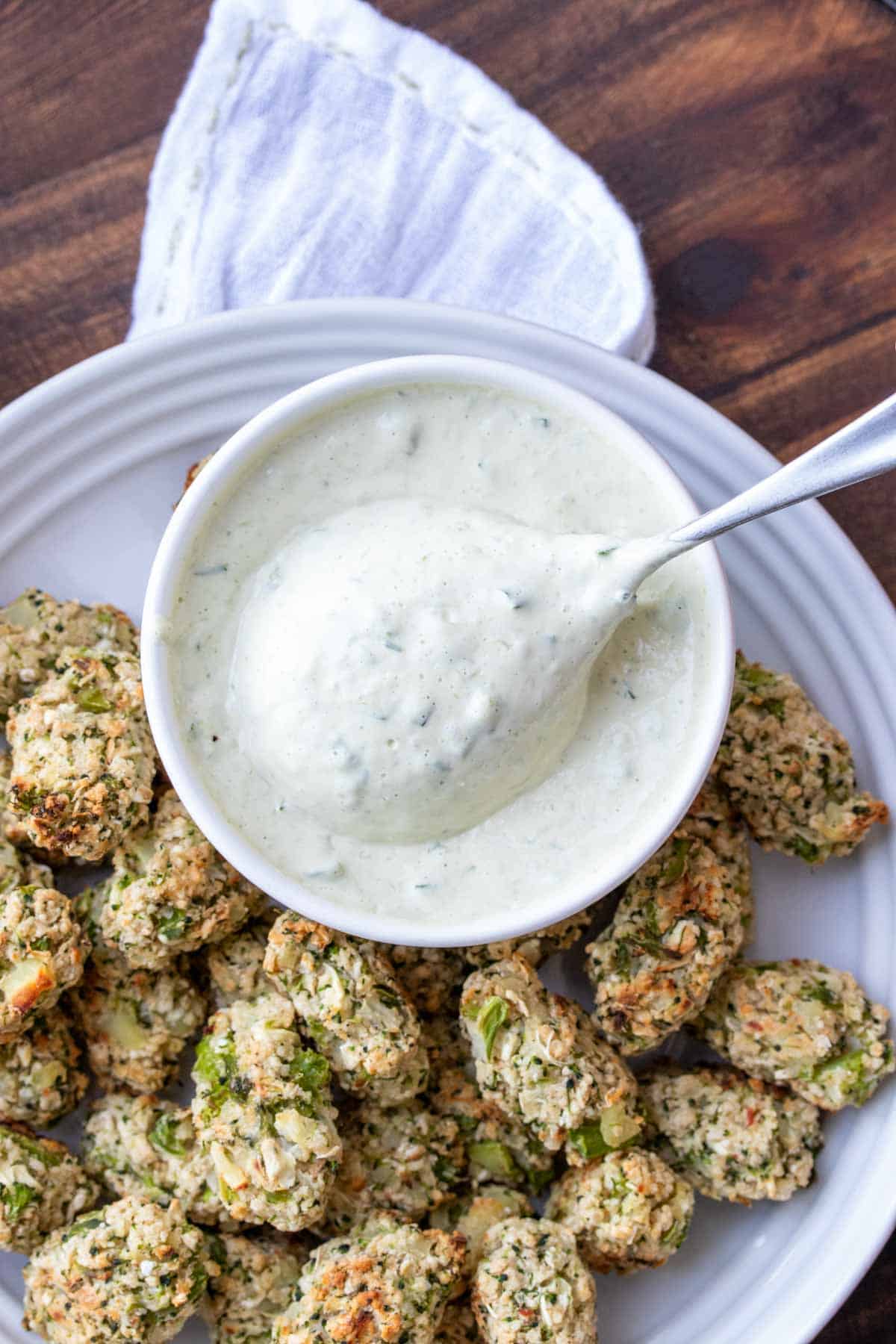 Vegan Sour Cream and Chive Dip
In our house, every tot needs a dip. Really, what doesn't need a dip? Basically, dip is life.
Here's what the boys and I threw together, it's a vegan sour cream and chive type dip. A bit of a cousin to the vegan ranch we eat weekly.
Blend the base until creamy smooth.
Add the chives.
Dip all the things…
In celebration of Earth Month, Earthbound Farm is asking, "How green are you?" From now till April 30, take their quiz to see how your shopping choices stack up. Bonus? You'll be entered to win one of 12,000 snazzy reusable totes to take your sustainable shopping game to the next level.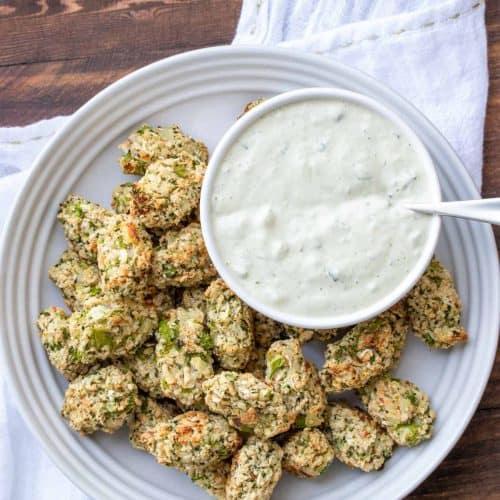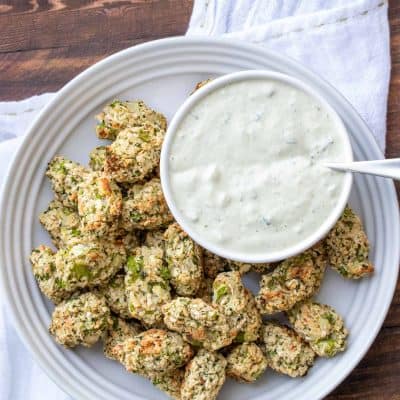 Baked Broccoli Cauliflower Tots and Creamy Chive Dip
Get your kids in the kitchen with these broccoli cauliflower tots. They are super simple, easy to put together and have few ingredients!
Ingredients
1

cup

chopped broccoli

, save the stems for baked sticks or rounds

1

cup

chopped cauliflower

, save the stems for baked sticks or rounds

½

cup

potato

, about 1 medium peeled potato

½

cup

white beans

½

cup

breadcrumbs

1

teaspoon

minced onion

¾

teaspoon

sea salt

¼

teaspoon

ground black pepper
Creamy Chive Dip:
1 ½

cups

cashews

1

cup

water

2

tablespoons

lemon juice

1

tablespoon

white distilled vinegar

1

clove

garlic

1

teaspoon

sea salt

½

cup

chopped chives
Instructions
Preheat the oven to 400 F/ 205 C

Boil potato for about 6-8 minutes, until just able to put fork in it. Blanch broccoli and cauliflower by dropping them in the boiling water for about a minute.

You could also cook the potato in the microwave, and blanch the broccoli and cauliflower. Or cook them all in the microwave. See notes for instructions on using frozen veggies.

While this is cooking, cut the stems of the cauliflower and broccoli into sticks or rounds. Mix with a drizzle of olive oil, dash of sea salt and black pepper. Put on a parchment lined cookie sheet and set aside.

Strain the potato, broccoli and cauliflower and put in a food processor with the other ingredients.

Pulse until mixture is crumbly and sticks together.

Form into tot shapes. I used about a heaping tablespoon for each.

Bake on a parchment lined cookie sheet for 30-35 minutes, or until the edges are browning.

Also put the cookie sheet with the stems in the oven at the same time. Bake these for about 20 minutes, or until you get the texture you like.

While baking, make the dip by putting all ingredients except the chives into a blender and blending until nice and smooth. Add in the chives and pulse to incorporate.

When the tots and stems are done. Serve with the dip!
Notes
Cut the raw broccoli cauliflower and potato into larger chunks and measure roughly, or use the weights given
You can use frozen veggies if you prefer. Just measure out the same amount, defrost slightly in the microwave or countertop, then strain out any residual water.
Sub in other veggies to clean out your fridge. Carrots, sweet potato, zucchini, and spinach all work great! Just make sure to strain out any extra moisture.
Makes about 36 tots, with serving size being 6 tots.
Dip makes about 2 cups.
Nutrition facts shown are for the tots only.
Nutrition facts for 1/4 cup of the dip are as follows: 136 calories, 10 g fat, 7 g carbs, 4 g protein, 264 mg sodium
Tips to prep ahead:
Prep the veggies ahead of time.
Make the dip.
Recipe by Veggies Don't Bite, visit our site for more great plant-based recipes.
Nutrition
Calories:
64
kcal
Carbohydrates:
12
g
Protein:
3
g
Fat:
0
g
Saturated Fat:
0
g
Polyunsaturated Fat:
0
g
Monounsaturated Fat:
0
g
Trans Fat:
0
g
Cholesterol:
0
mg
Sodium:
272
mg
Potassium:
221
mg
Fiber:
2
g
Sugar:
0
g
Vitamin A:
95
IU
Vitamin C:
23.8
mg
Calcium:
24
mg
Iron:
1
mg
Nutrition and metric information should be considered an estimate.