Help bring in fall with these delicious and healthy Kabocha Squash Chips. Eat them as a snack or side dish, full of taste and nutrients!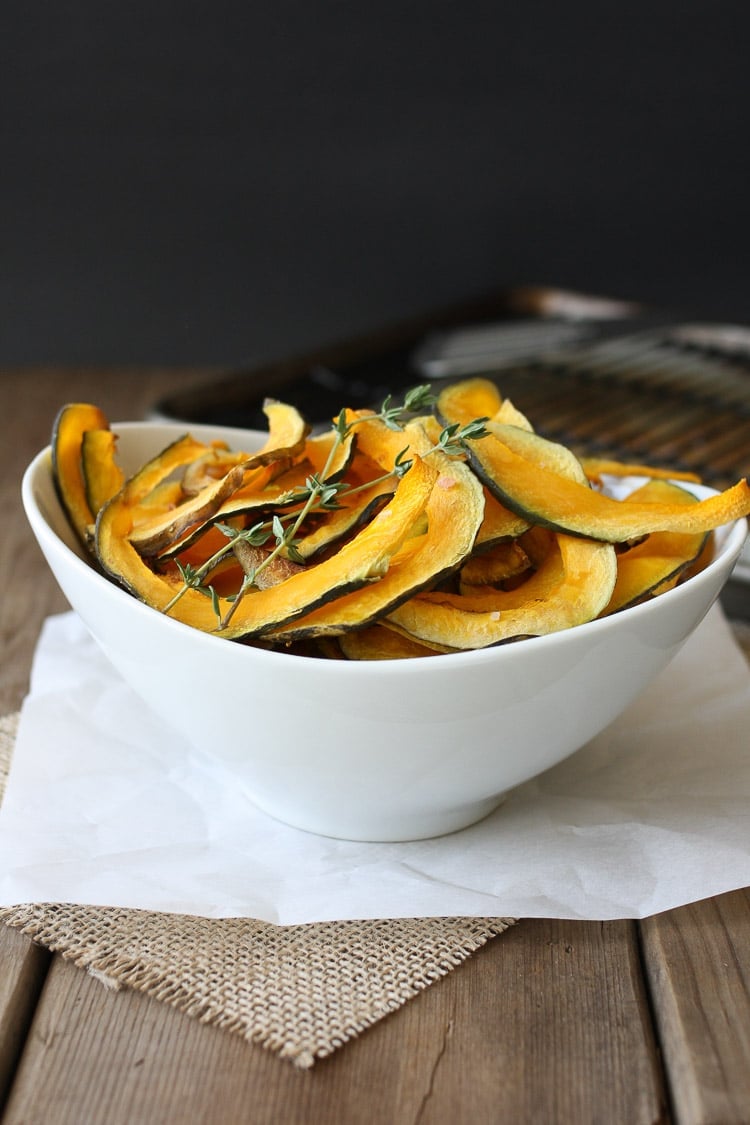 I discovered Kabocha squash last fall when experimenting with different recipes for the cooler weather that was approaching. I first used it in my Four Bean Crockpot Chili and I loved how it still stayed al dente after cooking in a crockpot all day.
I am pretty sensitive with textures and slimy overcooked veggies make me gag, especially now in my preggo days. Kabocha is an Asian winter squash and similar to a butternut squash in flavor. I love that you can cook and eat the skin because peeling skin off is a huge pain!
A good friend of mine gave me the idea to make this awesome squash into crispy chips in the midst of my major morning sickness when veggies were not agreeing with me.
I love the slightly sweet taste complemented with the dusting of Himalayan pink salt I added and hint of thyme. I made these both with and without a spray of coconut oil and either way was delicious. The slight coconut taste did give an extra depth of flavor though! But if you avoid oil, the good news is that it is great without it too.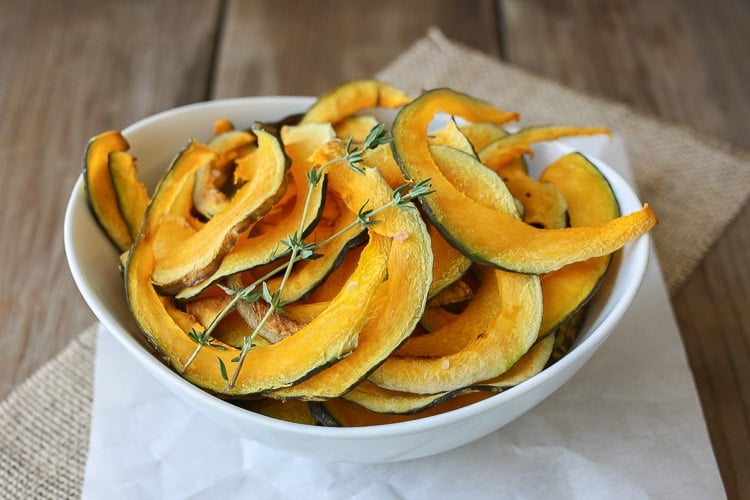 Top Tip For Making Kobocha Squash Chips
Baking these to crispness can get tricky, and I found that straight on parchment paper works best without oil or with very little oil. Because Kabocha releases water when cooked (especially freshly picked ones), if covered with too much oil, the oil almost traps the water in and doesn't allow the squash to crisp up as nicely.
The best way I found to cook it in order to get the crispiest chips is to place a drying rack on top of a cookie sheet and lay the squash strips across the rack. This way the squash stays dry as the water is collected below. Using parchment on a cookie sheet also worked. If you do use oil, a spray works best so that there isn't a solid layer of oil and water can still evaporate. Hope you enjoy! My kids LOVED these!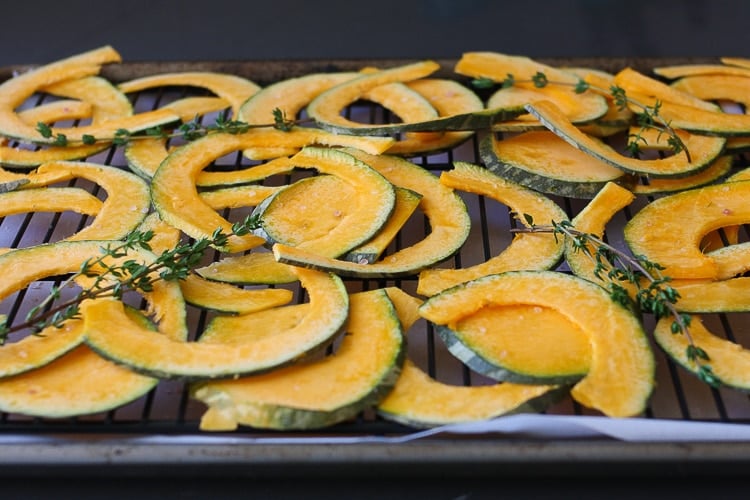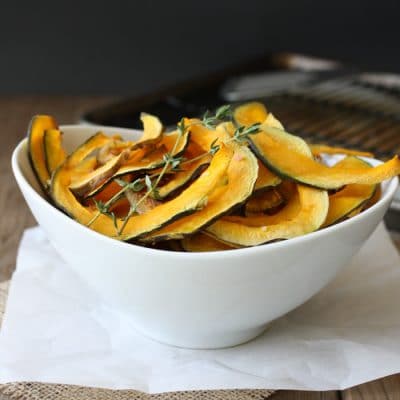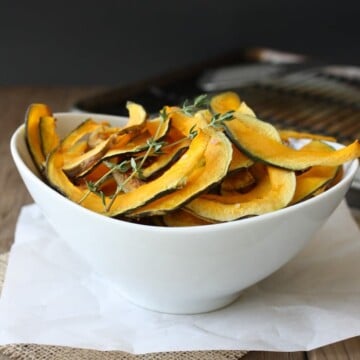 Baked Kabocha Squash Chips
Help bring in fall with these delicious and healthy Kabocha Chips. Eat them as a snack or side dish, full of taste and nutrients!
Ingredients
1 medium Kabocha Squash
8 thyme sprigs
Instructions
Preheat oven to 400°F (200°C). Wash and thinly slice squash (skins on). Using a mandolin may help with getting even baking of the squash pieces since your slices will be uniform.

Place cooling racks on cookie sheets (you will most likely need two so that the slices have room and aren't overlapping too much) and line the slices on the racks.

You can also use parchment lined cookie sheets instead of the racks. Sprinkle with salt, and place 4 sprigs of thyme on each, spreading them out. Bake for 20-25 minutes, depending on thickness, until golden brown and crispy.
Notes
Kabocha squash releases water when cooked, especially if freshly picked, so cooking on cooling racks on top of a cookie sheet allows the pieces to get crispier. 
Cooking on parchment paper on a cookie sheet works too. If using oil, use a spray so that there is not a solid layer of oil. This allows the water to evaporate instead of getting trapped inside and creating a mushy texture.
Recipe by Veggies Don't Bite, visit our site for more great plant-based recipes.
Nutrition
Calories: 78kcalCarbohydrates: 19gProtein: 2gFat: 0gSaturated Fat: 0gCholesterol: 0mgSodium: 9mgPotassium: 799mgFiber: 3gSugar: 4gVitamin A: 3170IUVitamin C: 30.9mgCalcium: 71mgIron: 1.7mg
Nutrition and metric information should be considered an estimate.
Never miss a recipe!
Sign up here and get a FREE quick and easy meal guide!