What else says comfort food better than roasted poblano mac and cheese? Only when it's vegan, healthy, creamy and full of incredible flavor!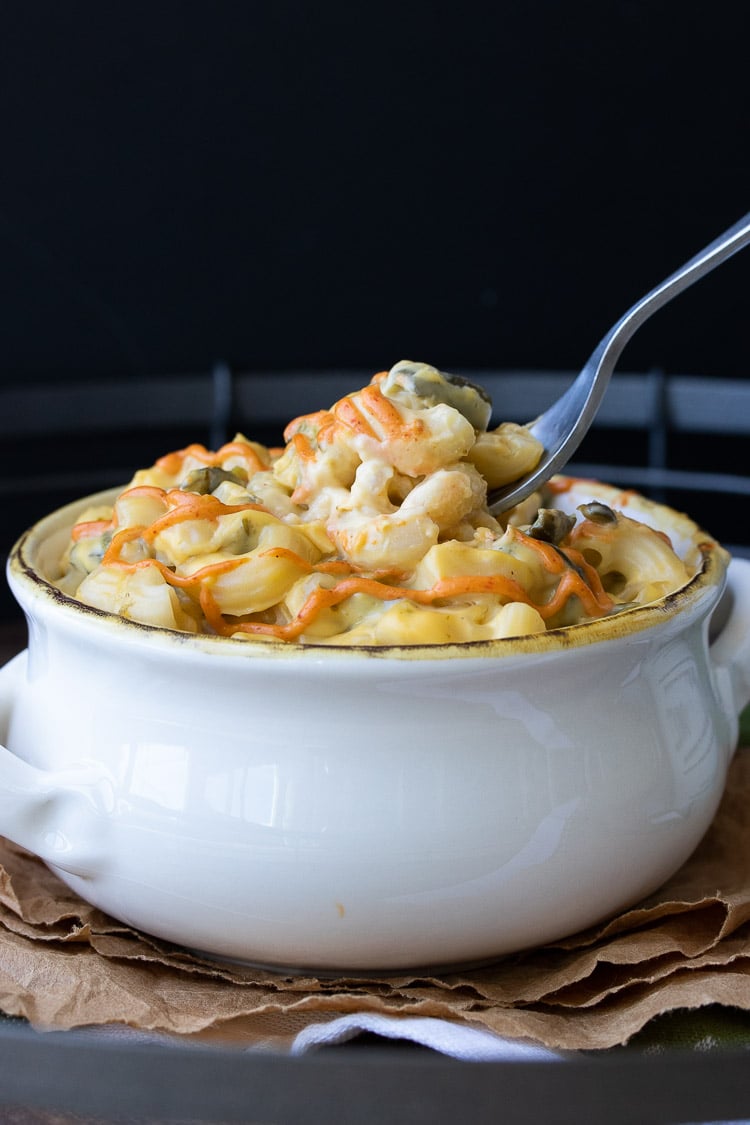 Because even mac and cheese likes to play dress up. Plain can work, but adding roasted poblano peppers for a flavor bomb so extreme, I can't even handle it, can work better. Especially when it has a touch of creamy sriracha sauce far that extra oomph of spice. It's like the triple threat of comfort food.
When I created my Ultimate Cheese Sauce , you all went nuts for it. And still do! As one of my top recipes to this day, it is a staple around here...from nachos, to pasta, to dips...I always have it stocked so it comes as no surprise that it turns up in these kinds of random creations.
We love that the base is made from mostly veggies, plus has protein from the cashews. It's texture is unreal, so mixed with the flavors of roasted poblanos and the spice of sriracha, it's kinda insane really. It should be illegal.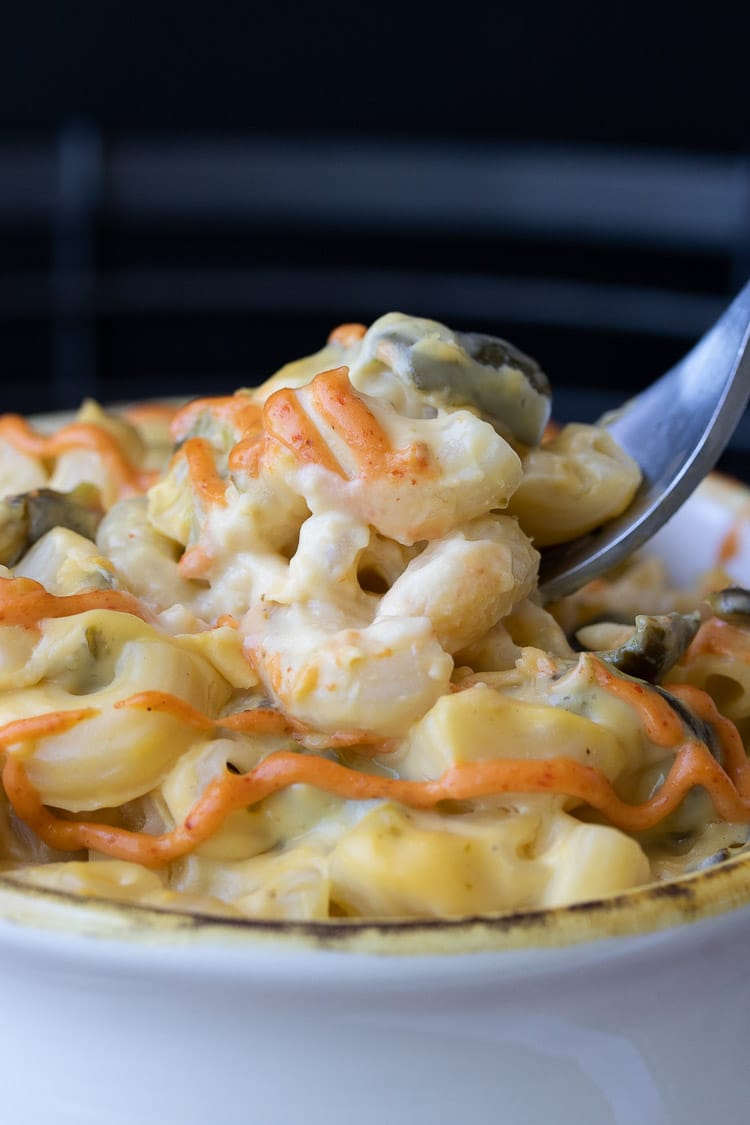 Let's get poblano mac and cheese into your bowl
There are a few parts to this recipe, but each is pretty simple to make. The great thing, is that you can prep each part ahead of time, then quickly put them together day of.
Make cheese sauce (this holds up fabulous in the fridge so make it ahead of time). 
Roast poblano peppers, peel off skin and chop, then store them in fridge until ready to use. 
Make creamy sriracha drizzle (also holds up well in the fridge and can be easily made ahead of time). 
When you are ready to eat this, cook your pasta then mix in the cheese sauce and poblanos. Bake (if you choose the baked version) and serve with a drizzle of creamy sriracha on top! 
Side note: here's a little tip on the poblanos. If you cut the tops off, then you can easily pull out the seed bunch. You can leave the seeds in while roasting, but you're going to get a spicy finish. If you can handle the heat, then go for it! But removing the seeds before roasting is better for the average mac and cheese eater.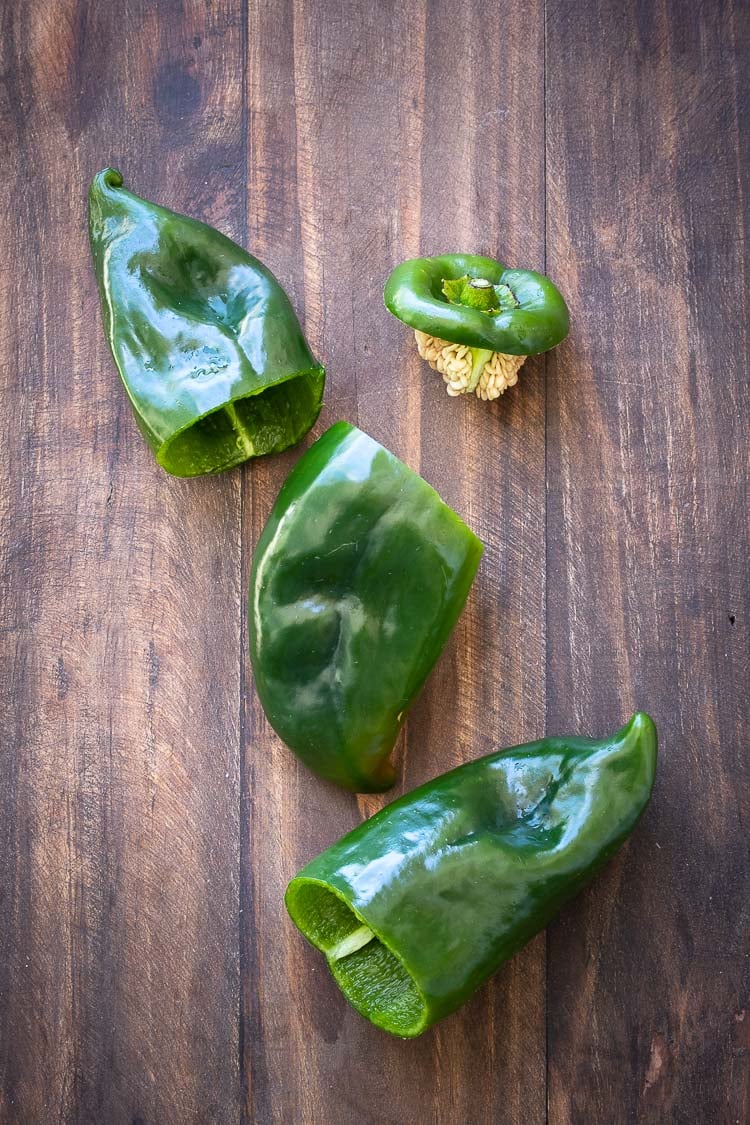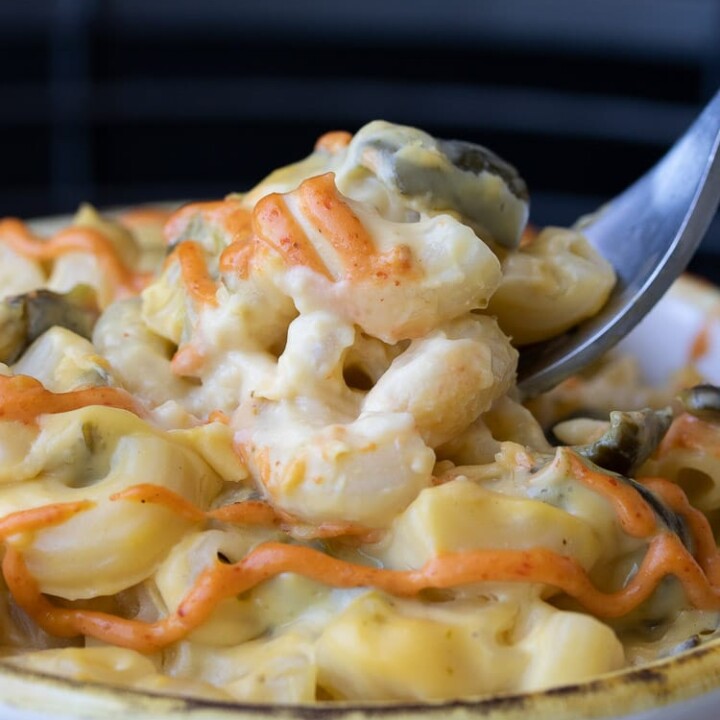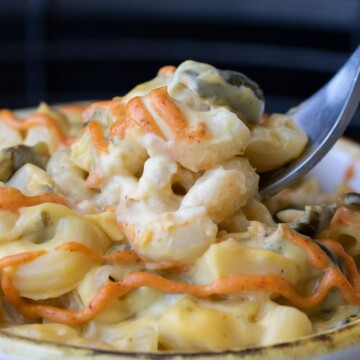 Roasted Poblano Mac and Cheese with Creamy Sriracha Drizzle
What else says comfort food better than roasted poblano mac and cheese? Only when it's vegan, healthy, creamy and full of incredible flavor!
Instructions
Preheat oven to 400 F (205 C).

To prep Poblanos, chop the tops off and take out the inside parts with the seeds. You can also slice down one side of the pepper to make it easier to get them out. This will allow the pepper to roast without getting spicy. However if you want the extra spice then leave the seeds in!

Place Poblanos on a parchment lined cookie sheet and sprinkle with veggie broth or oil and salt.

Roast for 30-35 minutes, until they brown a bit.

After you take the peppers out, turn the oven down to 350 F (175 C).

Wrap the peppers in tin foil so they can steam as they cool, this will make it easier to take the skins off.

While the peppers are roasting, make cheese sauce if you haven't prepared it yet. It will take about the time it takes to roast the peppers.

While the peppers are cooling, make the creamy Sriracha sauce if you haven't prepared it.

Also cook pasta according to package directions. If you are baking this, then cook about 4 minutes less. Since the pasta will be baking you don't want it over done. Reserve about 1 cup of your pasta water while draining.

Once the peppers are cool enough to handle, remove as much skin as you can. It should come off easily. Don't worry about getting it all.

Chop the peppers, you will have about 1 ½ - 2 cups, depending on how big your peppers were.

In the pot used to cook the pasta, combine pasta, cheese sauce and chopped peppers. Mix well. If you are baking it, then also add in about 1 cup reserved pasta water.

If you cooked the pasta fully, and are not baking it, basically shovel this amazingness into your mouth.

If you are baking the recipe, good luck waiting to eat. Pour mixture into a square baking dish (you can also use a 9x12 if your pasta has larger shapes).

Bake covered in tin foil for 15-20 minutes, depending on how "baked" you want it. Just make sure the pasta is fully cooked before you take it out. If you want it to brown a bit on top, remove foil for the last 5-8 minutes.

Drizzle with Creamy Sriracha Sauce and serve!
Notes
If you can't find Poblano peppers you can also use Anaheim, or any other pepper you like.
You can drizzle on however much of the Creamy Sriracha Sauce that you want. More is more in the spice department.
The Creamy Sriracha Sauce makes about 1 cup but if you make the whole recipe, you won't regret it because it goes great on so much!
Nutrition facts do not include the Sriracha sauce.
Tips to prep ahead: Make Ultimate Cheese Sauce and Creamy Sriracha Sauce. Roast peppers.
Baby/kid food idea: If your peppers aren't spicy, serve without the Creamy Sriracha Sauce for toddler. For baby, I left some pasta in the pot to cook until well done. Then blended with cheese sauce and peppers (as long as they aren't spicy) and served.
Recipe by Veggies Don't Bite, visit our site for more great plant-based recipes.
Nutrition
Calories: 502kcalCarbohydrates: 95gProtein: 13gFat: 8gSaturated Fat: 0gPolyunsaturated Fat: 0gMonounsaturated Fat: 0gTrans Fat: 0gCholesterol: 0mgSodium: 677mgPotassium: 1304mgFiber: 13gSugar: 18gVitamin A: 45305IUVitamin C: 196mgCalcium: 133mgIron: 3.2mg
Nutrition and metric information should be considered an estimate.
Never miss a recipe!
Sign up here and get a FREE quick and easy meal guide!