Vegan pasta bake is the perfect family meal that doesn't take hours to make! Simplify with store bought ingredients or make your own.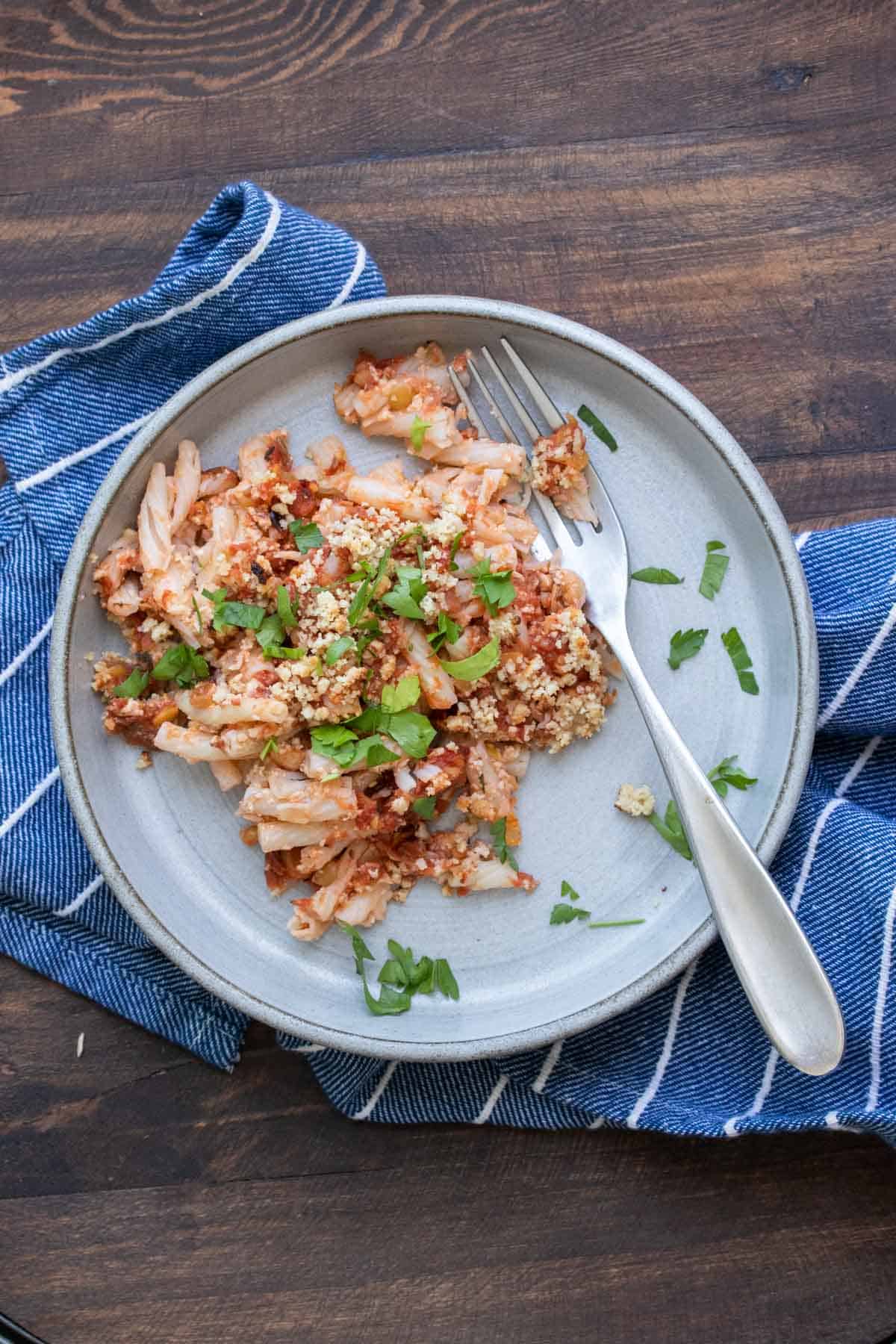 This post was originally published on July 16, 2015.
While this isn't a quick throw together meal, I have definitely simplified it to make it easy to prep. Use store bought ingredients for the days you don't want to spend a lot of time, or make your own when you prefer!
Ingredients
Baked ziti or pasta bake is a dish mixing a pasta (ziti or another shape of choice) with sauce and then layering it with ricotta and more sauce. You can top it off with Parmesan or other cheese of choice.
To make this quick and easy, I also tried it with a few hacks using store bought items.
Here are the basic ingredients I used:
Pasta
Ricotta
Sauce
Parsley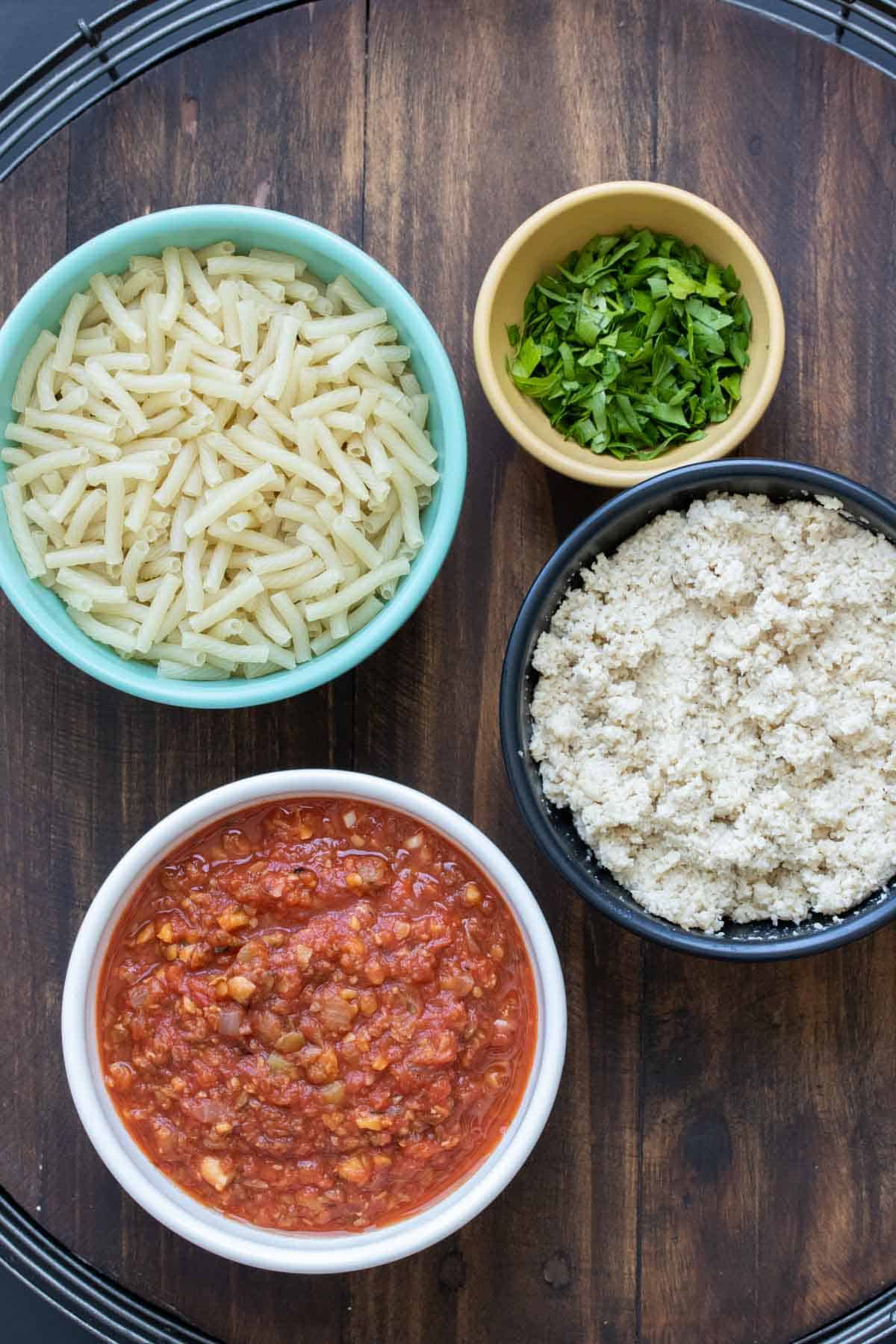 For the ricotta, you can buy a store bought option (there are many dairy free ones out there now) or make your own. This vegan ricotta recipe is easy and can be frozen in batches for future use.
For the pasta, I use gluten-free but regular works as well. They key is to know how it cooks. You want to make sure you cook it for only half the needed time for an al dente result. Or 2-3 minutes less that the box states for a softer texture.
For the sauce, I have two options in the recipe. You can make it from scratch by using canned tomatoes and spices as stated, or if you want to make it super quick, buy a jarred sauce and simple add it to the chopped beans.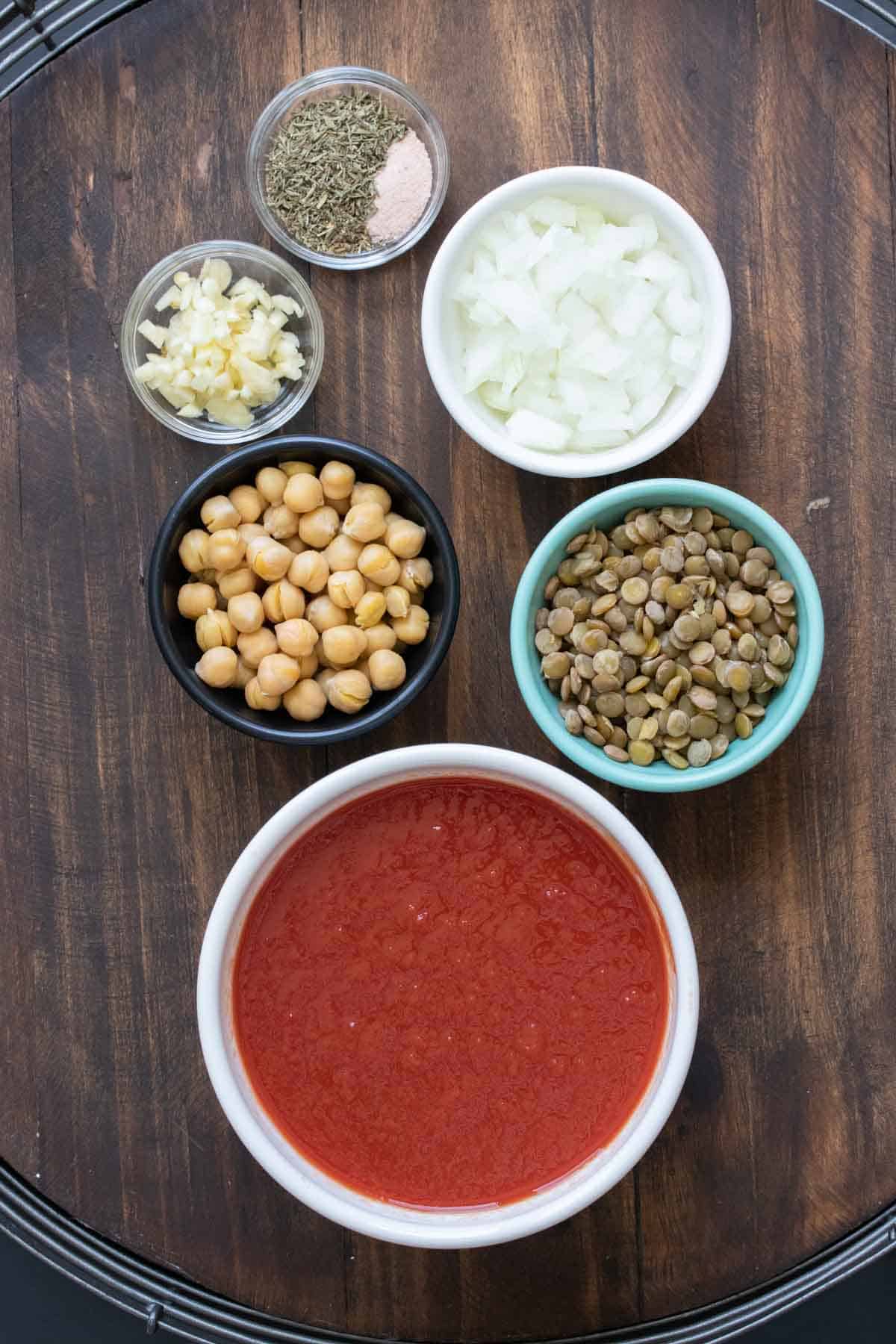 To top it all off, I like to use my vegan Parmesan recipe. But you can also use some shredded cheese, there are many dairy free options out there. Either way, the flavor in the sauce is amazing and adds plenty if you want to avoid the cheese.
You could also top this with a vegan cream sauce like this Alfredo sauce.
How to Make Pasta Bake
This is a pretty straight forward recipe with many options to make it nice and quick. Here is what you do:
Sauté the chopped beans, garlic and onion in a pot.
Add the tomato sauce to make the "meat sauce."
Make the ricotta if needed.
Cook the pasta and mix it with some ricotta and sauce.
Start to build the pasta by layering as follows: pasta mixture, ricotta, sauce, pasta, sauce, cheese
Bake and serve!
Tips and Tricks
Here are some of my most suggested tips to make this recipe a success!
You can use a glass, metal or stoneware pan for this. If your pan is prone to sticking, you may want to rub it down with a little olive oil.
If you want to prep this ahead of time, I suggest making the sauce and ricotta (if making homemade). Then day of cook the pasta and put it together.
If you have leftovers, store in an air tight container in the fridge.
To reheat, you can use the microwave, or reheat in the oven but keep a close watch to make sure it does't burn. If it looks like it may dry out, you may need to add a touch of broth. Reheat at 350 F/ 175 C for about 10 minutes.
This is best eaten within 3 or so day of making it. After that texture and flavor aren't as great.
If you don't want to use the beans as your protein, you can also crumble in some veggie sausage instead. You can also use my vegan meatballs.
To add some veggies, simply chop up your favorite. I suggest broccoli, zucchini or sun dried tomatoes, but many others will work! I also like spiralizing the zucchini for an added layer of fun.
To mix it up you can also use pesto with a tomato based sauce too. This will add more flavor and an extra dose of veggies.
We like our pasta al dente. You can get a great result if you cook your pasta right from the beginning. You want to use a variety you know well and cooking it following my texture suggestions.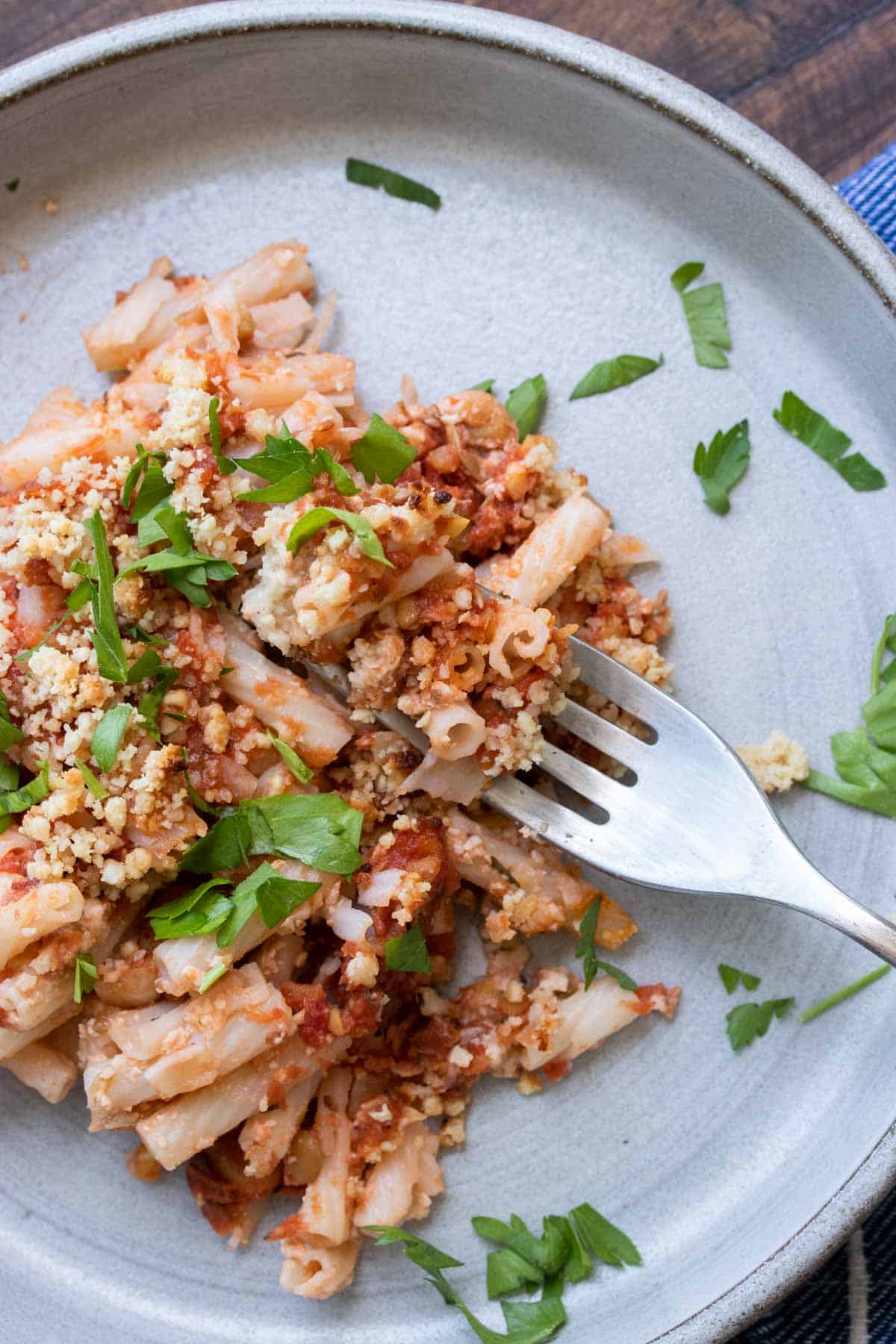 Common Questions
Which pasta is vegan?
Most pasta that is found at the grocery store is 100% vegan. The one thing you should look out for is eggs as some pasta has them.
How do you bake pasta without getting soggy?
The trick is to undercook your pasta before baking. Depending on the end result you want, cook it 2-3 minutes less or up to half less. It will finish cooking in the oven and be perfect.
What can I do with cashew cheese?
If you make your own cashew ricotta you can make it in big batches to freeze and use for other recipes. You can put it on pizzas, make dips with it, add it to other pasta dishes, put it on salads and even use it as a spread on toast.
Should I cover baked pasta in the oven?
No, this recipe does not need to be covered while baking. You want the extra moisture to bake out so that it does not get soggy.
Can you freeze vegan pasta bake?
You sure can. This recipe freezes and reheats really well. Wrap leftovers in plastic then foil and store in a freezer safe air tight container. When you are ready to eat, make sure you let the frozen pasta come to room temperature before reheating in the oven.
Servings suggestions:
While this is a great recipe all on it's own, here are some sides that would go great!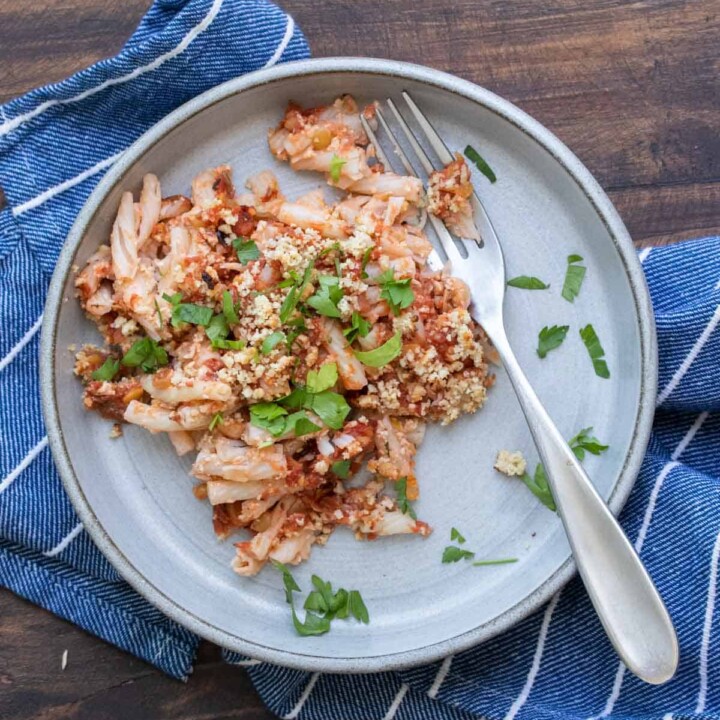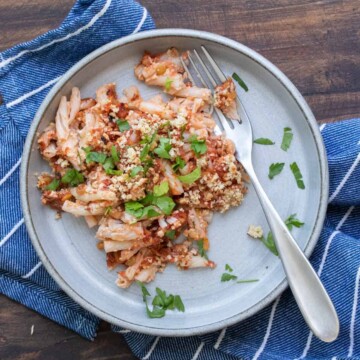 Vegan Pasta Bake Recipe
Vegan pasta bake is the perfect family meal that doesn't take hours to make! Simplify with store bought ingredients or make your own.
Ingredients
12 ounces ziti or penne pasta , or your favorite shape, gluten-free if needed
6 tablespoons reserved pasta water
1 cup vegan Parmesan
1 cup vegan ricotta
Sauce:
1 cup cooked lentils
1 cup cooked chickpeas
1 cup chopped yellow or sweet onion
3 cloves garlic , chopped
Drizzle of oil or broth for oil free
28 ounces crushed tomatoes (see note)
2 teaspoons dried oregano
2 teaspoons dried thyme
1 teaspoon sea salt
Instructions
Preheat oven to 350 F/ 175 C

Using a food processor, coarsely chop the lentils and chickpeas until crumbled like a meaty texture.

Saute the onion in broth or oil until softened.

Add garlic and saute 1-2 minutes.

Add chopped beans and saute 3-4 minutes until slightly browning.

Add in the tomatoes, spices and salt (or 3 cups store bought sauce) and mix well. Put on low to heat while you cook the pasta.

Cook the pasta according to package directions, but 2-3 minutes under cooked for softer texture or half cooked for more al dente.

Drain, reserving the needed pasta water, and rinse with cold water to stop cooking. Put back into the pot.

Add ½ cup of the ricotta, 1 cup of the sauce mixture and the the reserved pasta water into the pot with the pasta and mix well.

Add half of the pasta mixture to the bottom of a square baking dish.

Top with spoonfuls of the leftover ricotta.

Top with half of the leftover sauce.

Add the rest of the noodles.

Top with the rest of the sauce.

Sprinkle the parmesan (or other cheese) over the top.

Bake for about 20 minutes until just browning on top.

Serve and enjoy!
Notes
Instead of the tomatoes, salt and spices you can use 3 cups store bought pasta sauce. You'll still make the "meaty" part but just dump the pasta sauce in where the directions say to put in the crushed tomatoes and spices.
You can also add a layer of shredded cheese (vegan to keep it vegan) along with the ricotta. Use between 2-4 cups depending on preference.
If you forget to save pasta water, just use broth.
Recipe by Veggies Don't Bite, visit our site for more great plant-based recipes.
Nutrition
Calories: 350kcalCarbohydrates: 46gProtein: 13gFat: 12gSaturated Fat: 1gCholesterol: 1mgSodium: 455mgPotassium: 504mgFiber: 6gSugar: 6gVitamin A: 185IUVitamin C: 10mgCalcium: 59mgIron: 7mg
Nutrition and metric information should be considered an estimate.
Never miss a recipe!
Sign up here and get a FREE quick and easy meal guide!