I took a traditionally dairy filled party staple and turned it into a hot, creamy and mouthwatering vegan buffalo chicken dip! The most amazing remake ever!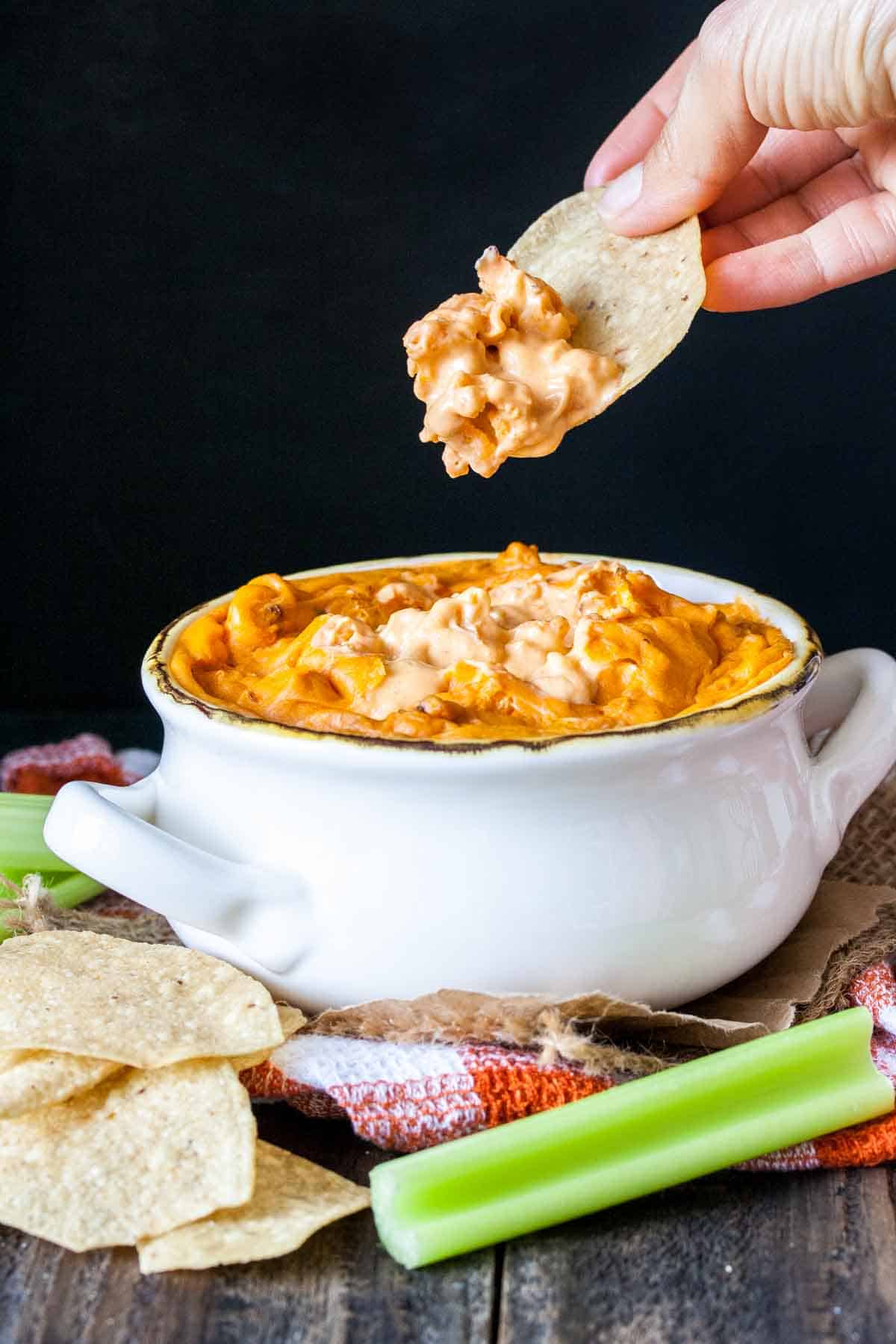 Originally published
This is a sponsored conversation written by me on behalf of Silk. The opinions and text are all mine.
It's no secret that I love buffalo sauce. You also know I love a delicious creamy sauce! So it should be no surprise to you that this dip is my idea of heaven.
I challenge you to make it for your next party and see if anyone has any idea there is no dairy. This dip will stand up next to all it's chicken and cream cheese based counterparts!
Vegan Buffalo Cauliflower Dip
Cauliflower is one of my favorite veggies. It's so versatile and the perfect chicken substitute in this vegan buffalo chicken dip. Plus it adds some extra veggies into an otherwise veggie free recipe!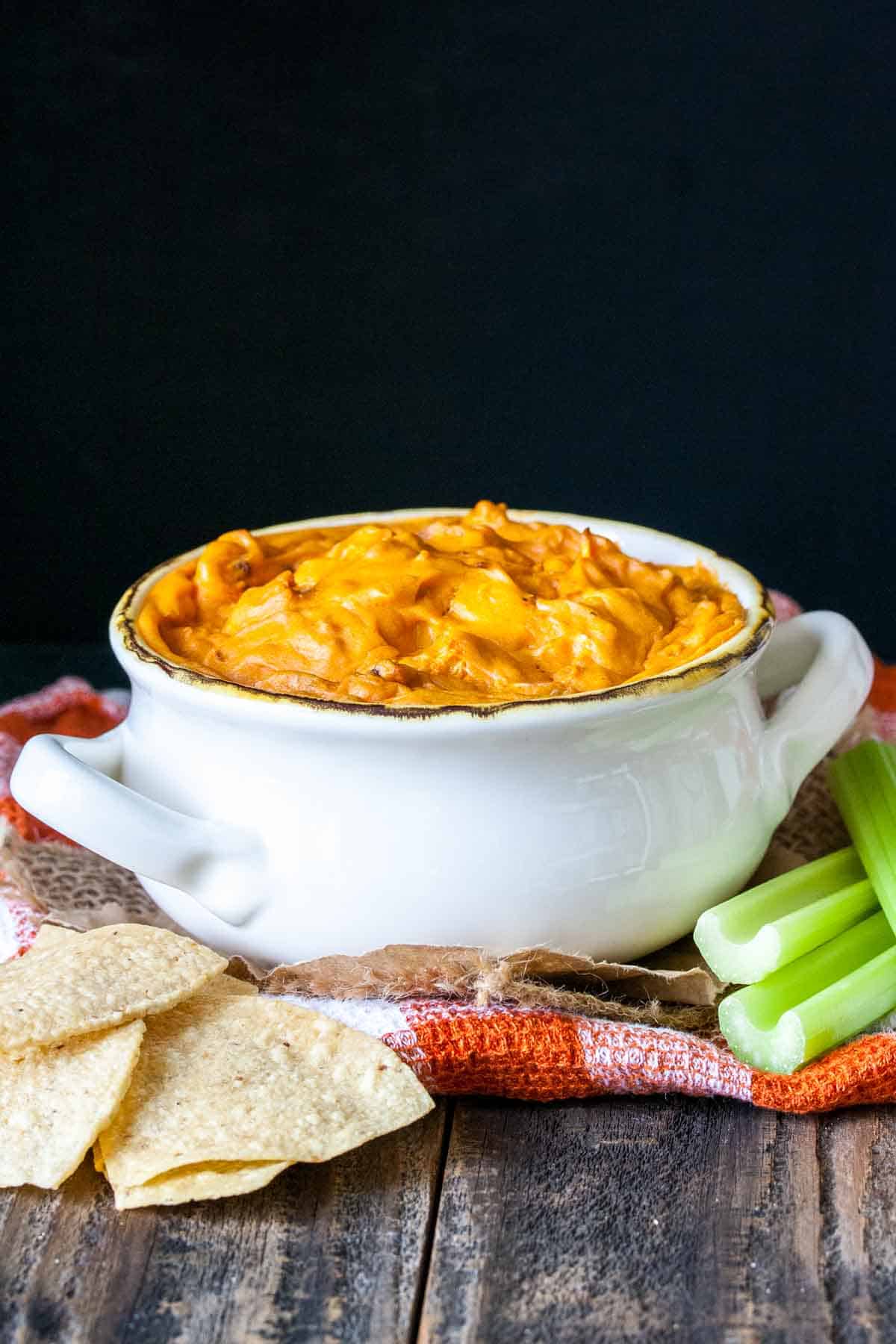 How do you make the dairy free creamy base?
The best part about this vegan buffalo chicken dip is that it can stand up to any dairy based equivalent. My love for creating non dairy alternatives for popular dairy based dishes is strong! Showing that they can taste just as good, and even better, is always my goal.
The creamy base that makes this appetizer (or snack/dinner/breakfast/anything really) go from amazing to mind blowing incredible, is achieved from a combination of ingredients. Each one contributes equally and all are necessary to reach ultimate buffalo dip heaven.
Potato- gives the gooey creamy base that all dips need for ultimate texture.
Cashews- the star of most vegan cream sauces for a reason. These amazing nuts give a dairy tasting base like no other.
White beans- these protein packed powerhouses help contribute to the creamy nature of this dip with also cutting a lot of the fat that extra nuts would give.
Cashew milk- my go to non dairy milk of choice for the amazing creamy texture and flavor it contributes to everything it is in. I used the Silk brand for this recipe for it's creamy flavor that shows you that you do not need to compromise when it comes to dairy free alternatives!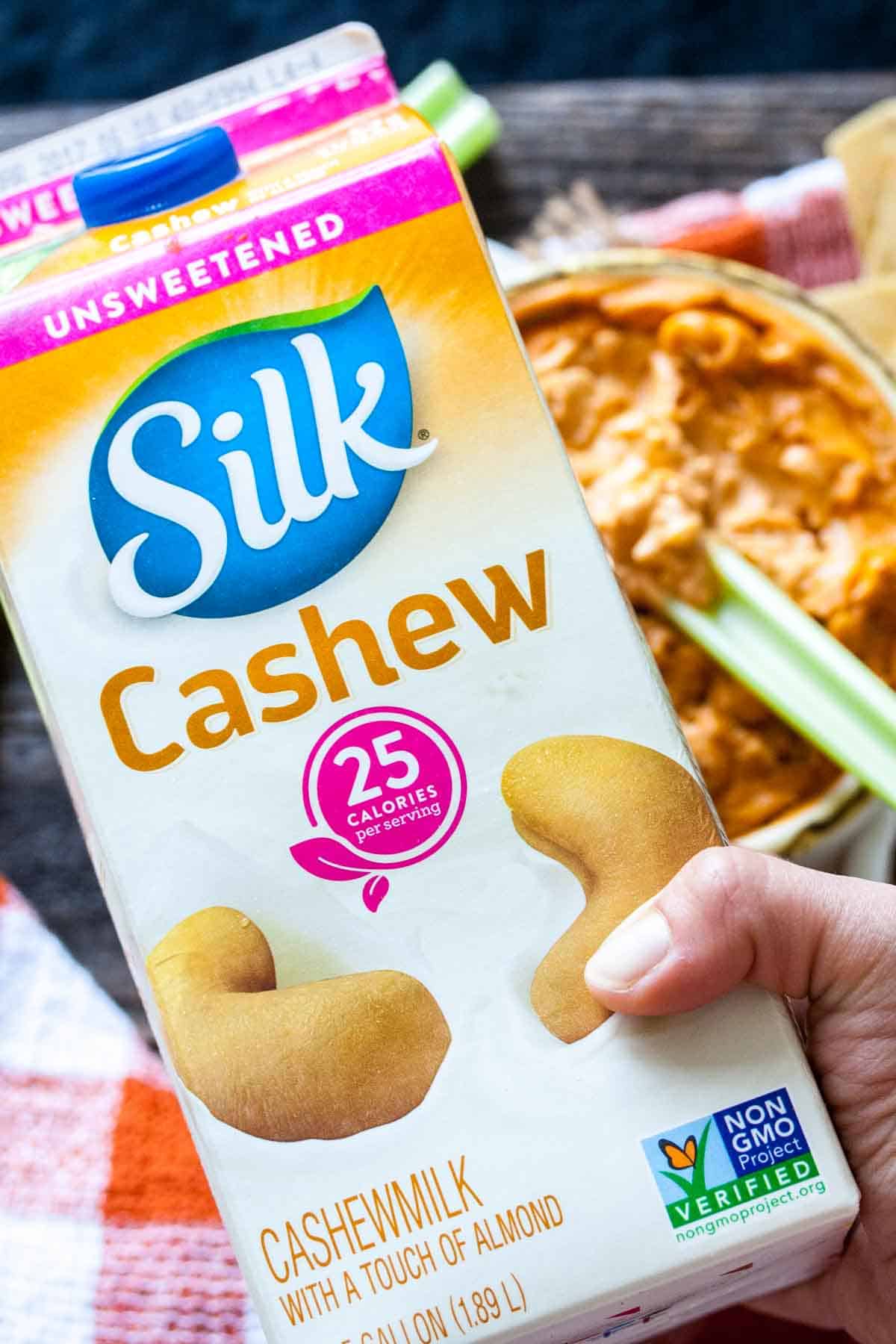 Adjusting Spiciness Levels
You can really adjust the level of spice in this with how much (or little) hot sauce you put into this dip. There are different types of hot sauce out there as well, so use the one that you love the most!
If you take out some of the hot sauce, you'll need to replace it with some other liquid to maintain the texture of this. You can definitely use broth and/or cashew milk, but if you want to get creative you could try a mild salsa as well.
If you love creamy dips but not the spice, give these other favorites a try:
Can you make this buffalo dip ahead of time?
This recipe can easily be made ahead of time. Which makes it an excellent candidate to take with you to all those holiday parties. I wouldn't make it more than a few days before you need it. You want the flavor to be nice and fresh.
The best way to make this so that it tastes the best is to wait to bake it until you're ready to serve. Make the dip, then store it in an airtight container in the fridge until ready to bake. Take it out the morning of, and allow it to return to room temperature.
You can bake it in a glass dish or if you are traveling with it, I would choose cookware that has a lid and travels well. Something similar to the item below would be perfect!
KOVOT 1.8 Quart Ceramic Round Casserole Bakeware Dish With Lid – Ivory White With Antique-Style Finish

If you want to take this with you and keep it nice and hot! You can always invest in a travel bag for your dishes. These are great for transporting any dish you want to keep warm.
Insulated Expandable Double Casserole Carrier and Lasagna Holder for Picnic Potluck Beach Day Trip Camping Hiking – Hot and Cold Thermal Bag in Gray – Tote can hold 11 x 15 or 9 x 13 baking dish

Make sure that when you're reheating this dish, that you let the cookware come up to room temperature before popping it into the oven. You don't want your nice bakeware to crack.
How To Make Vegan Buffalo Chicken Dip
Bake cauliflower.
Blend sauce.
Add baked cauliflower into sauce.
Put into a baking dish.
Bake and devour!
If you like buffalo flavor, you should also try these amazing recipes: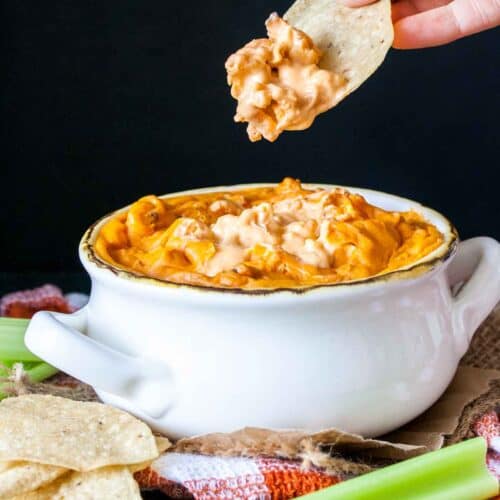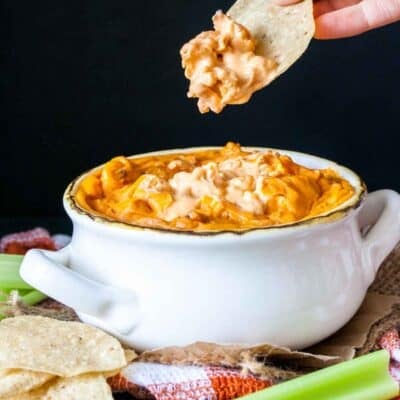 Baked Vegan Buffalo Chicken Dip
I took a traditionally dairy filled party staple and turned it into a hot, creamy and mouthwatering vegan buffalo chicken dip! The most amazing remake ever!
Ingredients
1

head cauliflower

, medium sized

½

cup

buffalo cayenne pepper hot sauce

(I like Franks brand)
Sauce:
1

cup

cooked potato

, about 1 medium potato

1

cup

raw cashews

(see note)

½

cup

cooked white beans

, drained and rinsed ( I use canned)

¼

cup

cashew milk

(I use Silk brand, almond would work too)

¼

cup

veggie broth

, low sodium if needed

¼

cup

buffalo cayenne pepper hot sauce

(I like Franks brand)

¼

of a medium onion

2

cloves

garlic
Instructions
Preheat oven to 450°F/230°C.

Chop cauliflower and mix with ½ cup hot sauce until fully coated.

Spread out on a parchment lined cookie sheet.

Bake for 20 minutes until slightly crisp. After baking it should be about 3 cups cauliflower (easier to measure after baking as it is softer and fits into a measuring cup easier).

Lower oven temp to 350°F/180°C.
Make sauce:
Cook potato and onion by boiling until soft. Drain.

Place all sauce ingredients into a high speed blender and blend until smooth. Then pour into a large bowl. You can also pulse baked cauliflower here if you prefer smaller pieces.

Put baked cauliflower into the bowl with the sauce and mix well. 

Pour into a square baking dish (I used an 8 x 8 inch). Or you can also use smaller baking ramekins or casserole bowls.

Bake at 350°F/180°C for 15-20 minutes. Check at 15 minutes and see if it has formed a nice firm layer on the top. Everything is cooked already so no need to worry about the cauliflower cooking, but you want it nice and heated all the way through. Keep in mind it will cook a little more as it is cooling.

Enjoy nice and warm with your favorite tortilla chips, celery, veggies or crackers!
Notes
I prefer to use a veggie broth without tomato in the base.
If you are not using a high speed blender you can either soak the cashews overnight or grind them into a fine powder using a coffee grinder.
Tips to prep ahead:
Make sauce. Soak cashews if not using a high speed blender.
Recipe by Veggies Don't Bite, visit our site for more great plant-based recipes.
Nutrition
Calories:
117
kcal
Carbohydrates:
10
g
Protein:
4
g
Fat:
7
g
Saturated Fat:
1
g
Sodium:
637
mg
Potassium:
277
mg
Fiber:
1
g
Sugar:
1
g
Vitamin A:
50
IU
Vitamin C:
24.6
mg
Calcium:
18
mg
Iron:
1.6
mg
Nutrition and metric information should be considered an estimate.
Never miss a recipe!
Sign up here and get a FREE quick and easy meal guide!