Crashing after taking on too much is real, especially mom burnout. Working rest and recharge into your regular routine is a lifesaver! But how?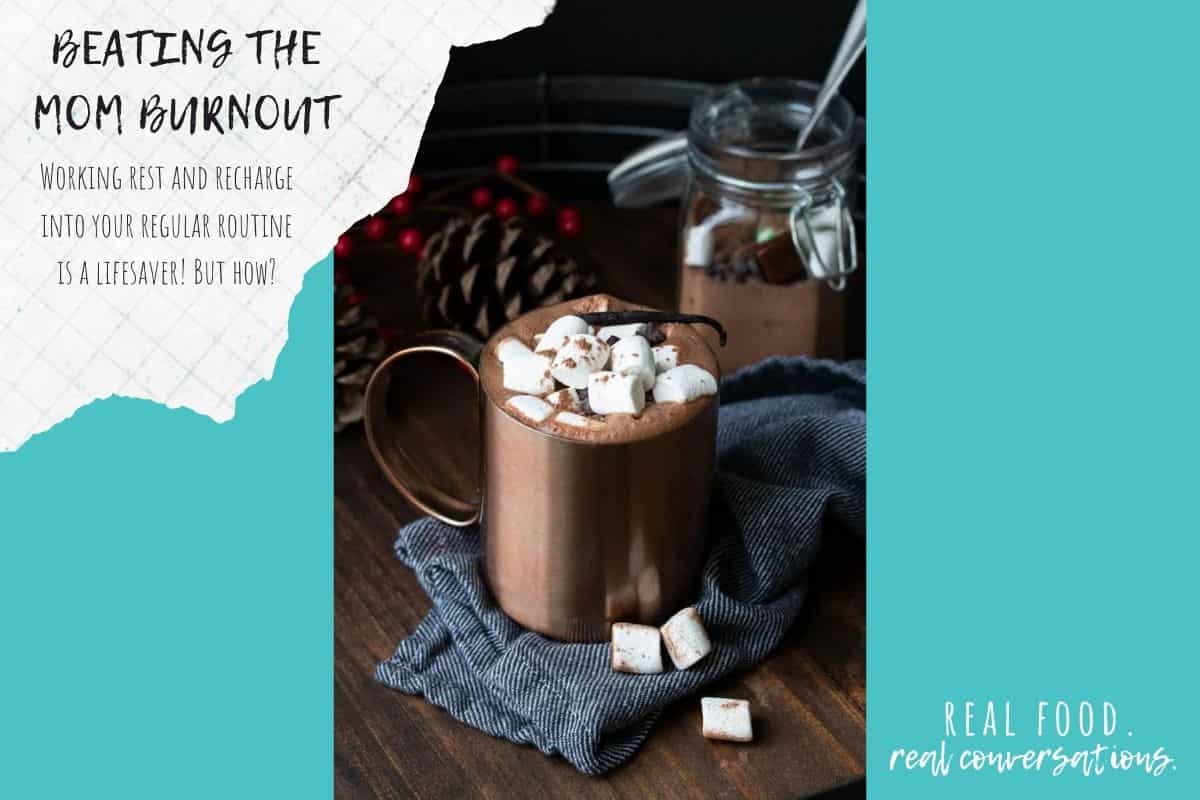 It's possible to live a fulfilled amazing life without living burnout. It takes some planning and effort to focus on what's most important, and letting go of what truly isn't, but it's possible!
Podcast: Play in new window | Download | Embed

Subscribe now! Apple Podcasts | Google Podcasts | iHeartRadio | Stitcher | TuneIn | Deezer | RSS | More
Energy Fluctuations
Humans expend and create energy. As we eat, we are able to use that food as an energy source. And as we work, we use that energy.
The issue is, that most of us (especially moms) work at a rate faster than we can recharge. From our jobs, to parenthood, to keeping up with the house and life itself, we tend to run ourselves into the ground.
Our energy fluctuates each day, week, month, year. And today's world makes us feel like we need to push and push and push or we aren't being the best we can be.
Women especially, are positioned to feel like if they aren't doing it all then they aren't good enough. Taking a break paints us in a picture of laziness, or having no ambition.
The result of no breaks
As we continue to push and do all the things faster than we can replenish our energy, it's like taking one step forward, two steps back. Eventually that becomes three steps and then four until eventually you collapse.
The eventual crash is what we call burnout. And mom burnout is especially a huge problem today.
We have so much on our plates, and feel the need to do it all and please everyone. The problem is that we don't include ourselves in that "everyone."
While we try and do it all, we start to burn down the vehicle that we need to do so. Our bodies. And society gives the impression that we should keep going.
Eventually, our bodies begin to break down. Our mental health suffers and our physical health is not far behind. Being overtired and stressed has profound effects.
The cycle then continues that when we go to the doctor, many treat the effects instead of the problem. We are prescribed medications to bandaid the root of the issue.
Rest and Recharge
Today's world is a go go go life. When we are down, let's splint the problem instead of fix it. And that can lead to ultimate breadown.
I have been there, hitting the brick wall. And until I started to work on the main issue, I was doing too much, I wasn't able to truly get better.
We need to incorporate rest and recharge into our lives. For most of us, this means reevaluating everything and focusing on the most important.
While at first you may think that's not possible, if you reframe the thoughts and focus on how you won't be able to do any of it if you burnout completely, then you realize that some is better than none.
Prioritizing what you want in life is a good first step. Starting with the most important things, the things you truly cannot live without. Even within those, taking a step back and looking at what tasks you need to do to make those function.
We often add more to our plate than necessary. Is it really going to be way more memorable if our kids first birthday party looks like an add in a magazine instead of buying some food and decor and focusing the time having fun with those you love?
Most of the time the answer is no. We don't need to do everything to perfection. We are the only ones noticing the details. It's us that needs to take a breath and step back.
How to maintain a regular energy pattern
So how do we do it? How do we beat the burnout? It's actually quite simple. Forced rest. Making rest and recharge part of your schedule.
I'm not talking, I'll take an hour to relax next weekend when "insert whatever" is done. I'm talking scheduling it in as a regular thing.
There are many ways to make this work. I have three young kids, a husband who works full time and then some, I run a business and we have life and school and allllll the things.
But working in time for each of us is essential to functioning. Whether that is the nights he takes care of dinner and bed while I read outside by the fireplace. Or it's me taking the kids out every Tuesday afternoon so he can have a quiet house.
It doesn't have to be long as long as it's regular. Even a few yours every week gives you something to look forward to!
But along with that, is letting go of stuff. Realizing we can't do it all. Especially when it comes to feeding our family.
Burnout and Meals
Beating mom burnout is a large obstacle, but starting with feeding your family is a good place. While it is important to make wholesome meals, it's also important to fuel your mind and sometimes that means picking the "less" healthy road.
You don't need to create elaborate fancy meals to have healthy delicious food. Sometimes, in fact most of the time, it's great to throw together quick things, using a combo of homemade items and store bought too.
Make your own pizza night is a weekly dinner. We use store bought flatbread as our crust, jarred pizza sauce, and I prep the toppings early in the week while I am prepping other meals.
Everything is ready to go, so we take it out, build and bake! Not only is everyone happy, because they pick what they want, but the energy is low which means I have more time to hang with the family.
It's also important that we work in eating out, take out or frozen ready meals. While you may not hear this from other "healthy" eaters, for me this defines health.
Health is our body and mind. And we tend to forget about the mind. But this is when we get in trouble. Which is why I have forced rest meals in my new Meal Systems 4 Success course.
Having it worked into your weekly plan, allows you to recharge. We anticipate that upcoming rest and know there is a time for our bodies to relax.
This not only gives you more energy to spend on the other meals but it also give time to spend with those you love. You can sign up and watch my FREE masterclass all about it below!