Taking tacos to a new level with these beer-marinated portobello mushroom tacos! Top with avocado corn salsa and you'll wish every day was taco Tuesday!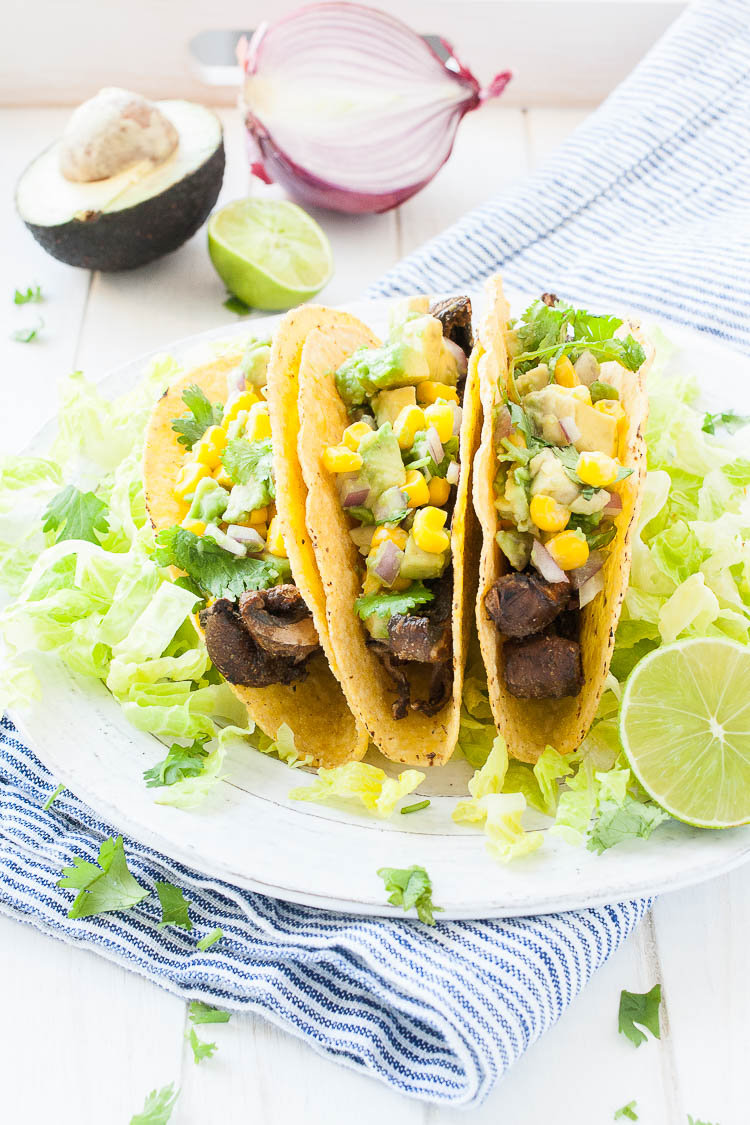 I received a free copy of But My Family Would Never Eat Vegan to review, all opinions and text are all mine.
Portobello Mushroom Taco Love
What's better than plain old tacos? Beer-marinated portobello mushroom tacos with an incredible avocado corn salsa!! I mean, are you drooling yet? I am. And what's better than that?
I get to review and share this recipe from my awesome friend Kristy's new book, But My Family Would Never Eat Vegan! This book is not only filled with amazing recipes, but I love, I mean LOVE the way the chapters are broken up.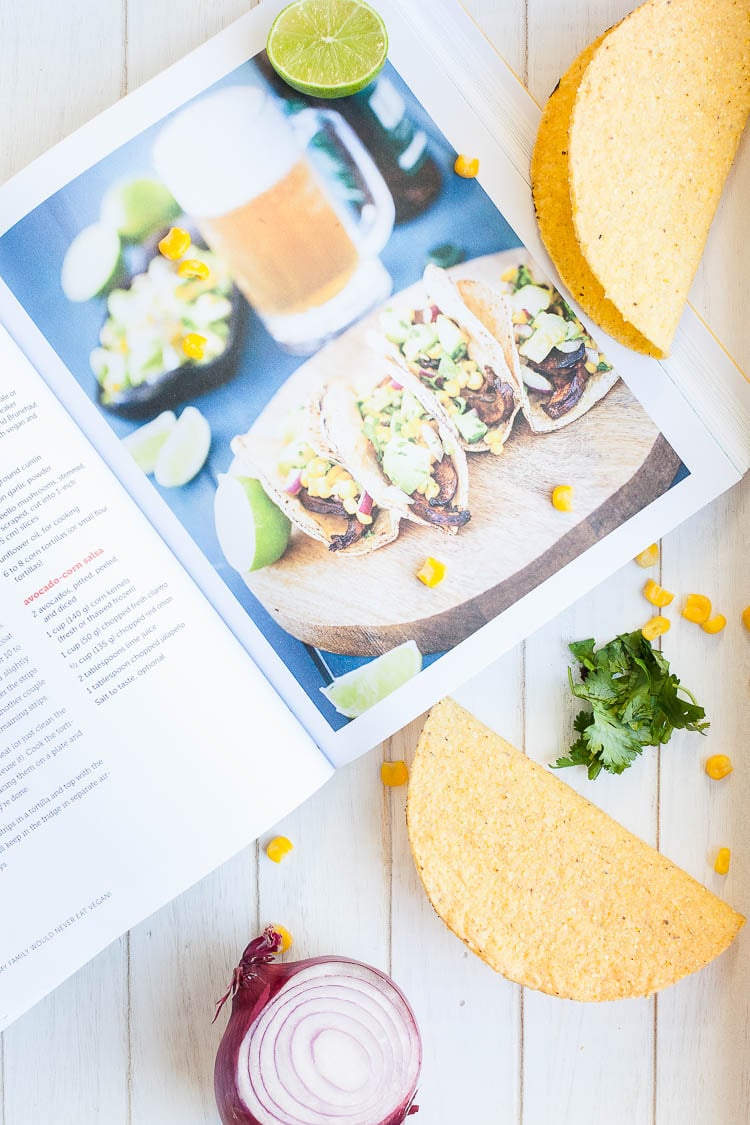 When I first got this book in the mail, I was instantly drawn to the fun bright cover. We all eat with our eyes first, and if the cover of a book does not draw you in, then there's a problem.
I kind of want to close my eyes and literally jump into the feast going on on this cover, Mary Poppins style (Did I just date myself here? Yep. I did.). This book literally has something for everyone, every excuse, every occasion, every meal. I'm serious. Good luck finding a missing piece! The hilarious, but very real, names of each chapter are simply the best.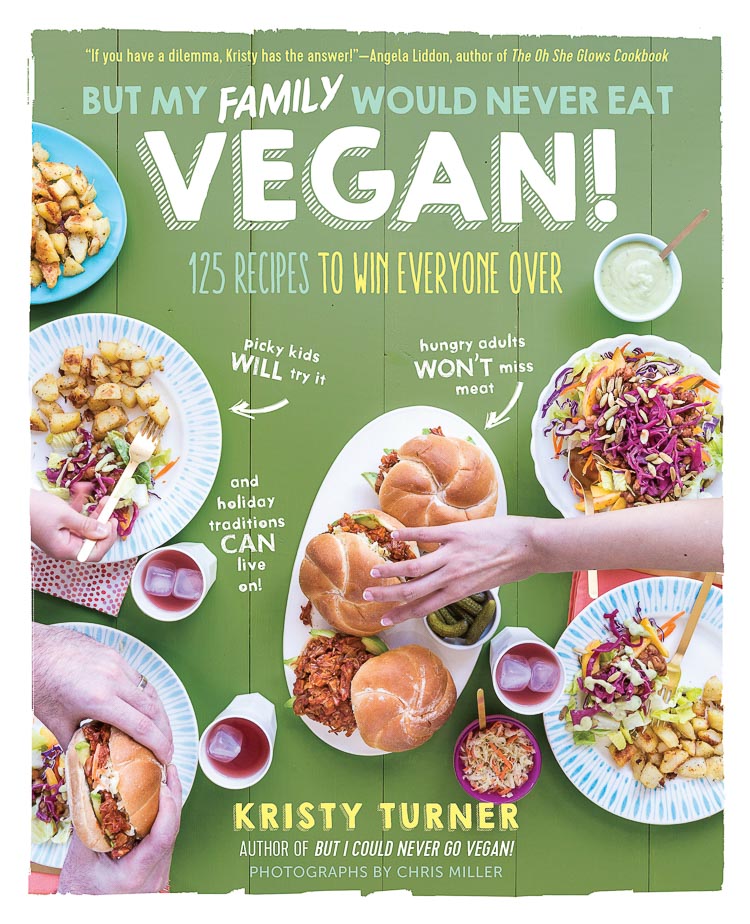 My top five favorite chapters from "But My Family Would Never Eat Vegan":
I don't have time to cook elaborate family dinners!
If forced to choose between chicken wings and me, my spouse would choose the wings.
My sister thinks vegan baking is something only hippies do.
Uncle John thinks his comfort food is better than mine...and won't shut up about it.
Vegan food will zap all the romance on date night.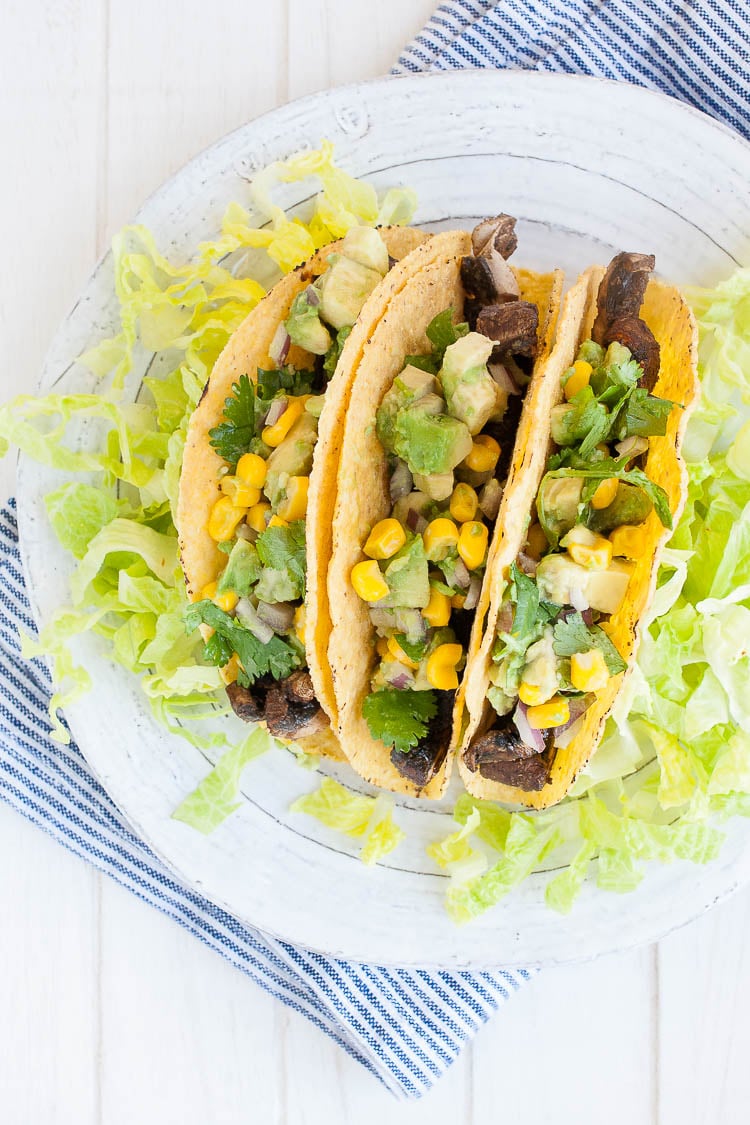 I mean, hilarious right?! But really, so true. I love that she addressed just about everything in this book. By far my favorite is the quick and easy meals. As a mom of three, and a blogger myself, I need fast most of the time.
Prep The Mushrooms Night Before For A Super Quick Dinner
That's why I was drawn to these portobello mushroom tacos. I put them in to marinate the night before, then day of it was so fast and easy: cook the mushroom slices and throw together the salsa! And they are SO flavorful.
Word of caution, you need to like the taste of the beer you use. So you may as well buy a six pack, just to make sure 😉 Happy tacoing!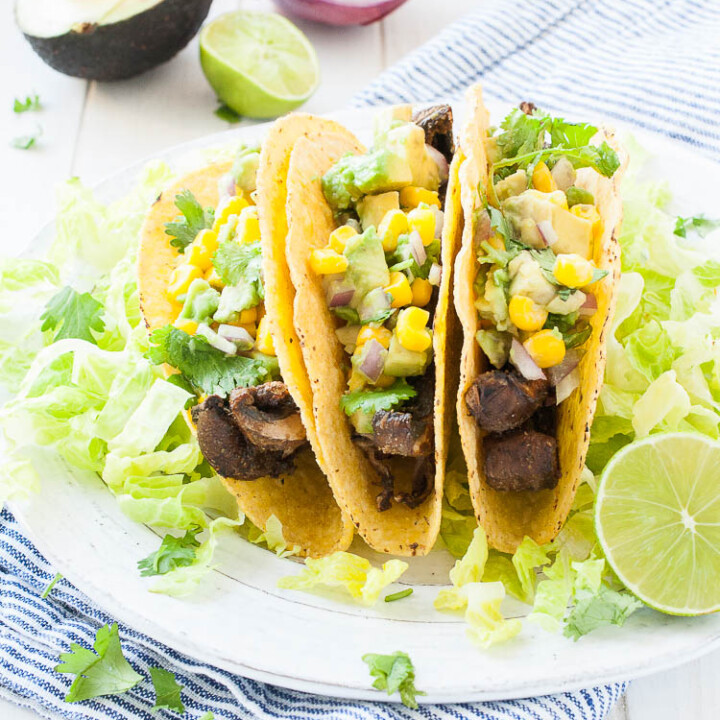 Beer-Marinated Portobello Mushroom Tacos with Avocado Corn Salsa
Guess what? Marinating food in beer isn't just for meat anymore! Woohoo! What that means for us is that we can drench meaty chunks of portobello mushrooms in beer and other spices, pan-fry them, and throw them in tacos, smothered in avocado-corn salsa. Sound too good to be true? It's not. Get over your astonishment, pop open a bottle of beer, and after you're done drinking it, pop open another bottle and start cooking!
Ingredients
1½ cups 360 ml vegan pale or blonde ale (Ground Breaker Brewing IPA No. 5 and Brunehaut Bio Blonde are both vegan and gluten-free)
Juice of 1 lime
1 teaspoon ground cumin
½ teaspoon garlic powder
4 portobello mushrooms stemmed, gills scraped, cut into 1-inch (2.5 cm) slices
Sunflower oil for cooking
6 to 8 corn tortillas or small flour tortillas
Avocado-Corn Salsa
2 avocados pitted, peeled, and diced
1 cup 140 g corn kernels (fresh or thawed frozen)
1 cup 50 g chopped fresh cilantro
½ cup 135 g chopped red onion
2 tablespoons lime juice
1 tablespoon chopped jalapeño
Salt to taste optional
Instructions
Combine the beer, lime juice, cumin, and garlic powder in a shallow baking dish. Add the portobello strips and toss to fully coat. Marinate for 30 minutes, moving the strips around every 10 minutes.

While the portobello strips are marinating, make the salsa: Combine all the ingredients in a bowl, cover, and chill until ready to use.

Heat a large frying pan, preferably cast iron, over medium heat. Add a couple of teaspoons of oil and tilt the pan around to evenly coat the bottom. strips.

Add about half of the portobello strips and cook for 10 to 15 minutes, turning every few minutes, until tender and slightly charred, and most of the liquid has been absorbed.

Transfer the strips to a plate or bowl and cover with aluminum foil. Add another couple of teaspoons of oil to the pan and repeat with the remaining

Heat a griddle or frying pan over medium heat (or just clean the pan you cooked the portobello strips in and reuse it). Cook the tortillas for 30 to 60 seconds on each side, placing them on a plate and covering with aluminum foil when they're done.

To serve, place a few portobello strips in a tortilla and top with the avocado-corn salsa. Leftovers will keep in the fridge in separate airtight containers for up to 4 days.
Notes
Recipe from But My Family Would Never Eat Vegan © Kristy Turner, 2016. Reprinted by permission of the publisher, The Experiment. Available wherever books are sold. theexperimentpublishing.com
You can make these oil free by either using veggie broth to cook the mushrooms in a pan, or you can even bake them.
I made these with both soft corn tortillas and crispy premade taco shells, both were delicious!
Recipe by Veggies Don't Bite, visit our site for more great plant-based recipes.
Nutrition
Calories: 134kcalCarbohydrates: 13gProtein: 2gFat: 7gSaturated Fat: 1gCholesterol: 0mgSodium: 49mgPotassium: 479mgFiber: 4gSugar: 2gVitamin A: 240IUVitamin C: 12.5mgCalcium: 18mgIron: 0.8mg
Nutrition and metric information should be considered an estimate.
Never miss a recipe!
Sign up here and get a FREE quick and easy meal guide!