This vegan nacho cheese sauce is the absolute best recipe. The texture and flavor are perfection, you won't believe what it's made of!
The base is made up of a combination of cashews and vegetables to get the perfect gooey nacho cheese texture. Slather your vegan nachos or use it as a dip!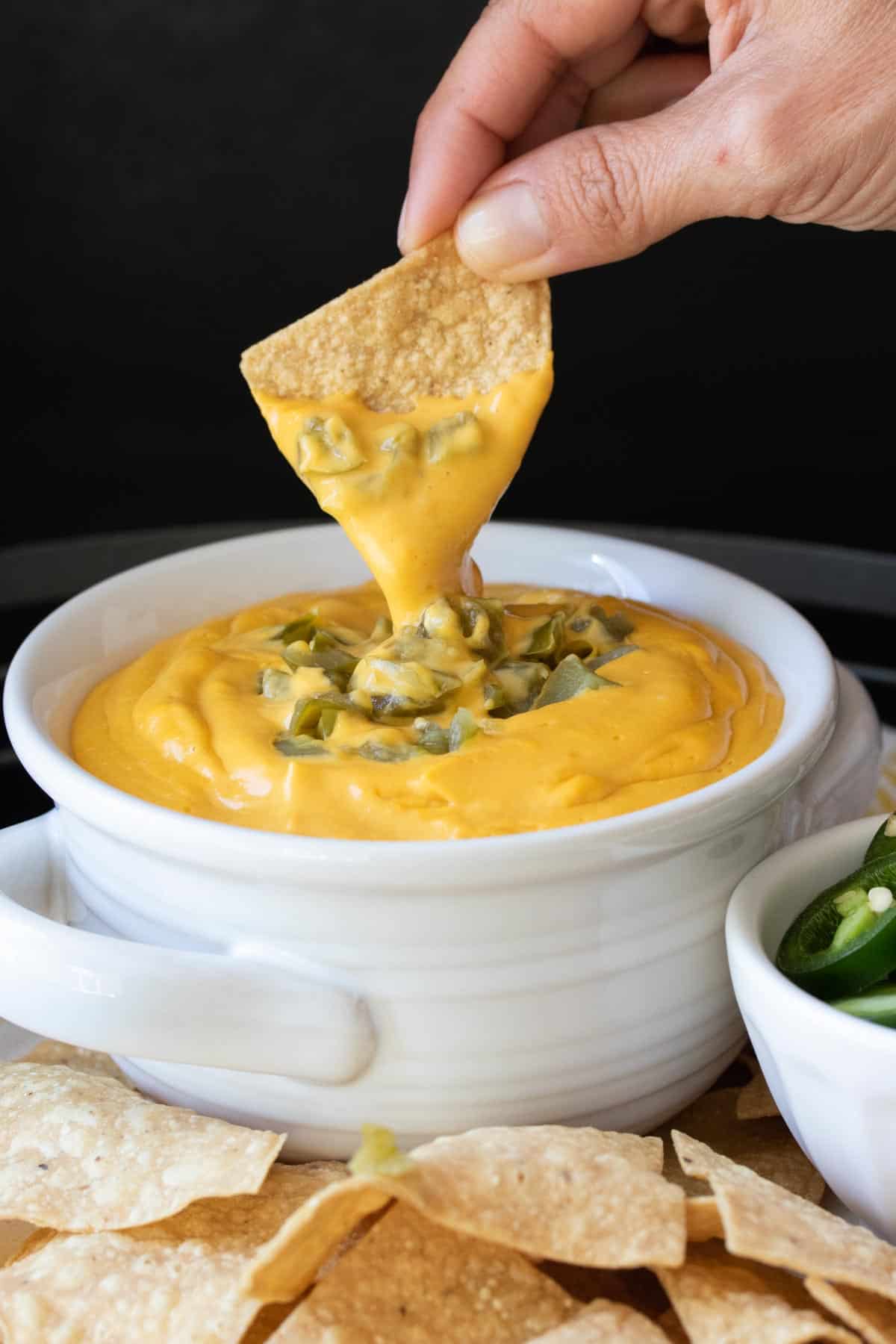 This post was originally published on April 22, 2021.
This vegan nacho cheese is a spin off of my original vegan cheese sauce, which is a huge hit with both dairy and dairy free eaters! I also have a white cheese sauce and a vegan queso which aren't far behind on the favorites list.
Ingredients
The key to my vegan cheese creations is whole foods. Also, they are made without nutritional yeast. I know, I'm a lone duck in the vegan department with that one, but I just don't think it tastes like cheese!
So if I'm using whole foods, how do I do it? First, a lot of trial and error. But the base of this vegan nacho cheese recipe requires a few key ingredients:
Potatoes
Carrots
Onion
Red pepper
Garlic
Pickled jalapeño nacho slices and their juice
Cashews
Dairy free milk
Reserved water from cooking the veggies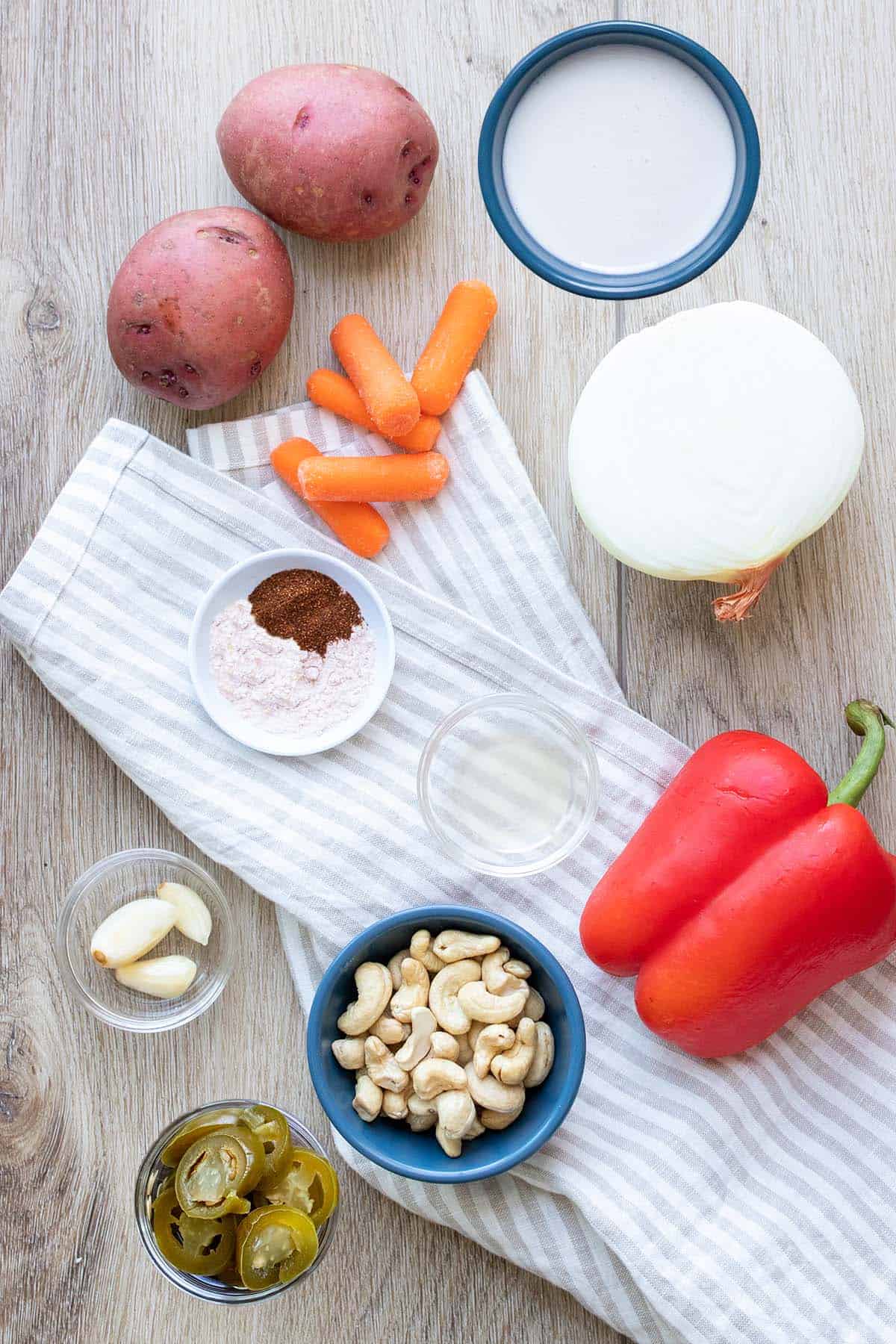 How to Make Vegan Nacho Cheese Sauce
This vegan cheese is super easy to make! I have two options, with the fastest being using an Instant Pot (thanks to a reader who used it for my original cheese sauce).
Cook the veggies and cashews.
Blend all of the ingredients together.
Pour into a bowl if your blender gets it piping hot, or heat in a pot if you prefer.
Dip all your faves and devour!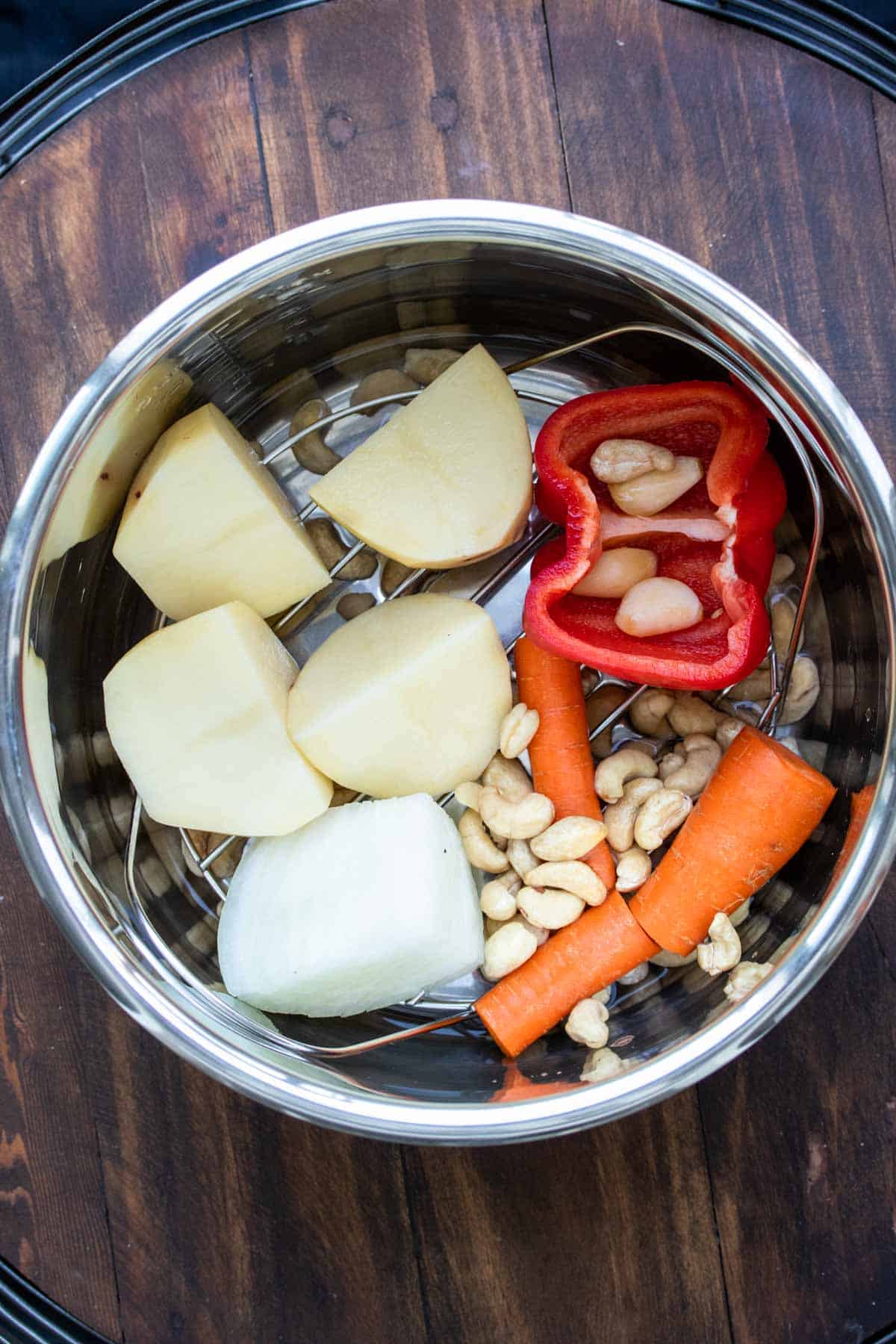 Ways to Serve Nacho Cheese Sauce
In addition to being the best vegan cheese for nachos, there are so many things you can do with this sauce! It's so versatile and delicious with just about anything. Here are some of our favorite ways to use dairy free nacho cheese:
More Vegan Recipes That Go With Nacho Cheese
You can also serve it alongside other great things for a build your own snack type meal. Here are some of our favorite things to serve it with:
Preparation Tips
For the best vegan nacho cheese sauce, make sure to check out these helpful suggestions:
This recipe is super easy to customize to the spice level of choice! You can use mild or spicy jalapeño slices, and you can add less or more chipotle, cayenne or chili powder.
The best nacho cheese sauce is made with cashews, they are key for creaminess! If you are allergic to nuts you can leave them out but know the creaminess won't be as good.

To try to get that creamy texture nut free, I have heard others using extra potato, cauliflower, white beans or sunflower seeds as well, but I still like cashews best.

If you don't have an instant pot you can also cook the veggies and cashews on the stovetop for 20-30 minutes.
Make sure to reserve the water from cooking the veggies. If you forget you can use veggie broth instead.
A high speed blender is best to use. If you don't have one a standard blender will work, but it will take longer to get the creamy consistency.
The nacho cheese thickens as it cools, and gets nice and thick in the fridge. It will thin out a bit once you warm it up again.
How to Store Vegan Nacho Cheese
Seal in an airtight container in the refrigerator for up to one week.
You can also freeze this cheese sauce! Seal in a freezer safe airtight container or bag and freeze for up to 3 months.

Defrost in the refrigerator the night before you plan on serving.
The texture will change slightly, but will come back together with a good stir and reheating. You can also blend it once again if you like.

You can either reheat on the stovetop or in the microwave. Just make sure to stir so it heats evenly!
Common Questions
Why is nacho cheese called nacho cheese?
The first nachos were created for a group of hungry military wives by a man named Ignacio Anaya. He fried tortilla chips and served them topped with cheddar cheese and jalapeño slices. His nickname was nacho, so that is what he called his new appetizer.

Nacho cheese itself really has no definition. The recipe changes depending on who makes it, and can be anything that people like. However originally it was simply an orange cheddar type cheese with jalapeños.
Can you make vegan nacho cheese ahead of time?
Absolutely! In fact the flavor gets better with time, so making it in advance is great. Once you make it, allow it to cool completely at room temperature, then store in an airtight container in the fridge.
How do you store vegan nacho cheese?
If you are making it ahead of time, you should store it in the fridge in an airtight container. If you are serving it that day, you can either put it in a crockpot on low to keep it warm, or in a pot on the stove over low heat. You'll need to mix it from time to time so it doesn't form a skin type layer.
How do you reheat vegan nacho cheese?
After you refrigerate the nacho cheese, it will become thicker. Almost like a thick Greek yogurt consistency. When you are ready to serve, simply warm it slowly in the microwave or in a pot over low heat, mixing consistently. It will slowly thin out and become a nacho cheese sauce again.
What is vegan nacho cheese made of?
Many variations use nutritional yeast, but this recipe uses only veggies, jalapeños, dairy free milk, and seasonings.
What does vegan nacho cheese taste like?
Like nacho cheese! The classic taste comes from the tang of the jalapeños, so using both sliced jalapeños and their juice gives that flavor you know and love.
More Vegan Cheese Recipes
Plant based cheese substitutes can be lacking sometimes, so I love having a variety of amazing options when the cravings hit. These traditionally cheesy recipes all got vegan makeovers, and they do not disappoint!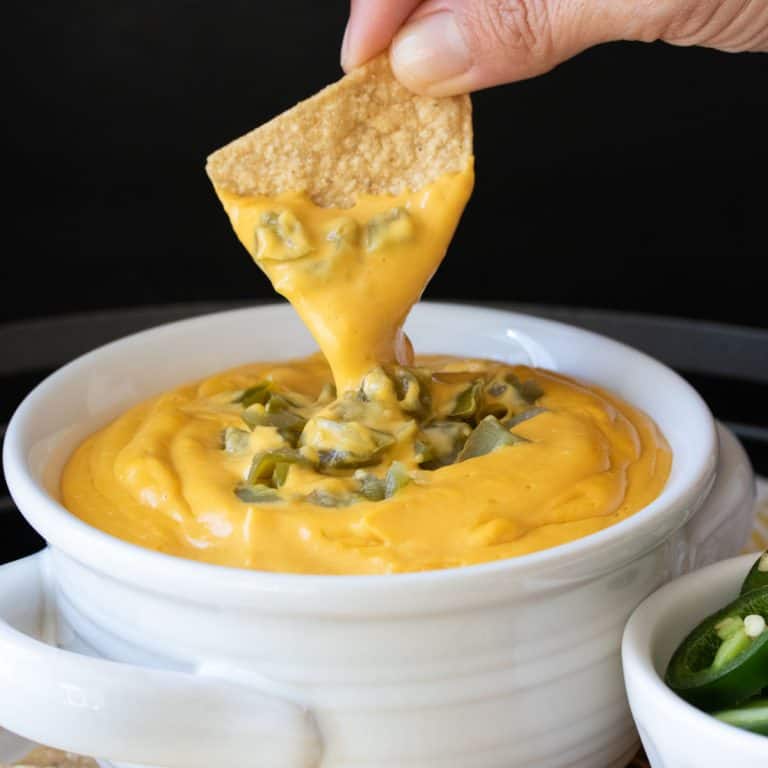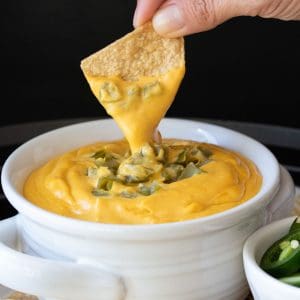 The Best Vegan Nacho Cheese
This vegan nacho cheese is hands down the best recipe. A perfect flavor and texture, you won't believe it's made with healthy ingredients!
Ingredients
1 cup cooked potato , see note for precooked amount
¼ cup cooked white or yellow onion , see note for precooked amount
¼ cup cooked carrots , see note for precooked amount
3 tablespoons cooked red pepper , see note for precooked amount
3 medium garlic cloves
¾ cup cashews , see note
¼ - ½ cup liquid reserved from cooking the veggies , adjust for the thickness you want (can also use veggie broth)
½ - ¾ cup unsweetened plain cashew or almond milk , adjust for the thickness you want
½ - ¾ cup nacho jalapeno slices , adjust for the flavor you like (mild if you don't want this spicy)
¼ cup juice from the nacho jalapeno slices
¾ teaspoon sea salt
Optional:
¼ - ½ teaspoon chili powder, chipotle powder or cayenne pepper , to add spice and extra flavor
nacho jalapeno slices , for garnish
Instructions
If you have an Instant Pot, put the raw potato, onion, carrots, red pepper garlic and cashews inside with 2 cups water. Cook on manual high pressure for 5 minutes. Allow the steam to release.

You can also put it all in a pot over the stove and cook covered for about 20 – 25 minutes.

When done, put the garlic and cashews into a blender.

Measure/weigh out the potato, onion, carrots and red pepper that is needed and put them in the blender.

Add the rest of the ingredients, including the ½ cup reserved liquid from cooking the veggies, and blend on high until creamy and smooth.

Serve! It thickens as it cools, and gets nice and thick in the fridge. It will thin out a bit once you warm it up again. You can put it in a pot and warm it up on the stove right after you make it to thicken it as well.
Notes
Since you are cooking the cashews with the veggies, there is no need to soak them. If you don't have a high speed blender, it may take more time to achieve a really smooth consistency.
I cook 1 whole potato (245 g, red or Yukon gold is my favorite for this), ⅓ of an onion (95 g), 1 large carrot or 6 baby carrots (50 g), and ⅓ of a red pepper (58 g). Then measure out what I need from there. You will have left over but I'd rather have more than be short. The veggies weigh more after they are cooked because they absorb the water. The cashews weigh about 150 g after cooked.
This makes about 3 cups sauce.
Serving size is ¼ cup.
Recipe by Veggies Don't Bite, visit our site for more great plant-based recipes.
Nutrition
Serving: 0.25cupsCalories: 57kcalCarbohydrates: 5gProtein: 2gFat: 4gSaturated Fat: 1gSodium: 286mgPotassium: 119mgFiber: 1gSugar: 1gVitamin A: 663IUVitamin C: 5mgCalcium: 7mgIron: 1mg
Nutrition and metric information should be considered an estimate.
Never miss a recipe!
Sign up here and get a FREE quick and easy meal guide!