Grab a spoon and dig into the best vegetable pasta fagioli recipe! It's super easy to make and so warm and comforting. Plus filled with veggies and protein!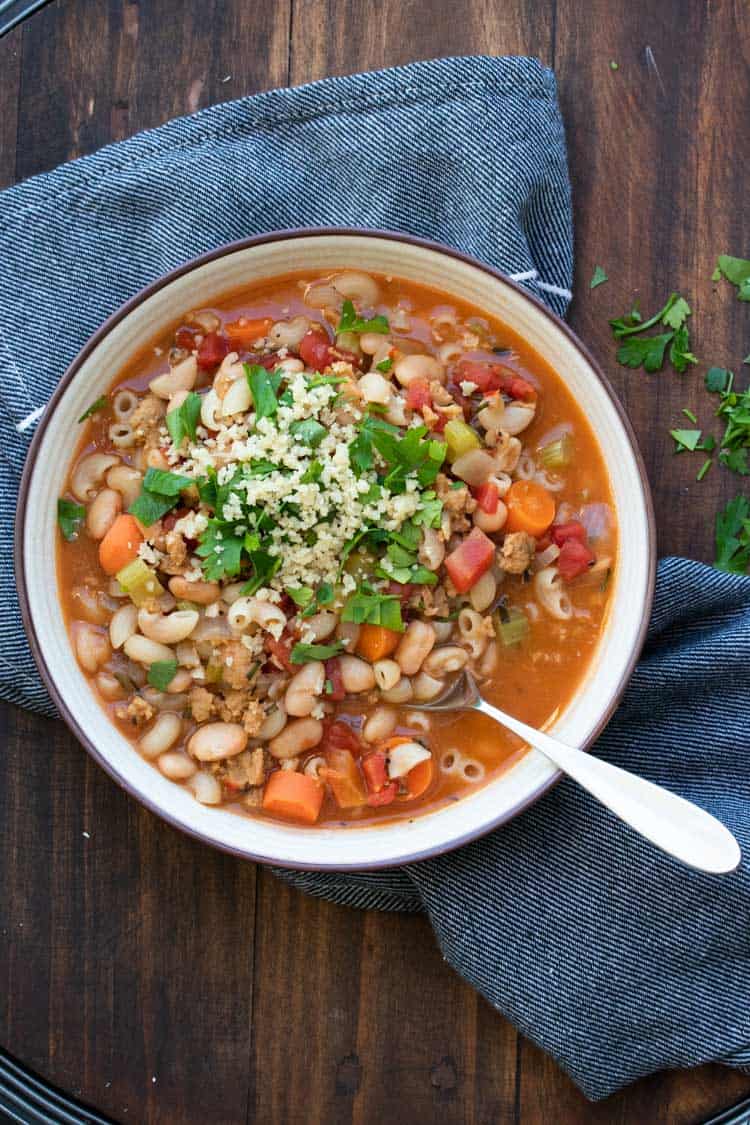 This post was sponsored by NOW Foods but the content and opinions expressed are fully my own.
I love a good one pot meal that encompasses all you need for a filling dinner. This one is a kid favorite and I always feel good knowing they are not only getting all of their nutrients, but they won't be hungry 10 minutes later since it's filled with protein!
Vegetable Pasta Fagioli
This recipe was inspired by a dish my husband used to have as a child. He called it pasta beans and has asked me to recreate it for years now. The only issue is I never had his pasta beans before! I may be good in the kitchen but a magician I am not.
So I got to work, and let his nose and taste buds guide me. I knew I had nailed it when he walked into the house declaring it smelled like when he was growing up and then proceeded to scarf down two bowlfuls.
How do you pronounce pasta e fagioli?
This is an Italian dish and has an Italian pronunciation. This dish should be pronounced as "pah-sta eh fazh-e-ohl-eh". This literally translates to pasta and beans. Hence why my husband calls it Pasta Beans!
Can you freeze pasta e fagioli?
Yes! But you do need to follow a few simple steps:
Make sure the pasta has cooled down completely before freezing.
Use the proper container size! There should be an inch between the lid of the container and where your dish ends.
If you're making this ahead, you could hold the pasta out and make new pasta for when you reheat it. My choice for less mush.
Make sure not to overcook your veggies! When you reheat they will continue to cook.
I like to put a layer of plastic wrap over the top, so it touches the soup, to help prevent freezer burn.
What goes with pasta fagioli soup?
Some delicious, crusty bread is delicious with this. But if you want an actual side dish, here are some ideas:
How do you store pasta e fagioli?
This can be stored in the refrigerator, but keep in mind that pasta in the soup will start to get mushy if left for too long and reheated. If you're planning to make this ahead of time, specifically to store, I would keep the pasta separate and add fresh-cooked pasta in later as you heat it up.
You can easily heat and continue on in the instructions where it tells you to add the pasta and cook.
What kind of pasta to use
Here's the thing about pasta and liquid meals...it gets soggy. Fast. So when it comes to nailing the perfect texture you need to pay attention to a few things:
Take it off the heat at the right time.
Make sure you use good pasta.
As you are cooking this, the pasta is something you add at the very end. You add it, then simmer and begin trying the texture at about 5 minutes in. As soon as you hit that point of al dente but almost still hard, you take it off. As it sits there it will cook to the perfect doneness.
As far as pasta goes, we like to stick to gluten free since too much gluten laden pasta hurts our bellies. And since we scarf this down by the bowlful, let's just say we wouldn't feel good the next day.
I used one of my favorite pastas in this recipe, the Living NOW Organic Quinoa Macaroni. It is gluten free, but also free of the major common allergens. So for those of you looking for allergy friendly, it's perfect.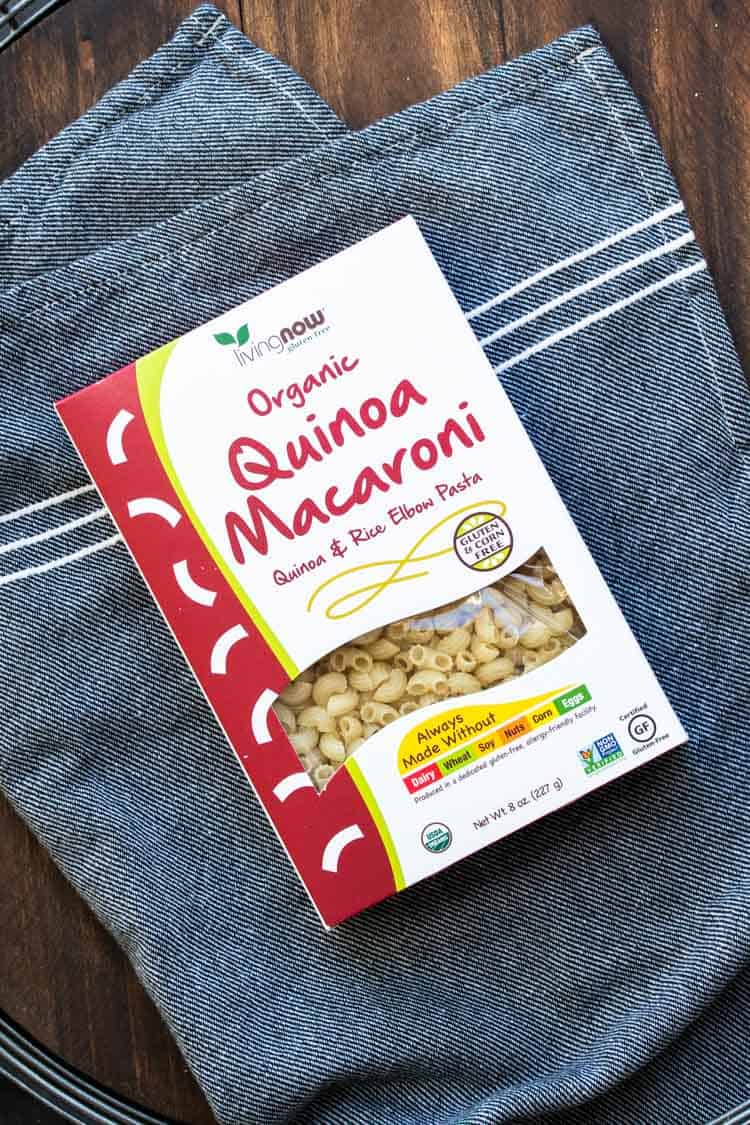 I absolutely love the texture of this pasta and it cooks perfectly in this vegan pasta fagioli. Plus it stays firm and doesn't melt away like others do. The base is rice, quinoa and amaranth.
How to Make Vegetable Pasta Fagioli
This is such a quick and easy recipe but filled with everything you need for a one pot meal!
Saute the veggies.
Add the sausage.
Add the broth, tomatoes and beans.
Add the pasta and simmer.
Serve!
How to add extra vegetables
You could serve this with other vegetables on the side, such as my easy sautéed spinach or with a yummy vegan caesar salad, or by putting more veggies into the soup itself. Some other yummy veggies you can add in are:
zucchini
chard
kale
spinach
green beans
peas
squash
Topping ideas
I love adding topping to make this extra delicious, even though it is good as it is! Here are some ideas:
Fresh parsley
Fresh oregano
Fresh thyme
Fresh basil
Croutons, like these homemade croutons
Pretzels
Crackers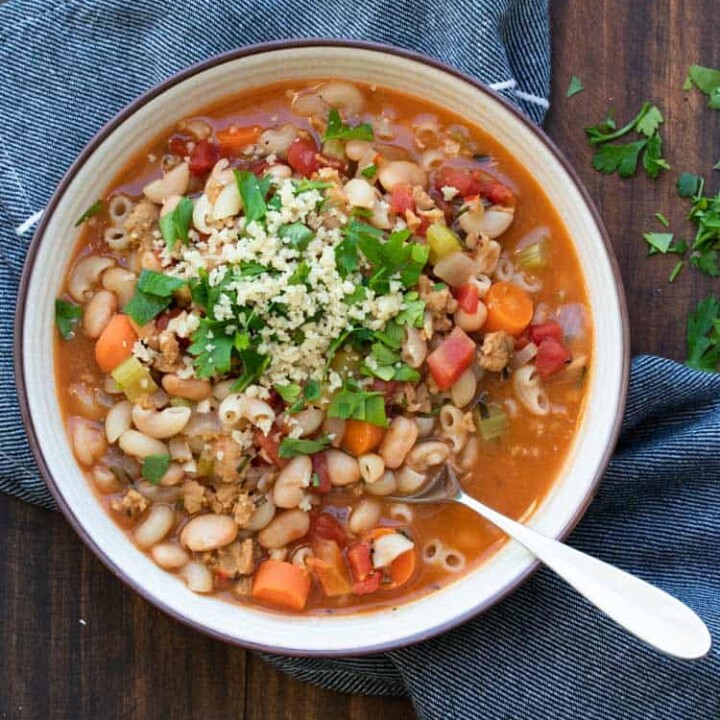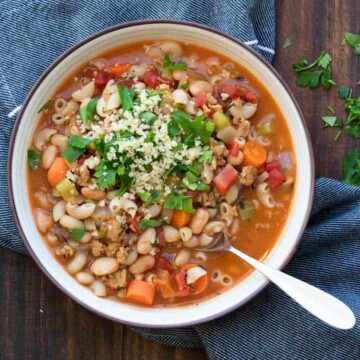 Best Vegetable Pasta Fagioli Recipe
Grab a spoon and dig into the best vegetable pasta fagioli recipe! It's super easy to make and so warm and comforting. Plus filled with veggies and protein!
Ingredients
Optional topping:
Instructions
Sauté onion, carrots and celery over medium heat with a drizzle of oil, or broth, until it becomes translucent, about 2-3 minutes.

Add garlic, rosemary, salt, pepper and sausage. Sauté 1-2 minutes until everything mixes well.

Add beans with liquid, tomatoes and broth. Turn the heat to high and bring to a simmer, about 5-6 minutes.

Turn the heat back down to medium, add the pasta and cook another 6-7 minutes. Begin checking at 5 minutes as stove tops vary.

Serve with optional parmesan and/or parsley.
Notes
If you choose to omit the sausage, you will need to add more salt. You could also add some Italian seasonings it you want.
Adding the liquid with the beans will help thicken the dish. You can rinse and drain them if you prefer.
Nutrition facts do not include optional toppings
Recipe by Veggies Don't Bite, visit our site for more great plant-based recipes.
Nutrition
Calories: 235kcalCarbohydrates: 36gProtein: 13gFat: 4gSaturated Fat: 1gPolyunsaturated Fat: 1gMonounsaturated Fat: 1gTrans Fat: 1gCholesterol: 1mgSodium: 671mgPotassium: 94mgFiber: 1gSugar: 3gVitamin A: 1830IUVitamin C: 3mgCalcium: 15mgIron: 1mg
Nutrition and metric information should be considered an estimate.
Never miss a recipe!
Sign up here and get a FREE quick and easy meal guide!