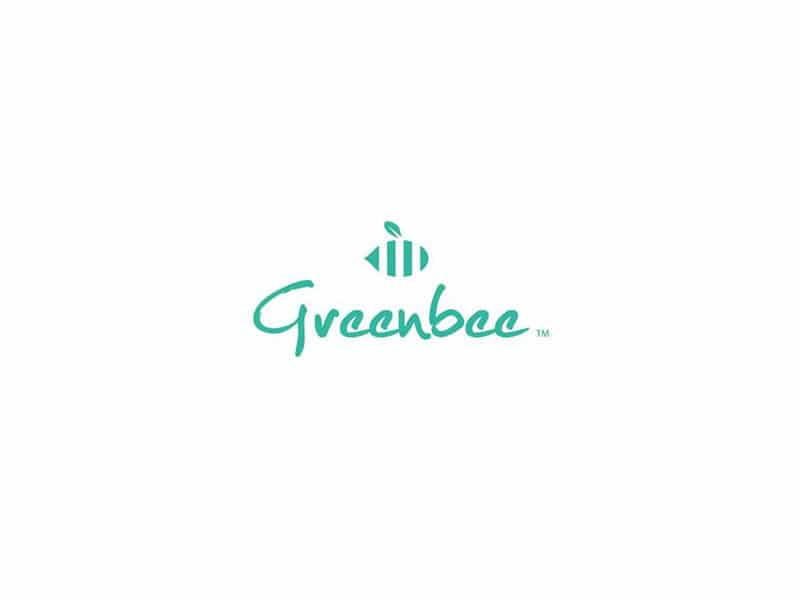 The past few months I have skipped my usual Veggies Don't Bite "Bite" of the month post and focused purely on recipes. Well, I decided it's about time for another and what perfect timing! About a month ago I had a good friend contact me asking if I would be willing to try some samples from a local juice company that just started. I of course said yes, because who doesn't love fresh juices, but I quickly learned that this wasn't a juice company like all the rest out there.
Greenbee Super Smoothie definitely is not your ordinary juice. I've tried a lot of juices out there, and truth be told I rarely buy them. Not because I don't like them, but really I feel that fresh juice made at home is the way to go. Well, if that's what you're looking for then Greenbee is it. They literally deliver freshly pressed juice to your front door by the time you wake up. So that means, that instead of sleeping cozy in their beds, they are up making your juice so that you don't have to do it. Yes, pure awesome. And the real proof is in the actual juice itself. You can taste that this stuff has not been sitting on the shelf for days. It literally tastes like it came straight from the juicer! The hardest part for me was that I couldn't guzzle the whole entire container because it's 100% raw and unpasteurized juice and I'm pregnant. But, one of my closest friends, and let me kindly say "pickiest" friends, finished it off for me and had nothing but rave reviews. She has tried a lot of juice in her life and is a very health conscious au natural type girl, and she loved it!
When you first look at the bottle, it's solid green. Nothing inside tells you that this will be anything but a thick plant tasting type of juice. But after the first few sips, you are quickly surprised by the smooth delicious flavor. It is literally packed with greens, however the taste is anything but. So good! And a super awesome bonus, they use local and organic ingredients. That is huge! If you love to juice and want to have that as part of your diet routine, but find yourself too busy to fit it in, you have nothing to lose with this juice. It's the perfect solution!
As I learned more about Greenbee, I also found that they offer a cleanse program. I'm going to qualify this with my opinion that cleanses are not for me. I believe that if you eat whole plant based foods you are constantly cleansing your body. That being said, if you are going to do a cleanse this looks pretty darn good. The first thing that made me stop to read more, instead of scrolling quickly past like I usually do when someone mentions the word cleanse, is that they actually don't ask you to drink some nasty combination of juices for 3 days straight. I guess if that's your thing then go for it, but if not read on…They use their own delicious juice, along with a combination of shakes and an actual soup! Yup, soup. Now that's an idea I'm not sure why is not out there more. Soup is pretty much pureed veggies, not that much different than a juice, but you eat it with a spoon and feel like you are eating food. Greenbee gave me a sample to try, so I heated it up and gave it a shot. I was very hesitant since I saw in the ingredients that it has curry powder in it. I know I am in the huge vegan minority with that, but curry is something I usually stay far away from. But a promise is a promise so in the mouth it went. Unlike almost every other food I've ever had with curry, I actually swallowed it and continued to eat. I was pleasantly surprised and ate most of it, and that is HUGE coming from this anti curry eater. If you love curry, then this is hardly what you would call a cleanse, just another delicious soup!
This brings me to my next subject, the vegan aspect. In talking to the creators of Greenbee, their original juice is not considered vegan because of the addition of honey and an ingredient called royal jelly. However, they did say that for a customer that wanted their delivered juice to be fully vegan, it is an option. So awesome! And their soup and shakes are already vegan. I love when companies are flexible and willing to accommodate all diet types. This is especially important because the awesome creators of Greenbee are offering a giveaway to my followers! You! The only caveat is that they are just starting out, so currently only deliver within San Diego county. But if you are reading this blog and live here in San Diego, then you must enter and try them out!! You have nothing to lose, but everything to gain.
Giveaway details:
Greenbee is giving away THREE 3 day cleanses! Yup, that's right THREE! I will pick one winner for Wednesday, one for Thursday, and one for Friday!
Winners each receive a 3 day cleanse that includes the following for each day of the cleanse, all delivered fresh to your door in a Greenbee insulated tote:

4 16 oz super smoothies
2 16 oz super shakes
1 14 oz detox soup
Greenbee super shaker with measuring marks (one total)

Must live in San Diego County to enter (or you can always enter and gift it to someone who lives in San Diego County)
Ways to enter:
Go to http://supergreenbee.com and read about their products. Comment on this post what your favorite thing about them is and how it would benefit you to win!
Visit Instagram, make sure you are a follower of both Veggies Don't Bite and Greenbee, and comment on my Greenbee giveaway picture the same as above (I am not doing this giveaway for followers or likes, but as a special treat to my supporters.) I will be posting multiple pictures about this giveaway, so a comment on any of them will count.
Visit Facebook, make sure you like both Veggies Don't Bite and Greenbee, and comment on my Facebook giveaway post the same as above (Again, I am not doing this giveaway for followers or likes, but as a special treat to my supporters.) I will be posting multiple times about this giveaway, so any of my Facebook posts mentioning it will count.
A winner will be chosen for each cleanse and announced on Instagram and then also shared on Facebook so make sure to keep your eyes out! I will announce Wednesday's winner Thursday morning, Thursday's winner Friday morning, and Friday's winner Saturday morning. Entries for each day ends at midnight on that day. Good luck and as always, thank you for being an awesome supporter!