Feeling the heat on those hot summer days? Throw the sugary drinks away, this blueberry mint lemonade is what you're looking for! Sweet, tart and ice cold!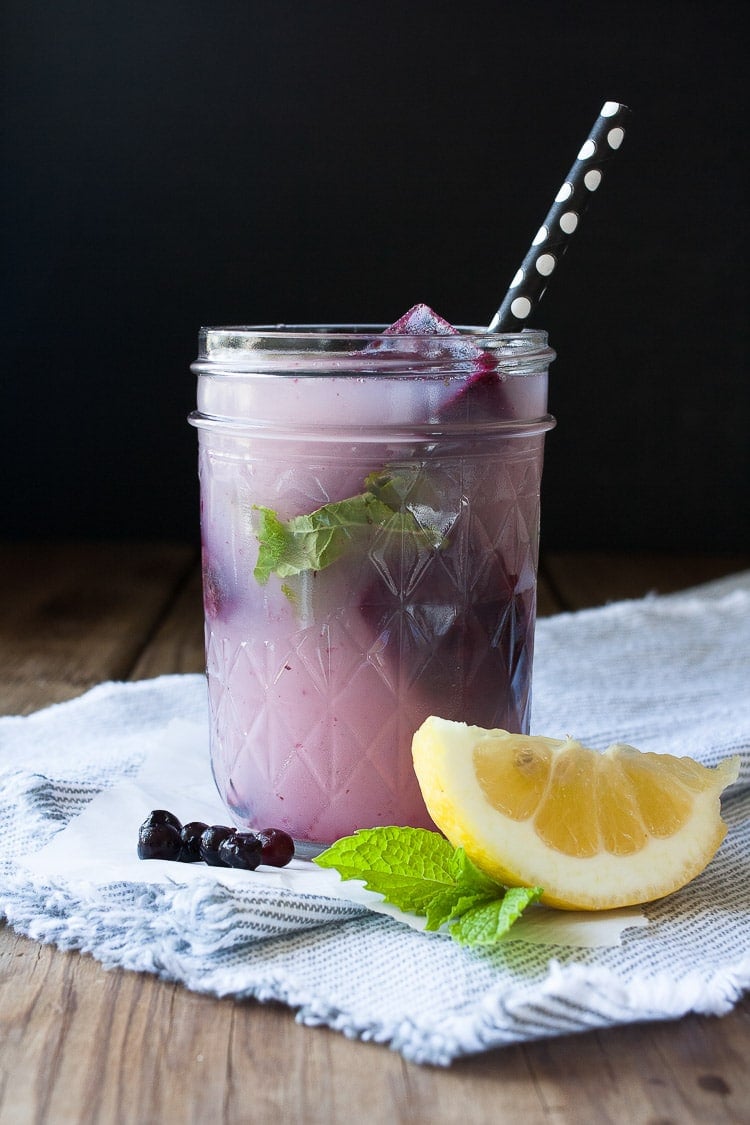 I've partnered with Huhtamaki Inc. for the Chinet® brand to create this post! Enjoy!
What's one of the worst things about summer? And trust me that I don't have many because I am a summertime lover. One of my biggest peeves is when my nice cold drink goes warm.
There is nothing worse than a day at the beach in the hot sun and reaching to take a swig of your drink only to find it's HOT. Huge gag time. Especially when that drink is lemonade. Lemonade was born to be cold!
Ice cold! But really though, there is nothing better than an ice cold lemonade on a hot day. Unless it's blueberry lemonade with hints of mint! And NOW you can try summer heaven with me.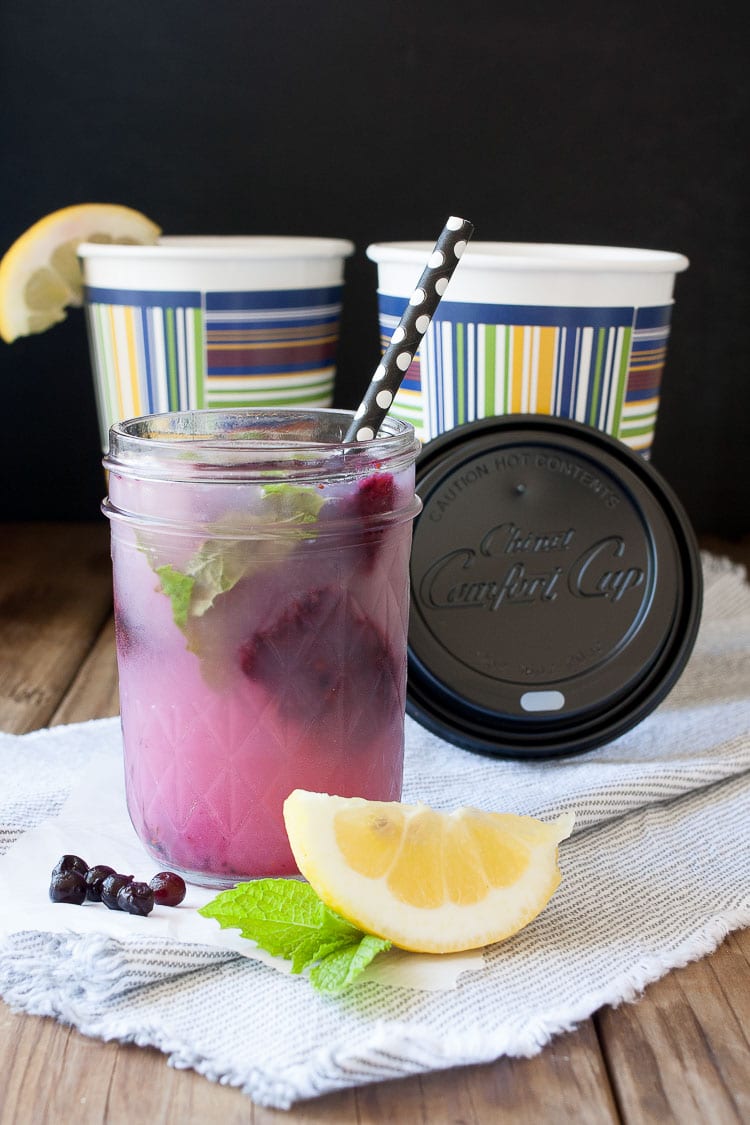 Tips For Making Blueberry Mint Lemonade & Keeping Drinks Cool In The Summer
So how are we going to keep this amazing blueberry mint lemonade from getting warm? Option 1: lug around a giant cooler of ice. Anyone else have more than one kid? I have three. Three young kids that can barely carry themselves let alone help with supplies for a day at the beach or park.
Picture five-foot 100 pound me lugging: umbrella, beach bag, beach toy bag, towels, chairs, and a giant cooler. Oh and lets not forget I need to keep an eye on the children as I walk. Um yeah. This never ends well. Well friends, I was at the store  the other day and I found option 2:  Comfort Cup® by Chinet® insulated cups.
These Cups Are Everything
These are disposable INSULATED cups. They even have lids that your littles can drink through, or you can easily slip in a straw! These cups help keep my sanity and allow me to take my children out for a day of fun without worries about lugging tons around. It's one step closer to a stress free day!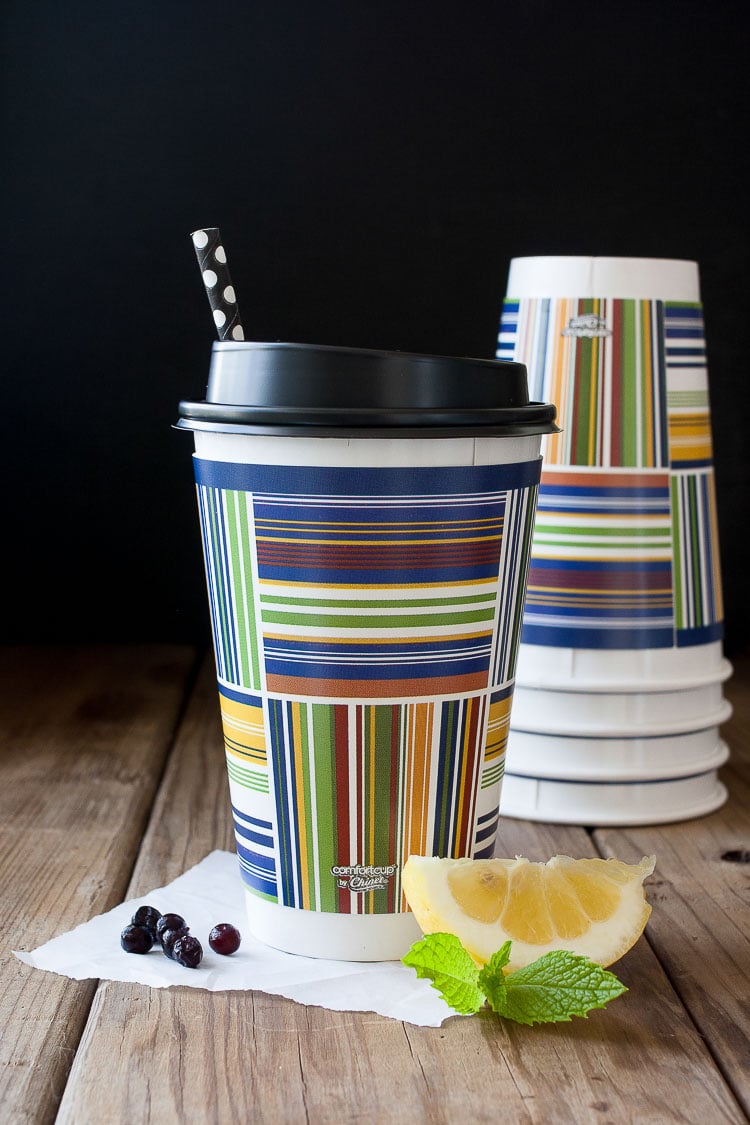 So when the Chinet® brand got in touch and wanted to work with me, I just about died of laughter. Did they see me jump up and down at the store?
Or perhaps it was that day at the beach when I threatened to leave all the beach toys there if my kids didn't at least carry one? Either way, I saw it as fate, so here we are. An amazing summer drink recipe AND a way to keep this drink icy cold!!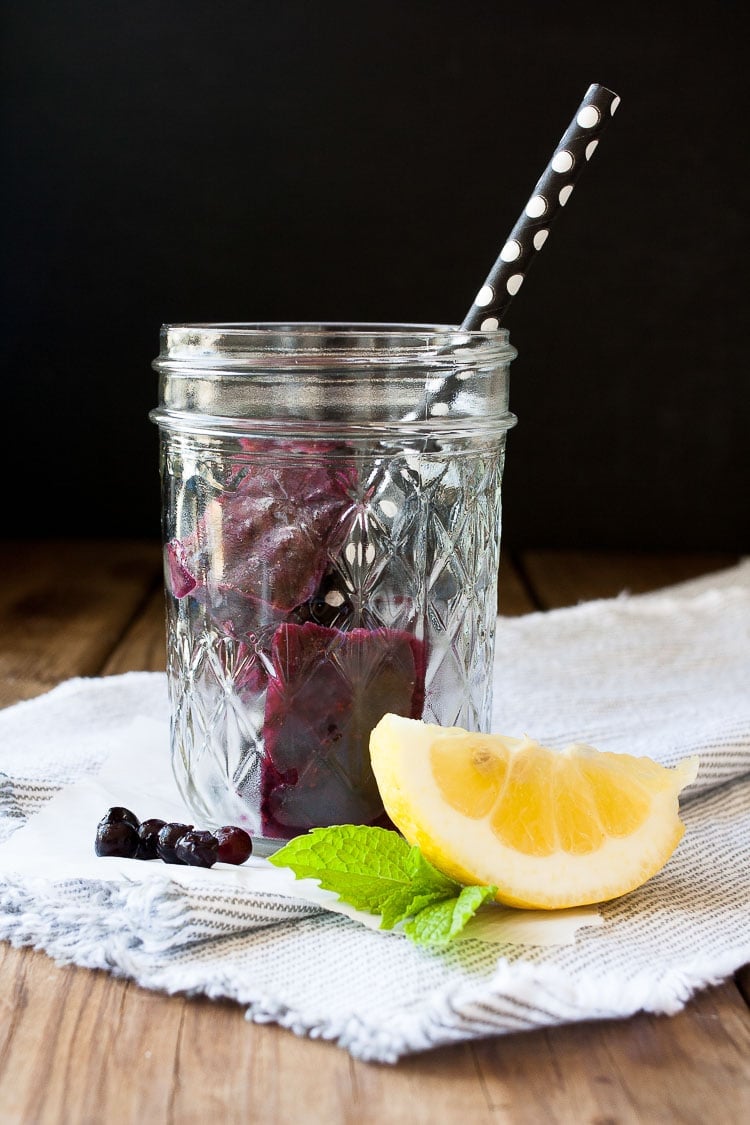 How To Stop Ice Diluting Drinks…..I Have A Trick Up My Sleeve!
The best thing about this blueberry mint lemonade recipe is that the ICE CUBES are the blueberry mint. So no watery drinks once the ice melts. Instead you get a blueberry mint infusion and an enjoyable cold delicious drink all day long!
Not to mention, it's so easy to make but looks super fancy, and so much healthier that the sugar filled alternative. I used maple syrup to sweeten ours, but you can use your unrefined sweetener of choice.
Keep ice in each individual cup (no need to carry a cooler), then fill each with blueberry mint lemonade once you reach your destination. Leave the giant drink container in the car and voila! Cold drinks for the day.
Fill each cup with the lemonade before you leave. Let kids carry their cups filled with a cold refreshing drink around for the day.
Bring cups along, fill each one at the car and leave the cooler behind.
While throwing your fun summer party, use these fully insulated cups instead of regular cups. No more throwing away of drinks left to get hot in the sun!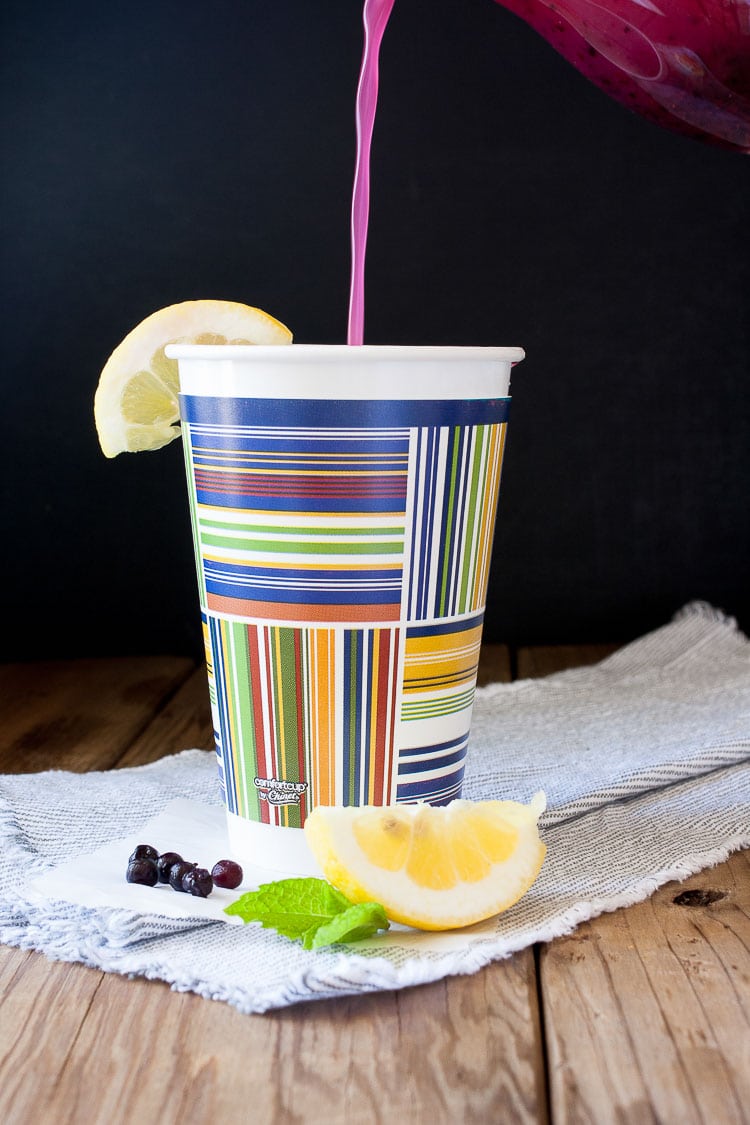 I can't wait to hear how you use your Comfort Cup® by Chinet® cups! Leave me a comment here, find me on Instagram, tag me at veggiesdontbite and #veggiesdontbite, or you can get in touch on Facebook. These are the best cups around, especially for those of us that need a little bit of a break with lugging a million and one things with us everywhere we go.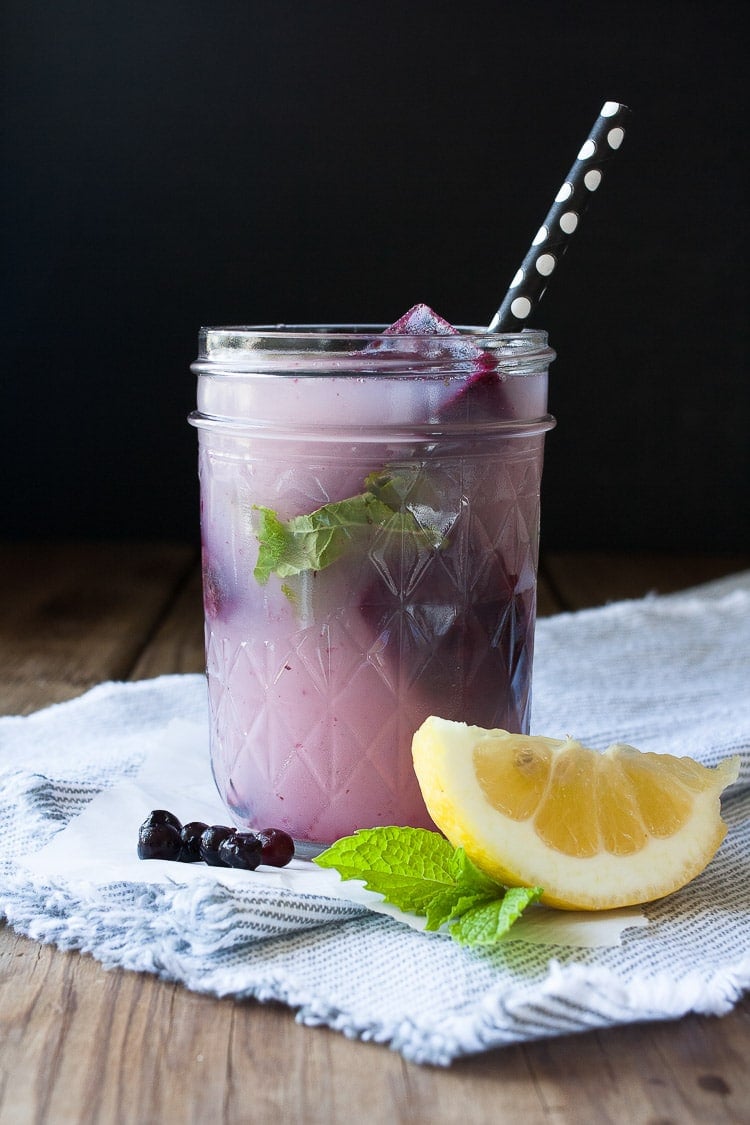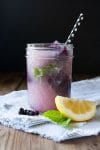 Blueberry Mint Lemonade
Feeling the heat on those hot summer days? Throw the sugary drinks away, this blueberry mint lemonade is what you're looking for! Sweet, tart and ice cold!
Keyword:
refined sugar free drinks, vegan lemonade
Ingredients
For ice cubes
1

cup

blueberries

fresh or frozen

2

tablespoons

water

2

tablespoons

fresh lemon juice

1

tablespoon

mint leaves

packed plus extra for garnish

2

teaspoons

maple syrup
For lemonade:
4

cups

water

1/2

cup

fresh lemon juice

1/2

cup

maple syrup

see note
Instructions
Blend all ice cube ingredients until texture of choice. Either smooth or somewhat chunky works great.

Divide mixture into a 12 serving ice cube tray and freeze.

To make lemonade, juice lemons until you get about 1/2 cup of juice. I only used 1 regular sized lemon and juiced it in my juicer.

Combine lemon juice and water in a large container.

Warm maple syrup to allow it to mix better. Pour into container with water and lemon juice and mix well. If using a dry sweetener, then warm about 1 cup of the water and mix the dry sweetener into the warm water until it dissolves.

Then pour into the large container with the rest of the water and the lemon juice. Place in refrigerator to get cold.

Once ice cubes are done, put 3 cubes into each cup, garnish with some fresh mint and pour lemonade over the ice cubes and garnish. As the ice melts, the blueberry flavor will come through.
Recipe Notes
You can also use sweetener of choice if you don't like maple syrup. If you use a dry sweetener, you will need to warm up some of the water and then dissolve the dry sweetener into the water so it mixes better.
Tips to prep ahead: Make ice cubes. Juice lemon.
Baby/toddler food idea: Great drink for kids!
Nutrition Facts
Blueberry Mint Lemonade
Amount Per Serving
Calories 148
% Daily Value*
Total Fat 0g 0%
Cholesterol 0mg 0%
Sodium 17mg 1%
Potassium 150mg 4%
Total Carbohydrates 37g 12%
Protein 0g 0%
* Percent Daily Values are based on a 2000 calorie diet.