These boozy popsicles are an adults favorite summer treat! Made with real fruit, for at least a touch of health, and perfect for a warm summer day!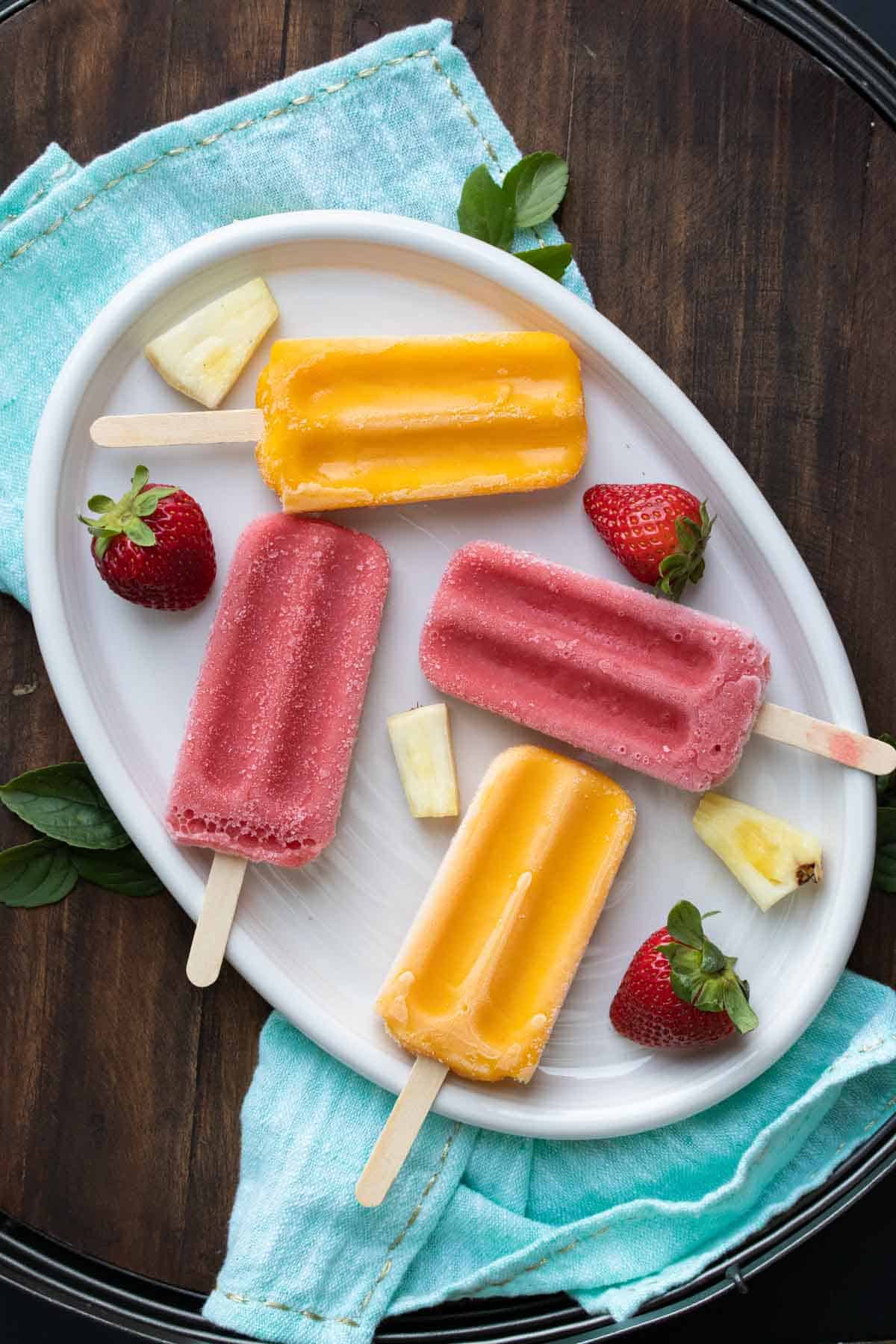 We love these adult centered frozen treats! They are so versatile and perfect for using up leftover fruit juice. You can even add some veggies if you want to mix in a touch of health!
Making Alcoholic Popsicles
As easy as regular popsicles are to make, putting booze in your frozen treat takes a little bit more thought and planning.
What are boozy popsicles?
They simply are popsicles with alcohol! Super good and a fun way to enjoy an adult beverage.
Because alcohol has a lower freezing point than regular ingredients, you need to ensure that your ratio is right so that you can get them to freeze.
Ratio of liquor to other ingredients
In order to ensure that your popsicles will freeze, it is best to keep the ration of juice to liquor, 4 to 1. So for every 4 ounces of juice, you want 1 ounce of liquor.
How to Make Homemade Boozy Popsicles
When keeping the ratios of liquid to alcohol in mind, making these adult treats are really easy!
Mix the different flavors you want.
Pour the liquid into the container/s of choice.
Freeze and enjoy!
Flavor ideas
The mixes you can create here are endless! So many amazing cocktail recipes out there. Here are some of my very favorite ones:
Pineapple jalapeño margarita
Strawberry vodka spritzer
Pina colada
Regular margarita
Strawberry daiquiri
Cosmopolitan
Mojito
Long Island ice tea
Sweet tea and vodka
Mai tai
Tequila sunrise
Paloma
White Russian
Screwdriver
Freezing containers
There are a few different options when it comes to freezing your popsicles. Here are the ones I love and use:
Norpro Frozen Ice Pop Maker
Ozera Popsicle Molds
Zoku Classic Pop Molds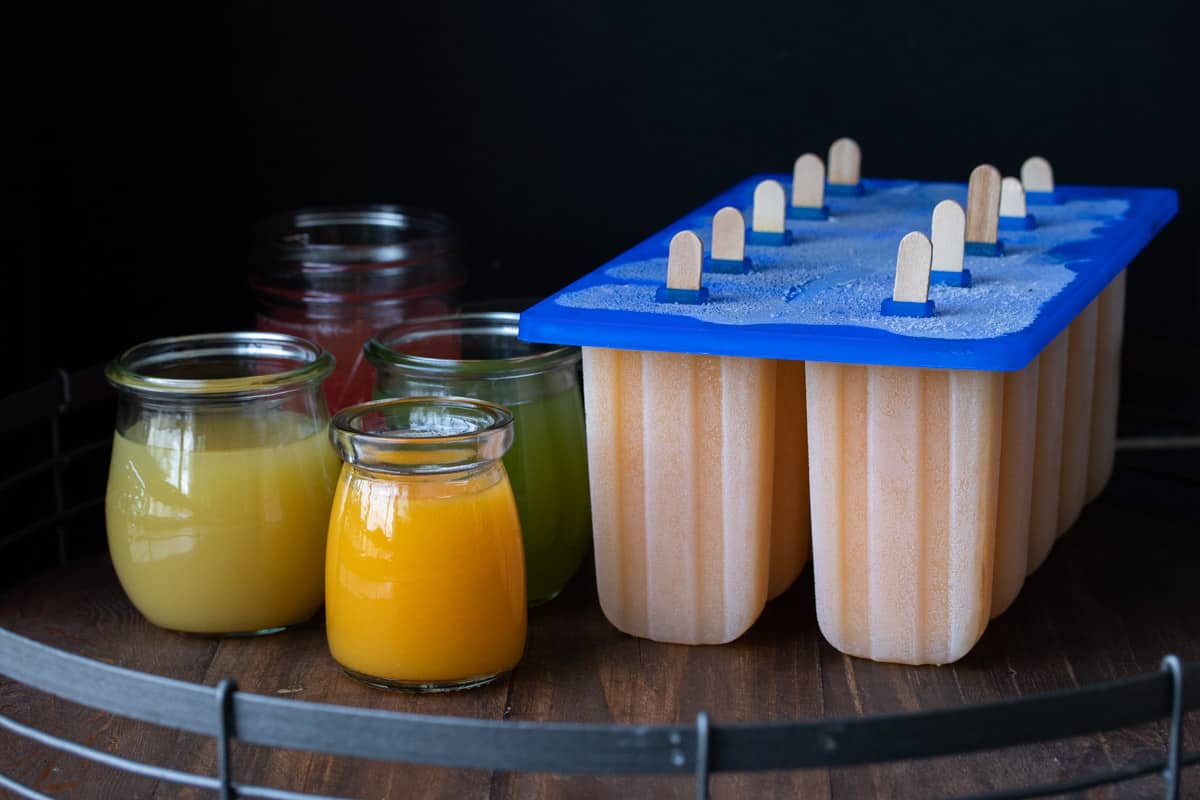 These popsicle bags are also a great option:
Frozip Disposable Popsicle Mold Bags
Tips and Tricks
This is a pretty full proof recipe, but here is some info to help you along the way!
When choosing what liquor to use, think about the overall flavor you want. The most versatile is vodka. It goes with almost anything! You can also think about the cocktails you like and use the liquor that goes with that cocktail.
One of the most important things is to make sure your kids don't get into these. The easiest way to separate is by container, shape or color. Use the different container types to indicate booze or no booze. You can also use different color popsicle sticks. I don't recommend marking anything with a pen or marker because that can easily come off.
Plan ahead when making these. You can prep the juice with alcohol mix ahead of time to make it super easy especially if you want different flavors.
If you are making these for a party, you will need to serve quickly after you take them out of the freezer as the defrost faster than regular popsicles.
You can easily make a kid batch, simple save some mix before you add the liquor.
Common Questions
Is it possible to make alcoholic popsicles?
Yes! Just follow the directions and keep your ratios as recommended to ensure they will freeze.
How much alcohol can you put in a popsicles?
This all depends on the total amount of liquid. Since you need a 4 to 1 ratio of juice to liquor, just multiply for the amount you want to make.
How do Vodka Popsicles freeze?
Vodka has a lower freezing point than non alcoholic liquid. So when you mix it with regular liquid then it raises the freezing temperature. When keeping the ratio 4 to 1 liquid to alcohol, you ensure that the popsicles will freeze at a normal freezer temperature.
How do you freeze popsicles quickly?
While there are machines you can buy to make instant popsicles, they can be pricy. So if you want to try to speed up the freezing time (which may or may not happen LOL), you can try a few tricks I have heard about. You can make them smaller to get them to freeze faster. Also the higher the water to sugar ratio the faster they will freeze. You can also put less alcohol since alcohol slows down the process. You can even check out this study on how hot liquid freezes faster than cold, but who knows how true that is?!
If you make these and love them, you will also love this Frozen Rosé treat or wine popsicles!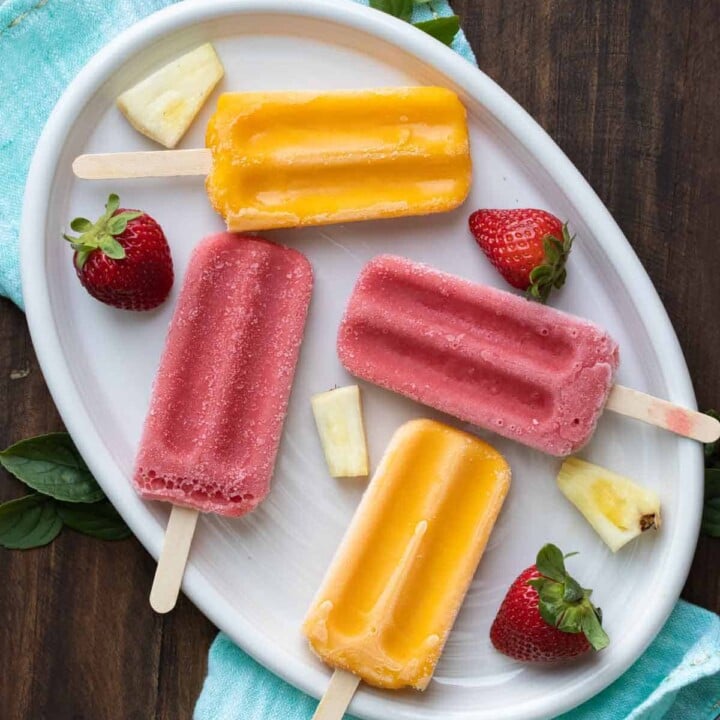 Boozy Popsicles
These boozy popsicles are an adults favorite summer treat! Made with real fruit, for at least a touch of health, and perfect for a warm summer day!
Equipment
10 space popsicle mold (or 10 small paper cups)
Ingredients
4 cups juice of choice , or juice mixture
1 cup liquor of choice
Instructions
Mix the juice and liquor in a large pitcher.

Pour into popsicles molds. I use a 10 space mold for these.

Freeze for at least 4-6 hours or overnight.

Once set, carefully remove each popsicle and enjoy!
Notes
You can use any juice or combination you prefer. See the post for ideas.
You can use any liquor you prefer. See the post for ideas.
Nutrition facts use a general juice and liquor.
Recipe by Veggies Don't Bite, visit our site for more great plant-based recipes.
Nutrition
Calories: 101kcalCarbohydrates: 11gProtein: 1gFat: 1gSaturated Fat: 1gSodium: 4mgPotassium: 100mgFiber: 1gSugar: 10gVitamin C: 1mgCalcium: 8mgIron: 1mg
Nutrition and metric information should be considered an estimate.
Never miss a recipe!
Sign up here and get a FREE quick and easy meal guide!