The ultimate plant based chickpea burgers. Buffalo sauce, filled with veggies, and paired with amazing toppings, this burger will erase all others from memory!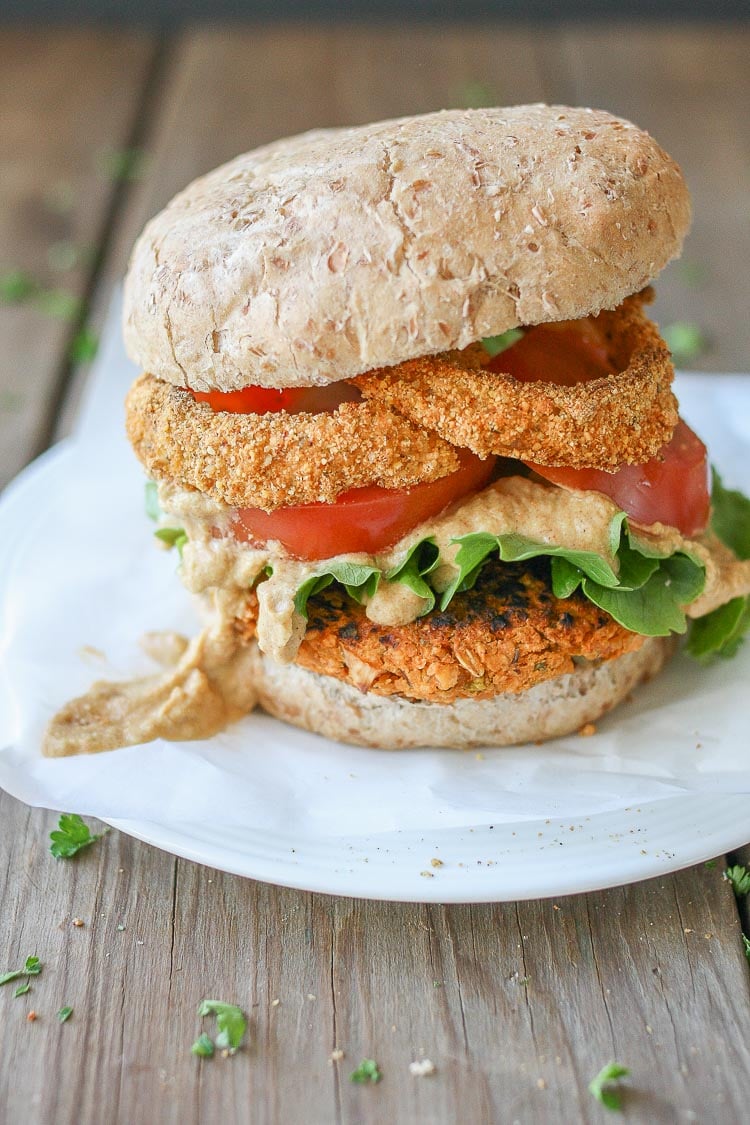 Two things must be obvious to you all by now, 1. I LOVE hot sauce and 2. I LOVE veggie burgers...this is the 6th one I've published here and I still have a few more I'm working on behind the scenes. Before we stopped eating meat I wasn't much of a beef burger fan, in fact when we went out, I'd often order the veggie burger in place of the meat patty.
So when we started our plant based diet, creating a veggie burger was one of my top priorities. I honestly haven't found a store bought version that I like. I've eaten a few out that are pretty good, but my favorite ones are the ones I create at home. This burger is probably up there close to number one!
I love the simplicity of it, coupled with the taste from the buffalo sauce I used. It isn't all that spicy, so my kids and husband love it just as much, but of course I add more hot sauce on top!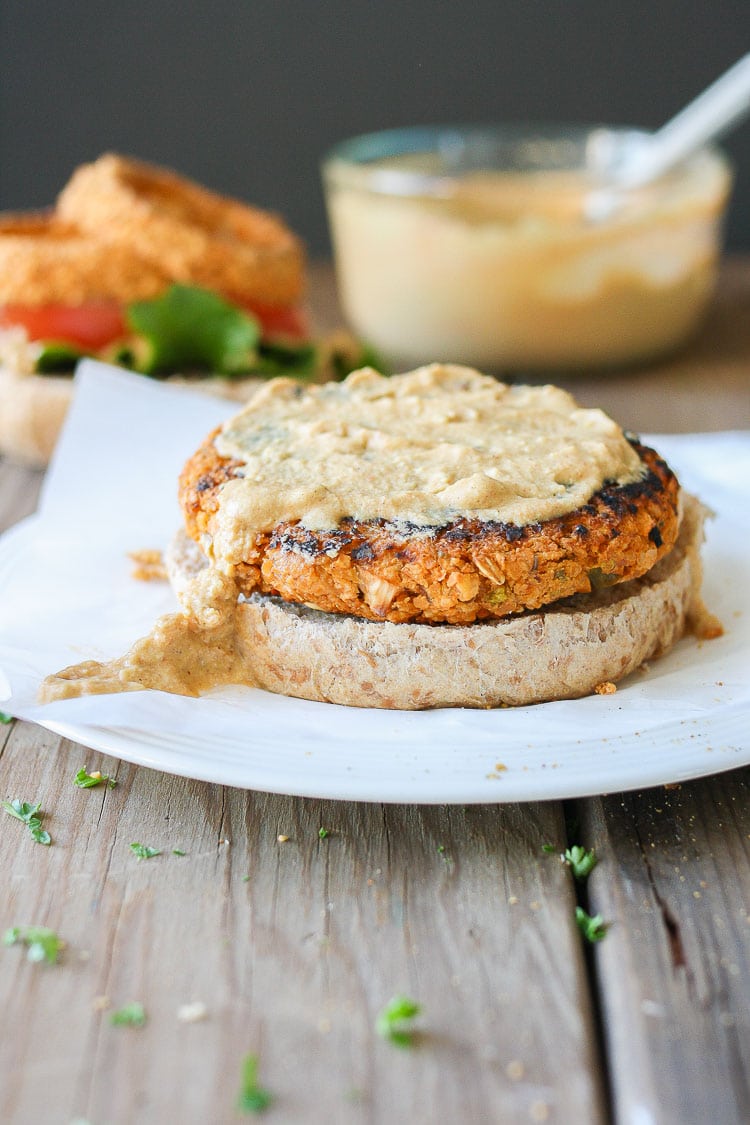 The key with chickpea burgers is to make sure you have enough liquid. Chickpeas are a pretty dry bean, especially because I use them chopped and not pureed. When I first wanted to create a buffalo burger, because again I'm obsessed with hot sauce, I knew chickpeas were the perfect complement.
I then wrote a list of all the veggie based ingredients I have seen that go with buffalo sauce: carrots, celery, cauliflower...done! I use all three. The best is that cauliflower brings a lot of moisture into things, so it's a key component in preventing these from being dry and cardboard like. I decided to keep the veggies raw in the burger mixture and allow the cooking process to bring out their natural moisture and flavors. It worked great!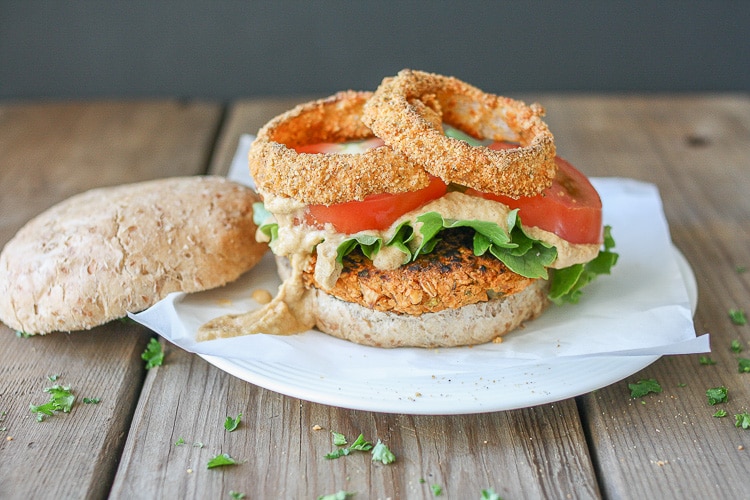 How To Make These Chickpea Burgers Even Better?...
Of course, these chickpea burgers is served best with my incredible Baked Cornmeal and Pepita Crusted Onion Rings, both on the side and ON the burger! But wait, if you are part of the cool crowd and adore hot sauce as much as I do, top it with my Pistachio Buffalo Cream. You won't regret it.
It's like a little hot sauce party in your mouth! I honestly could not get enough. I doubled the batch and froze half of these burgers for instant access whenever my cravings took over. I have no control, I'm 8 months pregnant and when baby wants, baby gets. You need to try these! Super easy to make and filled with protein and veggies so I love knowing that if that's all my boys eat, they are set.
As always, I love comments on the blog if you try them, so make sure to let me know! You can also tag me on Instagram at veggiesdontbite #veggiesdontbite so I don't miss it! Hope you enjoy!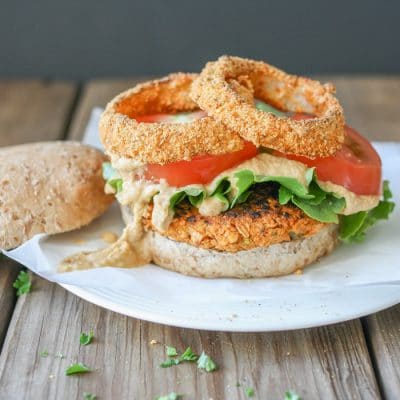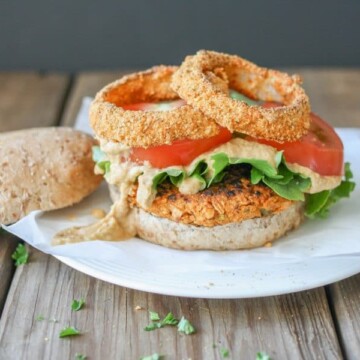 Buffalo Chickpea Burgers
The ultimate indulging plant based burger. Buffalo sauce flavored, filled with veggies, and paired with amazing toppings, this burger will erase all others from memory. Meat who?
Ingredients
Suggested toppings:
burger buns or lettuce wraps
Lettuce
Instructions
Mix the 2 tablespoons of ground flaxseed with 6 tablespoons warm water in a small bowl and set aside for 10 minutes to make the flax eggs.

Chop chickpeas, carrots, celery and cauliflower in a food processor until chunky but not pasty. It's best to chop separately. Put into a large bowl.

Slice/chop green onions and add to the bowl.

Next add the oats, almond flour, flax eggs and buffalo sauce and mix well.

Mix well with your hands to get everything mashed together well into a firm, but slightly, wet dough.

Once you get the taste you like, allow mixture to set a while so oats soak in some liquid (you can also do this after you shape into burgers). This really helps with consistency so that they are not mushy, but have a firmer bite.

Shape into 4 inch patties, then cook on the stove top over medium heat in a medium sized pan for 4-5 minutes on each side (depending on stove).

Make sure to keep pan covered to help the burger cook throughout and achieve the best texture possible. This helps prevent a mushy burger. Check every few minutes to prevent burning, should be slightly browned when ready.

Allow the burgers to cool a bit to further help set them into a non mushy consistency, then serve on buns or lettuce wraps and with toppings of choice.
Notes
It works best to chop everything in a food processor separately in order to achieve the perfect texture for each. 
You can also reduce the buffalo sauce for less of a kick, but if you do you will need to add a little water to replace the liquid.
To make this nut free, use another flour such as oat flour to replace the almond meal. Do not just add more oats as this mixture needs a little bit of a smooth flour to set correctly.
The burger patties should be about 4 inches in diameter.
This recipe makes a lot so you can freeze leftovers for a future meal.
Nutrition info is for the patties only.
Tips to prep ahead:
Chop veggies and beans beforehand so all you need to do the day you make it is put it all together.
Recipe by Veggies Don't Bite, visit our site for more great plant-based recipes.
Nutrition
Calories: 80kcalCarbohydrates: 7gProtein: 3gFat: 4gSaturated Fat: 0gCholesterol: 0mgSodium: 494mgPotassium: 82mgFiber: 2gSugar: 1gVitamin A: 1490IUVitamin C: 4.8mgCalcium: 12mgIron: 0.2mg
Nutrition and metric information should be considered an estimate.
Never miss a recipe!
Sign up here and get a FREE quick and easy meal guide!