Caramel Peanut Protein Truffles. Smooth caramel, crunchy peanuts, and a chocolate finish. When you crave candy but pick healthy protein truffles, you know you've found the perfect recipe!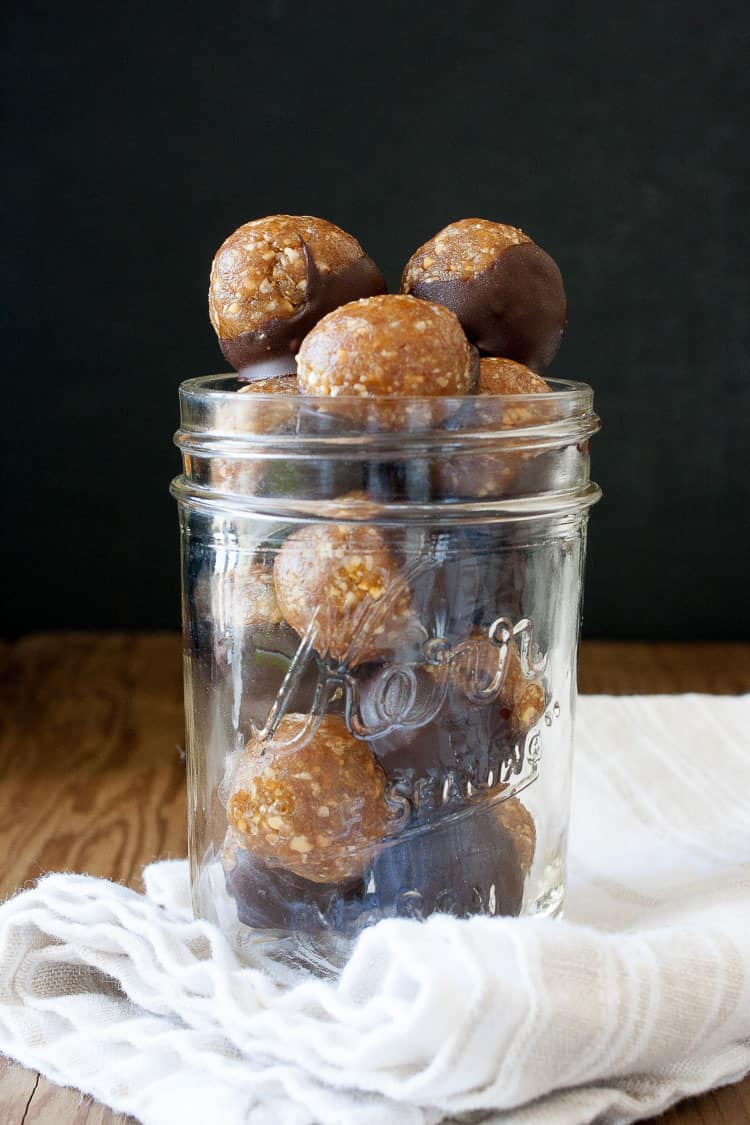 This post was sponsored by BasilHealth but the content and opinions expressed are fully my own.
Candy. A child's ultimate. For a parent, not so much. I mean, I'm ALL for treats now and then, life is short and I treat myself so why shouldn't they? But what about the times you really want to indulge but need that healthy twist? Enter healthy protein truffles filled with buttery caramel flavor and crunchy peanuts! We're talking no refined sugar, nutrient filled ingredients, protein and a fully raw option. The only issue is that you may not be able to stop eating them, so it's a good thing that these aren't that bad for you 😉 The perfect secretly healthy candy like treat!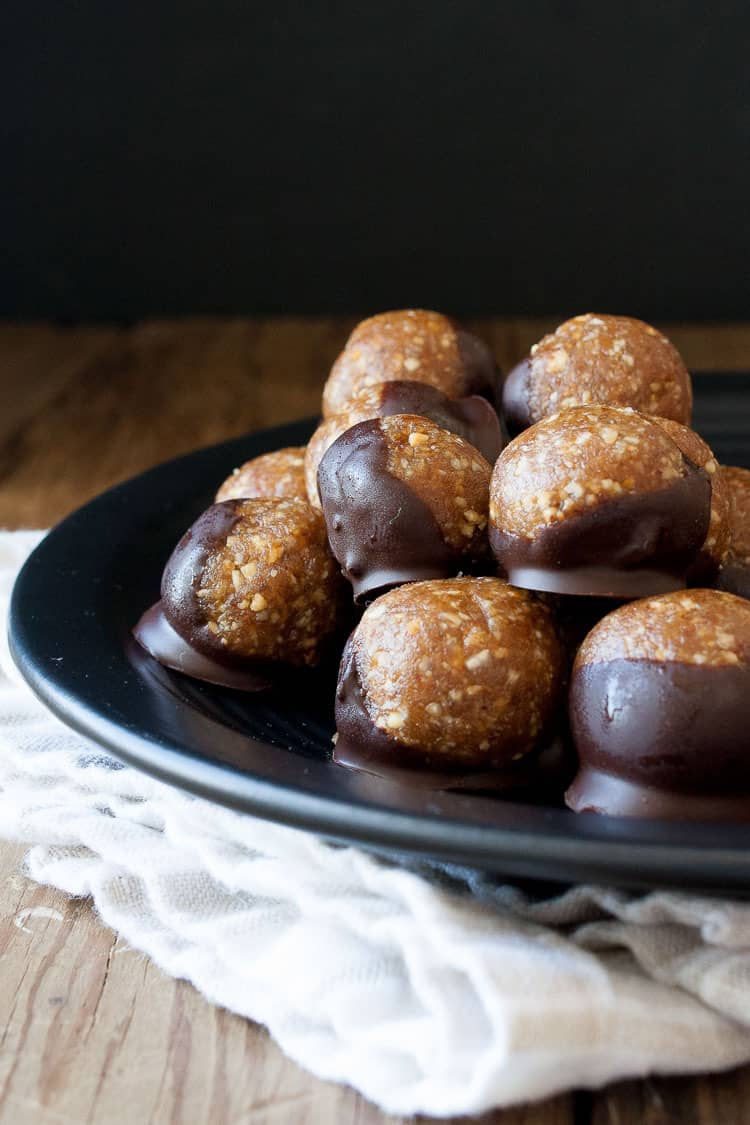 Some of you may know my story, why I started this blog, why we changed the way we ate. In a nutshell, we changed to a plant-based diet almost 5 years ago to help my husband's health. Within 3 months, he was off all of his medications and his blood pressure and cholesterol were at all time lows. He felt better, lost weight and was just overall a happier man. This in turn made him a better husband and a better father. At this moment, we fully believed in the saying "food is medicine." Although we don't stress about making sure we always eat perfectly healthy, because I truly believe the impact on stress will counteract the good that healthy food creates, we experienced first hand the huge impact that food choice has on the body. It can hurt or help, it can wreak havoc or heal.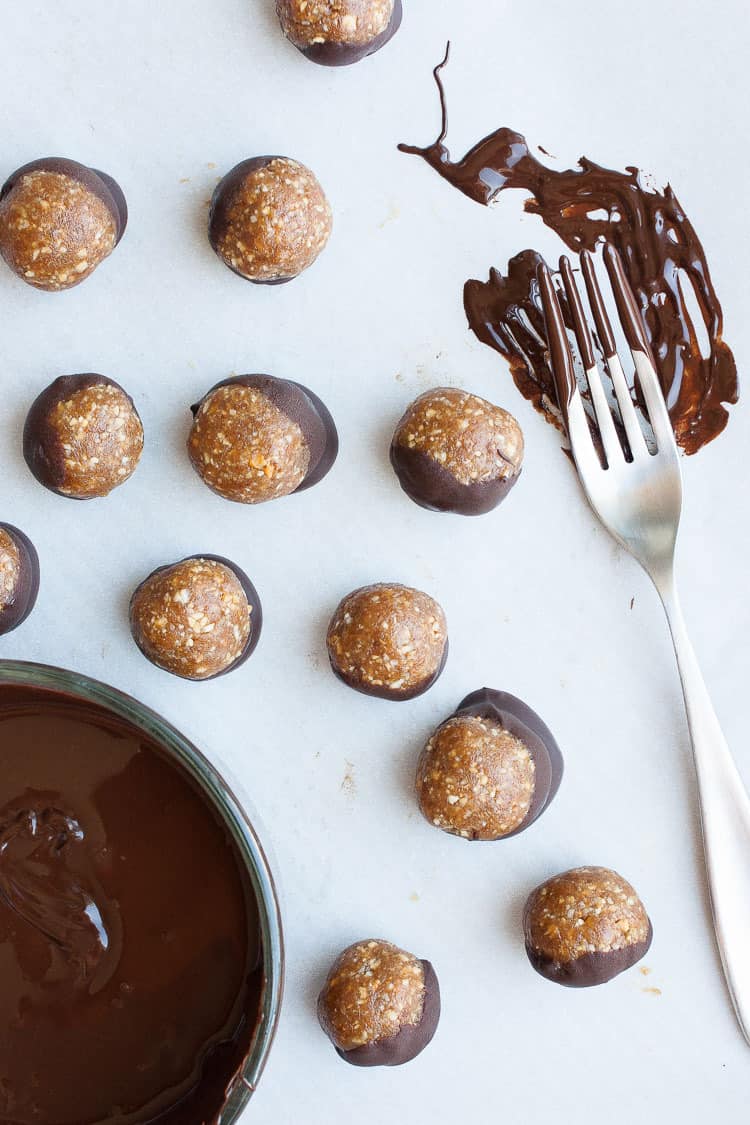 So when my friend Julie of Pure Mamas came to me about working with a new company BasilHealth, I was immediately drawn and intrigued.  BasilHealth is a San Francisco-based consumer digital health technology company that shares my vision to help people take control of their health. It's up to each of us to take responsibility for our own health and our bodies, and BasilHealth is working at creating the next-generation of consumer health and personalized medicine, which will give us the tools to help us succeed.
I'm so excited to work with this company who is taking a stand against the norm! Change makes us think, and thinking about our health and how we can each take control of it will help lead us in the right direction. I feel honored to be part of this movement and help spread the word — and I can't wait to see what they unveil soon! Definitely check out their site at www.basilhealth.com and signup to be notified when they unveil the biggest breakthrough in personal health to date--so exciting!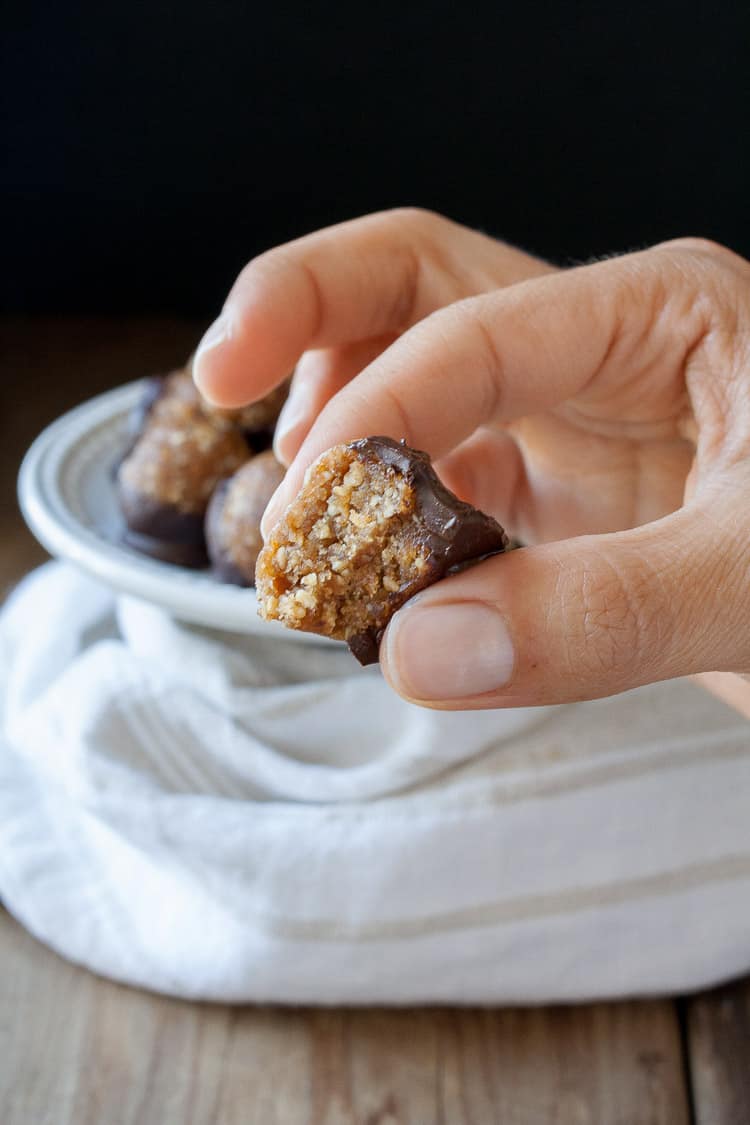 Healthy food is really good, flavorful and will keep you satisfied. You just need the right recipes! This is why I created these caramel and peanut flavored vegan protein power balls. You can even make them into raw protein balls with a few subs. These are not a boring tasteless treat. My kids shoved these protein truffles into their mouth faster than I could scream SLOW DOWN! And I won't even talk about the littlest one (note to self, do NOT let baby eat chocolate without direct supervision).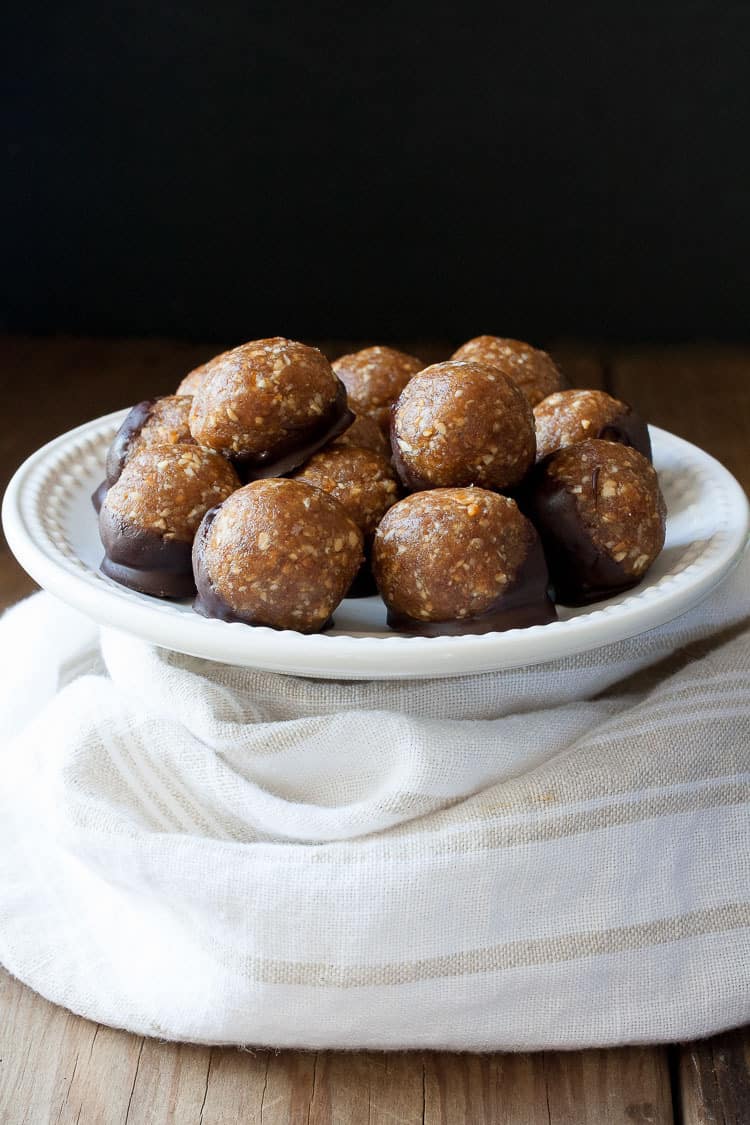 Things you will find in these protein truffles:
oats (fiber, calcium, protein)
pecans (healthy fat, fiber, antioxidants)
peanuts (healthy fat, protein, essential vitamins)
dates (natural unrefined sugar, fiber, essential vitamins and minerals)
coconut sugar (lower glycemic index than white sugar and has some nutrients unlike white sugar)
dark chocolate and raw cacao powder (antioxidant, fiber, iron)
So what are you waiting for?! Make these raw protein balls and indulge. Indulge in healthy delicious amazing food. Let food be the medicine that makes your body go!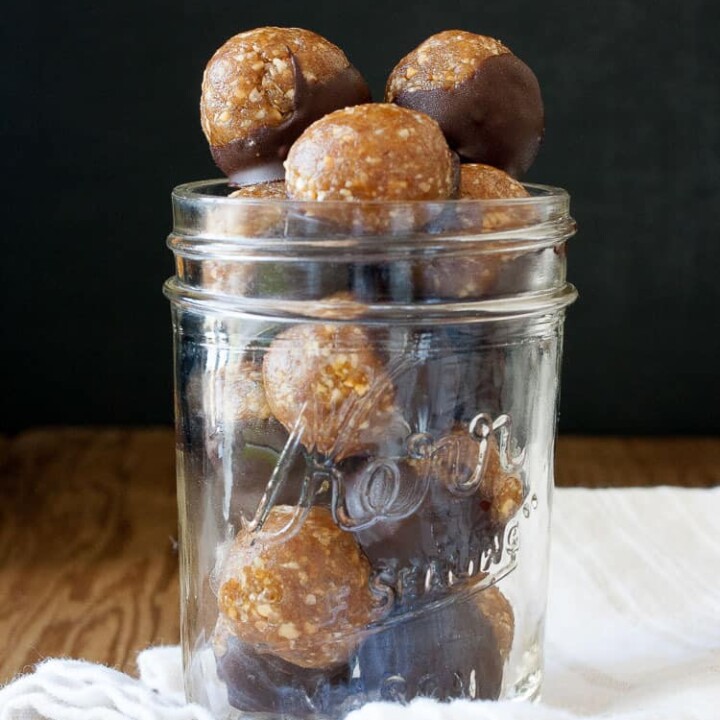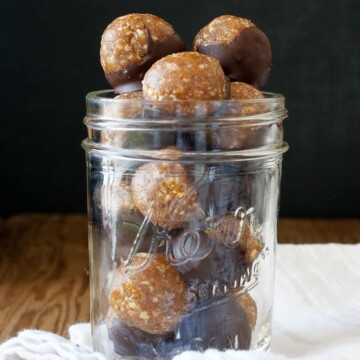 Caramel Peanut Protein Truffles (raw, vegan)
Smooth caramel, crunchy peanuts, and a chocolate finish. When you crave candy but pick healthy protein truffles, you know you've found the perfect recipe!
Instructions
Put dates in a bowl of warm water to soften.

Put pecans, oats and coconut sugar into a food processor. Blend until you get a crumbly texture.

Add in dates, vanilla and salt. Blend until smooth.

Add in peanuts and pulse mixture so that they are chopped but still in crunchy pieces.

Scoop out spoonfuls and using hands, roll into 1 inch balls.

Melt chocolate in microwave (or double boiler), 30 seconds at a time so you don't burn it (mine took 1 minute, but all microwaves vary).

Dip balls into chocolate and place on parchment lined cookie sheet. Put in refrigerator to harden chocolate. Try not to eat them all!
Notes
In order to make these fully raw:
Use raw nuts
Sub a raw sweetener for the coconut sugar (such as stevia, sucanat, or some palm sugar is considered raw), sub with agave nectar or even 2-3 more dates, or simply leave out the sugar for a less sweet version.
Use ¼ teaspoon vanilla bean powder. For the chocolate coating, instead of dark chocolate chips mix ½ cup cacao powder with ½ cup coconut oil (you can try really runny coconut butter too if avoiding oil) and 2-3 tablespoons of your raw sweetener of choice.
Baby/toddler food idea: Great snack for older babies and toddlers! Make sure peanut pieces are small.
Recipe by Veggies Don't Bite, visit our site for more great plant-based recipes.
Nutrition
Calories: 83kcalCarbohydrates: 13gProtein: 1gFat: 3gSaturated Fat: 1gCholesterol: 0mgSodium: 54mgPotassium: 143mgFiber: 1gSugar: 10gVitamin A: 20IUCalcium: 24mgIron: 0.3mg
Nutrition and metric information should be considered an estimate.
Never miss a recipe!
Sign up here and get a FREE quick and easy meal guide!