This vegan caramelized onion aioli is bursting with flavor! It's the perfect sauce or dip and an ideal complement to any fall recipe.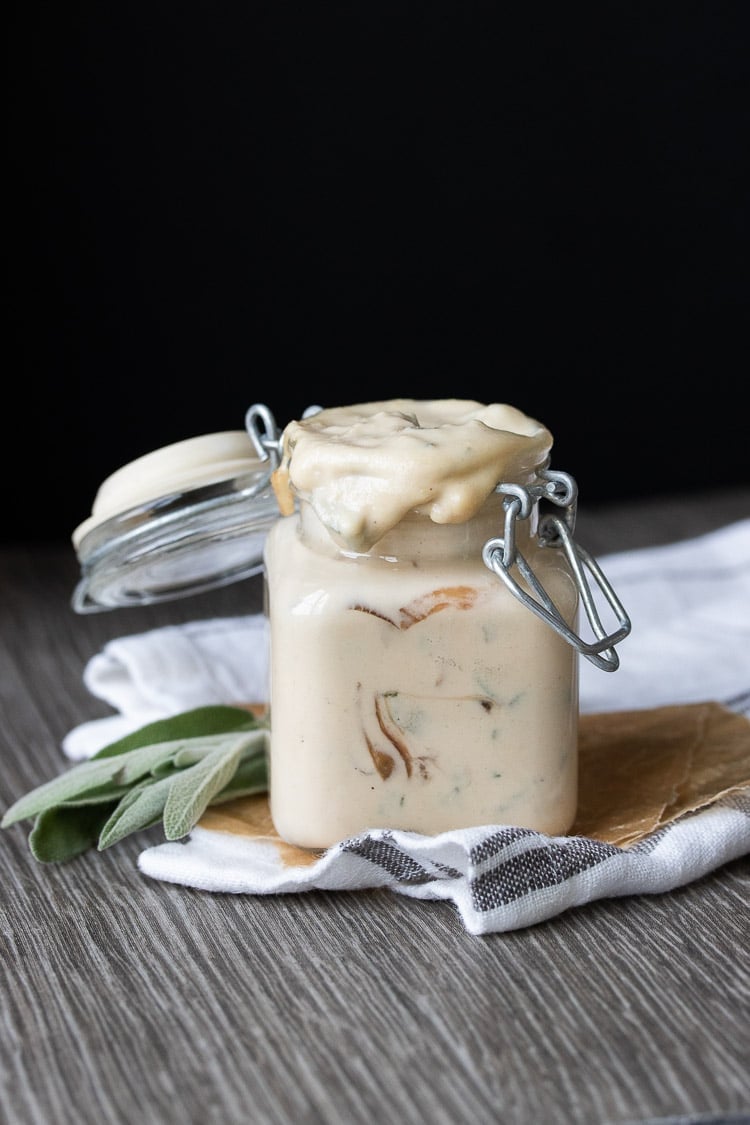 Well, we are finally getting some hint of fall here in SoCal! Although there are more hot days on the horizon, a few fall like days are being thrown in the mix so I'm going with it. And making all the things to smother on my fall meals. And there really is nothing like a good old aioli.
Making vegan aioli
So the thing with aioli is that it is mayo based. Which is great if you aren't going for that health factor, and a huge plus is that it's super easy to grab a jar of vegan mayo from the store. But if you want a little good for you thrown in, you need to put a tad more effort.
I have an AMAZING homemade mayo recipe in my cookbook (check it out if you don't have it yet). So you could always buy it and make that (plus a ton of other delicious recipes, so win win). But if you don't have it, and don't really want another book on your shelf, then we still have options. And I still love you.
You could use cashews as a base for this aioli, or you could use silken tofu. I have a weird thing with silken tofu aftertaste, so it wouldn't be my first choice, but it works in a pinch. With the cashews, you need a high speed blender to get the perfect texture, but a food processor can also work. Follow the notes in the recipe for hints on using cashews without a fancy blender.
Let's do this, making caramelized onion aioli like...
You need to caramelize the onions, which can be done oil free as well. The key, patience. If you cook it too high because you want to get it done, then they will burn. So like Mr Miyagi says, patience young grasshopper (if you haven't seen Karate Kid I highly recommend it). 
Then you will mix the caramelized onions and sage into your mayo type base (whatever that may be). Mix well and let it sit so the flavors can marinate. Then spread it on all the things (my tempeh sandwich is amazing with it).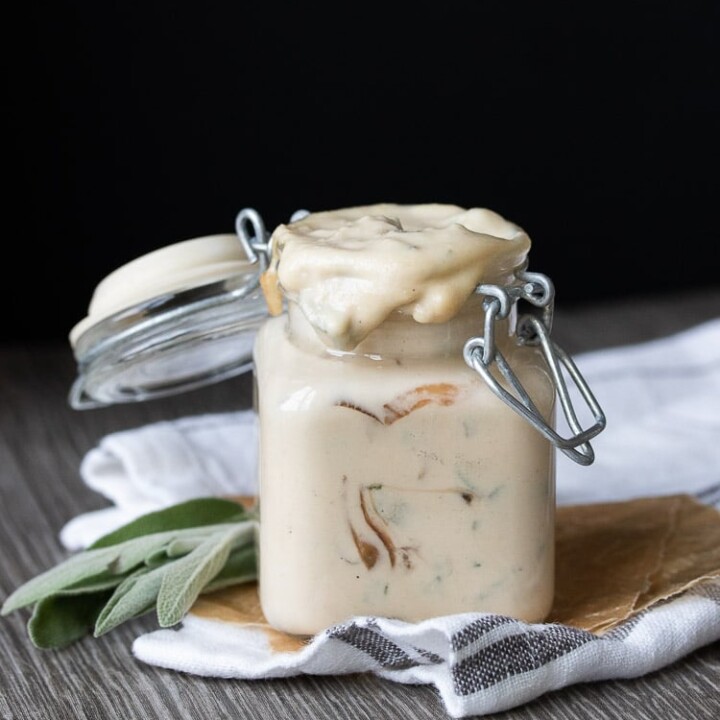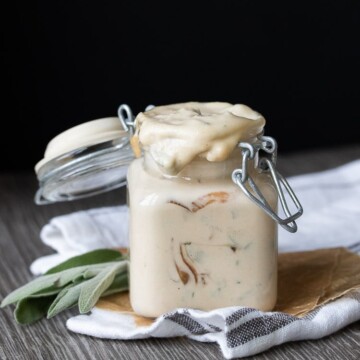 Vegan Caramelized Onion Aioli with Fresh Sage
This vegan caramelized onion aioli is bursting with flavor! It's the perfect sauce or dip and and ideal complement to any fall recipe.
Ingredients
For oil free cashew base:
1 cup cashews
¾ cup water (add more to thin out if needed)
2 teaspoons lemon juice (so you will have a total of 3 teaspoons juice including what is used above)
½ teaspoon sea salt (adjust as preferred)
Instructions
In a medium pan over low heat, sauté onions and sage with the veggie broth and maple syrup.

Make sure to keep the heat low and be patient for the onions to caramelize. It takes time but if you turn up the heat you will burn them without getting the true caramelized taste.

You may need to add another splash of veggie broth if they get too dry and sticky before they are ready. You will know they are done when they are very limp, browned but not burned and they become sticky. Once done, let cool.

Once the onion mixture is cool, place in a blender or food processor along with the lemon juice and mayo and blend until mixed but still slightly chunky.
If using cashew base:
Follow sauteeing instructions above, while the onions are cooking place the cashews, water, lemon juice and salt into a high speed blender and blend until smooth. You will need to scrape down the sides to get it to mix well.

Then once the onion and sage mix is cooled, place it in the blender and pulse a few times to incorporate.
Notes
Recipe makes about 2 cups.
You can also sub silken tofu for the mayo or follow the instructions for the oil-free cashew base.
If you are not using a high speed blender you can either soak the cashews overnight, boil them for 30 minutes or grind them into a fine powder using a coffee grinder.
Nutrition facts are for the cashew base version.
Recipe by Veggies Don't Bite, visit our site for more great plant-based recipes.
Nutrition
Calories: 99kcalCarbohydrates: 7gProtein: 3gFat: 7gSaturated Fat: 1gPolyunsaturated Fat: 0gMonounsaturated Fat: 0gTrans Fat: 0gCholesterol: 0mgSodium: 143mgPotassium: 130mgFiber: 0gSugar: 2gVitamin A: 15IUVitamin C: 1.7mgCalcium: 14mgIron: 1.2mg
Nutrition and metric information should be considered an estimate.
Never miss a recipe!
Sign up here and get a FREE quick and easy meal guide!