Healthy, delicious and tastes just like the real version! This fall inspired Cinnamon Apple Pumpkin Pie French Toast is the perfect breakfast for those mornings where you need something to hit the spot just right!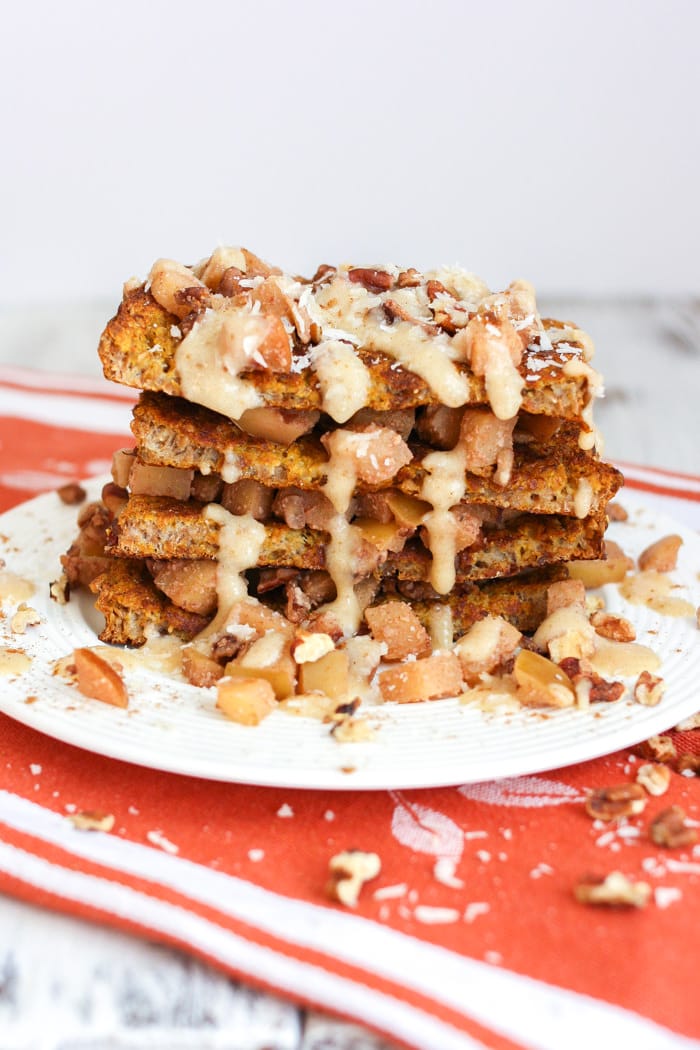 I've been working on a French toast recipe for a while now, it's been a back burner kind of thing that comes back every once in a while. But a few weekends ago, when my hubby didn't feel like taking charge with his usual pancakes, I decided that French toast sounded amazing, so off I went. I had some leftover pumpkin puree and salted caramel icing from my Pumpkin Molasses Cupcakes I posted last week (you need to try them!), and I decided that a fall inspired indulging breakfast was the way to go. My family really liked my base recipe for the original French toast I've made, so I stuck with that but changed it up a bit to encompass the flavors of fall.
When I first began this creation last summer, I wanted to find a way to make it very similar to the original non vegan version with that crispy outside and eggy type flavor. But I also didn't want to use oil to fry it and I wanted to avoid any "mushiness" in the bread. I am very picky when it comes to consistency, especially mushy breads...yuck...I had seen a few recipes out there using a touch of nutritional yeast in the bread dip and it intrigued me. I had never seen it in sweet recipes before, only the savory kind. So I gave it a shot, and wow! It was the perfect missing ingredient. You can definitely leave it out, but it made this French toast taste just like the real thing! It gave it that eggy flavor I was looking for. Along with all the other ingredients, I was able to make these oil free but cook them to crispy perfection. The key is to make sure your griddle is really hot, then be very patient with the bread. I cooked each piece for about 5-7 minutes on each side, or until I could insert a spatula under the bread easily. If it sticks in any way, it's not ready. Patience is the key, but it's so hard because they look and smell so good while cooking! Just look at this yumminess!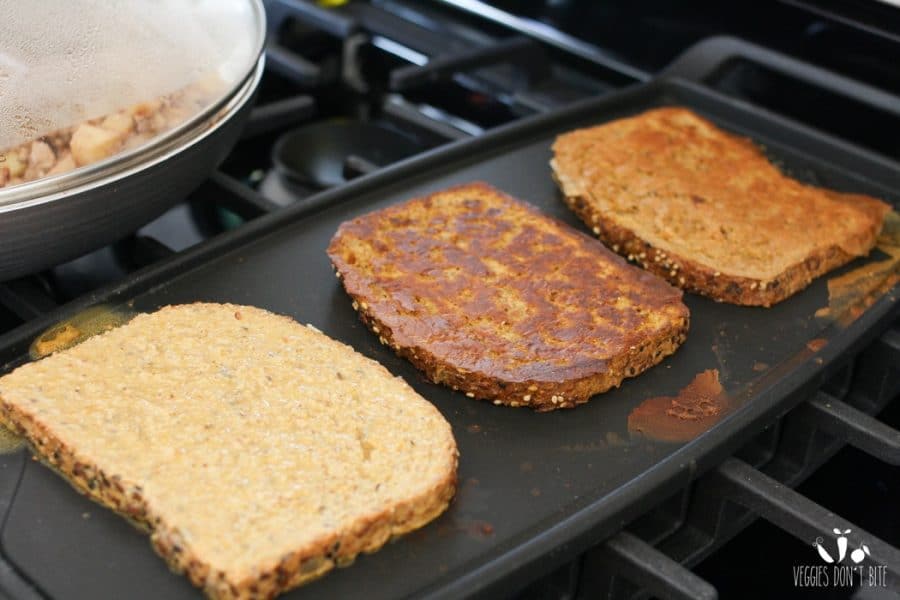 I needed a fruit topping to round out our healthy but comforting breakfast, so I went with apples cooked in a pan to a cinnamon baked perfection. It was super easy because by the time the French toast was ready, these were soft and delicious. I was able to keep this all without refined sugar, which is always a goal over here, so as you shove that extra piece in your mouth you know its all in the name of good wholesome ingredients!
You certainly don't have to, and this definitely does not need it, but if you want to take this breakfast up a notch, add the salted caramel icing. I made both a deep flavored version and a lighter one. In experimenting, I got great feedback for both kinds so decided to keep them both and let you decide! For my kids, I placed a small spoonful on the side of their plate and let them dip their strips of French toast in it. Yes, I did earn mom of the year that morning...but as I said, no refined sugar, sweetened purely with dates so I had no problem with that little extra bit of yummy that earned me perfect behavior, for a few hours anyway.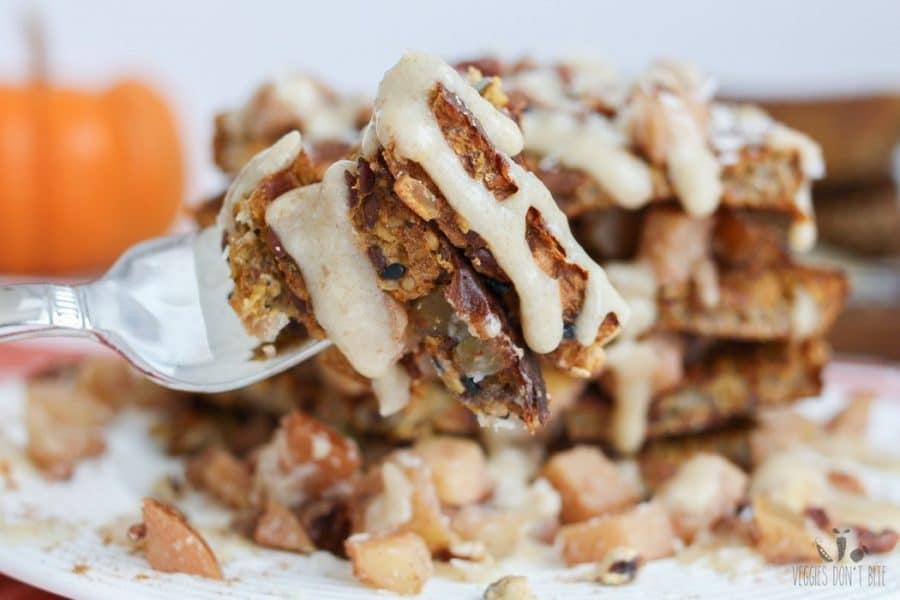 Although this whole ensemble looks super fancy and like it would be a lot of work, it actually isn't at all. I even made the dip for the bread the night before to allow all the flavors to combine and create a deep delicious flavor. So come morning, all we did was chop some apples, throw them into a pan with a few other ingredients and practice our patience while our delicious pieces of French toast cooked. The icing is also something that can be made ahead of time, however if you always have date paste and coconut butter on hand, you can whip it up in just a few minutes. With or without it, this is definitely a crowd pleaser and will be put into our weekend breakfast rotation for sure!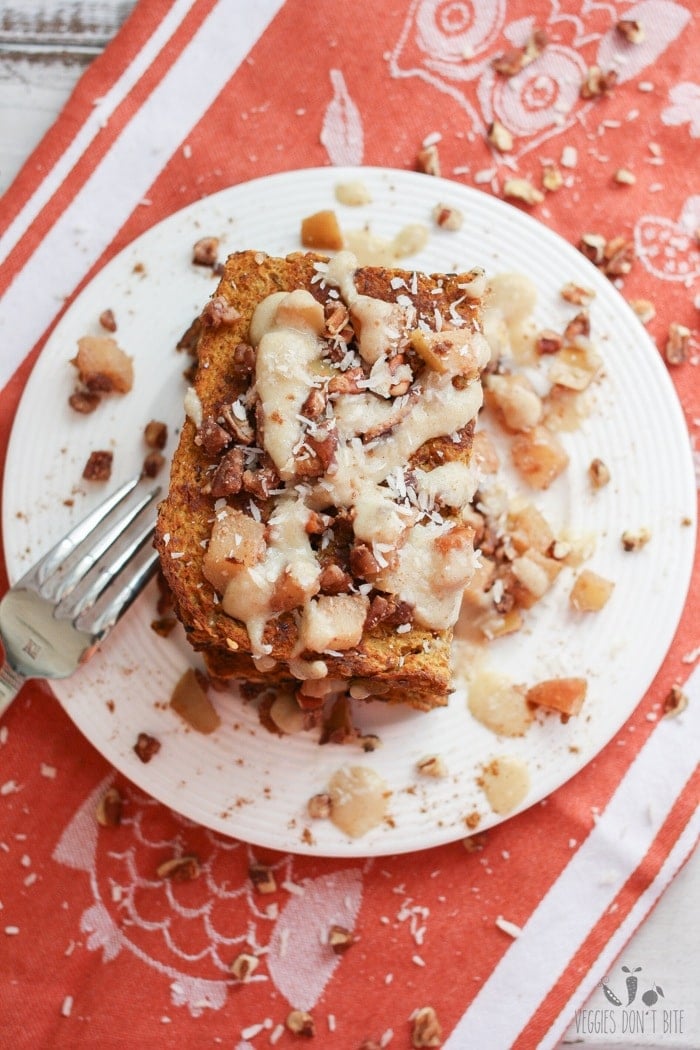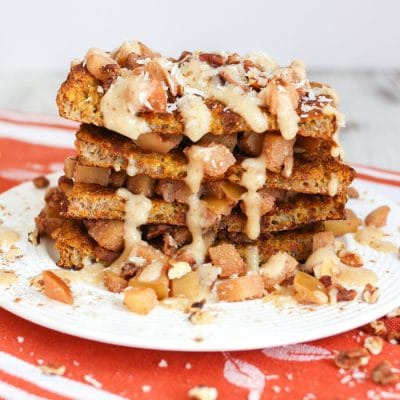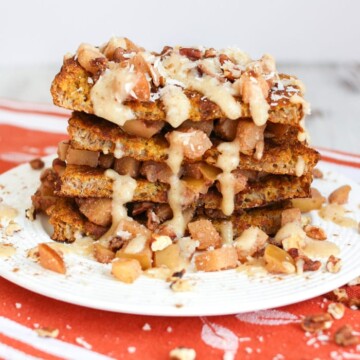 Cinnamon Apple Pumpkin Pie French Toast
Healthy, delicious and tastes just like the real version! This fall inspired Cinnamon Apple Pumpkin Pie French Toast is the perfect breakfast for those mornings where you need something to hit the spot just right!

Ingredients
2 tablespoons  ground flaxseed
2 tablespoons  almond meal
1 tablespoon  nutritional yeast
1 tablespoon  maple syrup
2 cups almond milk or milk of choice
1 cup pure pumpkin  not pie filling
seeds from ½ a vanilla bean or 2 teaspoons vanilla extract
2 teaspoons  pumpkin pie spice
10 slices gluten free or sprouted wheat bread or other bread of choice
Topping:
3 fresh apples chopped
2 tablespoons  coconut butter
1 teaspoon  cinnamon
½ cup water may need more depending on how long you cook
1 cup chopped pecans
for a really deep flavor:
Instructions
Mix flax, almond meal, nutritional yeast, maple syrup, milk, vanilla and pumpkin in a deep dish good for dipping bread slices in. Using a fork or whisk mix well. Place in refrigerator so ingredients can set. You can also do this the night before.

Meanwhile wash and chop apples. Place coconut butter in a pan over low heat and begin melting it. Add in water, apples and cinnamon and cover to cook until soft. About 10-15 minutes depending on how al dente you like your apples. You can add more water if they get too dry. Add in pecans and mix well. Turn of heat.

Meanwhile, remove French toast dip from fridge. Prepare French toast by quickly dipping slices of bread into mixture then cooking on a griddle or omelet pan until browned on each side, about 5-7 minutes for each. It sets more as it cools so don't worry if browned on the outside but still soft in the middle.

While pieces are cooking, make the deep flavored icing by putting all ingredients into a small bowl or pot. Warm in microwave or stove top and whisk continuously until combined well and becomes melted and runny.

Make the lighter flavored option by following the directions from my

Pumpkin Molasses Cupcake

recipe but add an extra ½ cup of milk.

Serve with sautéed apples and drizzle with icing!
Notes
You can omit the nutritional yeast however I found it gives it an extra layer of real French toast eggy flavor.
Any variety of apples work. You can buy coconut butter or make it yourself by purely blending unsweetened, preferably not dehydrated, shredded or flaked coconut in a food processor or blender.
It takes a while but will eventually turn into smooth coconut butter. There are many sources for directions online.
To make this nut free, sub the almond meal for oat flour, use nut free milk and omit the pecans.
Recipe by Veggies Don't Bite, visit our site for more great plant-based recipes.
Nutrition
Calories: 274kcalCarbohydrates: 31gProtein: 7gFat: 14gSaturated Fat: 1gCholesterol: 0mgSodium: 241mgPotassium: 312mgFiber: 8gSugar: 12gVitamin A: 3850IUVitamin C: 3.9mgCalcium: 147mgIron: 2.1mg
Nutrition and metric information should be considered an estimate.
Never miss a recipe!
Sign up here and get a FREE quick and easy meal guide!