Cinnamon flavored caramel marries an apple pie & takes up residency in a cute jar. Plant based, gluten & refined sugar free love for this apple pecan pie.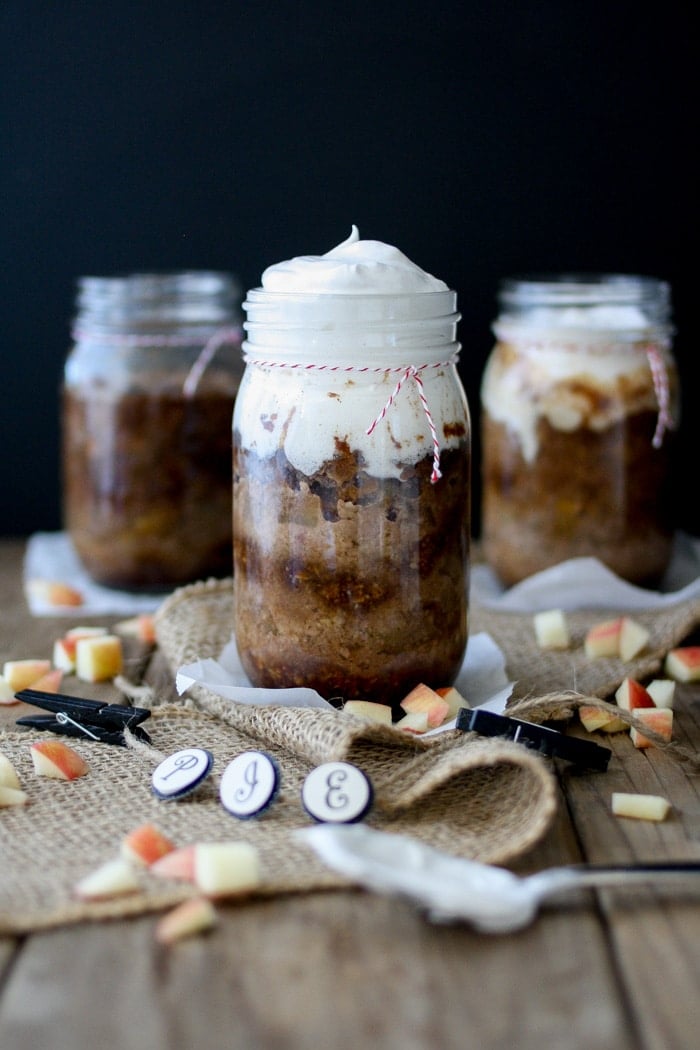 Is it apparent yet that I am slightly obsessed with pecans? First my uber creamy easy Vegan Pumpkin Pie with Pecan Crust last week, and now this cinnamon and caramel flavored apple pecan pie. At this point I think I'm turning into a pecan. Not really, but scarfing pecans sure isn't the key to losing all my baby weight! I've been making up for all these pies with extra runs, but still. That being said, it is the holidays after all. And this year, I am declaring pies as my main attraction...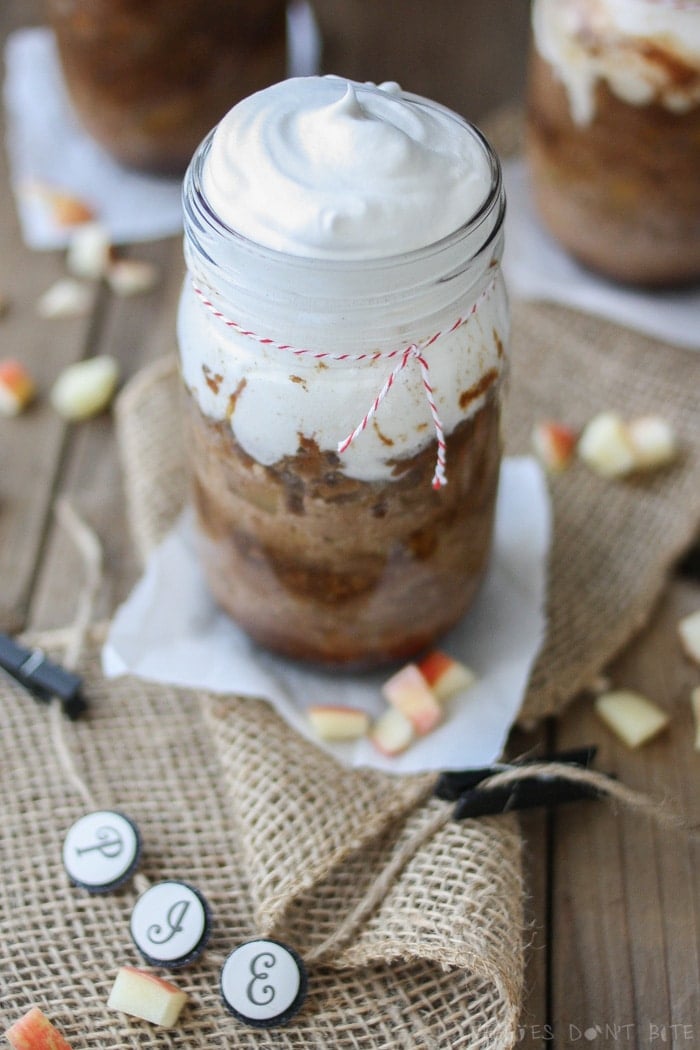 Another obsession of mine: mason jars. I mean, what doesn't look cute in a mason jar?! Am I right?! Last year around this time, I brought to you my Pumpkin Caramel Pie in a Mason Jar. So this time, I'm going apple. But not just any apple, an apple pecan pie with a cinnamon caramel sauce to knock your socks off. I may or may not have burned my mouth giving it a try. Ok, not a try exactly, it may have been a spoonful. From the pot. Yes, the one it was cooking in. I know, not smart, but the smell took over my brain. At least what's left of it after I had my 3rd child...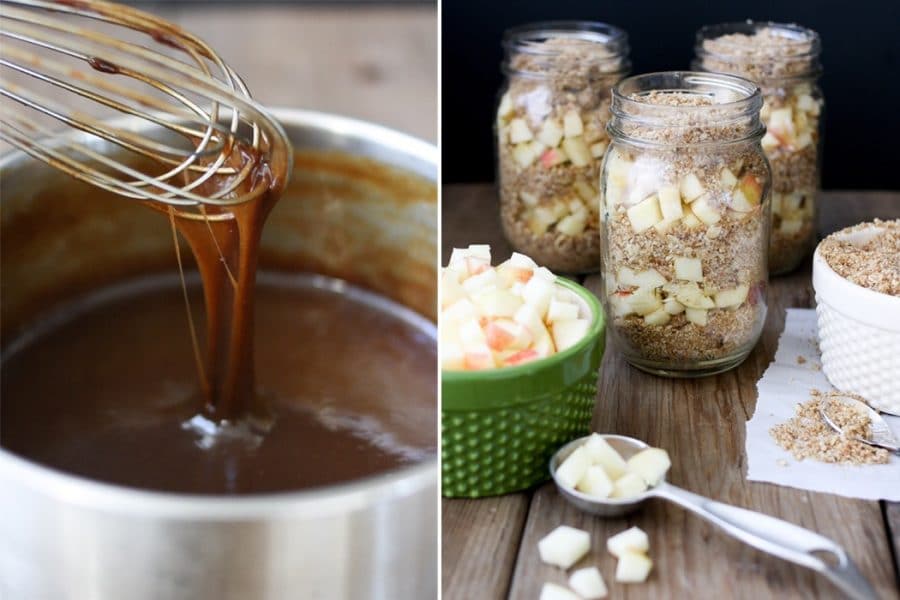 The caramel sauce is not the only thing I may have "tried." That dry crumble isn't too shabby either. I may have had a few spoonfuls. I mean, can you resist the combination of pecans, oats, coconut sugar and buttery coconut butter? I dare you to try.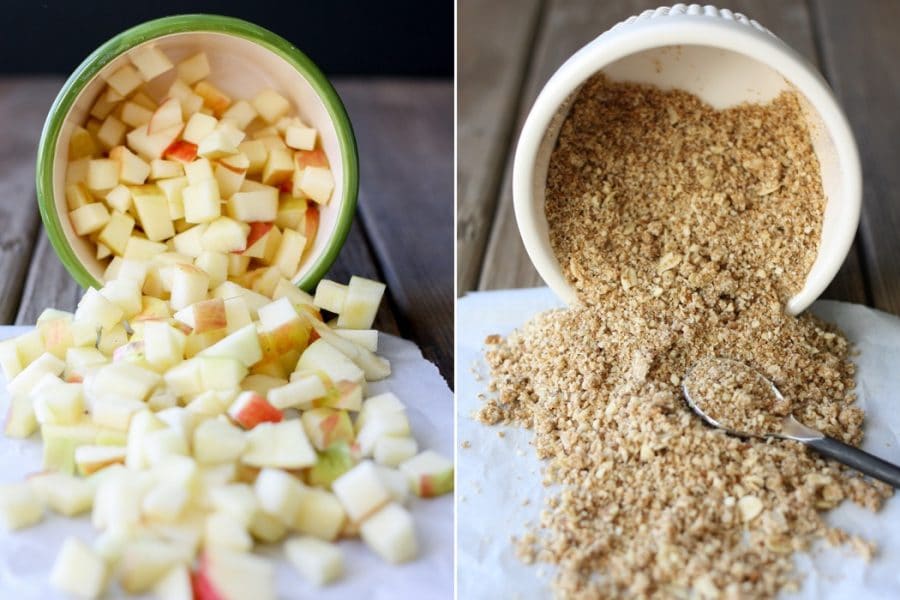 Now, I must warn you. This combination smothered in cinnamon flavored caramel can lead to hoarding. Hoarding of jars filled with warm cinnamony goodness. You could potentially growl at others if they try and take your jars. So I suggest making many of these. Don't say I didn't warn you...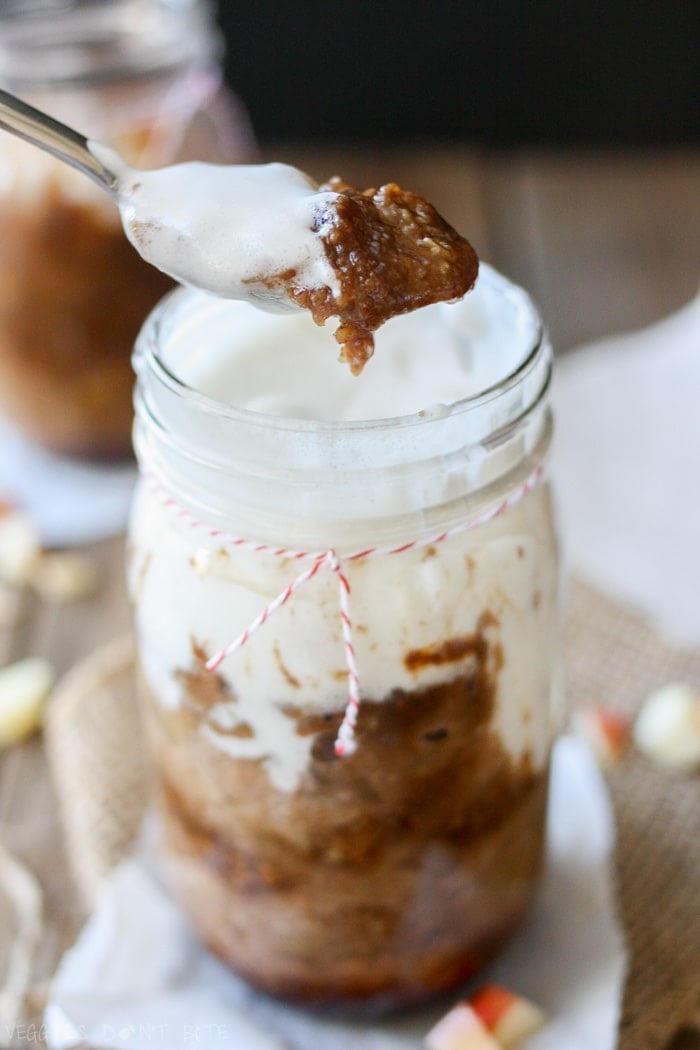 Don't forget to get back to me on how many jars you devoured before realizing you were in the cinnamon caramel trance. Did you share? Did you hide them all as if apples were disappearing from the earth for good? Snap a pic and show me those cute little jars! Now, you can also make this in a baking dish, but cute jars are simply adorable 😉
Speaking of adorable, you know what else I love? Mini versions of big things. If you do too, then you MUST check out my friend Brandi's Apple Hand Pies. I mean, does it get any cuter than little pies?! Plus, you can eat more. Right?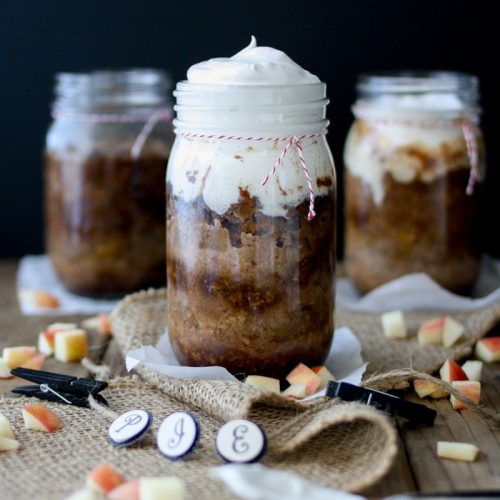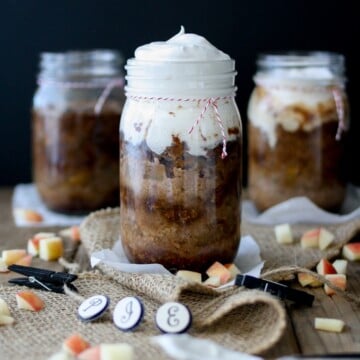 Cinnamon Caramel Apple Pecan Pie
Cinnamon flavored caramel marries an apple pie and takes up residence in a cute mason jar. Plant based, gluten and refined sugar free love.
Ingredients
Instructions
Preheat oven to 375 (190C)

Put all dry topping ingredients, except coconut butter, into a food processor and pulse until chopped. Add coconut butter and pulse to combine.

To make caramel, place all ingredients in a small pot. Whisk over medium heat until you get a rolling boil. Turn heat to medium low, then continue to whisk until slightly thickened, about 5 minutes. You do not want this too thick.

Layer each jar as follows (these measurements are for the 16 ounce pint jars. Cut in half if using 8 ounce jelly jars. If using a 9 x 12 pan multiply each amount by 6 and layer in this order):



• ⅓ cup dry topping• ½ cup chopped apples• 2 tablespoons cinnamon caramel• ⅓ cup dry topping• ½ cup chopped apples• ⅓ cup dry topping• 2 tablespoons cinnamon caramel*note, if your caramel has gotten too thick, you can also add a splash of dairy free milk on top of the caramel layer to thin it out as it bakes

Bake jars/pan in 375F (190C) oven for 40 minutes. Make sure you use the water bath method if you aren't using jars that can withstand dry oven heat. All you do is place mason jars in a tall-sided roasting pan or baking dish and fill pan or dish with hot water. Then bake.

While baking, remove can of coconut milk from refrigerator or freezer. Open and gently take off the top creamy layer leaving the watery liquid behind (you can save it for another use or throw away).

Put the cream and sugar into a bowl and beat with hand or stand mixer until thick, light and whipped. I used my stand mixer and beat it for at least 5-7 minutes. If your cream is very cold, the outcome will be best.

Once jars are ready, allow to cool and serve with whipped topping on top.
Notes
To make these into smaller servings use twelve 8 ounce jelly jars. When layering, cut amount in each step by half.
This can also be made in a 9 x 12 baking dish. The presentation won't be as fun, but the taste will still be amazing!
For the whipped topping, I got the best consistency when the can was very very cold. It will still work if not as cold, but it won't get as fluffy and light.
You may end up with a little extra of each layer, so feel free to "taste," aka shove into your mouth by the spoonful, as you are putting these together.
Tips to prep ahead: Make each layer in advance and store in the refrigerator. Take out the morning you are putting it together to allow them to return to room temperature before assembling.
Baby/toddler food idea: Bake one pie jar with a mixture of apples, and dry topping minus the sugar and salt. Add a splash of dairy free milk into the jar to aid in baking the apples to a soft texture. Once done, allow to cool and puree for younger baby or feed as is to older baby.
Recipe by Veggies Don't Bite, visit our site for more great plant-based recipes.
Nutrition
Calories: 1603kcalCarbohydrates: 142gProtein: 16gFat: 116gSaturated Fat: 64gCholesterol: 0mgSodium: 786mgPotassium: 986mgFiber: 20gSugar: 78gVitamin A: 90IUVitamin C: 11.9mgCalcium: 97mgIron: 7.6mg
Nutrition and metric information should be considered an estimate.
Never miss a recipe!
Sign up here and get a FREE quick and easy meal guide!