Ultra rich and creamy vegan butternut squash lasagna roll ups will hit the spot like nothing else! The perfect rich flavor rolled into a veggie filled meal.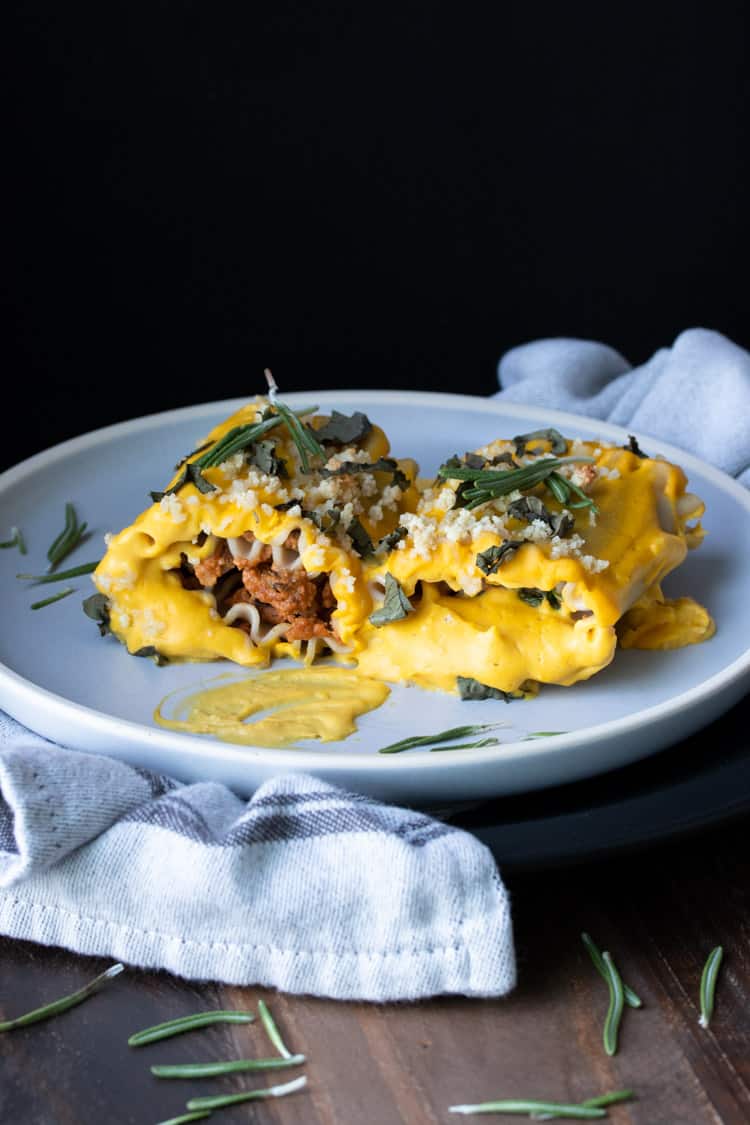 This recipe was originally published on 10/20/14
We love a good lasagna over here so creating different versions of our favorite keeps things exciting. And this comfort food filled treat hits the spot so well on those days you just want to shovel all the food into your mouth.
Vegan Butternut Squash Lasagna
I love the idea of individual rolls of lasagna noodles, other than being just adorable, it makes lasagna super easy to serve.
These butternut squash lasagna roll-ups came out so creamy, comforting and flavorful that I had to share. The sauce is similar to the one I use in my butternut squash pasta (roasted butternut squash is so easy and delicious to make). My kids loved the sweet undertones and my husband loved that I mixed it up by adding the sun dried tomato in the ricotta.
While optional, I highly recommend topping this with my absolute favorite grateable vegan Parmesan.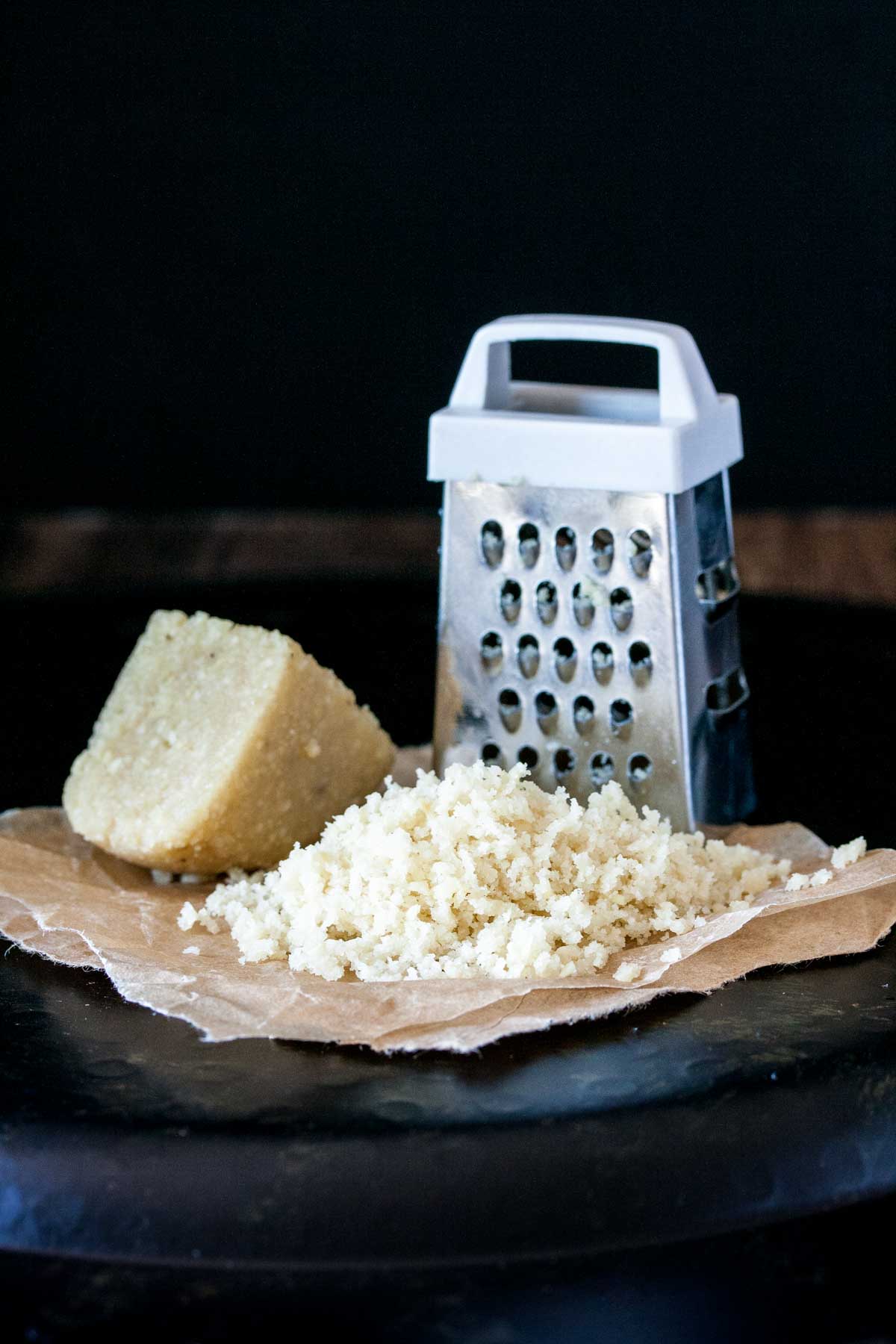 Can you prep lasagna roll ups ahead of time?
Because lasagna dishes are a lot of work, I try and find ways to make it easier by prepping everything ahead of time. Then the day of, all you have to do is build the lasagna roll ups. Which sound fancy but are really easy and only took me about 5 minutes.
You can even break up the parts into days, each part will stay good in the fridge for 5-7 days. You can even freeze them to use later if you want. Here is what I do to prep ahead in the order that they stay fresh best:
Make the parmesan.
Make the ricotta filling.
Saute the veggies and mix with the ricotta.
Make the creamy butternut squash sauce.

How do you store butternut squash lasagna?
If you don't finish the entire pan in one sitting, which would be so weird, you should store this covered in the fridge. You can cover with plastic wrap or foil, or transfer to an airtight container.
How do you reheat butternut squash lasagna?
When you are ready to eat the leftover lasagna roll ups, you can easily reheat it in the microwave or in the oven.
If you are using the oven, you want to make sure you don't dry them out or burn them. I suggest putting them in a baking dish and adding a little broth to it before reheating and covering them with foil. You also can reheat it at a lower temperature so that it slowly heats up.
What do you serve with butternut squash lasagna?
This vegan lasagna roll ups recipe is an all in one meal, filled with protein, grains and veggies. So you really don't need anything else with it. However if you want to add more to the meal, here are some of my favorite ideas:
toasted garlic bread
simple green salad
How to Make Vegan Butternut Squash Lasagna Roll Ups
These lasagna roll ups have a lot of parts and takes some time to put together, but it's not difficult. Use my prep ahead tips above to make it go faster if you don't want to do it all in one day:
Make the ricotta.
Make the butternut sauce.
Saute the veggies and mix it with the ricotta.
Add butternut sauce to the bottom of a baking pan.
Roll the lasagna noodles.
Add them to the pan.
Top with more sauce.
Bake.
Serve and devour!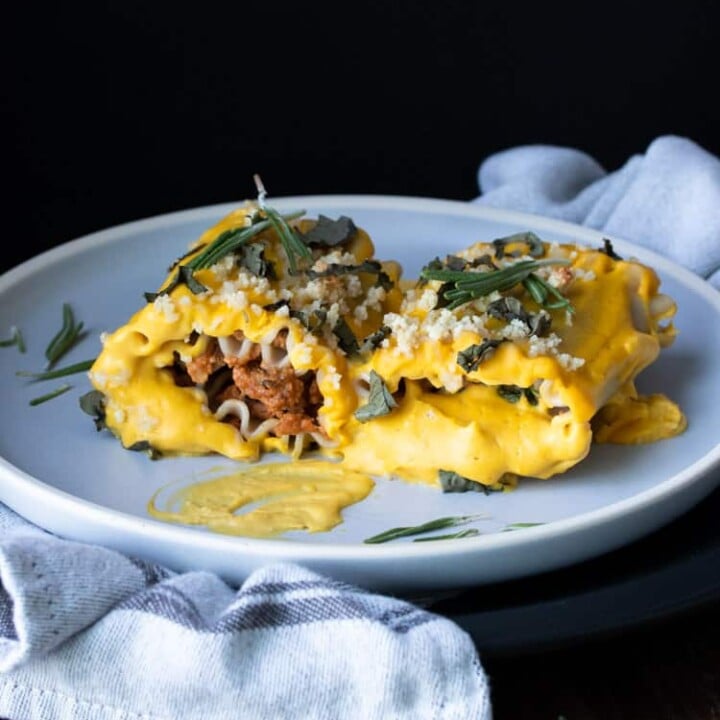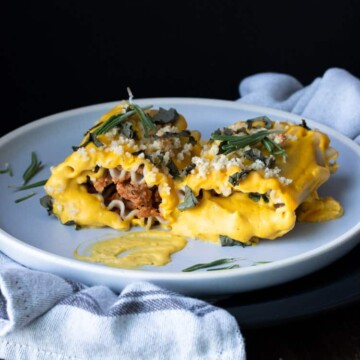 Vegan Butternut Squash Lasagna Roll-Ups
Ultra rich and creamy vegan butternut squash lasagna roll ups will hit the spot like nothing else! The perfect rich flavor rolled into a veggie filled meal.
Ingredients
Instructions
Preheat oven to 450°F/ 230°C.

Make sure to deseed the butternut squash when chopping it. You will be blending it so size doesn't matter too much. However make them uniform to help even cooking.

Brush with oil or broth and bake on a parchment lined baking sheet for 35 minutes, or until soft but not too brown. When done remove from oven and allow to cool.

While butternut squash is baking, soak sundried tomatoes in some warm water to soften them a bit.

Cook shallots, sage, rosemary and garlic in a pan over medium heat with drizzle of oil or broth until soft. About 2-3 minutes.

Add mushrooms and salt and cook until most of the released liquid evaporates, about 5 minutes, then mix in spinach.

Remove from heat and set aside to cool.

Put all ingredients for the ricotta into the food processor or blender. Pulse until you achieve a chunky ricotta like consistency. You do not want this silky smooth. Use a blender for less clean up but be aware that the mixture won't move around as well in a blender and it will be harder to get the right consistency. You will need to stop and mix more often that if you're using a food processor.

Add the ricotta to the veggie mixture and mix until combined. Set aside.

Once butternut squash is cooled, add it to a blender along with the rest of the ingredients. Blend until you achieve a silky smooth consistency.

Cook lasagna noodles. Make sure to only cook them half the time than the directions say on the box since you will be baking them, this will avoid mushy noodles. To prevent sticking, leave them in some cool water.

Pour about 2 cups butternut squash sauce on the bottom of a 9x12 baking dish. Enough to coat it well. 
To make lasagna roll ups:
Lay a lasagna noodle flat on your workspace

Spread a few spoonfuls of the ricotta/veggie mix over the top of it

Starting at one end, roll it up

Place in the baking dish

Repeat with all lasagna noodles

Once all lasagna noodles are rolled up pour the rest of the creamy butternut squash sauce over the roll ups. Sprinkle with parmesan if using. Top with the basil if using.

Bake covered with foil for 15 minutes.

Remove the foil and bake another 15 minutes.

Allow to cool a bit and enjoy!
Notes
If you are not using a high speed blender, you can soak the cashews overnight, boil them for 30 minutes or grind the dry cashews into a fine powder using a coffee grinder (do not boil them for this method). For the ricotta, it's best to soak or boil to get the right texture.
You can also adjust the seasonings for this and use thyme or other flavors you prefer.
Recipe by Veggies Don't Bite, visit our site for more great plant-based recipes.
Nutrition
Calories: 786kcalCarbohydrates: 117gProtein: 21gFat: 30gSaturated Fat: 5gSodium: 757mgPotassium: 1280mgFiber: 10gSugar: 12gVitamin A: 19503IUVitamin C: 41mgCalcium: 133mgIron: 6mg
Nutrition and metric information should be considered an estimate.
Never miss a recipe!
Sign up here and get a FREE quick and easy meal guide!