Move over fattening unhealthy food, here comes a delicious and easy veggie casserole that's satisfying, creamy and delicious and full of healthy ingredients.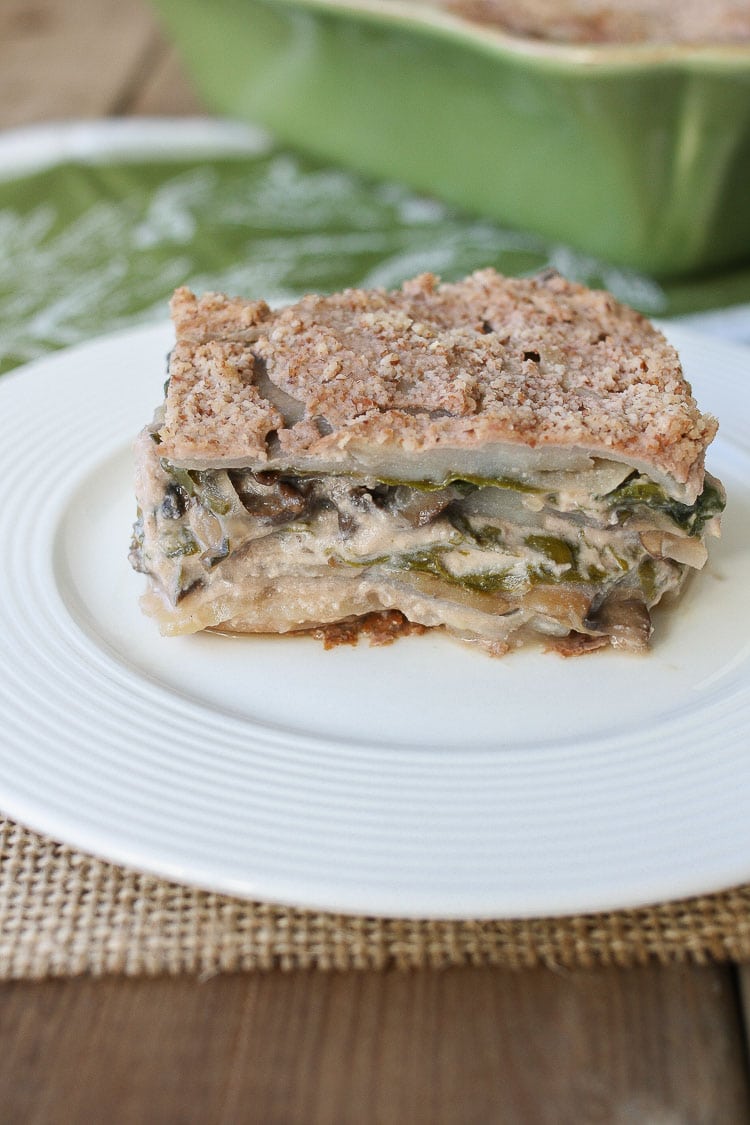 I'm not going to lie, this dish turned out amazing! I have been trialing versions of this since last holiday season but it wasn't until this year that I nailed a sauce and veggie combo I really liked.
It makes an awesome side dish for a holiday meal, replacing the unhealthy and super fattening potato casserole you often see. But we also eat this as a main dish for dinner! It reminds me a little bit of a lasagna, except with potatoes instead of pasta. It's so satisfying and filling, but without it being too heavy.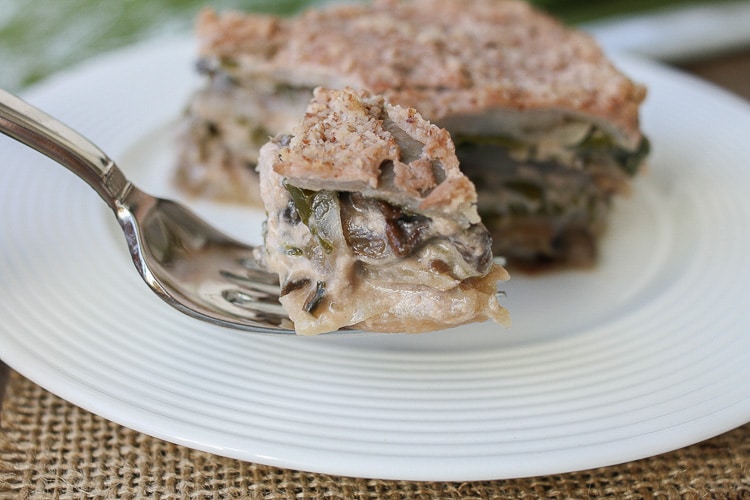 I decided to use cauliflower to replace half of the nuts in my original recipe creation. This definitely made this dish perfect. It's still creamy as ever, but a little bit lighter, allowing the tastes of all the veggies to come through.
I made extra sauce and used it on pasta, which is an awesome Alfredo alternative. You can definitely make this veggie casserole nut free by either using more cauliflower, replacing the nuts with white beans or even silken tofu.
This Creamy Veggie Casserole Is Loved By All
It may come out a little different in taste or texture but should still be delicious! See my notes section for more sub ideas. I had a few friends, both vegan and non, try this out and everyone gave it a thumbs up! If you're looking for a new side dish this holiday season, definitely check this one out!
I always love comments on the blog if you make it, so make sure to let me know! You can also tag me on Instagram  at veggiesdontbite #veggiesdontbite so I don't miss it!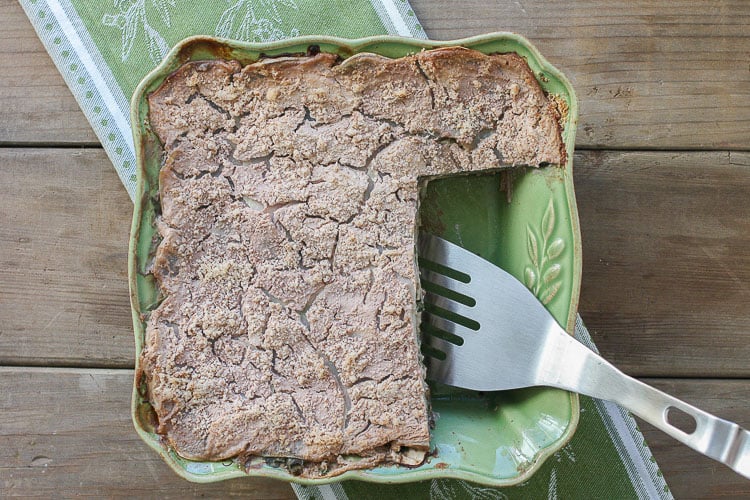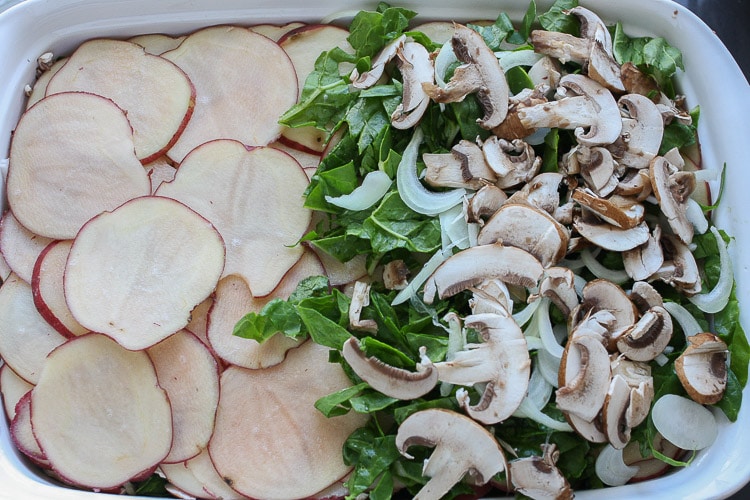 More Veggie Side Dishes You Might Like: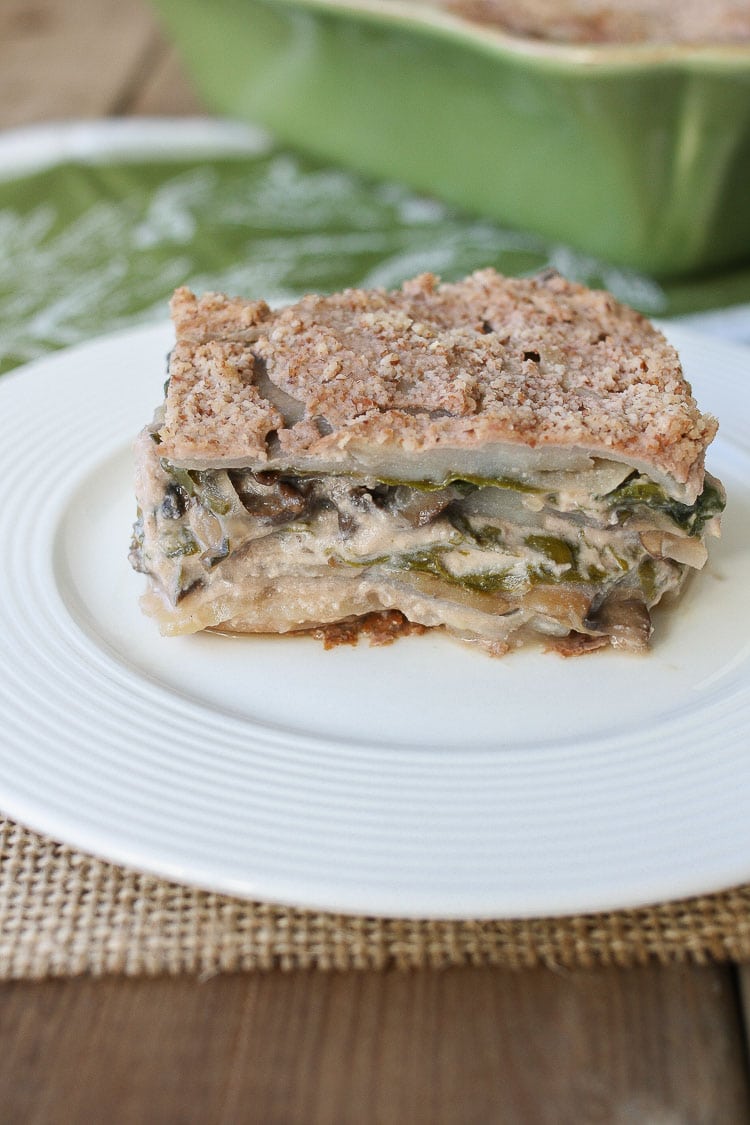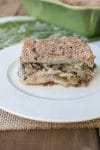 Creamy Potato and Veggie Casserole
Move over fattening unhealthy holiday dishes, here comes a side that's satisfying, creamy and delicious and full of healthy ingredients. Perfect for this holiday season or anytime you need a comforting hot meal!
Keyword:
creamy vegan bake, potato casserole
Instructions
Preheat oven to 400°F/200°C

Cut cauliflower into large pieces. Boil in a pot of water over high heat until very soft. Drain.

Meanwhile, thinly slice potatoes, chard, mushrooms and onion. I use a mandoline slicer to get a nice thin slice, I slice the chard into shreds with a knife. Set aside.

Once cauliflower is done, make the sauce by placing all ingredients into a blender. Blend until sauce is thick and creamy.
Layer your casserole in a 9 x 12 baking dish as follows, it may look too tall but it will shrink when baked:
about ¾ to 1 cup sauce on bottom of pan (depending on how saucy you like it)

1/3 of the potato slices

½ of the mushrooms

½ of the onions

½ of the chard

another ¾ to 1 cup sauce (depending on how saucy you like it)

1/3 of the potato slices

other ½ of the mushrooms

other ½ of the onions

other ½ of the chard

another ¾ to 1 cup sauce (depending on how saucy you like it)

last 1/3 of the potatoes

top with another ¾ to 1 cup sauce (depending on how saucy you like it)

sprinkle with parmesan of choice

Cover with foil and bake at 400°F (200°C) for 35 minutes. Remove foil and bake another 15-20 minutes or until browning on top. Allow to cool and set before cutting and serving.
Recipe Notes
If you are not using a high speed blender you can either soak the cashews overnight or grind them into a fine powder using a coffee grinder.
I made one batch leaving the potato skins on and one with peeling. Both were great.
You can use another green in place of swiss chard, we also make it with spinach but kale would work too.
I like crimini mushrooms because they give a good flavor but white ones would work too.
The sauce may make a little bit more than you'll need, depending on how saucy you like it.
To make this nut free, use more cauliflower in place of the nuts for the sauce. Use a total of 3 heads and reduce the veggie broth down to 1 cup, add more if it seems too thick, it will just depend on how waterlogged your cauliflower is after boiling. You can also sub in white beans for a thicker sauce or even silken tofu. Sub in cup for cup in place of the nuts for these two options. If using silken tofu, reduce the veggie broth by 1/2 a cup to start and see if you need more. It may not be as thick and creamy with these subs. I have not tried these but they are things readers have done. 
If there is a veggie in here that you don't like feel free to sub. For example if you don't like mushrooms, which seems to be the case with some, eggplant would be a great sub.
Tips to prep ahead: Make the sauce and parmesan ahead of time so all you have to do the day of is prepare the veggies and layer. You can even cut all the veggies ahead of time as well to make the day of even faster.
Nutrition Facts
Creamy Potato and Veggie Casserole
Amount Per Serving
Calories 209
Calories from Fat 90
% Daily Value*
Fat 10g15%
Cholesterol 0mg0%
Sodium 149mg6%
Potassium 812mg23%
Carbohydrates 21g7%
Protein 7g14%
Vitamin A 325IU7%
Vitamin C 21.3mg26%
Calcium 63mg6%
Iron 5mg28%
* Percent Daily Values are based on a 2000 calorie diet.