This vegan mashed potatoes recipe is next level incredible. They are so creamy, rich and satisfying you'll have no idea they are dairy free! Easy to make and the perfect side dish.
I use a secret trifecta of ingredients to get that rich creamy flavor, along with a little extra trick to get them nice and fluffy. This is a must make recipe!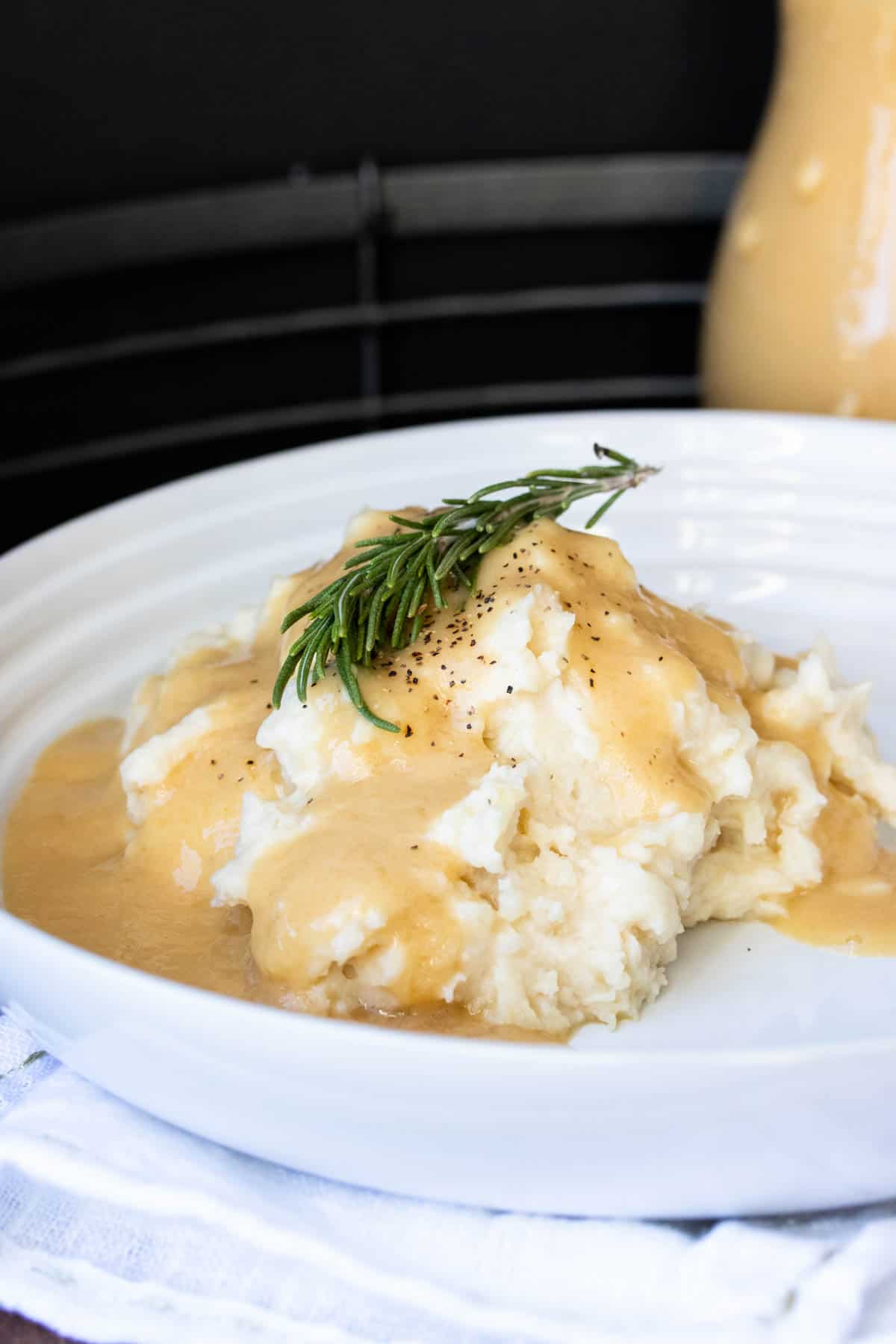 This post was originally published on 11/17/2018
This is my go to recipe for a vegan thanksgiving meal. It's loved by all types of eaters, especially when served with my caramelized onion vegan gravy!
One of the most popular dishes during the holiday season is of course mashed potatoes. However, the classic version can be filled with butter, sour cream, heavy cream, and more not so healthy (and not so plant based) ingredients!
Thankfully after playing around with some whole food alternatives I was able to create the best vegan mashed potatoes recipe ever! These potatoes are seriously creamy, fluffy, and decadently delicious all at the same time.
You're going to want these all year round, not just the holidays. Seriously, my son literally had this for his after school snack and I think I saw his eyes roll into the back of his head.
Ingredients
In order to make these creamy vegan mashed potatoes you will need the following:
Potatoes
White beans
Cashew Milk
Seasonings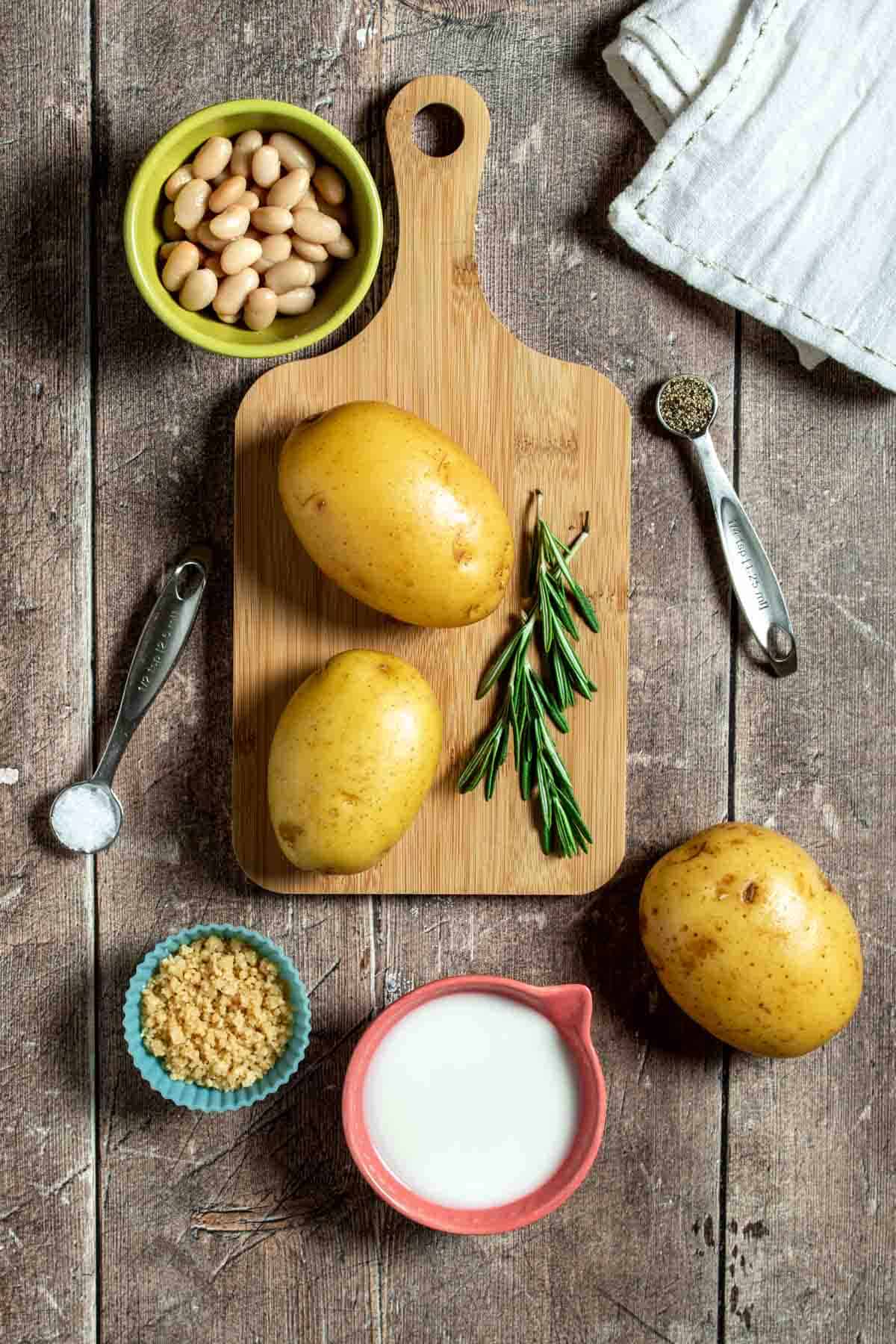 The Best Potatoes for Mashing
There is a difference when it comes to potatoes and what each kind is best for.
Russet potatoes are high in starch and great when you want something light and fluffy, like mashed potatoes! However these are mild in flavor so take that into account.
White and yellow potatoes have a medium starch level. These are a good all around potato.
Waxy potatoes like red, yukon gold and fingerling are high in flavor, low in starch and hold their shape well when cooking so things like scalloped potatoes, soups, potato salad, etc are great with these.
You can use any variety you like, choose the type based on what you want your end result to be. Extra fluffy? Use russets. However, I like to use Yukon gold for mashed potatoes because of their great buttery flavor. Can't decide? Use a little of both for balance!
What to Substitute for Milk in Mashed Potatoes
There are many options when it comes to making vegan mashed potatoes, here are a few that I have seen:
Coconut cream
Almond milk, cashew milk, coconut milk, soy milk, really any plant based milk
Nuts
Broth
Cooking water
However I wanted to make sure that these were the richest and creamiest ever! So I opted for something a little different and mixed the following into a blended rich creamy base:
White beans. Yep, extra protein and creaminess.
My vegan Parmesan cheese. It's incredible and you need it!
Cashew milk (or almond or whatever) but cashew is my fave. It tends to give the best creaminess without compromising flavor.
How to Make the Creamiest Vegan Mashed Potatoes
First, I wash the starch off of my potato pieces before and after I cook them. This helps with soft fluffiness.
Then I mix up the secret trifecta for that creamy factor.
Next you whip it into the cooked potatoes and BAM. Instadrool.
Finally serve and watch your guests be wowed!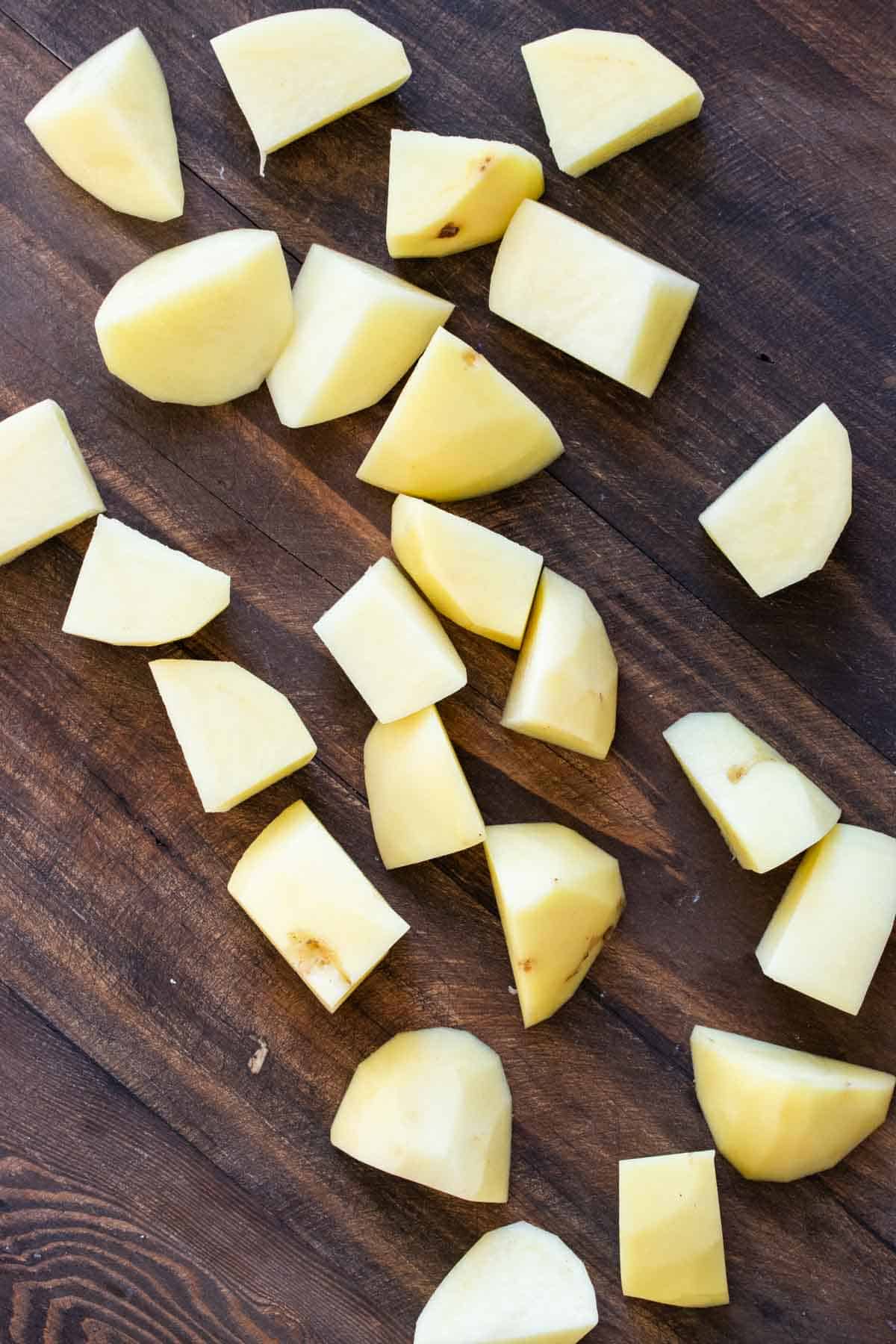 Serving Suggestions
Pair these creamy mashed potatoes with your holiday favorites, or serve them up anytime for a comforting meal! Here are some of our favorite plant based recipes to eat them with:
And of course, what would mashed potatoes be without gravy?! My 4 ingredient caramelized onion gravy is highly recommended to take them to the next next level of amazing.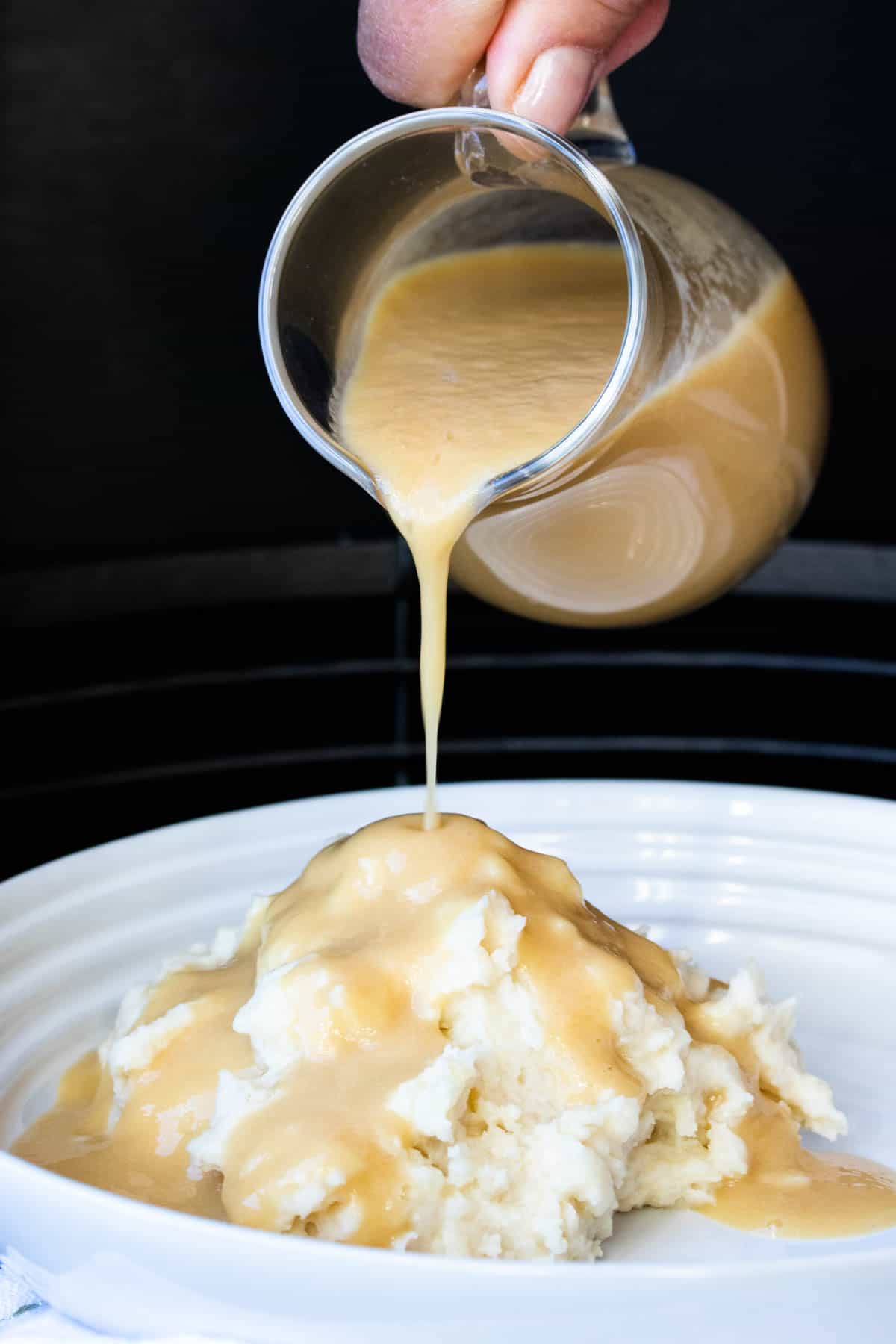 Preparation Tips
Do not over-mix the potatoes. If they get blended too much they will start to turn more gummy and dense instead of light and fluffy.
Whether or not to peel the potatoes is up to you, it isn't necessary but some people like to leave them out.
Make sure to dry the potatoes before mashing, you don't want any extra moisture!
Any dairy free milk will work in this recipe, just make sure it is unflavored and unsweetened.
Storage and Reheating Tips
Keep leftover vegan mashed potatoes sealed in an airtight container in the refrigerator for up to 3-5 days.
You can also freeze it for longer storage in a freezer-safe airtight container, just know the texture won't be quite as amazing.

Defrost before reheating.

Warm the potatoes on the stovetop in a pan, or bake them in the oven. Stir in some extra dairy free milk if they have dried out a little.
Common Questions
Can you use almond milk for mashed potatoes?
Yes, almond milk will work, as will any unflavored plant based milk. This vegan mashed potatoes recipe uses cashew milk and a mix of other ingredients to create a creamy base.
Are russet potatoes good for mashed potatoes?
Russets are great for creating light, airy, and fluffy mashed potatoes but the taste is pretty mild. I prefer to use Yukon gold for their amazing flavor.
Can you make mashed potatoes ahead of time?
Yes! These mashed potatoes can be made up to 2 days in advance, however they are best fresh.
Can you freeze mashed potatoes?
It is safe to freeze leftover mashed potatoes, but they texture may change a but once they're defrosted.
Are potatoes vegan?
I see this question often, basically anything grown from the ground is vegan. It's a plant and therefore, plant based!
More Vegan Potato Recipes
Potatoes are basically a miracle food, they can be transformed into so many delicious dishes! Here are some of our plant based favorites: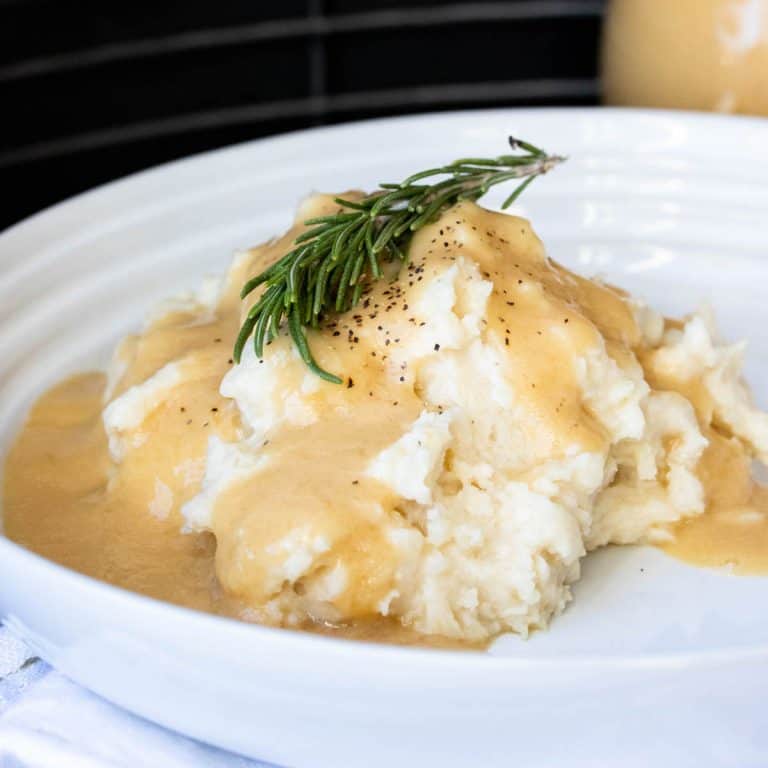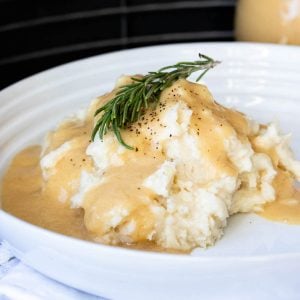 Creamy Vegan Mashed Potatoes Recipe
This vegan mashed potatoes recipe is next level incredible. They are so creamy, rich and satisfying you'll have no idea they are dairy free! Easy to make and the perfect side dish.
Ingredients
2 pounds potatoes , see note
½ teaspoon sea salt
1 ½ cups white beans , about one 15 ounce can (drained and rinsed)
1 ½ cups Vegan Parmesan Cheese , if using my Parmesan recipe, double it when making it and also make the crumble version not the wheel because it's easier to use for this (or use your favorite store brand)
1 cup cashew milk , can sub another plant based milk if you prefer
Ground black pepper , optional for garnish
Rosemary sprig , optional for garnish
Instructions
Cut potatoes into big pieces, rinse to remove some of the starch.

Put them with the salt in a pot and cover with water. Boil for about 15-20 minutes until tender.

Meanwhile, put white beans, cheese and milk in a blender and puree until nice and smooth.

When the potatoes are done, rinse them one more time. Allow them to dry a bit then put them in a bowl with the creamy sauce.

Use a potato masher, hand mixer or stand mixer to whip the potatoes and the creamy sauce into a nice fluffy mound. Do not over mix or they will become gluey.

Serve with caramelized onion gravy and optional pepper and rosemary sprig.
Notes
You can use any potato, Russet are the fluffiest but Yukon gold are my favorite flavor for these because they are so buttery in taste.
You can sub with another plant based milk but make sure it is creamy.
The portions are for a side dish size.
Recipe by Veggies Don't Bite, visit our site for more great plant-based recipes.
Nutrition
Calories: 282kcalCarbohydrates: 32gProtein: 11gFat: 8gSaturated Fat: 0gPolyunsaturated Fat: 0gMonounsaturated Fat: 0gTrans Fat: 0gCholesterol: 0mgSodium: 448mgPotassium: 947mgFiber: 5gSugar: 0gVitamin A: 0IUVitamin C: 18.8mgCalcium: 77mgIron: 7.3mg
Nutrition and metric information should be considered an estimate.
Never miss a recipe!
Sign up here and get a FREE quick and easy meal guide!