This tofu teriyaki recipe takes only 10 minutes of prep and is absolutely delicious! It's crispy, healthy, and has 5 stars from my entire family, even the kids!
I love how easy this recipe is to put together. It's made on one baking sheet and served with rice of choice. An all around meal filled with protein and veggies!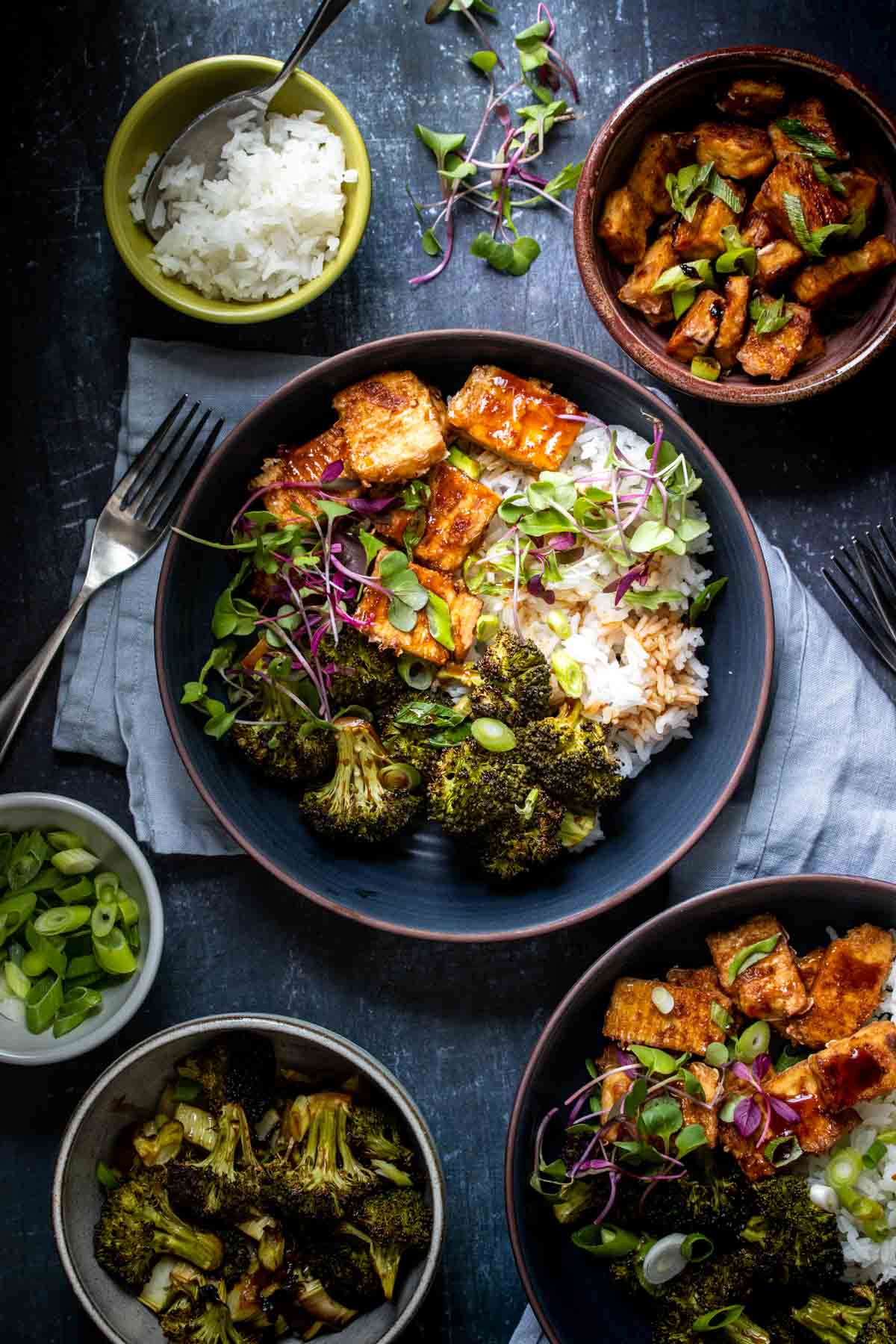 This recipe brings together the vegan General Tso recipe and vegan orange cauliflower to create yet another amazing family meal!
Ingredients
You can simply make the teriyaki tofu on its own to add to other recipes, but here is everything you need for a simple meal:
For the tofu:
To serve:
Rice
Broccoli
Green onions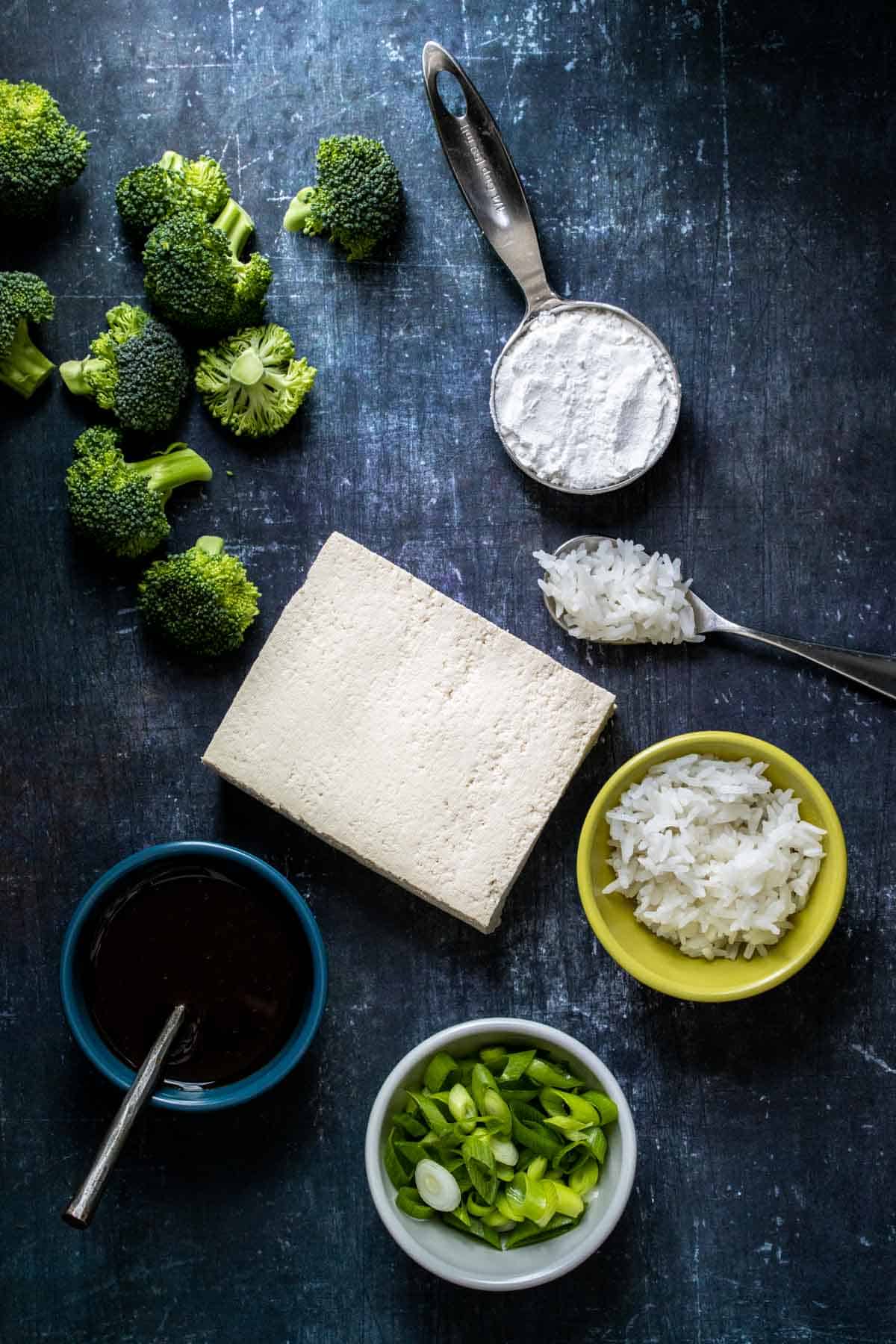 How to Make Teriyaki Tofu
Cut pressed tofu into evenly sized pieces.
Cover the tofu with teriyaki sauce in a large bowl.
Mix in the cornstarch.
Arrange the marinated tofu and broccoli on a parchment lined baking sheet.
Drizzle on more teriyaki tofu marinade.
Bake for 20 minutes, brush more teriyaki across the tofu, sprinkle with green onions.
Continue baking for 5 more minutes then serve!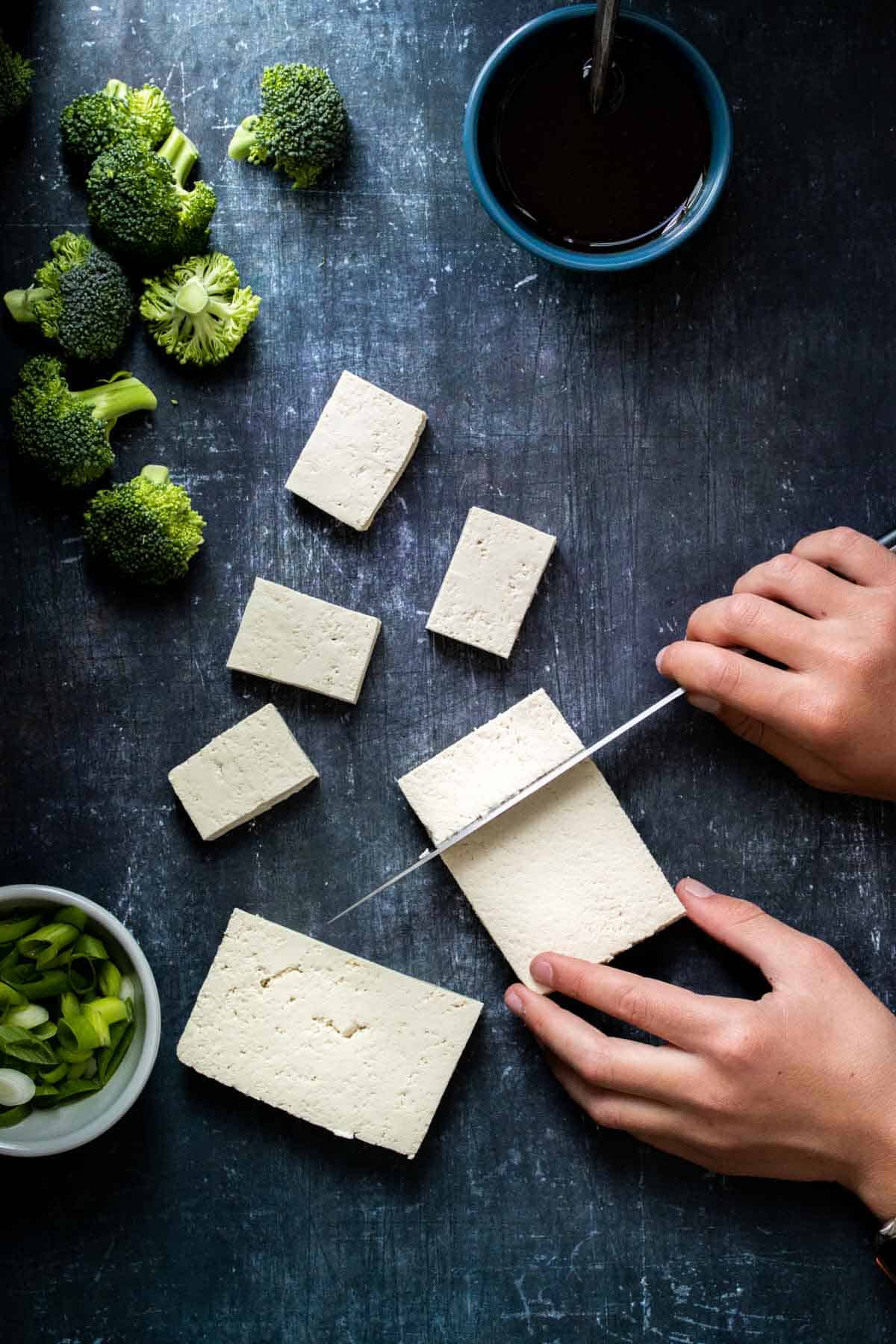 What to Serve with Baked Tofu Teriyaki
Once everything is baked and crispy, build a bowl for an easy meal!
Start with the rice as a base.
Add in the broccoli.
Load the crispy teriyaki tofu.
Finish with your favorite garnishes.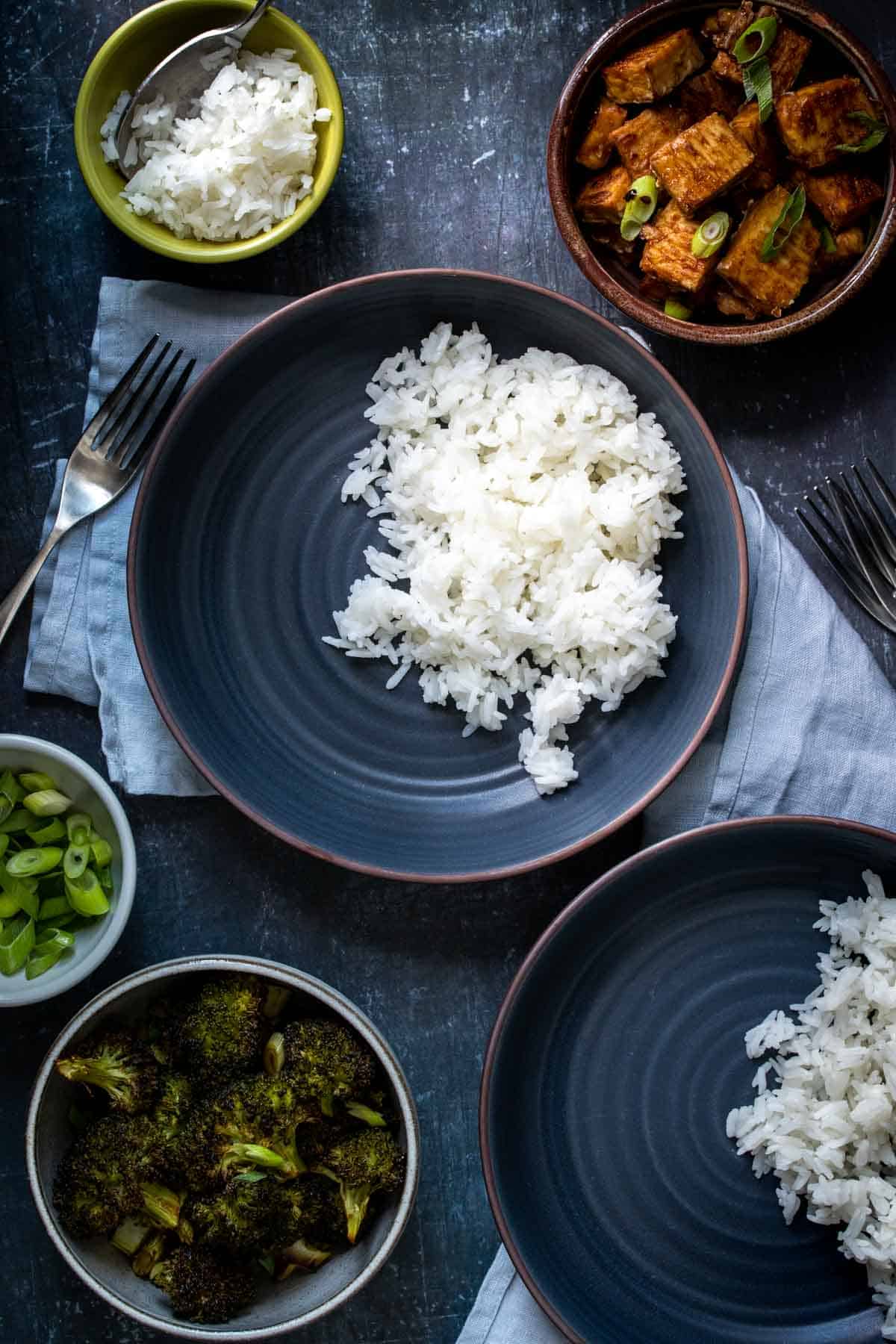 You can also serve the crispy teriyaki tofu with any of these plant based recipes:
Preparation Tips
Choose extra firm tofu for the best results.
Also make sure to press the tofu before marinating and cooking. This will help with the texture and flavor.
If you need gluten free teriyaki sauce make sure to read the label, or make your own with this easy teriyaki sauce recipe!
Get an extra serving of veggies by mixing in cauliflower rice.
Make Ahead and Storage Tips
Make the sauce in advance, simple store in an airtight container in the refrigerator until you're ready to use it.
Press and marinate the tofu up to 24 hours ahead of time.
Cook the rice up to 5 days in advance, or freeze it for up to 3 months.
For crispiest results bake and eat the tofu immediately, as the texture is best fresh.
Keep the baked tofu teriyaki in an airtight container in the refrigerator for up to one week.
If you end up with leftovers you can microwave them for convenience, but to bring back some of the crisp pop the tofu in an oven or air fryer.
Common Questions
Do you marinate tofu before or after pressing?
Marinating tofu should be done after pressing. If you marinate beforehand it won't absorb as much flavor and then the marinade will seep out during the pressing process.
How long does tofu need to marinate for?
If you choose to allow the tofu to marinate before baking, let it rest for at least 30 minutes, or up to 24 hours.
What happens if you don't press tofu?
If you do not press the tofu it will retain excess moisture. This will result in a not crispy texture, and it will also not take on as much flavor from the sauce.
More Easy Vegan Meal Recipes
Keep everyone fed and happy with these delicious and simple plant based recipes: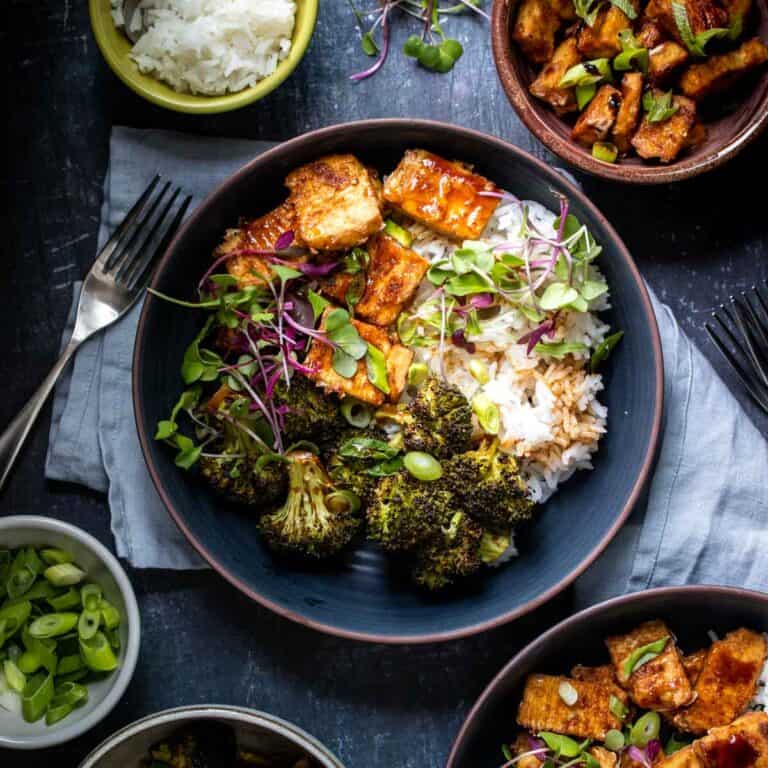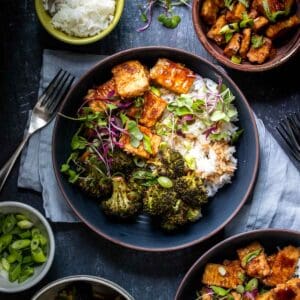 Crispy Baked Tofu Teriyaki Recipe
This tofu teriyaki recipe takes only 10 minutes of prep and is absolutely delicious! It's crispy, healthy, and has 5 stars from my entire family, even the kids!
Ingredients
To Serve:
2 cups rice , can also mix in cauliflower rice for extra veggies
2 cups broccoli , cut into pieces (about two small heads)
¼ c sliced green onions , plus more for garnish at the end
More teriyaki sauce to drizzle over the top if preferred
Instructions
Preheat the oven to 450°F/ 232°C.

Cut the tofu into pieces. You can do squares, rectangles, triangles, or anything else you prefer. Just make sure pieces are all around the same size so that baking time is equal.

Put the tofu in a large bowl and drizzle 2 tablespoons of the teriyaki sauce over the top. Mix well.

Next, add ¼ cup cornstarch and mix again. It will get goupy but that's ok. Some pieces may also fall apart a little if they are too big, so mix carefully. You can also do the teriyaki and cornstarch in a plastic bag and shake to mix.

Add to a parchment lined baking sheet. Add the broccoli to the baking sheet, or use another one if you don't have room (or put some tofu and some broccoli across two sheets). Drizzle with 2 tablespoons of teriyaki sauce, depending on how flavorful you want it. You can also use a drizzle of oil if you want but the Teriyaki sauce may have some already. Oil isn't needed for this recipe to be crisp and delicious. The parchment paper gives it a good crisp. If preferred, you can mix the broccoli and teriyaki in a bowl.

Bake for about 20 minutes. Take it out of the oven and use a pastry brush to brush about ¼ cup teriyaki across the tofu (you can also use some for the broccoli if you want but it's not needed).

Sprinkle green onions over the top. Bake for 5 more minutes, until crisp.

Serve with rice, more teriyaki sauce and a sprinkle of green onion.
Notes
Pressing the tofu helps with the end texture and allows the tofu to absorb more flavor.
My homemade teriyaki sauce makes 2 cups, reduce the recipe by ¼ for this recipe if making homemade or make it all and save it for another day.
Nutrition facts use my homemade teriyaki sauce.
Recipe by Veggies Don't Bite, visit our site for more great plant-based recipes.
Nutrition
Calories: 499kcalCarbohydrates: 95gProtein: 17gFat: 5gSaturated Fat: 1gPolyunsaturated Fat: 2gMonounsaturated Fat: 1gSodium: 355mgPotassium: 622mgFiber: 5gSugar: 10gVitamin A: 346IUVitamin C: 42mgCalcium: 106mgIron: 4mg
Nutrition and metric information should be considered an estimate.
Never miss a recipe!
Sign up here and get a FREE quick and easy meal guide!