All of the crispy, none of the deep fried fat! These healthy cauliflower and potato tacos are baked to perfection, low in fat and smothered in addicting creamy dill sauce.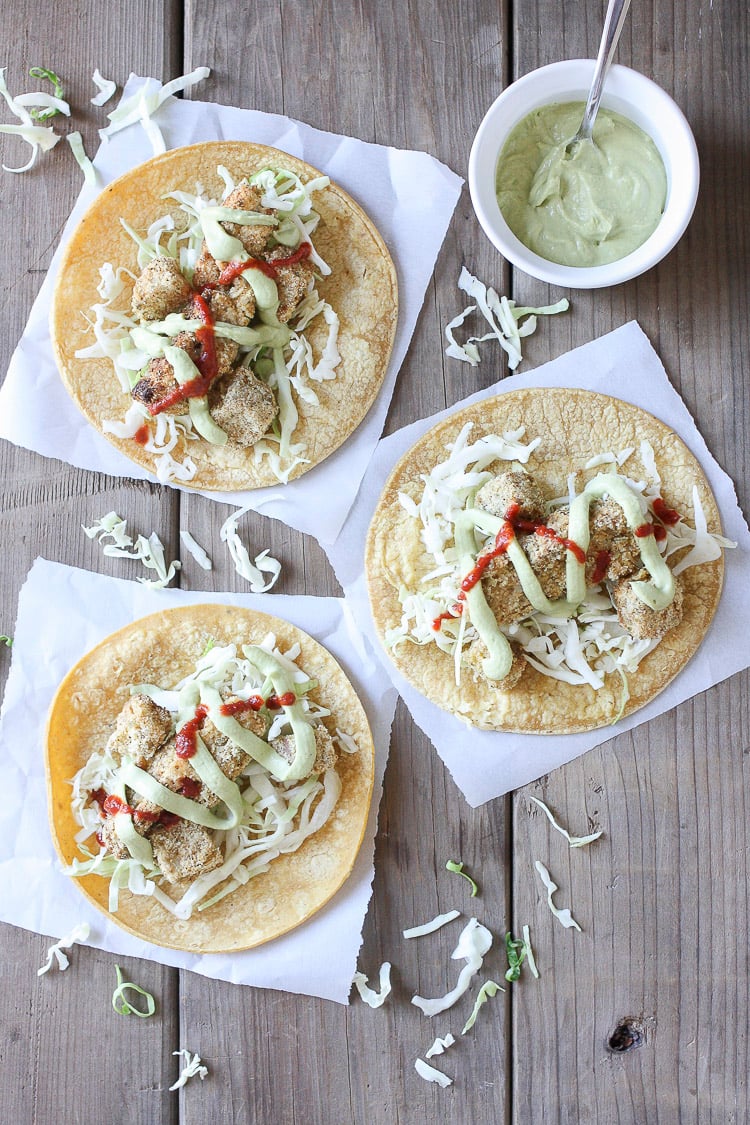 I'm back, with tacos. And not just any tacos. Crispy, baked not fried, low fat, amazing, delicious cauliflower tacos. Seriously, these babies are the bomb diggity. They are so simple, yet so darn tasty. And if you think you can't get a crisp when baking, then you are about to be proven wrong.
Crispy coating is where it's at
The coating on these is as crispy as crispy can get. The crispy outside not only stays on, but you don't feel like a bloated balloon after you shove about five in your mouth. How do I know? I tried it. For research purposes of course. But you really just should make sure for yourself.
The crispy outside is flavored with chili powder and cumin, and has a powerful crunch thanks to the mixture of almond meal, cornmeal and ground pepitas! It's the same awesome crispy coating I used in my onions rings that are a huge hit (if you haven't tried those, DO, you'll love them). Just look at that beautiful result.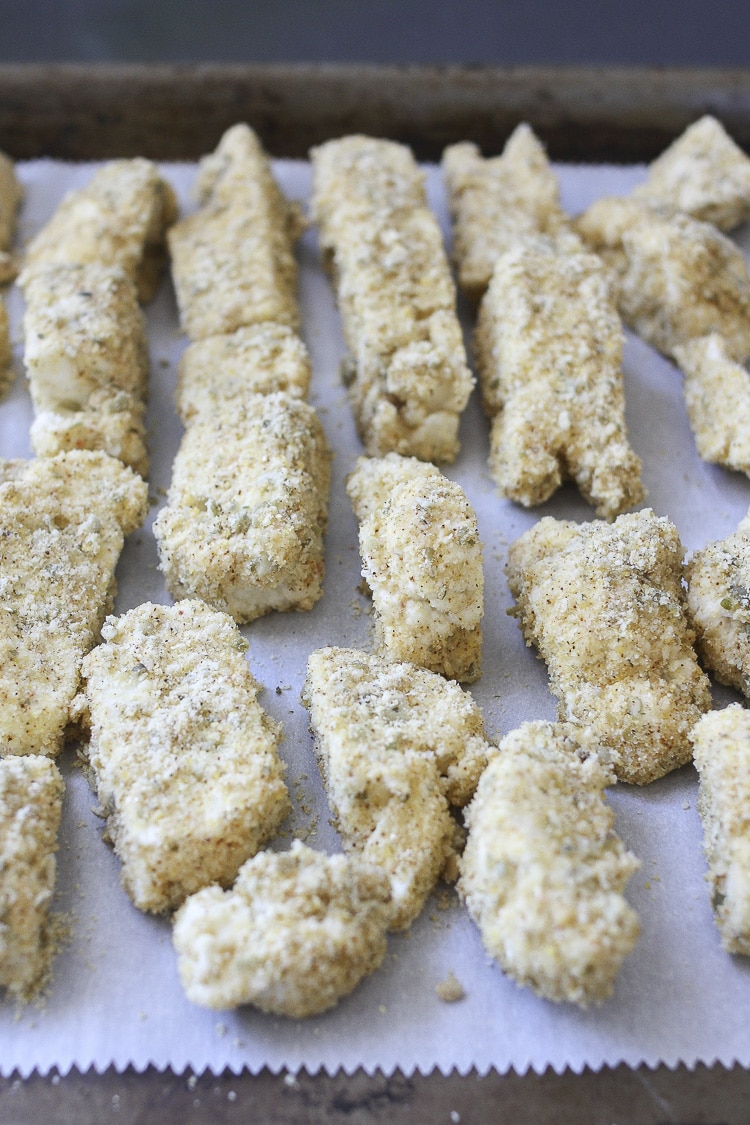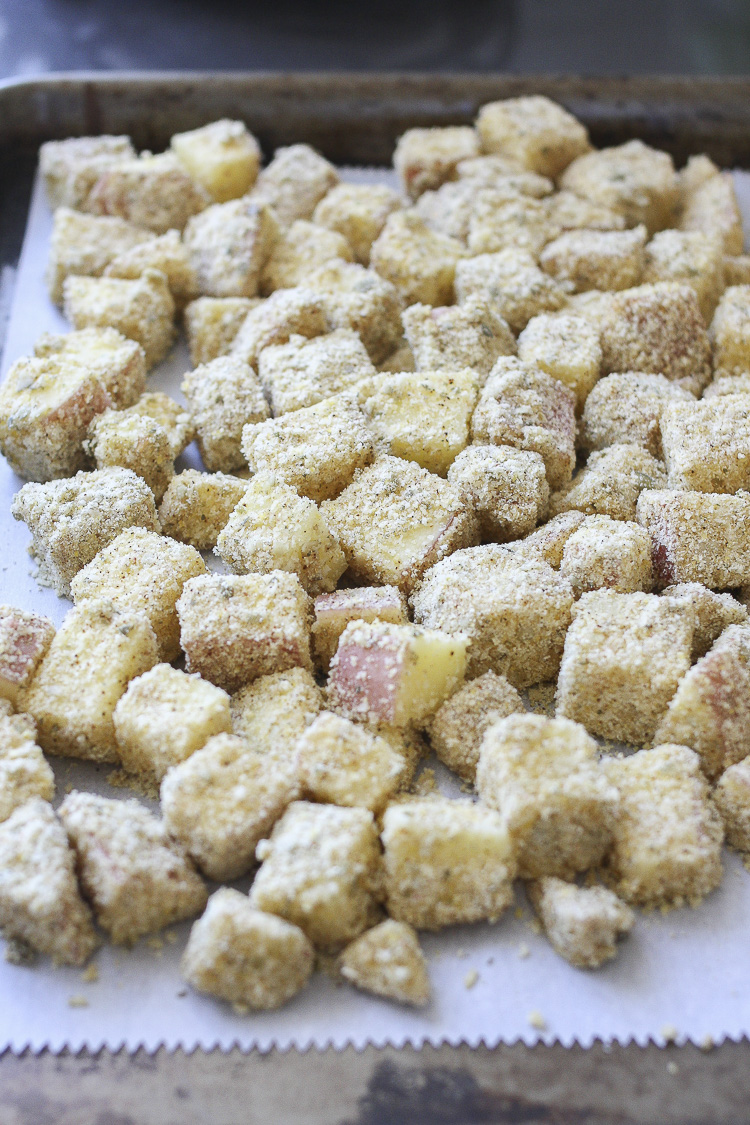 Vegan cauliflower tacos are an addiction
I ate these cauliflower tacos about twice a week for almost a month. My kids loved them because I turned the pieces into "nuggets" by cutting them smaller before coating and baking. They dipped them in dill sauce and were pretty much in kid nugget heaven.
I easily made baby food with these too by steaming the cauliflower and potatoes and blending. My husband even loved them, sans dill sauce of course, since he is a dill hater (BOO!).
They actually remind me a bit of the fish tacos you can get down here in San Diego. The inside cauliflower gets that flaky consistency, so pair it with dill sauce and it totally hits that fish taco craving.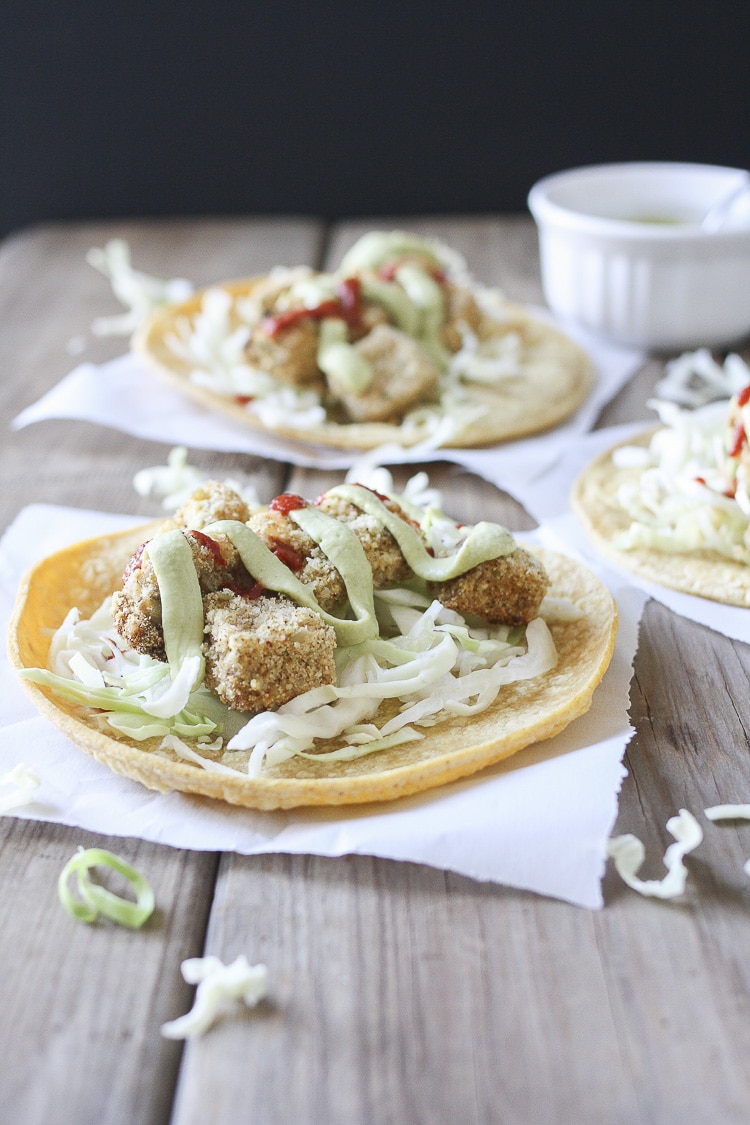 I love having all the parts ready to go so when it's game time, I don't have much prep to do. These are best served fresh from the oven. If there are leftovers, store in foil or a tupperware like container. When you are ready to eat them again, bake to get the crisp back.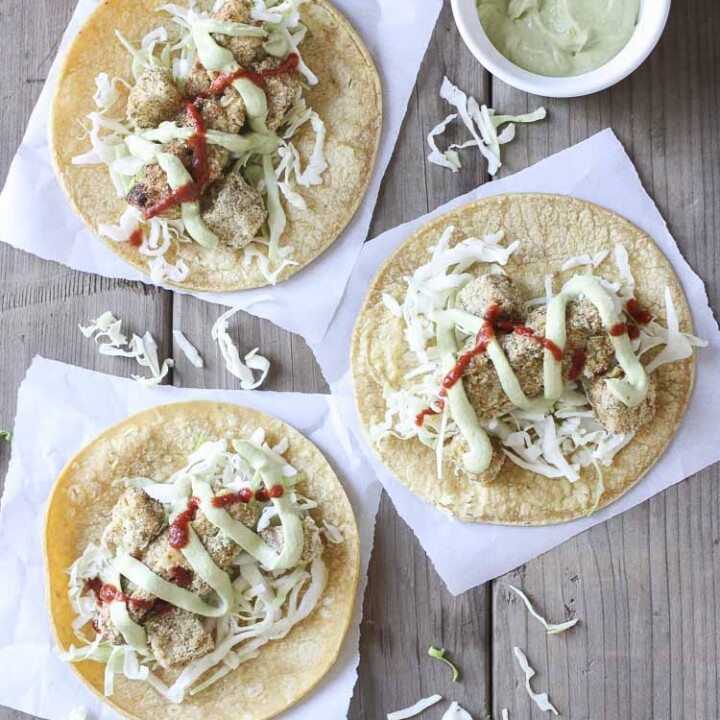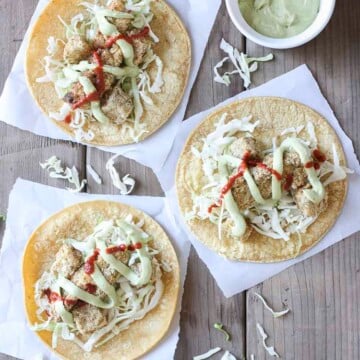 Crispy Cauliflower & Potato Tacos with Tangy Dill Crema
All of the crispy, none of the deep fried fat! These healthy cauliflower and potato tacos are baked to perfection, low in fat and smothered in addicting creamy dill sauce.
Ingredients
4 cups diced potatoes (about 2 medium potatoes, see note)
½ head cauliflower , medium sized
4 cups shredded cabbage
2 cups unsweetened cashew milk (almond can work too)
1 tablespoons apple cider vinegar
1 ½ cups almond flour (finely ground is preferred)
¾ cup almond flour (finely ground is preferred)
½ cup cornmeal
½ cup ground unsalted raw pepitas
2 teaspoons cumin
1 teaspoon chili powder
1 teaspoon garlic powder
½ teaspoon sea salt
Your favorite hot sauce to top optional
Instructions
Preheat oven to 400 F (205 C)

Cut cauliflower into thick strips.

Combine milk, vinegar, and 1 ½ cups almond meal in a bowl and mix well to form a batter-like liquid. Keep in mind this will be a thinner batter, not the kind you see when deep frying.

Combine ¾ cup almond meal, cornmeal, pepitas, cumin, chili powder, garlic powder and salt in another bowl and mix well.

Coat diced potatoes and cauliflower slices by first dipping them in the milk mixture and then coating them in the dry mixture.

Place on parchment lined cookie sheets.

Bake for 45-50 minutes, or until golden brown.

While cauliflower and potatoes are baking make Tangy Dill Crema, if it isn't made already.


Once baked, serve on soft corn tortillas with shredded cabbage and drizzled with Tangy Dill Crema.

Eat as many as you can fit in your belly without pukung!
Notes
This makes 8 tacos. Serving is 1 taco. The nutrition information does not take all of the batter or crispy topping into account due to the leftover after dipping and coating the cauliflower and potatoes.   I suggest using a firm potato for these, such as a red or yukon gold. Russets can work too but they are a bit softer and may not bake as well.   To make these nut free, use a nut free milk in place of almond milk, such as soymilk. Use ground sunflower seeds or ground oats in place of the almond meal for the coating. Use brown rice flour in place of the almond meal for the batter, start with ½ cup and add more as needed to make sure the batter is not too thick. Tips to prep ahead: Make Tangy Dill Crema. Grind pepitas. Cut veggies. Make batter and coating. Baby/kid food idea: Cook cauliflower and potatoes, blend well. Can also add some of the spices and/or dill before blending. For kids, serve the crispy potatoes and cauliflower as "nuggets" and allow them to dip in the sauce.
Recipe by Veggies Don't Bite, visit our site for more great plant-based recipes.
Nutrition
Calories: 236kcalCarbohydrates: 30gProtein: 8gFat: 10gSodium: 240mgPotassium: 394mgFiber: 6gSugar: 2gVitamin A: 150IUVitamin C: 20.1mgCalcium: 82mgIron: 2.5mg
Nutrition and metric information should be considered an estimate.
Never miss a recipe!
Sign up here and get a FREE quick and easy meal guide!