A list of the best dairy free alternatives to satisfy all of your dairy cravings, plus the info you need on all things dairy and what to look for when avoiding it!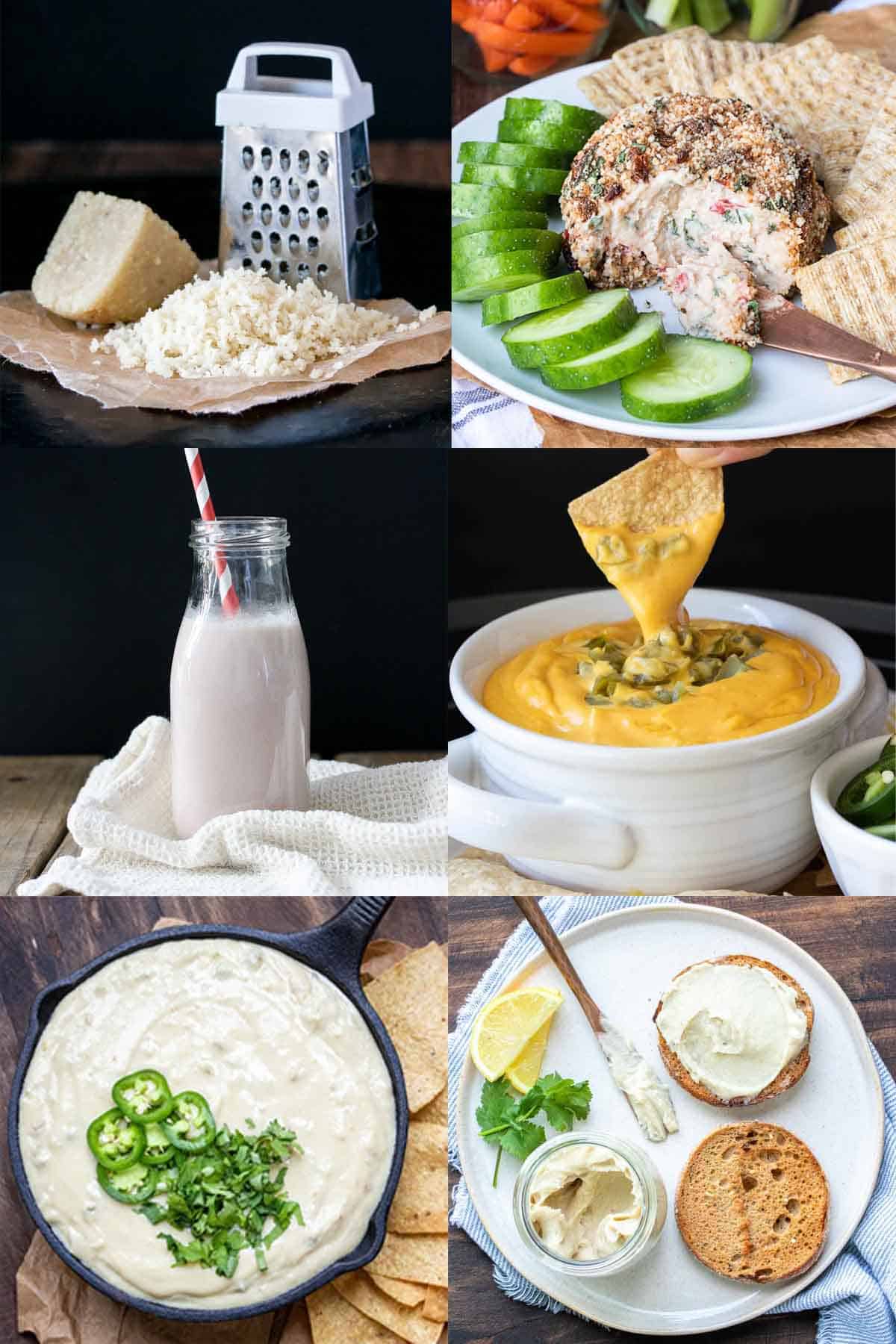 You won't miss a thing with these amazing recipes and store bought brands! Knowing what to look for when you can't eat dairy is hard, but this comprehensive information will help you every step of the way.
From dairy free cheese sauce, vegan Parmesan and even an incredible vegan Alfredo you will miss none of your favorite dairy free foods!
If you don't eat dairy it can seem extremely limiting! In addition to milk, cheese, and butter being such staples in our lives, dairy seems to find its way into so many other foods. But it is possible to go dairy free!
Reasons to Avoid Dairy
There are many reasons people do not consume dairy. Some are more voluntary than others.
Lactose intolerance is when your body has trouble digesting the sugar, aka lactose, in milk products. When we are born we produce a digestive enzyme called lactase, which is what works to process lactose. As we age, many people stop producing lactase which can affect your ability to digest milk.
When people with lactose intolerance consume dairy products they can experience symptoms including cramping, bloating, gas, and diarrhea. Basically no fun!
Even those that aren't intolerant choose to avoid it because of health reasons. Dairy products, including milk, are the biggest source of saturated fat here in the Unites States. This can cause heart disease, type 2 diabetes, and Alzheimer's disease. Additionally, more research needs to be done, but there is evidence to suggest it can even contribute to an increased risk of certain cancers.
If you're big on the environment, you might want to consider giving up or limiting your dairy intake. Believe it or not the dairy industry has a great effect on climate change. The farming required to produce dairy products results in greenhouse gasses including methane, nitrous oxides, and carbon dioxide. These gasses are one of the biggest factors for climate change due.
What is Dairy Found In?
The common foods that contain dairy include:
Drinks - Milk, some coffee drinks, eggnog, hot cocoa, smoothies
Yogurt - Traditional, Greek, Skyr, etc.
Butter - Including margarine and butter spreads
Cheese - Any cheese, unless otherwise specified
Breads - White, wheat, rye, biscuits, rolls, pastries
Breakfast - Cereals, pancakes, waffles, donuts, muffins, French toast, scrambled eggs or egg substitutes
Snacks - Crackers, saltines, chips, dips
Dessert - Ice Cream, sherbet, cakes, cookies, puddings, pie, chocolate, fudge, nougat, caramel
Condiments - Salad dressings, buffalo sauce, and sometimes even BBQ sauce and ketchup
Secret Sources of Dairy
You'll want to keep an eye out for these sneaky ways dairy can find its way into your food. Always read your labels!
Meat - Processed meats like deli meat, hamburgers, sausages, and meatballs
Soups - Creamy soups, chowders, bisques
Pasta - Macaroni and cheese, Alfredo, and lasagna of course, but also double check store-bought tomato sauces
Veggies - Prepared vegetables at restaurants can be saturated in butter, or battered veggies can contain dairy
Potatoes - Mashed, scalloped, and even frozen french fries
Non-Food - Supplements, protein powders, and some medications
How to Read Labels to Check for Dairy
You know to look for milk, cream, cheese, and butter, but sometimes even food labeled as "non-dairy" can contain ingredients made from milk. Look closely for these words in the ingredient list:
Artificial butter flavor
Brown sugar flavoring
Caramel flavoring
Casein, casein hydrolysates
Caseinates (ammonium, calcium, magnesium, potassium, sodium)
Custard, pudding
Flavorings (natural and artificial)
Ghee
High protein flour
Half and Half
Hydrolysates (casein, milk protein, protein, whey, whey protein)
Lactalbumin, lactalbumin phosphate
Lactoglobulin, lactoferrin
Lactose, lactulose
Nisin
Recaldent
Rennet casein
Simplesse
Whey (delactosed, demineralized, protein concentrate)
Dairy Alternatives
So what are good substitutes for dairy products? If you're dairy free there are so many options now! It's easy to find store bought dairy free alternatives (Check out all the Vegan Trader Joe's Options!) or make your own.
I love making my own recipes to replace classic dairy foods, in my opinion they just taste better. When it comes to store bought I'm very picky, but my favorite go-to brand is Miyoko's kitchen, everything is so good!
Cheese
In my opinion, store bought cheese can be very hit and miss! It might take you some trial and error to find ones you like.
Some of the most popular store bought options include:
Follow your heart - especially the sliced provolone!
Miyoko's kitchen - I love shredding the farmhouse cheddar and pepper jack
Loca Queso
Parmela
Jule's
Kite Hill
It's also easier than you may think to make your own cheesy creations:
Dairy Free Milk
From almond to soy, cashew to oat, there are so many dairy free milk choices!
Silk unsweetened cashew is our go to.
I also love the extra creamy oat by Chobani.
And of course Miyoko's once again!
MALK
Califa Farms
OATLY!
Elmhurst
Create some tasty flavored milks for the whole family to enjoy:
Yogurt
Culina yogurt is hands down my fave!
Dairy free Oui is another great choice
So Delicious coconut based vanilla is the kids favorite by far.
Silk
Coyo
Daiya
You can also make your own Homemade Yogurt and mix in a ton of different flavors!
Butter
Miyoko butter, especially the oat butter is amazing
Daiya is popular but not my fave
Milkadamia
Earth Balance
Pure Blends
Nutiva
Melt
I also love this homemade Coconut Butter spread on toast!
Ice Cream
These days you can find endless dairy free alternatives! The following brands have some great dairy free flavors:
Ben and Jerry's
Häagen-Dazs
OATLY!
Cado
So Delicious
NadaMoo!
You can also try out making your own Chocolate Ice Cream at home.
Condiments and Sauces
Many of the brands listed above also make dairy free dressings, sauces, spreads, etc. But honestly it is so easy to make your own with all whole food, simple ingredients. I highly suggest making these recipes:
Dairy Free Recipes
Speaking of recipes, here is a collection of completely dairy free and plant based recipes for you to try out:
Breakfast
Soups
Pasta
Mains and sides
Dessert