Dark chocolate, salted caramel and pretzels, does it get any better? When it's made with unprocessed whole food ingredients, it sure does! Indulge in these amazing treats without the guilt.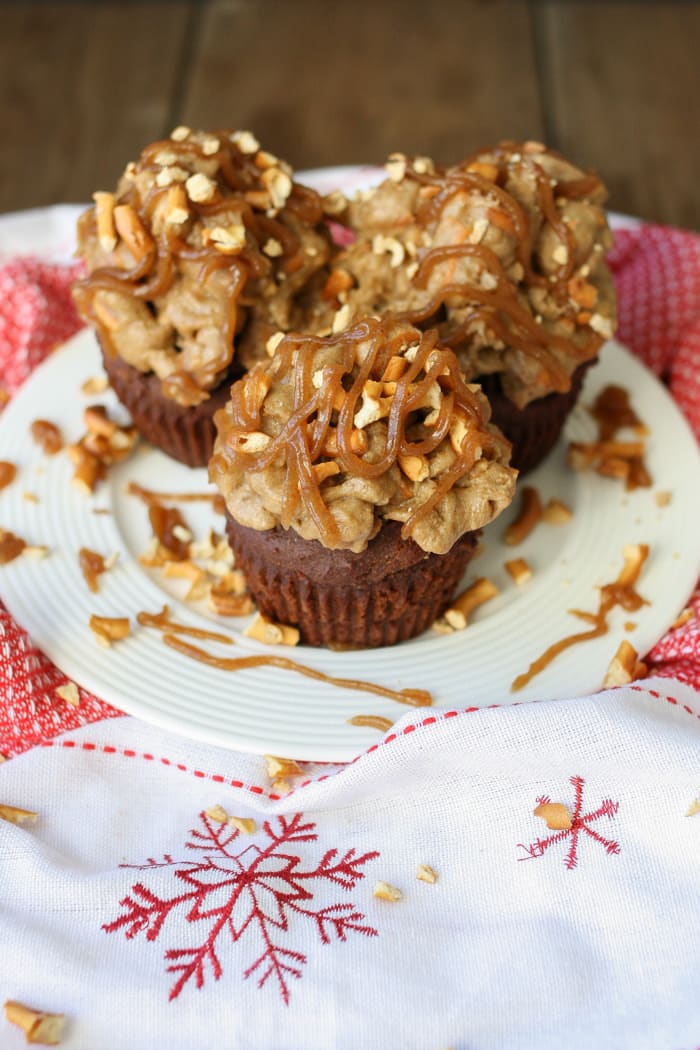 This year I opted to create a holiday dessert, I'm 6 months pregnant so no surprise there! My pregnancy seems to have taken over my creations these days, so if they are a little out there don't hold it against me...this recipe was definitely inspired by my need for both sweet and salty these days. I decided, why not put them together?! And there is no better way than chocolate and cupcakes. After the success of my Pumpkin Molasses Cupcakes with Salted Caramel Frosting, I was determined to create a chocolate cupcake with the same delicate moist texture. I trialed many versions to get it just so. I wanted a deep dark chocolate flavor that wasn't too sweet because the salted caramel pretzel frosting I was creating, was going to take center stage in the sweet decadent department. Dark chocolate is my absolute favorite, so I really enjoyed the many versions I just had to taste to get to that perfect one!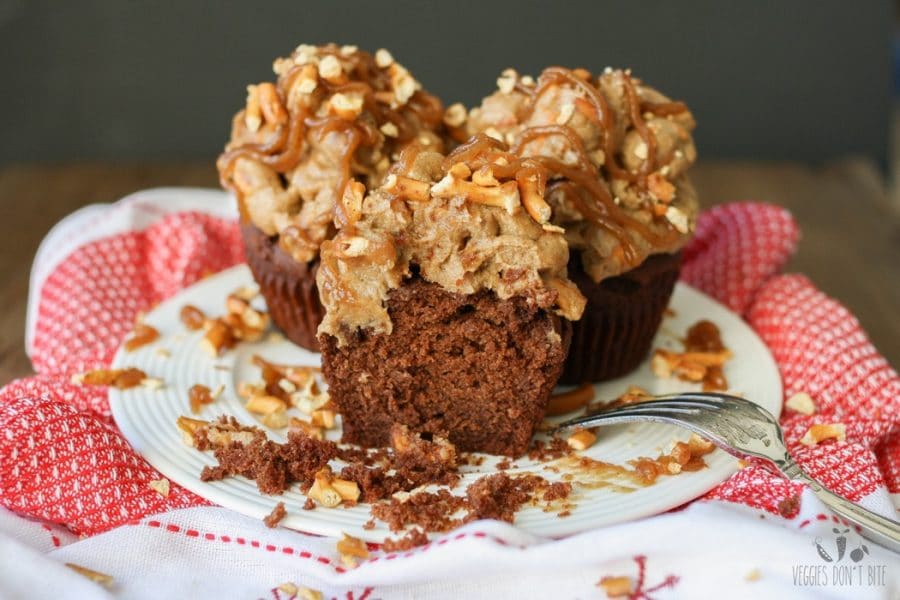 The cupcake itself came out as the perfect dark chocolate flavor, without too much sweetness. It is moist, fluffy and delicious! A true cupcake. Paired with the sweet and salty flavor of the frosting, it makes the perfect complement. The soft texture goes great with the crunchy pretzels, giving this dessert many layers of deliciousness. If you're looking for that special something to add to your holiday meal, this fun and indulgent treat may be just the thing! No processed ingredients, but all the flavor. My date paste was the prefect  healthy sweetener. You've got to give this a try!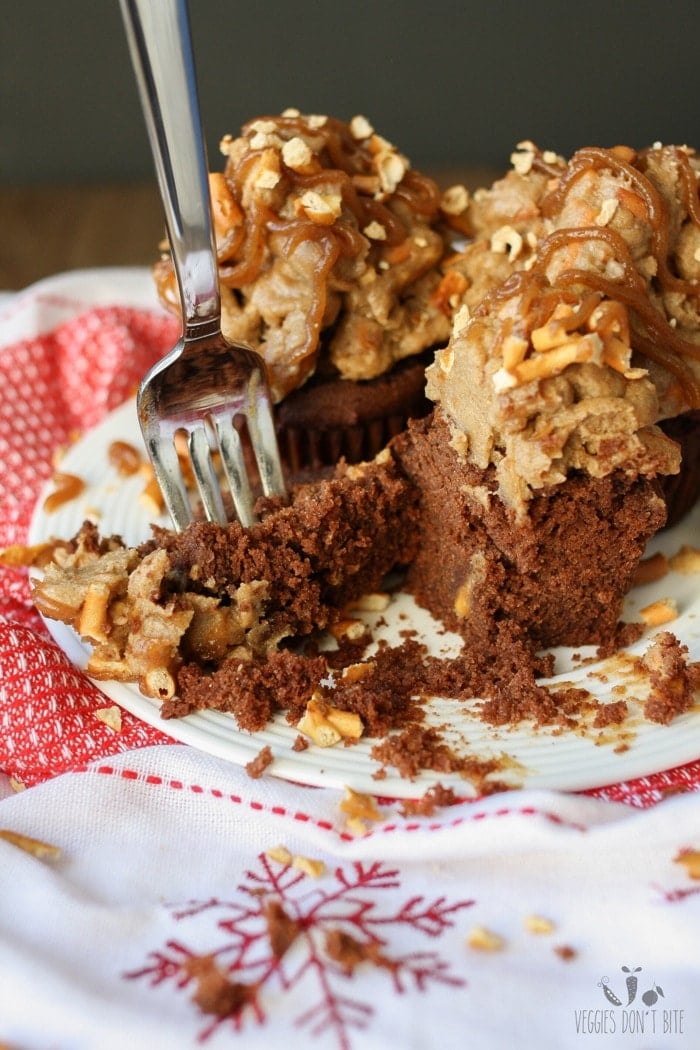 I always love comments on the blog if you make it, so make sure to let me know! You can also tag me on Instagram at veggiesdontbite #veggiesdontbite so I don't miss it! Hope you enjoy!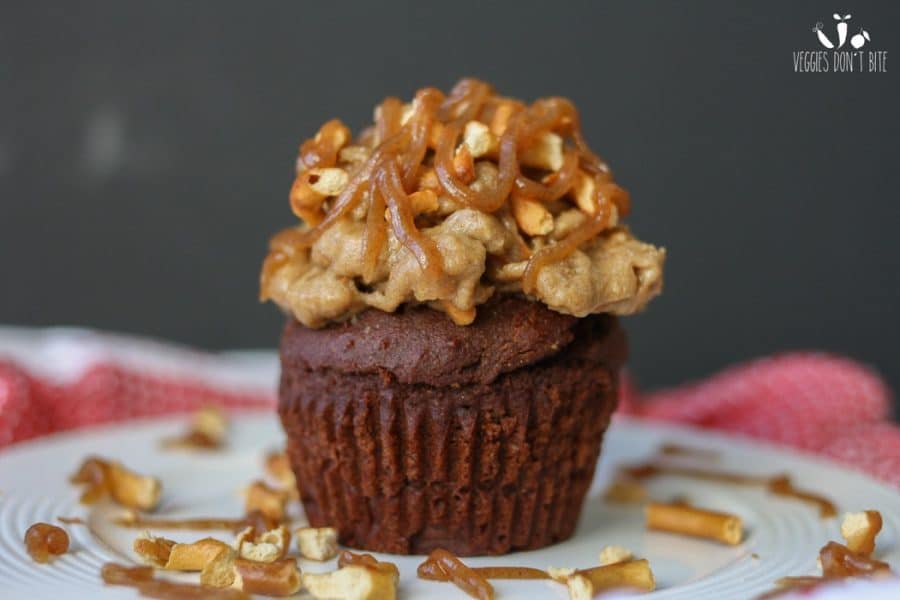 Dark Chocolate Cupcakes with Salted Caramel Pretzel Frosting
Makes 12 cupcakes
Dark chocolate, salted caramel and pretzels, does it get any better? When it's made with unprocessed whole food ingredients, it sure does! Indulge in these amazing treats without the guilt.
Ingredients:
Cupcakes:
Frosting (just like the recipe from these cupcakes except I added pretzels):
* optional extra date paste to drizzle on top for decor
note: I made many trials to get the consistency I wanted with these cupcakes, using a variety of flours that would make them nut free but still use a flour with some health benefits, along with being very soft, fluffy and moist. The measuring method I used was to spoon the flours into the measuring container then even it out with a knife. If you pack in the flour you may get a different result. Also, take note that the ingredients for the frosting, except the pretzels, are also in the cupcake recipe. Just measure out enough for both when measuring those 4 ingredients. The date paste recipe on the blog makes half of what you need for the recipe, so make sure to double it. You will have a little extra but save the rest for another use, which there are so many for anyway! You can buy coconut butter or make it yourself by purely blending unsweetened, preferably not dehydrated, shredded or flaked coconut in a food processor or blender. It takes a while but will eventually turn into smooth coconut butter. There are many sources for directions online. The coconut milk I used was the Thai Kitchen brand. Although it has some guar gum in it, which isn't my favorite, it is high in fat and creamier than most other brands out there.
Instructions:
Preheat oven to 350. Mix together coconut milk and vinegar to allow it to settle into a buttermilk and set aside.
Combine flours, baking soda and salt in a bowl and set aside. Make sure you break up any clumps.
In a small bowl melt the dark chocolate with the coconut butter, making sure to melt slowly so you don't burn it, and mix well. If using the microwave, melt for 30 seconds, then in 10 second increments until fully melted. It took me about 45 seconds. Once melted, add it with the date paste into a large bowl and using a stand or hand mixer, whip until mixed well. Add in "buttermilk" and vanilla extract and whip again.
Using the paddle attachment on your stand mixer or a spoon, mix in dry ingredients putting in half first, then the rest. Make sure everything is combined well.
Place large spoonfuls of the batter into muffin tins lined with baking cups. Fill to the top of the cup. I use foil baking cups as they don't stick like paper does. I also smoothed the batter down on the top by using a moistened finger, this helps them rise evenly as they bake.
Bake at 350 for 21 minutes. Depending on your oven, your baking time may vary by a minute or two. Start checking them at 17 minutes and take out when the tops begin to get firm and have a spring to the touch. Let cool in the muffin tins for about 10 minutes. Once cool to the touch, remove and continue cooling on racks until completely cool, about an hour.
While cupcakes are baking, make frosting by placing all ingredients, except pretelzs, into a large bowl and whipping well using stand or hand mixer. Keep whipping until light and fluffy. You can then either fold in pretzels or sprinkle pretzels on top after frosted. I tried both ways, and if you aren't eating right away, the pretzels will get soft if folded into the frosting.
After cupcakes are cooled, put frosting in a plastic bag, cut off a bit of the corner, thick enough to get pretzel pieces through if folding them in, and squeeze out to frost each cupcake. Then sprinkle on crushed pretzels if you didn't fold them into the frosting. If you are doing the extra date paste caramel drizzle, put some date paste in a smaller plastic baggie, and cut a smaller piece off the corner. Squeeze to drizzle lightly over the frosting. Enjoy! If stored in a plastic or glass container with a little bit of airflow, these will still be good the next day!