These oatmeal breakfast ideas are the perfect healthy way to start your morning. Quick and easy to make, vegan, gluten-free and taste incredible!
Whether it's overnight oats, a baked oatmeal out of the oven, or a quick and easy stove top version, these recipes are promised to satisfy and start your day amazing!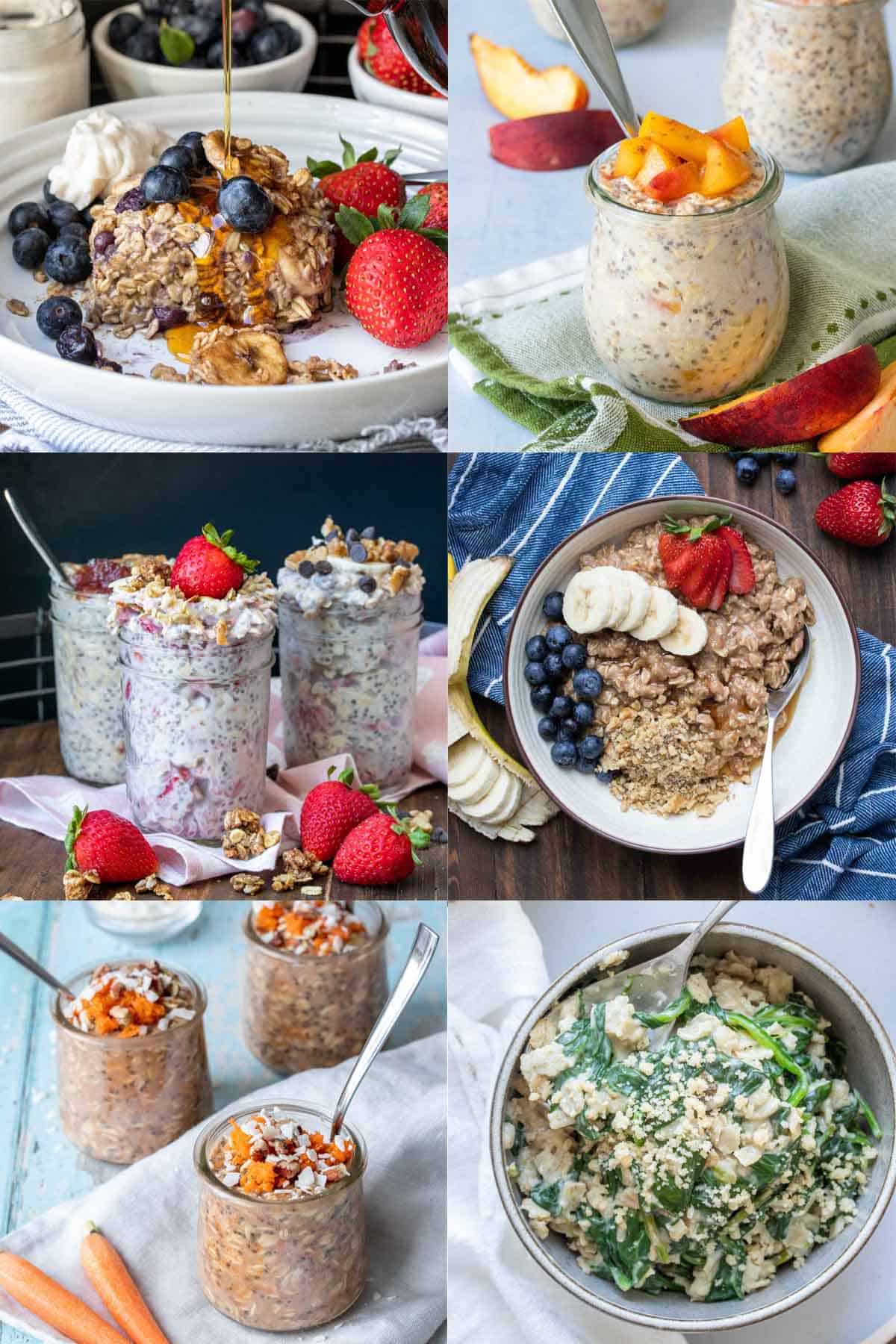 Why is breakfast so hard? Oh I know, because I am often rushing around like a crazy person in the morning! Couple that with being tired from most likely not sleeping well and it's a recipe for morning meal disaster.
But this collection of easy, mom friendly, family friendly oatmeal ideas will get your morning started right and turn breakfast into something you look forward to!
The best part is many of these are make ahead friendly, I'm looking at you overnight oats and baked oatmeal. Have them prepped and ready to go for breakfast in minutes! But even the ones you make fresh can be done in under 10 minutes.
Benefits of Oatmeal
In addition to being incredibly versatile, oatmeal makes an excellent breakfast option because it's packed with fiber and protein which helps you stay full!
This whole grain food is known for lowering LDL cholesterol, which is great for heart health. It's also loaded with antioxidants, vitamins, and minerals. Learn more details about the benefits of oatmeal and why you'll want to add the following recipes to your regular rotation.
Healthy Oatmeal Recipes
It's easy to work oats into your daily life, there are so many ways to enjoy them! Below you will find a number of delicious and nutritious recipes made from whole foods to start your day. With this list of oatmeal breakfast ideas, you'll be set for every day of the week!
Quick and Easy Recipes
Sometimes you have a few minutes to spare and want to whip something up fresh in the morning. All of these recipes can be put together fresh in the morning in no time.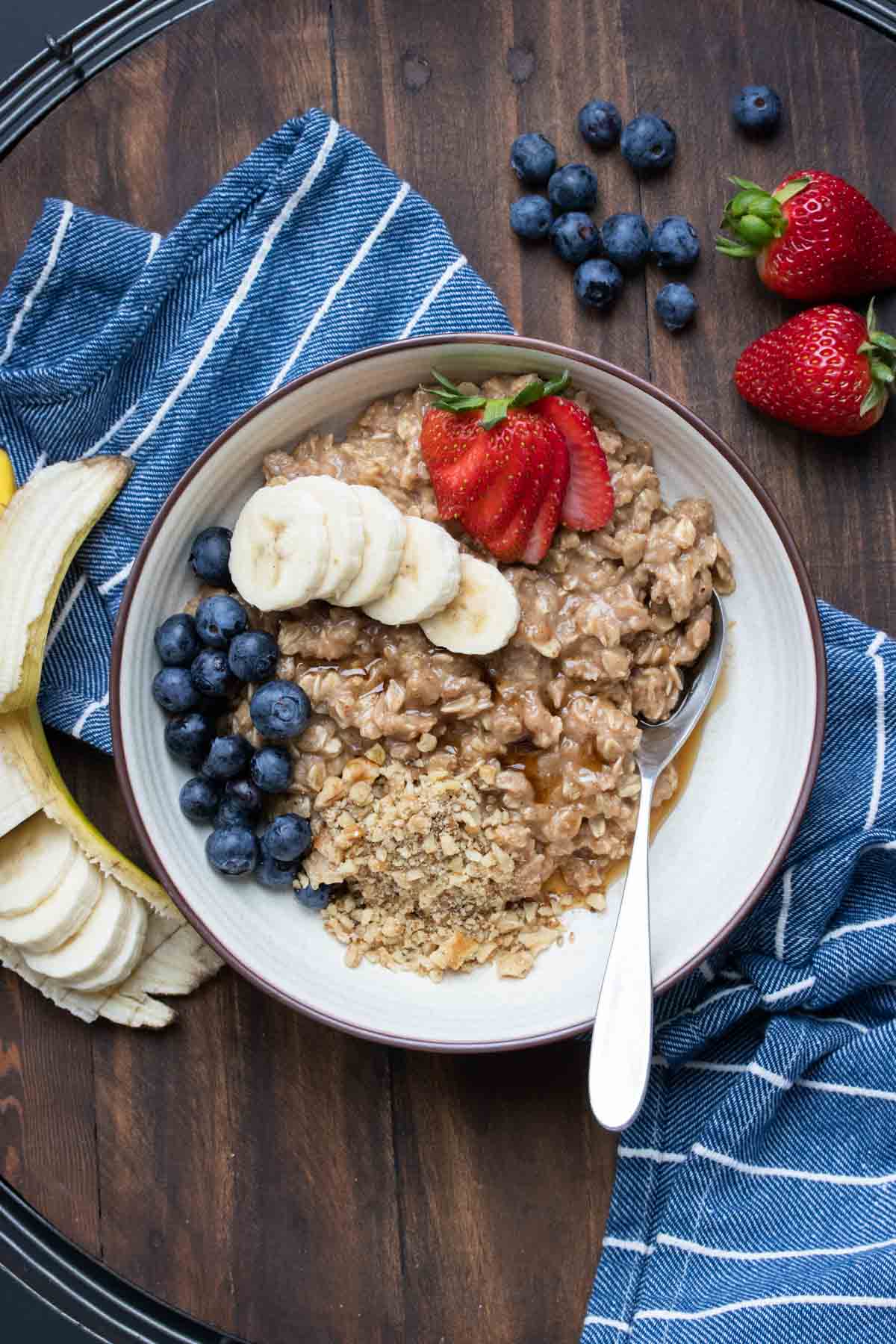 This recipe will give you the best classic base that's perfect for customizing, (make sure to check out the ideas after this list!) and is ready in just 5 minutes! Make it fresh for a hot and comforting breakfast.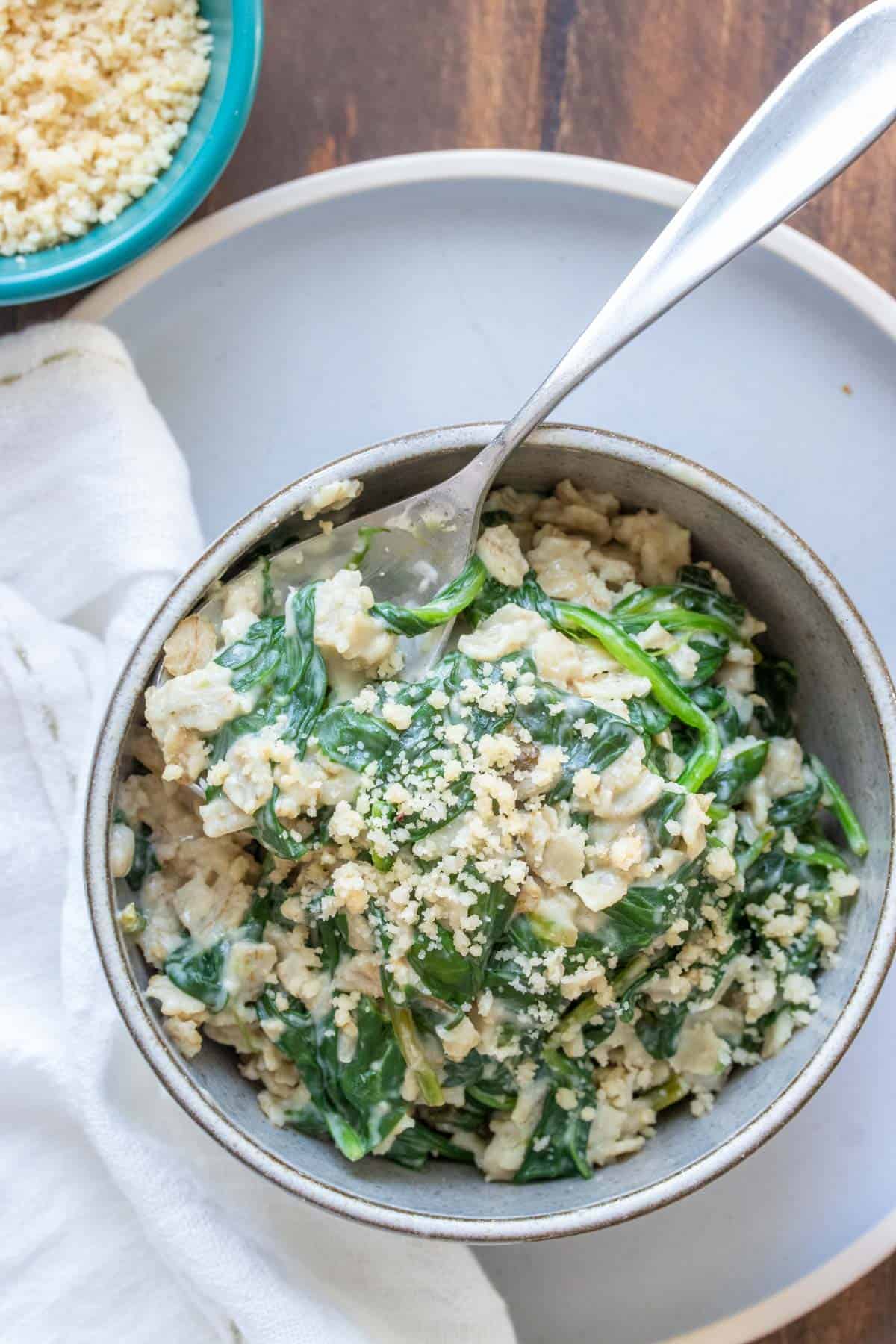 Step away from the brown sugar and give this twist a try! Veggies and oatmeal go together surprisingly well, and give you a nutrition boost to start the day. Even with the healthy additions, this is ready in 5 minutes as well!
Salted Caramel Pretzel Oatmeal Smoothie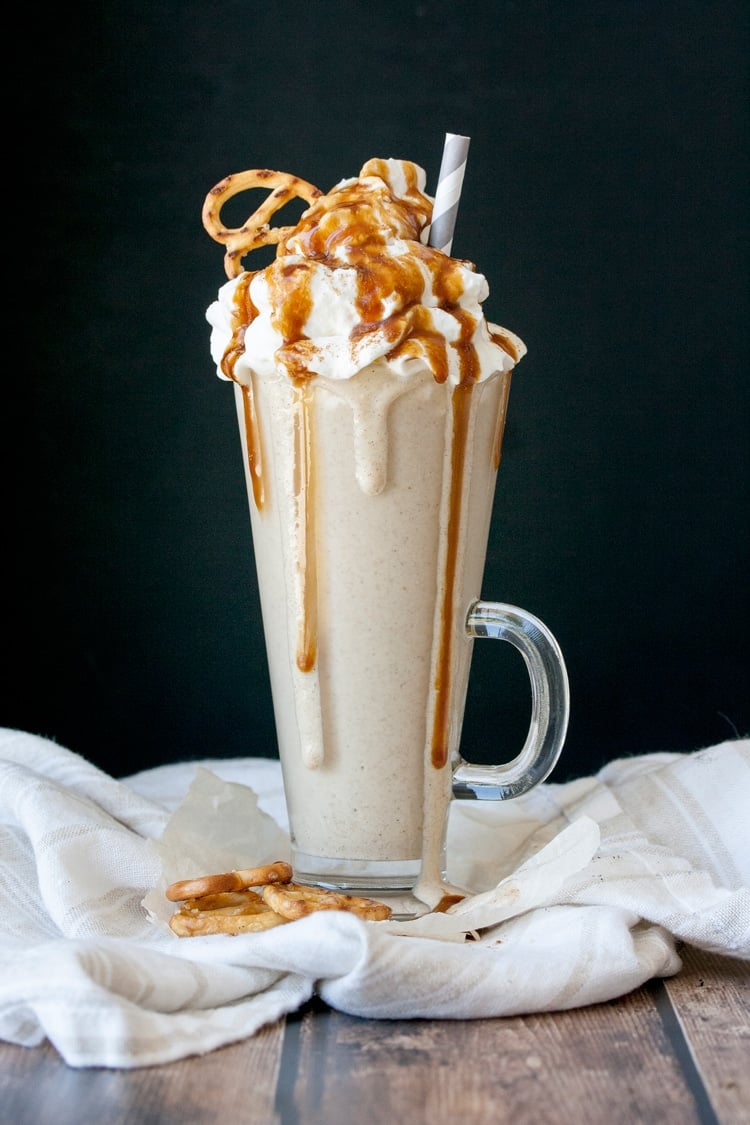 Oatmeal in a smoothie?! You betcha! Oats are a great thickener for smoothies, and they work with so many flavors. Plus they're quick and easy to make in a hurry and taste like dessert!
Frozen Hot Chocolate Oat Smoothie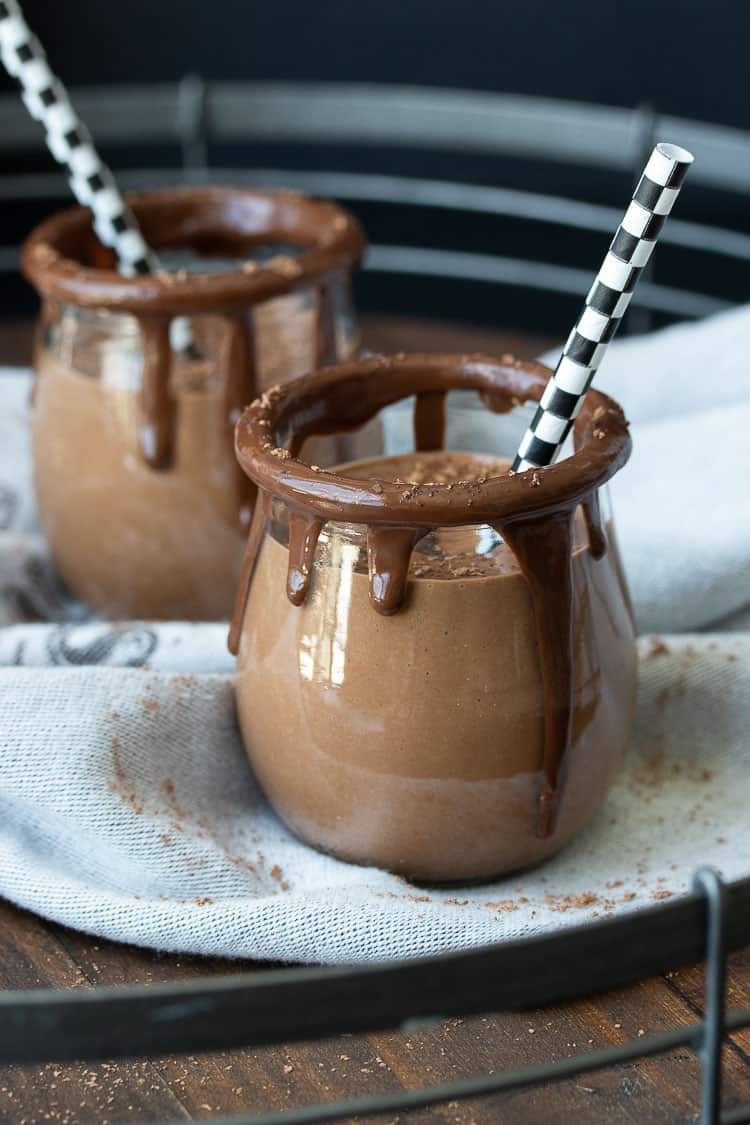 This rich and decadent smoothie feels like a treat but is so good for you! You can either blend it morning of with ice, or prep it ahead of time and just give a quick re-blend in the AM!
Overnight Oat Recipes
When you want even easier grab and go breakfasts, overnight oats is where it's at. You can completely prepare these in advance so all you need to do in the morning is snag a spoon!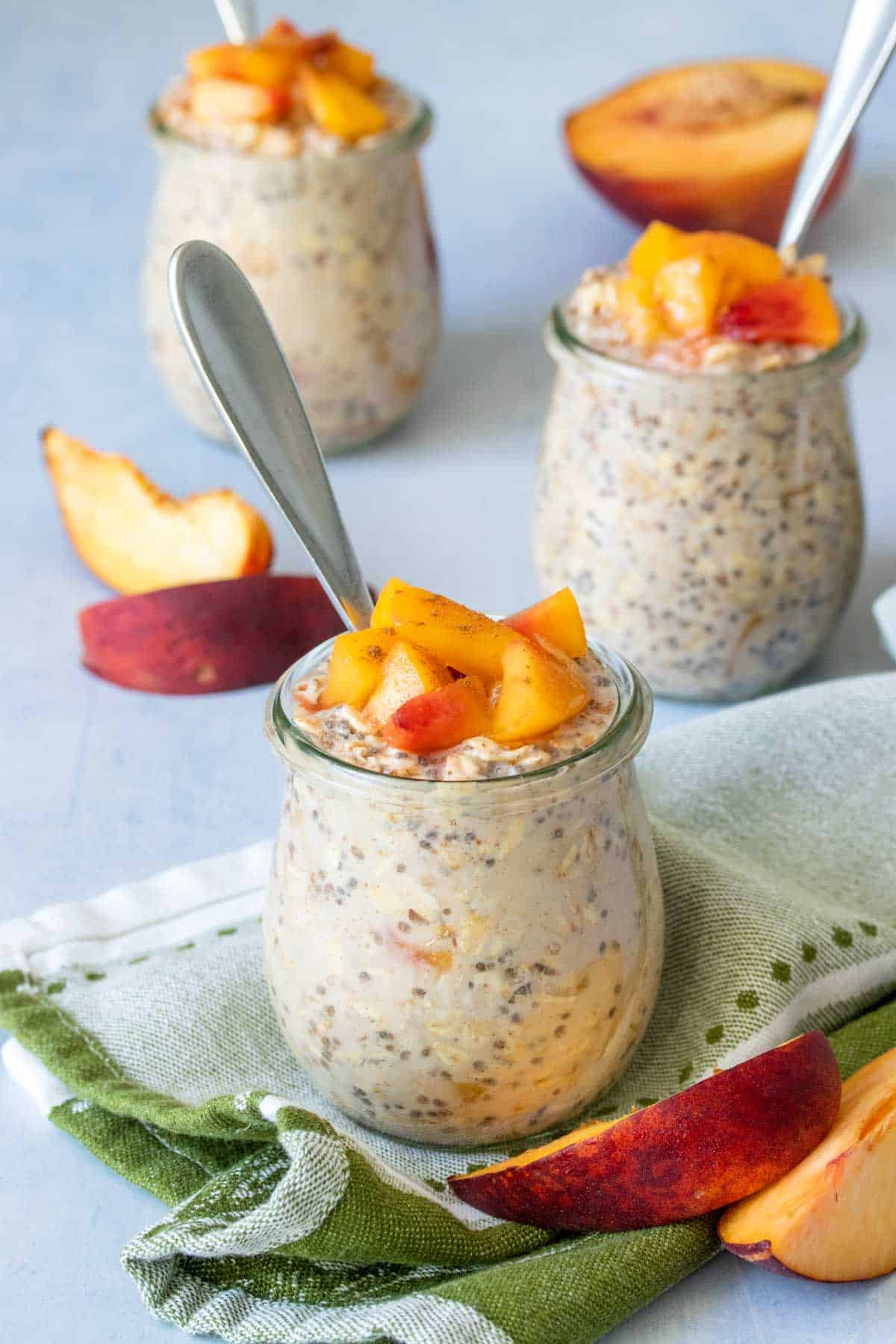 Fresh and delicious flavors give you an invigorating start to your day. Bonus, you can use either fresh or frozen peaches!
Healthy Carrot Cake Overnight Oats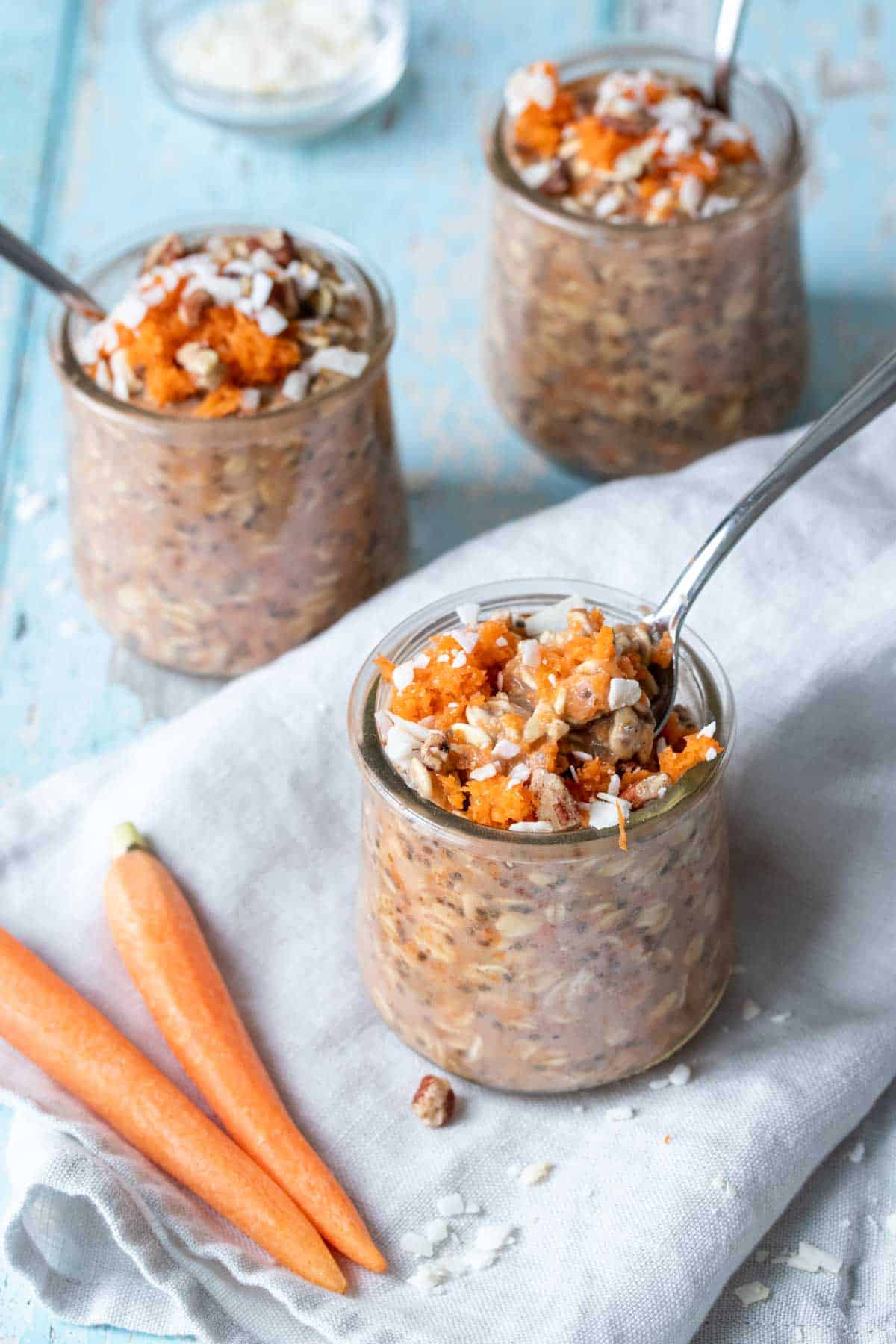 Have your cake and drink it too! Seriously, this might be the most delicious cake-turned-healthy-breakfast recipe ever! (It's a thing, at least now it is!)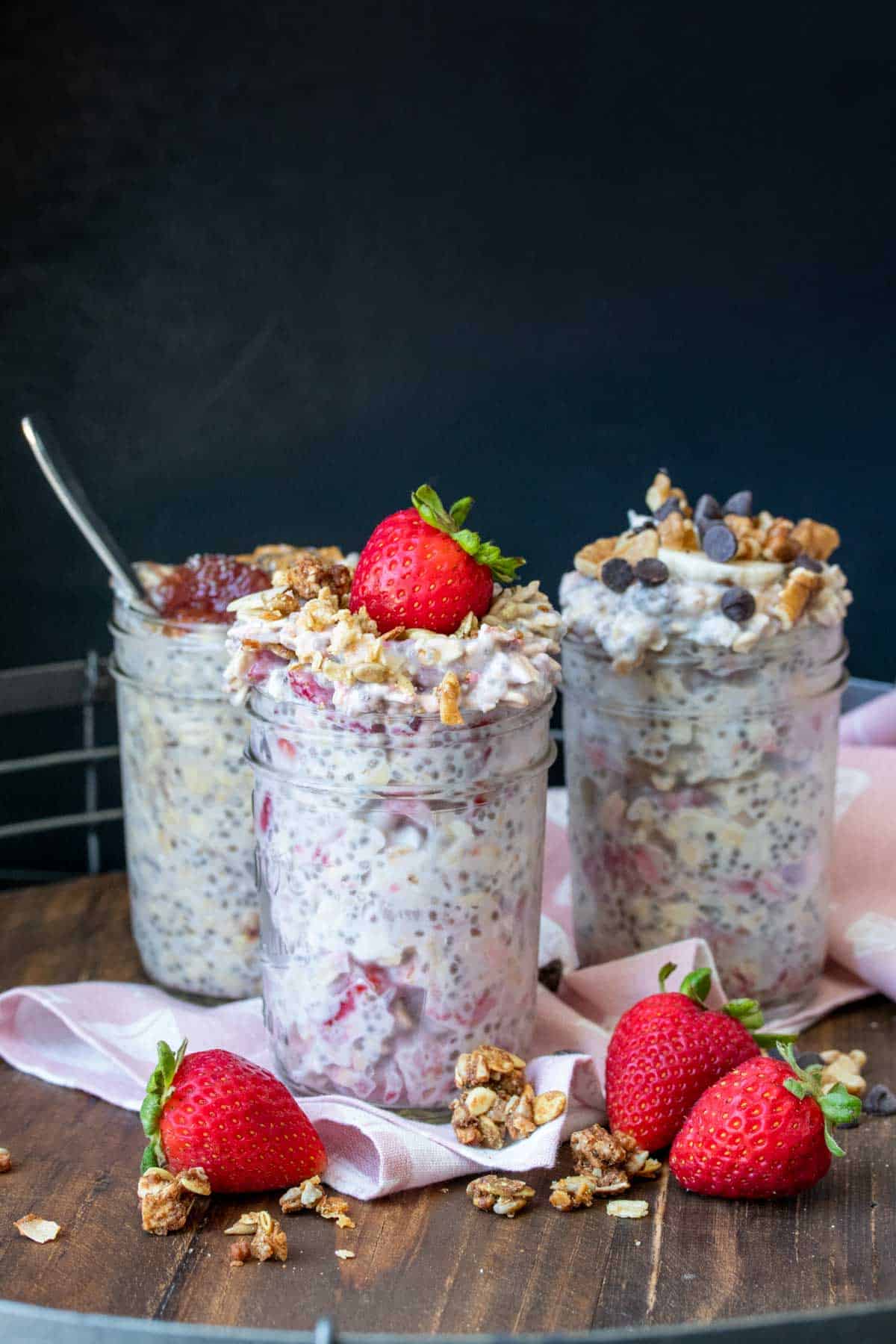 If you're a fan of sweets you're going to love these flavor ideas! Here you'll find instructions for how to make Banana Split, Peanut Butter and Jelly, and Berry Cobbler overnight oats. You can also use the base outlined here to create additional creative flavors like brownie batter, strawberry cheesecake, or S'Mores!
Baking Recipes
While the oatmeal cookies we grew up with are delicious, they're not exactly super wholesome for breakfast. These baking recipes with oats are simple to prepare and are perfect for grabbing something as you run out the door, or for an afternoon snack!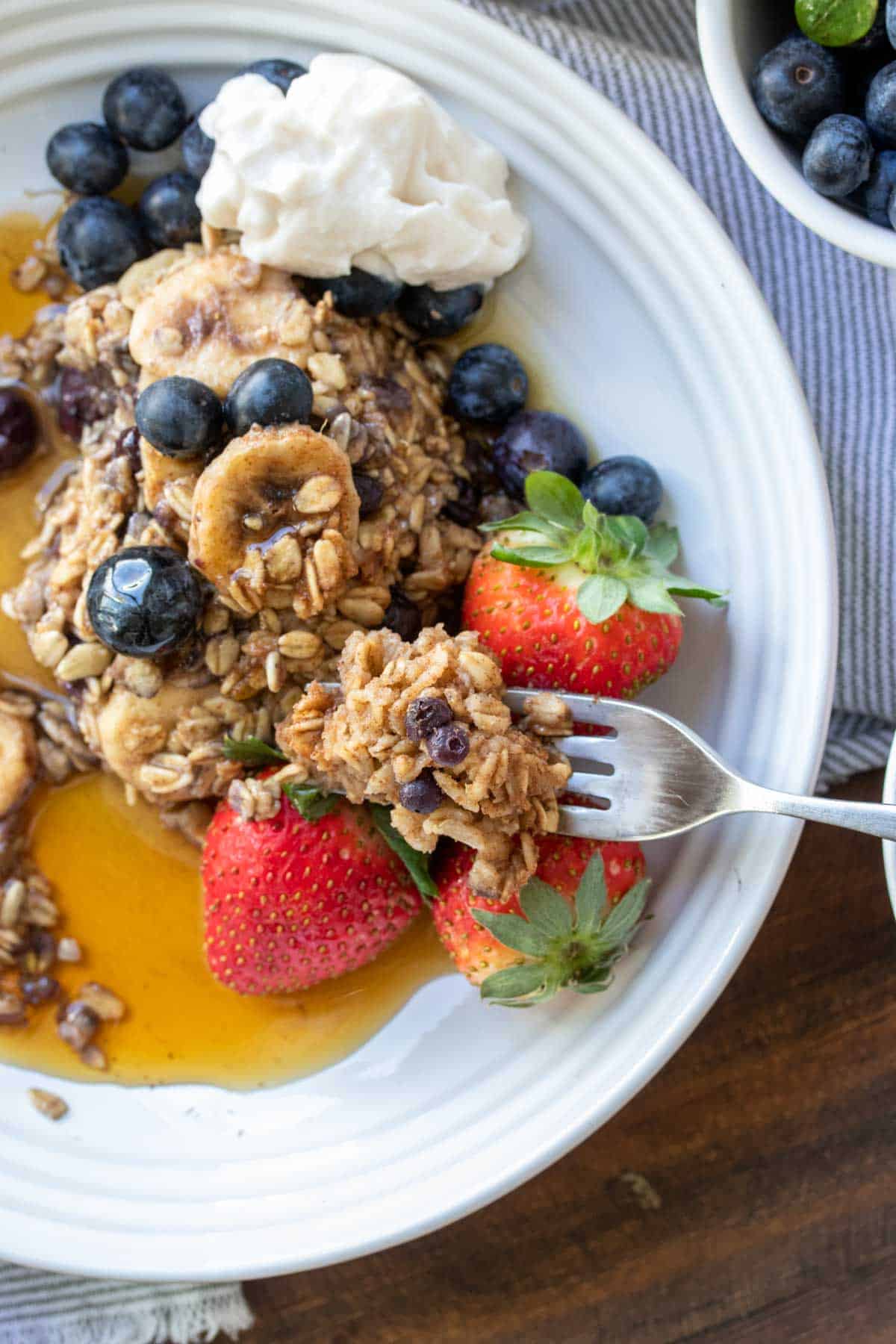 This recipe is best fresh out of the oven which makes it an excellent weekend brunch recipe. However the leftovers are easy to reheat on busy mornings as well. Load it up with all of your favorite toppings!
Cranberry Crumble Oatmeal Bars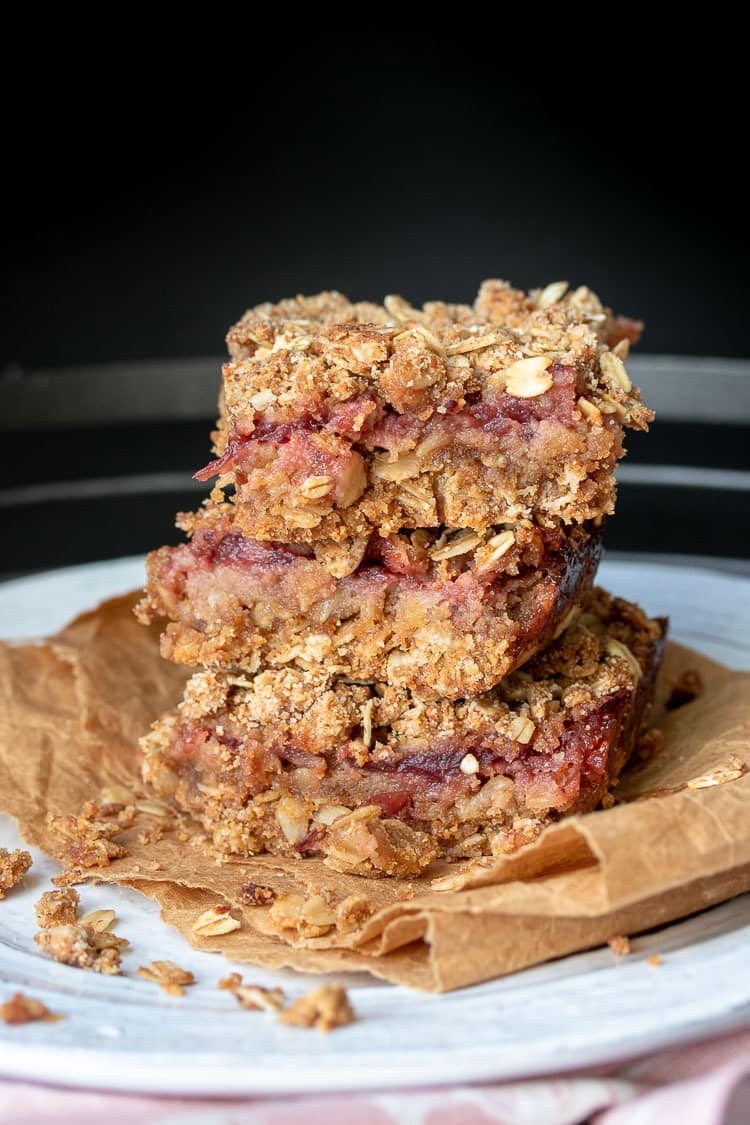 Turn your kitchen into a coffee shop and keep these bars on hand for a tasty treat!
Vegan Gluten-Free Banana Oat Muffins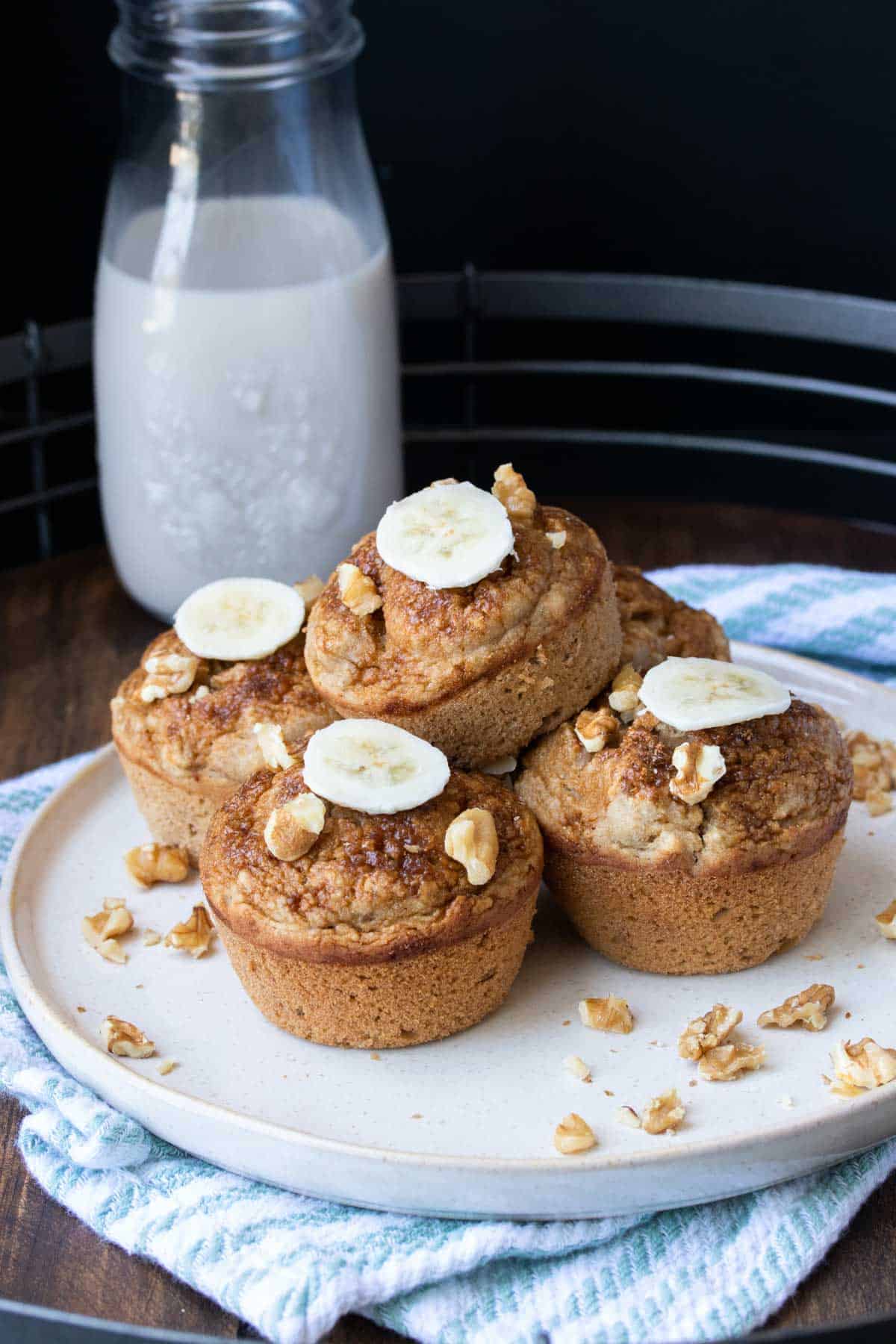 If you're a fan of banana bread, you're going to love these muffins. You can easily make the batter in the blender, which makes it a breeze to pour into the muffin tin! This recipe uses oat flour, which you can even make your own by blending oats in a blender!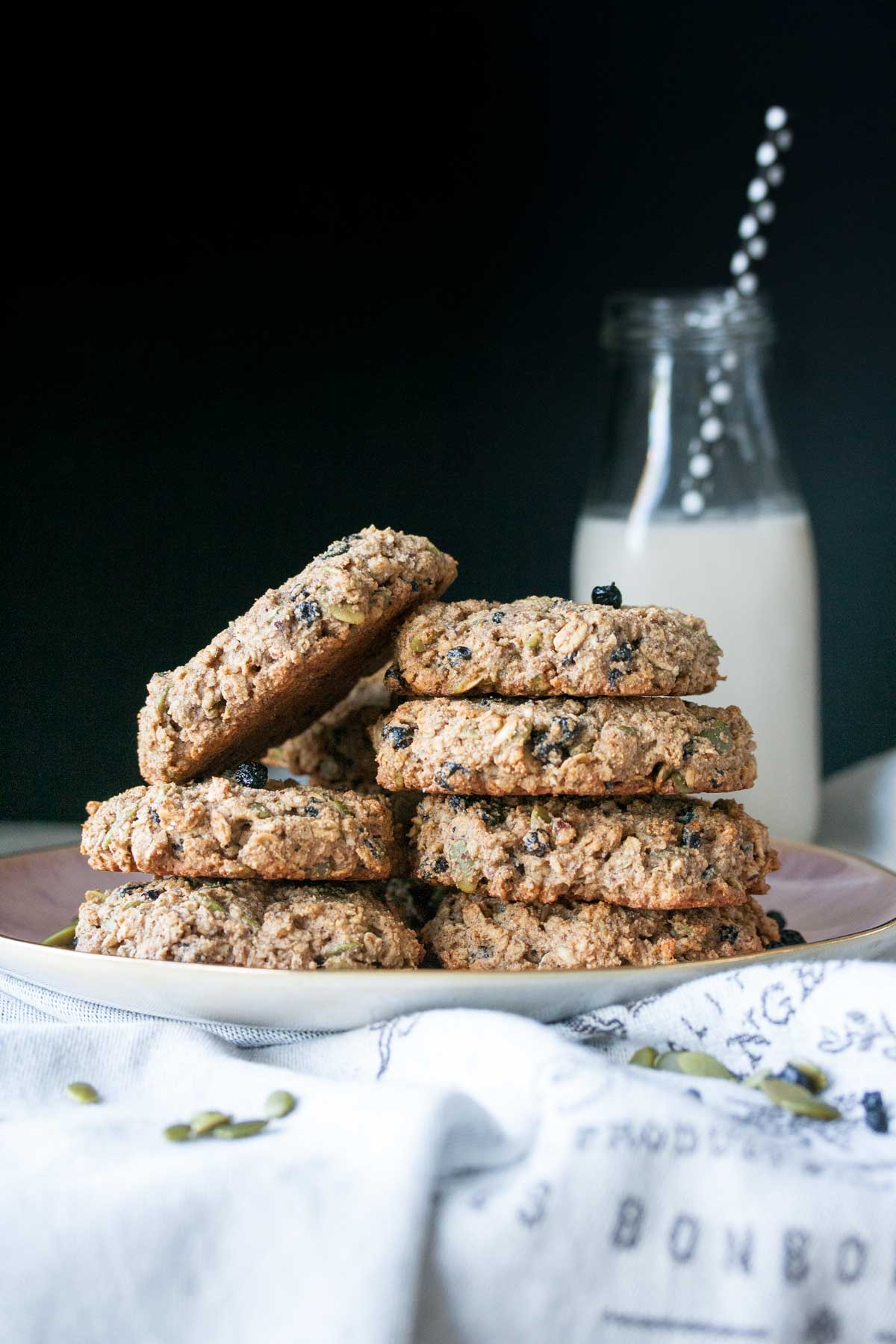 Shhhhh! Don't tell anyone these tasty morsels are super healthy, they'll just eat more of your stash! Seriously though, cookies for breakfast? Who's going to complain?!
Peanut Butter Banana Oatmeal Cookies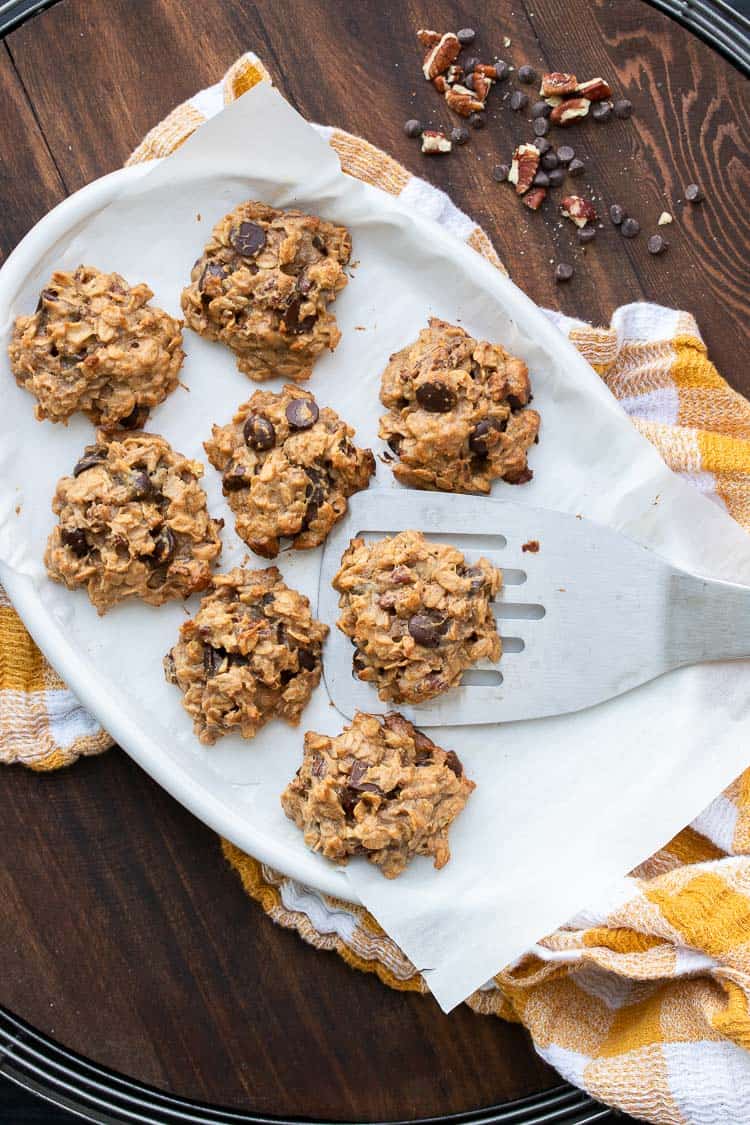 Yet another easy cookie recipe that can totally be part of your breakfast routine. These healthy cookies are simple to make and pack in all kinds of wholesome ingredients.
Vegan and Gluten-Free Oatmeal Raisin Cookies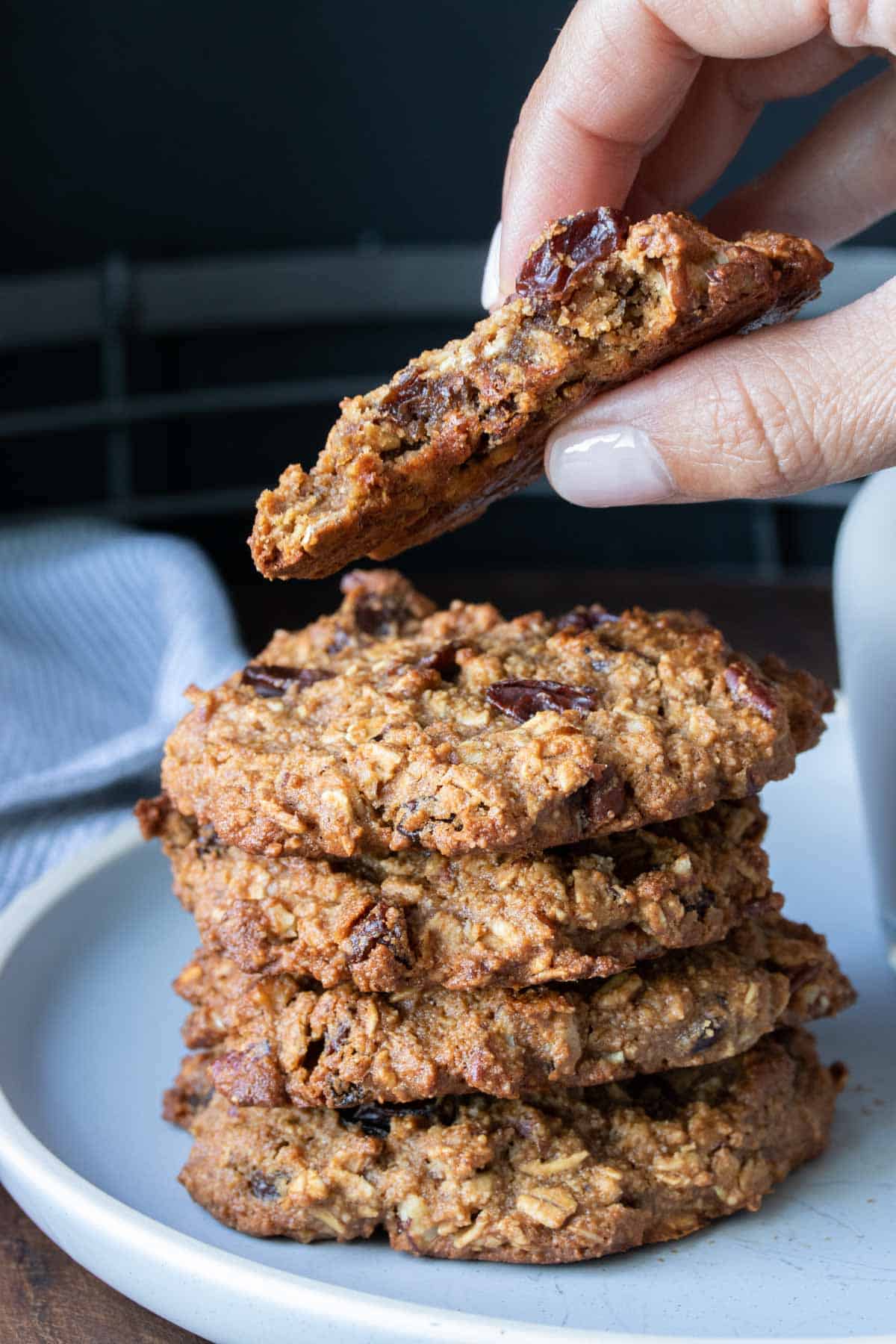 If you love the classic cookie recipe, you're going to love this healthy version! Make them up for a fun breakfast or snack.
Oatmeal Mix in Ideas
Once you get the base down, dress it up with a combination of any of these oatmeal breakfast ideas:
Fresh fruit- Berries, bananas, pears, apples, etc.
Veggies- Spinach, peppers, mushrooms, onions, zucchini, etc.
Nuts and seeds- Almonds, walnuts, pecans, pumpkin seeds, chia seeds, flax seeds, and so many more.
Spices and seasoning- Cinnamon, nutmeg, pumpkin pie spice, ginger, vanilla, cayenne, garlic powder, even salt and pepper!
Dried fruit- Shredded coconut, raisins, cranberries, mango, etc.
Nut and seed butters- Peanut butter, almond butter, sun butter, etc.
Chocolate chips
Maple syrup or honey
Jelly or jam
Prep Ahead Tips
If you are making overnight oats, leave out any toppings or fillings you want to keep crunchy. Nuts, granola, and seeds will become soft if they sit in the liquid overnight so it's best to add just before serving.
For hot and fresh oatmeal, you can measure out all of the dry ingredients in one airtight container, and the wet ingredients into another. In the morning you just have to dump and cook!
Prep the toppings for the week. Chop fruit and nuts, and cook the veggies so they're easy to mix in.
If you want to completely make the oatmeal in advance, make it on the thinner side since it will thicken up as it sits.
More Tips and Tricks
Making oatmeal with milk gives you a creamier result. The richer and creamier the milk the better. I prefer canned lite coconut for a super rich treat, but unsweetened cashew milk is my daily go-to. Really though, any dairy free milk will work.
For an extra thick consistency, cook the oatmeal a little longer.
The longer oatmeal sits, the more liquid the oats will absorb. Add a bit of liquid to thin it out again when you're reheating it
You can reheat on the stove over a low setting, or in the microwave.
Common Questions
What goes good with oatmeal for breakfast?
So many things! Sweet combos with fruit and nuts are fabulous, but savory flavors like spinach and garlic are great too! See the post for detailed ideas.
Is oatmeal a healthy breakfast?
Yes it is, especially when prepared with even more nutritious ingredients like dairy free milk, nuts, seeds, fruit, and vegetables.
Is oatmeal good for diabetics?
Oatmeal can be a good choice for people with diabetes due to the high fiber content and low glycemic index. If you have diabetes, check out this guide on the Dos and Don'ts of Oatmeal and Diabetes.