This baked oven fries recipe is simple but perfect. With a variety of options to get the crispiest fries ever, you won't need to turn anywhere else!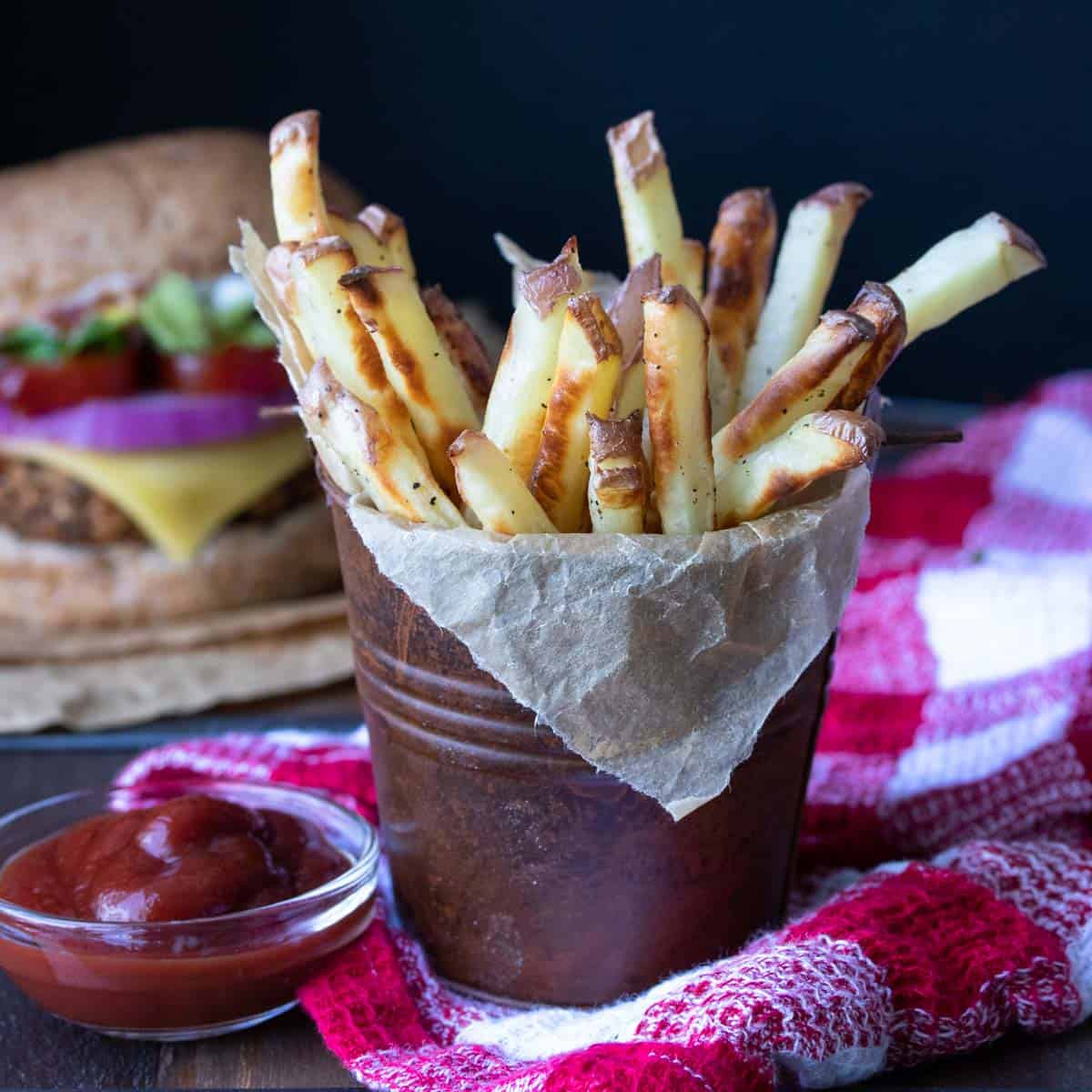 French fries are my vice, my weakness, those last few pounds on my backside I could probably use to get rid of. Ask me if I care. Spoiler, I don't. Because a life without fries is not a life worth living. And now that I have cracked the code to the best fries ever, without the frying, I'm smitten.
Baked Oven Fries
I've been making fries forever. Trying all sorts of tricks to get them extra crispy, without the frying. And while I am going to give you all my strategies, I have settled on my favorite of the bunch for the best crispy oven fries.
Are baked fries bad for you?
Let's start here. NO. Fries that are actually fried are delicious and something I partake in sometimes. But they really aren't the best for you, so finding a way to get them crispy at home with baking is key!
Baking fries reduces the oil, and therefore fat. Your body needs some fat to function, but I like to count on whole food based fat to get most of this. But a little oil here and there, especially when adding to flavor and texture isn't something I'm opposed to.
Oil free cooking is something some of you all stick to, so I am also giving you a trick to crispy fries without the oil. While I do think it gives them a touch of crispy, I don't think it's enough for me.
I have tried the other recipes out there that use no oil, and to be completely honest, I really don't think any of them give the crisp that a touch of oil does So I use the bit of oil for my oven fries. Life is too short for fries that don't have my perfect crisp.
How do you keep fries crispy?
Getting crispy fries without frying or using gobs of oil is not easy. I have tried many different strategies and made a list of the ones I like best:
soak the cut potatoes in water prior to cooking
salt the potatoes and let them sit to draw out water before cooking
soak the fries IN salt water prior to cooking (my favorite)
making sure to dry the fries thoroughly before cooking
using parchment paper on the baking sheet or coating the baking sheet with oil
making sure the fries are spread into one layer and not touching
coating the fries with a slurry of cornstarch and water, broth or oil (using the cornstarch with broth is the best trick if oil free)
Why soak potatoes for french fries?
Soaking the potatoes helps remove some of the starch molecules that the potato has. This helps get rid of some of the sticky/pasty texture and contributes to the end result of crispy baked fries.
How do you make fries not soggy?
Other than soaking the fries before baking, you want to make sure you don't cover the fries while cooling. This traps heat which turns into moisture. Any moisture will make your fries soggy. Another reason you want to dry your fries completely before baking.
How to Make Baked Oven Fries
There are a few steps I take to get the best oven baked crispy fries:
Cut the potatoes evenly
Soak in salt water
Dry completely
Mix with a touch of oil and bake
Flavor options
While we like simple fries, sometimes it's fun to mix it up! Here are some of our favorite flavors we add to the salt:
Greek- oregano, lemon pepper, dill, garlic powder
Italian- fennel seed, basil, oregano, thyme, lemon pepper, garlic powder, crushed red pepper
Smokey BBQ- smoked paprika, chili powder, garlic powder, touch sugar
Mexican- cumin, chili powder, garlic powder, crushed red pepper, oregano
Ranch- parsley, garlic powder, minced onion, onion powder, dill, black pepper, ground mustard
Spicy- chipotle powder, cayenne, garlic powder
Indian- curry powder, turmeric, garlic powder
What can I dip oven fries in?
Other than the standard ketchup (or is it catsup?), I am known fro dipping my fries in all sorts of sauces! Here are some of my favorites: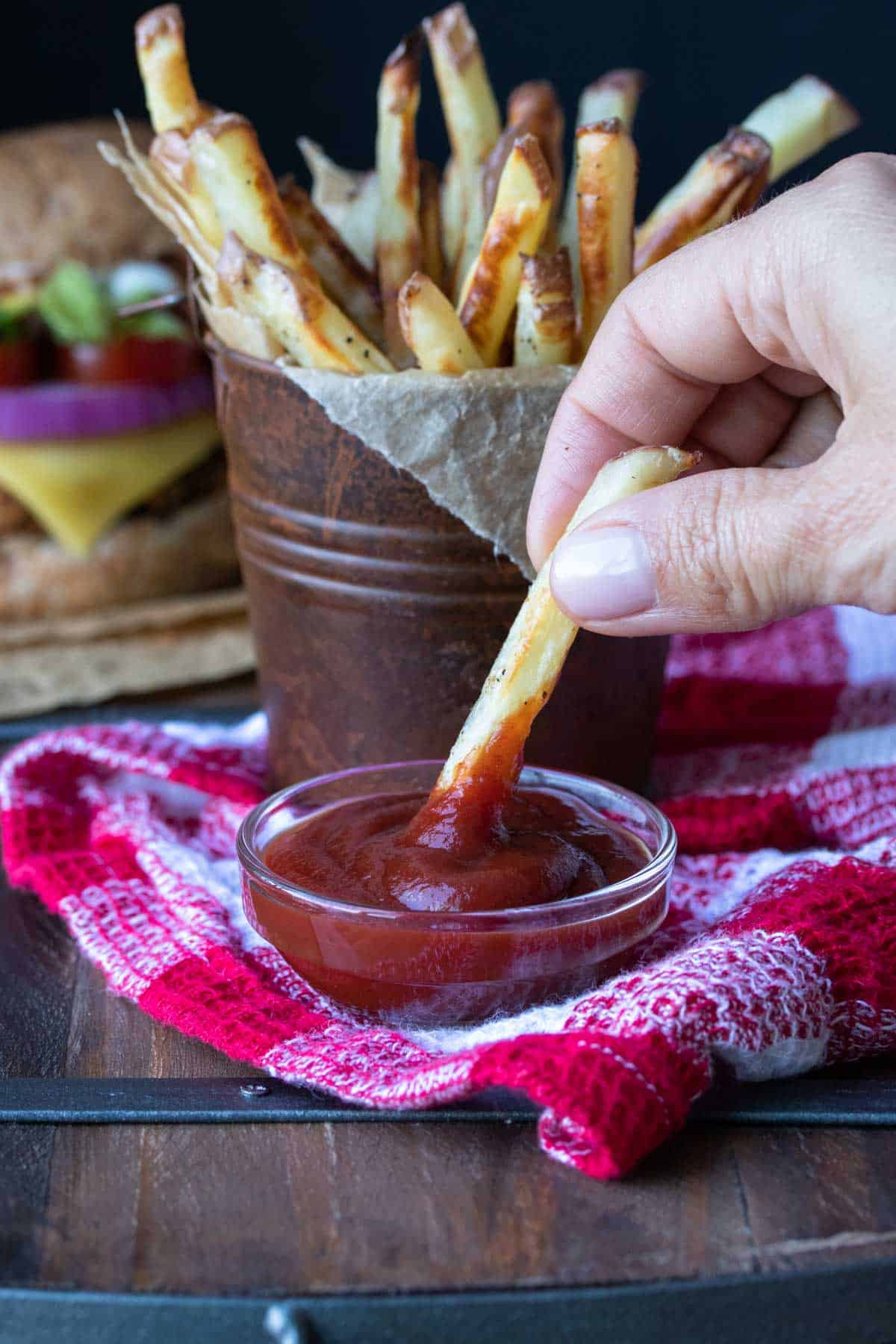 What should I serve with oven fries?
Just about anything! What can't you eat fries with? Okay, maybe not ice cream. Here are some of our favorite besties to these oven fries: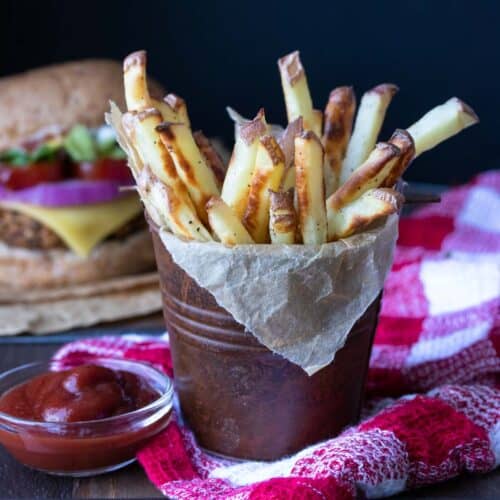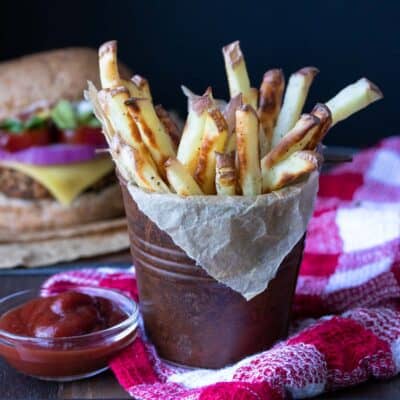 Easy Baked Oven Fries Recipe
This baked oven fries recipe is simple but perfect. With a variety of options to get the crispiest fries ever, you won't need to turn anywhere else!
Ingredients
2

pounds

potatoes

, red or Yukon gold work best (about 4 potatoes)

1

tablespoon

roasting oil of choice

, or veggie broth if you are avoiding oil

2

teaspoons

cornstarch

, optional (see note)

2

tablespoons

sea salt

, for soaking

½ -1

teaspoons

sea salt

, for flavor

½

teaspoon

ground black pepper

, optional
Instructions
Preheat oven to 450 F/ 230 C

Cut potatoes into ¼ inch matchstick sized strips, trying to make sure they are all around the same size so they bake evenly. I use a mandoline to make it easy. I like to keep the skins on but you can peel them if you prefer.

Soak cut potatoes in a bowl of water with 2 tablespoons salt. I do this while I prep for the rest of dinner or do other things around the house, about 30 minutes. This is optional, but gives them a great crisp.

Dry thoroughly. Drying also helps with the end crispy result.

Place in a bowl with oil (or veggie broth if doing oil free) and cornstarch if using. The cornstarch also contributes to the end crispness of the fries.

Place fries on parchment lined cookie sheet (also helps with crispness and reduces the need for extra oil) and bake for 15 minutes. Make sure they are in a single layer to help with the crispy end result.

Take the fries out and turn them over with a spatula. Spread into a single layer again. You don't need to be perfect on getting every fry, just do the best you can trying not to get burned.

Bake another 10-15 minutes or until golden brown.

While the fries are hot, add the rest of the salt (may not be needed, adjust for your own taste) and pepper if using.

Serve with your favorite dip and main meal!
Notes
The salt soak removes the starch and draws out the water from the potatoes. Ideal is soaking them for a few hours but even 30 minutes helps.
All of the strategies I give for getting fries crispy are optional. The soaking, drying, parchment, single layer and cornstarch all contribute to the perfect crispy fries.
If you do not use parchment, you will need to brush your baking sheet with some oil.
If doing oil free, the cornstarch is your best bet for some crisp to your fries.
Watch the fries closely since the thickness will depend on how quickly they cook.
You can also use Russet potatoes but I like the texture of the red or Yukon gold best, the Russets almost seemed a little dry to me.
See the post for flavor ideas.
The nutrition information includes the oil.
Recipe by Veggies Don't Bite, visit our site for more great plant-based recipes.
Nutrition
Calories:
167
kcal
Carbohydrates:
29
g
Protein:
6
g
Fat:
4
g
Saturated Fat:
1
g
Sodium:
413
mg
Potassium:
937
mg
Fiber:
6
g
Sugar:
1
g
Vitamin C:
26
mg
Calcium:
68
mg
Iron:
7
mg
Nutrition and metric information should be considered an estimate.