Raise the bar this summer with these easy grillable sweet and spicy vegan black bean burgers! Paired with mango habanero cream for an added burst of flavor.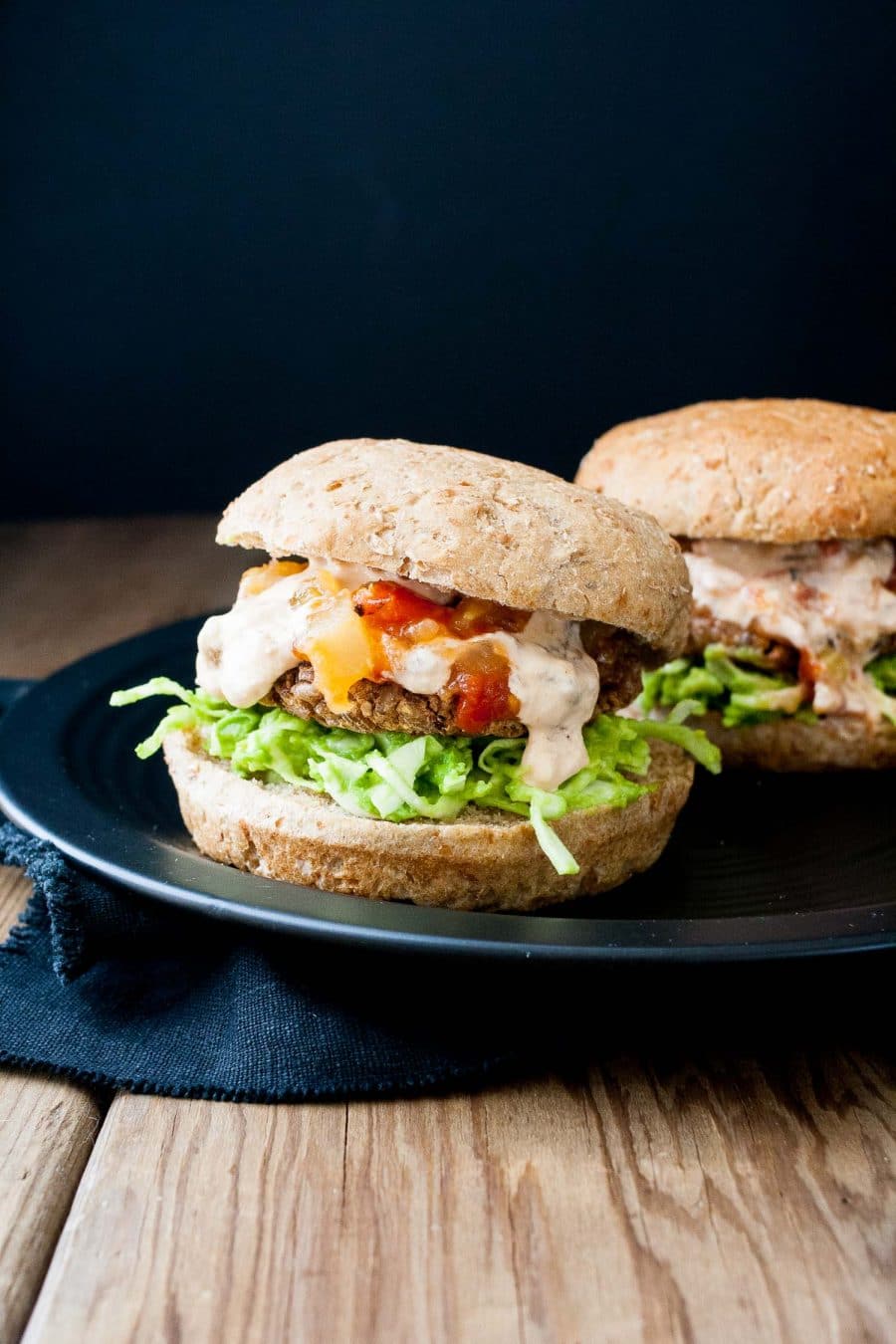 This is a sponsored conversation written by me on behalf of La Victoria Brand. The opinions and text are all mine.
Summertime. When the sun comes out and all we want to do is relax, go to the beach, swim, and barbecue. When I think summer, I think fresh, easy, flavorful but light. So when La Victoria came to me about working with their new Mango Habanero Salsa, my brain started creating recipes faster than I could keep up!
This salsa combines the amazing sweetness of mango with the fiery punch of the habanero pepper. I swear, you must check it out, you will love it. It's so flavorful and delicious that I used it in 3 DIFFERENT WAYS to create a meal so fantastic you can literally taste summer. Say hello to the easiest, and amazingly grillable, vegan black bean burgers and their sweet and spicy creamy sidekick.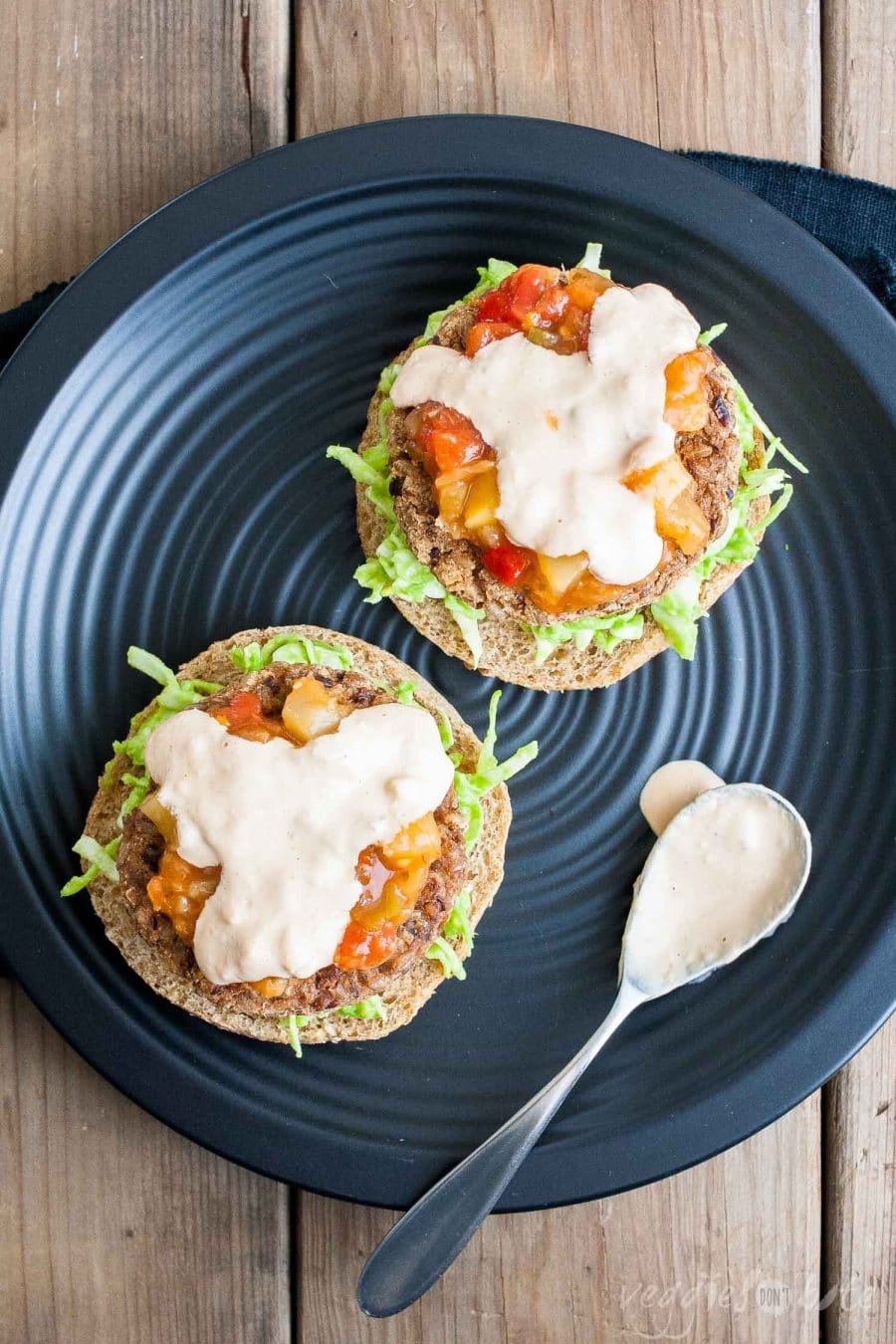 Due to the fact that I am a spice addict, this salsa jumped out at me. I admit, there are times that I thrive on sweating while I eat. I know, you're tempted to stop reading because you think I'm crazy. But I just love it!
The Salsa Is Everything!
Any other spice fiends out there? Well, the good news is that this mango habanero salsa is not sweat producing. It's labeled as medium, and I'd say that's a fair title. I've put on my creativity hat and used it in three different ways: one where it's quite mild, one where it's a little more pronounced but still a bit mellow, and one in all it's spicy glory.
This vegan black bean burger is kind of like a choose your own adventure type of meal, you're in control but I highly suggest going full throttle for a culinary experience that will thrill your taste buds.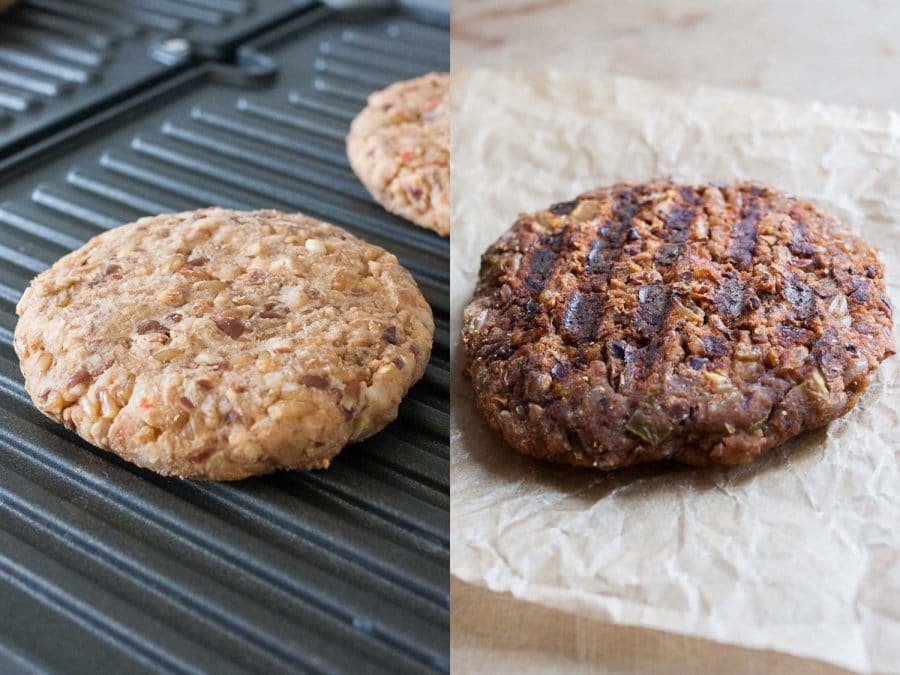 Level #1: Easy and Grillable Vegan Black Bean Burger
This is the most mild layer. Can't handle spice? (cough cough, husband) This level is for you. I use a fun ingredient, the Italian grain farro, to give these burgers a bit of a chew and hold them together.
I made a farro salad last month for a barbecue we went to, and I remembered how much I love it because of it's al dente perfect chew. I immediately knew I wanted to create a burger with it! I even already have another in the making (yes, I am a burger addict). And look at those grill lines, swoon! While farro is not completely gluten free, it is more tolerable in digestion and we tolerate it just fine.
If you are completely gluten free, feel free to sub with brown rice. It won't be as chewy in texture, but it will still do the trick. These vegan black bean burgers are 5 ingredients, including the amazing mango habanero salsa that gives it a flavor you won't find elsewhere!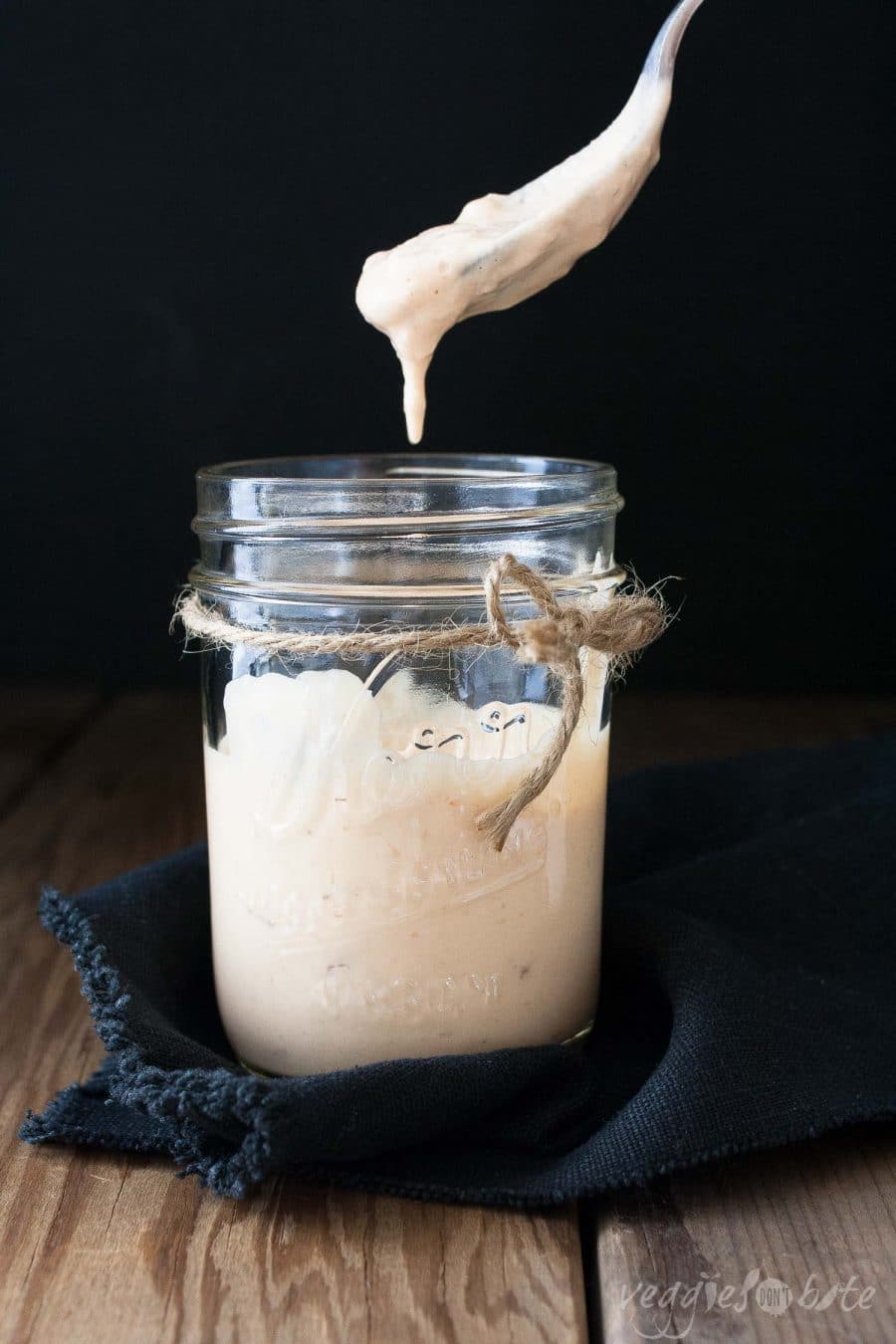 Level #2: Vegan Mango Habanero Cream
Yep, another sauce. I know what you're thinking, does this blogger ever NOT make a sauce? No. You should know by now that I am as much as a sauce addict as I am a spice addict (Well, and tacos and pasta and burgers and chocolate).
I may actually just have a love affair with good food. But lets be real, what really is food without sauce? In this one, I take the flavor that the mango and habanero salsa already has, add in some cashews for the creamy factor (way better than real cream, on account of the no ballon stomach bloat and no animals harmed), a touch of lemon to counteract all the sweet and spice, and out comes this creamy goodness that I promise will have you licking every drop.
Don't cut your tongue on the Vitamix. If you are hypersensitive to spice, try a touch before slathering it over your burger. If you love spice, go. to. town.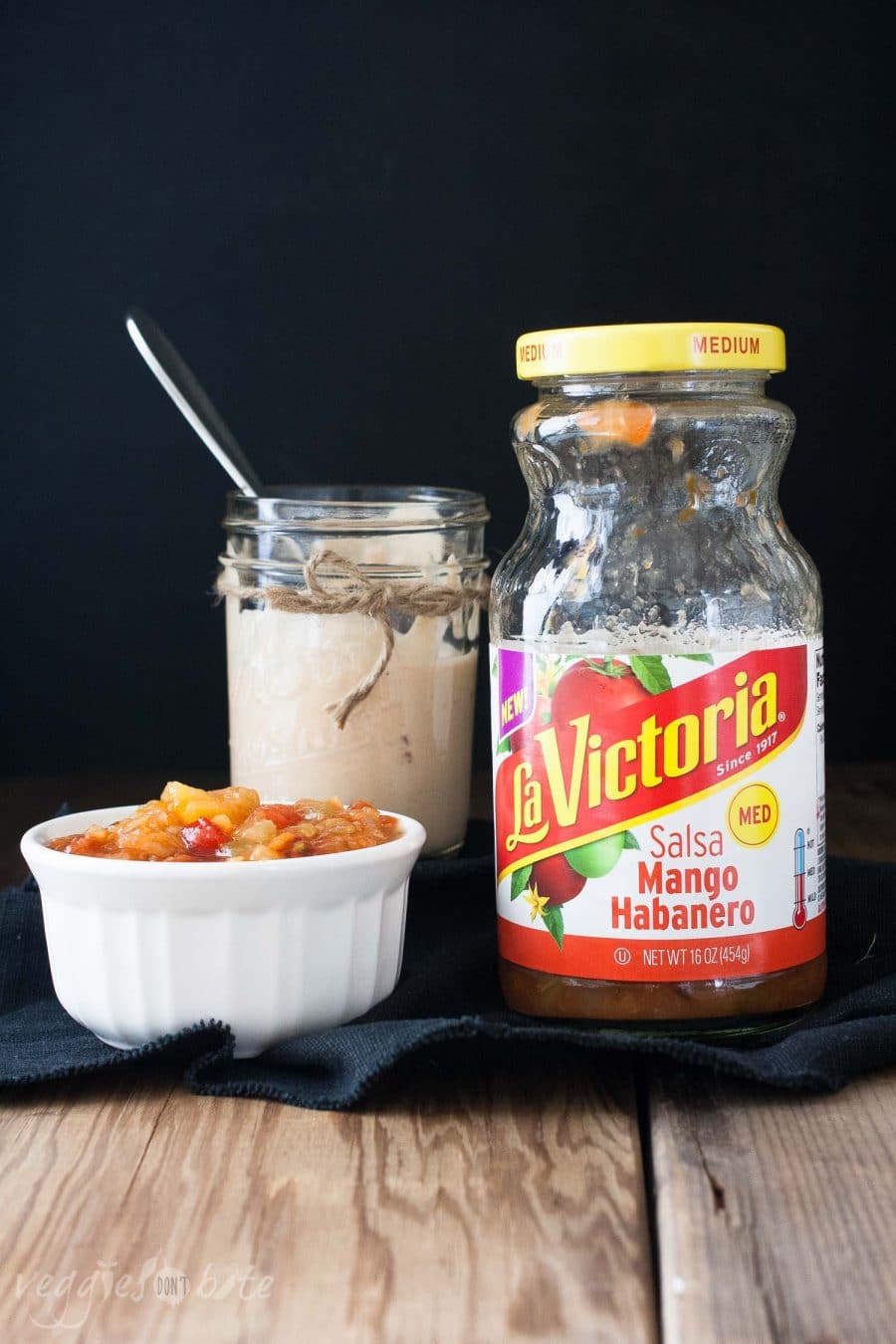 Level #3: Avocado Cabbage Slaw and Straight Up Salsa
Texture. I have a love hate with it. I hate mush and too much moisture in things. I love crunch and having a variety of textures in my meals. This vegan black bean burger has it all.
The topping on the cake (or in this case, burger) is the added layer of avocado cabbage slaw that gives this vegan black bean burger some crunch. And with avocado, mango habanero salsa pairs insanely!
This gives my recipe a full spice level. For those of us that love the burn, definitely add more salsa. If you cry at the site of a pepper, this extra oomph may not be for you.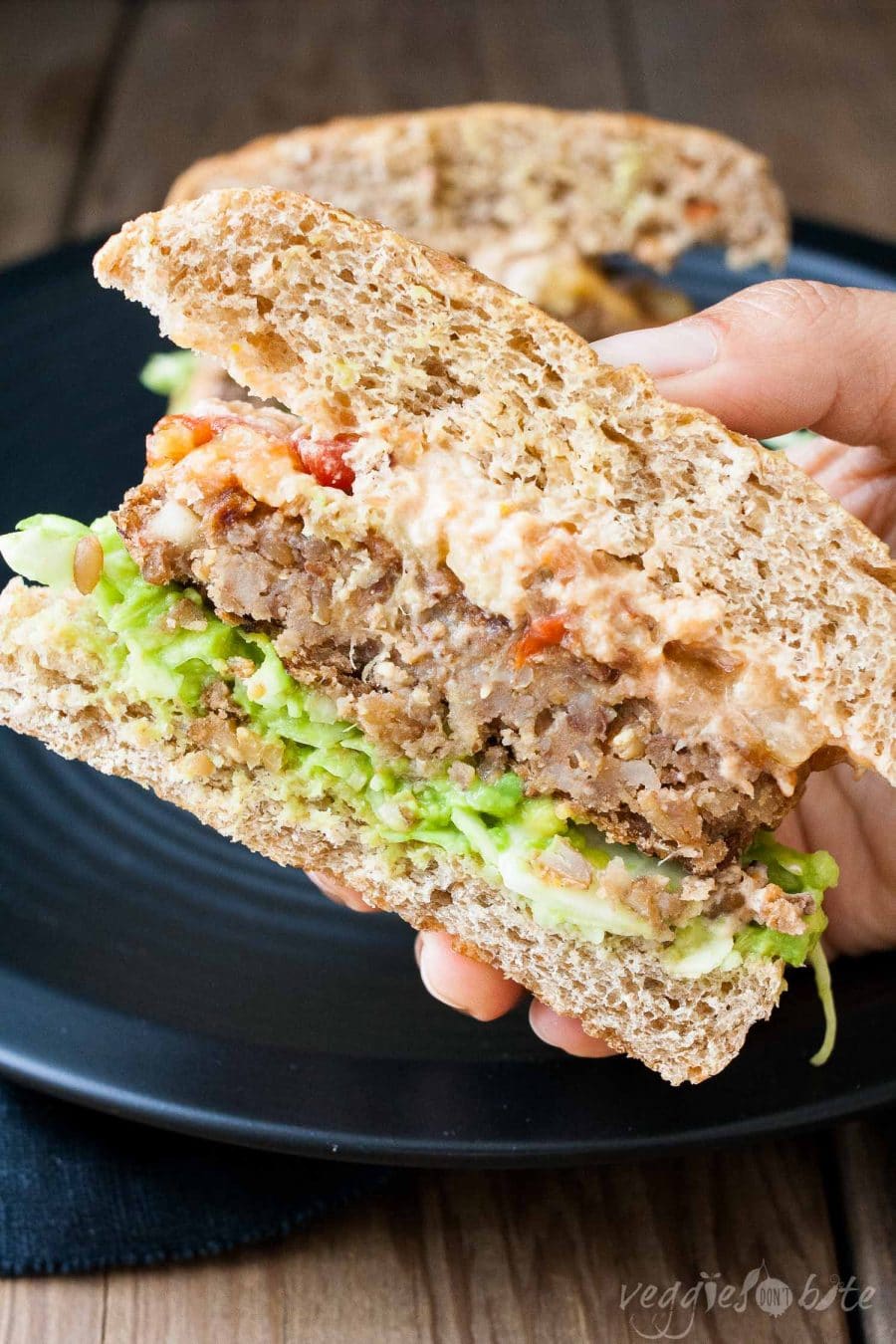 So as if this triple threat recipe wasn't enough flavor for you, La Victoria has more amazingly delicious recipes you can use this salsa for (because I know once you try it you will buy a case).
So now that I've made your day, make mine and leave me a comment here to let me know what you think! You can also find me on Instagram, at veggiesdontbite AND #veggiesdontbite (my personal tag for pictures of all the awesome recipe remakes), and on Facebook. I want to know what level of spice you are! Crossing my fingers there are some addicts out there...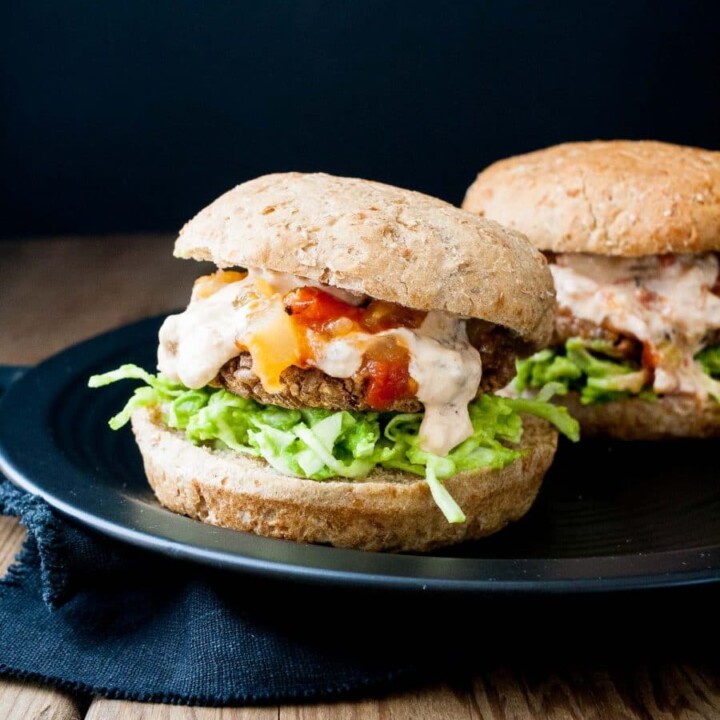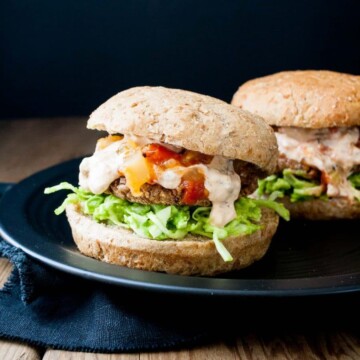 Easy Grillable Sweet and Spicy Vegan Black Bean Burgers with Mango Habanero Cream
Raise the bar this summer with these easy grillable sweet and spicy vegan black bean burgers! Paired with mango habanero cream for an added burst of flavor.
Ingredients
½ cup uncooked farro , makes 1 cup cooked (see note for gluten-free)
½ cup cooked black beans (a little less than half a can)
¼ cup cooked red potato (see note)
¼ cup Mango Habanero Salsa , I use the La Victoria brand (see note)
2 tablespoons cornmeal , you can also use brown rice flour (see note)
½ teaspoon sea salt , optional
4 burger buns (can even use a lettuce wrap)
Optional toppings (but highly recommended):
Mango Habanero Salsa , I use the La Victoria brand
Mango Habanero Cream (recipe below)
Crunchy Avocado Slaw:
2 cups cabbage
½ cup avocado
sea salt , to taste
Mango Habanero Cream:
1 cup raw cashews (see note)
¾ cup water
2 tablespoons lemon juice
¾ cup Mango Habanero Salsa , I use the La Victoria brand
½ teaspoon sea salt
Instructions
Make sure beans and potato are cooked. I cooked the potato in the microwave but the oven would work too. Just don't boil because that brings in too much moisture.

Cook farro according to package directions.

While farro is cooking, make avocado slaw by mashing avocado and mixing well with cabbage and salt.
Make mango habanero cream.
Put all ingredients (except ¼ cup salsa) into a blender and puree until smooth. Add in the extra ¼ cup and pulse in for a chunky addition.

Once farro is done cooking, add to food processor and pulse until chopped a bit.

Add beans, potato, salsa, and cornmeal/brown rice flour and pulse again until chunky. You don't want this too pureed or it will turn into a dip.

Transfer to a mixing bowl, taste and add salt if needed. Mix salt in using your hands.

Put mixture into the fridge for at least 20 minutes, an hour is best. Making this the night before and letting it sit is even better. This helps all flavors marinate and combine into a more flavorful burger.

Once mixture is ready, shape into 4 patties. Using an indoor or outdoor grill on medium high, grill on each side for about 10 minutes. You can also bake these on parchment lined cookie sheet on 375°F (190°C) for 15-20 minutes on each side.

Build burgers with all preferred toppings. All of them are highly recommended for the optimum summer burger!
Notes
Mango Habanero Cream makes about 2 cups.
Nutrition facts take into account half of the Mango Habanero Cream since it makes more than you need.
I used a red potato but any other starchy potato would work. I did also try sweet potato, and while it tasted good, the texture was too wet and made the burger mushy.
If you are not using a high speed blender you can either soak the cashews overnight or grind them into a fine powder using a coffee grinder. You can also boil them for 30 minutes.
If you really can't handle spice, there are other great La Victoria salsa flavors that are very mild. Click link and explore other flavors. You can also use any other mango salsa you like.
I tried both cornmeal and brown rice flour, and both worked. I liked the cornmeal for the more chewy meaty texture it gave, but for those that can't have corn the brown rice works. It gives a bit of a mushier texture, but not terrible and is a great sub if you are looking for one.
To make this gluten-free sub the farro with rice.
Tips to prep ahead:
Make burger mixture and cream sauce and keep in fridge until ready to use. You can also make avocado slaw but it won't keep as well because of the avocado browning.
Baby/toddler food idea:
Use a mild salsa in place of the mango habanero. Cut burgers into bite sized pieces for toddler and serve avocado on the side. For baby puree farro and/or potato, beans and avocado.
Recipe by Veggies Don't Bite, visit our site for more great plant-based recipes.
Nutrition
Calories: 402kcalCarbohydrates: 63gProtein: 13gFat: 12gSaturated Fat: 2gSodium: 812mgPotassium: 538mgFiber: 10gSugar: 8gVitamin A: 335IUVitamin C: 26.4mgCalcium: 109mgIron: 4.1mg
Nutrition and metric information should be considered an estimate.
Never miss a recipe!
Sign up here and get a FREE quick and easy meal guide!