These recipes are for beginner vegans who need some help getting started. Make meals easy and stress free with these amazing options!
Eating vegan food does not have to be boring or tasteless. These 10 recipes are healthy homemade options that will leave you satisfied and happy!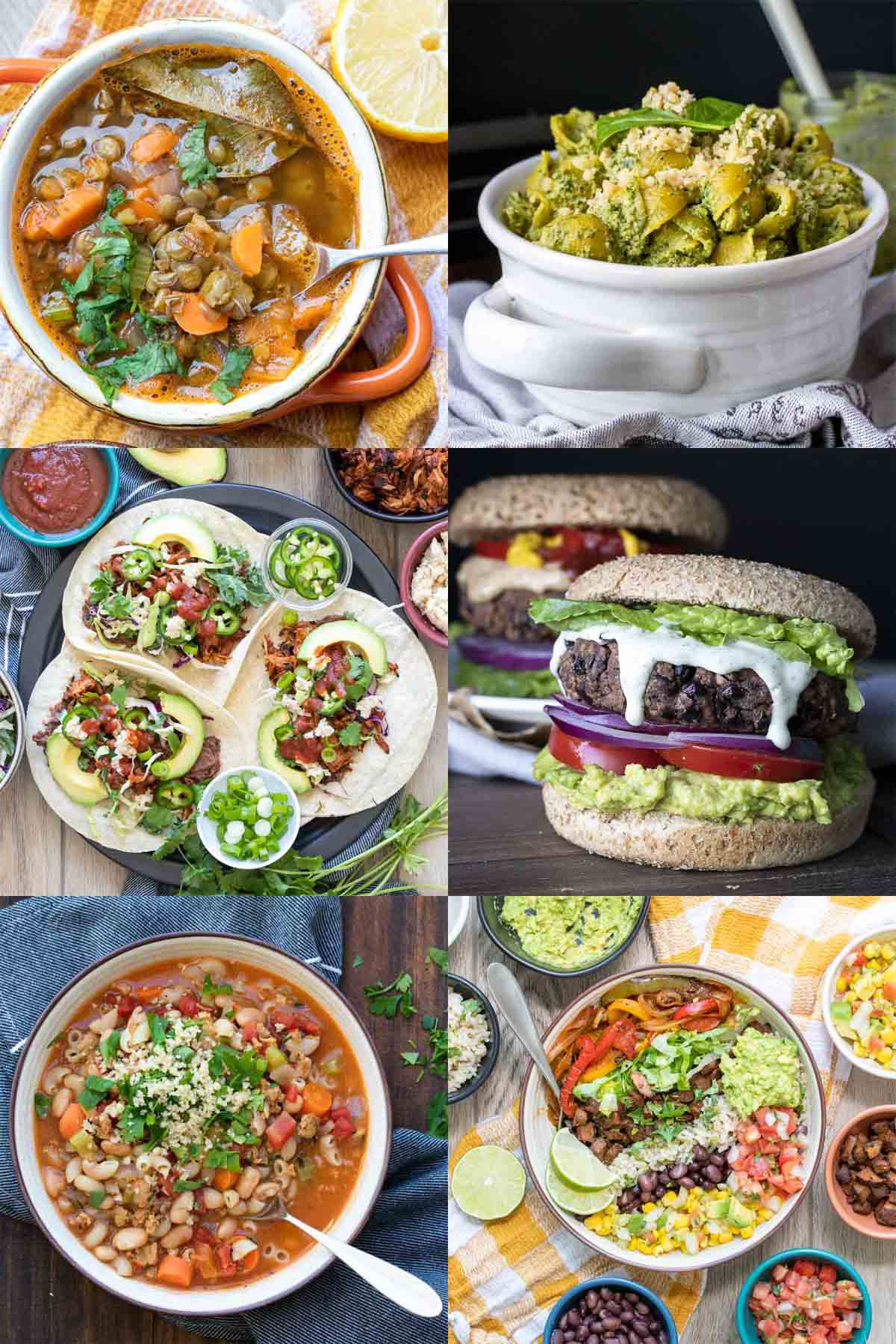 This post was originally published on January 2, 2017.
Whether you are new to transitioning to a plant-based diet, trying out this whole Veganuary thing, have a New Years resolution to add more plants into your diet, or simply need life to be easy, these are for you!
While these 10 recipes are great for beginner vegans, they can be used by anyone needing to make things easy and simple.
If you are new here and looking for some support, have a ton of helpful information for starting a vegan diet, meal prepping veggies and so many amazing simple meals you'll wonder why you didn't start sooner!
This is a list of my favorite vegan recipes that are perfect for beginners because they are fairly simple yet are loaded with flavor! They also represent mainstream meals that show how plant-based foods are not boring!
Vegan Soup Recipes
Soups are probably the easiest recipes to make, and can be served as a complete meal, or along with other yummy dishes for a full dinner spread. Plus, you can make extra to store in the freezer for future easy dinners! All of these vegan soup recipes are sure to keep you warm, cozy, and full!
Vegan Mexican Recipes
Living in Southern California we eat a LOT of Mexican food. It's just so delicious and there's so much variety you can eat it every day without getting bored. Another great bonus is that it's so easy to make vegan Mexican food! Check out these recipes for the best vegan tacos, burritos, and more!
Vegan Burgers and Sandwiches
There is so much more in this world to sandwich between two pieces of bread than meat! Vegan sandwiches are excellent to take along for lunch, or to enjoy for a family friendly meal. And, vegan burger patties can be prepped ahead of time to keep on hand for quick and easy meals.
Vegan Recipes in Bowls
Some of the easiest recipes to make are ones where you throw a bunch of food in a bowl and call it a meal. OK, maybe that's over-simplified but you get the idea! All of the vegan bowl recipes can be prepped in advance if not completely, at least partially to keep dinner time super easy!
Vegan Pasta Recipes
Who doesn't love a heaping serving of pasta? It's comforting, delicious, family friendly, and makes great leftovers! If you're a beginner vegan, these pasta recipes are definitely a good place to start.
Basics for Vegan Dinners
When you're creating a plant-based dinner you want to make sure you're covering all your bases. Try to include a mix of the following:
Greens
Protein
Carbohydrates
Healthy Fats
Staples to have on hand
Keeping these ingredients in your kitchen as often as possible makes it easy to throw together last minute meals. Many of these foods are used commonly in plant-based recipes:
Pasta, beans, grains:
Dried pasta of choice, gluten-free if needed
Black beans
Pinto Beans
Chickpeas
Brown Rice
Quinoa
Oats
Nuts and seeds:
Cashews
Almonds
Walnuts
Flax seeds
Hemp seeds
Chia seeds
(Non) Dairy:
Non-dairy milk- Silk Cashew Milk, almond milk, coconut milk, etc.
Plain dairy-free yogurt
Coconut cream
Spices and baking essentials:
Onion powder
Garlic powder
Paprika
Chili powder
Cumin
Basil
Oregano
Ginger
Cinnamon
Salt & pepper
Vanilla extract
Vegetable broth
Brown rice flour
Almond Flour
Oat Flour
Maple strup
Produce:
Potatoes
Onions
Greens
Garlic
Peppers
Mushrooms
Zucchini
Bananas
Apples
Berries
Common Questions
More Vegan Guides
Looking for more help on starting your vegan lifestyle? Check out these helpful articles: