Short on time and want a satisfying and flavorful meal? This easy teriyaki rice bowl with roasted veggies is it! Homemade sauce with vegan perfection.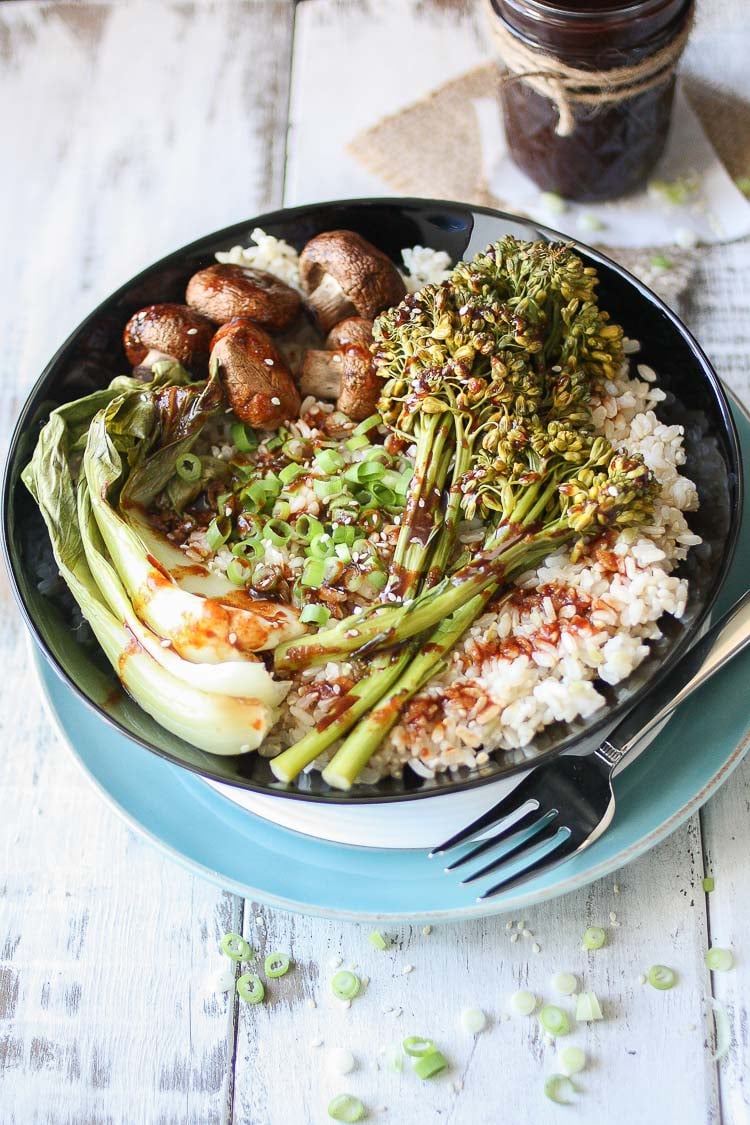 I did it! I prepped and scheduled out an amazing easy and delicious recipe for you all while I am on vacation! I am currently laying on the beach in St. Thomas celebrating my 10 year wedding anniversary with my amazing husband.
10 years, 3 kids and a rollercoaster of a journey filled with all the love in the world. But I couldn't just leave you all hanging, so I gave you what I need most in life: a quick recipe filled with flavor and plant based goodness.
This easy vegan teriyaki rice bowl with roasted veggies is your next throw together meal! The best is that can customize it as you want, whatever veggies you have laying around or want to use up. So get to it, look in that fridge and join me in my goal for zero waste!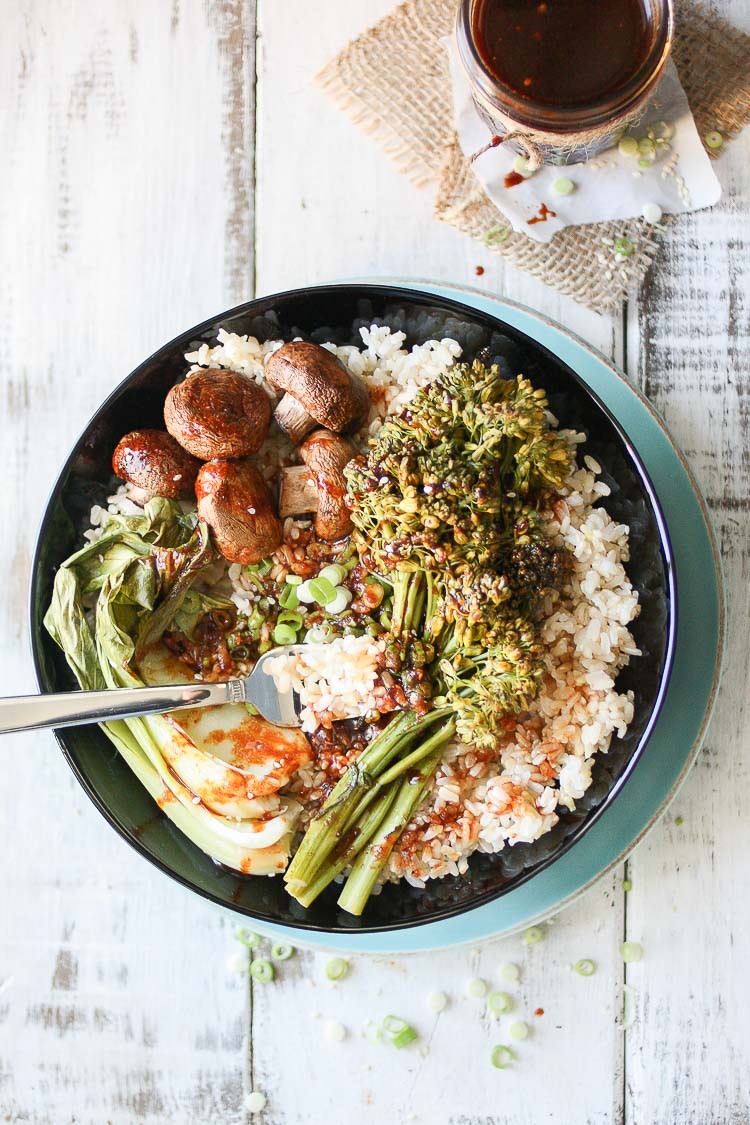 You guys are going to love this vegan bowl
Well, who doesn't love bowls in general? One meal, all you need to fill you up and give your body all it needs.
Lately I have really been into the whole "nothing thrown away" theme. I love the feeling of using everything I pay for, it's really hard for me to see veggies going bad. So I've been creating a lot of these easy adaptable meals for just those times.
My favorite combo for this teriyaki rice bowl is bok choy, broccoli and mushrooms, but really ANY veggie you love works. It's the sauce here that really makes this pop. I mean, is there really anything better than sauce?! I admit, I am a sauce addict, I love creating them and eating them.
And the Korean Teriyaki Sauce here is no exception. It is a MUST try! Not your normal teriyaki, because I have a hard time doing normal, but the twist it has is so darn good you'll be licking the spoon.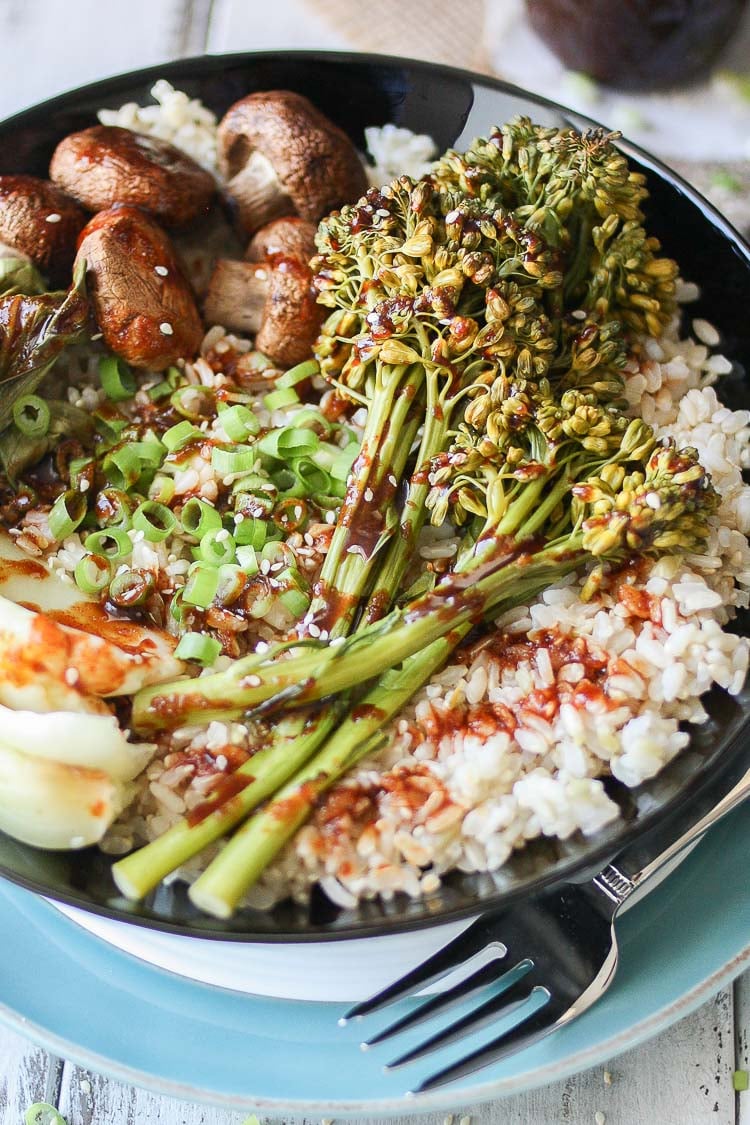 I've got a little secret up my sleeve!
So do it! Get in that fridge, grab those veggies and roast away! And if you want my dirty little secret, I even use the frozen brown rice from Trader Joe's to make this meal even easier.
I know. I know. It's not that hard to cook rice. But I mean, three minutes in the microwave?! It really is my savior when I've got three hungry kids, no husband at home and me trying to pack for vacation while making dinner. Side note, have you ever tried to pack around a baby? Yeah, it's like shoveling snow in a snowstorm. Cue vacation.
Don't forget to get in touch!! I would LOVE to read all your comments as I lounge around poolside!! I'll even have a tropical cocktail in your honor 😉 Leave me a comment and tell me what veggies you had this teriyaki rice bowl with. You can also show me your amazing looking food on Instagram (tag me at veggiesdontbite AND #veggiesdontbite so I don't miss it) or on Facebook. Happy cooking!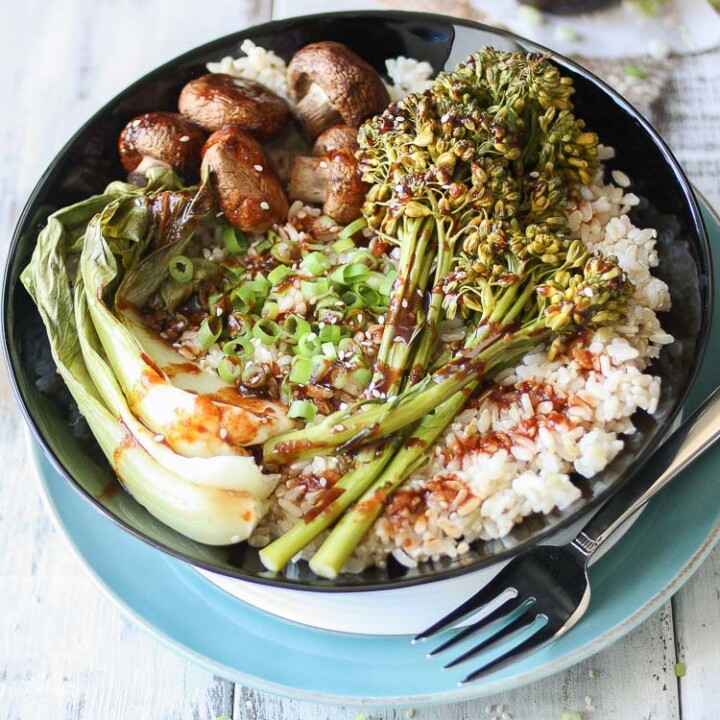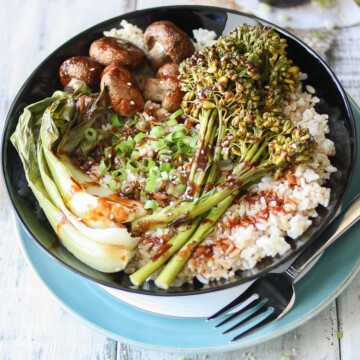 Easy Teriyaki Rice Bowl with Roasted Vegetables
Short on time and want a satisfying and flavorful meal? This easy teriyaki rice bowl with roasted veggies is it! Homemade sauce and vegan perfection.
Ingredients
2 baby bok choy , see note
16 broccolini stalks , see note
20 crimini mushrooms , see note
2 green onions , sliced
2 tablespoons sesame oil , use veggie broth if want oil free
4 cups cooked brown rice
Instructions
Preheat oven to 425°F/220°C.

Wash and chop veggies into bite sized pieces (or keep them whole if you prefer). Mix in a bowl with sesame oil. I don't use any salt or pepper for this because the sauce has plenty of flavor, but if you want to add some then feel free.

Spread veggies on a parchment lined cookie sheet and roast for 15-20 minutes, start checking at 15 minutes for the doneness you prefer. Remove them when you get that perfect texture, for us it was 15 minutes because we prefer our veggies al dente.

While the veggies are cooking, make rice and sauce. Slice green onions.

When the veggies are done, put ½ cup rice in each bowl, divide veggies equally amongst the bowls, drizzle with teriyaki sauce and sprinkle with green onion slices. Devour!
Notes
You can use any veggies you want with this. More or less in amount as well, to satisfy your veggie cravings.
As a general guide, use at least 1 cup of veggies per serving. You can also add more or less rice, but ½ a cup per bowl was what was good for us. Also, you will have more teriyaki sauce than you need. This keeps well in the fridge for up to 5 days. Or you can always half the recipe.
Tips to prep ahead: Wash and chop veggies. Make teriyaki sauce.
Baby/toddler food idea: Cut veggies into small bite size pieces and serve with brown rice. Omit sauce for simpler meal. For a small baby you can puree some cooked veggies and rice together.
Recipe by Veggies Don't Bite, visit our site for more great plant-based recipes.
Nutrition
Calories: 313kcalCarbohydrates: 51gProtein: 7gFat: 8gSaturated Fat: 1gCholesterol: 0mgSodium: 46mgPotassium: 618mgFiber: 4gSugar: 2gVitamin A: 2645IUVitamin C: 30.2mgCalcium: 107mgIron: 1.9mg
Nutrition and metric information should be considered an estimate.
Never miss a recipe!
Sign up here and get a FREE quick and easy meal guide!