Sticky, sweet and utterly delicious caramel apple nachos piled high with your favorite ingredients. You will have no idea this easy snack is vegan!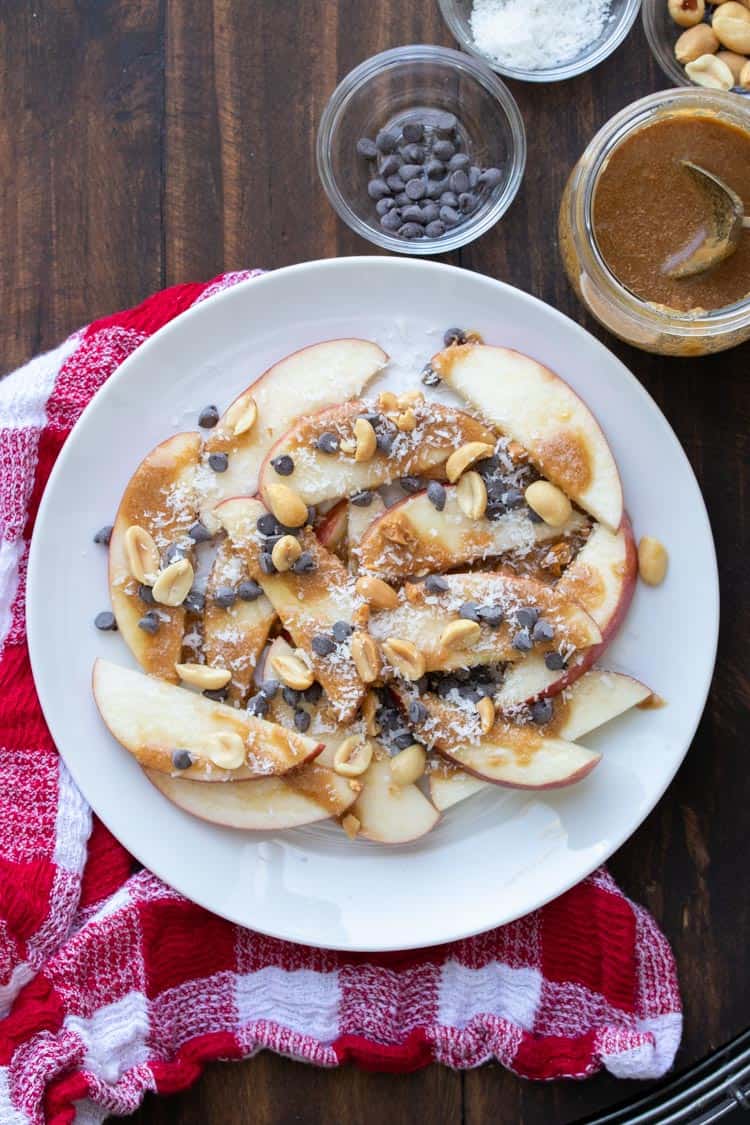 This recipe was originally published on 9/19/16
While we like to add things like chocolate chips, sprinkles and all that jazz, this easy vegan snack can definitely be made more on the healthy side. Make the caramel ahead of time and keep it around for quick use any time!
Vegan Caramel Apple Nachos
I still remember drooling at the site of the shiny caramel apples on a stick you see at fairs and sweet shops...this was a little over a month ago. Just kidding! Kind of. But really, those things are a kids dream and a mom's nightmare.
Not only were they messy AF, but ultimately one kid will end up dropping it and defcon 3 tantrums will happen. I needed an alternative. Like these easy caramel apple nachos.
What kind of apples do you use for apple nachos?
This is really a personal preference, but I like to switch it up. Because the caramel and many of the toppings are sweet, even a more sour apple works. Here are some different apple varieties listed in their levels of sweetness, starting from the most sweet:
Fuji
Gala
Honeycrisp- one of my favorite!
Golden Delicious
Red Delicious
Pink Lady
Granny Smith
How to keep apples from browning
I have seen a variety of techniques out there when it comes to keeping your apples from getting brown, but other than looking a little ugly there isn't anything wrong with the apple. The brown is just the oxygen reacting with the apples flesh once exposed to air.
Other fruit does this as well, so it isn't unique to apples. If you really want some tips on helping your apples stay fresh looking, here are some ideas (I haven't tested most of these so give them a shot and let me know!):
lemon juice- keep in mind that this will give a lemon flavor to the apples, but this one works the best
salt water
leave submerged in water
Eat Cleaner- a produce cleaning solution I use developed by a dear friend
cut with a really sharp knife- I heard this somewhere but not sure if it works
How to Make Caramel Apple Nachos
Making caramel apple nachos is as easy as prepping all you need. I like to make the caramel ahead of time, then gather the toppings into bowls and let the kids build their stack taco bar style!
Make the caramel
Slice the apples
Top with all your faves
Devour
Caramel apple nachos topping suggestions
Caramel- duh
chocolate chips
melted chocolate
shredded coconut
chopped nuts
dried fruit
peanut butter chips
crumbled oreos
crushed candy like heath or snickers
marshmallows
crushed pretzels
sprinkles
m&m like candies
whipped cream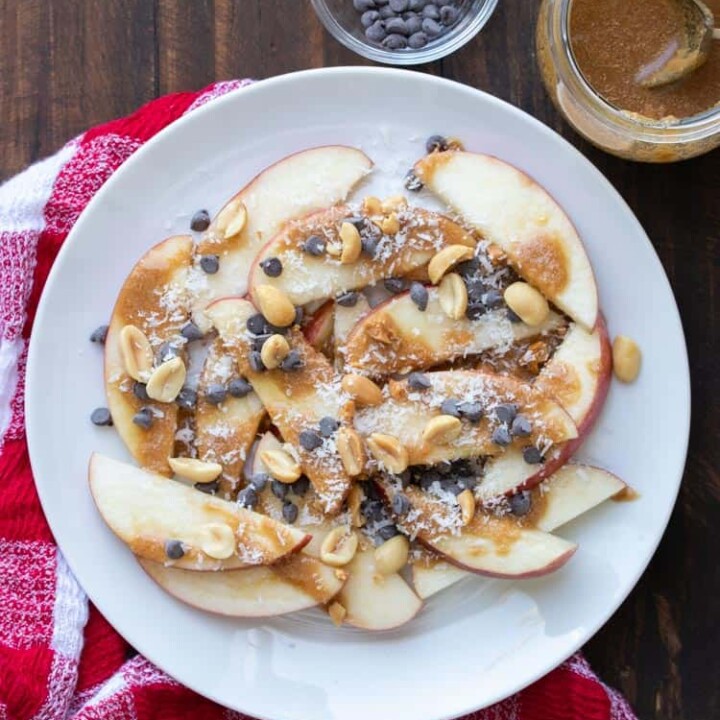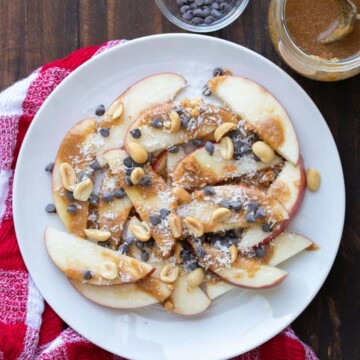 Vegan Caramel Apple Nachos
A fall inspired dessert with a healthy twist. This easy vegan apple nachos recipe will satisfy your sweet tooth without the guilt!
Ingredients
2 apples , cored and sliced
1 cup Pumpkin Caramel Sauce , use as much as you prefer (you can also use your own caramel or the cinnamon caramel sauce from my site)
¼ cup chocolate chips
¼ cup chopped peanuts
2 tablespoons shredded coconut
any other toppings you like
Instructions
Spread apple slices on a plate.

Drizzle with caramel sauce.

Sprinkle chocolate chips, peanuts, coconut and any other toppings over the top.

Devour.
Notes
The pumpkin caramel recipe makes about 1 cup so you may have leftovers, but it keeps well in the fridge or you can even freeze it.
Tips to prep ahead: 
Make pumpkin caramel sauce.
Prep toppings.
Baby/toddler food idea:
Cut apple slices small and allow them to dip into the caramel
Recipe by Veggies Don't Bite, visit our site for more great plant-based recipes.
Nutrition
Calories: 176kcalCarbohydrates: 24gProtein: 3gFat: 9gSaturated Fat: 3gCholesterol: 2mgSodium: 19mgPotassium: 170mgFiber: 3gSugar: 18gVitamin A: 75IUVitamin C: 4.2mgCalcium: 23mgIron: 0.5mg
Nutrition and metric information should be considered an estimate.
Never miss a recipe!
Sign up here and get a FREE quick and easy meal guide!