Easy vegan spinach enchiladas with chickpeas are packed with protein and veggies to make a perfect all around meal. Full of flavor with a unique twist!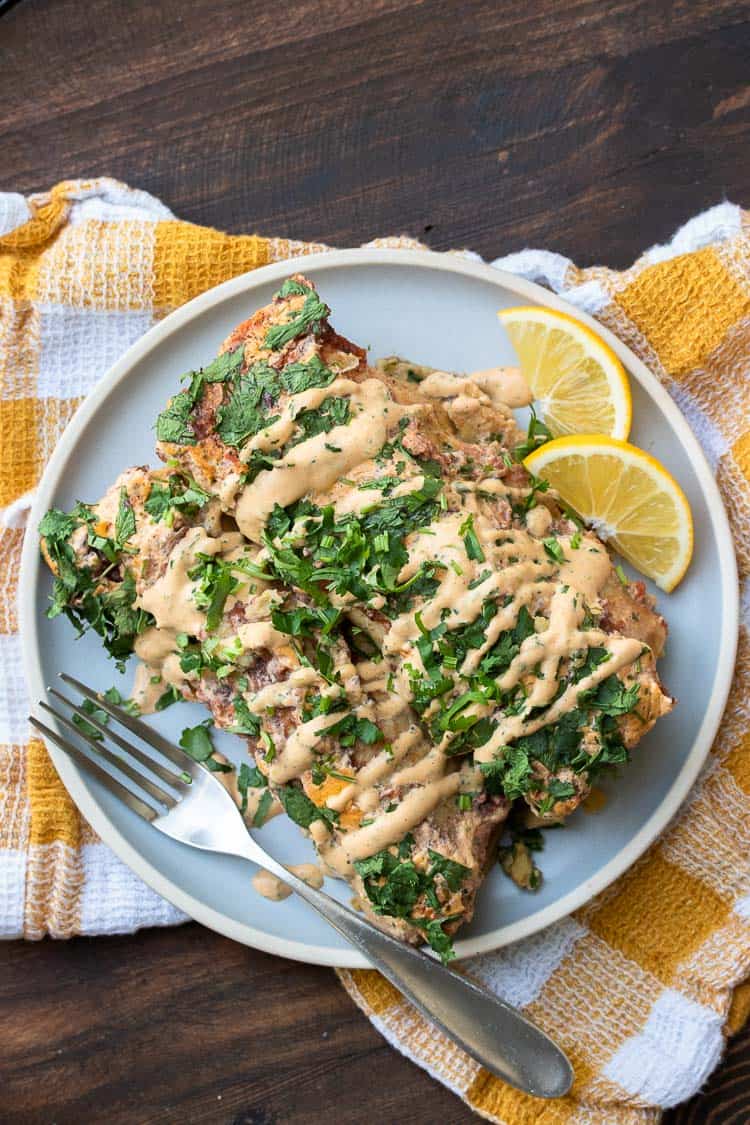 This is a sponsored conversation written by me on behalf of Earthbound Farm Organic. The opinions and text are all mine.
I'm taking a spin on traditional enchiladas and topping them with roasted salsa. Fill with pulsed chickpeas and sautéed greens, and drizzle with some amazing creamy sriracha cilantro sauce.
Vegan enchiladas with all the greens
We love easy meals around here, and these fit the bill in both the flavor and health department. Getting greens into my kids any way I can is so important to me. From pesto, to secretly healthy milkshakes. And when it comes to greens, I need them to be top notch.
Earthbound Farm Organic Greens
It's no secret that I love the brand Earthbound Farm Organic. You can read all about my trip to the actual farm back in October! Eating the spinach right from the field is something I will never forget.
Learning about where my food came from really hit home. It's easy to visualize your favorite greens being cut and put into a container for you to enjoy. But it's so much more than that.
It's about how these greens are grown, who grows them, the effort that goes to make them available for you to enjoy. The organic movement is growing and seeing that it's becoming more accessible for all people is amazing.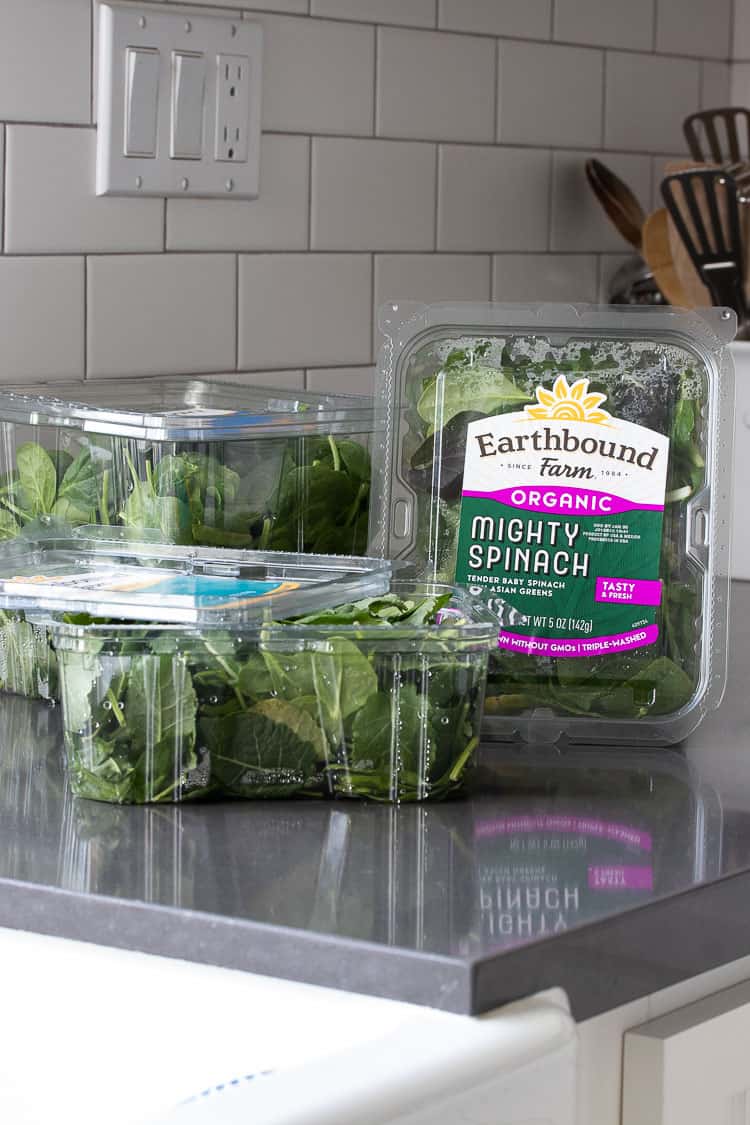 Organic produce
After my trip to Earthbound Farm, the organic label became so much more to me. You can read all about what I learned about organic farming here.
Is it really better to eat organic?
We all have our why for the things we do. Whether that's making homemade food, to eating a certain way, to choosing a certain product.
When I choose organic, it is something I do for my family. I want to fill my kids with healthy food as often as I can, and I want them to know where their food comes from.
It's easy to think it magically appears at the store, but understanding the process behind it is so important. Educating yourself with the correct information, then allows you to make a decision in choosing organic.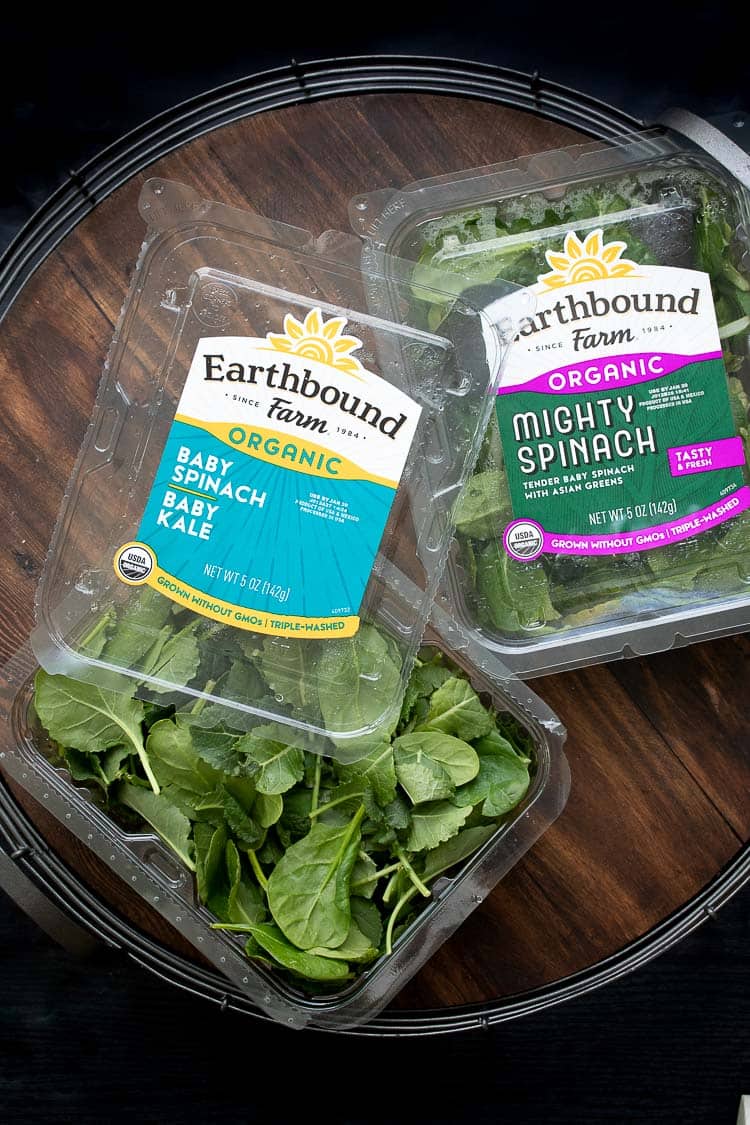 Making vegan spinach enchiladas
The combination of chickpeas and flavorful greens makes the perfect filling for this easy meal. The best part, is that you can easily choose what green you want to use.
I switch it up between the different mixes of Earthbound Farm greens I find at the store!
Saute greens. 
Pulse with chickpeas. 
Fill tortillas. 
Top with your favorite roasted salsa and drizzle on creamy sauce. 
Bake and devour. 
An added bonus, is that you can use the greens and mix them with the sriracha cilantro sauce as dressing. Don't you love those multi use ingredients?! Check out this post on my super inventive way to make your salad!
Want other great ways to use chickpeas? Check these recipes out:
Join in the organic movement
Starting today through Feb 17, if you want to join in on the "Why I Choose Organic" movement, Earthbound Farm is asking you to share your reasons for choosing organic on Instagram. To enter for a chance to win Earthbound swag including cookbooks, a canvas tote bag, or a nifty sticker, post a photo on Insta and in the caption, tell us why you choose organic. Make sure to tag @earthboundfarm and include the hashtags #ichooseorganic and #sweepstakes in your post!
Link to full contest rules: https://www.earthboundfarm.com/i-choose-organic-sweepstakes/ 
Subscribe to Earthbound Farm's emails to receive $3 off any Earthbound Farm product and bring your day into organic balance with simple, flavorful recipes, cooking tips and coupons. Sign up here!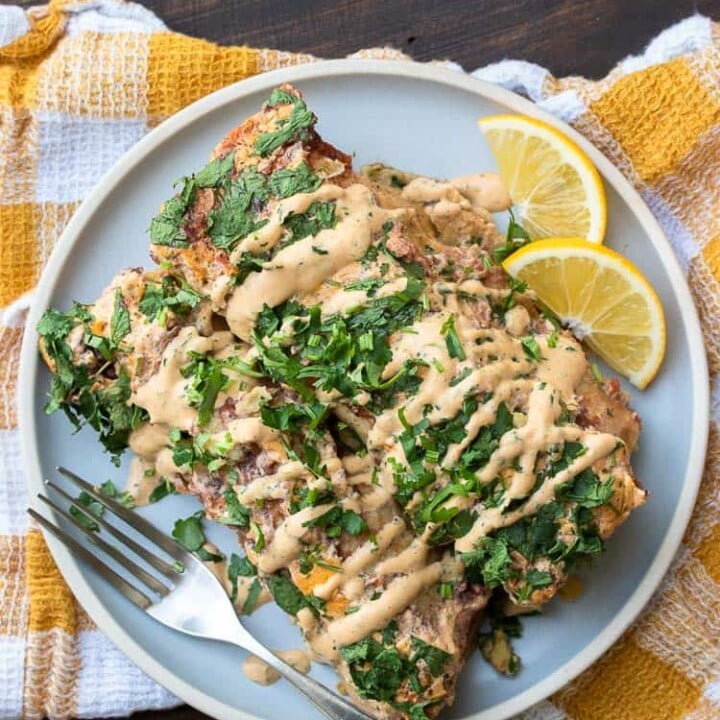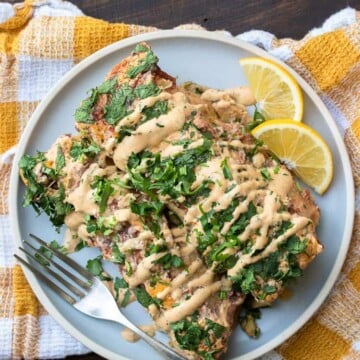 Easy Vegan Chickpea and Spinach Enchiladas
Easy vegan spinach enchiladas with chickpeas are packed with protein and veggies to make a perfect all around meal. Full of flavor with a unique twist!
Instructions
Preheat the oven to 350 F/175 C

Saute the onion with salt and garlic powder until it begins to soften, 2-3 minutes.

Add the spinach/greens and saute about 5 more minutes until they wilt. Allow to cool.

Pulse the greens mix and chickpeas in a food processor until chopped and crumbly.

Put ½ cup salsa in the bottom of a square baking dish (I used 8x8).

Fill tortillas with a few scoops of mixture, then roll and place seem side down into the baking dish. You can also drizzle in some spicy cilantro cream inside with the mixture if you want it extra creamy.

Once all the tortillas are done, pour the rest of the salsa over the top, spreading it around to make sure it covers everything well.

Drizzle the spicy cilantro cream sauce over the top. And top with the cilantro.

Bake for 25-30 minutes until nice and bubbly. Allow to cool a bit and devour! You can also drizzle extra sauce over the top.
Notes
The greens in here are very interchangeable. Use your favorite green blend, I prefer the spinach and/or kale blends.
Use more greens and mix them with more of the sriracha cilantro sauce for a perfect side salad!
Recipe by Veggies Don't Bite, visit our site for more great plant-based recipes.
Nutrition
Calories: 138kcalCarbohydrates: 23gProtein: 5gFat: 3gSaturated Fat: 0gPolyunsaturated Fat: 0gMonounsaturated Fat: 0gTrans Fat: 0gCholesterol: 0mgSodium: 777mgPotassium: 405mgFiber: 4gSugar: 3gVitamin A: 2005IUVitamin C: 7.8mgCalcium: 73mgIron: 1.5mg
Nutrition and metric information should be considered an estimate.
Never miss a recipe!
Sign up here and get a FREE quick and easy meal guide!