All you need are three simple ingredients to make amazing vegan poutine at home! This is the ultimate comfort food and the perfect way to use up leftover gravy.
Using up leftovers helps reduce food waste and makes meals easier. Even those leftovers haters will love this homemade poutine recipe!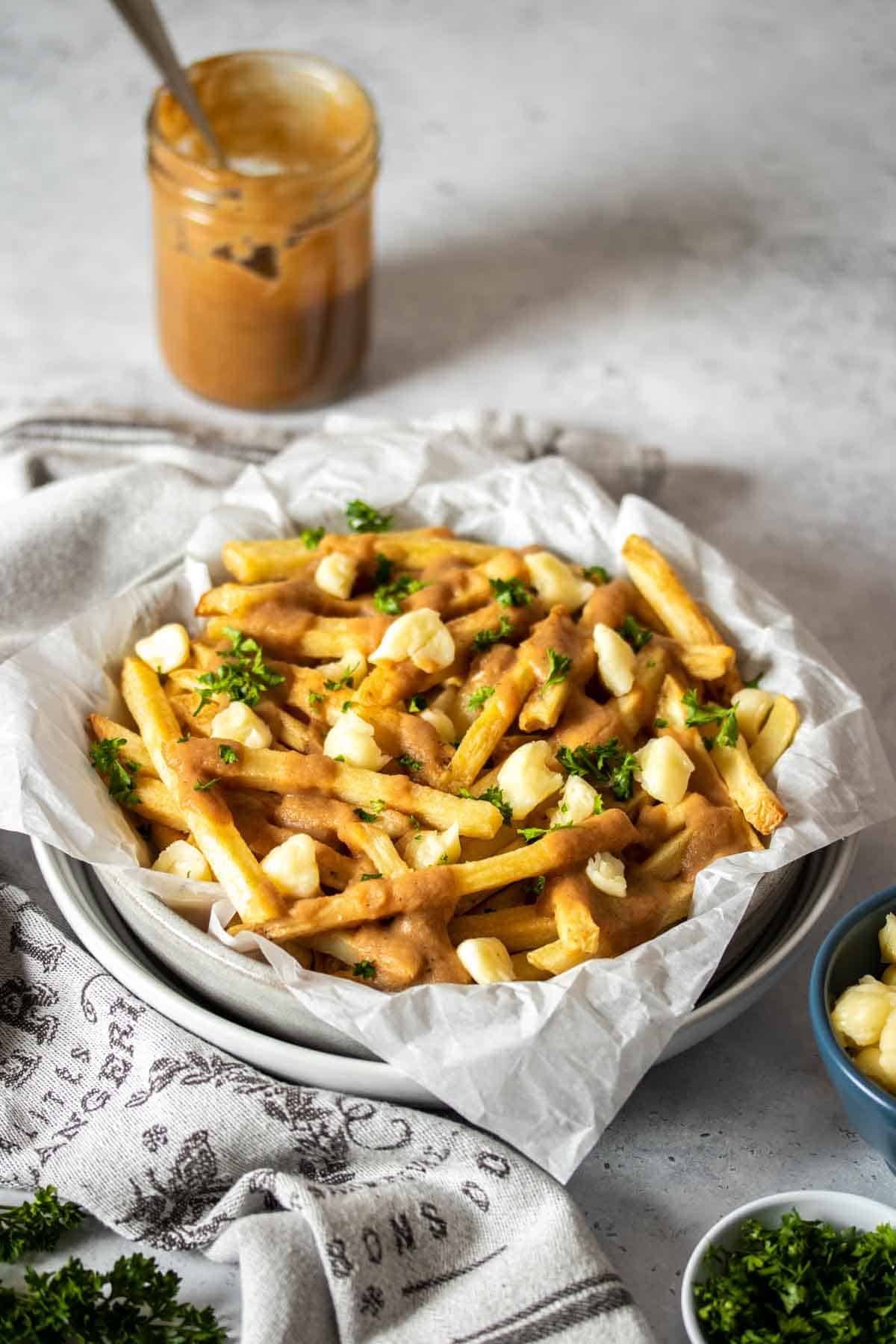 This post was sponsored by Rubbermaid but the content and opinions expressed are fully my own.
Buy everything at the store to make this vegan poutine super easy, or make homemade French fries, vegan gravy and vegan cheese curds for a healthy snack you won't stop eating!
When it comes to the holidays there is one thing we all have in common, leftovers! Some might even argue it's the best part!
Repurposing Thanksgiving or Christmas leftovers into new creations is so much delicious fun. This recipe uses leftover gravy to create the comfort food classic poutine!
Ingredients
Unlike the original version, this easy vegan poutine recipe uses all whole food plant based ingredients. Make sure you store your leftovers in quality containers to preserve freshness, like these Rubbermaid EasyFindLids™!
Chopped parsley or chives 
How to Make Vegan Poutine
Create the base with french fries.
Pour hot poutine gravy all over.
Top with cheese curds.
Garnish with parsley and chives.
Enjoy!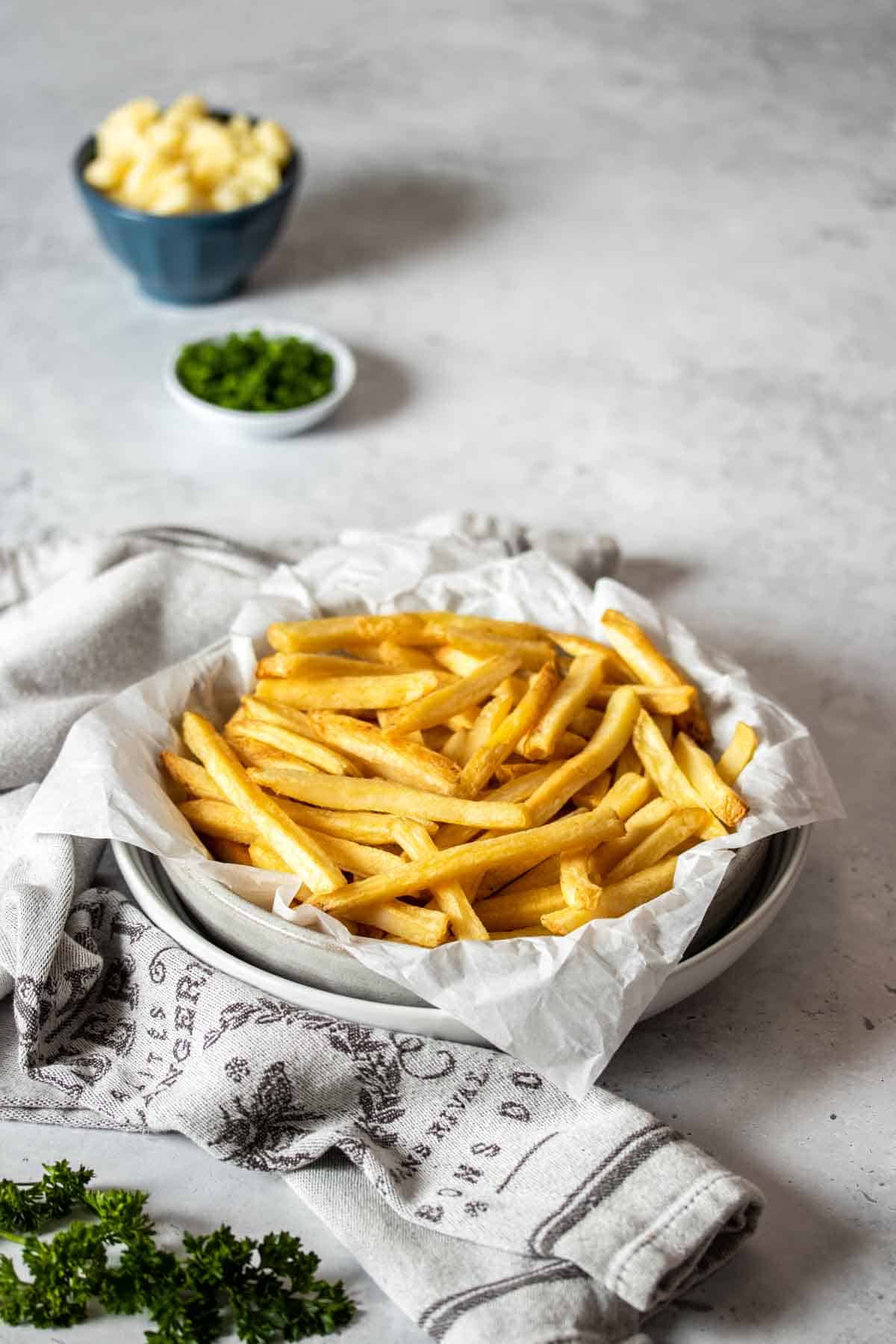 Preparation Tips
I used leftover gravy, homemade baked fries, and homemade vegan cheese curds; however, you can make it super easy by using frozen French fries, pre-made gravy, and store bought cheese.
This vegan poutine recipe was written with the ratios I prefer, but feel free to adjust the amounts to your liking.
Bake fries on parchment paper to make them extra crispy without the extra oil!
Prep Ahead and Storage Tips
This vegan poutine can be prepared in advance with a few steps:
Make the gravy.
Make the vegan cheese curds.
Wash, cut, and soak the fries if you are making your own.
Store each component in its own Rubbermaid EasyFindLids™ Container and keep in the refrigerator.

Gravy can be kept for up to 4 days in the fridge or 3 months in the freezer.
The vegan cheese curds can be made up to 5 days ahead of time.
The potatoes can be stored in their soaking water for up to 24 hours max, but the less time the better.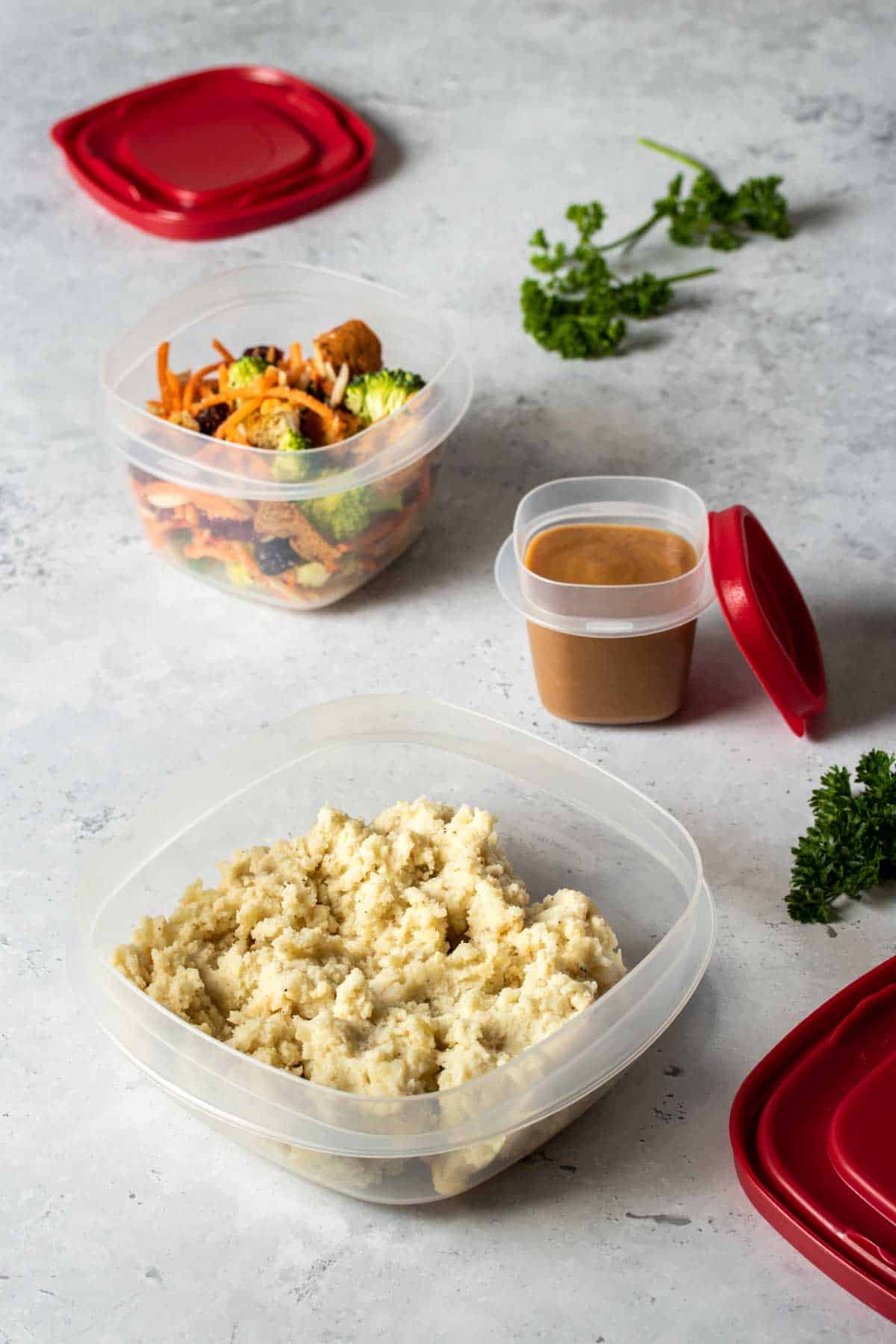 Best Storage Containers for Leftovers
When it comes to Thanksgiving leftovers, or any for that matter, Rubbermaid EasyFindLids™ are the best tools to do so! Here's just a few reasons why they are my first choice:
The lids and bases snap together so no lost lids. Plus, one lid fits on multiple bases!
The bases also nest beautifully to save space in your kitchen cabinets.
The lids are vented so you can microwave leftovers easily with the lid on.
These durable containers are also freezer-safe, top-rack dishwasher-safe, and microwave-safe!
Common Questions
Is poutine healthy?
In its classic form, no not exactly. However, by using vegan cheese curds, homemade vegan gravy, and baked french fries you can make a healthier version.
What can I substitute for cheese curds in poutine?
If you can't find cheese curds for poutine you can use any cheese or vegan cheese you like. It's best to rip chunks off a larger block with your hand to recreate the curd shape and size.
Where did poutine come from?
The dish consisting of french fries with gravy and cheese curds originated in Quebec in the 1950s. Over time it gained popularity throughout Canada and eventually made its way to the United States and around the world.

More Vegan Comfort Food Recipes
Keep your bellies full and satisfied with these tasty plant based recipes: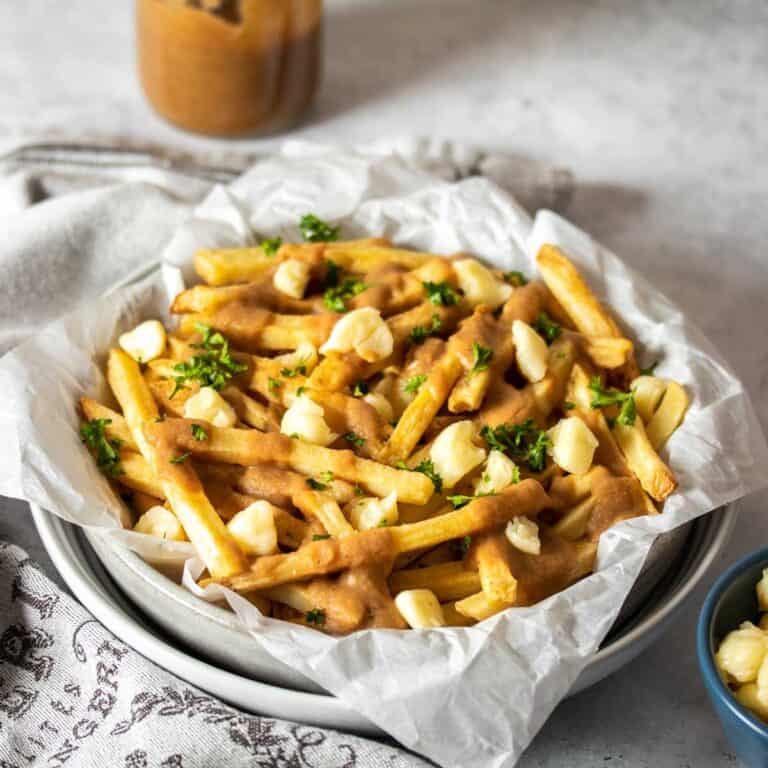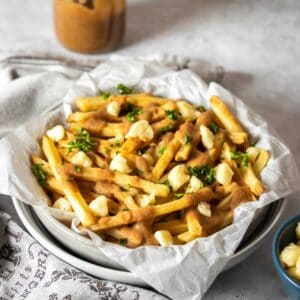 Easy Vegan Poutine Recipe
All you need are three simple ingredients to make amazing vegan poutine at home! This is the ultimate comfort food and the perfect way to use up leftover gravy.
Ingredients
1 serving French fries ,about 2 pounds of potatoes (homemade or store bought)
½ serving vegan gravy ,about 1 cup but can use more for extra saucy
½ serving cheese curds ,about 1 cup (homemade or store bought)
Chopped parsley or chives ,optional for garnish
Instructions
Make French fries if making homemade by following the recipe directions.

Divide the fries onto four plates.

Top with hot gravy.

Add cheese curds.

Garnish with parsley and chives if preferred.

Enjoy!
Notes
You can use frozen French fries and premade gravy and cheese to make this easy.
This is a great way to use up leftover gravy from a holiday dinner.
You can also buy extra potatoes when making the mashed potatoes to make French fries with.
Adjust amounts of gravy and cheese to fit your preference.
Time here reflects making things from scratch.
Nutrition facts will change depending on specific ingredients used, these reflect my recipes for each.
Recipe by Veggies Don't Bite, visit our site for more great plant-based recipes.
Nutrition
Calories: 268kcalCarbohydrates: 43gProtein: 8gFat: 8gSodium: 1060mgFiber: 6gSugar: 5g
Nutrition and metric information should be considered an estimate.
Never miss a recipe!
Sign up here and get a FREE quick and easy meal guide!