Easy vegan recipes with incredible flavor that are done in 30 minutes. All without meat, dairy, gluten and refined sugar. Perfect for those crazy days!
When starting a new way of eating, time is always the biggest roadblock for people. Learning anything new takes time, but this is often something we don't have extra of.
Screw the money tree, I need a time machine! Who's with me?
As a former teacher, I have learned that breaking things apart and starting small is key. I still do this today even after years of experimenting in the kitchen.
Whether you are new to vegan recipes or a seasoned professional, we all need easy go to food that doesn't compromise on flavor!
What makes a recipe vegan?
When a recipe is vegan, it doesn't include anything that comes from an animal. Meat, dairy and eggs are the big ones that most people focus on.
But there are things that people don't always think about like honey, gelatin and how things are produced such as some sugar being processed with bone char.
Vegan recipes are also a great resource for Lent since they do not contain any meat and dairy.
Do vegans eat pasta and bread?
The short answer is yes. Pasta and bread can be vegan. The longer answer is you need to know how they are made.
Both pasta and bread can include dairy and eggs, so check the ingredients before you assume.
If you are trying to maintain a strict vegan diet, it's important to read labels. Anything that isn't fresh from the ground can have non vegan ingredients that sneak in. I have this great free guide all about reading labels if you need some help!
What do vegans eat in the morning?
Starting the day with a healthy meal is so important. You need fuel to function and going hungry isn't doing you any favors.
I break this rule of mine all the time, which is why I have my go to easy vegan recipes for breakfast. These favorites of mine are done quickly, are healthy and my kids will eat them without a tantrum. Tantrum free mornings are my end goal!
Creamy Spinach Savory Breakfast Oatmeal
With only 7 ingredients and 5 minutes to make, this vegan creamy spinach savory breakfast oatmeal is perfect for those cozy mornings that call for some comfort!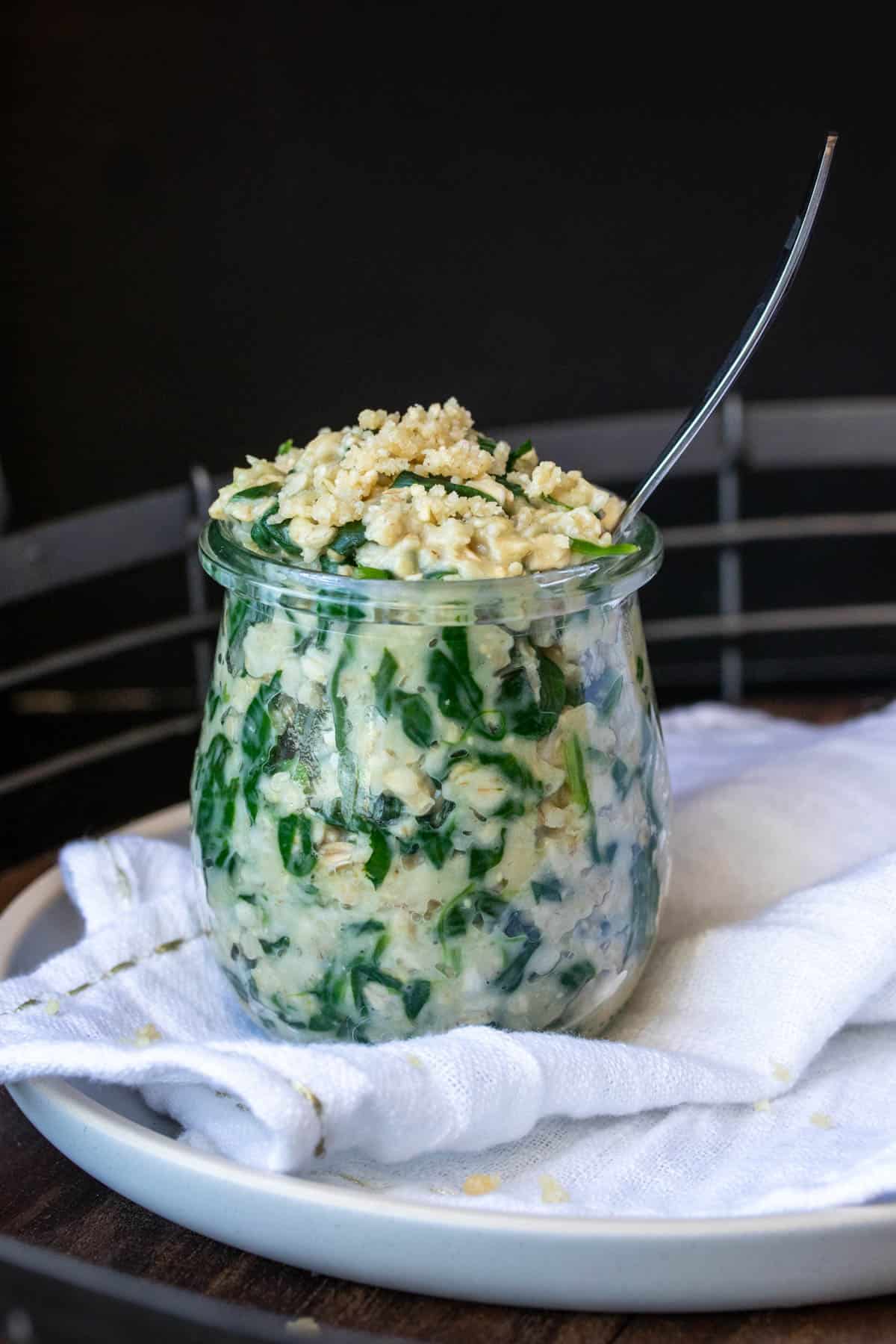 Fluffy Vegan Chocolate Pancakes
Because chocolate goes with everything, and when it's made with healthy ingredients it's even better. The fluffiest and easiest pancakes ever, kid approved and delicious!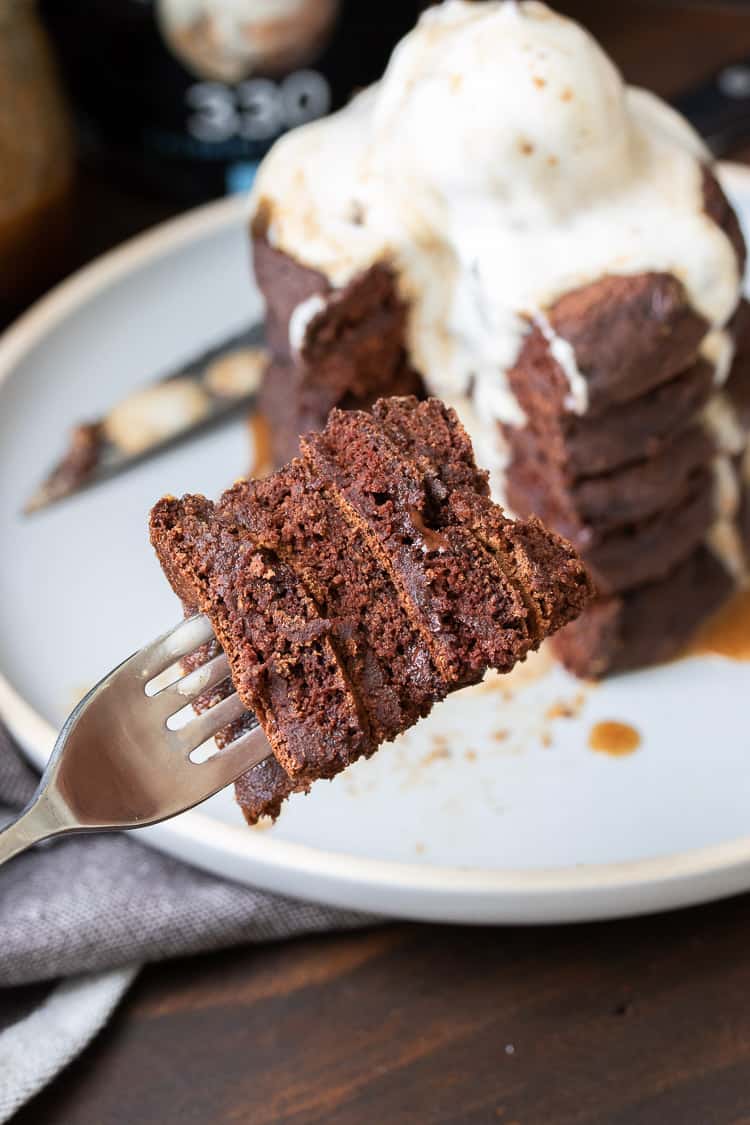 Protein Packed Oatmeal Cookie Smoothie
Looks and tastes like indulgence, but this salted caramel pretzel oatmeal cookie smoothie is like an undercover agent for healthy. Secretly packed with protein, you'll be satisfied and full! I also add spinach for extra greens.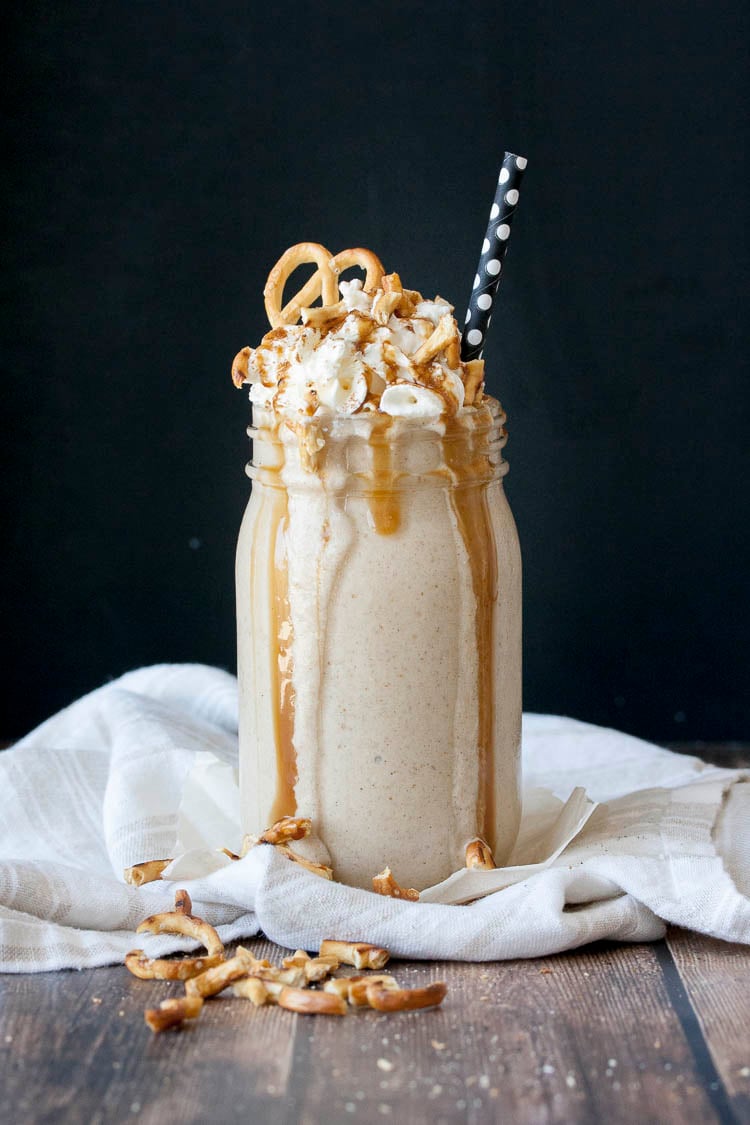 Other quick and easy ideas for breakfast:
Throwing together something in the morning doesn't mean you have to follow a recipe. Here are some ideas that are perfect for a quick start:
toast with avocado and sea salt
cereal with fruit
dairy free yogurt with fruit and granola
banana with peanut butter
If you are looking for an easy meal plan, you can check this breakfast plan out with make ahead ideas and even a shopping list!
Easy vegan lunch recipes
Lunch doesn't usually feel like a meal for me because I am always grabbing something quick or having leftovers from dinner. Our kids also love to do snack type lunches so we don't usually prep regular meals.
Check this post here for some awesome ideas for easy vegan recipes that are healthy and perfect for a mid day meal. They are great for kids school lunch or for us adults that need to get something down fast.
I also have this lunch meal plan you can follow, It's 5 days worth of food and even has a shopping list! It has great ideas outside of the typical lunch list.
What do vegans eat on sandwiches?
Sometimes I like to make filling for sandwiches that I can store in the fridge for a few days and throw on some bread so I feel like an adult eating a real meal.
Here are my top 3 favorites:
Philly Portobello Steak Sandwich
Quick, simple, healthy comfort food for those busy nights. This vegan Philly portobello "steak" sandwich is full of veggies, a touch of optional spice, and loads of flavor!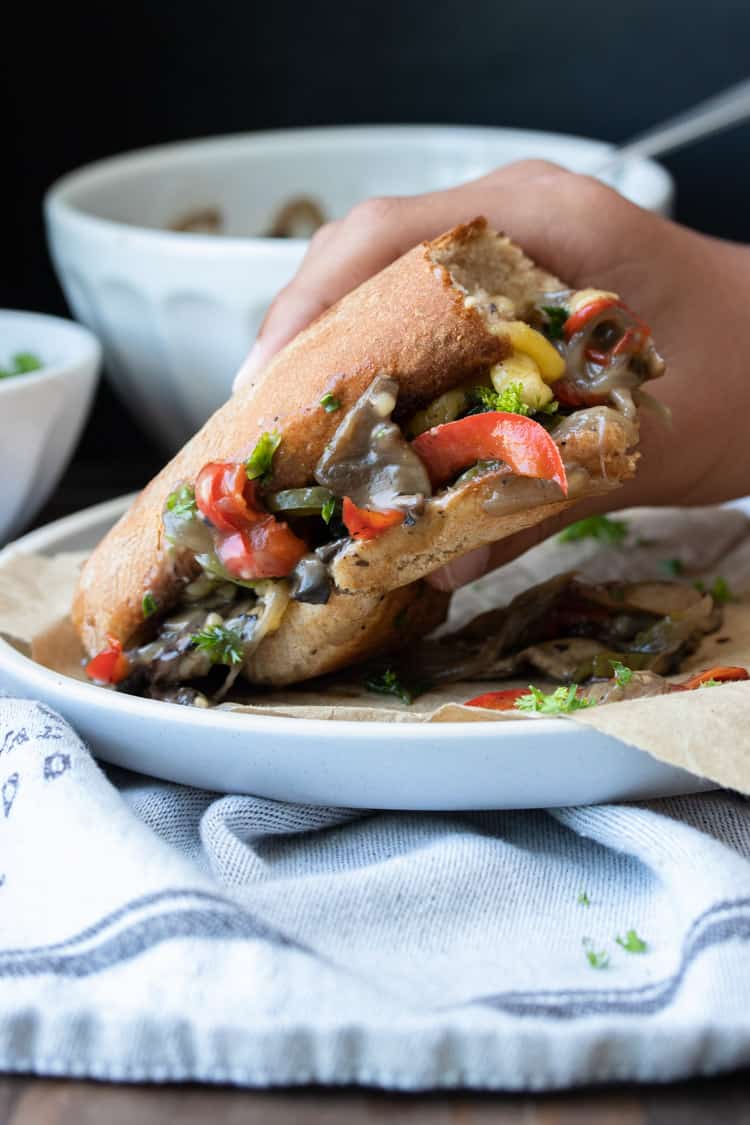 Vegan Pulled Pork Mushroom Sandwich
Thinly sliced shiitake and baby portobello mushrooms slathered in flavorful BBQ sauce makes this meaty and chewy vegan pulled pork sandwich the perfect addition to any party. Forget the grill and grab some buns!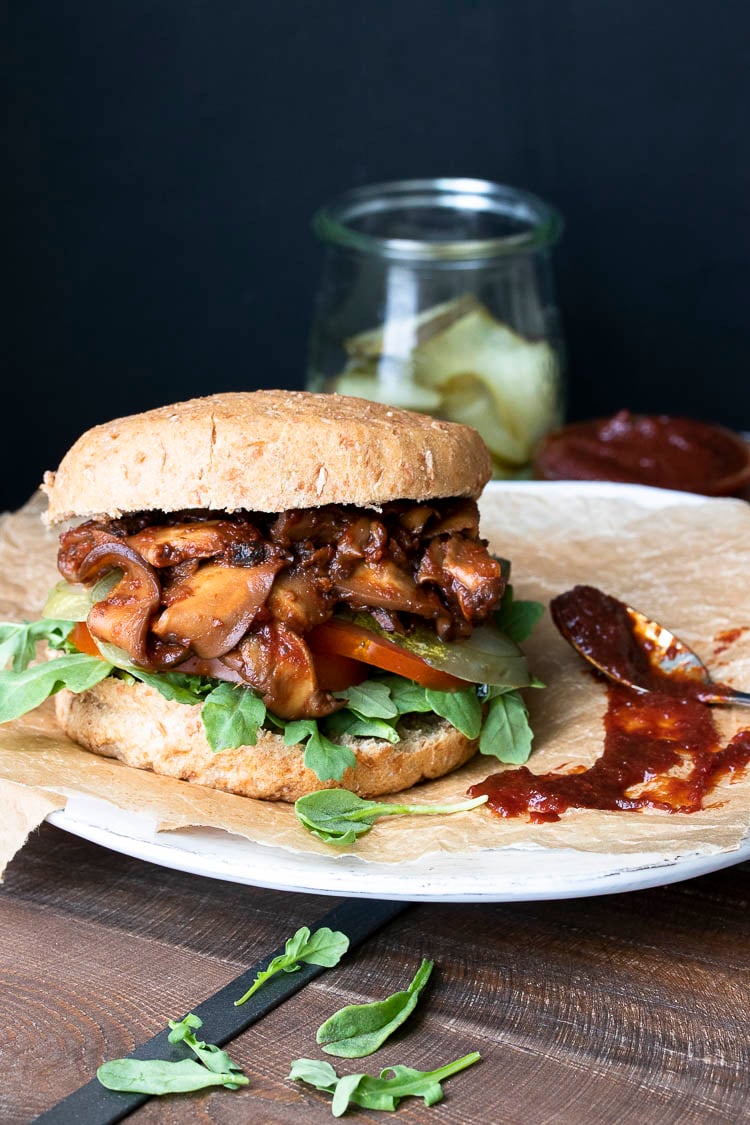 Vegan Mashed Chickpea and Veggie Sandwich
Super creamy but no mayo or oil! Finally, a way to eat mashed chickpeas that doesn't leave you feeling yucky inside. A Fully loaded chickpea sandwich with your favorite veggies!
Easy vegan dinner recipes
Dinner is the hardest meal of the day. After a full day of using all our brain power, coming home and trying to throw something together that is not only delicious but also healthy for us seems like a mountain to climb.
The main thing to remember is to make sure you have a protein source and a good helping of veggies. Adding some healthy fat is also a good addition. Fat and protein help keep you full and help you feel satisfied.
Where do vegans get protein?
So many foods have protein, even many veggies. But for easy go to ideas that you can add to almost any meal, here are my favorites:
white beans and garbanzo beans for all pasta dishes
garbanzo beans for soups because they hold up well
black and pinto beans for all things Mexican
lentils with almost anything
vegan sausage, crumbled or sliced, with almost anything
portobello mushrooms
tofu and tempeh
Putting together an easy vegan meal is much simpler than you think. But it takes some practice and time to make it second nature.
The good news is that I have a list of amazing easy vegan dinner recipes that are not only healthy but can be done in about 30 minutes.
But if you need some extra hand holding, also check out this 7 Day Easy Vegan Meal Plan!
20 minutes and little effort for a vegan coconut curry soup with big flavor! This soup is filled with veggies and protein, a perfect well rounded meal that will easily make its way into your regular dinner rotation. Plus a bonus salad hack you can't miss!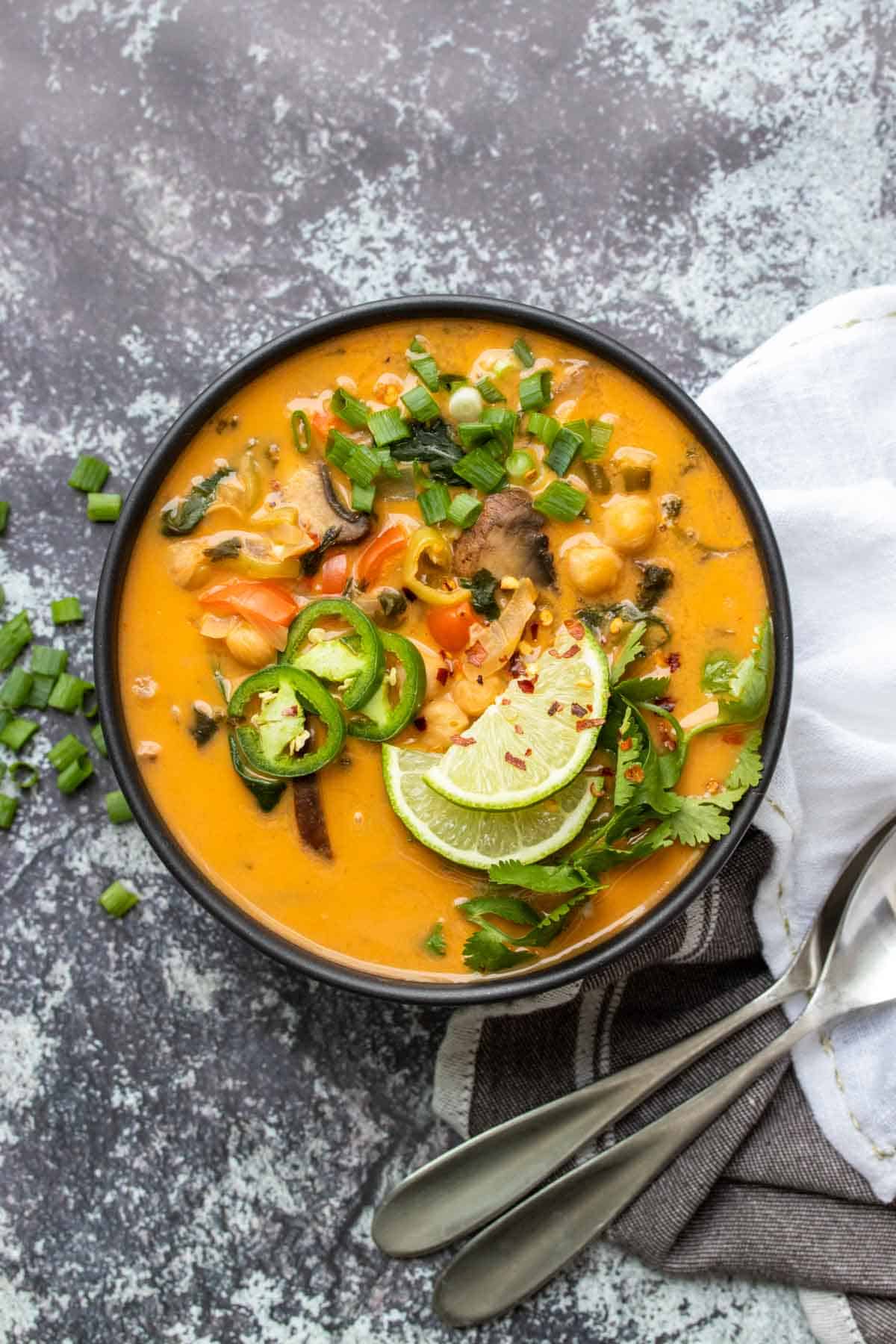 A vegan pesto pasta salad with a delicious twist you've never seen before. Eat it warm or cold and throw in your favorite veggies, it's a perfect well rounded meal!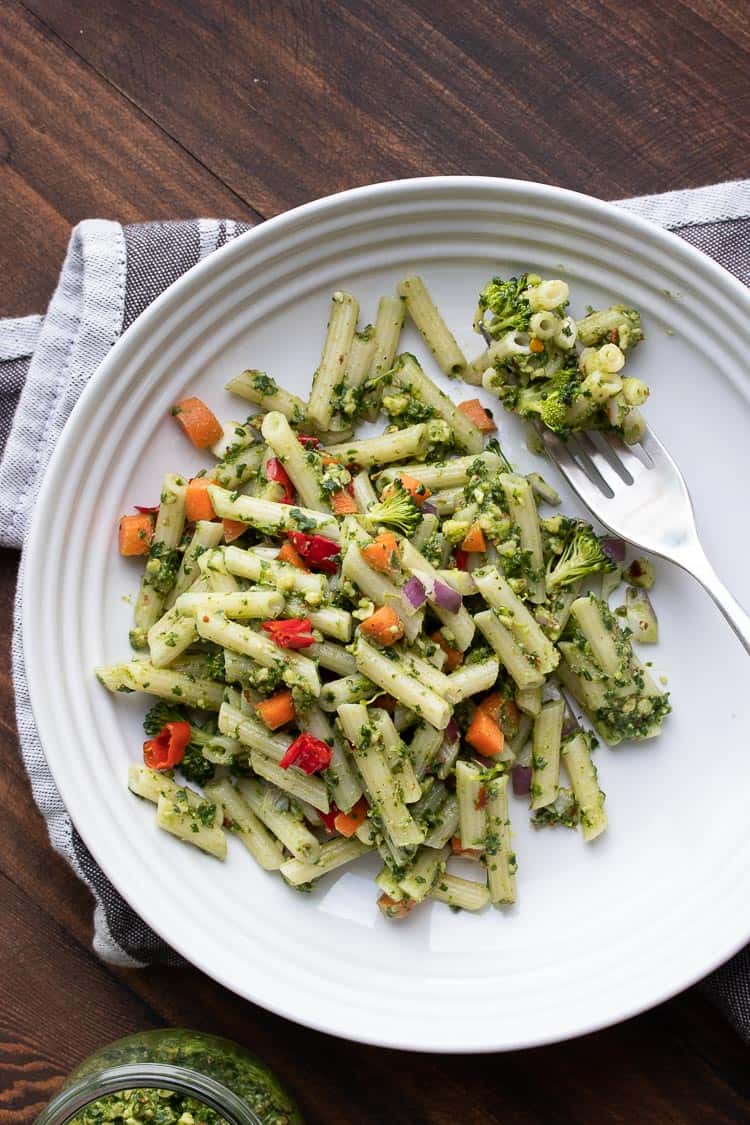 30 minutes to a fully cooked dinner that is satisfying enough to satisfy the whole family. These BBQ cauliflower bites are paired with tangy avocado slaw and cilantro lime quinoa for the perfect flavor bomb explosion you can't get enough of!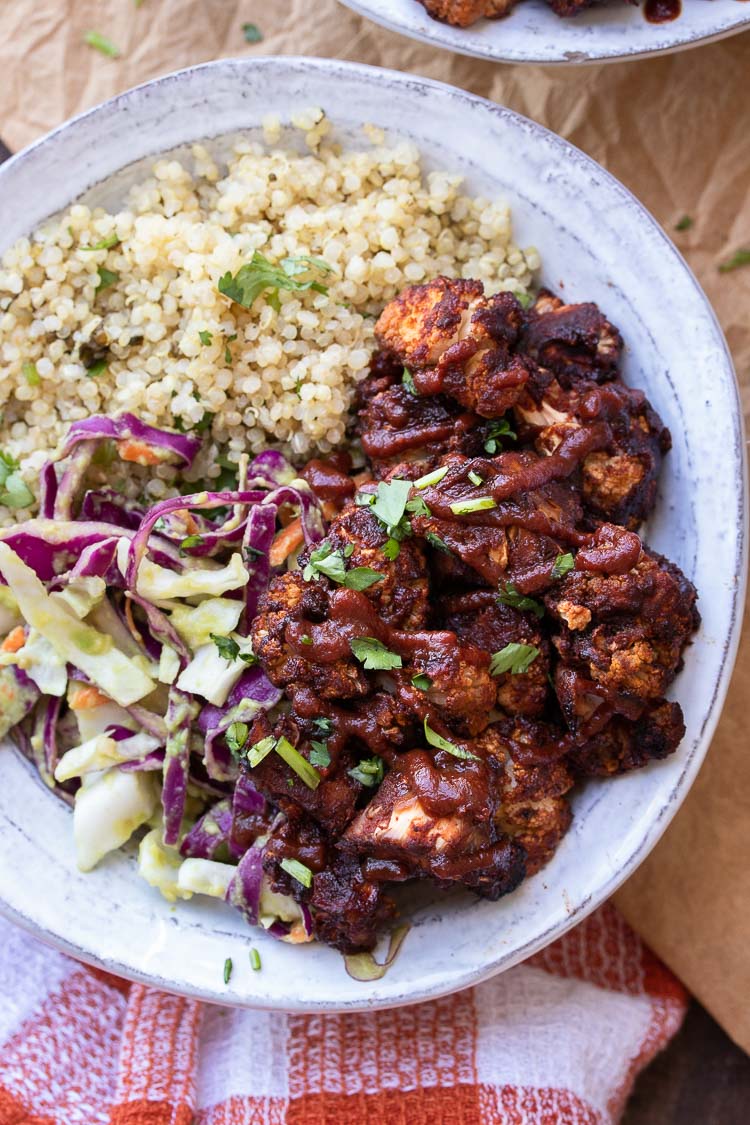 Low Fat Easy Black Bean Burgers
The perfect recipe when you need a quick dinner! Made with ingredients you'll easily find in your kitchen, these vegan and gluten free black bean burgers are very low in fat, take only 10 minutes of prep and are ready to eat in under 30 minutes!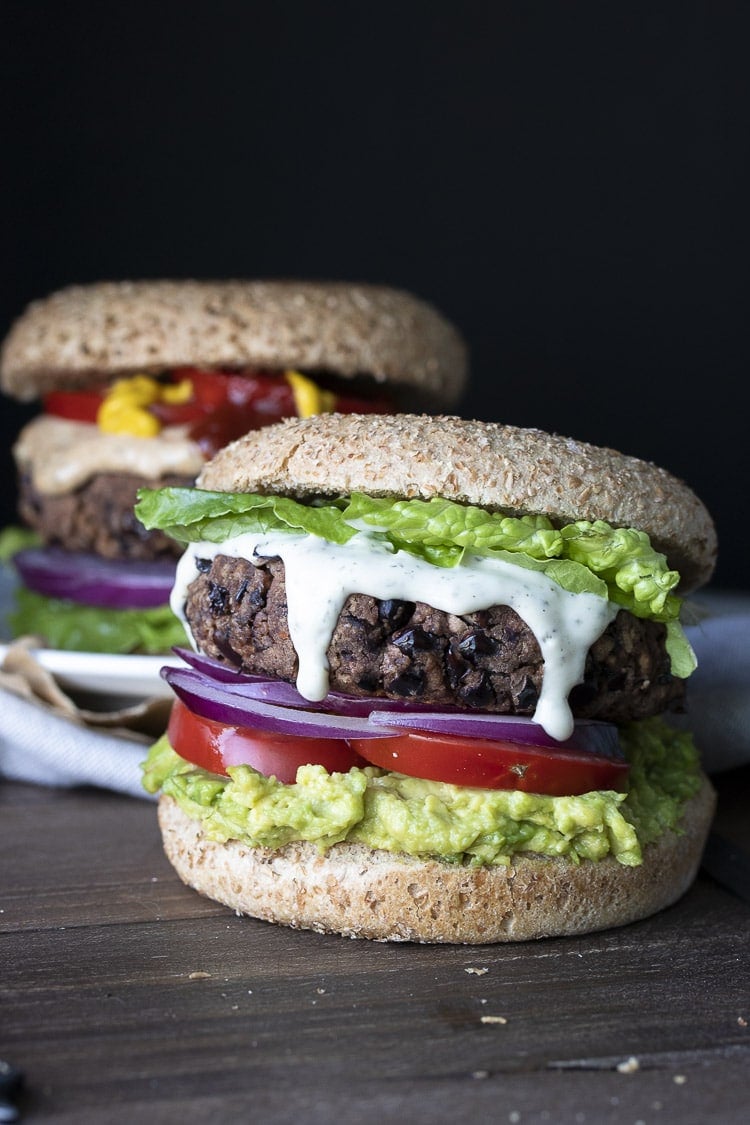 20 minutes and 7 ingredients to a miso noodle soup perfect for a cold night, quick dinner or comfort for the nasty cold. Full of greens, protein and detoxifying properties to help give your health that extra boost!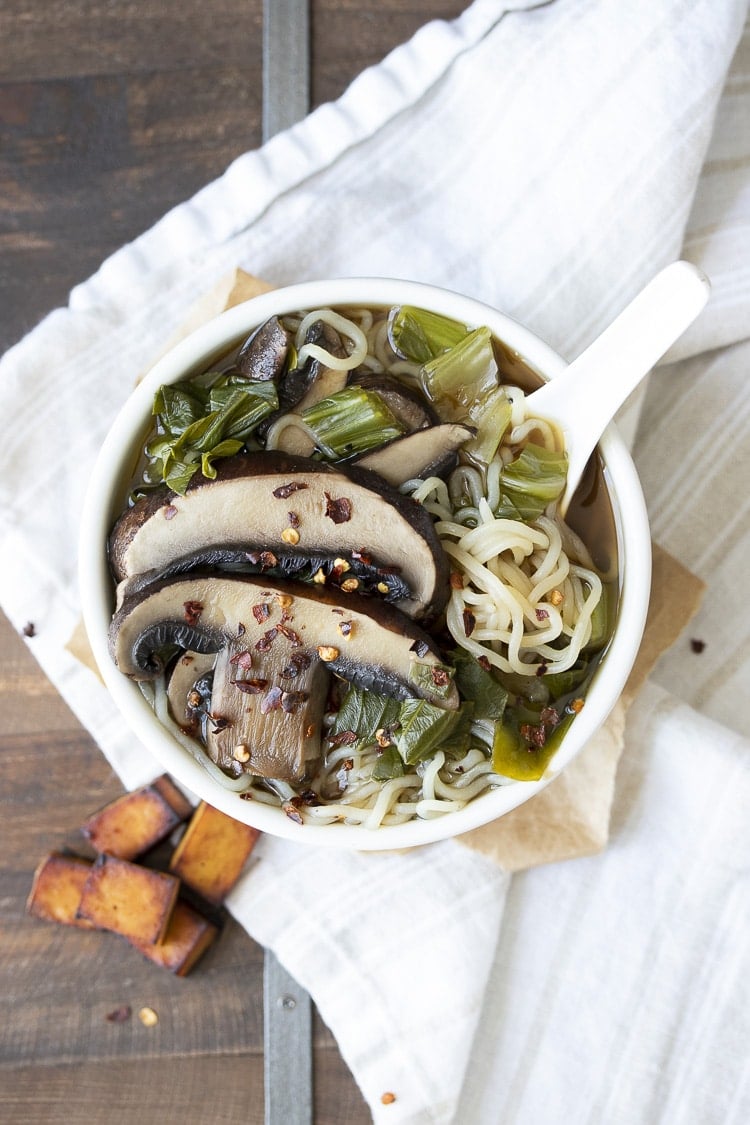 15 minutes to weekday dinner does not get better than this. Filled with protein and veggies and packs a flavorful punch, no one will be able to resist these vegan peanut noodles!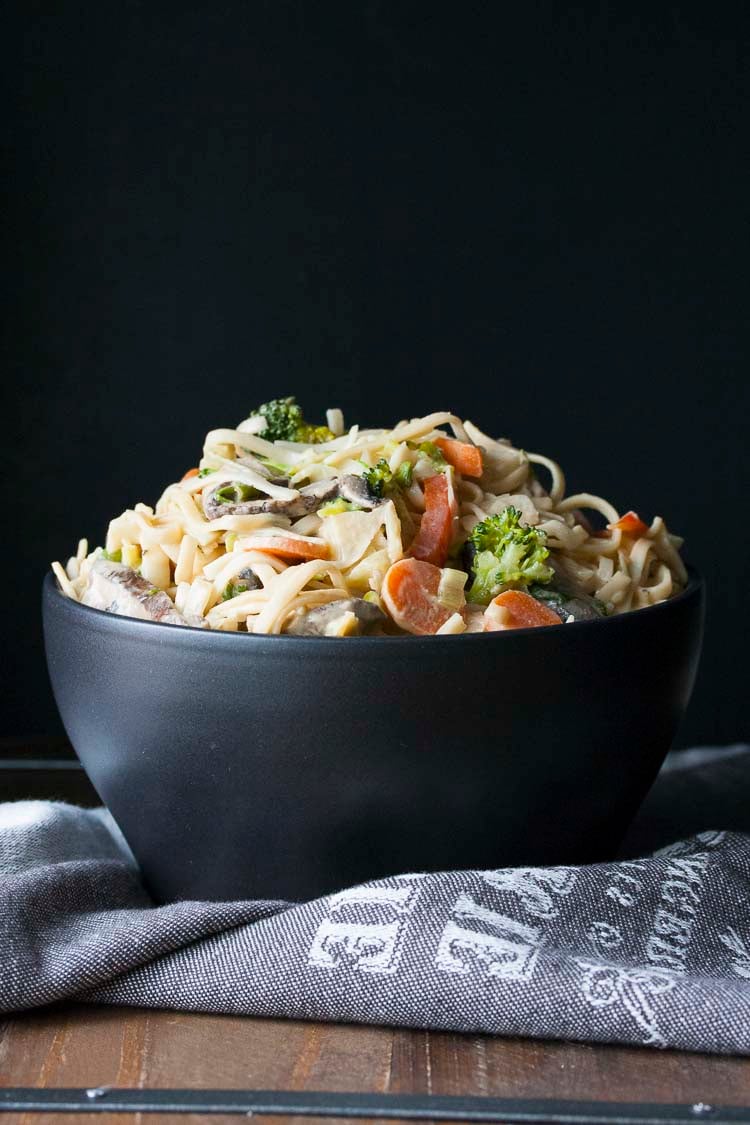 Broccoli and Spinach Pesto Pasta
Broccoli pesto pasta is a fun twist on the classic recipe. A perfect easy dinner idea that's filled with veggies and goes with just about anything!
Black Bean, Rice and Avocado Grilled Burritos
A gourmet meal with a fast food feel. These grilled burritos are not only super fast and easy to put together but the flavor will knock your socks off!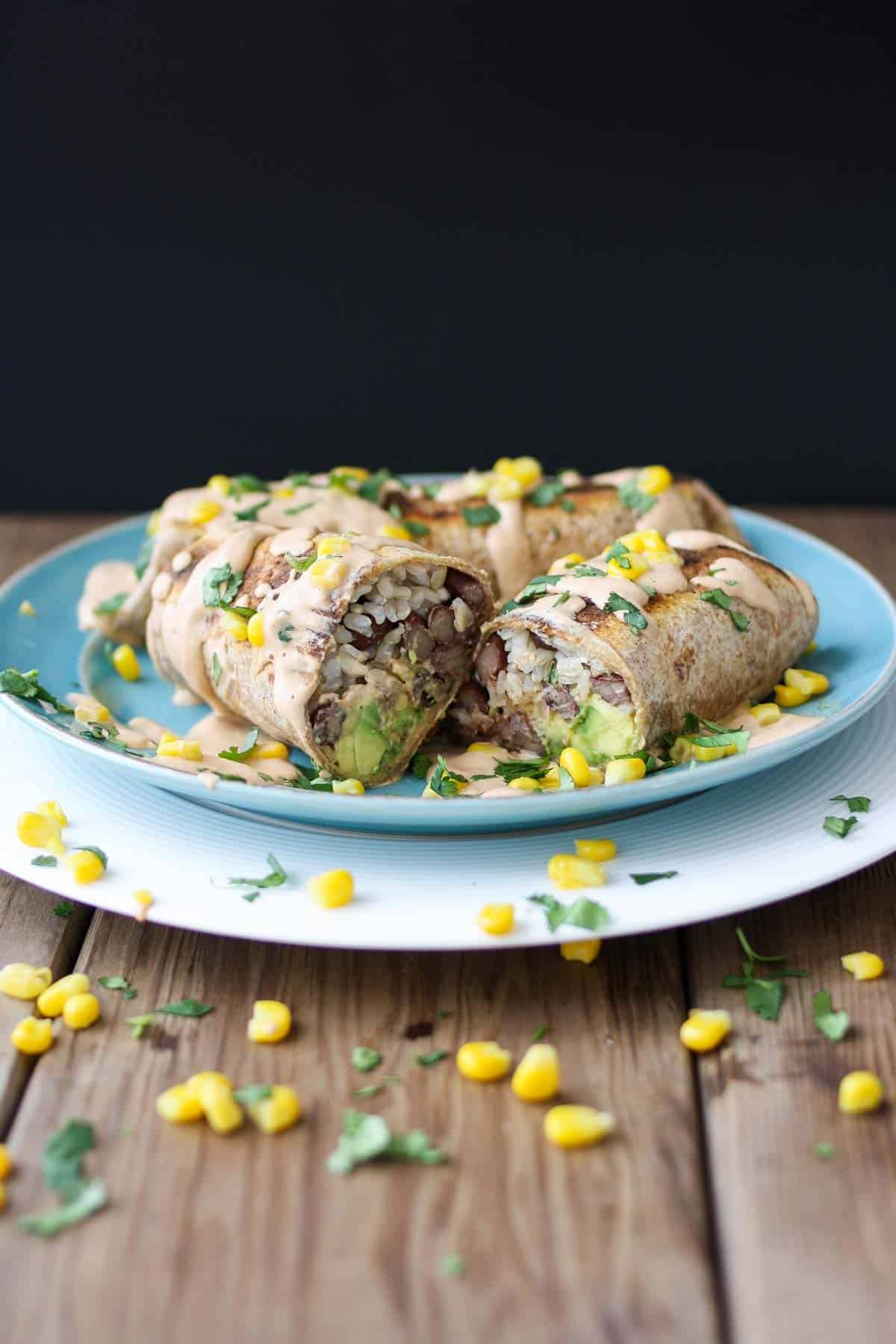 Summertime isn't complete without an easy to make, fresh and delicious salad. This is your new go to healthy picnic staple!
Sausage, Tomato and Spinach Pasta
Only 3 ingredients but filled with flavor and nutrients, this vegan pasta sauce is a go-to quick and easy meal! Toss with your favorite pasta and serve on busy weeknights.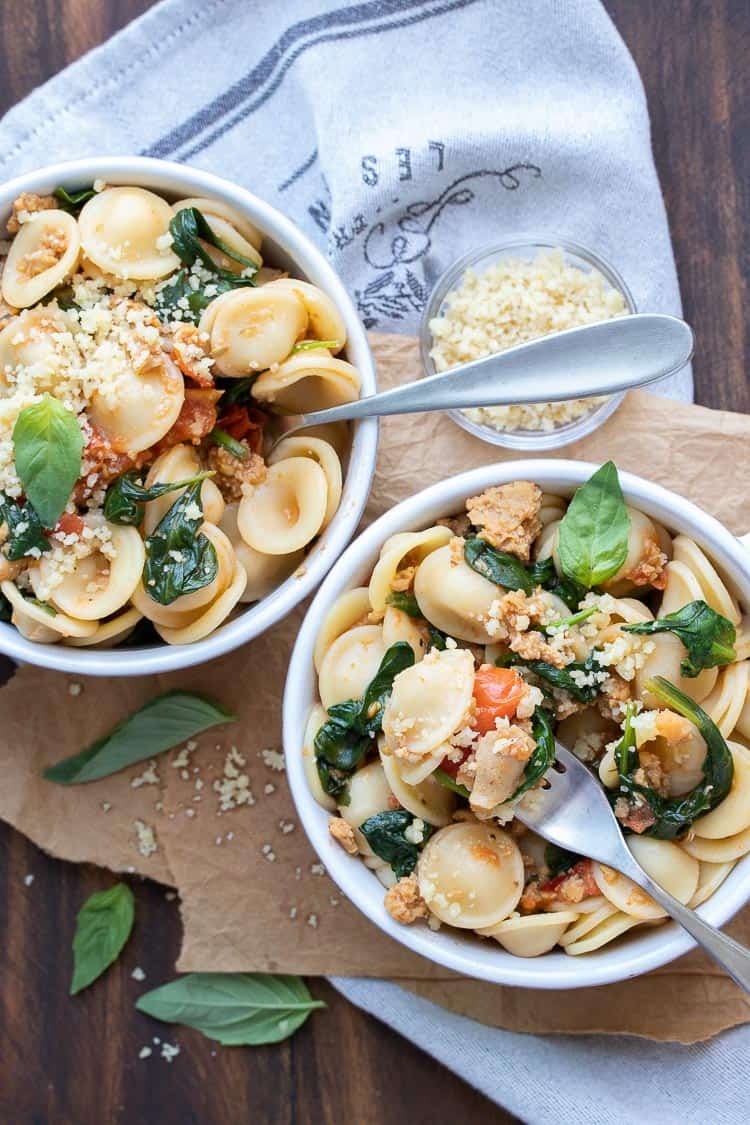 Easy, fun and kid friendly, these BBQ sliders are the perfect dinner for a crazy day. They are filled with protein, flavorful and have amazing texture!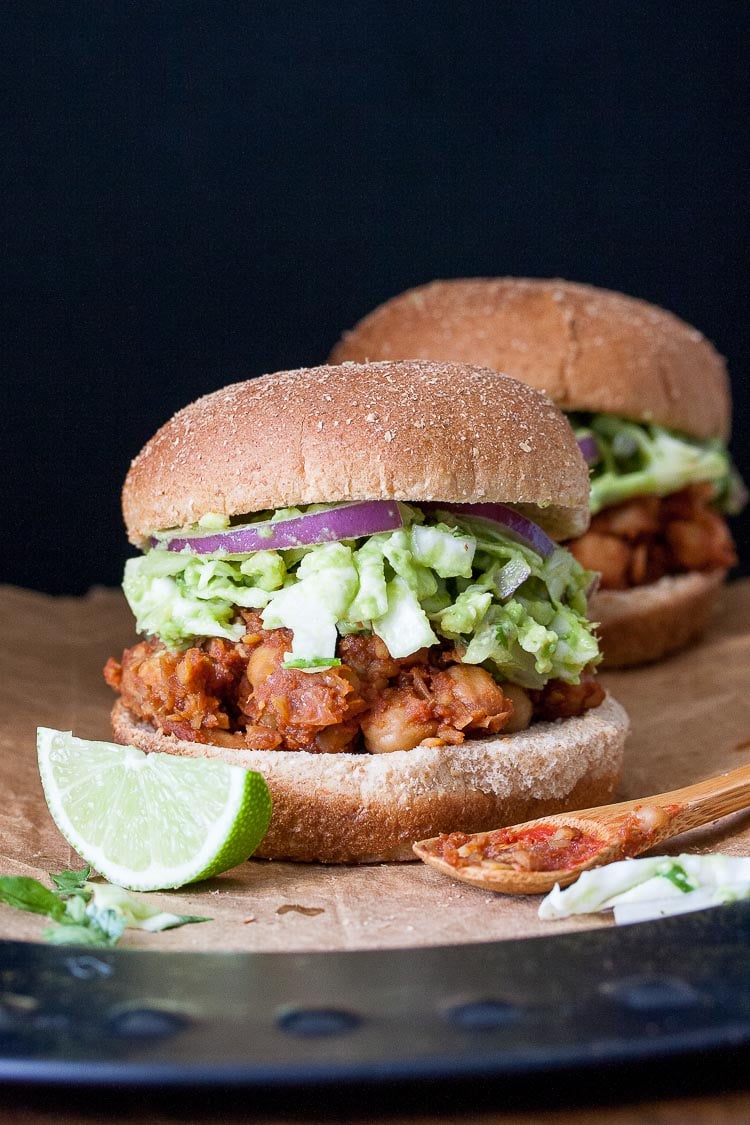 Easy vegan dessert recipes
Having a sweet treat in your back pocket is always a must. Even better when it's easy to whip up and healthy for you!
My kids are always asking for treats, and as balanced as I am in life when it comes to stressing about food, I still want to maintain generally healthy food choices at home. That lets us indulge when we go out!
Are vegan desserts better for you?
In my opinion, the answer for that is no. No because it really depends what those desserts are made of. Just like I mentioned above, you need to read labels to know exactly what's in your food.
Here at home we focus on using
natural sweeteners
. I love keeping my
date paste
on hand to use when I'm looking for the
most natural way
to add sweetness to my treats. It's made of pure dates and has no refined sugar.
My second go to unrefined sweetener is maple syrup. It's another quick way to get yourself that sweet treat without loading up on processed sugar.
Desserts come in both indulgent and healthy varieties, and we definitely have both in our lives. But luckily I have some quick and easy vegan dessert recipes when that sweet tooth hits us here at home.
Made with whole foods in mere minutes, these raw brownie bites are packed with protein and the perfect after school snack! There is even a nut-free option making this the ultimate allergy friendly recipe.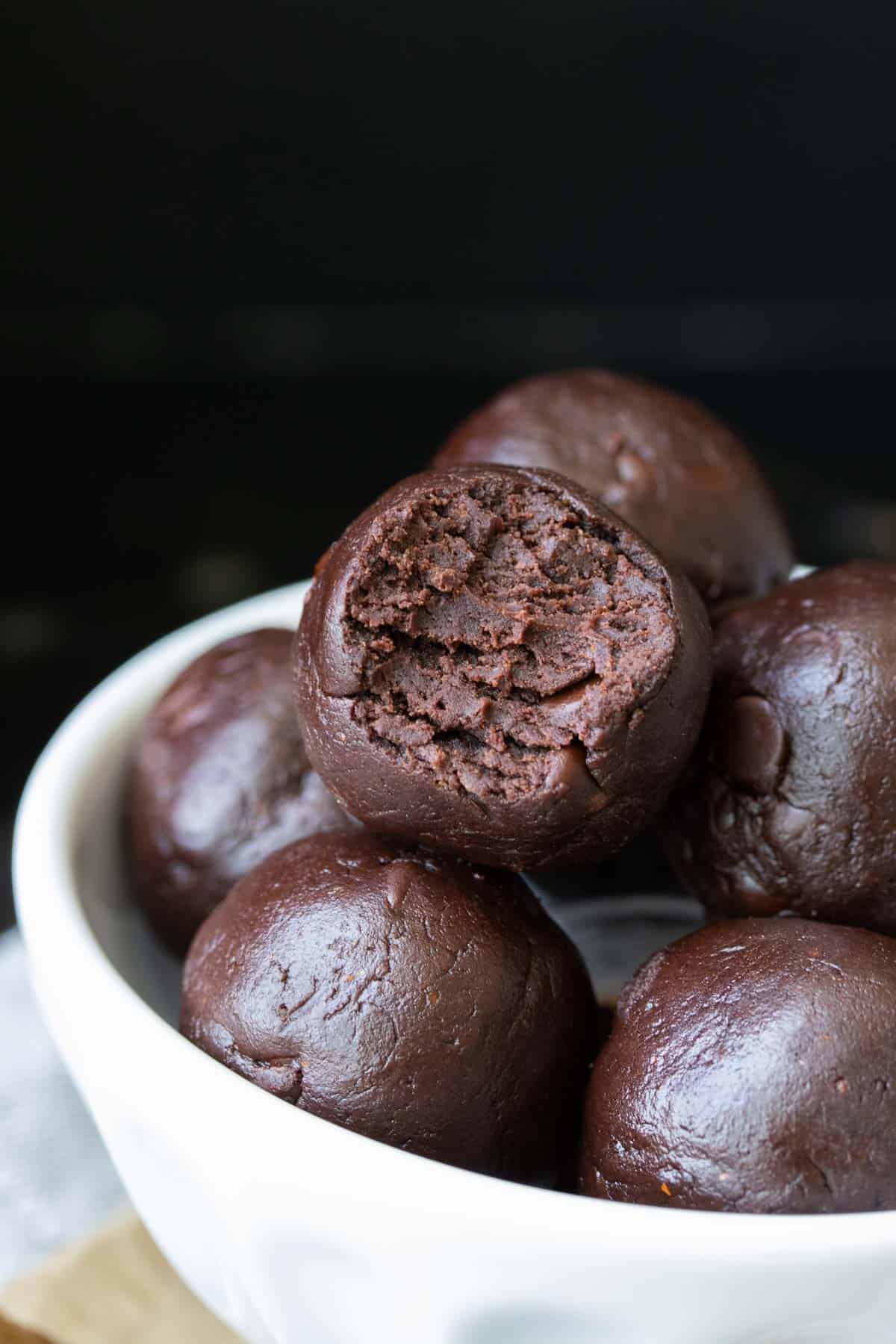 2 ingredients to summer euphoria, this instant frozen yogurt gives you the sweet treat you need without the wait! It's easy, delicious and done in minutes!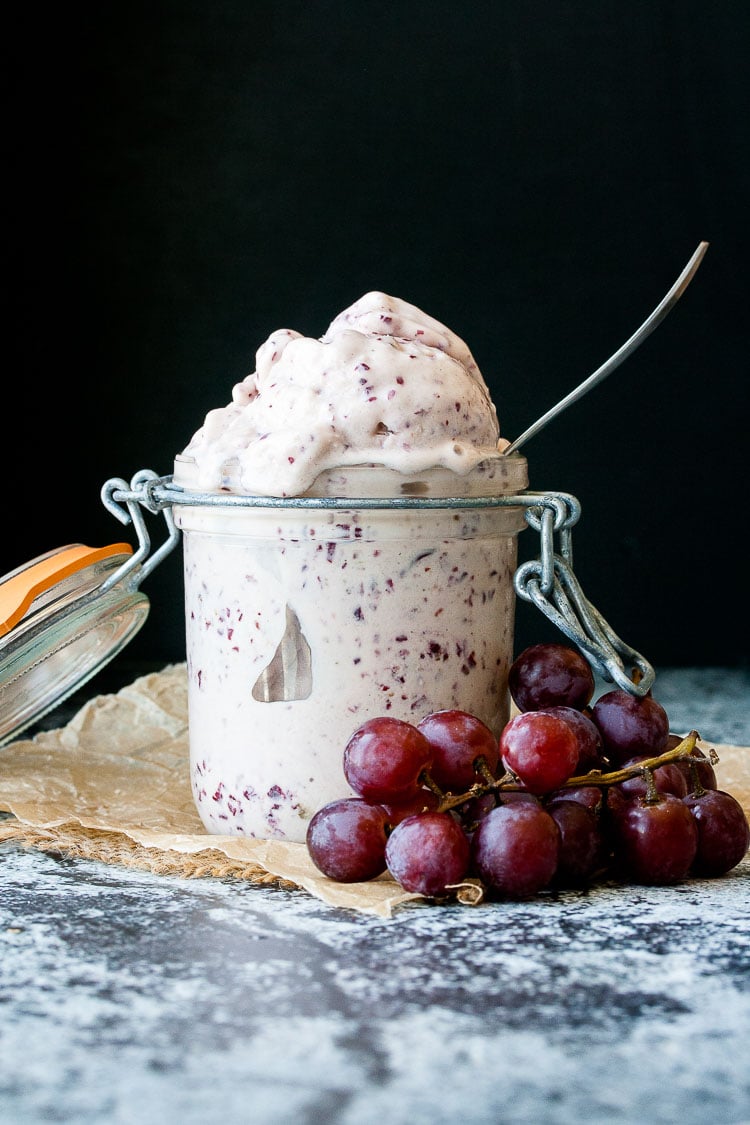 Vegan homemade strawberry milk made only with natural sweeteners. Three ingredients, easy to make and you won't think twice about giving it to your kids!
Sweetened with ripe frozen bananas, dates and blended with creamy avocado and hidden spinach, this healthy vegan Shamrock Shake is the perfect combination of health and flavor!
Date paste and banana with oats, peanut butter and pecans make these protein packed chunky monkey cookies.Accented with vegan chocolate chips, it's hard to believe they're healthy!
Eating healthy vegan food is definitely easier than it seems, as you can see with all these easy vegan recipes all done in under 30 minutes!
But it's also something we can constantly be improving in. Success is best achieved with great support. And do I have the support for you!
My membership site is an amazing tribe of people, all coming together for the same reason: wanting to add plants into their diet without pressure, judgement or stress.
If this is something that sound like you, check it out! It's the most amazing group online and there is nothing else like it out there!