It is possible to put together a quick vegan dinner that is not only delicious but loved by your family. Check out these amazing ideas!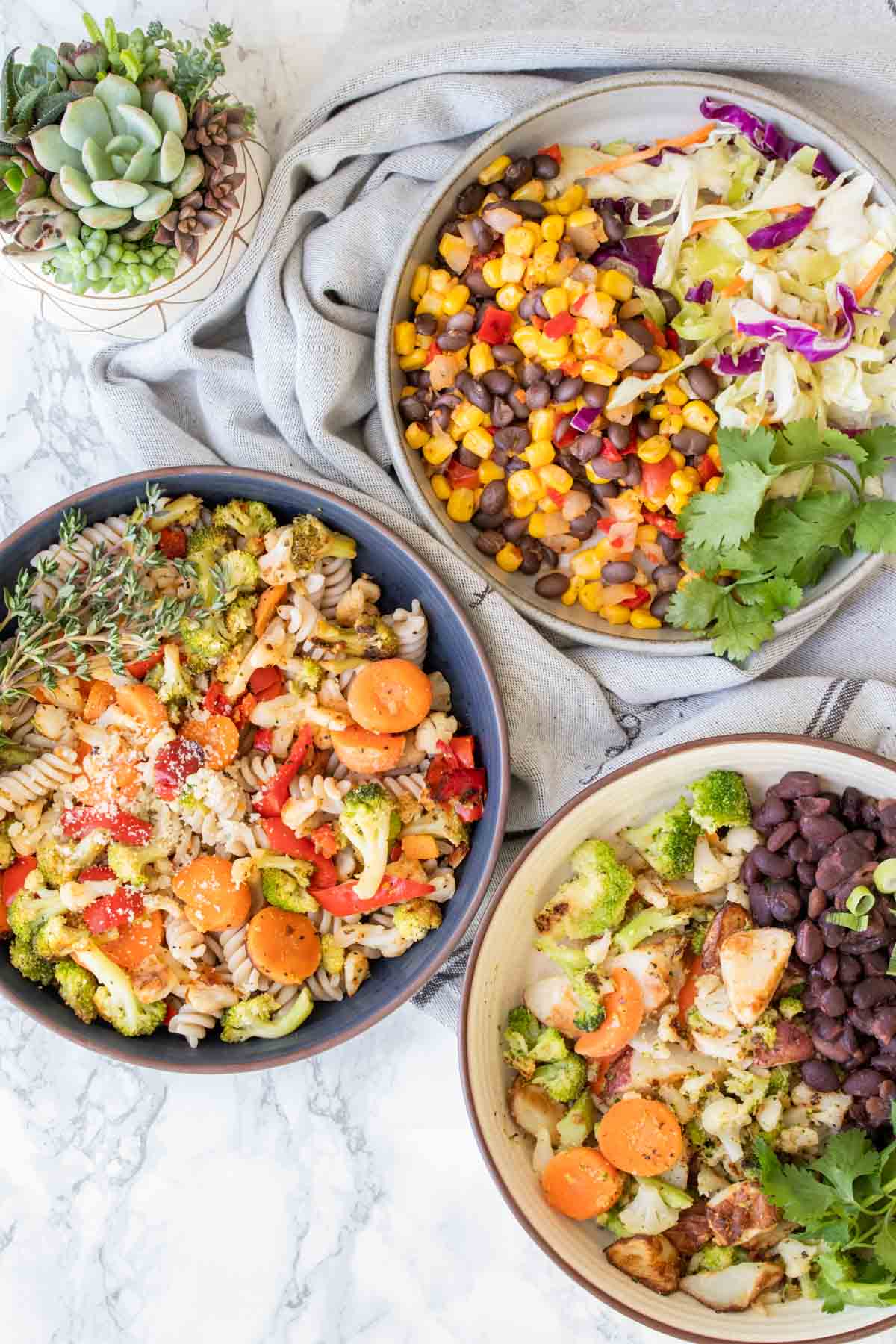 This post was sponsored by Green Giant but the content and opinions expressed are fully my own.
This post was originally published on February 24, 2019.
You know the drill, life is crazy and you find yourself staring at the clock at 5 pm wondering where the day went. Kids are hangry, you're crabby and want to feed your family something quick, healthy and have it taste good!
One trick I love is having a quick frozen veggie mix to heat up and make life really easy. And if the mixes already have seasoning and flavor in them, it makes it even quicker and easier!
We have been loving these new Green Green Giant® Simply Steam™ Made with Dash Salt-Free Seasoning blends. They are made with simple ingredients, loads of flavor from the herbs and spices and the best is that they have no added salt!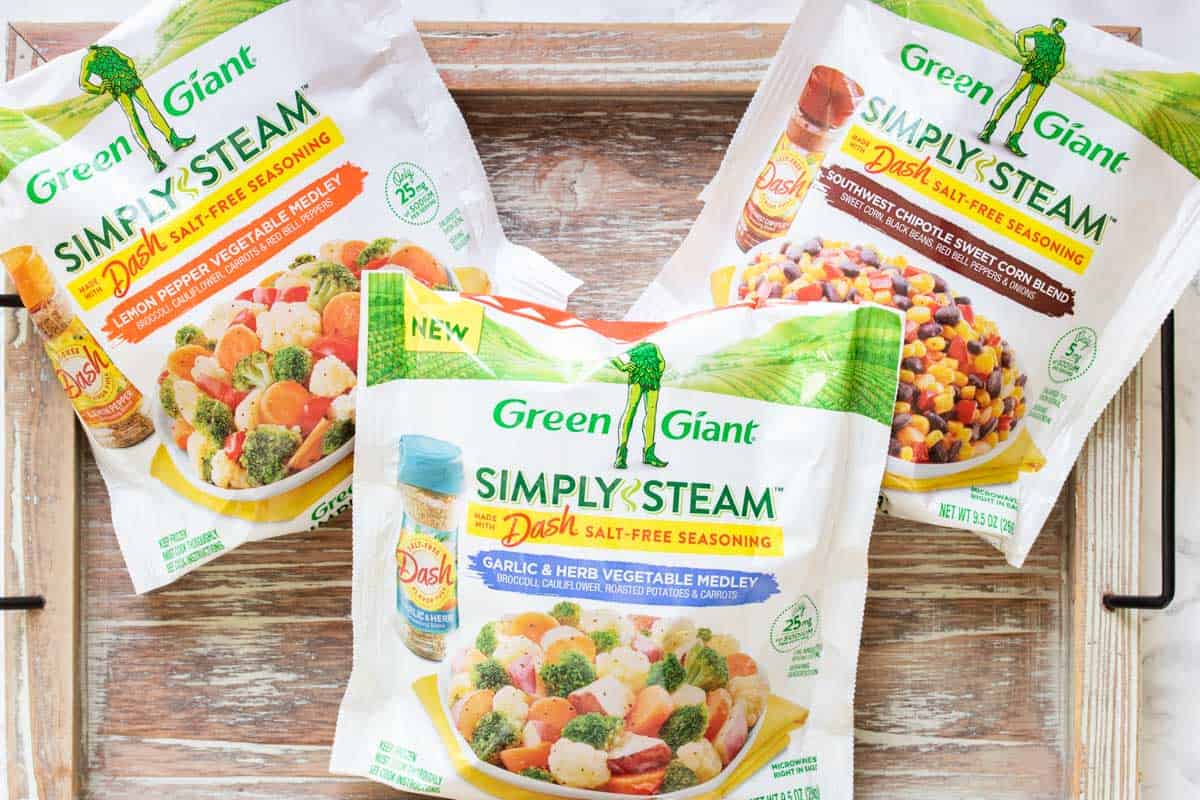 This is perfect for people that need to watch their salt intake, like my husband. And the crazy part, is that I assumed I would need to add salt for the rest of us, but the flavors are so great, you really don't!
How To Prepare Easy Vegan Dinners
These blends really make it so easy to create healthy and satisfying meals quickly. Honestly you could serve these as a meal all on their own if you really wanted, but I like to mix things up to keep dinner interesting for everyone.
Simple Neutral Flavors
When you need something neutral and simple, having a veggie mix like this Lemon Pepper Vegetable Medley, allows you to be super versatile with it's use. This one features broccoli, cauliflower, carrots and peppers expertly seasoned with a zesty kick!
They're also easily steamed in the bag which means less dishes. (Yay!) You can definitely also pan saute them if you prefer. It takes just a few minutes to get them piping hot and ready to eat!
One way you can use this flavor combo is in my Roasted Vegetable Pasta! It saves so much time since you don't have to wait for the veggies to roast. Top with some vegan parmesan and enjoy!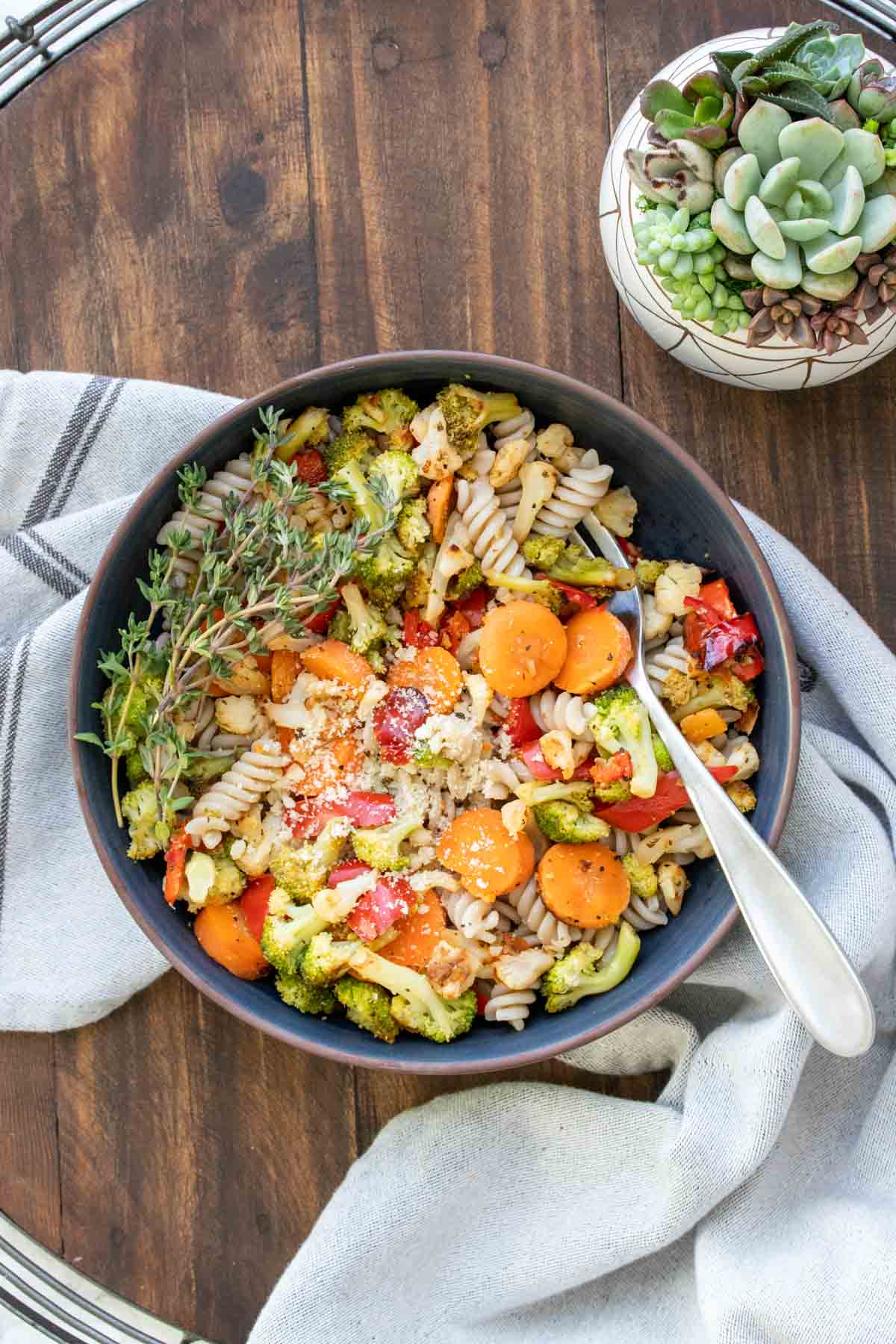 This flavor would also pair wonderfully with these recipes:
Mexican and Southwest Flavors
Sometimes I want something with a little more flavor explosion. This Southwest Chipotle Sweet Corn Blend has all the ingredients we love. Corn, black beans, peppers, onions, and the perfect smoky chipotle flavor that are easily made in minutes.
Since the protein is right in the mix, I love serving this blend with my Mexican Coleslaw all on it's own, it's the perfect flavor combo!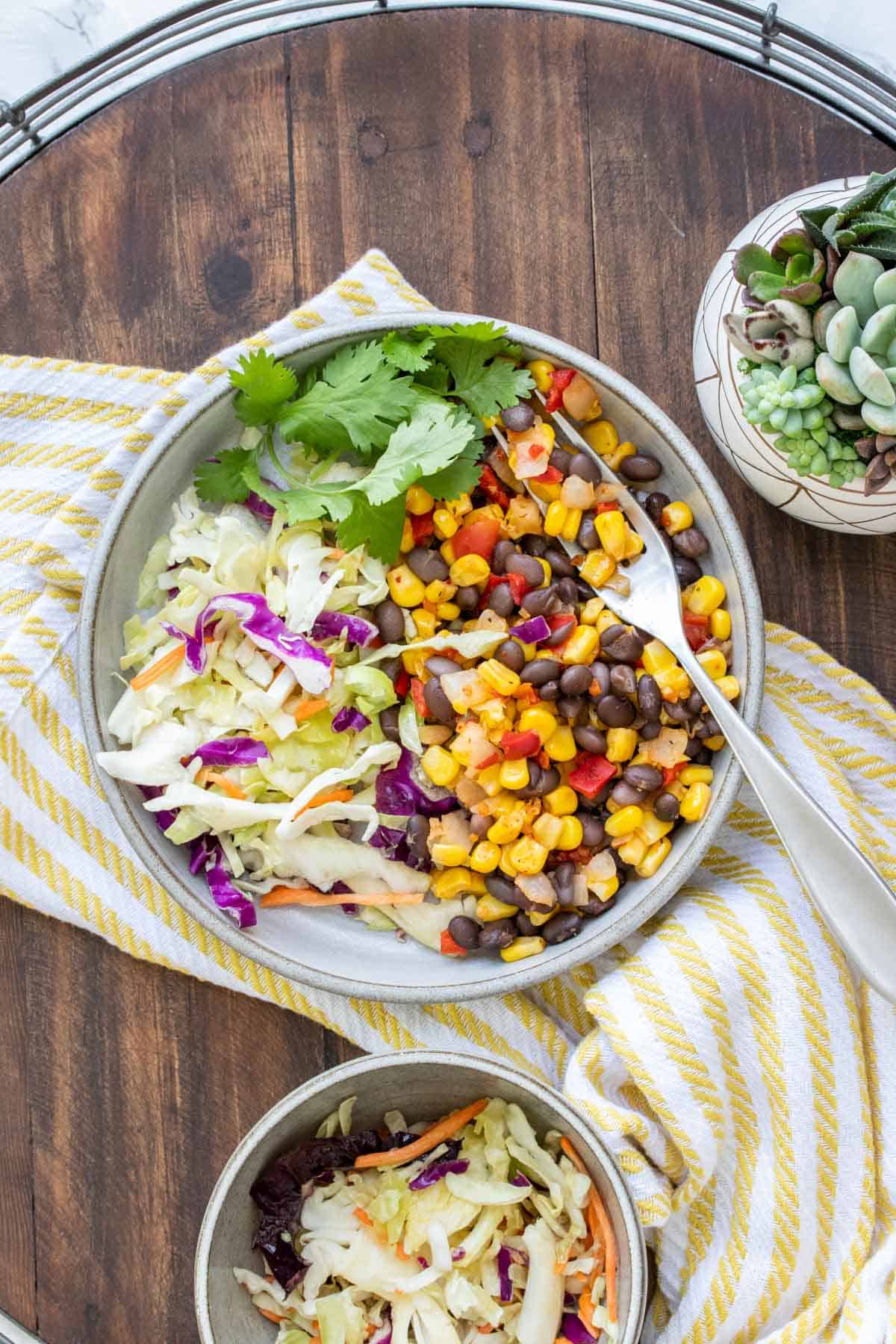 You can also use this to make a Low Fat Vegan Mexican Taco Bowl even easier! Along with that, it's an excellent side dish served with any of these easy Vegan taco recipes (or even right inside):
Garlic Flavors
Much like the neutral flavors we often use, we also like the garlic based flavors in our meals. This Garlic and Herb Vegetable Medley is a perfectly seasoned filling type mix because it includes potatoes inside along with cauliflower, broccoli and carrots.
I've found that having my Black Beans as a side to this blend makes it a one and done meal that everyone eats without complaints. Having the beans made up ahead of time means that dinner is served in literally minutes!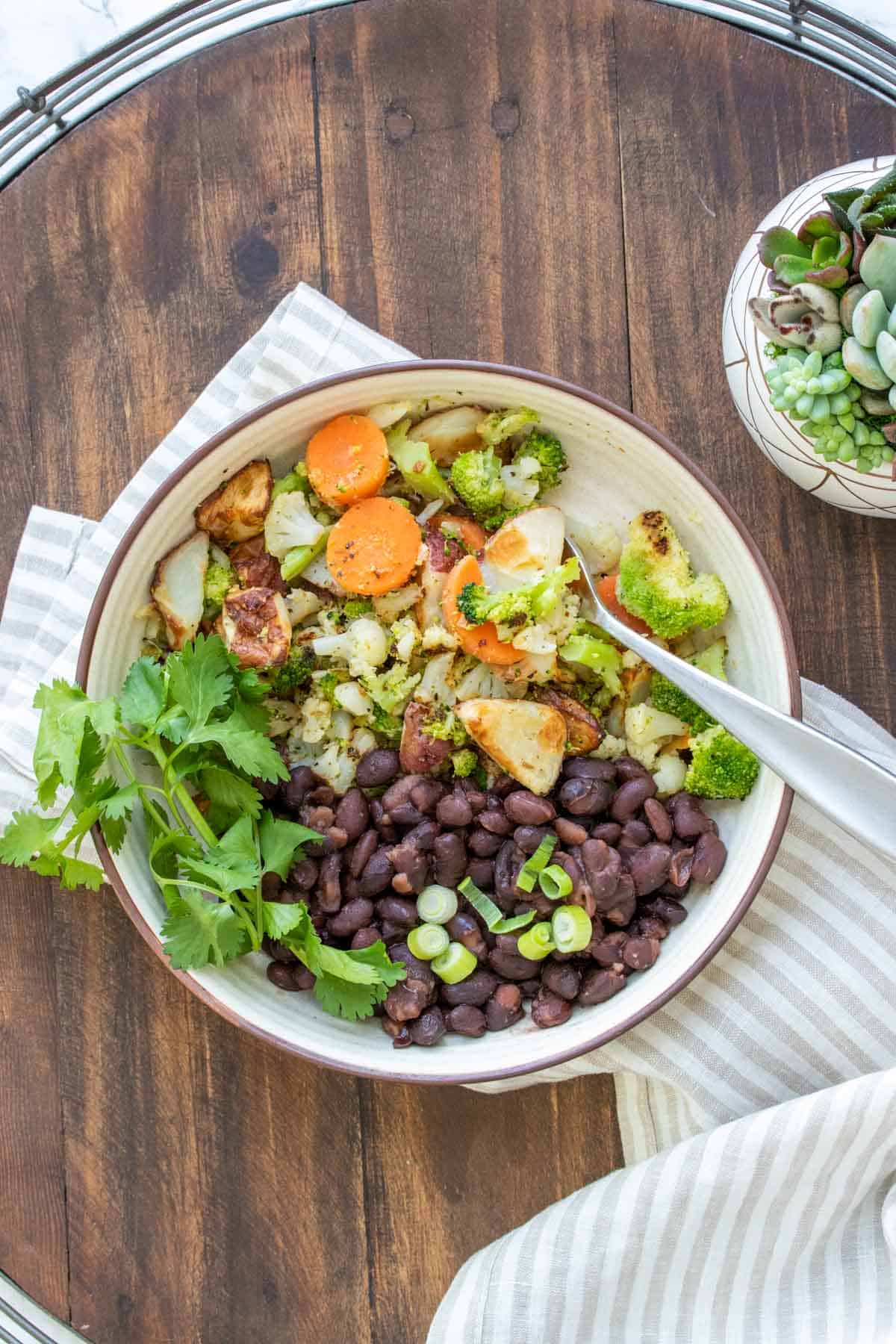 This mix is also great with:
Staples to have on hand
Having simple meals at the ready is such a lifesaver. The key to being able to whip up a delicious and healthy meal in minutes is being prepared ahead of time by having certain foods in your kitchen at all times!
Having frozen veggies on hand, like these Green Giant Vegetable Blends , makes wholesome meals easy and quick. In addition to those, it's helpful to always have the following on hand:
Time saving tips
A little bit of work ahead of time makes a huge difference in the day to day. Here's some suggestions of what you can do to make your life that much easier:
Common Questions
What can I eat for dinner as a vegan?
Anything plant based! From tacos, to salads, to hearty soups, it's easy to make anything vegan with the right healthy, whole food ingredients.
What can I make for dinner for 10 minutes?
You can make a satisfying bowl quickly with frozen veggies like I do with these Green Giant Vegetable Blends! Serve them over rice or mix with pasta and your favorite marinara for a quick meal.
What are the most filling vegan foods?
Foods that naturally pack fiber or protein are the most filling. Vegan options include beans & legumes, nuts, seeds, oats, fruits & veggies. Frozen mixes like these Green Giant Vegetable Blends help keep you full with all their wholesome goodness!