This vegan tikka masala is the perfect way to use up leftover veggies. Paired with crispy chickpeas and veggie filled rice for an amazing wholesome meal!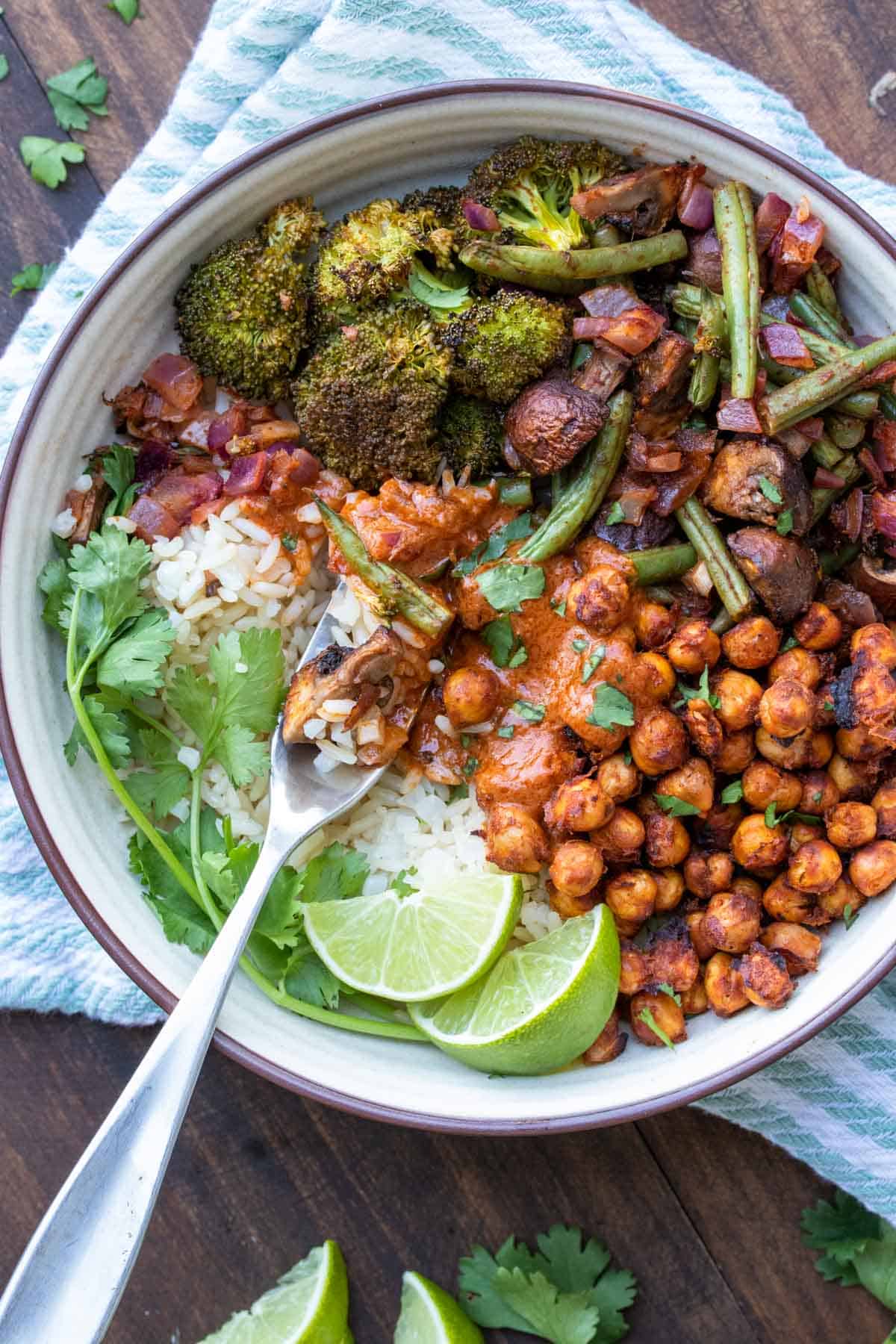 This is a sponsored conversation written by me on behalf of Maya Kaimal. The opinions and text are all mine.
I use the tikka masala sauce in three ways to give this recipe triple the flavor! Coat and roast the veggies, mix with chickpeas and bake until crispy, then drizzled on top for a final flavor punch.
Vegan Tikka Masala
Tikka Masala is usually served with chicken, but there is no rule against using veggies for a meat free vegetable tikka masala version. You can even make a chickpea tikka masala for a protein type base. Either way, when it's an easy clean out the fridge kinda meal you are set!
What does tikka masala taste like?
For those of us that don't have a lot of experience with Indian food, tikka masala is a great sauce to start with. It has a creamy tomato base and a mix of different spices. It can be a touch on the spicier side but usually pretty mild.
It isn't super strong with traditional Indian flavor so it really pairs with just about anything and most people like it.
Tips for choosing a tikka sauce
When it comes to tikka masala, first you need to make sure that you are looking for the base of the cream. If you are dairy free, make sure it is made with a dairy free milk. Dairy free tikka masala is usually made with coconut milk.
Also, you want to look at the spiciness of the sauce. If there is a lot of spice in it, and you don't like spice, then move on to another sauce or find a homemade recipe that works for your spice level.
In general, if I am buying sauces I like to choose those with mostly whole food ingredients. The first 2-3 ingredients should be whole foods and not sugars or oils. I am okay with those two things being in my store bought food, because balance, but it's better when they are further down the line.
I love to make homemade sauces, but sometimes it's so great to find an amazing store bought sauce you can have on hand for those quick and easy meals. Especially when it comes to cuisines I am not as familiar with.
One of my new favorite discoveries is the brand Maya Kaimal. I was surprised just how homemade their sauces tasted! This vegan tikka masala sauce is the first of my experiences, and I have to say it won't be my last.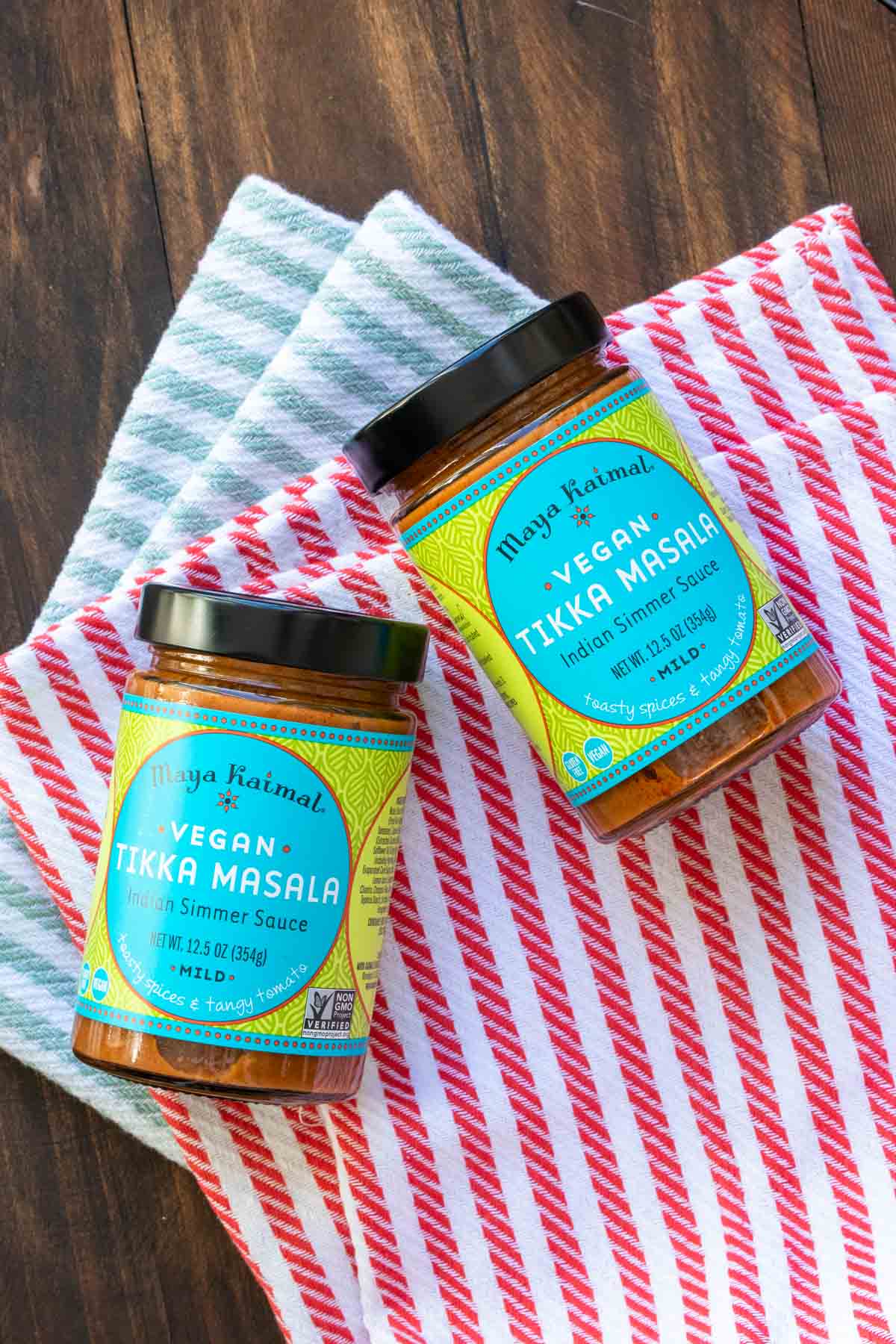 It is so fresh, I honestly would not know it was from a jar has I not seen it myself. You know that jarred aftertaste you often get with store bought sauces? Nope, not here. It really is so good!
Huge bonus is that the ingredients are all great and things you would use if you made it at home. Love it when that happens!
What veggies go with Indian food?
So one way I used this awesome tikka masala sauce, was to coat my veggies in it and roast them. I grabbed what I had in the fridge, which makes this the perfect clean out meal, poured on a little sauce and baked them until slightly crisp on the edges.
You really can use just about anything with this tikka masala sauce. Here are some of our favorite veggies that go fabulously:
broccoli
green beans
mushrooms
onion
carrots
butternut squash
cauliflower
spinach
zucchini
What else can you serve with tikka masala?
While I do love a good roasted veggie tray, I need a little something more to keep me satisfied. So lucky for me, Mayak Kaimal also makes ready to serve surekha rice! It comes in a pouch, I tried the perfectly plain flavor, and has an awesome texture.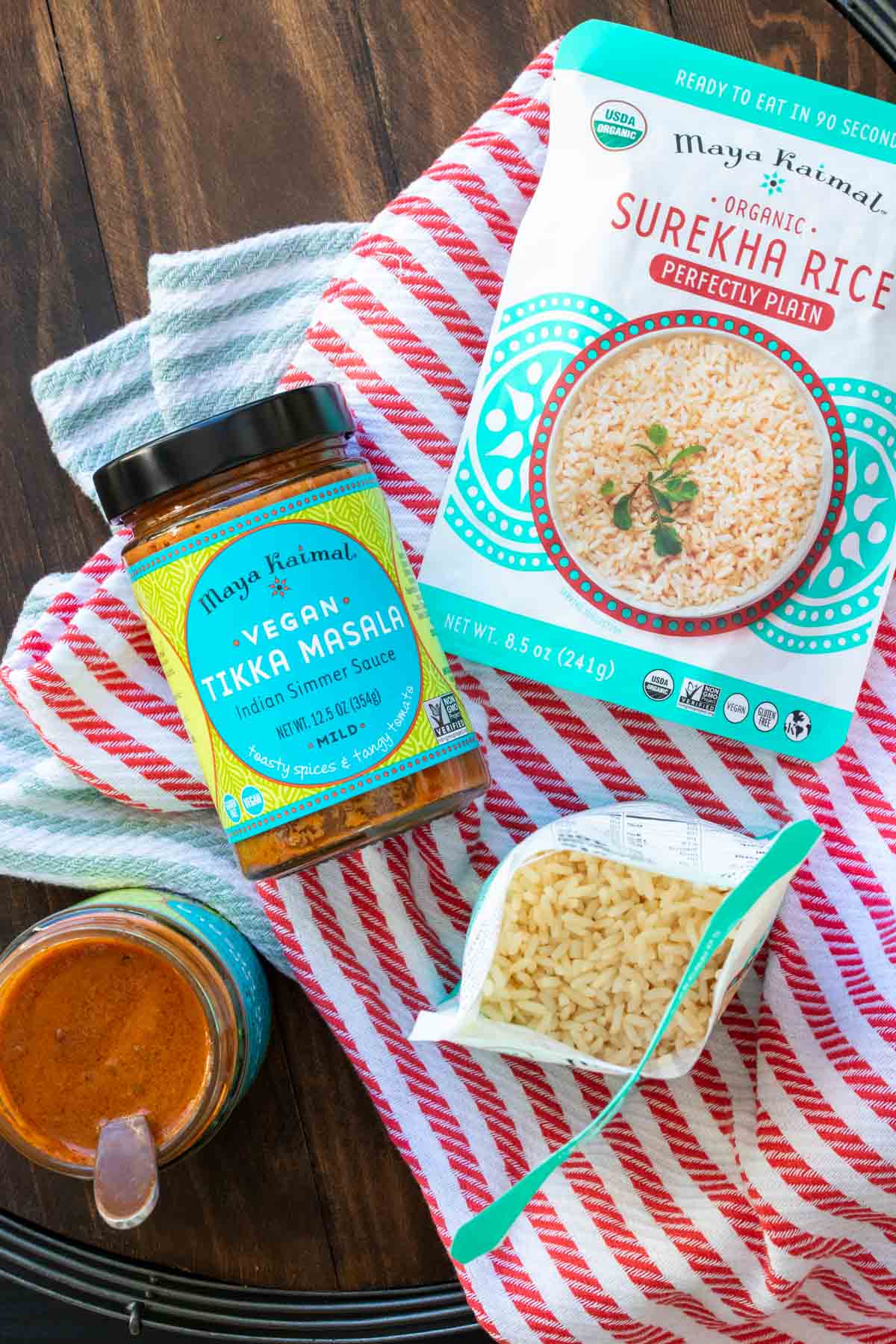 I am really really picky with my grains and how they are cooked. Mushy pasta, rice or anything in between makes me want to gag. This was so easy to heat up and serve right along side the roasted veggies.
Just like their sauces, the rice has few ingredients and all real food. I also mixed in some cauliflower rice to bump up the veggie factor even more!
Along with that, I used the vegan tikka masala sauce to make some crispy chickpeas! It was the perfect coating to add a touch of flavor to them.
Pairing the crispy baked chickpeas with the tikka coated veggies, alongside some of the ready rice mix and a healthy pour of sauce on top, made this an amazingly easy wholesome dinner!
Can I freeze tikka masala sauce?
Absolutely! Especially one with whole food ingredients like this one. Although I doubt you will have leftovers with this brand, you can always freeze any leftover sauce in an airtight container.
Cover it with plastic, making sure it seals right over the top of the sauce to prevent freezer burn, and store it in the freezer until you are ready to use. Once ready, defrost it slowly and then heat it in the microwave or stovetop on low until warm.
How to Make an Easy Vegan Tikka Masala Meal
While you can definitely make your own tikka masala sauce and use the same way, for those of us that need something fast and easy, this bottled brand is amazing. You can also find this vegan tikka masala sauce in the refrigerated section of the store, I got some at Costco for a great deal!
Gather any veggies in the fridge, your chickpeas and rice (mix riced cauliflower with the rice to get in extra veggies).
Roast your veggies and chickpeas with tikka masala.
Serve all together with more sauce!
Serving tips
You can add as little or as much sauce as you want to the veggies. I wouldn't suggest over-saturating them or the chickpeas because they won't crisp as well and the sauce will burn.
Serve as a bowl or even in a wrap or flatbread. Adding the riced cauliflower is optional but it goes great with the sauce and a perfect way to get kids an extra veggie dose!
How to spice up tikka masala
Ways for adding spice is always something I look for. This dairy free tikka masala sauce is very mild, so if you want a little extra spice you could add some jalapeños to your veggie mix and roast them with the sauce.
You can also add a little cayenne pepper or crushed red pepper to the sauce or on top, or you can even add some of your favorite hot sauce.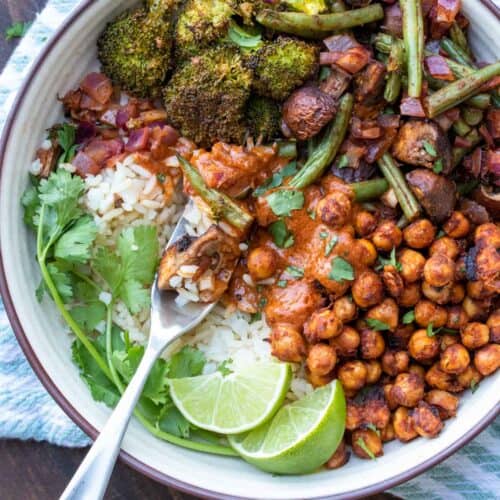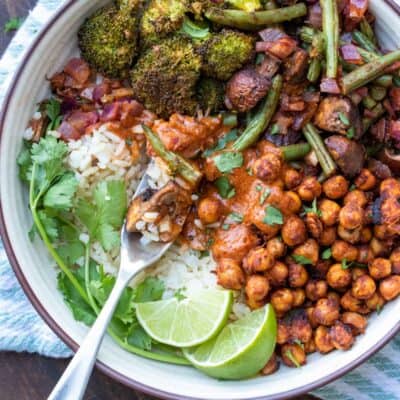 Easy Vegan Tikka Masala
This vegan tikka masala is the perfect way to use up leftover veggies. Paired with crispy chickpeas and veggie filled rice for an amazing wholesome meal!
Ingredients
1

cup

broccoli

, cut into bite sized pieces

1

cup

green beans

, cut into pieces

1

cup

mushrooms

, cut into fourths

1

cup

chopped red onion

1 ½

cups

chickpeas

, drained and rinsed (about one 15 ounce can)

2

cups

ready cooked rice

, I used the ready rice by Maya Kaimal

1

cup

cooked riced cauliflower

, optional (I used frozen)

½

cup

tikka masala sauce

, plus more to drizzle over the top (I used the Maya Kaimal brand)

Cilantro

, optional for garnish

Lime wedges

, optional for garnish
Instructions
Preheat oven to 450 degrees.

Mix veggies with ¼ cup tikka masala sauce and put on a parchment lined cookie sheet.

Mix chickpeas with ¼ cup tikka masala sauce and put on another parchment lined cookie sheet.

Bake veggies for 20-25 minutes. Bake chickpeas for 30-35 minutes.

Mix rice and cauliflower rice together, if using.

When done serve the chickpeas and veggies over the rice and top with more tikka masala sauce. Garnish with lime and cilantro if using.
Notes
You can use any other veggies you like, see post for ideas. Just make sure total amount is around the same.
You can make your own tikka masala, but I like using this one for a very quick and easy dinner.
You can also cook your own rice, but this ready rice made this dinner super fast.
Recipe by Veggies Don't Bite, visit our site for more great plant-based recipes.
Nutrition
Calories:
521
kcal
Carbohydrates:
104
g
Protein:
16
g
Fat:
6
g
Saturated Fat:
1
g
Sodium:
178
mg
Potassium:
670
mg
Fiber:
9
g
Sugar:
9
g
Vitamin A:
348
IU
Vitamin C:
47
mg
Calcium:
95
mg
Iron:
3
mg
Nutrition and metric information should be considered an estimate.
Never miss a recipe!
Sign up here and get a FREE quick and easy meal guide!