If you're looking for a no frills, no fancy ingredients, simple feed your cravings kind of treat, this easy vegan yogurt recipe is it!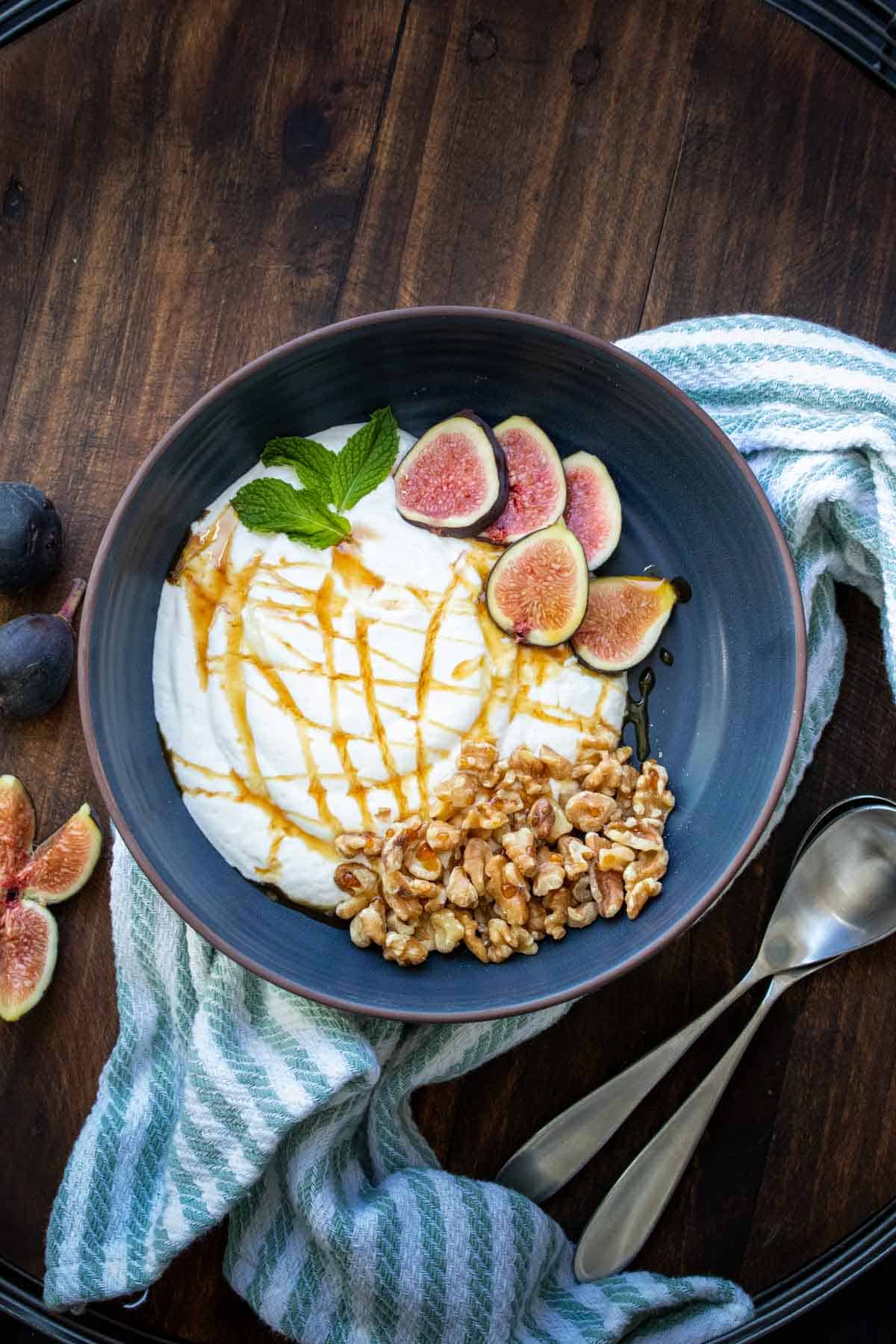 This post was sponsored by NOW Foods but the content and opinions expressed are fully my own.
This isn't the probiotic, yogurt starter, store in a cool dark place for 24 hours kind of recipe. It's simply a blend and chill to thicken kind of thing. Some may say it's not the real thing, but I say, try it! You'll be surprised!
Vegan Yogurt the Easy Way
While I realize that real true yogurt has a fancy long process to get that perfect tangy thick yumminess, I also realize that I have the craving and I don't have the energy to make fancy happen.
I got creative, and found a way to feed my craving in a super easy, next best thing kinda way!
What kind of yogurt is vegan?
Since vegan products don't have dairy, any yogurt made with a dairy alternative is considered vegan. There are many different things people use to make a dairy-free yogurt.
What is vegan yogurt made out of?
Here are a few of the most common main ingredients used for vegan yogurt: soy, coconut, almonds and cashews.
There are a few ingredients that are key players for thickness, creaminess and tang in my recipe.
Raw cashews
A touch of slivered almonds
Lime juice (yep not lemon)
White vinegar
When it comes to nuts, the quality makes a difference. Old stale nuts, like old stale chips, won't yield the best results. So pick a brand that you know delivers.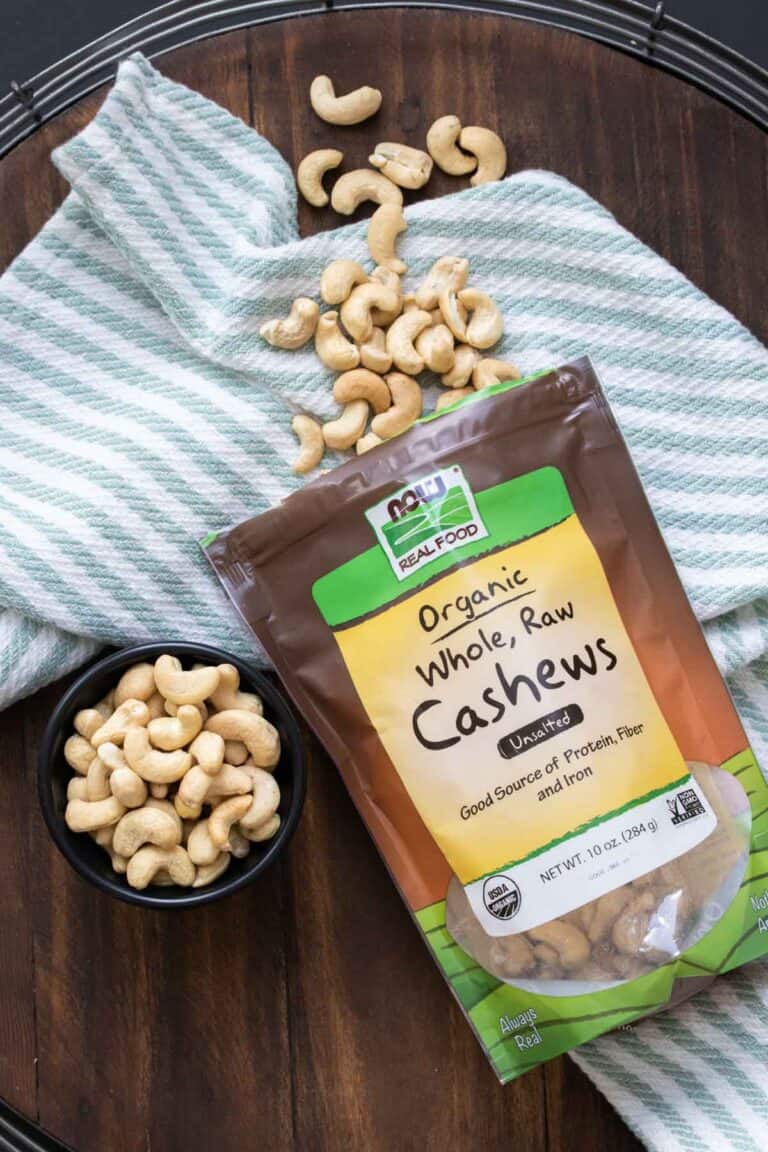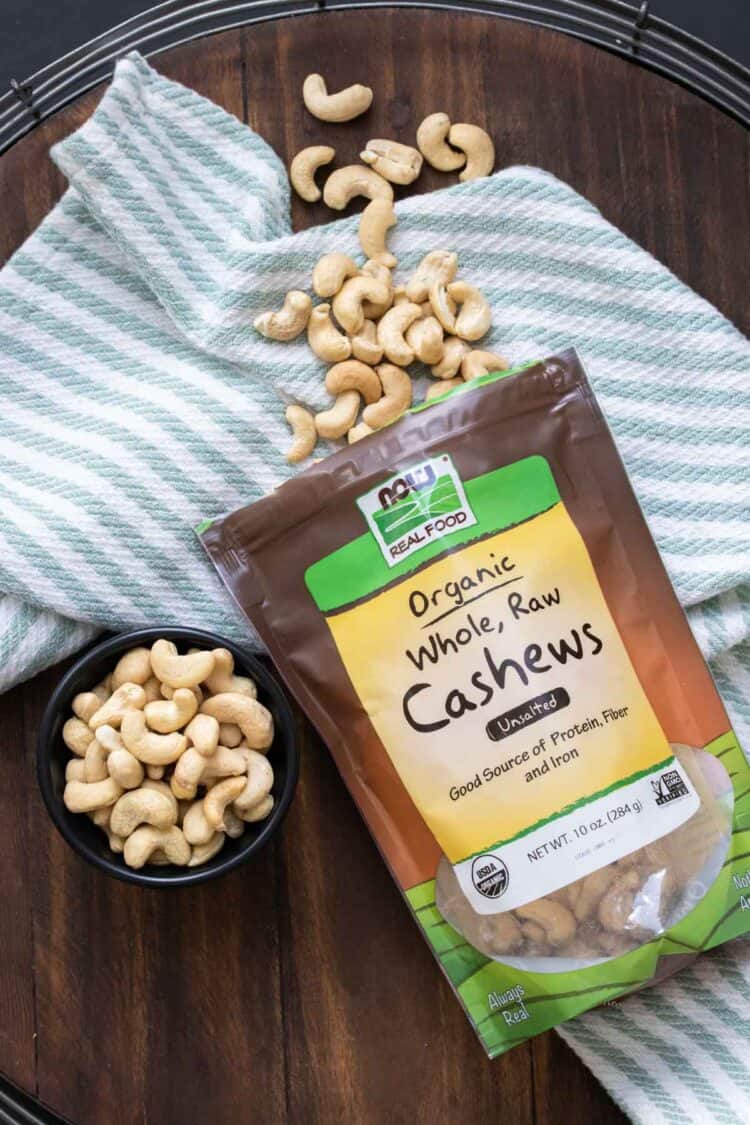 I love the NOW brand raw cashews because their quality is always top notch. They take great care to ensure all of their products provide the maximum value for the price.
I love that their cashews always taste great, it's so important to me that I can count on them to deliver quality ingredients because there is nothing worse than having to throw out a recipe that doesn't turn out right do to a bad batch of nuts!
Cashews add the ultimate creaminess and texture to this recipe. While I know not everyone can have nuts, it is my favorite way to make dairy free alternatives. The small addition of slivered almonds here helps reach that perfect neutral tangy flavor of plain yogurt that using only cashews can't get.
If you have a nut allergy, much like in my vegan sour cream recipe, I do give the idea to use silken tofu in the recipe notes. However please note that it will not lend the same creamy end result and is not something I have tried or prefer.
But, is vegan yogurt good?
This is a loaded question. LOL. It truly depends on each individual persons taste buds and preferences. I am pretty picky when it comes to dairy-free yogurt. And some brands others love, I don't.
I can tell you that I think my recipe is delish! I love the tang I was able to get. I'm a plain Greek yogurt kinda girl, so that was what I was going for.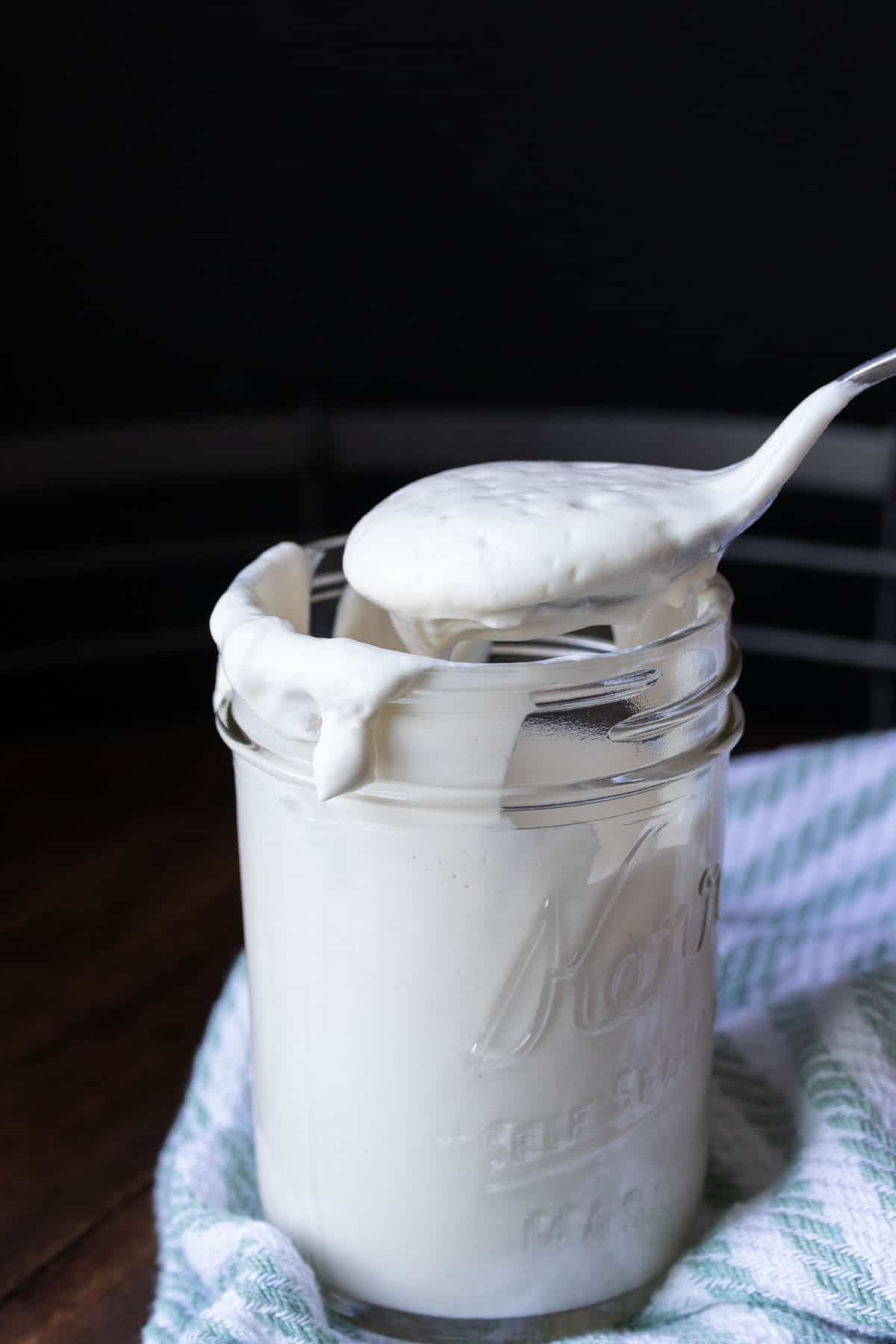 Flavoring ideas
If you aren't into tang, and you want to add some sweetness, here are my suggestions:
Sugar. Dry sugar is the best way do add some sweetness to this. You can use coconut sugar, cane sugar or whatever you have on hand. This will keep the texture best.
Date paste. Make the date paste recipe on the thicker side so it isn't super runny. Then swirl it into the yogurt. This will add a touch of sweetness without overdoing it.
Maple syrup. The issue with maple is that it is liquid so you're going to lose some of that texture. If you don't want much tang, you could lower the amount of lime juice and vinegar and replace it with maple syrup to keep a similar texture,
Honey. If you don't care about this being fully vegan, a thick honey (the raw one is what we use if we use honey) can add some sweetness to the end result.
You can also add other fun additions to mix up the flavors:
Cocoa powder for a chocolate result.
Blend in chocolate chips.
Blend in fresh fruit. Watch for texture here as liquidy fruit can make it runny.
Freeze dried fruit. This is the best way to get a fruit flavor because the texture won't be affected.
Nut butters for a nutty flavor.
Storing and shelf life
This stores best in an airtight container in the fridge. Much like my sauces, this is best within a week of making. The lime juice and vinegar keeps this pretty fresh, but I wouldn't keep it much longer than a week.
Making vegan yogurt in bulk
I like to make multiple batches of this at a time since we have 3 kids that love yogurt. It's best not to do more than a double batch at a time, since after that it gets too crowded in the blender.
Once I make it, I put it into single serving containers for a grab and go option! Here are a few containers I like:
How to Make Easy Vegan Yogurt
Like I said before, this is a simple blend and chill recipe! Nothing fancy, not tricks. The hardest thing to remember is to soak the nuts!
Blend everything in a blender until nice and smooth.
Chill in the fridge to thicken.
Serve with your favorite toppings!
Topping ideas
The best part about plain yogurt, other than the tang and yumminess, is all the ways you can top it! Here are some of our favorite:
Nuts
Granola
Nut butter
Honey (not vegan)
Fresh fruit
Seeds
Dried fruit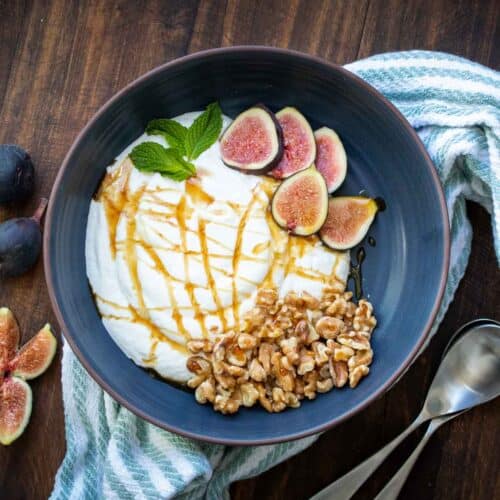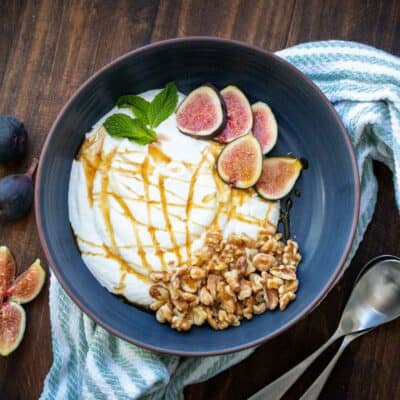 Easy Vegan Yogurt Recipe
If you're looking for a no frills, no fancy ingredients, simple feed your cravings kind of treat, this easy vegan yogurt recipe is it!
Ingredients
1 1/2

cups

raw cashews

, soaked overnight (see note, includes nut free idea)

2

tablespoons

blanched slivered almonds

, soaked overnight (see note, includes nut free idea)

1

cup

, plus 1 tablespoon water

3

tablespoons

lime juice

(see note)

2

tablespoons

distilled white vinegar

(see note)
Instructions
Place all ingredients in a blender and blend until smooth

Put in an airtight container and let set in the fridge overnight.
Notes
This recipe makes 2 ½ cups yogurt. Serving size is ½ cup.
You must soak the nuts even if you are using a high speed blender. It is part of the overall end flavor. You can soak the cashews overnight or boil them for 30 minutes if you forget.
Do not use lemon in place of lime unless you want a lemon flavor. Lime is the key to get the perfect flavor.
Do not sub the vinegar with another kind. Apple cider vinegar is sweeter and not as tangy. The distilled white is key for the final result. If you sub it, the flavor will change.
To make a nut free version, you can try subbing silken tofu for the nuts! Do the same amount, so 1 1/2 cups plus 2 tablespoons. But like I say in my post, this is not something I have tried and will not yield the same creamy flavor and texture.
Recipe by Veggies Don't Bite, visit our site for more great plant-based recipes.
Nutrition
Calories:
241
kcal
Carbohydrates:
13
g
Protein:
8
g
Fat:
19
g
Saturated Fat:
3
g
Sodium:
8
mg
Potassium:
292
mg
Fiber:
2
g
Sugar:
3
g
Vitamin C:
3
mg
Calcium:
24
mg
Iron:
3
mg
Nutrition and metric information should be considered an estimate.