Easy vegetable minestrone soup like you've never seen before! Inexpensive to make, easy to throw together and uses up leftover veggies so less waste!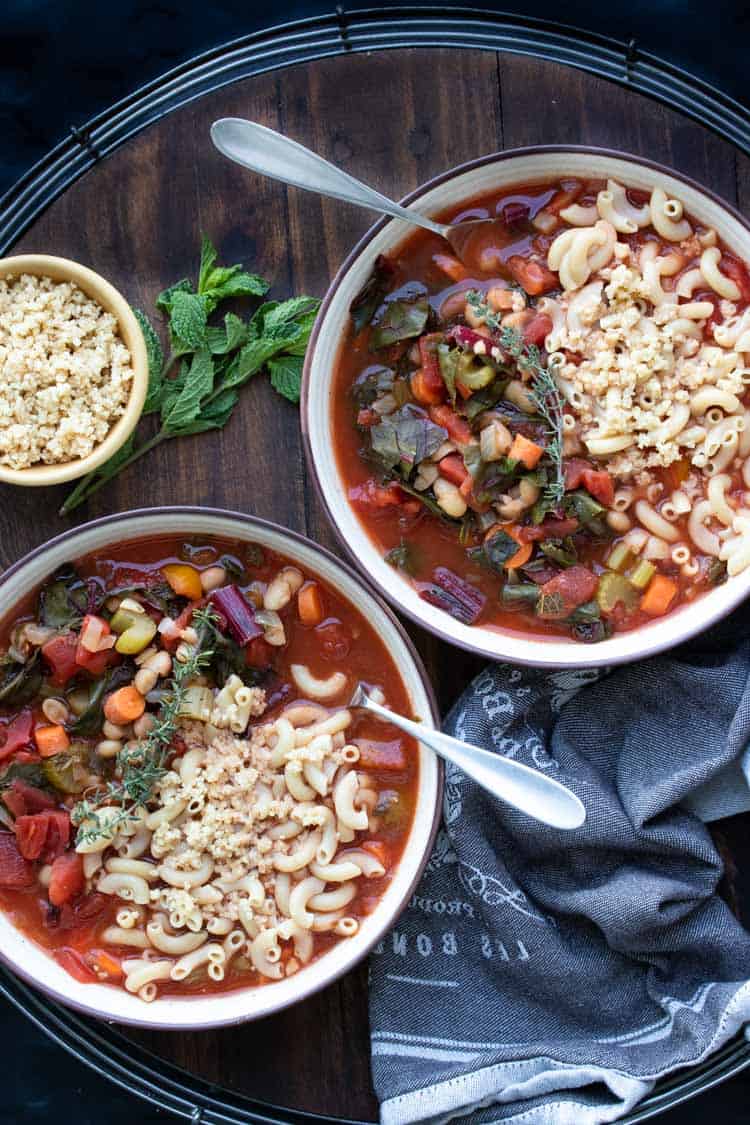 This is a sponsored conversation written by me on behalf of Knorr. The opinions and text are all mine.
This veggie based minestrone soup is the perfect addition to your weekly dinners. It takes under 30 minutes to come together and is filled with nutritious ingredients. Not only is it low in cost, but you can use whatever veggies you have in the fridge, so further saving you money since you aren't throwing away spoiled produce.

This is the best minestrone soup recipe! It's made with Knorr® Selects Vegetable Granulated Bouillon, a premium range of bouillon that are made with natural stock that instantly adds rich flavor to any recipe. Because of this burst in flavor, I didn't even need to add any oil!
Easy Vegetable Minestrone Soup
I love an easy weeknight dinner. With homework, after school sports and all the other things life likes to throw at us when we least expect it, it's easy to turn to take out when it comes to our meals.
But, those are not the most nutritious options when it comes to feeding our family, so creating meals that can cover both nutritious ingredients and low-energy cooking are a huge bonus!
This easy vegetable minestrone soup recipe is so easy to make. It doesn't require a lot of fluff or expensive ingredients (since the kids take ALL our money), saving when we can is key!). It can be a clean out the fridge kinda meal!
Where does minestrone soup come from?
Minestrone is an Italian soup. It comes from the word "minestra" which means soup in Italian and the suffix "-one" which means large or bigger.
Traditionally, it was considered a soup made with leftovers from other meals so that food was not wasted. So everything that was left in the kitchen was thrown together to make a large, affordable meal that fed the entire family!
This makes it the perfect answer when you need something fast, cheap and delicious!
What is the difference between minestrone and vegetable soup?
While minestrone has vegetables IN it, it also has other things like beans and pasta (or rice). Vegetable soup is traditionally a soup made of just vegetables.
What is minestrone soup made of?
The best thing about minestrone soup is that it can literally be made of anything you have leftover. I give a specific recipe here for those that need to follow a recipe, but follow my ideas for substitutions to make it your own!
The first thing you need to consider for this easy, vegetable minestrone soup is a good flavorful base. While water can be used as a soup base, I prefer using a broth type flavor. In this soup, I opted for Knorr® Selects Vegetable Granulated Bouillon. This vegetable variant is Knorr's first vegetable bouillon in the granulated bouillon line, so I had to try it out!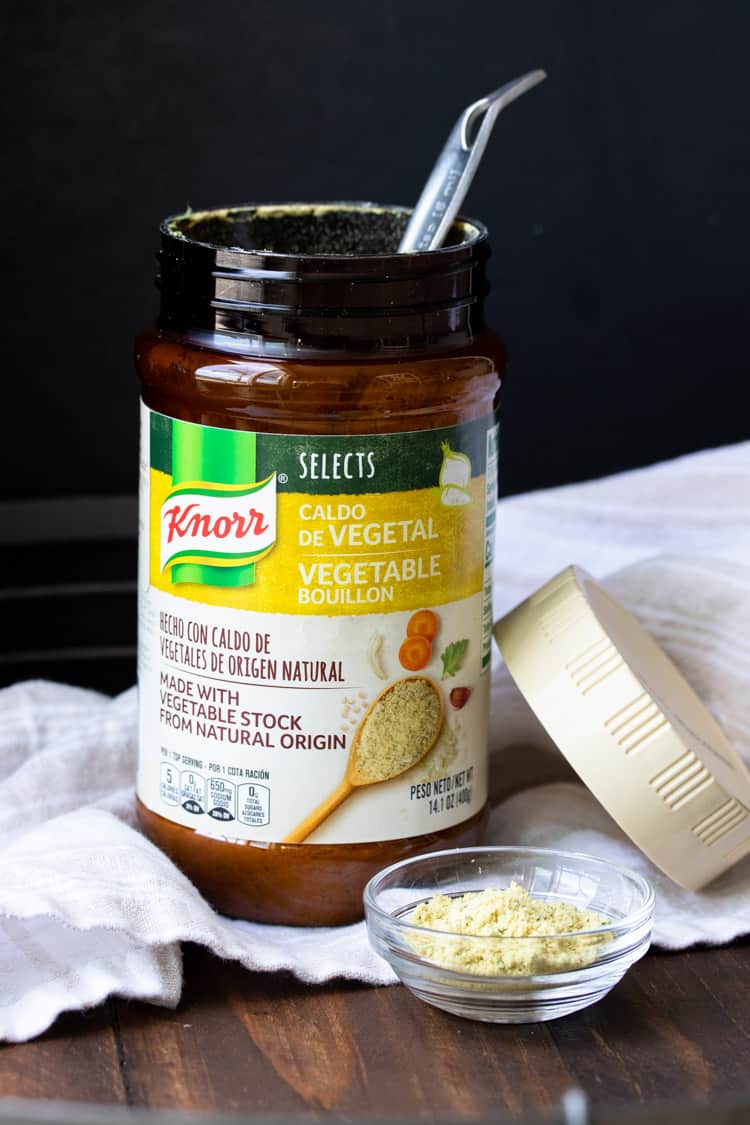 Knorr bouillon is super flavorful with it's savory blend of seasonings, is easy to find in local grocery stores, and takes your meal from boring to "give me more!" I not only used the bouillon as a soup base, but I used it to saute the veggies so there wasn't a need for oil or extra salt.
Since a good quality oil can be pricy, you're saving a little extra money opting out! Finding quick, easy and inexpensive ways to turn up the flavor in nutritious recipes is the key to keeping up with a long life of nutritious eating habits!
Other than a base, here is what else this vegetable minestrone soup includes:
Veggies
Beans
Pasta
Herbs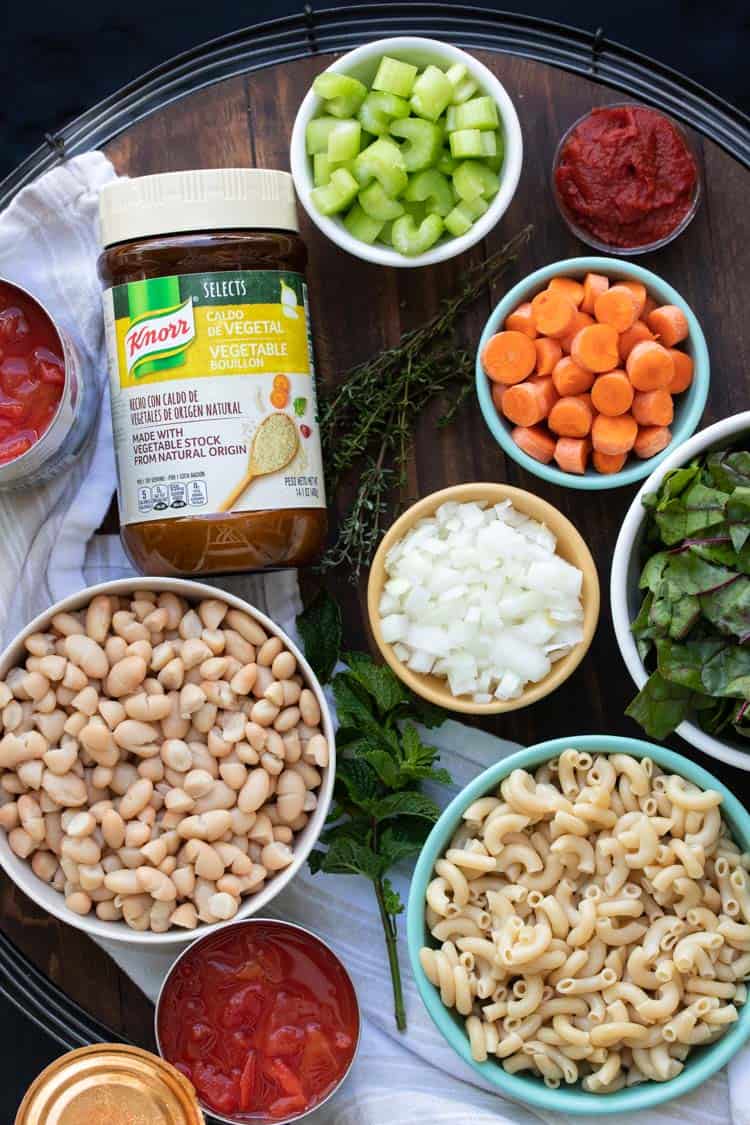 Substitution ideas for vegetable minestrone soup
Because minestrone soup is a clean out the fridge kinda recipe, you really can easily customize it. As long as you keep the total veggie amount about the same, you can throw in whatever you have! Here are some of my favorites:
Zucchini
Squash
Mushrooms
Green beans
Potatoes
Onions
Carrots
Celery
Greens of any kind
The other thing that is easily substituted in minestrone soup is beans. I like to use white beans but any of these work as well!
Kidney beans
Garbanzo beans
Lentils
Cannellini
Great northern
Lima
Last, the grains can easily change up as well! Here are some different grains to try:
Pasta
Rice
Farro
Wheat berries
Sorghum
Barely
Millet
Can I prep minestrone soup ahead of time?
Absolutely! I love to prep my vegetable minestrone soup at the beginning of the week when I prep all of my meals. Then, when you are ready to eat, you can quickly throw it together. Here are my favorite prep ideas:
Chop all the veggies and store in a container. Keep the onion and garlic separate.
Prep the fresh herbs so they are cut and ready.
Cook the beans if using dry. Drain and rinse if canned.
Cook the grains.
I always cook my grains separate from my soups. One thing that gives me the creeps is soggy soft grains. So gross. So I cook them, store them in a separate container, and put into the soup when I am serving it in my bowl!
Tips for storing and freezing minestrone soup
This is such a great freezer meal! Prepping a double batch and keeping it in the freezer for a future meal is a super smart ideas. The only thing you have to watch is the grains. If you are like me, I highly suggest making those fresh!
One trick my mom taught me for freezing soup so that you don't get freezer burn or icicles that will water it down, is to put a layer of plastic wrap right on the top of the soup so it touched it. This blocks the formation of those pesky crystals.
How do I reheat minestrone soup?
When you are ready to eat your minestrone, take it out of the freezer and allow it to defrost on the counter. Then put it into a soup pot over low heat and slowly reheat it. Do not cook it on high because you will overcook all of the vegetables and end up with mush!
Another thing you could do is puree it and make it a pureed soup!
How to Make Easy Vegetable Minestrone Soup
As I said, this is a super easy recipe. You don't need anything fancy, which not only helps with time but also keeps this meal inexpensive!
Saute the veggies (I liked doing this with the Knorr® Selects Vegetable Granulated Bouillon).
Add the water and bring to a boil.
Add the beans.
Serve in bowls and top with pasta!
What do you eat with minestrone soup?
I love eating this minestrone soup with my recipe for vegan Parmesan cheese on top. It really brings an extra layer of flavor! But it is totally optional.
Some other things you can eat along side of this vegetable minestrone are:
For more easy recipes check out these one-pot meals.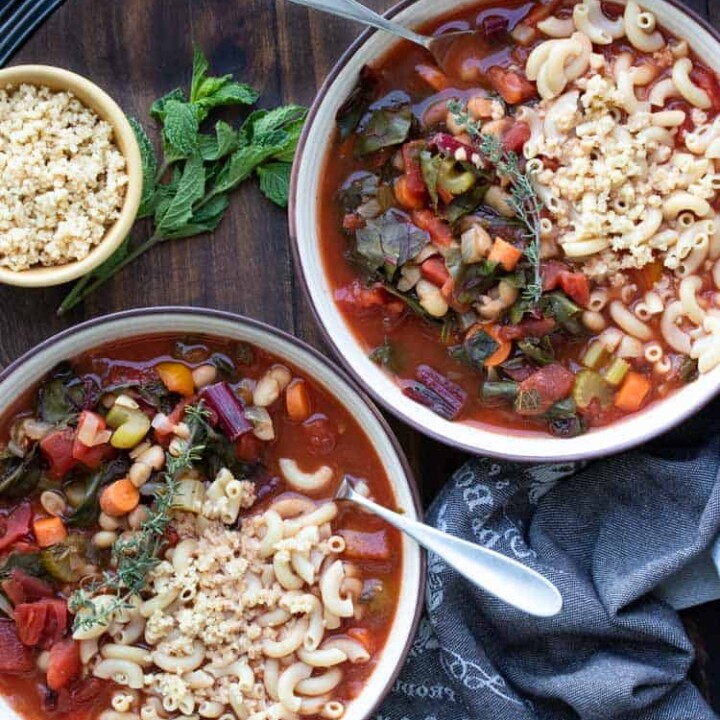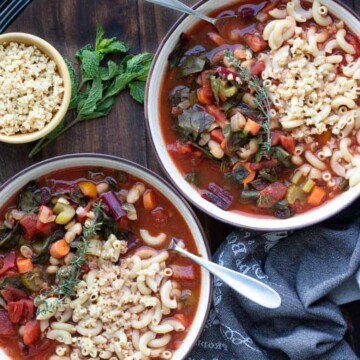 Easy Vegetable Minestrone Soup Recipe
Easy vegetable minestrone soup like you've never
seen before! Inexpensive to make, easy to throw together and uses up leftover
veggies so less waste!
Ingredients
1.5-2 tablespoons vegetable bouillon , adjust for personal preference (I used the Knorr® Selects Vegetable Granulated Bouillon)
7 cups water
1 cup chopped sweet or yellow onion
1 cup sliced carrots
1 cup sliced celery
3 cloves garlic , minced
3 tablespoons tomato paste
2 tablespoons fresh chopped mint
2 tablespoons fresh thyme leaves
1 tablespoon dried oregano
2 cans diced tomatoes (14.5 ounce cans)
1 cup cooked white beans (great northern or cannellini)
5 ounces chard, spinach or kale , sliced (I used 5 large chard leaves without stems)
1 cup cooked pasta , gluten-free if needed (I used elbows)
Instructions
Saute onion over medium heat with ½ cup water and the bouillon until it becomes translucent, about 2-3 minutes.

Add carrots, celery, garlic, tomato paste, herbs and another ½ cup water. Saute until the carrots begin to soften, about 5 minutes.

Add diced tomatoes and the rest of the water. Bring to a simmer, about 7-8 minutes.

While the soup is cooking you can cook the pasta.

Add the beans and chard and cook a few minutes until the chard is wilted.

Serve with optional parmesan or other toppings of choice.
Notes
You can change up the veggies in here with anything you have laying around or need to use up. Just keep the total amounts about the same!
Keep the pasta separate and add to bowls when serving to avoid it getting overly mushy.
Recipe by Veggies Don't Bite, visit our site for more great plant-based recipes.
Nutrition
Calories: 108kcalCarbohydrates: 22gProtein: 5gFat: 1gSaturated Fat: 1gSodium: 589mgPotassium: 386mgFiber: 4gSugar: 3gVitamin A: 5280IUVitamin C: 15mgCalcium: 85mgIron: 2mg
Nutrition and metric information should be considered an estimate.
Never miss a recipe!
Sign up here and get a FREE quick and easy meal guide!