This veggie fried rice recipe is perfect if you're looking for the quickest easiest meal the whole family will love! Easy to customize and so simple to make.
You can use up leftover veggies, or those that you need to use up to make this a no waste meal option!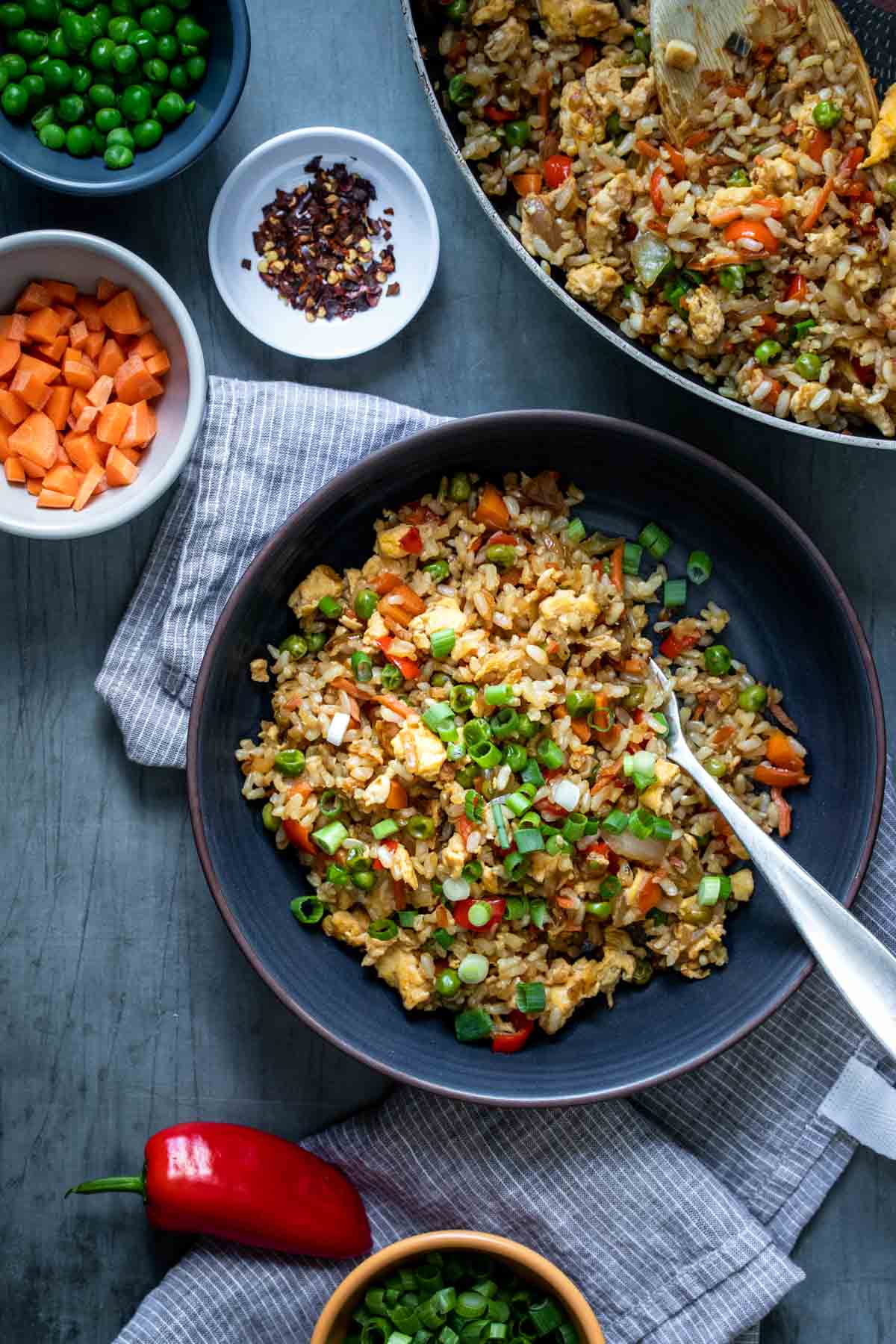 This post was originally published on January 30, 2020.
There is just something about veggie fried rice. It's filling, comforting, and goes with so many other great dishes. My family loves fried rice and this is a great way to get the kids to eat some extra vegetables.
How to Make Veggie Fried Rice
Fried rice is an excellent staple to have in your back pocket. It can easily help clean out the fridge and is the perfect vehicle for veggies and protein! With this healthy vegetable fried rice recipe you can add basically any veggie you have on hand which is an amazing way to reduce food waste.
Ingredients
Here are the simple ingredients I usually use. You can always customize it as you please!
Onion
Garlic
Sesame oil
Carrots
Peas
Red pepper
Vegan egg (optional for added yum)
Tamari for gluten-free, or soy sauce
Apple cider vinegar
Green onion for garnish
Black pepper (optional)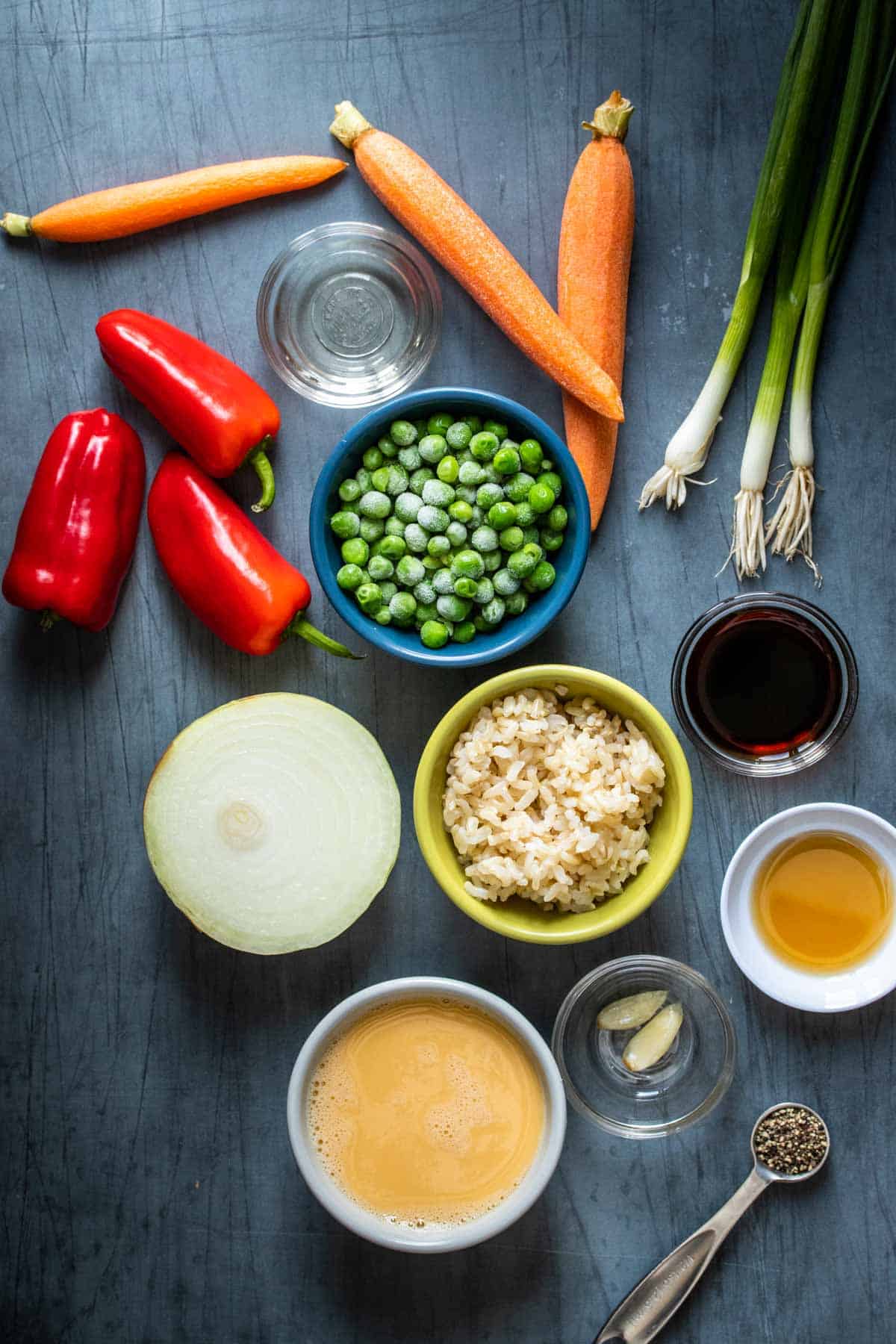 Step by Step Instructions
Here is how to make this basic vegan fried rice recipe:
Sauté the onion and garlic.
Mix in the veggies.
Add the egg if using.
Stir in the rice and seasonings.
Garnish and serve!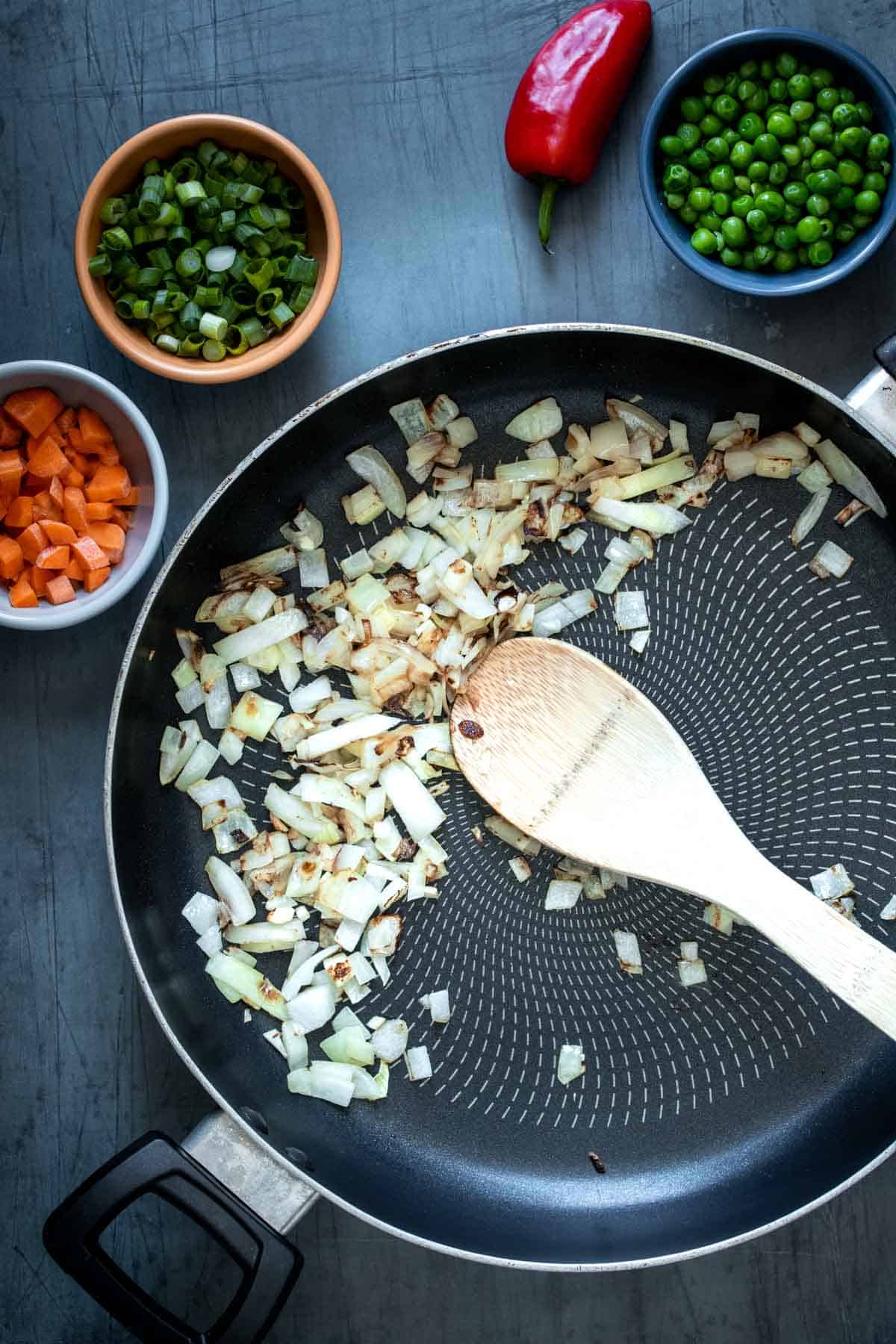 Serving Suggestions
There are so many dishes you can serve with fried rice, you can make a variety of food to give the full take out experience, or keep it simple with a basic miso soup! Some of my favorite recipes to serve this with are:
Fried Rice Variations
Even the best fried rice recipe can be adjusted to fit your tastes even more perfectly! It's really easy to make this recipe anything that works for you and your family. I make this different almost every time. Here are a few tips to help guide you:
Mix regular rice with cauliflower rice. This adds an even bigger dose of veggies and my kids don't even notice. I use this same idea in my Easy Vegan Tikka Masala recipe!
Traditionally, fried rice uses white rice, but brown rice works great as well. We usually use brown because we love the texture and slight nutty like flavor.
Use ready rice, frozen or vacuum packed to keep this recipe even easier. If you'd like a how-to on cooking perfect rice, you can find it here.
If you want to up the spice level in this recipe, add some sriracha. It will give it a great flavor and spice. And you all know how I love my spice!
Use frozen veggies for a super quick and easy version.
Check your fridge for any veggies that might be going bad soon and throw those in! Some good options include:

Green beans
Broccoli
Snap peas
Asparagus
Cabbage
Corn
Tips for adding protein
Adding protein to this recipe is super easy. There are so many options to choose from and any of them would work great.
This is also a perfect recipe to make for those dinners where you have a variety of eating styles. Making this veggie fried rice as a base, then allowing everyone to add their protein of choice leads to stress free and happy meals. Which is so important for your mental health!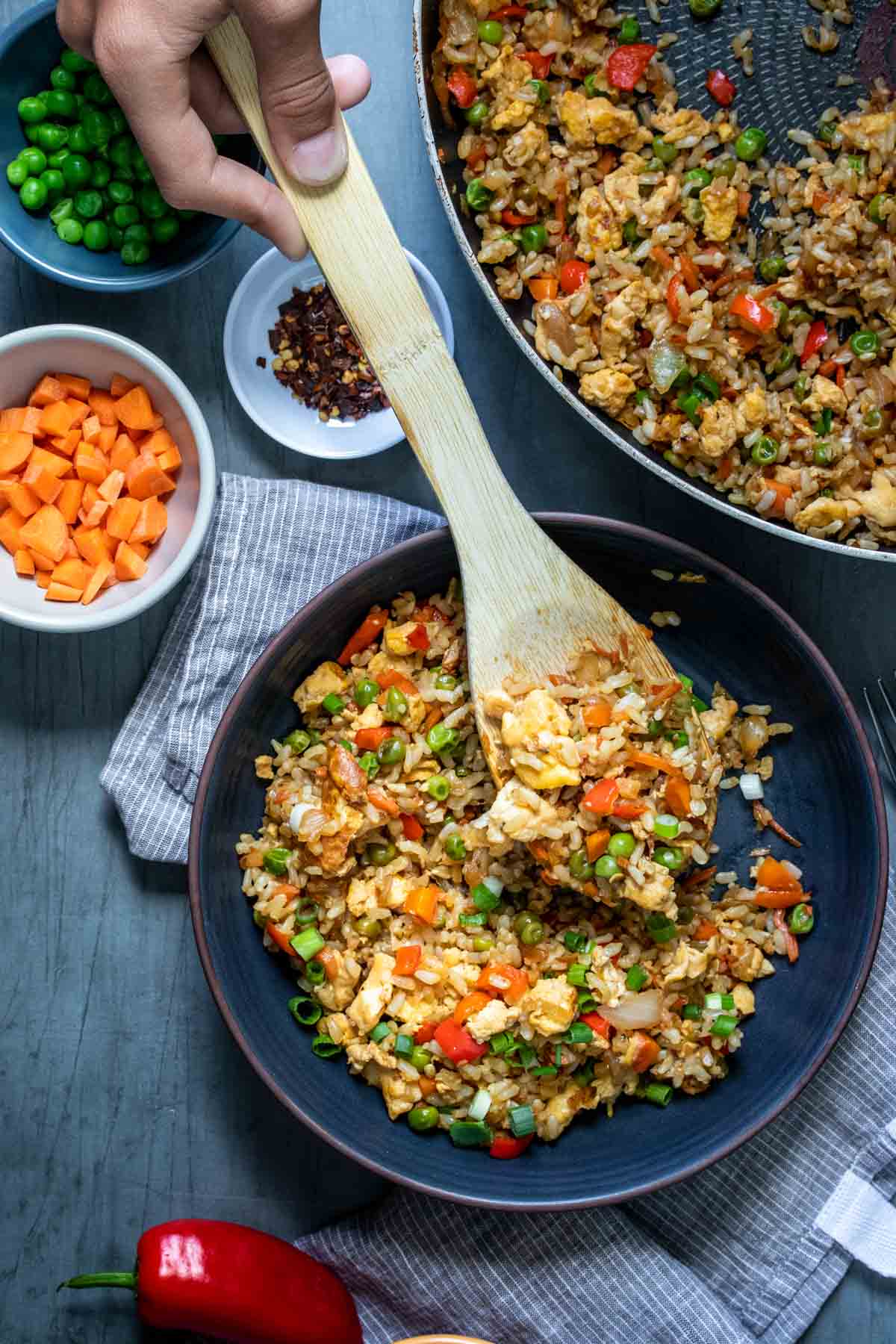 Meal Prep Tips
This veggie fried rice recipe is super easy to prepare ahead of time! That is the beauty of how great it is. Here are the tips I use when I have this on my meal plan for the week:
Buy extra veggies from the other recipes you are making that week and wash and cut them when prepping the other recipes.
Keep the extra prepped veggies in the fridge in an airtight container.
Make extra rice if making it for another recipe, or buy premade rice. I like to make this friend rice the same week I make something like my Baked Vegan Orange Cauliflower Recipe or the Vegan Tofu General Tso Recipe because you can make extra rice to use.
You can always just pop some rice into your instant pot the day before or morning of as well.
Night of, I simply take out the prepped veggies and cooked rice and throw this meal together in about 15 minutes.
Here is a full post all about how to prep veggies to help you organize your dinners to make them easier!
Storing and reheating tips
Store leftovers in an airtight container in the fridge for up to 3-5 days.
Seal the leftover fried rice in a freezer-safe airtight container and freeze for up to 3 months.
To reheat with best results use the stovetop method:

Add fried rice to a pan.
Add a few tablespoons of water and/or a drizzle of oil.
Slowly heat as you mix around to warm the fried rice up!

You can also quickly microwave the leftovers if you're in a hurry.
Common Questions
Is vegetable fried rice healthy?
Usually, anything that is fried isn't that good for you, but this recipe is a great balance because you can control how much oil you use. There are so many vegetables and the amount of sesame oil and soy sauce is minimal.
Is vegetable fried rice vegan?
Yes, this particular recipe is! You can use vegan egg product for the eggs traditional fried rice has or leave it out all together. Everything else is vegan-friendly. Some recipes however will include egg and butter so make sure to double check!
Is homemade fried rice bad for you?
No, homemade fried rice is actually better for you as far as sodium and oil goes, as you can control what ingredients go into the rice. Plus you can add all the veggies!
What veggies should I put in fried rice?
You can seriously put any vegetables you want, but classic options include carrots, peas, and onions. See the above post for more ideas.
Can fried rice be made without eggs?
Yes it can! The majority of the flavor comes from the sauces and veggies. If you really want to keep the eggy feel but want a plant based version, try incorporating a vegan egg substitute.
More Veggie Filled Recipes
Make sure you and the family are getting in all of your nutrients with these vegetable packed plant based recipes: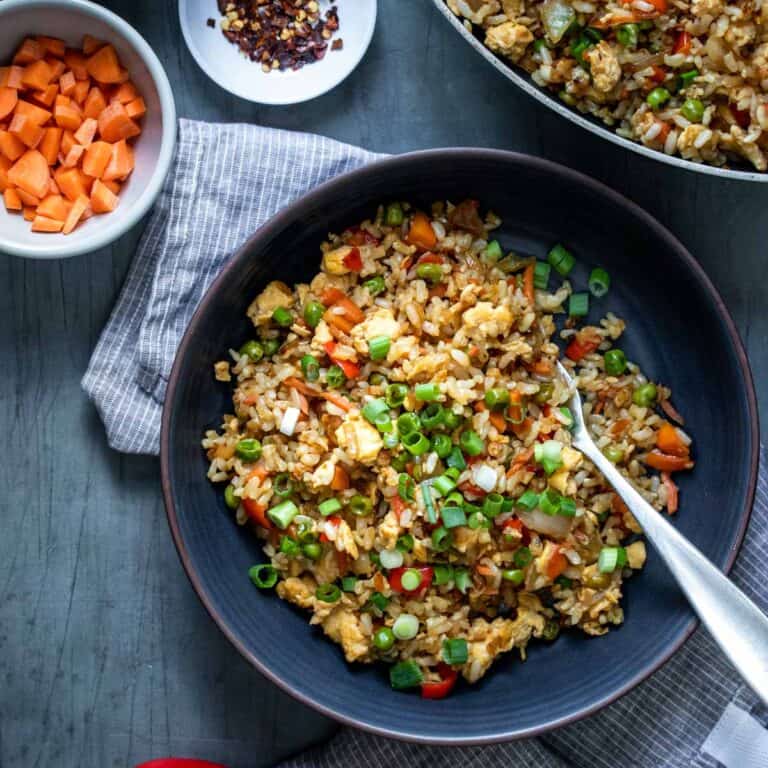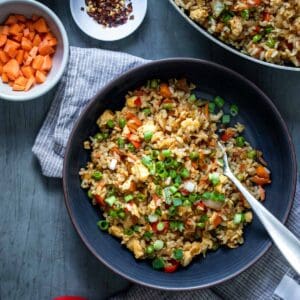 Easy Vegan Fried Rice Recipe
This vegan fried rice recipe is perfect if you're looking for the quickest easiest meal the whole family will love! Easy to customize and so simple to make.
Ingredients
1 cup chopped yellow or sweet onion
2 cloves garlic , finely chopped
2 teaspoons sesame oil , can use drizzle of broth to keep oil-free
1 cup chopped carrots
1 cup frozen peas
1 cup chopped red pepper
4 cups cooked rice
¼ cup Tamari , or soy sauce if not gluten-free (see note)
1 tablespoon apple cider vinegar , or rice vinegar
½ cup sliced green onion , for garnish
vegan egg , optional (equivalent to 3 eggs)
Black pepper to taste , optional
Instructions
In a large pot, sauté the onion and garlic with the sesame oil or broth over medium heat until slightly brown. About 5 minutes.

Add the carrots, peas and red pepper and sauté until browning at the edges. About 5 more minutes.

If using egg, put veggies to the side of the pan and add the egg to the other side. Cook and scramble.

Add rice, Tamari/soy sauce, and vinegar and mix everything until combined.

Turn heat up to medium high and cook while stirring until the rice is browning and starting to crisp a little at the edges. About 5-7 minutes.

Garnish with green onion and black pepper.

Serve!
Notes
We didn't need any added salt, but if you do you can add some. Or add more Tamari/soy sauce.
You can use any veggies you like with this, just keep the amounts relatively the same. Leftover veggies or frozen veggies work too.
You can add egg to this if you want as well. Use a vegan egg to keep this vegan. 
The vinegar helps bring out the flavors, but it can be left out if preferred.
Tips to prep ahead:
Recipe by Veggies Don't Bite, visit our site for more great plant-based recipes.
Nutrition
Calories: 308kcalCarbohydrates: 60gProtein: 9gFat: 3gSaturated Fat: 1gPolyunsaturated Fat: 1gMonounsaturated Fat: 1gSodium: 521mgPotassium: 426mgFiber: 5gSugar: 7gVitamin A: 6915IUVitamin C: 70mgCalcium: 59mgIron: 1mg
Nutrition and metric information should be considered an estimate.
Never miss a recipe!
Sign up here and get a FREE quick and easy meal guide!