This veggie paella recipe is so easy to make and packed with flavor. It's an all in one meal with veggies and protein plus it's super affordable!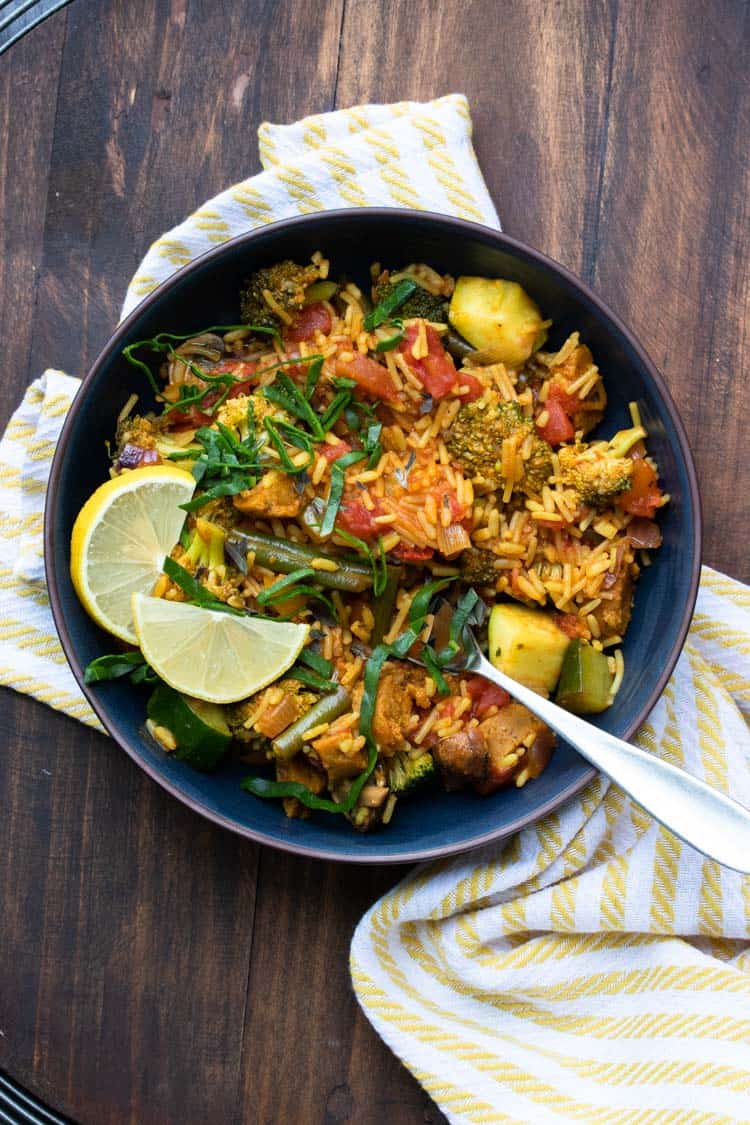 This is a sponsored conversation written by me on behalf of Knorr®. The opinions and text are all mine.
There is nothing better than a fast dinner that cleans out the fridge, is packed with flavor, loved by all and can be made all for under $2.50 a serving!
Veggie Paella
When I first heard about the meal paella, I thought it sounded fancy, aka hard. Once I broke it down into parts, I realized that heck I could not only make this easy but I can make it taste amazing!
Now, I am going to give some fair warning to all Paella connoisseurs out there...this is my easy affordable and fast version. I am not going for the traditional paella pan slow cooking dish. I am going for the idea and I need to match my lifestyle (and I am guessing many of you are in the same place).
Which is why I decided to use the Knorr® Fiesta Sides Yellow Rice. It not only cooks super fast and easily but it's packed with flavor so you don't need a lot of extra fluff. Much like my easy minestrone soup which uses bouillon for flavor, this relies on the rice.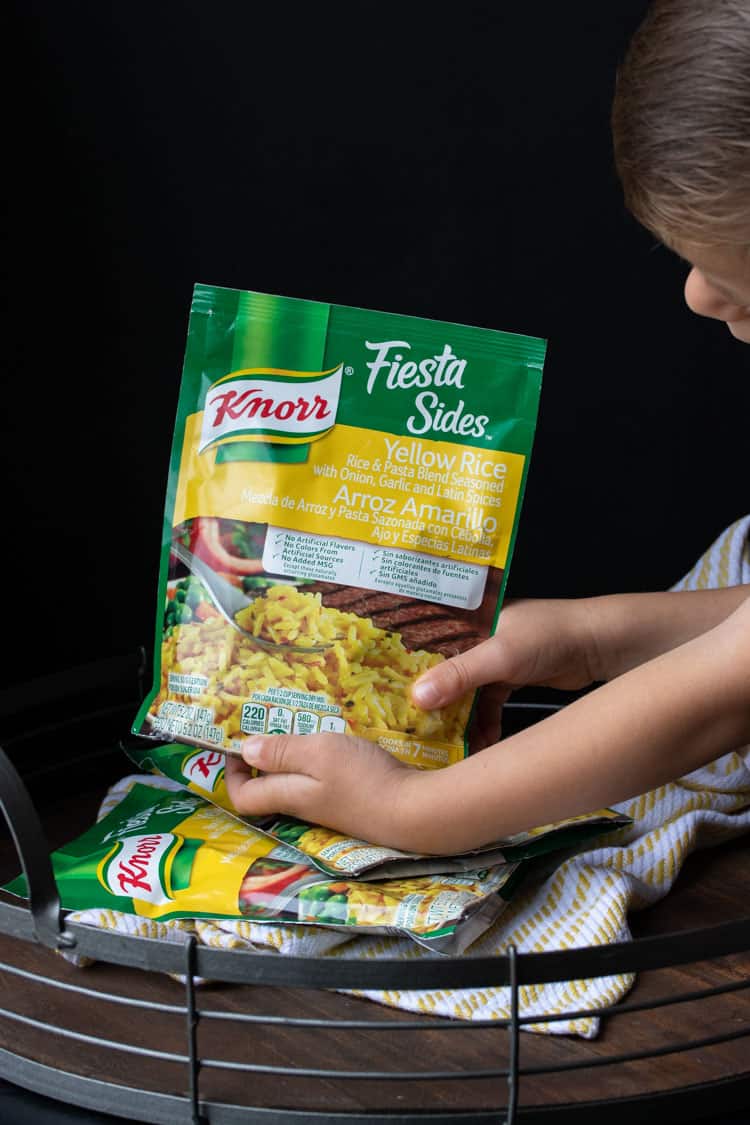 What are the main ingredients in paella?
Originally Paella is meant to highlight the rice,  along with added ingredients like veggies, meat or fish. It's pretty basic with the main components. I chose to highlight veggies and some veggie sausage along with the rice.
Because I made this a clean out the fridge kind of meal, I used whatever veggies I had leftover from my other dinners. Here are some options that would be perfect for this veggie paella:
Mushrooms
Peppers
Peas
Broccoli
Zucchini
Carrots
Green beans
Brussels sprouts
Spinach
Chard
Onions
I also added some veggie sausage to this for extra protein, but you could also add some garbanzo beans.
What rice can you use for paella?
Traditionally paella uses a short or medium grain rice. You can of course break out your regular plain rice, but you'd also have to add some spices and seasonings to make this flavorful.
As I said, I was going for easy, fast, and flavorful so I opted for the Knorr® Fiesta Sides Yellow Rice for my recipe. I love this rice because it comes with loads of flavor, which allows me to keep it simple with ingredients.
With simple ingredients, and not a lot of extra spices needed, this veggie paella can be made in under 30 minutes. This huge for a busy mom of three! You basically dump in the veggies and a few other ingredients, add the rice and bam! Done!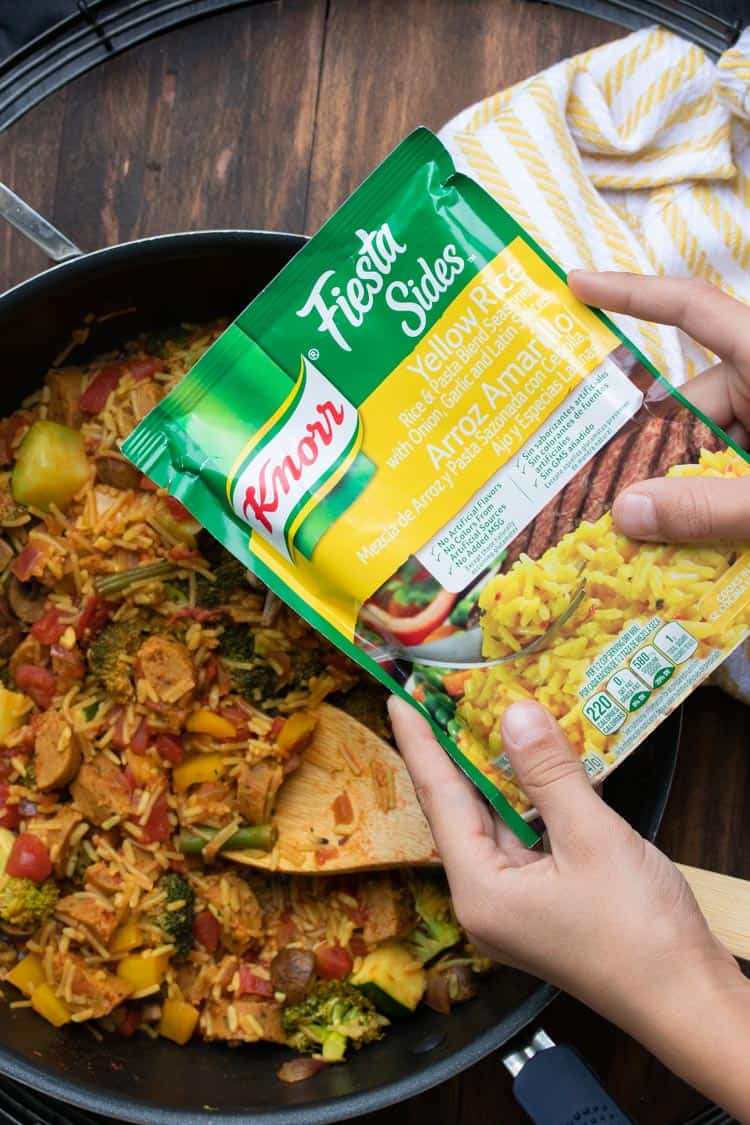 The Fiesta Sides Yellow Rice also has:
No artificial flavors
No colors from artificial sources
No added msg
You can find it just about anywhere and it's affordable (see here where you can find it near you)
Should Paella be covered when cooking?
If you are making paella the original way, it is cooked uncovered in a wide paella pan. It is supposed to be a dry kind of rice, not wet. So keeping the cover off allows the moisture to evaporate and makes the rice on the drier side.
Since I am huge on texture, and love a good dry al dente like rice, I tried to replicate that as much as I could while sticking to my easy idea. I used ½ cup less water that the rice packet suggests to keep it on the drier and more al dente side.
Also, since the veggies are fresh they release some water while cooking as well so adding less water keeps it from getting overly wet. I also made this in a large sauté pan because I love my pans, but if you can definitely try using a paella pan.
How to Make Easy Veggie Paella
This is a huge winner for my family! Four out of five loved it, and the fifth is four years old so you never know.
Gather up leftover veggies or those you need to use up.
Sauté everything in a pan.
Add rice.
Cook and serve!
What side dishes go with paella?
This veggie paella recipe is an all-in-one kind of meal but you can always add a few other sides to make it even more amazing. Here are some of my favorite pairs:
Sautéed spinach
Roasted carrots
Roasted brussels sprouts
Mexican coleslaw
Just a heads up, if you choose to use the Knorr® brand rice mix, then keep in mind that the ingredients online that say it includes chicken are not correct. It does NOT include chicken.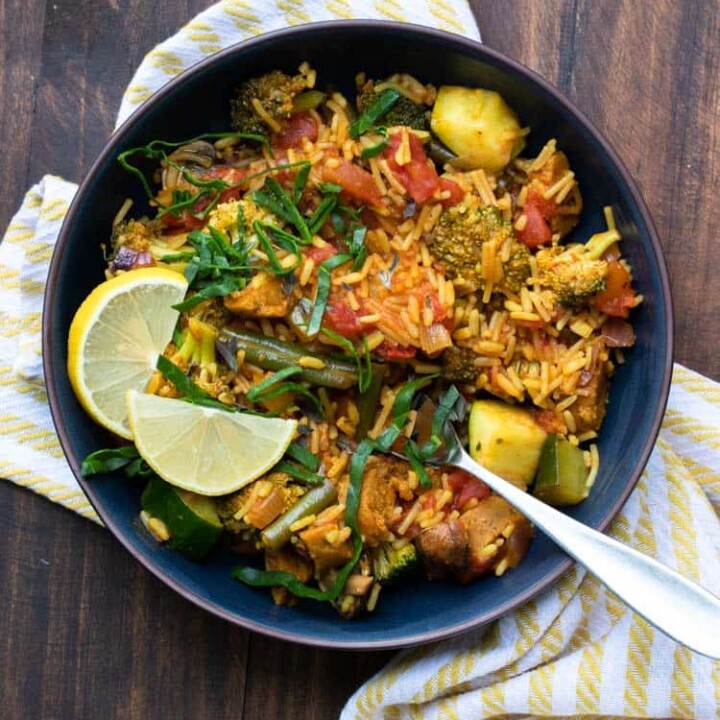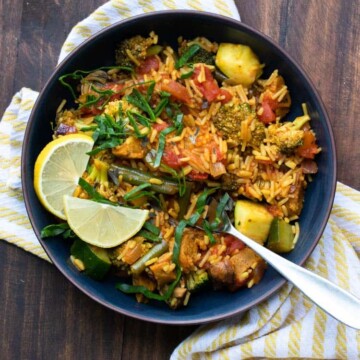 Easy Veggie Paella Recipe
Ingredients
½ cup chopped onion , red or yellow works
2 cloves garlic , chopped
Your favorite oil to sauté , optional can also use broth
1 can diced tomatoes , 14.5 ounces
4 cups raw mixed veggies of choice (see note)
2 veggie sausage links , or you can use 1 ½ cups cooked garbanzo beans (drained and rinsed)
1 ½ teaspoons smoked paprika , or regular works too if you don't want the smoky flavor
1 package yellow or Spanish rice mix , 5.2 ounces, gluten-free if needed (I used Knorr brand Fiesta Sides Yellow rice)
1 ½ cups water
Parsley and lemon , optional for garnish
¼ teaspoon sea salt , optional to taste
Instructions
Sauté the onion and garlic with oil or broth until slightly soft, about 2-3 minutes.

Add the tomatoes, veggies, sausage or beans and smoked paprika. Sauté for about 3-4 minutes until the flavors mix well. You do not want to cook them much because they will cook with the rice and you don't want mushy veggies.

Add the packet of rice and 1 ½ cups water. You don't want to add the 2 cups the packet recommends because it will be too wet with the water the fresh veggies releases.

Bring to a boil, about 2 minutes, then reduce to a simmer and cook for 7 minutes. You can put the top on and walk away or you can leave the top off and mix often to get a drier rice. Add more water if it gets too dry.

Serve garnished with lemon and parsley if preferred.
Notes
You can use any leftover raw veggies you need to use up or that are extra from another recipe. I used mushrooms, broccoli, green beans, yellow pepper, and zucchini. I also topped with a touch of shredded chard.
If you prefer to use regular rice, you can do so but you will need salt and extra spices to get the same great flavor. You'd add about 1 ¼ cups rice.
Recipe by Veggies Don't Bite, visit our site for more great plant-based recipes.
Nutrition
Calories: 313kcalCarbohydrates: 48gProtein: 22gFat: 5gSaturated Fat: 1gSodium: 689mgPotassium: 527mgFiber: 5gSugar: 7gVitamin A: 1057IUVitamin C: 93mgCalcium: 85mgIron: 2mg
Nutrition and metric information should be considered an estimate.
Never miss a recipe!
Sign up here and get a FREE quick and easy meal guide!