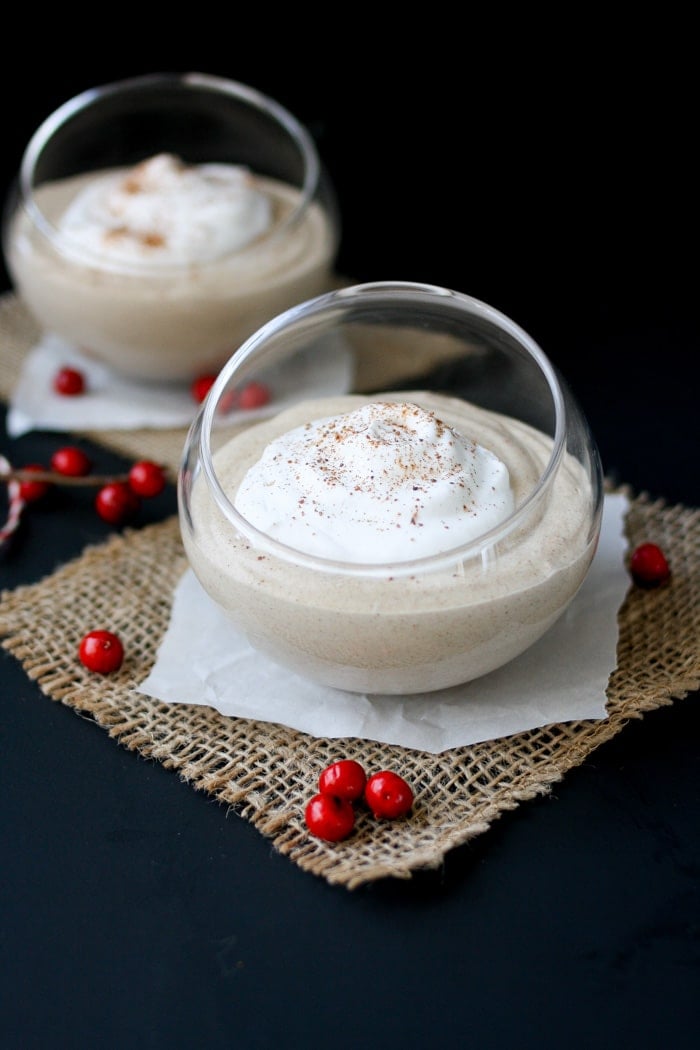 So you know when you go out and you really want that Starbucks eggnog latte because it's chilly and cozying up to one sounds so darn good, but then you realize it's full of dairy and loads of other things your body would reject? Well my friends, I've come to the rescue with my bestie Silk Almond Nog Original, it's dairy free and does not come with all the crappy ingredients! Plus Silk Holiday Nogs only have 80 calories or less per serving. Can we say Starbucks who? So I took this amazing nog and turned it into a deliciously smooth and creamy dessert. Latte inspired eggnog pudding. I mean...really, does it get any better than a creamy dreamy latte infused into eggnog pudding all topped with a dollop of cocowhip? I think not!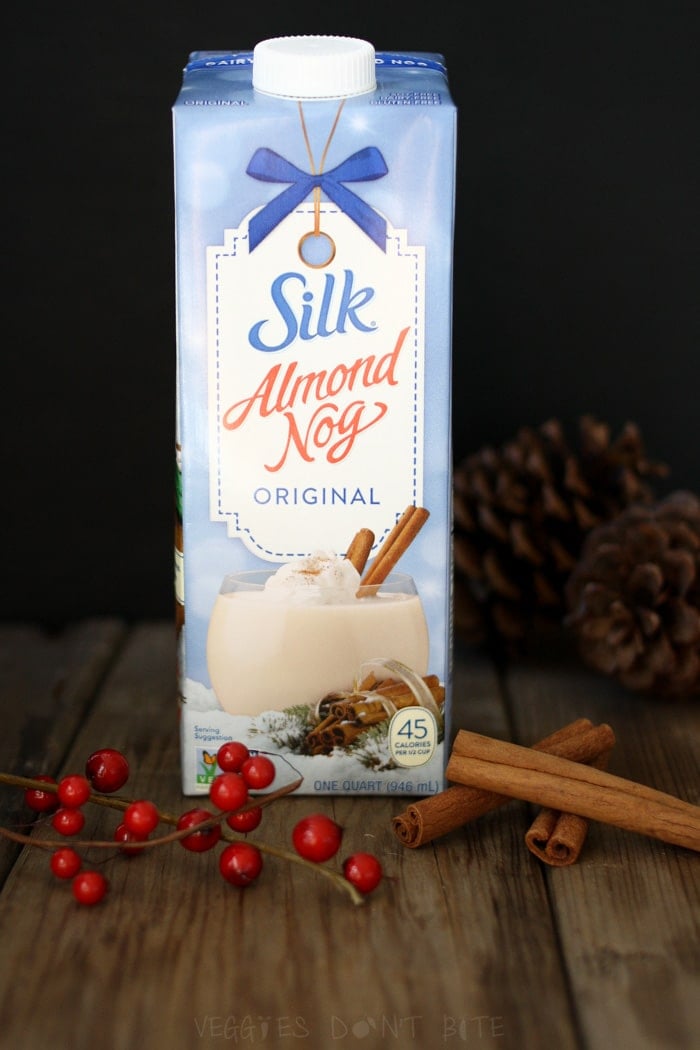 One of my favorite things to do during the holidays is go get a hot drink and stroll around looking at Christmas lights. Well this year I have stocked my fridge with some Silk Nog, so we will be making our drinks at home and putting them in our travel cups. The best part is that when we get back, we can continue our nog obsessed night with a bowl of this new eggnog pudding! It's super easy to whip up, even with the extra cocowhip topper. That being said, if you are feeling extra lazy, you could swing buy your local grocery store and pick up some of the So Delicious CocoWhip...shhhh, don't tell anyone I told you. But that stuff is THE bomb. Either way, you must try the pudding!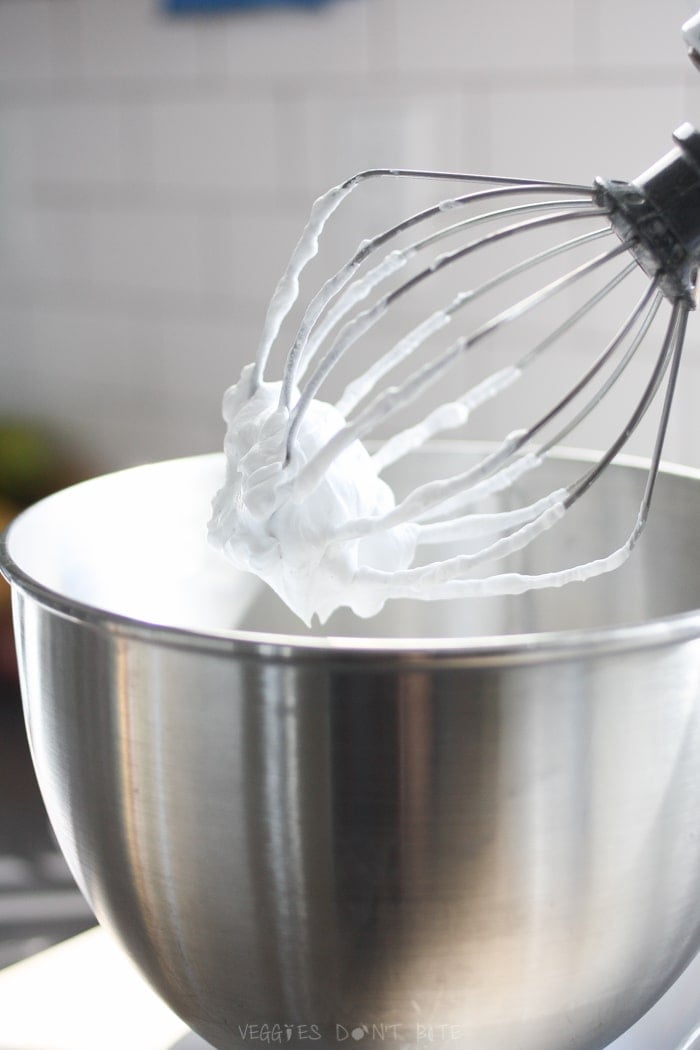 I got another two thumbs up for this holiday treat. The boys all loved it. I am really into these easy to whip up holidays treats lately, and after the success of my Vegan Cranberry Crunch Dark Chocolate Truffles, I knew I needed another quick one. So when playing around with my nogs I knew I had to incorporate one of them into something fun. Success followed and now all you lucky ducks get to benefit.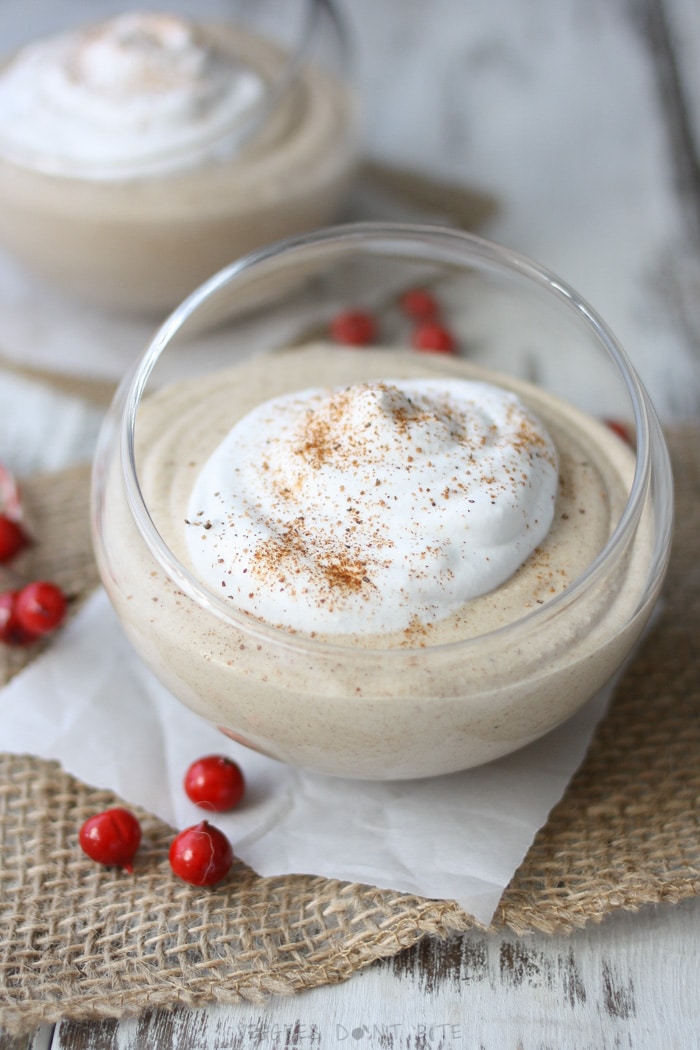 So head on over to the Silk website and grab yourself coupons, more holiday recipes, a free digital recipe book and more awesome finds! Then get your holiday spirit into the kitchen and make yourself some better than Starbucks, who needs dairy to have fun, mouthwatering, lip licking, latte inspired eggnog pudding. It's a little bit of heaven in a bowl. Please please don't forget to let me know you made it!  Leave a comment here, find me on Facebook or tag me on Instagram at veggiesdontbite #veggiesdontbite. I am SO excited for you to take a few bites. In full disclosure, I don't even like coffee. HA! But I love this! The flavors all just go so well together...like a little holiday party for your tastebuds. Cheers!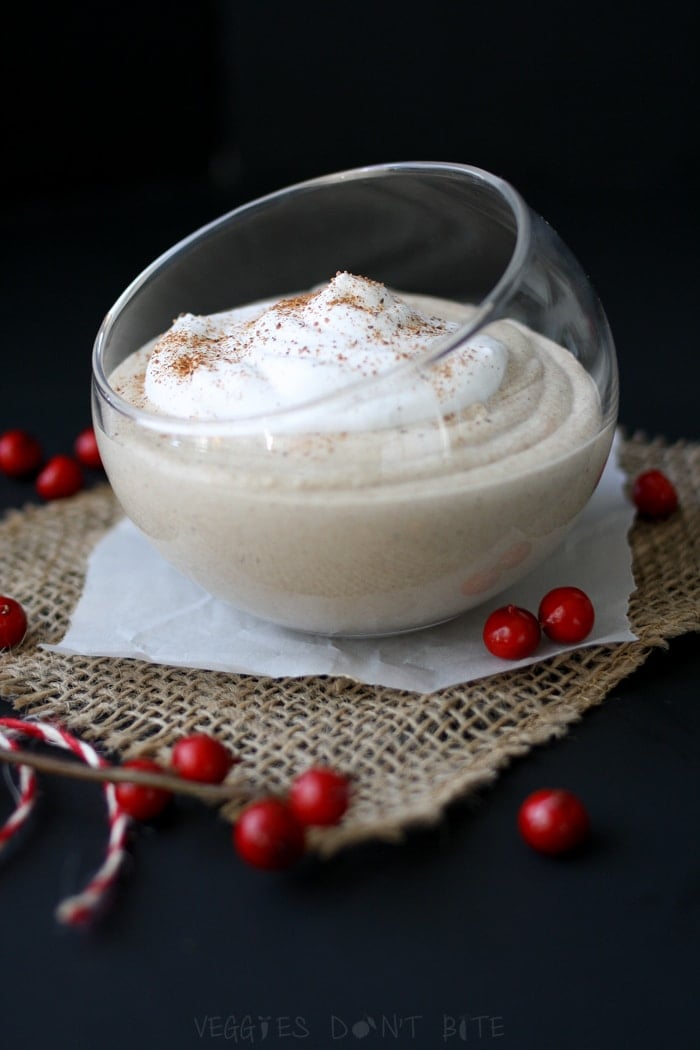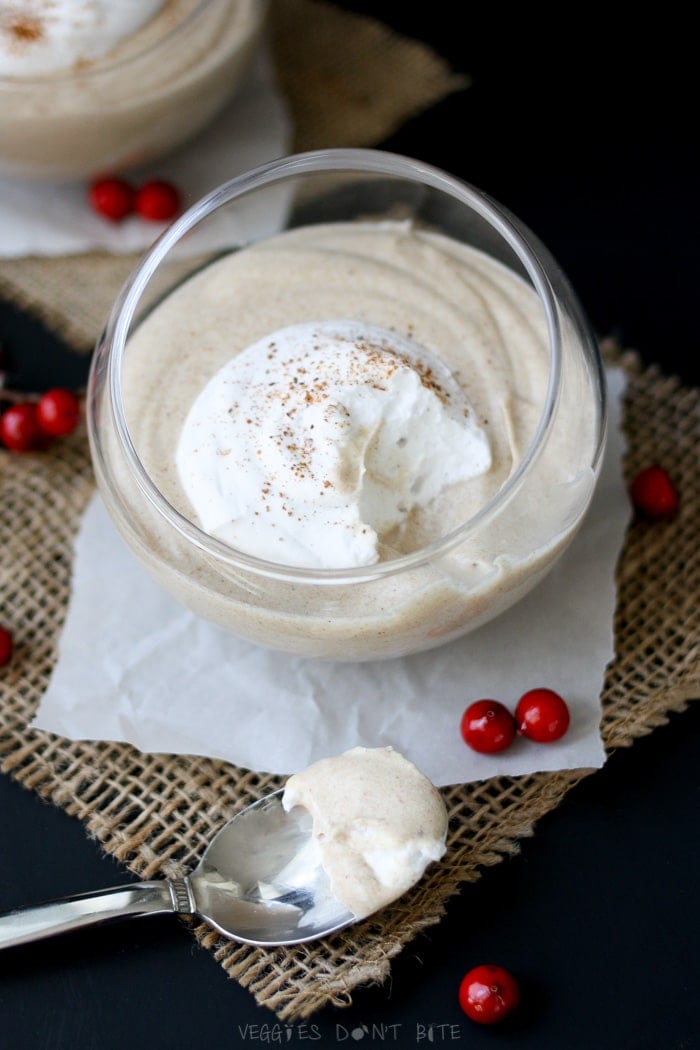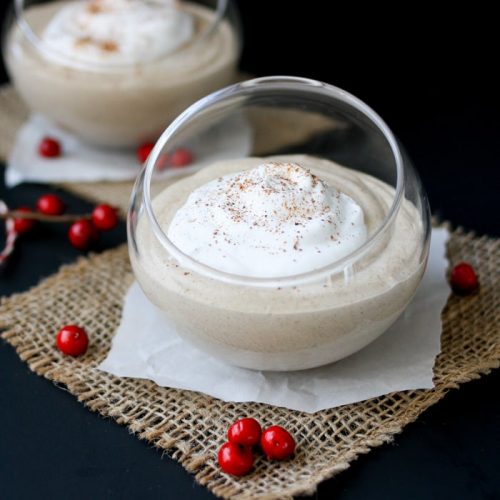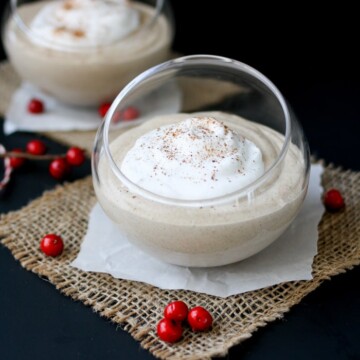 Eggnog Latte Pudding
A happy marriage between your favorite vegan eggnog & your favorite Starbucks drink all whipped up into a latte inspired eggnog pudding!
Ingredients
coconut cream from the top layer of 2 cans full fat coconut milk stored in refrigerator for 2-3 days or freezer for 2-3 hours
2 tablespoons maple syrup
2 cups cashews soaked overnight
1 cup Silk Almond Nog original flavor
12 medjool dates soak if they aren't soft and not using high speed blender
1 teaspoon vanilla extract
2 teaspoons finely ground espresso
1 ¼ teaspoon nutmeg plus some to sprinkle on top
¾ teaspoon cinnamon plus some to sprinkle on top
Instructions
Whip coconut cream using a stand or hand mixer until light and fluffy. Add maple syrup and whip again. Save about 1 cup in a on the side to top the pudding with later (place in fridge so it doesn't get warm and melt). Keep the other half in the mixer bowl.

In a blender, blend the rest of the ingredients until smooth and creamy. Transfer to the mixer bowl with the whipped coconut cream and whip again. Once mixed in, separate into bowls. You can eat it right away if you can't wait, but it's best when it's stored in the fridge for at least an hour to allow it to set and thicken.

When ready to eat, top with the saved coconut whip. Sprinkle some cinnamon and nutmeg on top and serve!
Notes
Make sure the coconut milk is very cold before whipping. The colder it is, the more fluffy it will get. I stick it in the freezer for about 30 minutes before using (even though it was in the fridge) to get it to that stiff, almost solid, form. If you use a different brand of eggnog, then make sure to add dates slowly and taste as you add, I can't account for the sugar content of other brands. This Silk one only has 8 grams of sugar per ½ cup, a little more than half of some others I have seen. Tips to prep ahead: soak cashews. Baby/toddler food idea: Serve to baby or toddler by omitting the espresso.
Recipe by Veggies Don't Bite, visit our site for more great plant-based recipes.
Nutrition and metric information should be considered an estimate.
Never miss a recipe!
Sign up here and get a FREE quick and easy meal guide!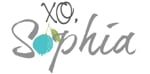 This is a sponsored conversation written by me on behalf of Silk . The opinions and text are all mine.