Fat free, protein packed , veggie filled and tastes amazing!  This roasted garlic alfredo sauce is so light, creamy and incredibly healthy. Pour  over pasta or use it in lasagna. Let's just say it's something you need in tour life!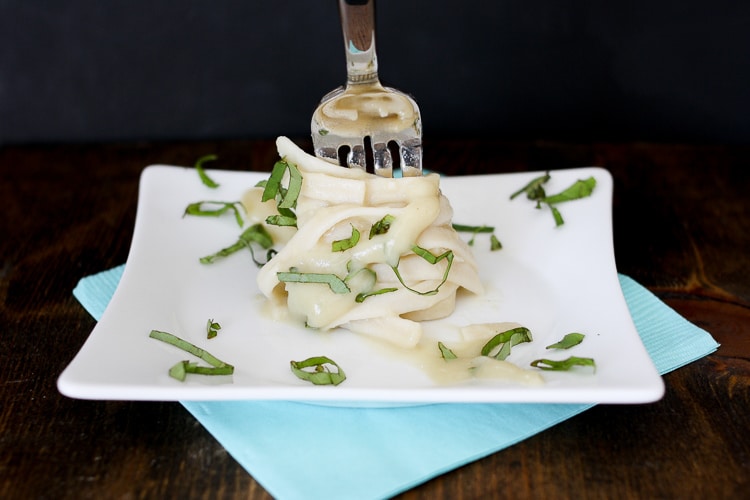 I know, I know...I am supposed to be out of the kitchen and resting up for this baby, using the loads of posts I have backlogged to share with all of you. But I just couldn't resist with this one!
This was a random craving throw together that resulted in a sauce my husband declared to be "a home run out of the park on the first try!" I ended up making it a few different times, playing around with the amounts of each ingredient to find our favorite, but to be honest, every trial was delicious, it just depends on what flavors you want to showcase more.
I absolutely love roasted garlic, so I added even more than I wrote the recipe for. The sweet caramelized flavor of garlic when it roasts is so buttery and creamy and adds awesome dimension to this sauce.
The cauliflower gives it the perfect light and airy cream base and the garbanzo beans give it some strength and substance along with protein. The fresh basil adds an extra pinch of freshness and really complements this sauce well.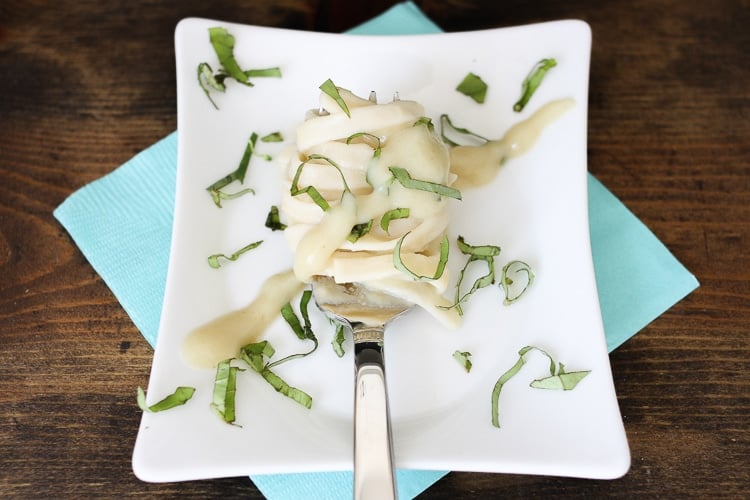 Why Garbanzo Beans And Not White Beans Like Are Often Found In Alfredo Sauces?
I actually preferred the taste of the garbanzo here. They have a little more substance in my opinion and because cauliflower is so light, I wanted something more substantial to add to the mix.
I also kept this sauce very simple, just adding some pink salt and veggie broth to enhance flavor because I wanted to allow the natural flavors of the ingredients to be showcased.
Most other Alfredo sauces out there add many other spices and ingredients, and frankly I just don't think it is necessary to achieve the smooth creamy flavor of traditional Alfredo.
Sometimes it's the simple things in life that are the most satisfying and I think this recipe definitely falls into that category. I also avoided using any plant based milk and opted for veggie broth because it kept it lighter and sometimes the flavor of plant based milk overpowers a bit.
Tip: But make sure your veggie broth does not have tomato in it or that will take over in taste. This is one I like best. This sauce is light and won't leave you feeling overly full...plus it's fat free so allows you to save calories and room for some of the amazing desserts I have on the blog! Go ahead and treat yourself, you deserve it!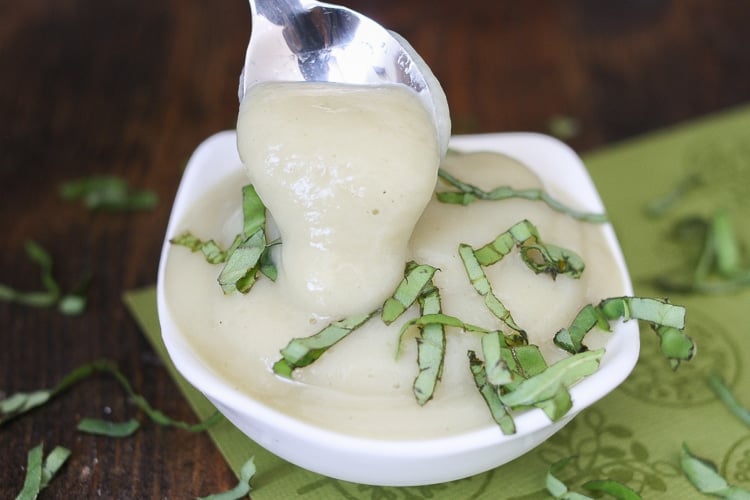 More Healthy Vegan Pasta Sauces;
Please let me know if you give this one a try and leave a comment on this post, I love hearing feedback! You can also tag me on Instagram at veggiesdontbite #veggiesdontbite so I don't miss it! Hope you enjoy this as much as we did!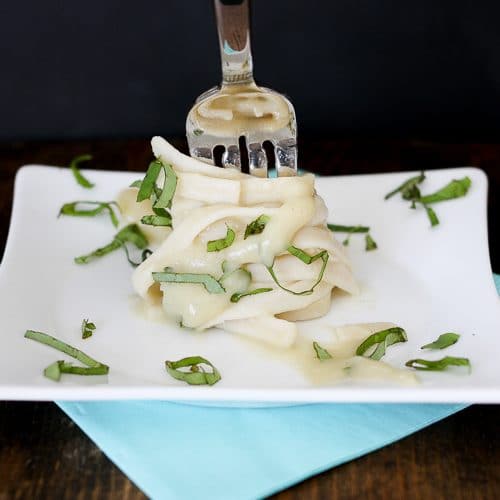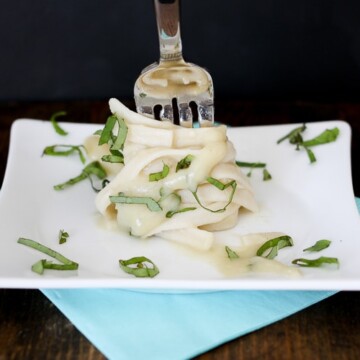 Fat Free Roasted Garlic Cauliflower Alfredo Sauce with Fresh Basil
Fat free, protein, veggie filled and tastes amazing? Meet your new go-to Alfredo sauce! Pour it over pasta or use it in lasagna, this light and creamy sauce goes with just about anything.
Ingredients
6 large cloves fresh garlic
2 heads cauliflower 5 inches in diameter
1 cup garbanzo beans or white beans optional for added protein and creaminess
1 cup veggie broth non tomato based, low sodium if needed
1 cup fresh basil sliced into shreds
Instructions
Peel garlic and mix with a splash of veggie broth and some salt. Wrap in tin foil, and/or parchment and roast at 400°F (200°C) for 20-25 minutes until garlic is browning and looks caramelized.

Wash and boil, steam or roast cauliflower until really tender, breaks apart when forked. About 20-30 minutes. Roasting it gives a deeper flavor. If roasting you can use a drizzle of oil or veggie broth.

When garlic and cauliflower are done, put them in a high speed blender along with the rest of the ingredients, except for the basil. Blend on high until creamy and smooth.

At this point you can add some of the fresh basil into the blender and pulse it in for that fresh basil layer of flavor. Or you can leave it out and only put some basil on the top. We tried both ways and both were great!
Notes
Depending on the size of your cauliflower, you may get less or more of the sauce. Make sure you use a veggie broth without tomatoes in it or the creamy Alfredo taste will be overpowered.
If you want the sauce thinner, then add more broth. You can also add more garlic if you really want the roasted garlic taste to come through, I love it so added more on round two and it was great!
Note that the garbanzo beans add a touch of fat to this, still very low fat but some is added if you use them.
Tips to prep ahead: This sauce freezes well so it can be prepped ahead of time and frozen for later use. When defrosting, do so slowly on the counter. You will need to mix or whip again with a whisk to regain the consistency.
Recipe by Veggies Don't Bite, visit our site for more great plant-based recipes.
Nutrition
Calories: 45kcalCarbohydrates: 9gProtein: 3gFat: 0gSaturated Fat: 0gPolyunsaturated Fat: 0gMonounsaturated Fat: 0gTrans Fat: 0gCholesterol: 0mgSodium: 118mgPotassium: 156mgFiber: 2gSugar: 1gVitamin A: 255IUVitamin C: 22.6mgCalcium: 46mgIron: 1.2mg
Nutrition and metric information should be considered an estimate.
Never miss a recipe!
Sign up here and get a FREE quick and easy meal guide!