This vegan bean chili is the perfect all in one meal! It's easily prepped ahead of time, customizable and a great freezer meal the whole family will love!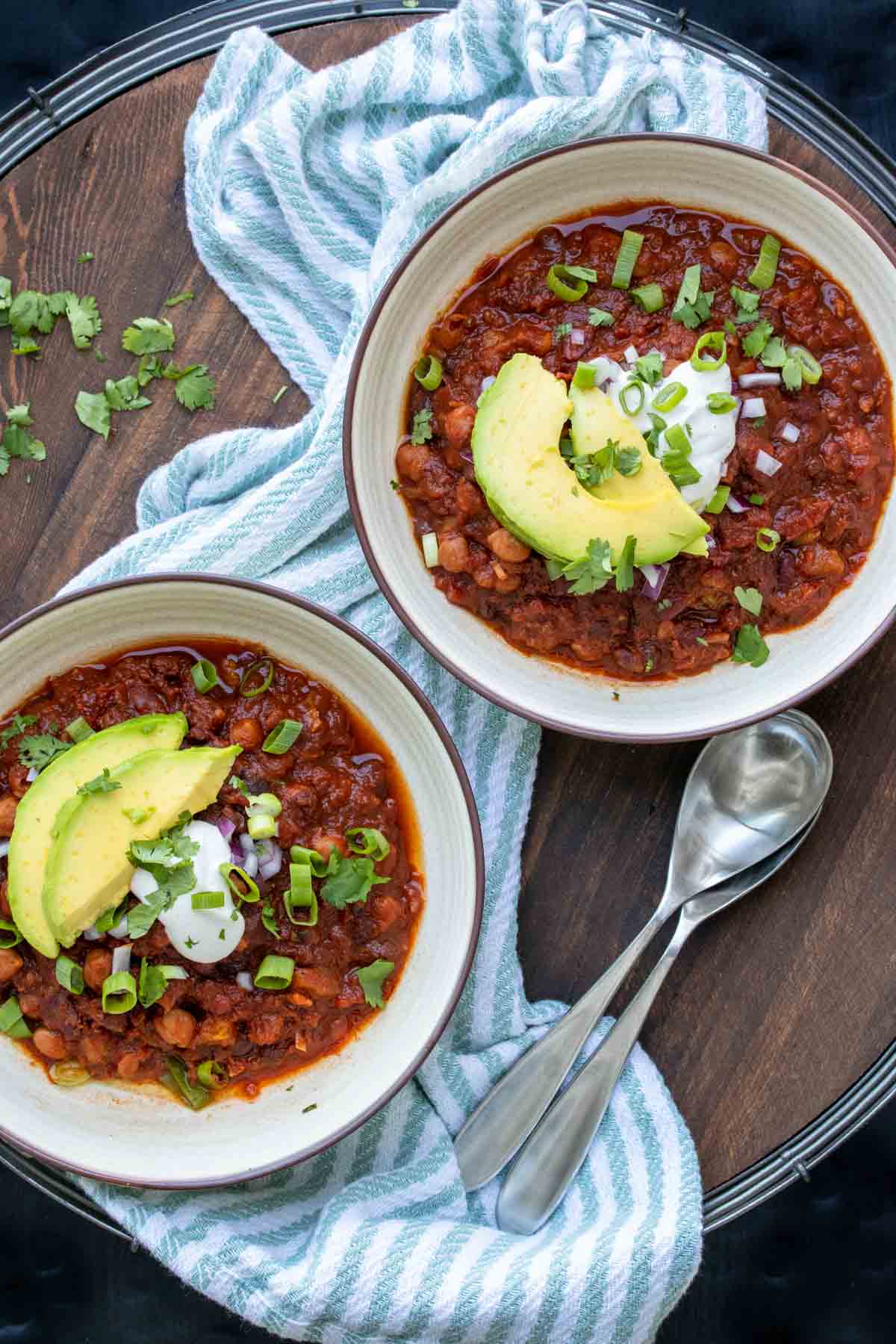 This post was originally published on 2/24/2014
I love having those meals you can stock up on and save for a crazy day. This vegan chili is definitely on my go to list! It's easy to make in the crockpot or on the stove and is great paired with cornbread muffins!
Vegan Bean Chili
The great thing about chili is that there are so many ways to make it! You can even make it a vegan chili cheese dip or mix it with pasta like in this vegan chili mac. This recipe here is focused on the beans, and some hidden veggies. It's wholesome and so flavorful!
I have a secret ingredient that gives this recipe a rich flavor and adds some healthy fat. It's not something you would ever think of! I use almond butter! It is rich and really adds flavor to this recipe.
What kind of bean is a chili bean?
Chili beans are basically a type of bean you use to make chili. You can find them dried, labeled as "chili beans" or canned. When canned they are usually red chili beans, pinto beans, black beans or sometimes even kidney or white beans in a chili sauce.
Can I substitute black beans for kidney beans in chili?
You can easily substitute almost any bean and also add whatever other beans you like. This is the awesome versatility of chili! Each type of bean has it's own texture and flavor so using a variety of beans keeps your chili interesting!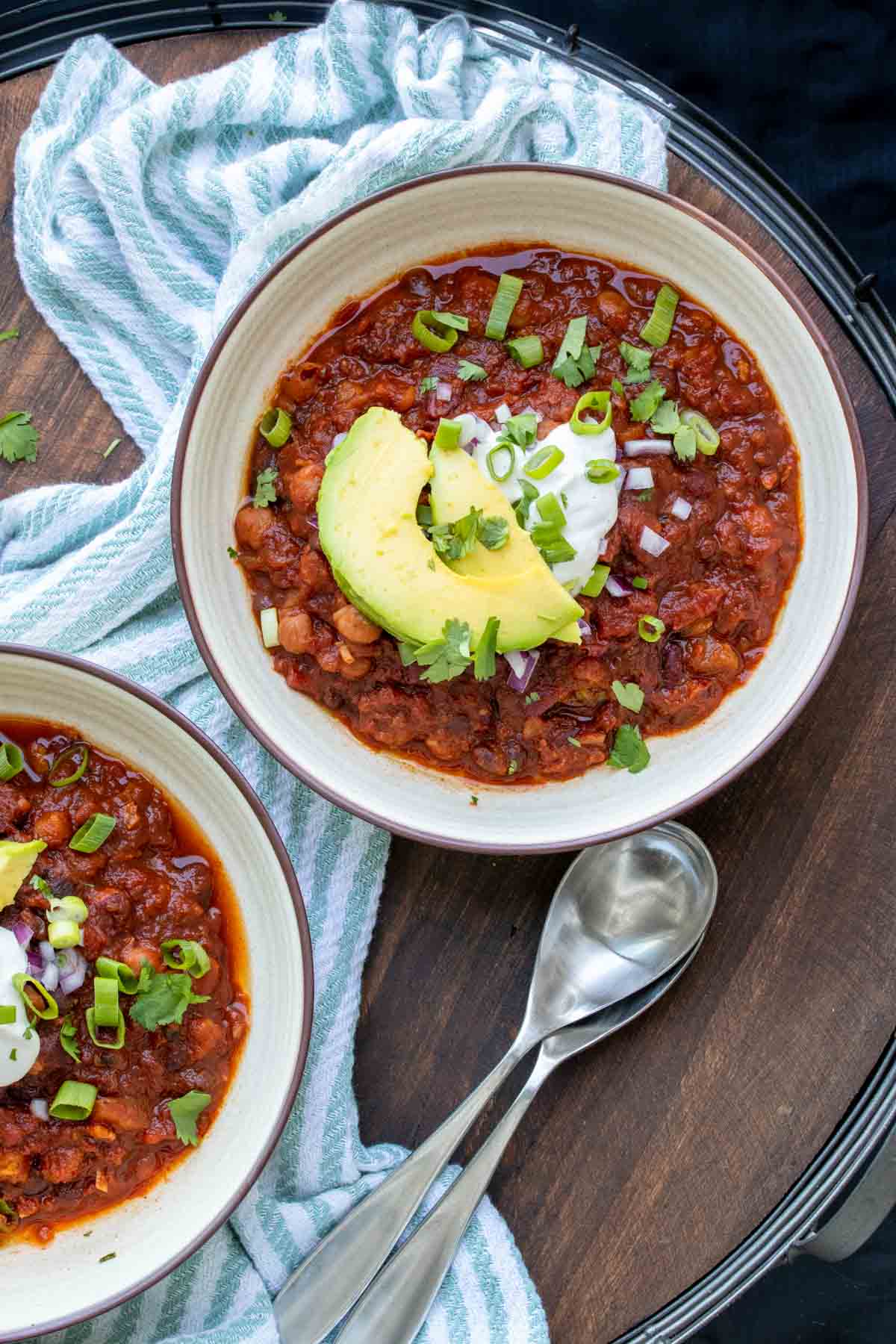 Do you drain beans for chili?
Yes! If I am using canned beans, I drain and rinse them. If I am using dry, I soak them before I cook them in the chili.
How to Make Vegan Bean Chili
I have multiple options for making this vegan chili depending on your schedule. I love the smell of dinner cooking in the crockpot all day, so I often turn to that. The flavor is also deeper and richer when it slowly cooks.
However if you are looking for something that can be wham bam and done, I also give stovetop directions!
Saute the veggies and put in the crockpot if using that method.
Add in everything else (cooked beans go in at the end) including the secret ingredient and cook.
Mash a little for texture and serve!
Tips for freezing chili
I like to keep my freezer food in air tight glass containers. After the chili has cooled, place a piece of plastic wrap right on the top of it. Making sure it touches the surface of the chili will help form a barrier and there is less of a chance for ice crystals and freezer burn.
Then put an air tight lid on it, label it with the date (to help you remember what it is and what to use up first), then freeze!
When you are ready to eat it, allow it to defrost a bit then slowly heat it in the microwave or the stovetop until warm.
Topping ideas
You can really add almost anything to chili! The best thing is mixing it up so you don't get bore, especially if you have leftovers. Here are some of our favorites:
green onions
red onions
corn chips or these homemade tortilla chips
avocado
hot sauce
sliced jalapeños
pickled jalapeño slices
shredded cheese
cilantro
diced tomatoes
What can I do with leftover chili?
I love to double this recipe and freeze it for later use, or eat it later that week in a different way! Here are some of my favorite ways to use it: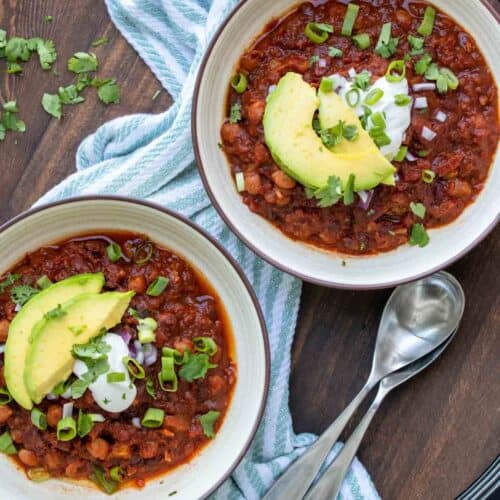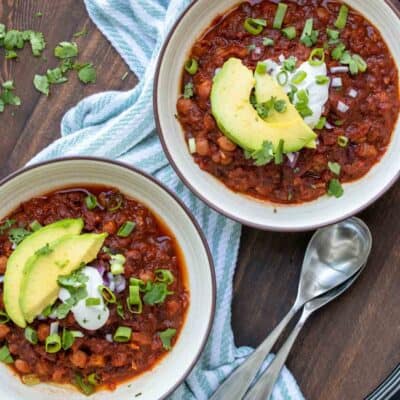 Vegan Bean Chili
This vegan bean chili is the perfect all in one meal! It's easily prepped ahead of time, customizable and a great freezer meal the whole family will love!
Ingredients
¾

cup

dried chickpeas

, soaked overnight

2

cups

cubed butternut squash

(can substitute any winter squash or even carrots)

1

cup

chopped red onion

4

cloves

garlic

, chopped

¼

cup

white wine

(or sub for broth)

5

cups

veggie broth

, low sodium if needed

15

ounces

crushed tomatoes

2

tablespoons

roasted almond butter

(can sub sunflower seed butter or tahini for nut free)

2

tablespoons

chili powder

2

tablespoons

smoked paprika

1/2 -1

teaspoon

sea salt

, adjust for preference

1

cup

cooked kidney beans

, drained and rinsed

1

cup

cooked black beans

, drained and rinsed

½ -1

teaspoon

cayenne pepper or chipotle powder for spice

, optional
Topping ideas:
Avocado

Corn chips

Sliced green onions

Cilantro
Instructions
Saute the squash, onion, and garlic in white wine until the onion is soft and wine has reduced. About 2-3 minutes.

Add to the crockpot if using the crockpot method.

Add in the rest of the ingredients except the cooked beans.

If using a crockpot, cook on high for 2 hours or on low for 4. When there is about 15-30 minutes left, add in the cooked beans.

If using the stovetop cook for 25 minutes over medium heat. Add in the cooked beans and cook another 5-10 minutes.

When done, mash a little to get a thicker texture and serve with toppings of choice!
Notes
You can use any combination of beans you want, but I highly suggest keeping the dried garbanzo beans for the best texture. Just make sure the total amount of beans you use stays the same.

I like serving this over a cup of spinach, the heat wilts the spinach and gives me added greens.

See the post for more topping ideas.
This chili recipe was updated to make it better and easier, if you want the original recipes see below:
Ingredients:
1 cup dry lentils (any color)
1 sweet onion
1 cup any type of winter squash
1 cup carrots
4 cups veggie broth
15-18 ounces crushed tomatoes
¼ cup tomato paste
¼ cup white cooking wine
2 tablespoons apple cider vinegar
1 tablespoon crushed garlic
1 tablespoon cumin
½ teaspoon cayenne pepper
2 tablespoons smoked paprika
2 tablespoons chili powder
Sea salt and ground black pepper to taste
Sprinkle of your favorite cooking oil (optional)
1 can garbanzo beans
1 can kidney beans
1 can pinto beans
Instructions: 
Rinse lentils and add them to the crock pot. Wash and chop onions, squash/zucchini and carrots and add them to the crock pot (I use a small electric chopper for quick and easy chopping and to get really fine pieces). Add the rest of the ingredients, except the 3 cans of beans, to the crock pot and mix until well combined. Taste and add more salt and pepper as needed. Turn crockpot on low and cook for 6-7 hours. About 3 hours in, add the remaining beans, 3 cans. Cover and continue cooking, tasting for lentil consistency as you go. I like mine on the al dente side.
Recipe by Veggies Don't Bite, visit our site for more great plant-based recipes.
Nutrition
Calories:
437
kcal
Carbohydrates:
72
g
Protein:
21
g
Fat:
9
g
Saturated Fat:
1
g
Polyunsaturated Fat:
1
g
Monounsaturated Fat:
1
g
Trans Fat:
1
g
Cholesterol:
1
mg
Sodium:
660
mg
Potassium:
1516
mg
Fiber:
21
g
Sugar:
14
g
Vitamin A:
10605
IU
Vitamin C:
30
mg
Calcium:
197
mg
Iron:
8
mg
Nutrition and metric information should be considered an estimate.
Never miss a recipe!
Sign up here and get a FREE quick and easy meal guide!