After the Crockpot Lentils success, I wanted to create another delicious, easy meal for all those moms looking to add some health into their weekly dinners. With a Superbowl party to attend, it seemed timely to try my hand at chili on the crockpot. Using the lentil recipe as a guide, I added more beans, changed some spices, snuck in a few more veggies and finished it off with a red pepper sauce.  As it cooked, a delicious aroma filled the house and the taste did not disappoint.
Not only is this dish tasty, but it also freezes well! We ate it two nights in a row, the second night turning it into Chili Fries! I used my Oven Fries as a base, topped them with the chili and all the toppings and drizzled on Roasted Red Pepper Sauce (recipe below). My husband loved it so much, he barely said a word as he scarfed it down. Hugely gratifying to prepare one meal that can be used in different ways! Keeps things exciting and allows you to reuse leftovers. This is a good one for families that aren't fond of leftovers. Take a look and give it a try!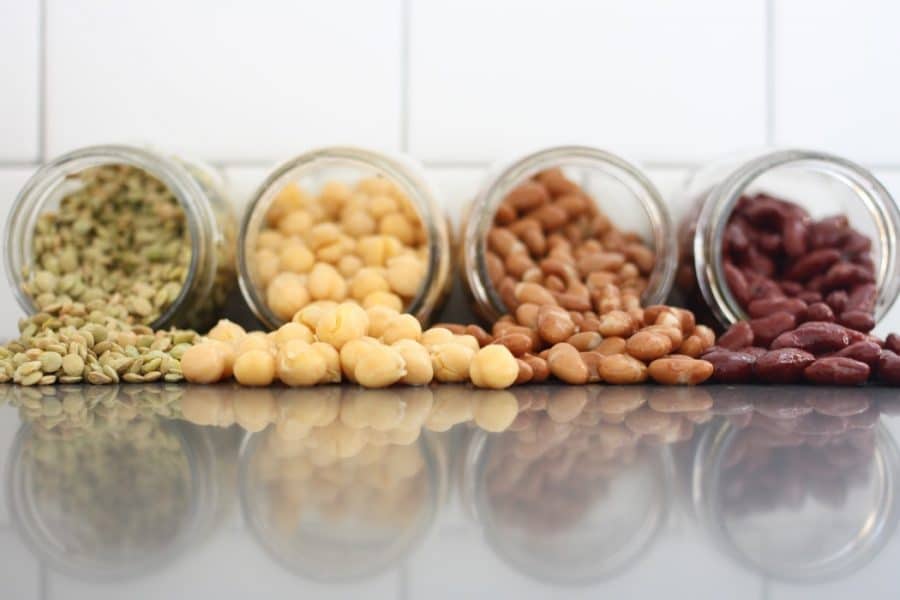 [recipe title= "Four Bean Crockpot Chili" servings= "Makes a full crockpot"]This chili is easy to make, tastes great, full of veggies and freezer friendly. Use leftovers as a topping for chili fries as another delicious meal. Two meals in one, win win!
Ingredients:
Toppings (or any others you love):
diced avocado
sliced green onions
Roasted Red Pepper Sauce (see recipe below)
note: With the leftover chili, you can put it on top of my Oven Fries and load it with toppings for another fun way to eat it! I used Kabocha squash for this, but any winter squash works. You want a squash that takes a while to cook so that it won't get mushy as it sits in the crockpot.
Instructions:
Rinse lentils and add them to the crock pot. Wash and chop onions, squash/zucchini and carrots and add them to the crock pot (I use a small electric chopper for quick and easy chopping and to get really fine pieces). Add the rest of the ingredients, except the 3 cans of beans, to the crock pot and mix until well combined. Taste and add more salt and pepper as needed. Turn crockpot on low and cook for 6-7 hours. About 3 hours in, add the remaining beans, 3 cans. Cover and continue cooking, tasting for lentil consistency as you go. I like mine on the al dente side.
Once done cooking, top with your favorite toppings and enjoy! [/recipe]
[recipe title= "Roasted Red Pepper Sauce" servings= "2 cups, depending on amount of water used"]This creamy sauce is a great addition to your chili, or any other dish that needs a good sub for cheese.
Ingredients:
Instructions:
Soak the cashews for at least two hours in a bowl of water, make sure the water covers them completely since they puff up while soaking.
Place everything in a food processor, blender or high speed blender and blend until smooth and creamy. Start with ¼ cup water and add more to reach desired sauce consistency. Taste and adjust seasonings for personal taste. [/recipe]