It's tailgating season friends!!! I love this time of year. The excitement, the rush when your team wins. But most of all the food. Oh the deliciousness of gluttonous tailgating food.
I know not everyone is a sports fan, but you definitely do NOT need to like sports to stuff your face with this insane new fully loaded guacamole dip. And that vegan cotija cheese crumble? Um yes. I'll have extra please.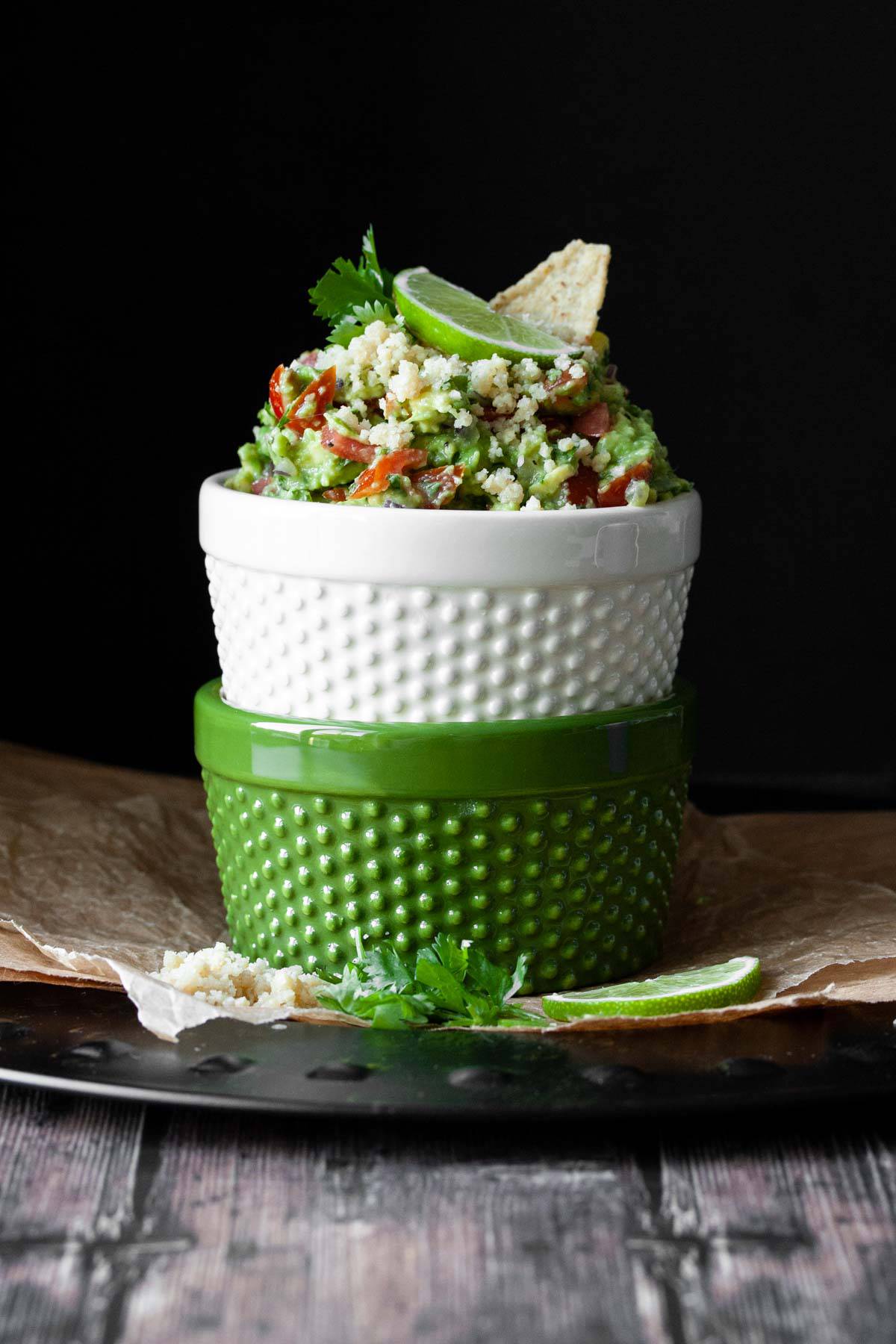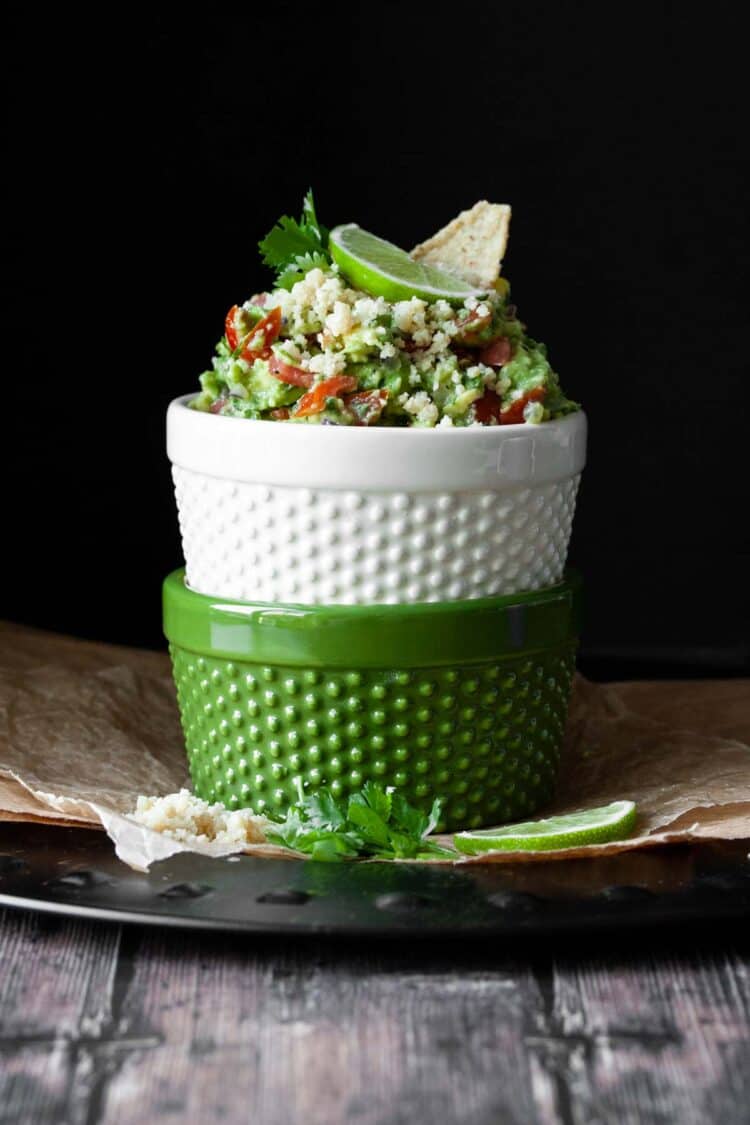 This is a sponsored conversation written by me on behalf of Casabella. The opinions and text are all mine.
I am officially obsessed with avocados. And so is the rest of my family. We must go through like 20 a week. I know, insanity especially with how expensive they can get, but hey, it's still cheaper than filet! But it is time to mix up my guac game.
So when Casabella got in touch and asked if I'd be interested in coming up with a new recipe for tailgating season using some of the products they created, I pretty much spent no more than 3 seconds before replying YES. YES. I. WOULD. I received 3 products, all amazing, and two of which are made for the amazing avocado.
3 products I received from Casabella:
Clip N Strip Shears- great comfortable to use kitchen shears perfect for not only clipping the herbs but chopping them (easier than using a knife!). I love that they have a strip feature for things like rosemary and thyme, and also a little tab you can activate to keep them closed for storage.
4 'n 1 Avocado Tool- Ummm, this is perfection. This thing has a sharp edge to cut the avocado in half (it works SO well), a scoop to get the avocado out of the peel, the top smashes avocados perfectly, and a flat edge to slice avocado ribbons.
Guac-Lock- Holy of all things that needed to be invented. This is they only thing I have ever successfully used to store my guacamole WITHOUT BROWNING. Yep, no brown avocado. You put the guacamole in, push it to the top until it reaches the small hole, then seal it with the tab. It is amazing.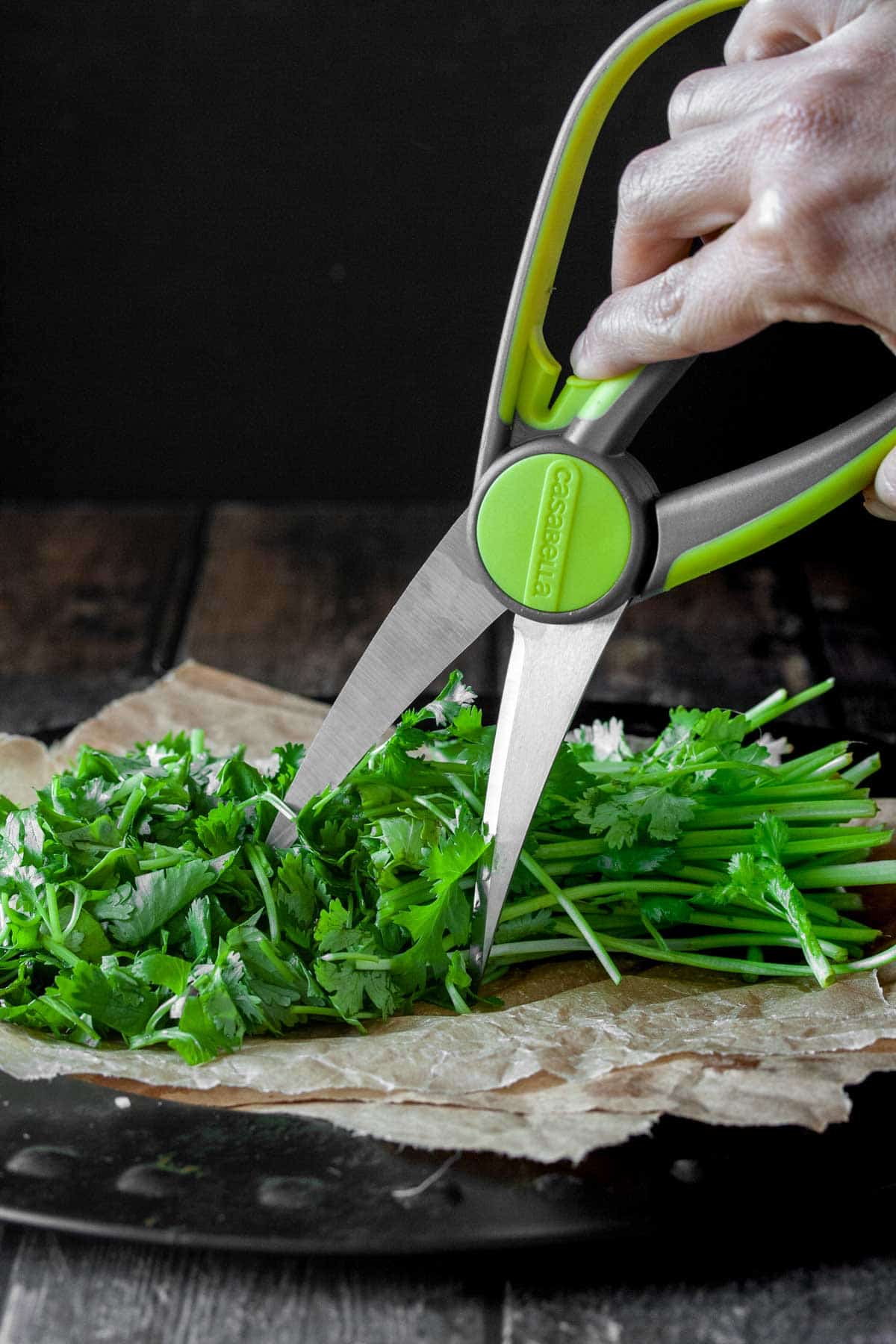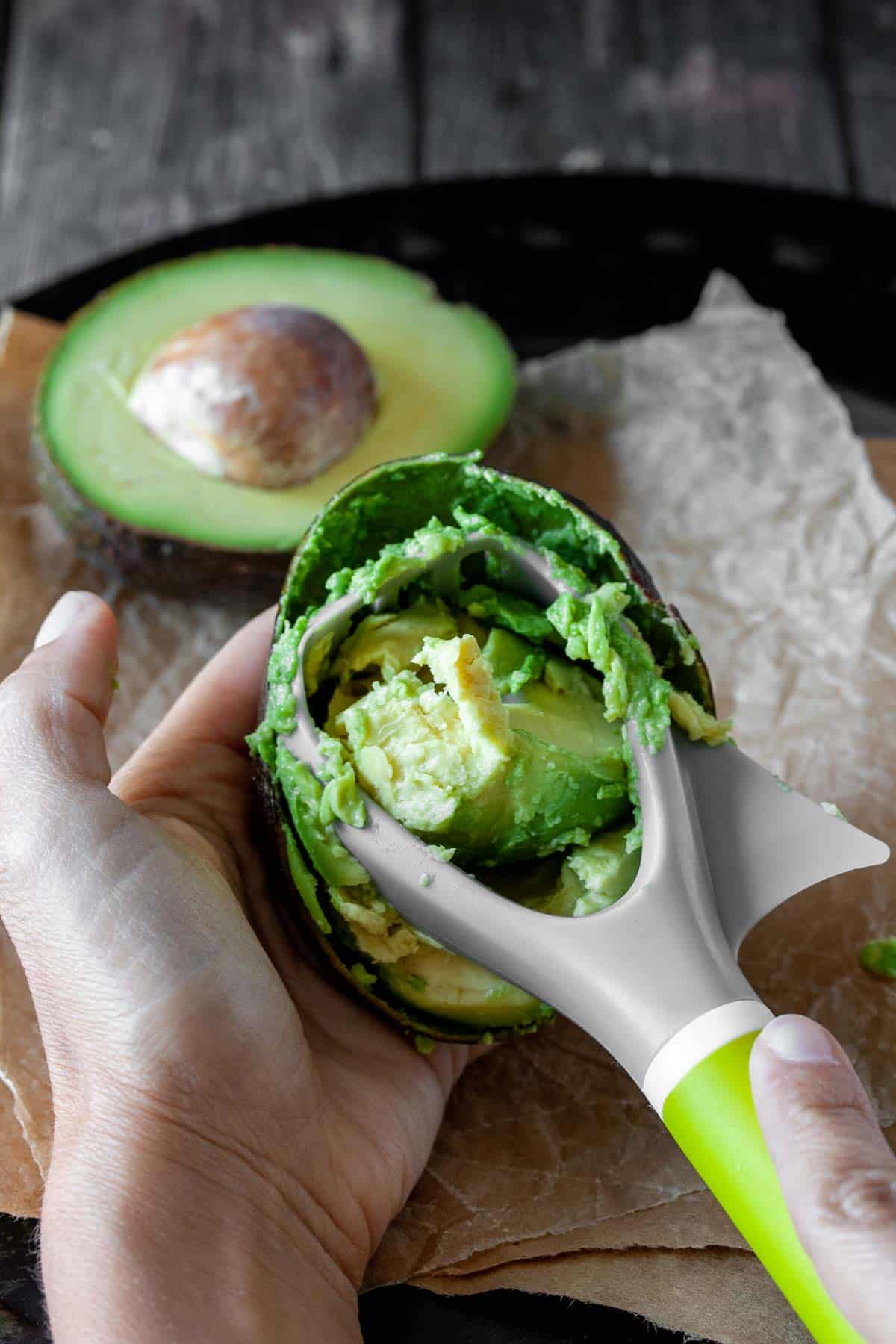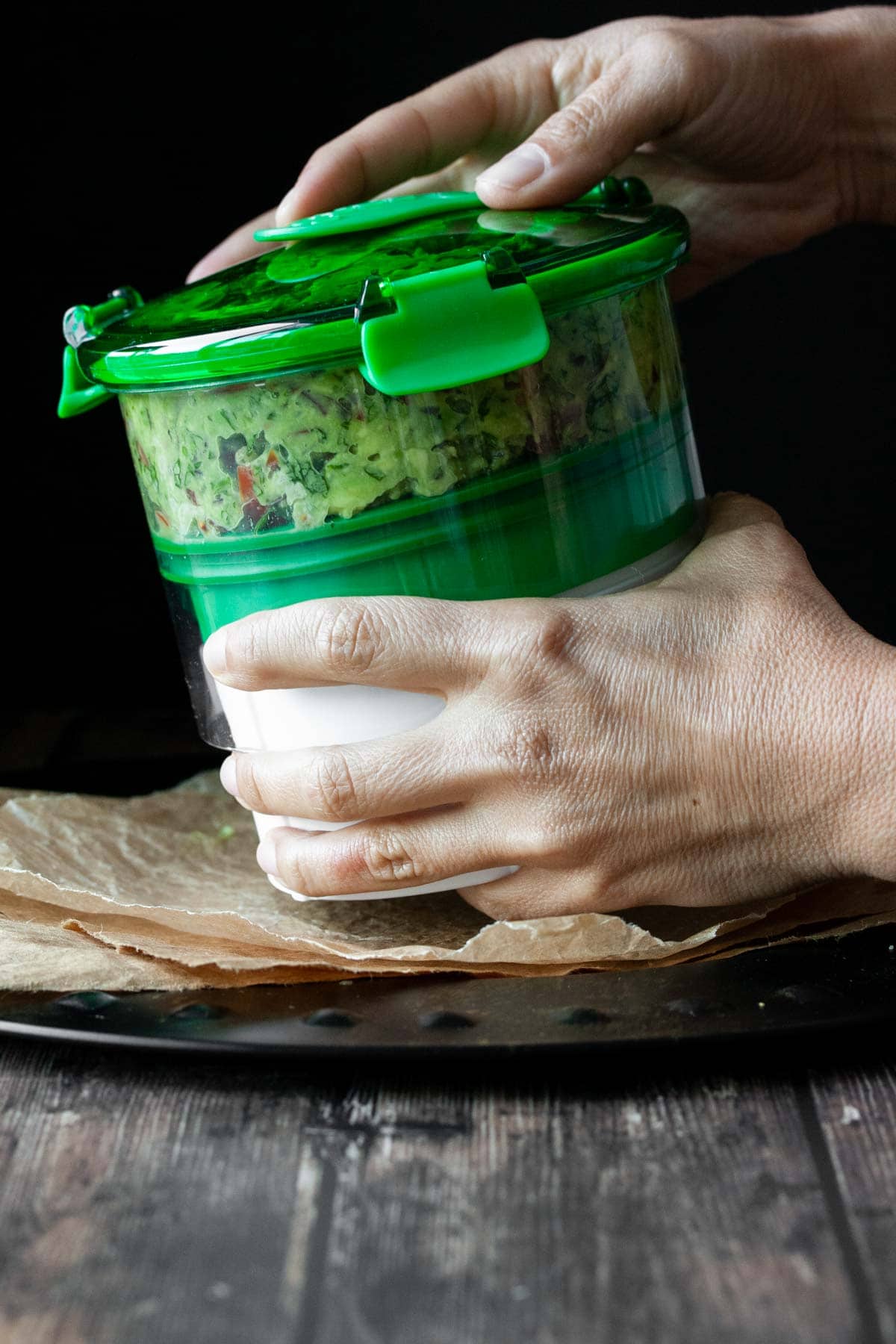 The tableside guacamole from a restaurant we have been to a few times here in San Diego inspired me to create this fully loaded guacamole. They make it right in front of you and fill it with yumminess. I put a little twist on mine to make it my own, but I'd say in flavor I got really close. They use real cotija cheese as a topper on theirs, so as soon as I came up with this idea, I KNEW I had to create a vegan cotija cheese.
The Vegan Cotija Cheese Is Insane!
I did a little search online and found that there actually isn't another recipe anything like what I was thinking of doing, in fact there is only one other recipe at all. The only one I found was this one that uses white beans (if you're nut free give it a try).
The vegan cotija cheese really makes this recipe. It's tangy, salty, everything that cotija cheese should be. We've actually been sprinkling it on a ton! So let's just put it out there, you saw vegan cotija cheese made this way here first!
Ways To Serve This Loaded Guacamole Dip With Vegan Cotija Cheese;
with chips (of course)
Add it to burritos like my Fall Harvest Burrito
Add it to vegan burgers
Enjoy with baked sweet potatoes
Nachos
Use to fill tacos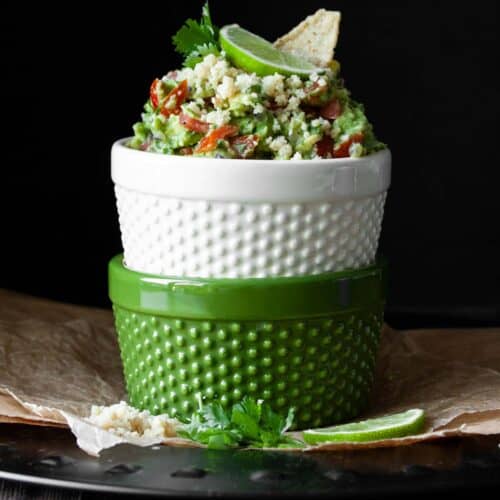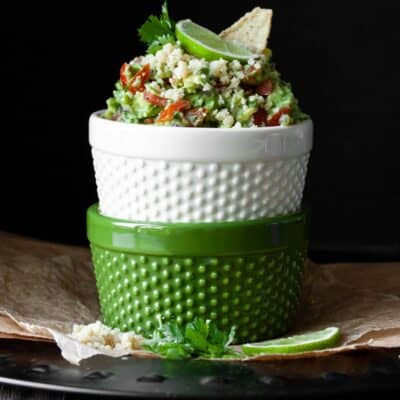 Fully Loaded Guacamole Dip with Vegan Cotija Cheese
An all in one party dip you won't be able to stop eating. Filled with amazing ingredients for that perfect flavor, this fully loaded guacamole will be your go to appetizer. Sprinkle with vegan Cotija cheese for a unique twist everyone will love!
Ingredients
3

avocados

1

cup

finely chopped tomato

½

cup

finely chopped red onion

½

cup

finely chopped cilantro

2

tablespoons

lime juice

4

teaspoons

finely chopped garlic

about 5 cloves

1-2

teaspoons

finely chopped Serrano chiles

optional but recommended

1-2

teaspoons

fresh orange juice

optional but recommended

1

teaspoon

sea salt

¼

teaspoon

ground black pepper

Vegan Cotija Cheese for topping

see recipe below
Vegan Cotija Cheese
1

cup

raw cashews

do not soak

2

teaspoons

lemon juice

can also use lime juice, I liked the lemon tang better

2

teaspoons

white vinegar

½ - ¾

teaspoon

sea salt
Instructions
Make Cotjia cheese by placing the dry cashews in a food processor and blending until they are in a fine crumble. Do not overblend or it will make cashew butter. Add the lemon juice, vinegar and salt and pulse until incorporated. It will be wet and crumbly, set aside.

Cut and scrape avocados into a bowl, do not mash yet.

Add the rest of the ingredients (except the cotjia cheese), and roughly chop and mix. You don't want to make it too smooth, keeping this chunky is what makes it so good.

Sprinkle cotija cheese over the top, use as much as you want, dig in and enjoy!
Notes
The orange juice trick was a little secret a friend told me who used to work in a Mexican restaurant. It really adds a great twist of flavor! So although it's optional, I highly recommend it!
Recipe by Veggies Don't Bite, visit our site for more great plant-based recipes.
Nutrition
Calories:
443
kcal
Carbohydrates:
28
g
Protein:
9
g
Fat:
36
g
Saturated Fat:
5
g
Polyunsaturated Fat:
0
g
Monounsaturated Fat:
0
g
Trans Fat:
0
g
Cholesterol:
0
mg
Sodium:
148
mg
Potassium:
1083
mg
Fiber:
12
g
Sugar:
5
g
Vitamin A:
665
IU
Vitamin C:
29
mg
Calcium:
44
mg
Iron:
3.1
mg
Nutrition and metric information should be considered an estimate.
Never miss a recipe!
Sign up here and get a FREE quick and easy meal guide!