These vegan cornbread muffins are not only gluten-free but they are so easy to make and taste incredible with rich, maple flavors of fall!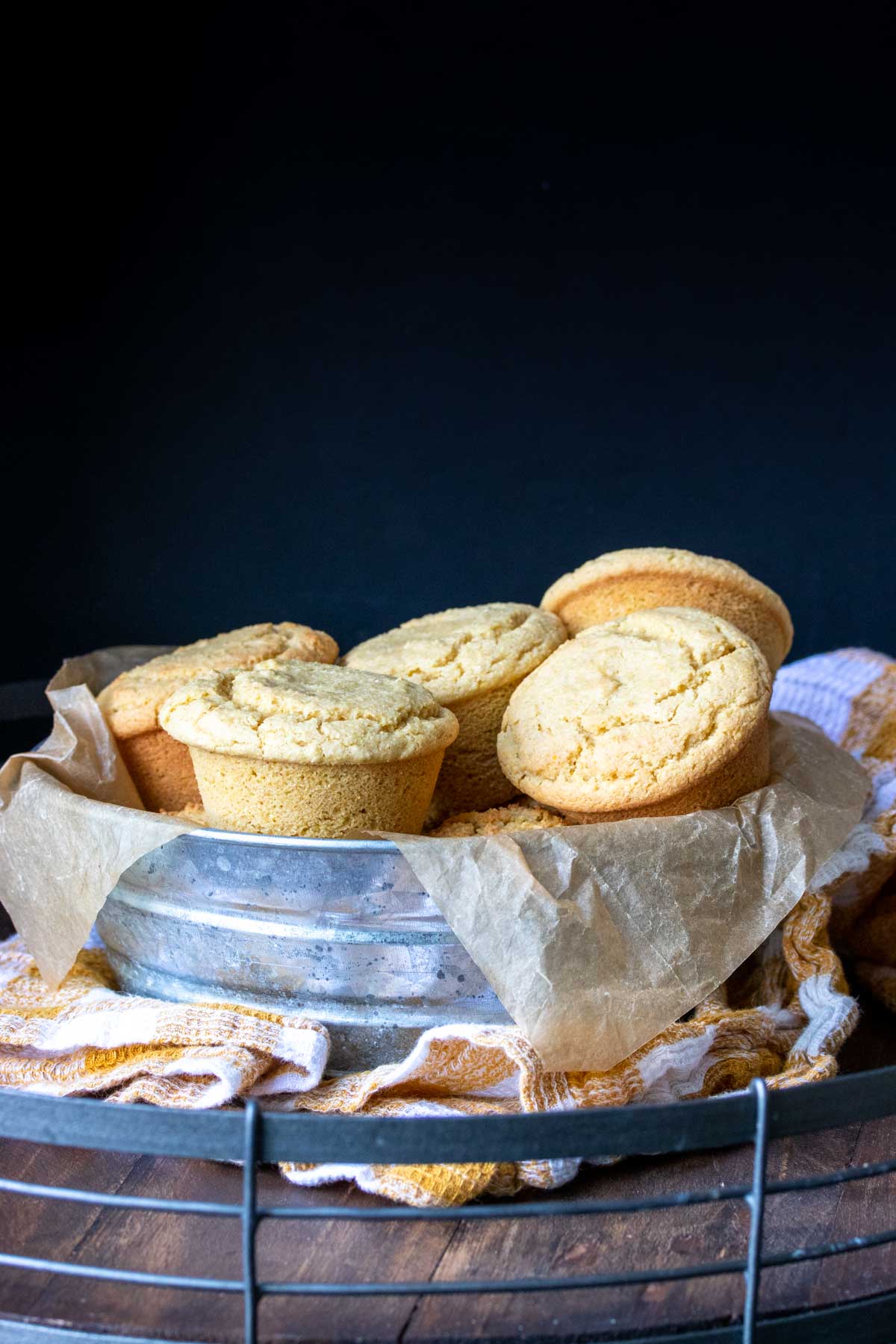 I love fall and all the comforting treats that comes with it. These muffins are so good, especially topped with some butter or dipped in your favorite veggie chili!
We're a big fan of cornbread over here, but there's just something about muffins that are that much more delicious and fun! And, since they're already in individual portions they're great for freezing for grab and go meals.
Ingredients
In order to make these gluten free cornbread muffins, you will need the following ingredients:
Cornmeal
Almond flour
Lite coconut milk
Apple cider vinegar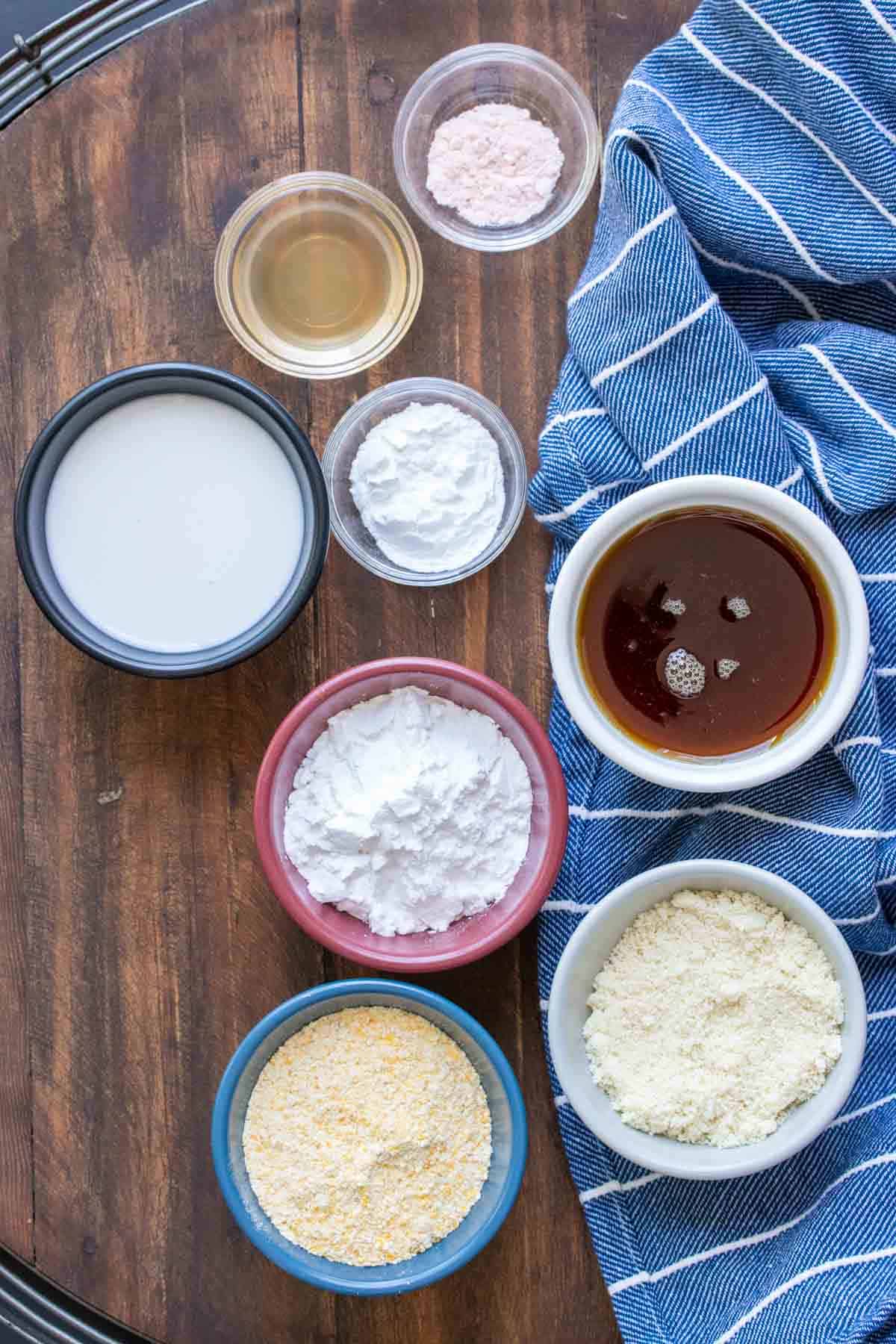 How to Make Vegan Cornbread Muffins
These cornbread muffins are almost too easy to make! Here are the steps you need to take:
Whisk the dry ingredients.
Mix in the wet.
Pour into a prepared muffin tin.
Bake.
Serve!
Topping suggestions
Load these vegan cornbread muffins up with any of the following toppings:
Honey butter- Mix your favorite vegan butter with maple syrup and slather it on.
Sriracha butter- Get a kick by combining butter with hot sauce.
Jalapeños- Bake fresh slices right on top!
Maple syrup- Simply drizzle it on!
Mix in suggestions
Plain and simple cornbread is delicious, but sometimes it's fun to mix it up! Here are some mix in options you can try:
Chopped jalapeños
Whole corn
Chopped peppers
Herbs- I love thyme
Chopped green chiles
Chopped garlic
Scallions
Any veggie type bacon pieces like this Vegan Coconut Bacon
Any chopped veggie!
Serving suggestions
Sure, cornbread makes a wonderful snack on its own, but pairing it with a meal it way better! Here are some delicious recipes to serve your cornbread muffins with:
Preparation tips
Here are a few helpful hints that will help you make the best vegan cornbread muffins:
Fine grain cornmeal is best, but medium grain will work and give you a more moist bread. If you use medium grain, start with ½ cup of milk and add 1 tablespoon at a time until it's a thick batter.
Coconut milk gives the most rich and moist result, but you can use cashew or almond milk instead.
For a less sweet bread, reduce the maple syrup to 6 Tablespoons.
Prepare the muffin tin by either using oil spray, or rub some oil on the pan, or use muffin liners.
To make this in a square pan, double the recipe. The cook time will be about 5 minutes longer.
When baking, start checking in at 18 minutes. When a toothpick comes out clean with a few crumbs on it, they're done!
Allow to cool completely, as they set more while they cool.
Storage tips
Let the cornbread muffins cool completely before sealing them in a storage container.
Place in an airtight container and keep at room temperature for 2-3 days.
You can also freeze these muffins! Simply seal them in a freezer-safe airtight container and freeze for up to 3 months. You can protect them even more by individually wrapping them with plastic wrap before placing in the storage container.
Common Questions
Are corn muffins vegan?
Not usually as they contain milk, eggs, and sometimes butter. This recipe however uses all plant based ingredients!
What can I use in place of an egg in cornbread?
There are a number of options including applesauce, flax or chia seeds, or yogurt. This recipe uses the perfect blend of flours, baking soda, coconut milk, maple syrup, and apple cider vinegar so no egg is needed.
Can I use flax eggs in cornbread?
Yes! flax eggs are a good vegan alternative to use in cornbread.
Is corn flour the same as cornmeal?
Both made from ground corn, cornmeal has a gritty texture while corn flour is fine and smooth.
Can you substitute almond milk for milk in cornbread?
You can use almond milk, however coconut milk will give a richer taste and a more moist texture.
More Vegan Side Dish Recipes
These kid approved plant based recipes are the perfect addition to any dinner!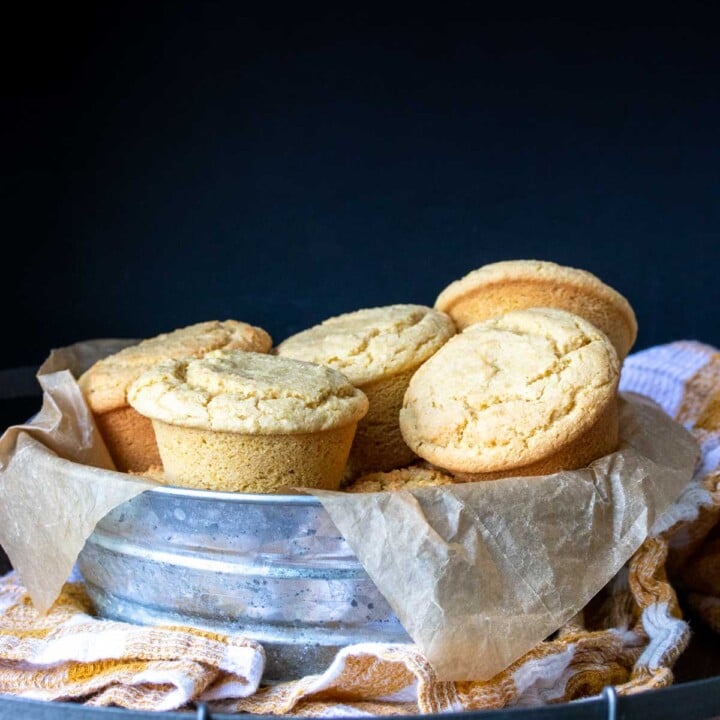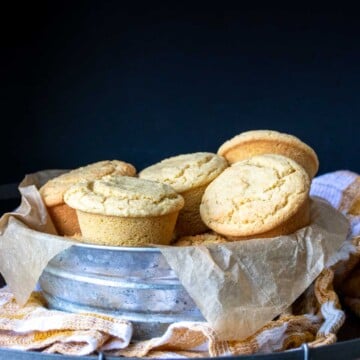 Gluten-Free Vegan Cornbread Muffins
These vegan cornbread muffins are not only gluten-free but they are so easy to make and taste incredible with rich, maple flavors of fall!
Instructions
Preheat the oven to 350 F/ 175 C

Mix the cornmeal, almond flour, tapioca, baking powder and salt together in a bowl and whisk to combine.

Make a little well in the middle and add the maple syrup, milk and vinegar. Mix until everything is just mixed.

Pour into a prepared muffin tin.

Bake for 18- 20 minutes. Start checking at 18, a toothpick should come out clean with a few crumbs on it. If you overbake, it will get too dry.

Allow to cool completely, as it sets more while it cools.

Serve with butter for an amazing treat!
Notes
You can use medium grain cornmeal but you will need to reduce the milk (start with ½ cup and add 1 tablespoon at a time until it's a thick batter). Medium grain cornmeal gives a moister result. I tried it but it was much better with fine grain.
You can use cashew or almond milk but the end result won't be as rich and moist.
Recipe by Veggies Don't Bite, visit our site for more great plant-based recipes.
Nutrition
Calories: 316kcalCarbohydrates: 44gProtein: 7gFat: 13gSaturated Fat: 2gPolyunsaturated Fat: 1gMonounsaturated Fat: 1gCholesterol: 1mgSodium: 201mgPotassium: 295mgFiber: 5gSugar: 13gCalcium: 133mgIron: 2mg
Nutrition and metric information should be considered an estimate.
Never miss a recipe!
Sign up here and get a FREE quick and easy meal guide!