You may have had baklava before, but never like this. My mom's family recipe, perfected over years of work, is out of this world incredible! And this vegan baklava has a never before seen oil-free option!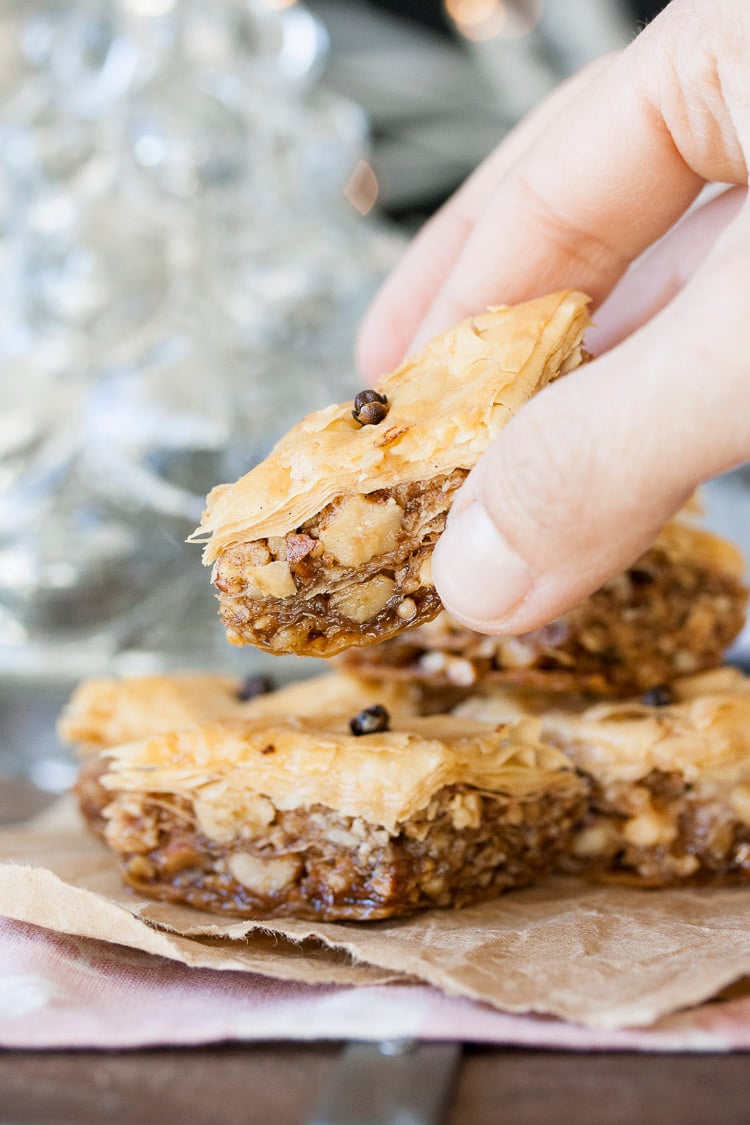 This is a sponsored conversation written by me on behalf of NOW Foods. The opinions and text are all mine.
Are you ready? I'd sit down if I were you. This Greek baklava is a vegan, incredible, mind blowing at first bite kind of dessert. You have never had anything like it. Sure, there are others, but the flavors and proportion of ingredients in here have been tested and trialed throughout my childhood to result in the best damn baklava on the planet. Screw it, I'm going there. Best damn baklava in the galaxy!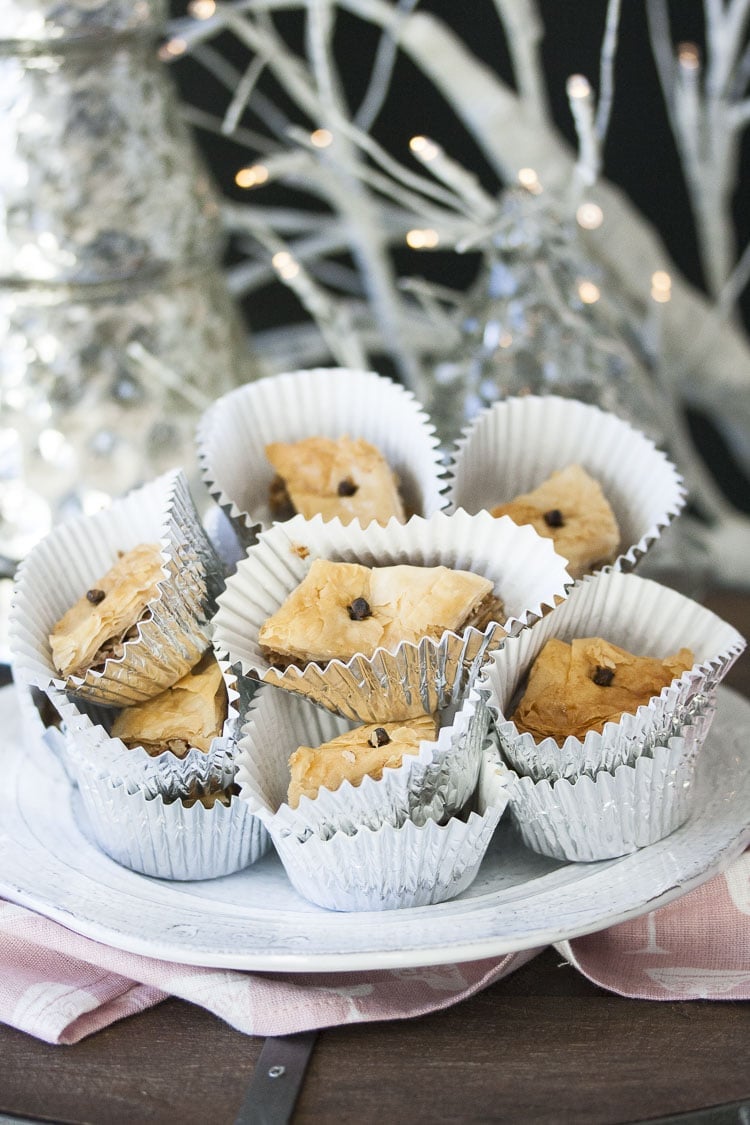 But why oil-free? Butter is amazing!
So, I am going to start with this: using a good vegan butter (like the Miyokos Creamery Vegan Cultured Butter) is going to result in a better end product. More flaky, a better light textured crisp, not as wet and of course that signature buttery flavor. That being said, I know there are many of you out there that do not use butters or oils, so this my friends is for you.
Me personally, I am not anti oil or butter. I don't use it in my every day cooking, because you really can get amazing flavors without it (Have you even seen my Grain-Free Sea Salt Chocolate Chip Cookies? No oil or butter needed!), but in treats like this or in small amounts for flavor (I am Greek after all and love that true deep olive oil taste), I'm all in.
But I knew that if I was going to post this vegan baklava recipe, I needed to nail down a decent oil-free option. And the winner here was a combination of Aquafaba (the juice from a can of chickpeas) coupled with drippy creamy almond butter and a touch of maple syrup. I needed the fat, and I needed something that would make it crisp.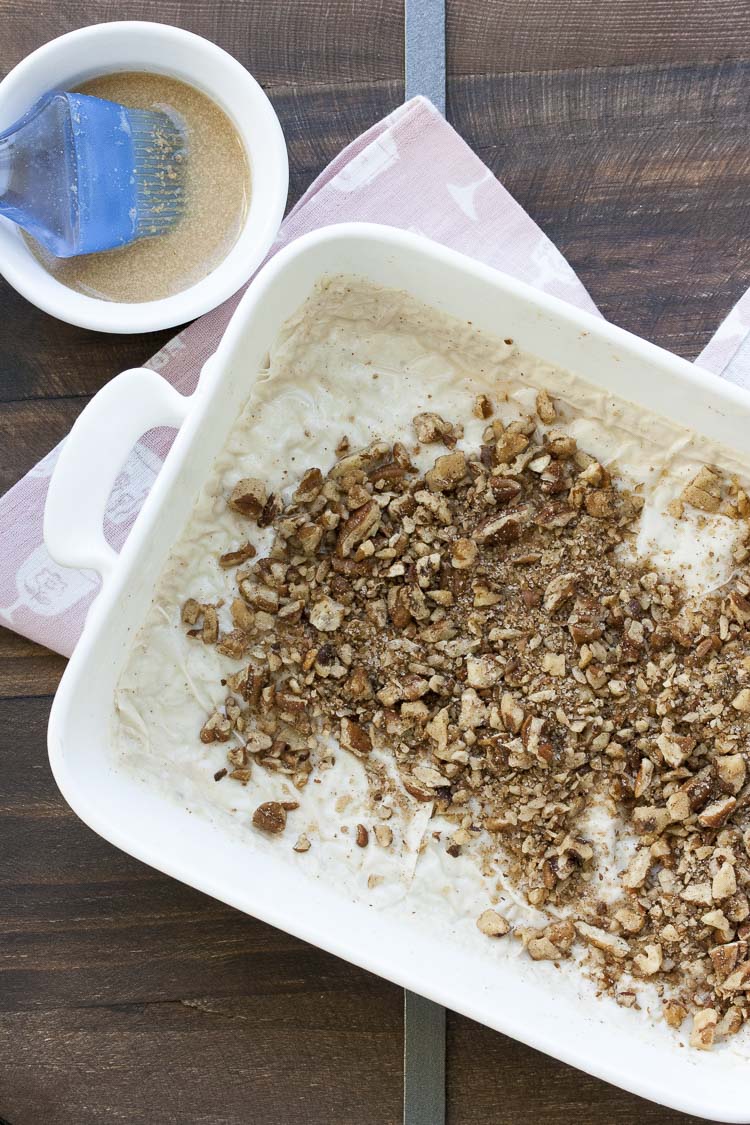 How does this crazy oil free option work?
The fat in the almond butter is needed to help the filo bake without it becoming overly dry. The Aquafaba helps give that crisp, much like egg whites are used to coat the top of bread or other baked goods. I use a smidge of maple syrup to absolutely make sure you do not get that bean taste from the chickpea liquid.
Because the nuts in the baklava have plenty of natural whole food fat, the basting liquid is only needed in small amounts. DO NOT over baste. A good quality nut (like my faves from NOW Foods) will give you plenty of delicious flavor.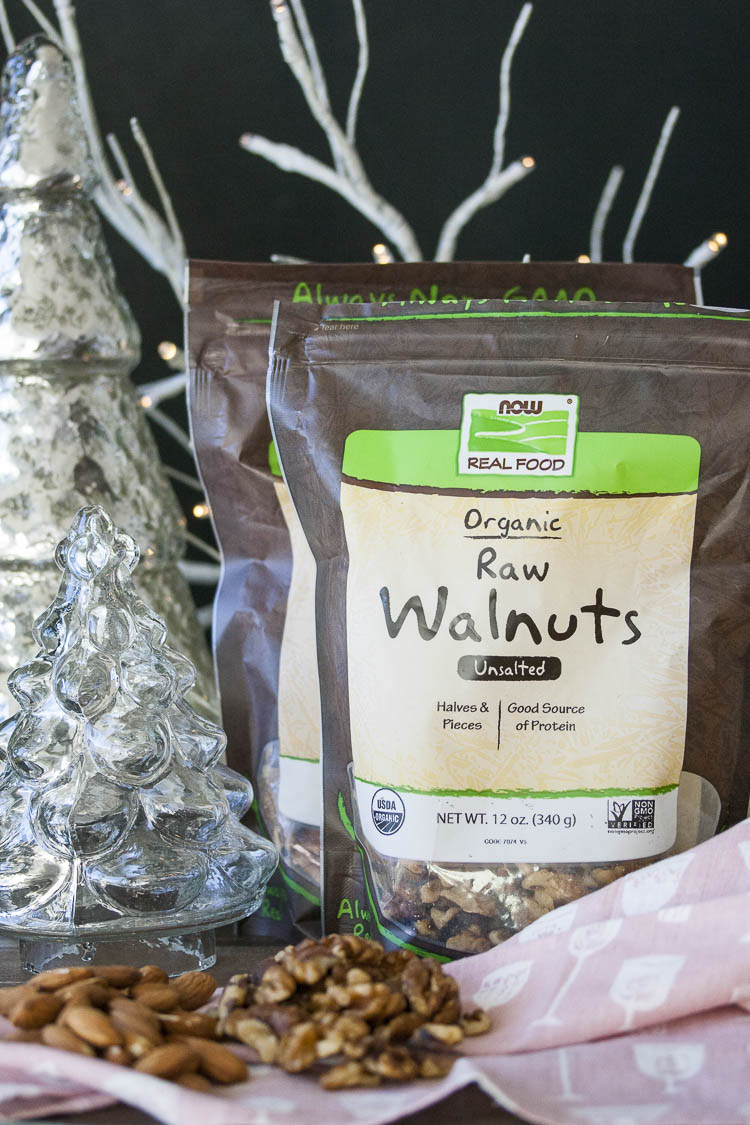 There are a few roadblocks you may come across when using the oil-free version however. I have a few tips to help avoid those, but when it comes to baklava a lot is trial and error even when following a recipe. Your oven temperature and how it cooks will affect it. Your baking dish or pan may also change the result a bit. So you need to experiment with this using your personal supplies!
Help, my baklava is stuck to the bottom!- I highly suggest using an oil spray, like coconut, to prepare your pan bottom. You can also try the parchment paper method, or any other method you use when baking an oil free dessert in a pan.
Oh man, it's soggy!- When you brush the oil free basting liquid on, do not do too much. A light coat is sufficient because you will be pouring the syrup over after baking. It also needs to be totally baked, if it is underbaked it will be soft!
The top is coming apart when I cut it!- As you cut, lightly hold the top down with your fingers. Also use an in and out cutting motion versus trying to cut it smoothly like you would a cake.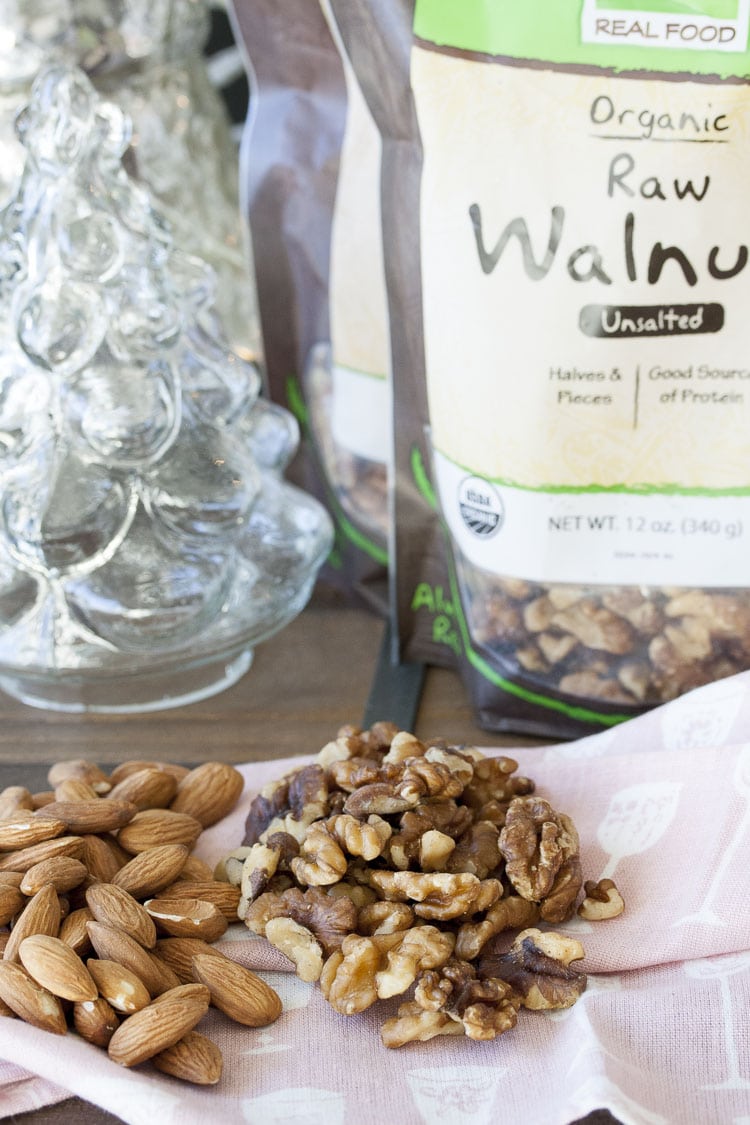 Can I sub with...
No. Just no. I worked to get you an oil-free option, but other than that there are no subs. Baklava is about nuts. And sugar. So, if you can't have either, this probably is not the dessert for you. There are only a few things you could alter if you were dying to have this but didn't have the exact ingredients:
Nuts: traditionally this is made with walnuts, my mom has perfected the flavor using a combo of almonds and walnuts. It gives a little depth versus just the walnuts. If you are missing one or the other, pecans may be a good sub.
Basting liquid: As I said, the traditional way is using butter. I have provided this oil-free option as well, but you could also use a coconut oil (or even this butter infused coconut oil by NOW Foods). Whatever you use, follow the directions precisely and do not over baste!
Sugar: I made this with coconut sugar, but any sugar really will work. If you don't eat sugar, you can try omitting it from the nut mixture, and using all maple syrup in the syrup mixture, but I caution that it may not work out. Please do not blame me if it doesn't work!
If you want complete and utter Greek vegan baklava perfection, make this the traditional way. If you absolutely don't do oils, ever, then give the oil-free option a try, because some baklava is better than no baklava. Always.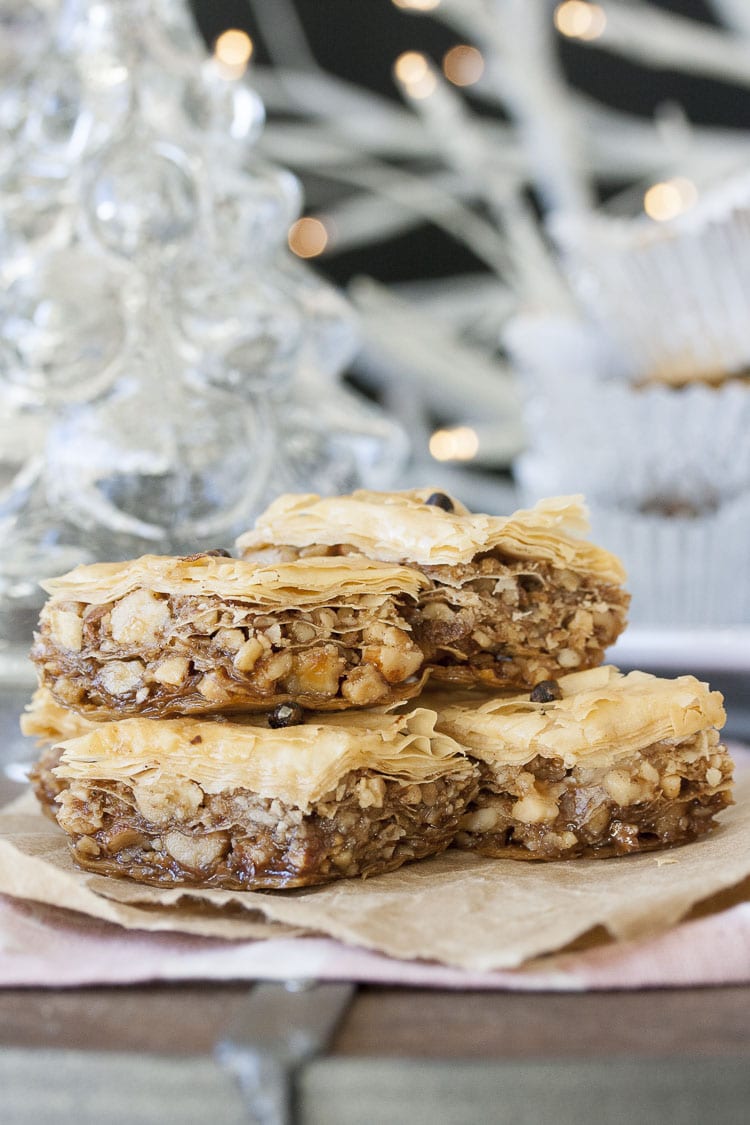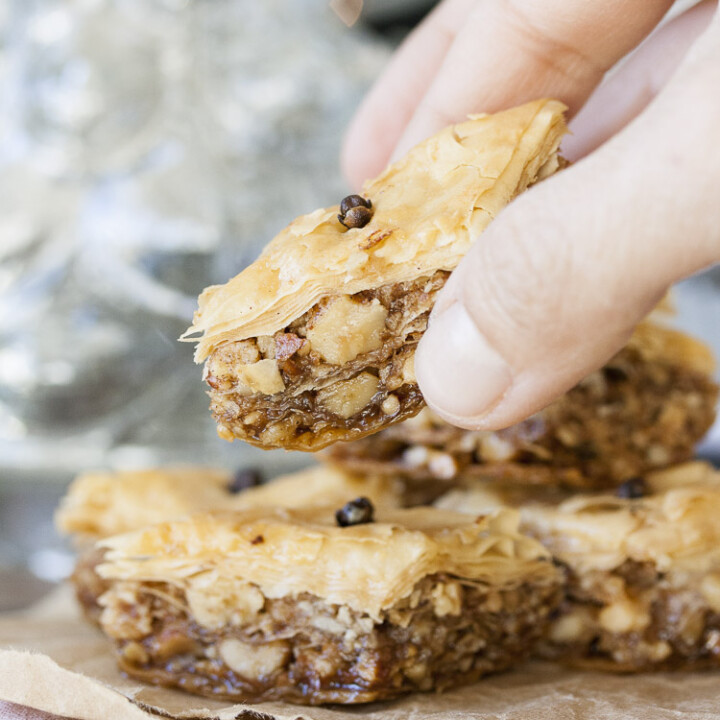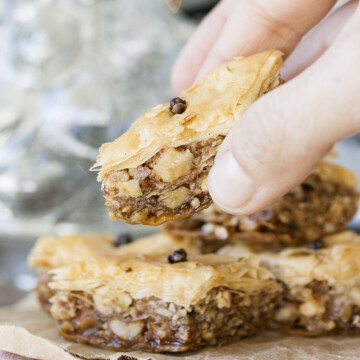 Greek Vegan Baklava with Oil-Free Option
Vegan Baklava like you've never had. A family recipe, perfected over the years, and out of this world incredible! Including a unique oil-free option!
Ingredients
Oil- Free Basting Option:
Instructions
Preheat oven to 325 F (165 C).

In a bowl, mix walnuts and almonds with sugar, cinnamon and allspice.

Prepare the bottom of a 9x13x2-inch pan by brushing it with Aquafaba mix or butter so it doesn't stick. If you are not using butter, you may want to spray a thin layer of coconut oil to make sure it won't stick to the bottom, or use your preferred oil free method to avoid sticking.

Next, lay one phyllo sheet at the bottom, brush it with Aquafaba mix or butter, and repeat the process until you have used about five sheets. Make sure you are brushing lightly and not using too much or the end result will be soggy.

Then, spread one thin layer of nuts and cover that with one phyllo sheet.

Brush the sheet with Aquafaba mix or butter, cover with another phyllo sheet, brush with aqufaba mix or butter and spread another thin layer of nuts. Repeat this process until all the nuts are used, or until you have five phyllo sheets left.

Cover the last layer of nuts with the remaining five phyllo sheets, brushing each sheet with Aquafaba mix or butter.

With a sharp knife, cut into triangles, diamond like (cutting diagonally across the pan). The phyllo will be wet and soft so the best way to do this without messing it all up is to lightly hold your fingers on each side of the knife as you cut. Use small slices, taking the knife out each time.

Insert a clove in the center of each triangle to hold the phyllo sheets together. Bake for 1 hour, or until you see the top beginning to brown.

Increase the temperature to 350 F (175 C) and bake for another five to ten minutes or until the top is very golden brown.

As the baklava is baking, make the syrup. In a small pot combine all of the ingredients for the syrup and bring it to a boil. Turn the heat down and simmer for 10 minutes. You simply want the flavors to infuse. Remove the cinnamon stick and the piece of lemon and allow to cool.

Remove the baklava from the oven when it is done and pour the cooled syrup over it. Be careful to watch it, pour slowly and stop if the baklava is not retaining the liquid and you see syrup pooling. If you overpour the syrup, your end result will be soft. Since different pans vary, you may not need the entire amount of syrup.

Allow to cool several hours before serving.
Notes
Make sure to read the post above for detailed instructions.
Traditionally, Greek baklava uses all walnuts, but the recipe was perfected to use a mix of walnuts and almonds for improved flavor.
This baklava is best when using butter, but if you are looking for an oil-free option then use the mixture given above. Aquafaba is the liquid from a can of chickpeas. Make sure to whisk the mixture well in order to incorporate the ingredients, you can even run it in the blender. Make sure your almond butter and maple syrup are at room temperature. Keep in mind that the phyllo dough still has some oil.
Baklava traditionally uses honey, but if you are vegan and prefer not to use honey, then use maple syrup or agave in it's place.
The key to crispiness is to bake this well. Almost overbake it. You want the filo crisp and baked enough so that the filo doesn't go soft when you pour the syrup on. Make sure the top is nice and brown.
Recipe by Veggies Don't Bite, visit our site for more great plant-based recipes.
Nutrition
Calories: 213kcalCarbohydrates: 24gProtein: 3gFat: 12gSaturated Fat: 1gSodium: 100mgPotassium: 132mgFiber: 2gSugar: 12gVitamin C: 1.7mgCalcium: 49mgIron: 1mg
Nutrition and metric information should be considered an estimate.
Never miss a recipe!
Sign up here and get a FREE quick and easy meal guide!