You can't miss making this spicy pineapple jalapeno margarita! It's knock your socks incredible with my special trick that gives it a boost of flavor!
It's amazing how these simple ingredients come together to make a flavorful, refreshing cocktail that is perfection on a hot summer day.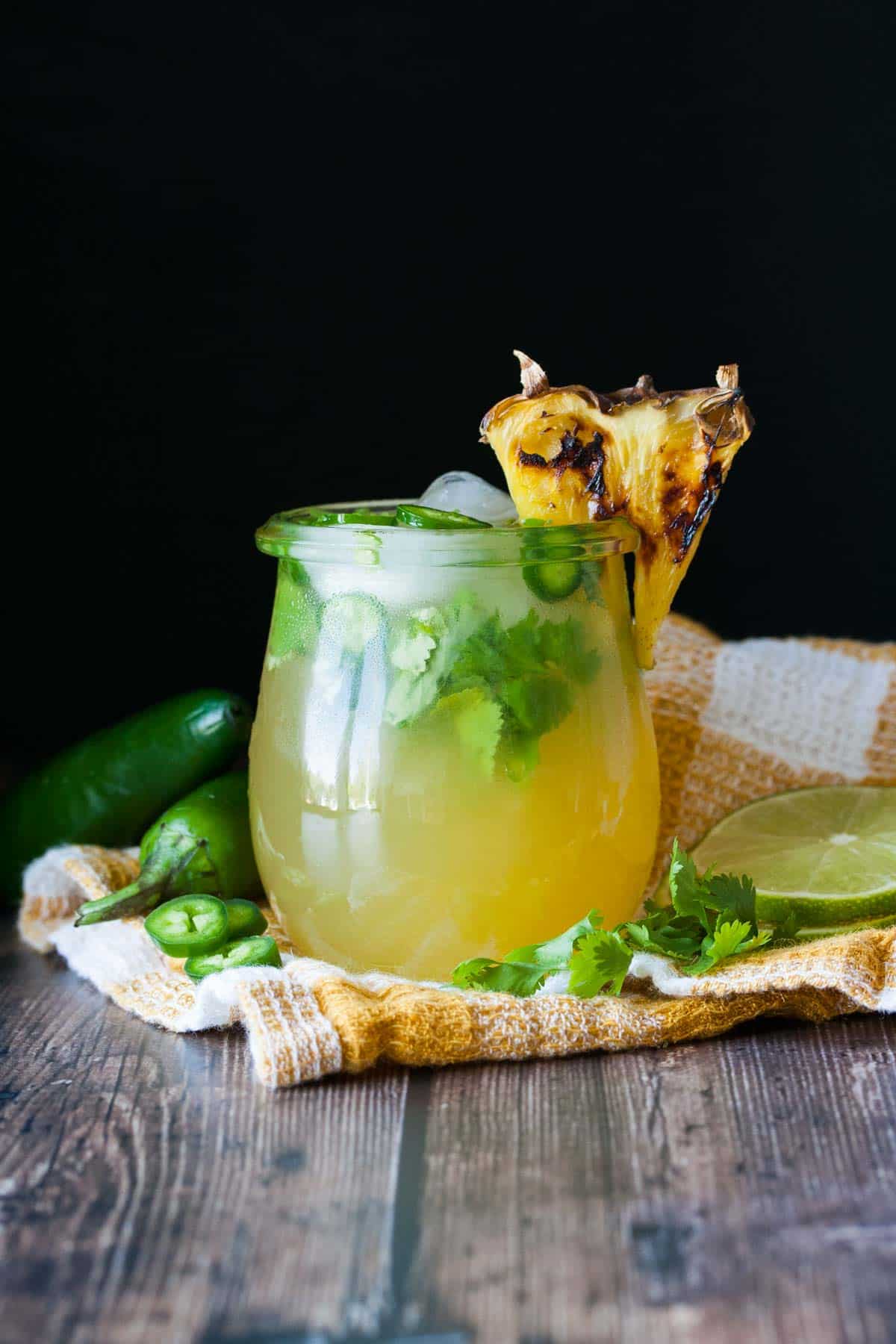 This post was originally published on February 19, 2018.
I am margarita obsessed, my passion fruit margarita is a huge favorite of mine. And this spicy pineapple margarita is right up there with it!
This spicy margarita recipe is so good. Thanks to the little trick I use to bring out some extra flavor from the pineapple! It's not just a simple pineapple juice and tequila kinda drink, but man is it worth it!
Ingredients
Here are the ingredients you will need:
Pineapple
Tequila
Cilantro or mint
Lime juice
Jalapeño
Pineapple juice
Fresh lime
Dairy free butter (optional)
Water or soda water (optional)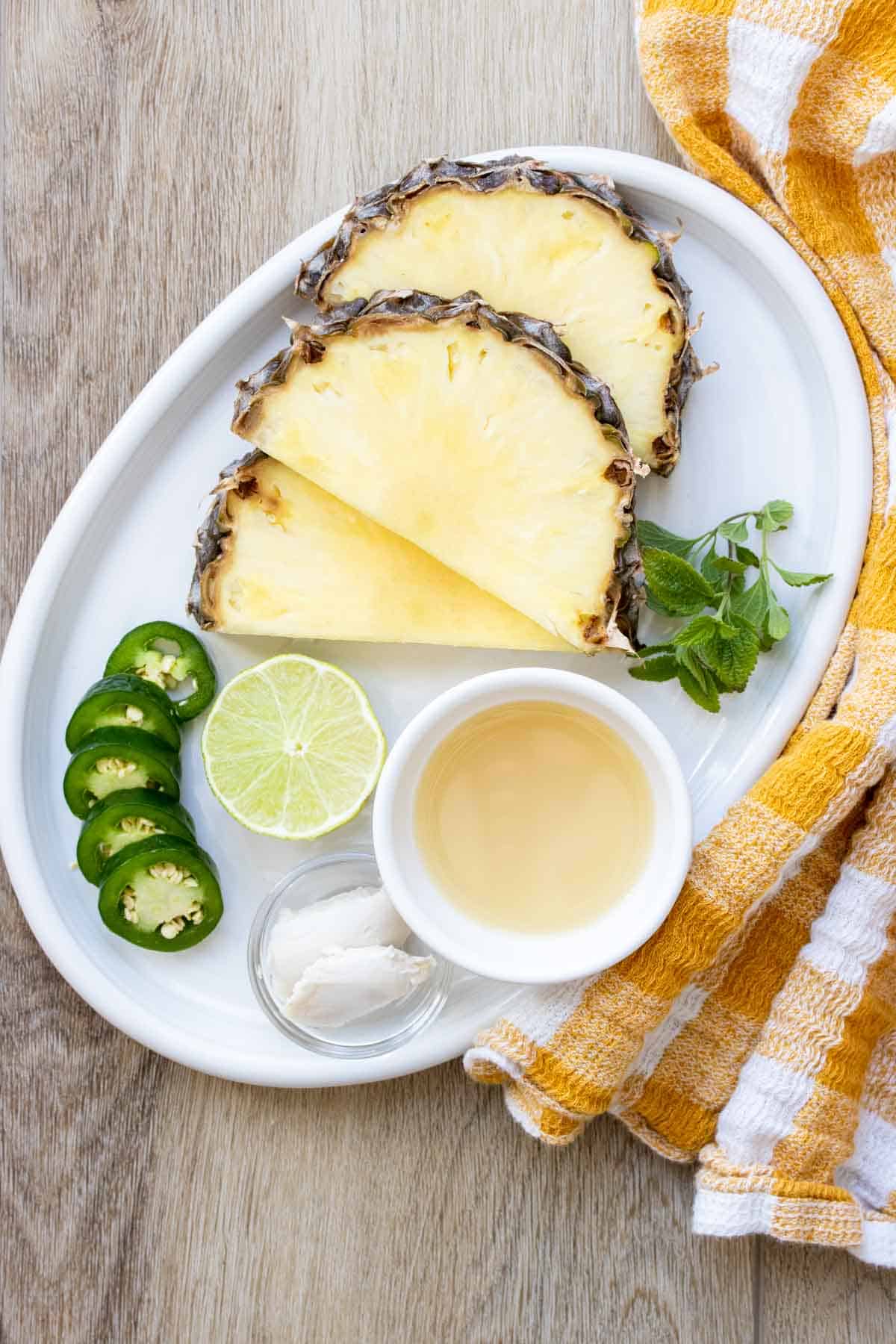 How to Make a Pineapple Jalapeno Margarita
While you can easily just mix the ingredients, it's the grilled pineapple that really takes this margarita up a notch! Here is how you do it:
Grill the pineapple.
Muddle the other ingredients and then add in the juice from the grilled pineapple by squeezing it (once cooled of course!).
Combine everything and serve!
Expert tip- if you don't have a muddler, just use the back of an ice cream scoop!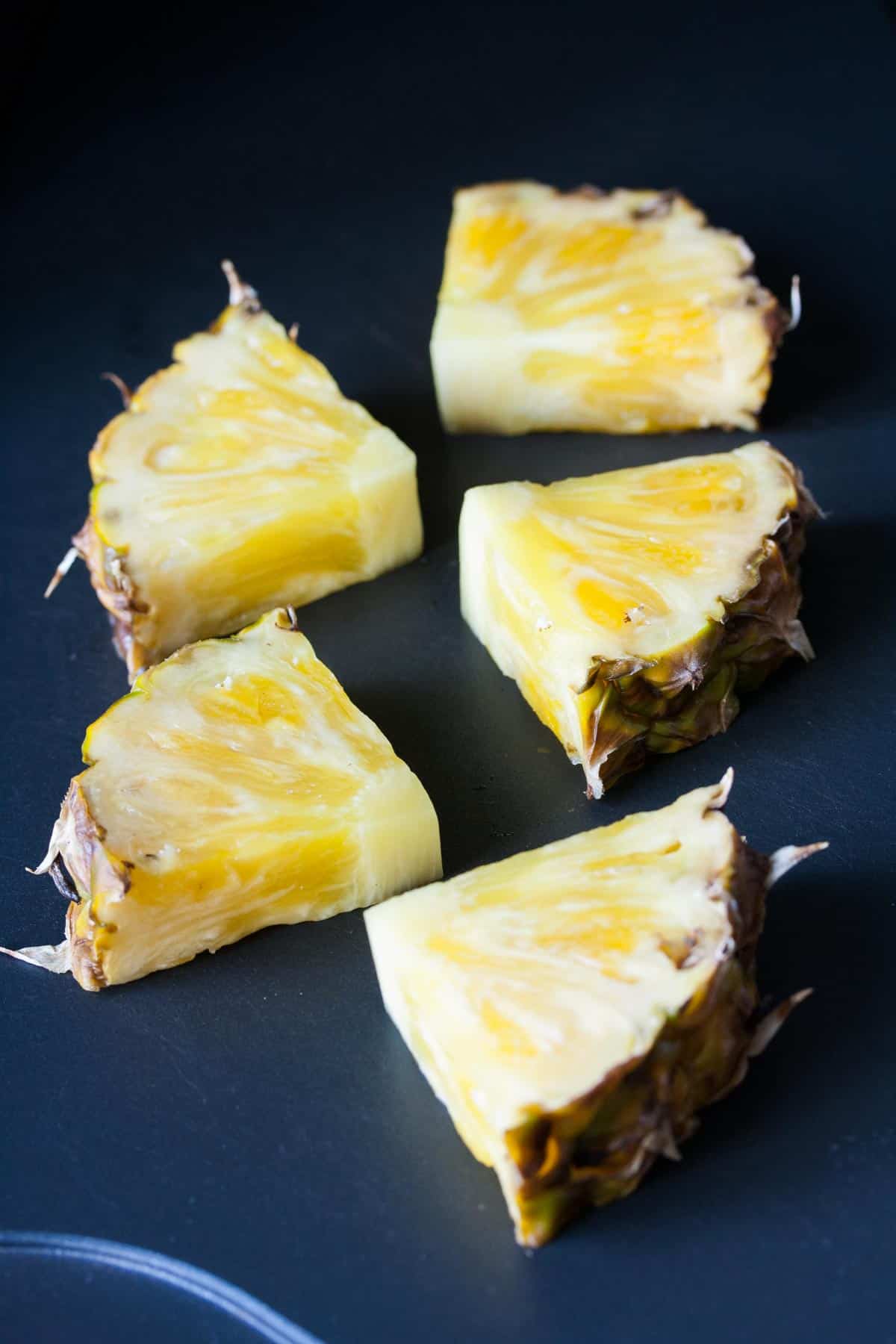 Tips for grilled pineapple
You can skip the cooking, but going that extra mile to make a grilled pineapple margarita truly tastes so much better! For a detailed tutorial, check out this recipe for How to Grill Pineapple. Here's the quick rundown for how to do it:
The key to these pineapples holding up is to make sure you cut them with 2-inch bases and leave the skin intact.
You'll then want to coat them in butter for an extra oomph of flavor (I use the vegan butter by Miyoko's Creamery)!
The butter is optional but using it helps the pineapple caramelize a bit more for an even better flavor.
Then you'll grill them for just 5-7 minutes on each side. This really caramelizes the flavor!
Tips for how to cut a jalapeño
Cutting a jalapeño doesn't have to be difficult, but knowing the best way will definitely help you. You'll want to either wear gloves or be very careful about not touching anything after you've handled the hot pepper until you thoroughly wash your hands.
I have learned this the hard way. Think, eyes on fire. Eeek.
Cut off the stem and end of the pepper.
Slice the pepper in half and use a spoon to scrape out the seeds and membrane. Or if you want rings with seeds intact, skip this part.
If chopping, cut into sticks, then chop from there.
Easy peasy!
Depending on how hot you want your margarita to be, you can add or decrease the number of jalapeños you put into your drink. You can also use the seeds if you want to really kick up the spice factor.
Flavor suggestions
For the best tasting jalapeño pineapple margarita, check out these tips:
You can always leave out the tequila for a still delicious virgin option!
Using fresh pineapple will give you the best flavor and allows for a pretty garnish. In a pinch you can use frozen (defrosted). If you have to use canned, make sure to buy the kind that's in pineapple juice, not syrup.
Tequila is what makes this a margarita. Add in a splash of mezcal for a smoky flavor, or orange liqueur for a touch of sweetness.
Experiment using other liquors like vodka or a light rum.
For a sweeter margarita, use more pineapple juice. You can also add some agave nectar.
Add in a splash of other fruit juices or syrups like mango, passion fruit, or orange.
Rim the glass! Before filling, dip the glass in lime juice, then in salt, sugar, or a mixture of Tajín and salt.
Make it blended by adding all the ingredients (minus soda water if using) to a blender with two cups of ice and blend to desired consistency.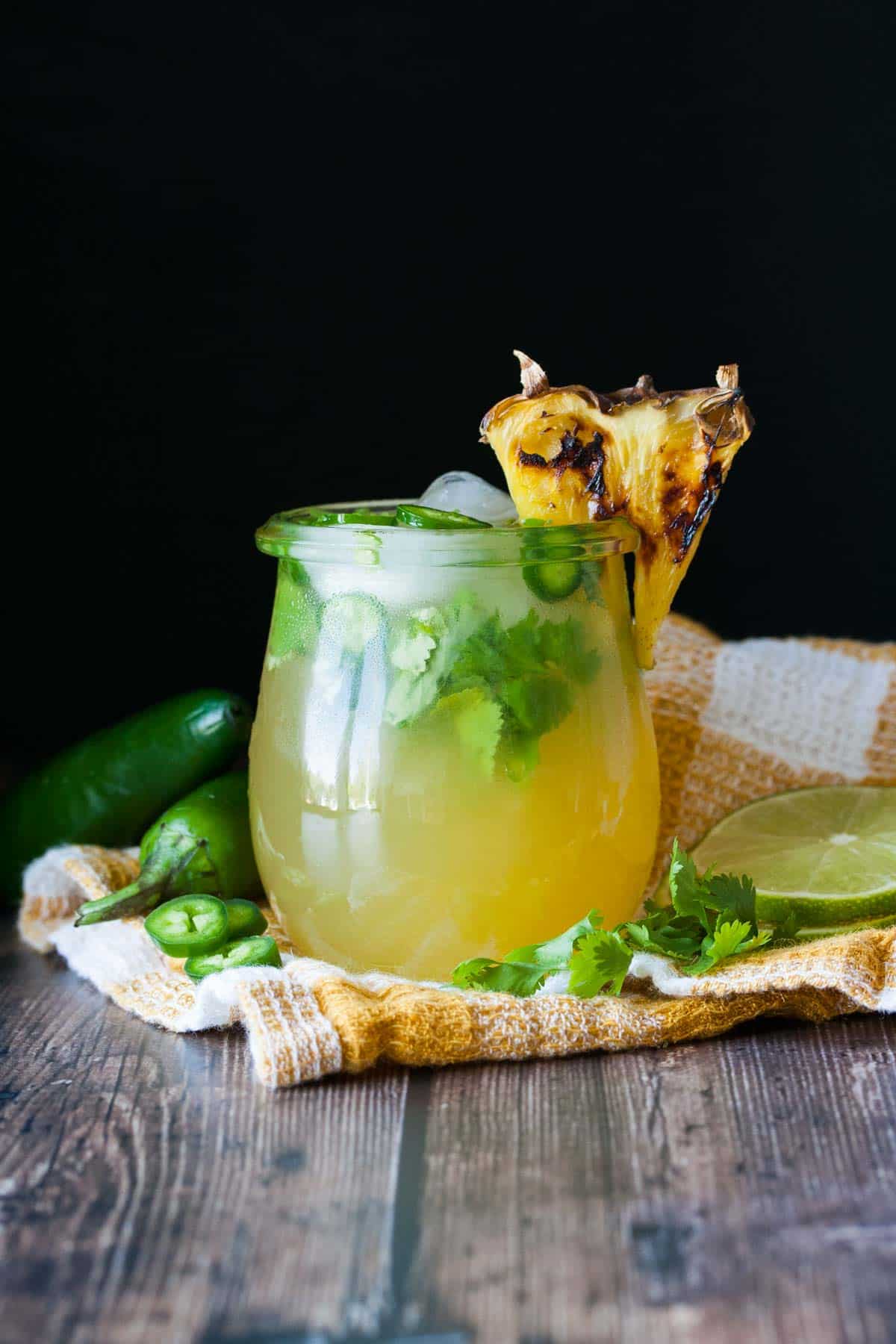 Tips for making ahead of time
Here are some suggestions for the best make ahead spicy pineapple margaritas:
To make a big batch you will need to increase the amounts of everything. This recipe will give you 2 drinks and a pitcher usually holds roughly 6 drinks. So you'll want to multiply everything by 3. Easy enough to do!
Grilled pineapple will hold up for a couple of days, but it is best when fresh. It gets a little limp and loses the flavor the longer you store it.
If you need to have this done a day or two before (I wouldn't recommend more than that), I would probable skip the grilling and go the fresh pineapple route. If you really want to grill then go for it. Just know the flavor will change a bit as time goes on.
For everything else, you simple follow the recipe, then store in an airtight container in the refrigerator until you need it.
Wait to add the tequila and soda water until you are ready to serve.
Common Questions
How do you make a pineapple margarita from scratch?
Muddle pineapple, tequila, lime juice, and other ingredients then serve over ice!
Is Triple Sec necessary for margaritas?
No, it is not necessary but it does add a nice flavor.
What can I use instead of triple sec?
Any orange liqueur will work such as Grand Marnier, Cointreau, or Curacao. If you're not concerned about adding more alcohol, use orange extract or orange juice.
What drink can you make with tequila and pineapple juice?
A grilled jalapeño pineapple margarita like this one! Also try making a pineapple paloma or a pineapple tequila sunrise.
More Boozy Recipes
For more tasty libation ideas, check out these recipes: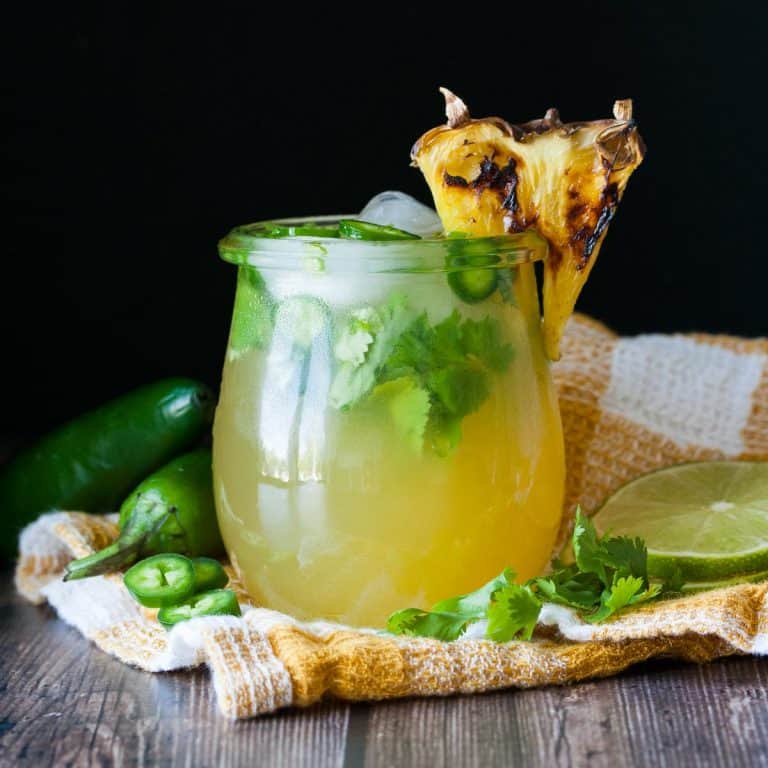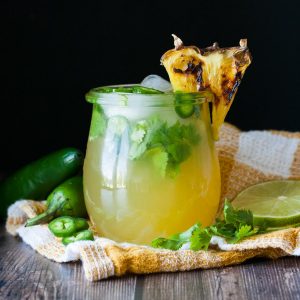 Spicy Pineapple Jalapeno Margarita
You can't miss making this spicy pineapple jalapeno margarita! It's knock your socks incredible with my special trick that gives it a boost of flavor!
Ingredients
10 pieces sliced pineapple , about 2 inch triangle base, plus extra for garnish
¼ teaspoon melted dairy free butter , optional to grill pineapple
¼ - ½ cup tequila , 2-4 ounces (more or less depending on preference)
2 tablespoons fresh cilantro or mint , leaves only
2 tablespoons fresh lime juice
2-3 slices jalapeño , seeds removed if you don't want the spice
1 ¼ cups fresh pineapple juice
¼ cup water or soda water , if wanted to dilute
4-6 slices fresh lime
Instructions
Coat sliced pineapple in butter, if using. Grill on grill pan or actual grill until both sides are browning, about 5-7 minutes on each side.

Meanwhile, combine tequila, cilantro and lime juice in a glass jar or cup. Using a muddler (or end of a thick spoon or ice cream scooper if you don't have one), carefully and slowly smash the cilantro with the tequila and lime juice until cilantro is somewhat smashed. Add jalapeño and mash a few more times.

Once pineapple is grilled and cooled, squeeze juices into the jar or cup then add the pineapple in as well. You can also strain liquid if you don't like the cilantro pieces.

Add fresh lime slices. Then add the fresh pineapple juice and soda/water if using.

Serve over ice with extra pineapple as garnish.
Notes
You can always leave out the tequila for a still delicious virgin option!
The butter is optional but using it helps the pineapple caramelize a bit more for an even better flavor.
You can also just keep the pineapple fresh and squeeze the juice out or muddle.
This makes 2 eight ounce drinks over ice.
Recipe by Veggies Don't Bite, visit our site for more great plant-based recipes.
Nutrition
Calories: 119kcalCarbohydrates: 28gProtein: 1gFat: 1gSaturated Fat: 0gCholesterol: 0mgSodium: 23mgPotassium: 414mgFiber: 3gSugar: 19gVitamin A: 995IUVitamin C: 130.5mgCalcium: 30mgIron: 0.7mg
Nutrition and metric information should be considered an estimate.
Never miss a recipe!
Sign up here and get a FREE quick and easy meal guide!