This grilled pineapple jalapeño margarita has the perfect kick and is bursting with flavor. It's the ultimate summer cocktail to bring paradise to your glass!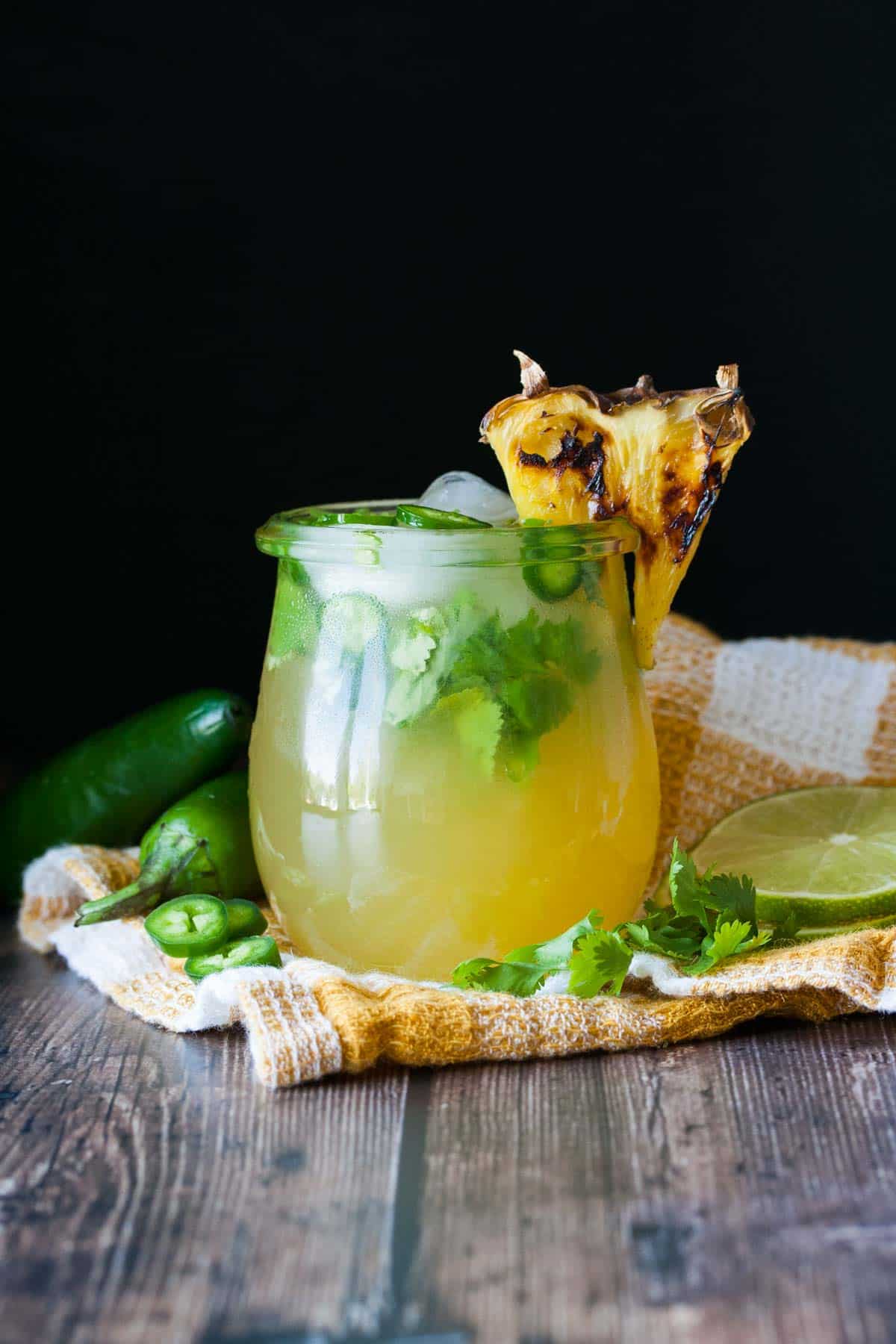 This post was originally published on February 19, 2018.
I know when I think of pineapple I usually think of summertime. But I also think margaritas are great for any time of year. I'm going to make this short and sweet, this drink is AMAZING. And don't ask just me, this delicious cocktail won the neighborhood margarita contest. That's saying something, right?
Grilled Pineapple Jalapeño Margarita
These are some of my favorite flavors for margaritas, sweet and spicy. The jalapeño gives this drink just the right amount of kick, pair it with pineapple and there isn't anything that tastes much better in my opinion.
The best part is? You can easily make a virgin version of this as well. All you have to do is leave out the tequila!
Grilling your pineapple
The key to these pineapples holding up is to make sure you cut them with 2-inch bases and leave the skin intact. You'll then want to coat them in butter for an extra oomph of flavor (I use the vegan butter by Miyoko's Creamery)!
Then you'll grill them for just 5-7 minutes on each side. This really caramelizes the flavor! You can skip the grilling but it truly tastes so much better that way!
Can I make this ahead of time?
Yes! You definitely can. However grilled pineapple will hold up for a couple of days, but it is best when fresh. It gets a little limp and loses the flavor the longer you store it.
If you need to have this done a day or two before (I wouldn't recommend more than that), I would probable skip the grilling and go the fresh pineapple route. If you really want to grill then go for it. Just know the flavor will change a bit as time goes on.
For everything else, you simple follow the recipe, then store in an airtight container until you need it. I would skip adding the tequila until you are ready to serve.
Want more than one? Tips to make this in bulk
You'll want to increase your amounts of everything. This recipe will give you 2 drinks and a pitcher usually holds roughly 6 drinks. So you'll want to multiply everything by 3! Easy enough to do!
How to cut a jalapeño
Cutting a jalapeño doesn't have to be difficult, but knowing the best way will definitely help you. You'll want to either wear gloves or be very careful about not touching anything after you've handled the hot pepper until you thoroughly wash your hands.
I have learned this the hard way. Think, eyes on fire. Eeek.
Cut off the stem and end of the pepper.
Cut the pepper in half and use a spoon to scrape out the seeds and membrane. Or if you want rings with seeds intact, skip this part.
If chopping, cut into sticks, then chop from there.
Easy peasy!
Depending on how hot you want your margarita to be, you can add or decrease the number of jalapeños you put into your drink. You can also use the seeds if you want to really kick up the spice factor.
How to make pineapple jalapeño margaritas:
Grill pineapple.
Combine the other ingredients, using a muddler to really mash and mix flavors. Hint: before I got a real muddler, I used the end of an ice cream scooper!
After pineapple is cool, squeeze juices in and serve!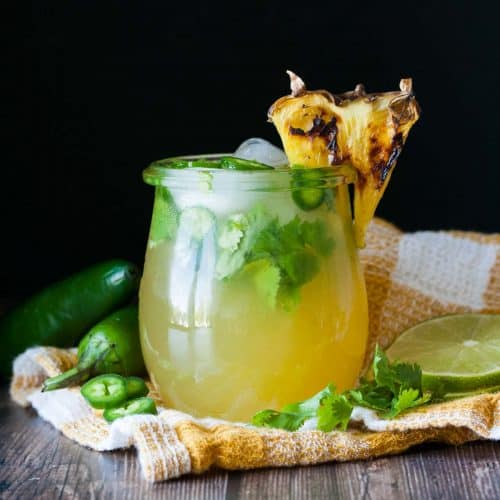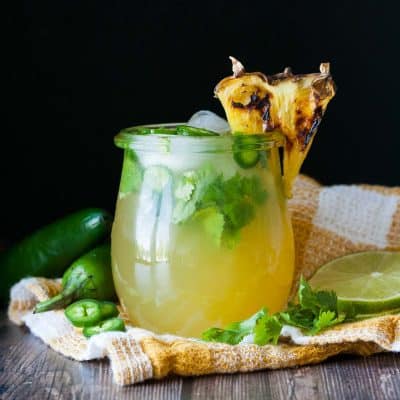 Grilled Pineapple Jalapeño Margarita
This pineapple jalapeño margarita has the perfect kick and is bursting with flavor. It's the ultimate summer cocktail to bring paradise to your glass!
Ingredients
10

pieces

sliced pineapple

, about 2 inch triangle base, plus extra for garnish

¼

teaspoon

melted butter

, optional to grill pineapple (I use the vegan butter by Miyoko's Creamery)

¼ - ½

cup

2-4 ounces good quality tequila (more or less depending on preference)

2

tablespoons

fresh cilantro or mint

, leaves only

2

tablespoons

fresh lime juice

2-3

slices

jalapeño

, seeds removed if you don't want the spice

1 ¼

cups

fresh pineapple juice

¼

cup

water or soda water

, if wanted to dilute

4-6

slices

fresh lime
Instructions
Coat sliced pineapple in butter, if using. Grill on grill pan or actual grill until both sides are browning, about 5-7 minutes on each side.

Meanwhile, combine tequila, cilantro and lime juice in a glass jar or cup. Using a muddler (or end of a thick spoon or ice cream scooper if you don't have one), carefully and slowly smash the cilantro with the tequila and lime juice until cilantro is somewhat smashed. Add jalapeño and mash a few more times.

Once pineapple is grilled and cooled, squeeze juices into the jar or cup then add the pineapple in as well. You can also strain liquid if you don't like the cilantro pieces.

Add fresh lime slices. Then add the fresh pineapple juice and soda/water if using.

Serve over ice with extra pineapple as garnish.
Notes
You can always leave out the tequila for a still delicious virgin option!
The butter is optional but using it helps the pineapple caramelize a bit more for an even better flavor.
You can also just keep the pineapple fresh and squeeze the juice out or muddle.
This makes 2 eight ounce drinks over ice.
Recipe by Veggies Don't Bite, visit our site for more great plant-based recipes.
Nutrition
Calories:
119
kcal
Carbohydrates:
28
g
Protein:
1
g
Fat:
1
g
Saturated Fat:
0
g
Cholesterol:
0
mg
Sodium:
23
mg
Potassium:
414
mg
Fiber:
3
g
Sugar:
19
g
Vitamin A:
995
IU
Vitamin C:
130.5
mg
Calcium:
30
mg
Iron:
0.7
mg
Nutrition and metric information should be considered an estimate.