Healing your body with food is one strategy when dealing with disease. Often times, we want more than just a pill to bring us to full health.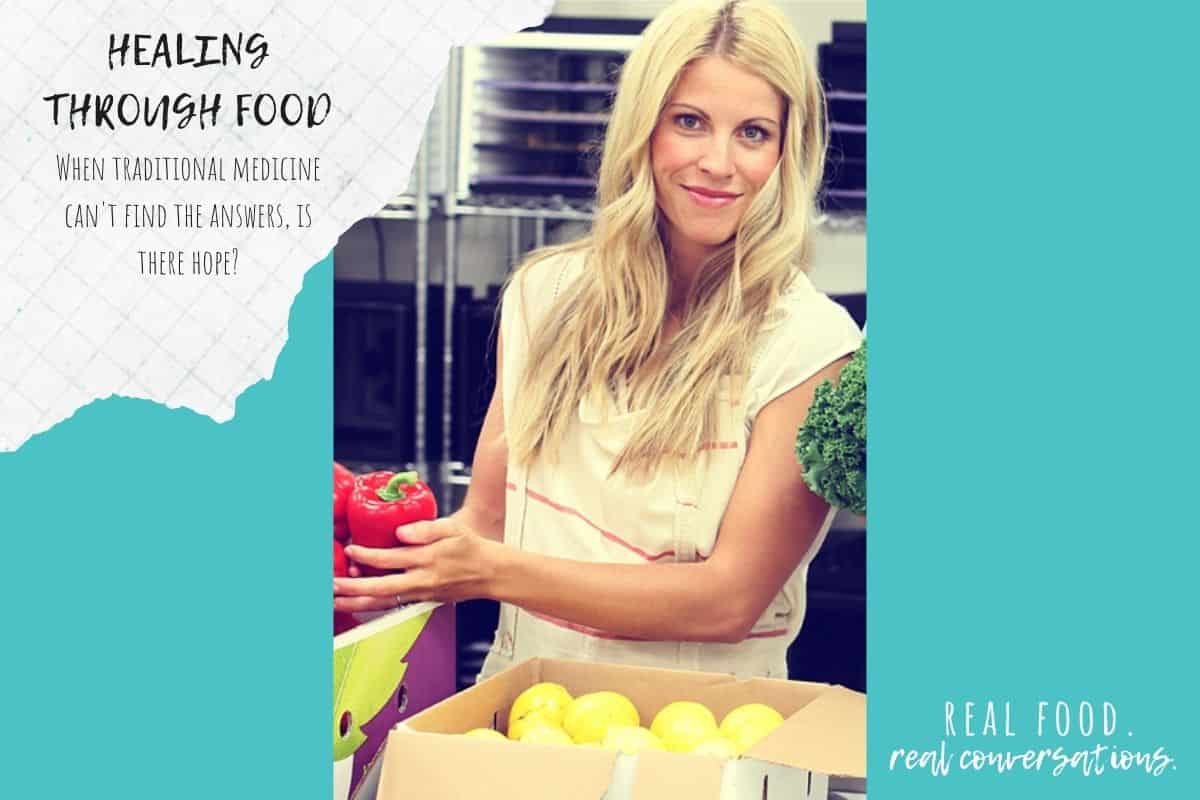 While traditional medicine can give us many answers and help with many things, sometimes we need more. This is where food can come in, looking at all areas of life can help bring information on the bigger picture.
Podcast: Play in new window | Download | Embed

Subscribe now! Apple Podcasts | Google Podcasts | iHeartRadio | Stitcher | TuneIn | Deezer | RSS | More
Juli Novotny is a mom to three beautiful kids living in Southern California. She runs the website Pure Kitchen and spends her time cooking for clients, consulting for health food start-ups, journalism, photography and recipe development for other like-minded rad companies.
Last year she finished an intensive course in Plant-Based Nutrition through Cornell University online. And she just launched some incredible sauces that she sells through her site. They are a must try!
Focusing on Our Health
As women, it's in our nature to power through. We are busy taking care of everyone else, and learn to ignore our own bodies signals. But eventually, when there is something wrong, it will catch up to us.
Juli is a prime example of someone who powered through with autoimmune issues, accepting what doctors told her in that she'd have to simply deal with this her whole life. Until she made an amazing discovery.
Healing our body with food
Accepting her body that was ridden with allergies, asthma, and eczema was tough for her. Her mental health suffered and doctors gave her meds and told her to find a way to deal with it.
Being a chef and into experimenting with food, she started experimenting with raw foods because of a new cookbook she discovered that intrigued her. Not thinking anything about health, she decided to follow this raw food lifestyle for fun because the photos and recipes drew her in.
As a chef, she was always looking at opening her horizons in the food world so this was exciting. 3 days in, she noticed her autoimmune issues start to disappear. Her eczema went away and she felt exceptional.
She was shocked to say the least. Her excitement led her to become a holistic nutritionist and get a job at Whole Food, then start her journey into the world of wholesome food where she is now.
While she doesn't know if it was allergies to food or simply the detoxing she did to clear her body, her issues never came back. She was able to slowly add in cooked foods with success, focusing on a plant-based diet, and has had no issues since.
While this isn't the solution for everyone, and you should check in with a licensed professional before you make any changes like this, food truly healed Juli.
Food and our bodies
We are all different when it comes to food. What one person reacts to, another person can include with success.
Even what is considered healthy, like fruits and vegetables, can affect some people in a negative way. So, it's important to make sure that you know what your body can and can't have.
But overall, our bodies love getting all the nutrients it needs to function. So when we give it an influx of these, it's happy. Fresh produce gives us so many amazing nutrients, so it's no wonder that Juli was able to help her body heal by filling her body with them.
We also need to make sure we are getting everything each of us needs to thrive. Protein, carbs, and fat are important as well. We each need different amounts of these to feel our best, but our cells do need them to function.
The Stigma of Cleanses
The online world of food has taken the word cleanse and run with it. It has used it to draw people in with the promise of losing weight. Which is why it isn't a word I love.
Our bodies are created to cleanse themselves, our liver and kidneys do a great job overall. However sometimes, when we abuse our bodies and our systems are overworked, it's helpful to give them a little support.
This is why I advocate more for a restoration or refresh. A time for filling your body with fresh foods full of wholesome ingredients to give your body an influx of nutrients it needs to perform in an optimal way.
While cleanses can restrict, which can contribute to having an unhealthy relationship with food, following a system that guides you to eat things your personal body needs in order to get back to it's happy equilibrium is a better choice.
Juli uses her experience with raw food to do this when she feels she needs it. I like to do my Restore and Refresh System (LINK) at those times when I feel I need a boost.
Whatever it is, the bottom line is that we need to listen to our own bodies to help guide us to what we need most. Being intuitive is so important, versus simply falling victim to the promises of what we find online that restrict us in ways that can actually be unhealthy.
Setting yourself up for success
When you take care of your body, you are giving yourself the most chance of lifelong success in just about everything.
From being a good mom, partner, working to the best of your ability, exercise, you name it. You need to have a solid foundation to work to your fullest.
By listening to what each of us needs, instead of what others tell us we need, we are honoring our body and giving it the best chance to give us back what we need.
We can't expect to be able to live life to the fullest if we don't have the vehicle to drive us.